Last update: March 5th, 2021 at 01:42 pm
Disclosure: During our stay, we were kindly hosted by Mashpi Lodge. All opinions in this post are entirely my own.
Mashpi Lodge
I had to do some convincing to get my husband to agree to stay at an Ecuador eco lodge tucked deep into the Cloud Forest. His previous jungle stay experiences, albeit way back in his backpacking days, had been a little too fauna filled for his liking (including creatures skittering around his room after dark). I knew that I would need to find a more luxurious experience to entice him to try again.
Like many people traveling to Ecuador, the main purpose of our trip was to visit the Galapagos. We chose to fly into Quito a week early to explore some of the mainland, and discover some special places not far from the city.
One gem we happened upon was Hacienda Zuleta, an ex-presidential family farm estate and luxury hacienda in the Ecuadorian highlands. The other, was the very unique and beautiful Mashpi Lodge, located in the Ecuadorian Chocó Bioregion (The Cloud Forest).
Named as one of National Geographic's Unique Lodges of the World™, this modern 22 room luxury boutique hotel, perched atop 3000 protected flora and fauna filled acres, was also a perfect fit. With daily tours including treks to pristine waterfalls, wildlife spotting adventures, incredible vistas from their aerial tram and the luxury amenities of a five star luxury resort, we couldn't help but fall in love with Mashpi.
I can't wait to tell you all about our very special experience at this Cloud Forest property, but if you want a quick peek first, please start with this 2 minute video.
Mashpi Lodge Video
Mashpi Lodge – The Experience
Approaching Mashpi Lodge, I could hardly believe that such an architectural gem could exist so deep in the rain forest. After a warm welcome of fresh towels and freshly squeezed fruit juice, we made our way through the gorgeous lobby towards our rooms.
For our family of four, we were offered two beautiful adjoining rooms on the top floor. All Mashpi accommodations offer unobstructed panoramic views of the rain forest. If there wasn't so much to explore and discover outside, it would be difficult to leave such a serene and thoughtfully designed space.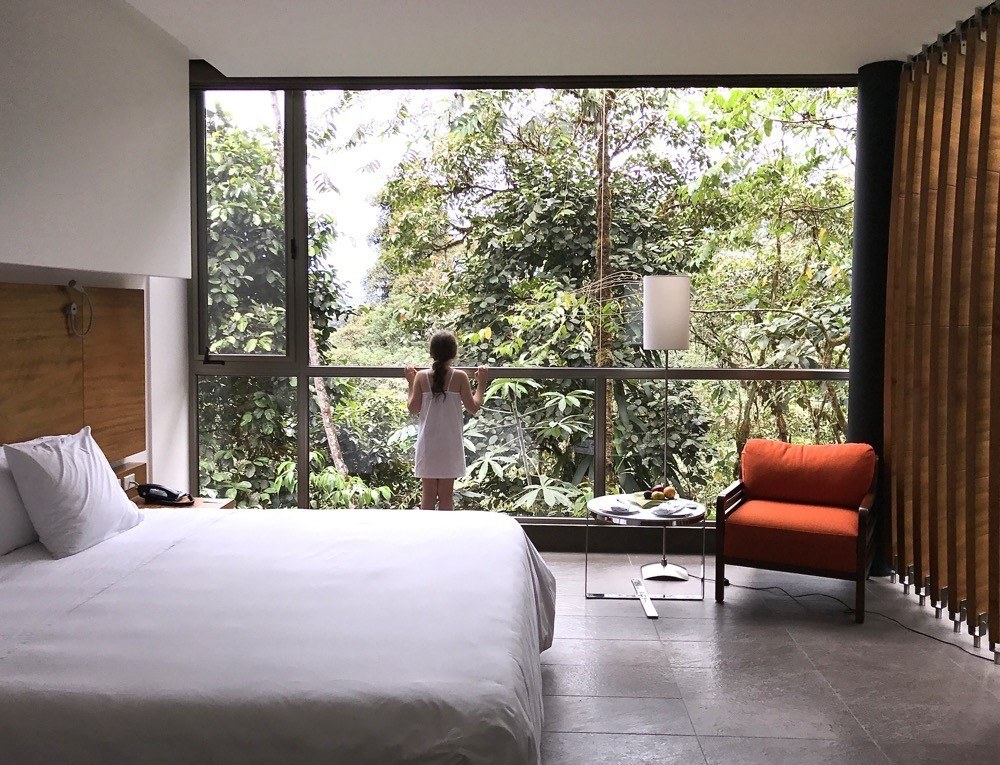 As with many great hotels, it is not just the room, but the extra services and amenities that really makes a stay at Mashpi Lodge special. "Look at this, mom!" my daughter exclaimed (numerous times, in fact) as she made delightful discoveries around the room, including a lovely fresh fruit and juice assortment (complete with guide to some of the more unusual fruits).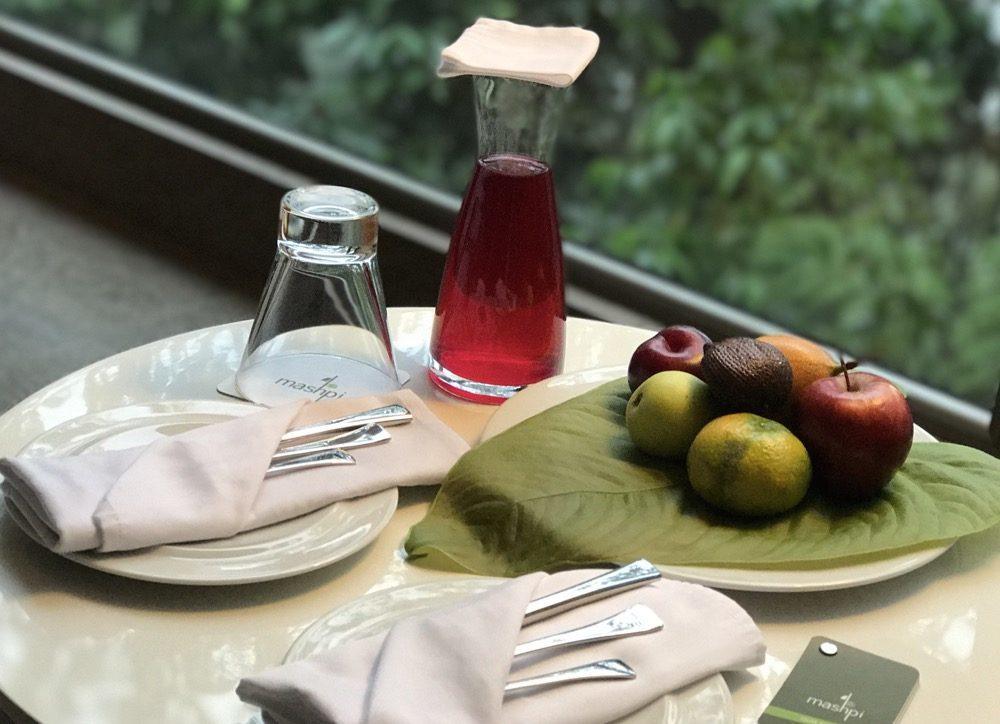 My budding scientist son really appreciated the complimentary magnifying glass and wildlife identification manual. Thanks to the exceptional guides at Mashpi, my kids were able to check off quite an astonishing number of creatures during our visit. Also included in the welcome package was a day pack and refillable water bottle (we are still using these at home).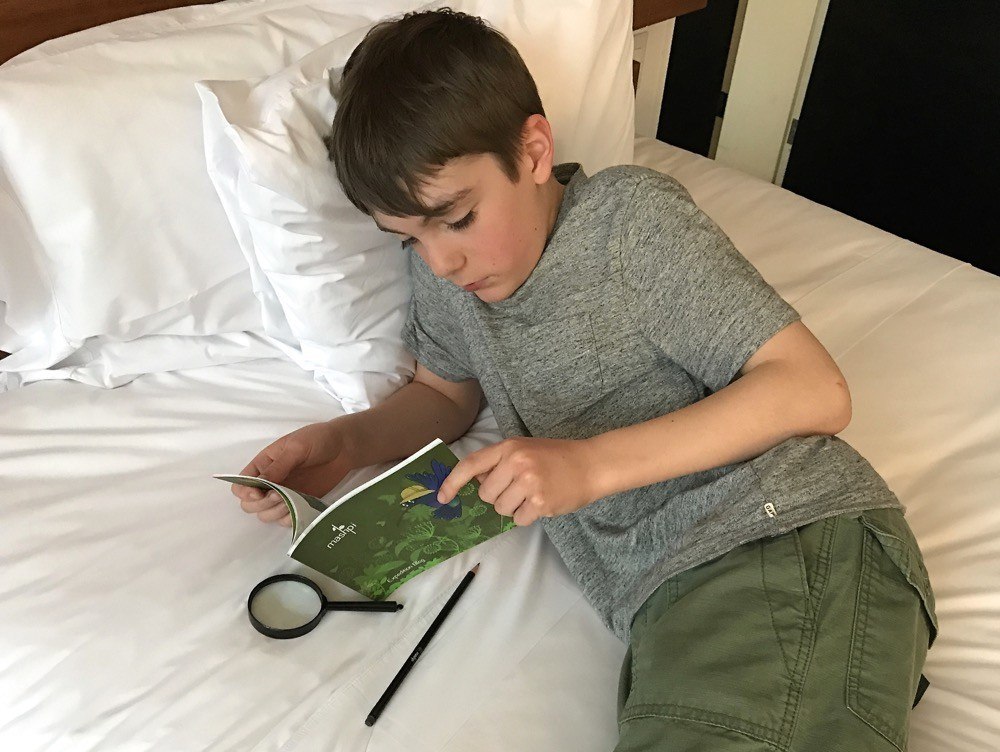 A stay at Mashpi includes several excursions a day. Guests are coaxed gently into early morning birdwatching with coffee, hot chocolate and cookies served on the rooftop deck.
Spotting exceptionally lovely bird species is made easy with the help of the excellent Mashpi guides, who seem to effortlessly locate dozens of species within the dense foliage.
Contently sipping my coffee and enjoying the incredible view of the Cloud Forest, I would periodically here a "Psst….come see this", from expert guide Manolo. Sure enough, he would point out some incredible plumed beauty flitting around in a tree nearby, that I probably would not have noticed without his help.

This became a common theme throughout our trip as the guides seemed to make all kinds of discoveries that the average guest might inadvertently miss.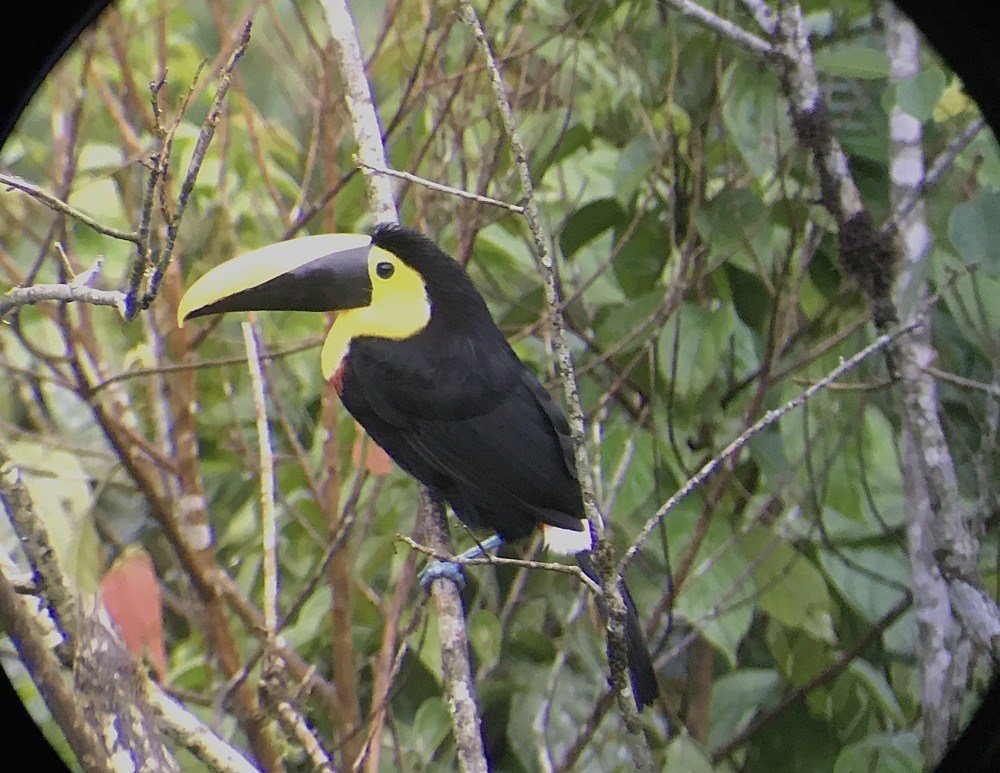 Other special experiences throughout our visit included riding the sky bike through flower covered trees, taking a plunge under a pristine waterfall, and riding an aerial tram above the forest canopy — all the while making unique jungle discoveries.
One very special spot, reached by a short hike (or shorter drive), is the Mashpi Life Center. It is an extraordinarily beautiful location that is perfect for bird watching, admiring the changing mood of the clouds over the forest, and learning about the many species of butterflies within the center itself.
After a busy day, it is a delight to have a quick change and sit down in Mashpi's beautiful dining room. Three gorgeous meals are served daily, with an inspired menu featuring Andean cuisine and unique flavors from the forest.
Although it is tempting to curl up in the warm and cozy cocoon of the lodge, guests should save energy for a night walk. The sights and sounds on this hike are quite special as most of them are nocturnal. For those who yearn to know more about the extensive research conducted at Mashpi Reserve, there are also nightly scientific lectures.
What's Included at Mashpi Lodge?
A stay at Mashpi includes a beautiful jungle view room, evening turndown service, guided daily rainforest hikes, riding the aerial tram and sky bike, evening scientific lectures, meals, non-alcoholic beverages and transfers to/from Quito. Gratuities, spa treatments and alcoholic beverages are extra.
What to Bring to Mashpi Lodge
It rains most days in the Cloud Forest. By rain, I do not mean a sprinkle, I mean periodic torrential downpours that can soak you to the bone. The lodge provides boots and rain ponchos (for children as well as adults). The rain ponchos, however, are quite heavy, and a little warm, so you may prefer to bring your own rain coat.
The lodge has a complimentary drying room for wet clothes and laundry service is offered for a fee. Small backpacks and refillable water bottles are provided. The lodge has binoculars and flashlights to share, but these are also things you may prefer to bring along. There is a small boutique selling some nice local goods as well as some essentials (my husband loves his lightweight Mashpi raincoat and uses it at home all the time).
Mashpi Lodge Packing List*
Binoculars
Head Lamp (nice for the night walk)
Camera / Go Pro
Ziplock Bags (for wet clothes or camera)
Fully Waterproof Lightweight Rain Coat (Columbia has a good assortment)
Quick Dry Socks Suitable for Rubber Boots
Quick Dry Pants and T-shirts in Earth Tone Shades (nylon, lightweight cotton)
Swimsuit
Sunscreen
Insect Repellent
Sunglasses
Good Walking Shoes or Sandals (Tevas, Keens, Merrills etc.)
* If your Ecuador vacation also involves a trip to the Galapagos, many of these items are also useful there.
When to Visit Mashpi Lodge
The lodge gets very busy on weekends and holidays with locals coming in from Quito. If you are looking for a quieter experience, visit on weekday. We were at the lodge mid-week and almost had the place (and the guides) to ourselves.
Mashpi Lodge and Kids
If you are looking for a family-friendly eco lodge in Ecuador, Mashpi is fantastic for kids. The guides were excellent at honing in on the specific interests of our children, keeping them incredibly engaged during our stay.
Learn More about Mashpi Lodge
For more information, rates and availability, please see MashpiLodge.com. Please also find reviews for Mashpi Lodge at TripAdvisor.com.
Further Reading