Last update: October 9th, 2023 at 08:39 am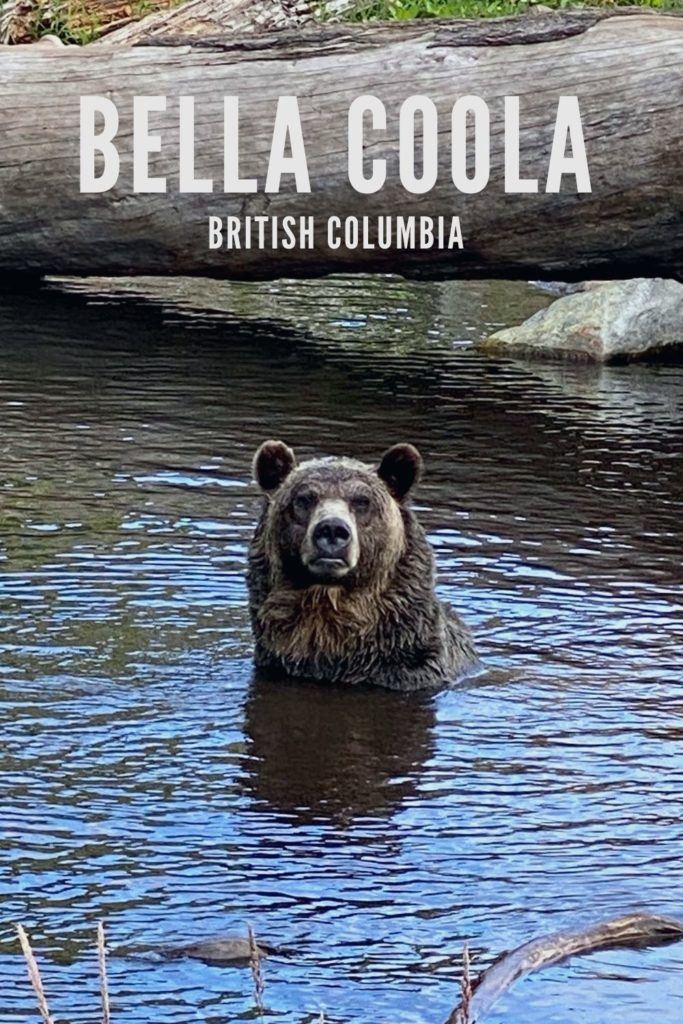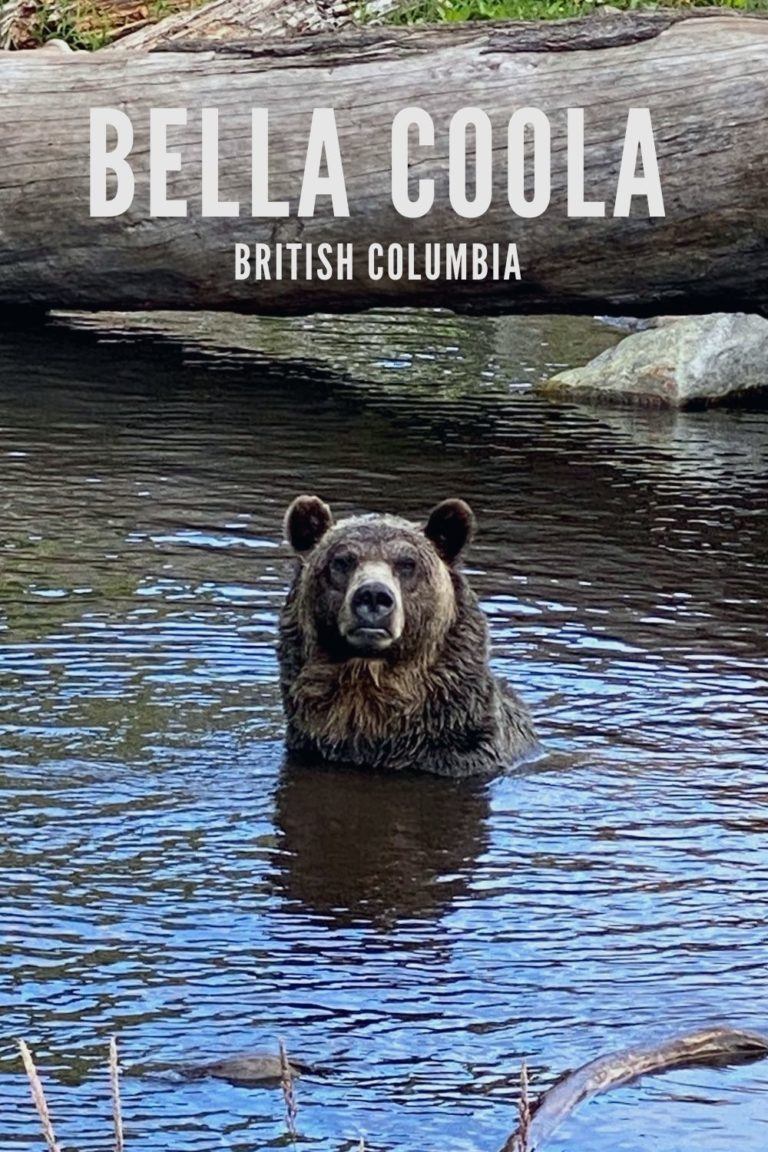 Affiliate Disclosure: This post contains links from which Pint Size Pilot may receive a small commission if you choose to make a purchase.
Bella Coola Bears – Bear Watching in B.C.
During a summer of taking small road trips relatively close to our Vancouver home, I happened to read that the Bella Coola Valley was reopening to visitors. Like several other communities within B.C.'s Great Bear Rainforest (including Haida Gwaii), Bella Coola had closed to tourism in the spring of 2020. A recent agreement reached between the Bella Coola Valley Tourism Association and the Nuxalk Nation leadership would carefully welcome back residents of British Columbia only.
Through a little research, I learned that the Bella Coola Valley was one of the best places in British Columbia to observe bears (black and grizzly) in their natural environment. This is due to the fact that in late summer and early fall, the bears descend from the alpine to fatten up on spawning salmon in the local rivers before heading into hibernation. A B.C. bear watching family adventure was born!
As natural events do not appear on cue, I knew better than to plan our Bella Coola trip around grizzly bear watching alone. (Lesson learned from a trip to Iceland to see the Northern Lights – a natural phenomena that is still on my bucket list.) Instead, the plan was to experience some of B.C.'s most beautiful coastal scenery through hiking, spending time on the local rivers, and enjoying quiet evenings around a campfire. Grizzly bears sightings would be the icing on the cake.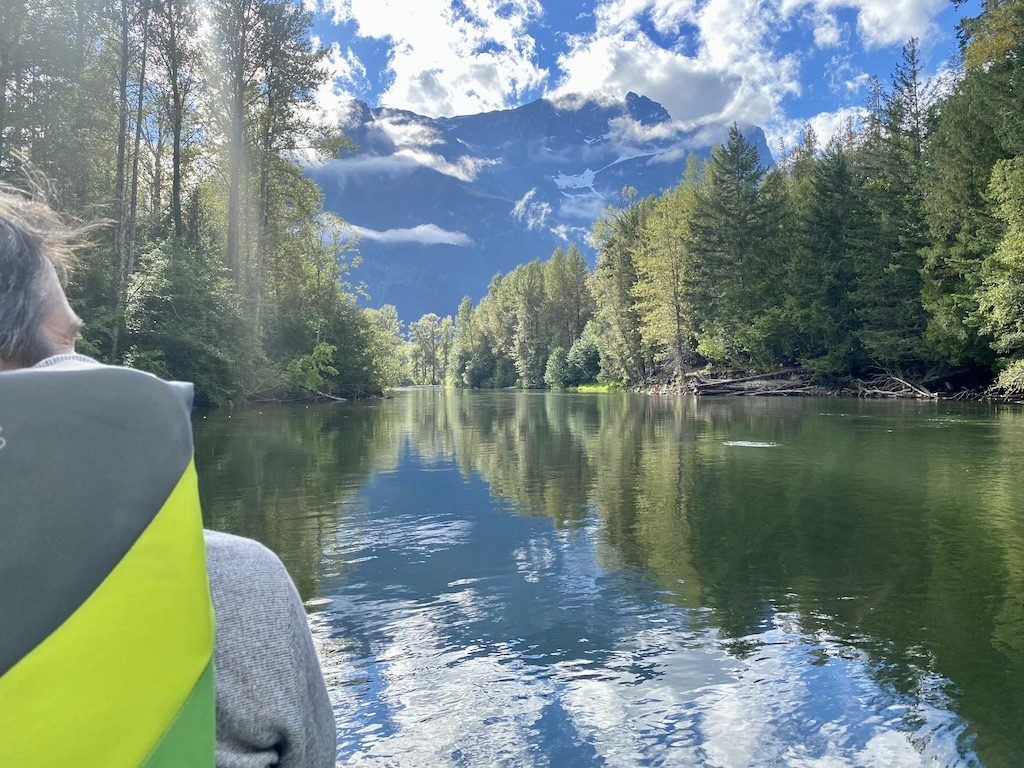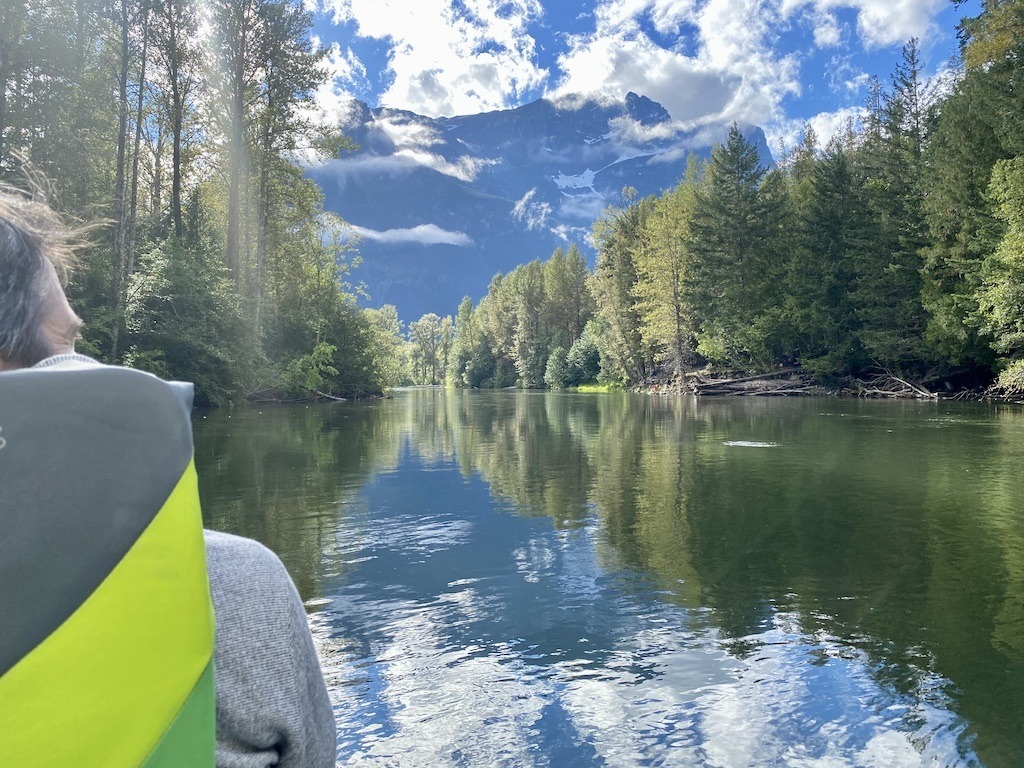 In this post, I will share with you things to do in Bella Coola (starting with Bella Coola bear watching tours), the best Bella Coola accommodation options, and how the heck to get there. Please use the following menu to find what you need quickly, or start with our 1 minute video.
Bella Coola Video (1 min.)
Where is Bella Coola, BC
Bella Coola is a community located within the glacially-formed Bella Coola Valley. It is situated at the mouth of the Bella Coola River, where the river waters meets the Pacific Ocean at North Bentinck Arm.
Bella Coola also happens to be where explorer Alexander Mackenzie finally reached the Pacific Ocean in 1793 (with help from local Indigenous Peoples), to complete the first land crossing of the Americas north of Mexico (12 years before Lewis and Clark).
Bella Coola Map
I wanted to share this Bella Coola Valley map to help you understand the layout of the region. Bella Coola is nestled right in beside the neighboring town of Hagensborg (15 minutes apart by car). In fact, the Bella Coola airport is actually in Hagensborg as are a number of nice accommodation providers.
Tweedsmuir Provincial Park, a popular spot for hiking, fishing and bear watching, is a 40 minute drive to the east.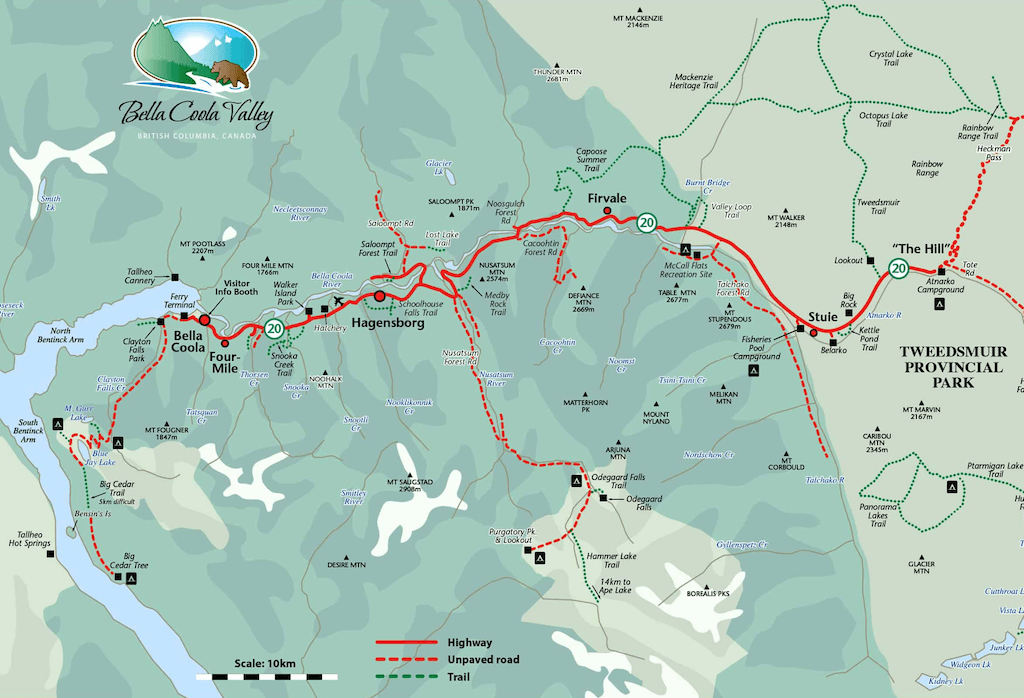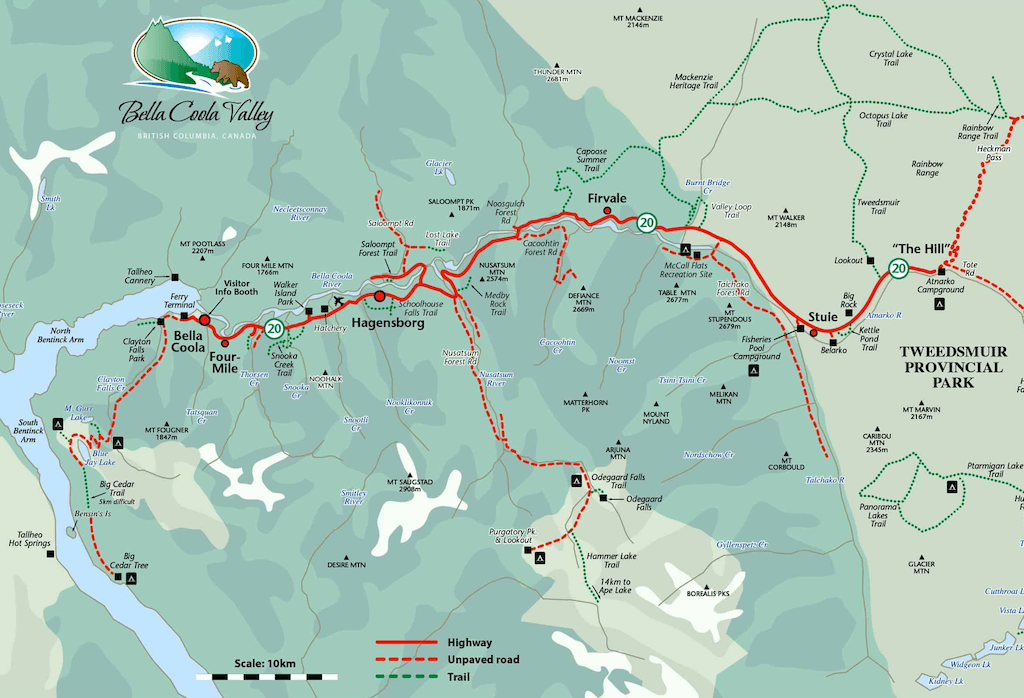 Top Things to do in Bella Coola
1. Bella Coola Bears
The Bella Coola Valley is home to both black bears and grizzly bears. The best time to do bear watching in Bella Coola is in the late spring when they feed on the new plant growth in the bottom of the valley or late summer and early fall when they feed on spawning salmon.
For the best chance of seeing bears, be sure to book a Bella Coola bear watching tour with an accredited guide. These tours may involve driving to special locations or doing a boat drift down the Bella Coola or Atnarko Rivers. Please see this list of Bella Coola tour providers.
There are also some Bella Coola Valley accommodation providers that specialize in bear watching. For example, the luxurious Tweedsmuir Park Lodge offers all-inclusive bear watching programs (hikes, viewing platform and river drifts). Bella Coola Grizzly Tours offers bear watching excursions and also has charming self-catering log cabin accommodations.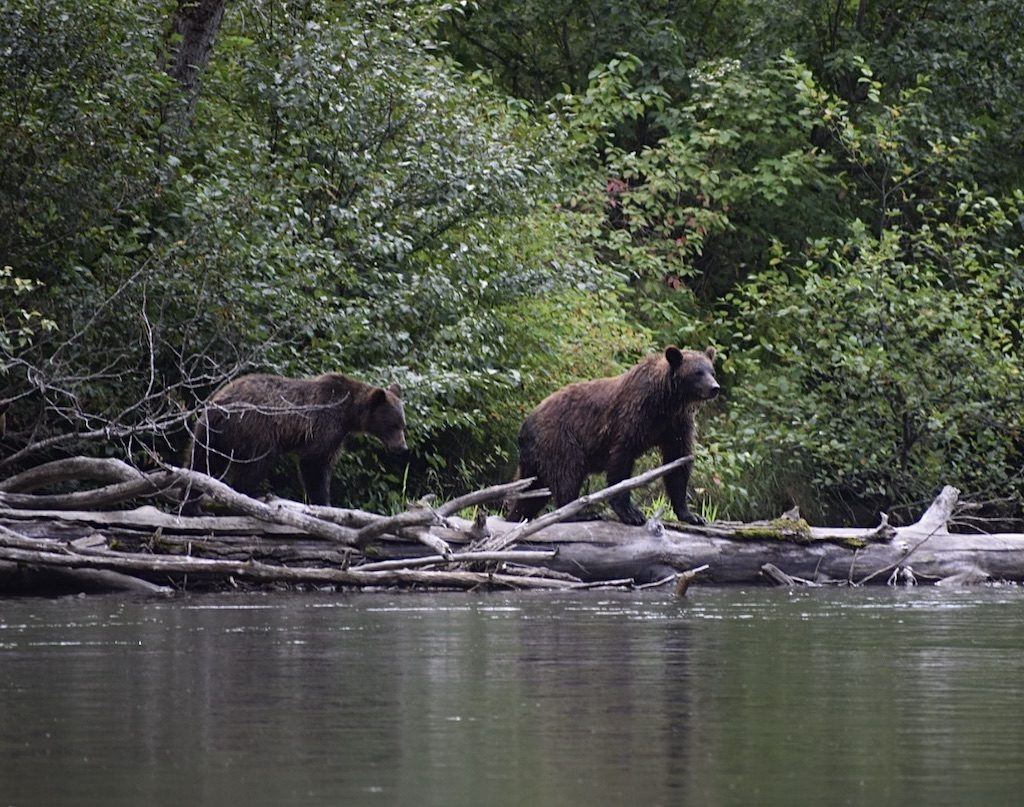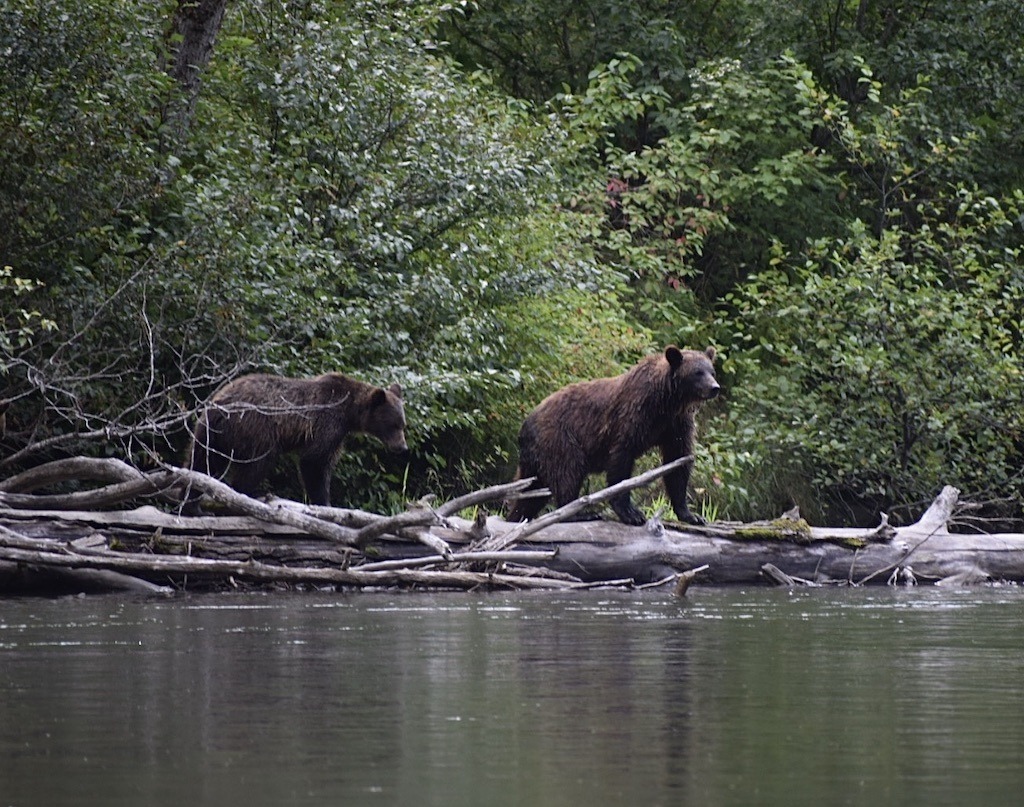 If you have your own vehicle and are visiting in September, drive north into Tweedsmuir Provincial Park to the Belarko Bear Watching Platform. This platform above the Atnarko River is run and staffed by B.C. Parks throughout the month of September.
The spot that was most successful for us for seeing bears, however, was the Fisheries Pool Provincial Campground located just before the Belarko Platform when driving east into Tweedsmuir Provincial Park. Both campers and the general public are welcome at this site. Judging by the number of photographers set up for the day (paparazzi-style), this is the place to be for grizzly bear watching. (We saw a mom and 3 cubs there on 2 different days.)
If you are venturing out on your own, please follow the linked guidelines for wildlife and bear encounters. As our family has delved deeper into hiking in B.C., we definitely have had to familiarize ourselves with what to do in the event of a bear encounter. This has including carrying bear spray and bear bells on hikes (available at places like MEC and REI).
Note: You cannot fly with bear spray (carry-on or checked bags). It can, however, be purchased in Bella Coola or the neighboring town of Hagensborg.
2. Bella Coola Hiking Trails
The Bella Coola Valley has many beautiful hiking trails that allow visitors to experience old growth forests, alpine meadows, glacial waterfalls and spectacular Bella Coola Valley viewpoints. Two popular hikes include the M.Gurr Lake Trail and Odegaard Falls. See a full list of Bella Coola hikes here.
Many hikes (including M.Gurr and Odegaard) are reached via old forestry service roads that are not necessarily well maintained. A 4×4 vehicle is highly recommended. We rented one from Steve at Bella Coola Vehicle Rentals and had a very good experience. Please note that due to the additional wear and tear on vehicles when traveling on these particularly rough roads, a rental surcharge is applied.
Note: It can be a little tricky to get updated information on the conditions of the forestry roads leading up to some of the alpine hikes. If you do not have a knowledgeable local to ask (such as Steve), I recommend checking to see if anyone has posted recently about the hike on TripAdvisor, inquiring on the Visit Bella Coola Facebook page, or calling the Ministry of Forests front counter office at 250-982-2000.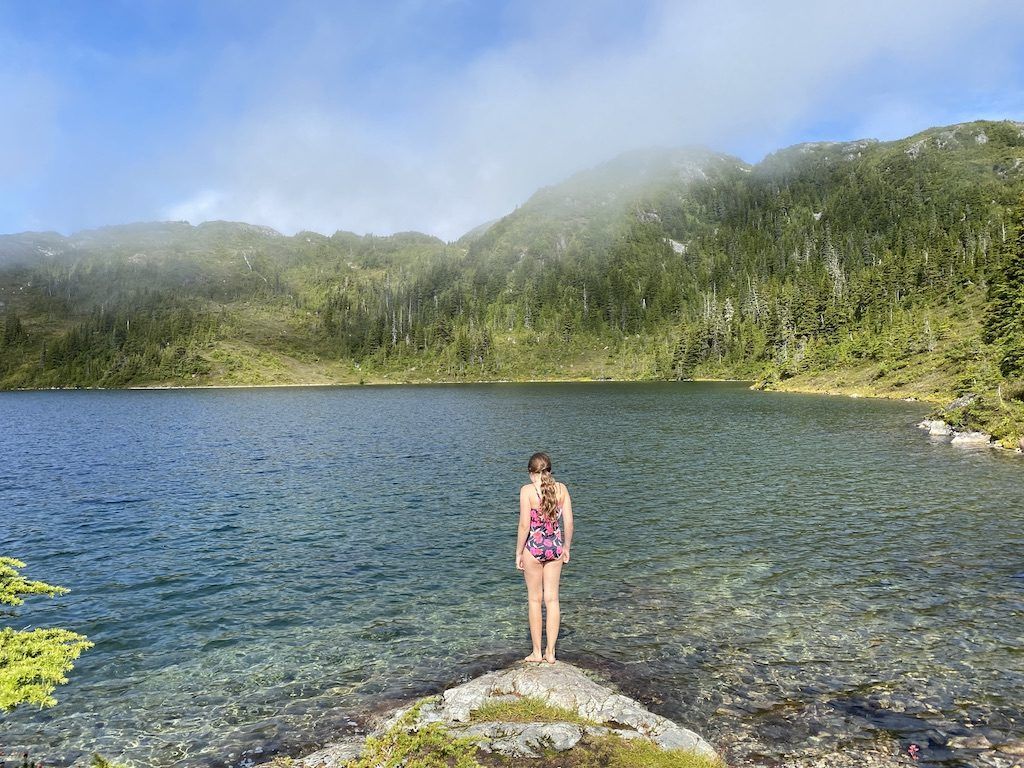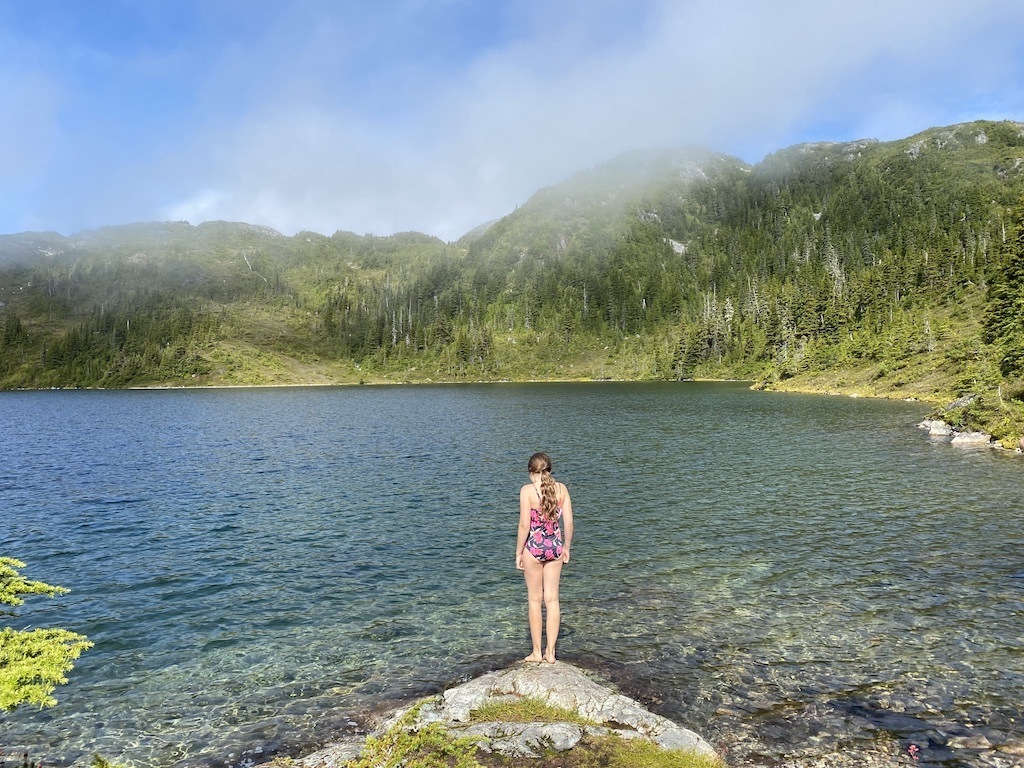 While out and about (or if you are sitting around waiting for your plane), don't miss seeing one of the largest cedars in the valley right at the Bella Coola Airport. Follow the trail across from the parking lot into the woods about 25m until you see this beauty. She is almost 3m wide and 50m tall!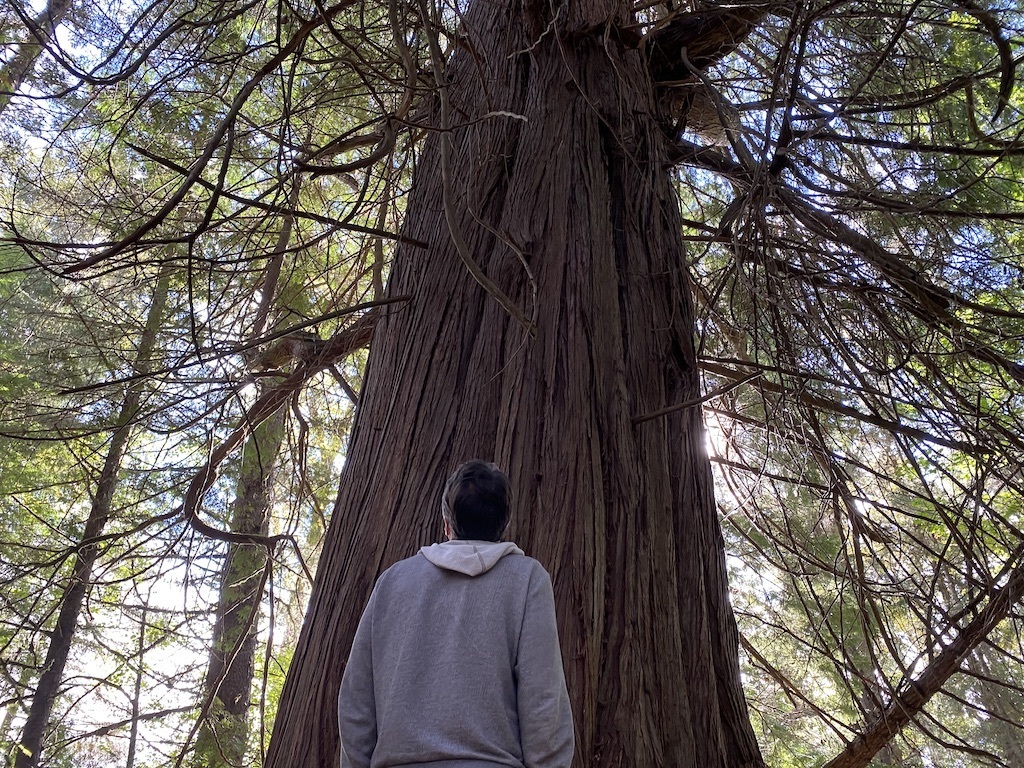 3. Marine Adventures
One of the most special ways to experience the beauty of Bella Coola and the Great Bear Rainforest is to enjoy it from the water. Single day and multi-day boating trips are available from Bella Coola offering the opportunity to see bears, whales, dolphins, sea otters, wolves, eagles and more.
Booking a boat trip is also necessary if you are interested in visiting Bella Coola's natural hot springs that are carved into the rocks and "The Big Cedar".
See Great Bear Sailing Adventures (39 foot sailboat) and Bella Coola Grizzly Tours (42 foot power boat) for itinerary options.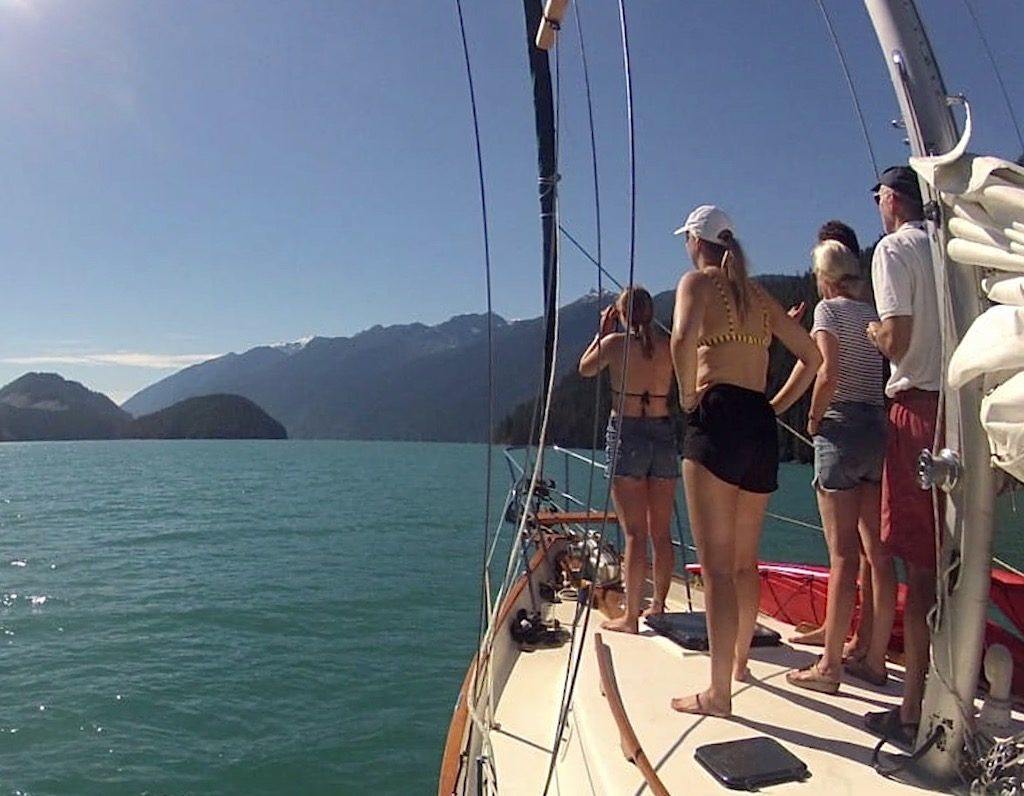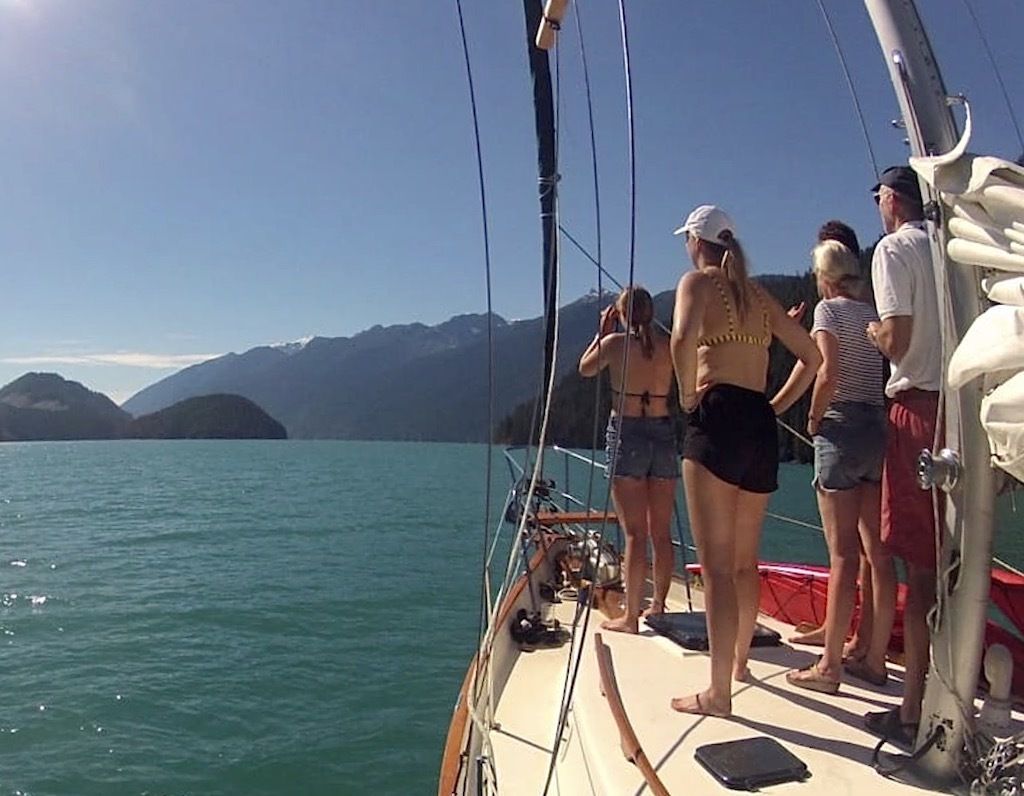 4. Bella Coola Petroglyphs
Bella Coola is located within the ancestral lands of the Nuxalk Nation. This First Nations community can trace their roots as keepers of the Bella Coola Valley back thousands of years.
One of the must-see highlights of the Bella Coola Valley are the petroglyphs at Thorsen Creek. These significant rock carvings, depicting both the natural and supernatural world, were created between 5-10,000 year ago by the Indigenous People of the valley.
The petroglyphs continue to be a very sacred location for the Nuxalk Nation today. Respectfully, they should only be visited as part of a tour with a Nuxalk guide. Interpretive tours can be booked through Copper Sun Gallery and Tours.
Update: As a precaution, Copper Sun has chosen to cancel tours for 2020 to ensure the safety and health of their community. They have plans to reopen for the 2021 tourism season.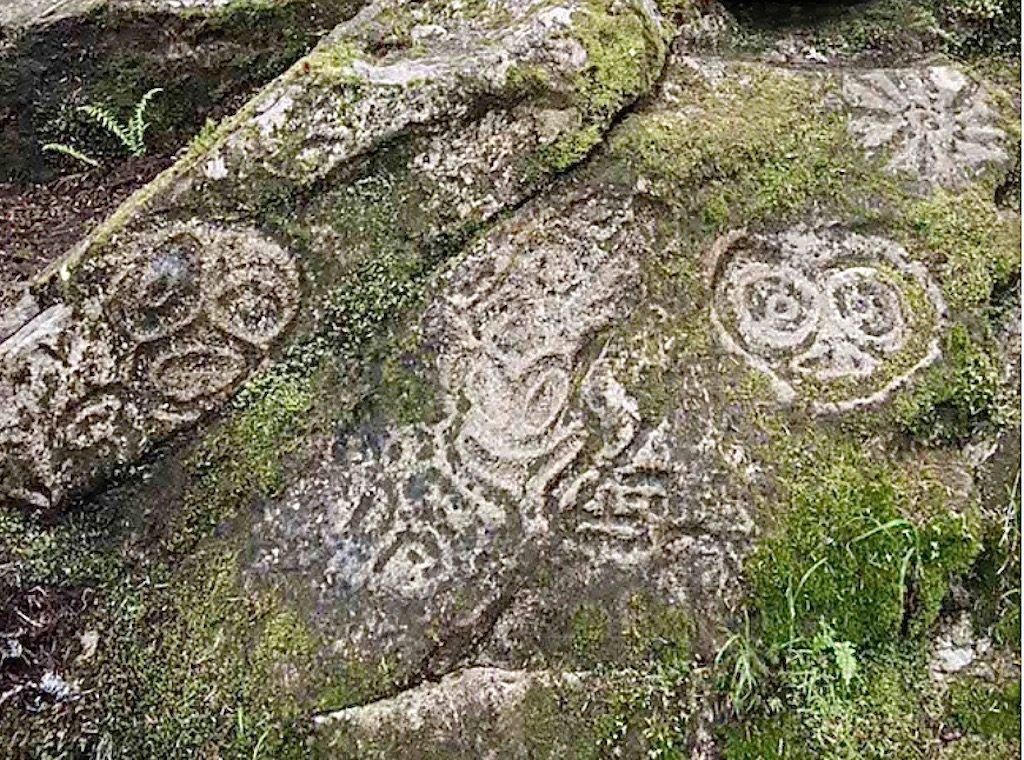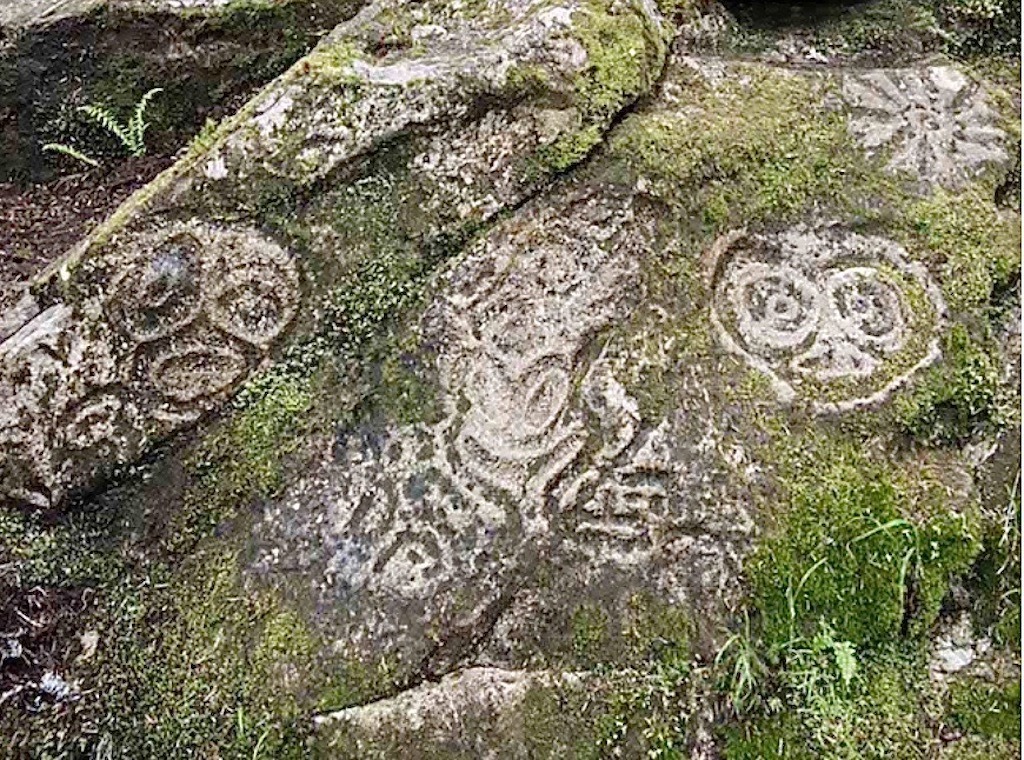 5. Bella Coola River Fishing
Along with Cutthroat trout, Rainbow trout, Rocky Mountain whitefish and Dolly Varden, anglers can fish the multiple salmon runs in the rivers and streams of the Bella Coola Valley (Chinook, Coho, Chum and Pink).
To set up for a successful fishing adventure, a guide is highly recommended. Several local lodges offer guided fishing packages including Eagle Lodge and Tweedsmuir Park Lodge.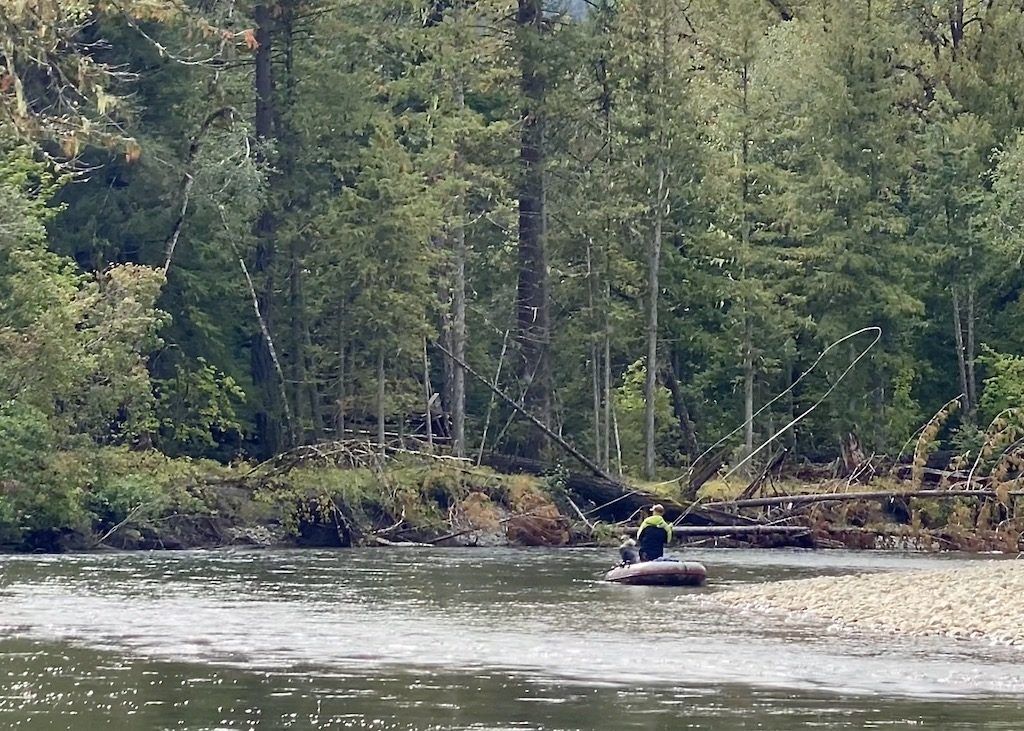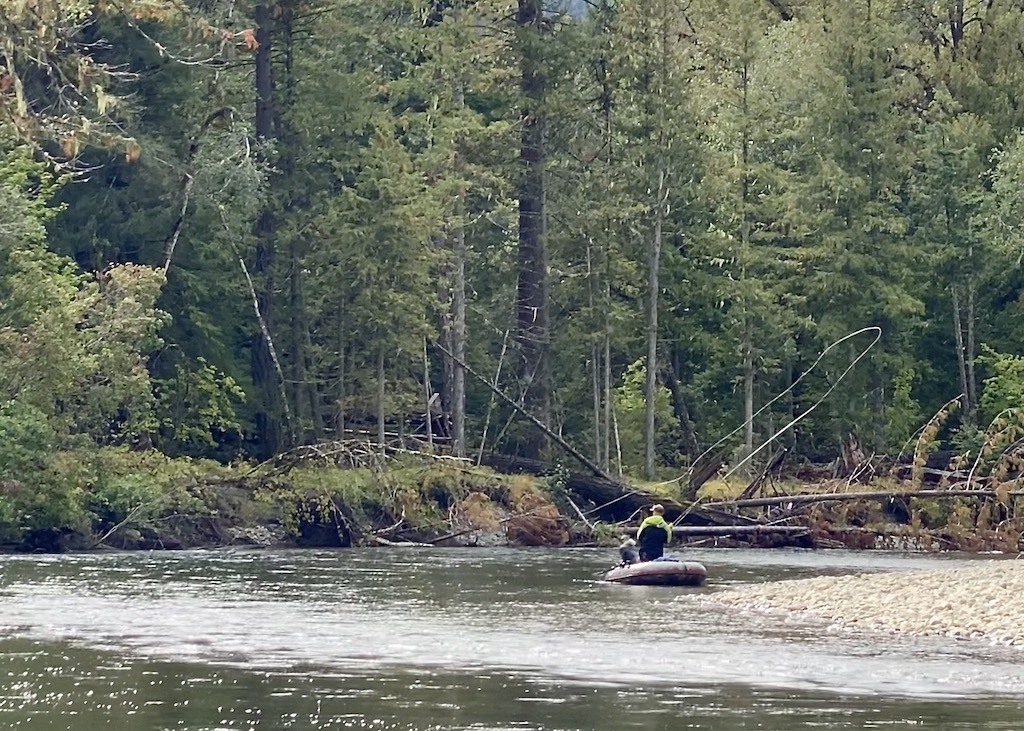 Bella Coola Accommodation
Looking for Bella Coola hotels? Check out our top picks for Bella Coola accommodations below.
1. Bella Coola Grizzly Tours Cabins
If you would like to self-cater or are looking for cozy family-sized accommodations, Bella Coola Grizzly Tours log cabins are a solid choice. The cabins are nestled into the edge of the woods and contain a queen bed plus two double beds. Each unit also has a wood stove, electric stove, refrigerator, microwave and gas BBQ.
Check rates on Booking.com or read recent reviews on TripAdvisor.
Note: Bella Coola Grizzly Tours land and marine based adventures leave right from the property.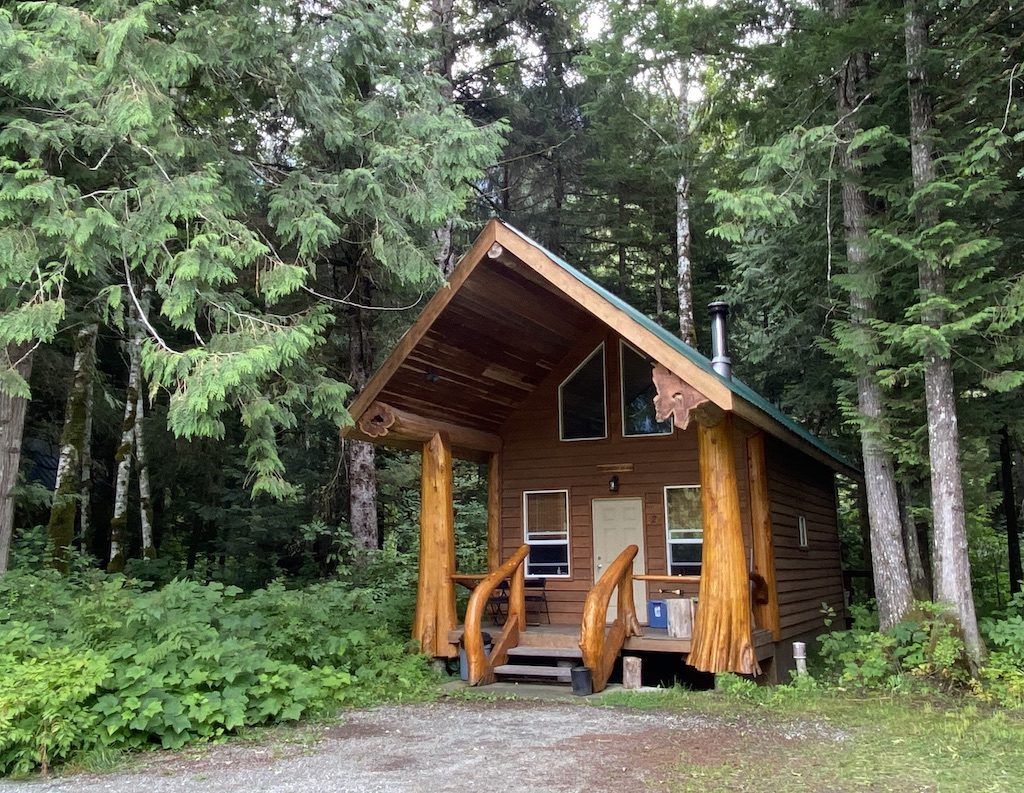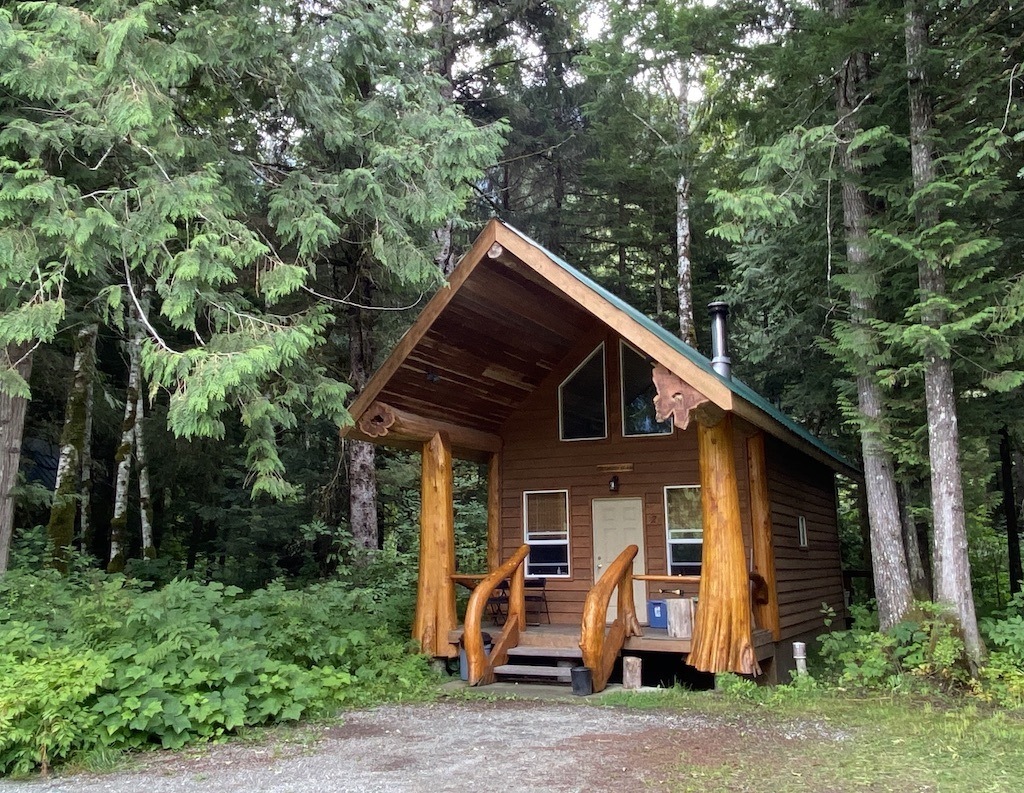 2. Bella Coola Eagle Lodge
If you are looking for something closer to luxury accommodation in Bella Coola, the Eagle Lodge is a great option. It has 11 nicely appointed guest rooms in various configurations, including adjoining rooms for families.
All rooms have hardwood floors, a fireplace, satellite TV and wireless internet. There is a games room, a business centre, and an exercise room on site, plus a complimentary airport shuttle. Stays include a continental breakfast (with espresso bar).
Check rates on Booking.com or read recent reviews on TripAdvisor.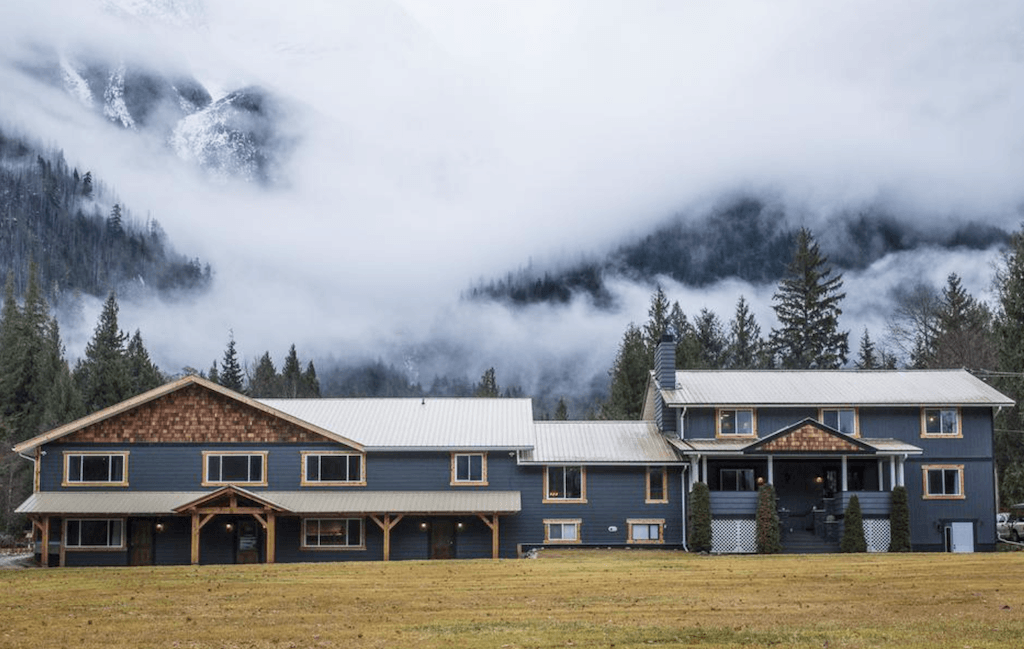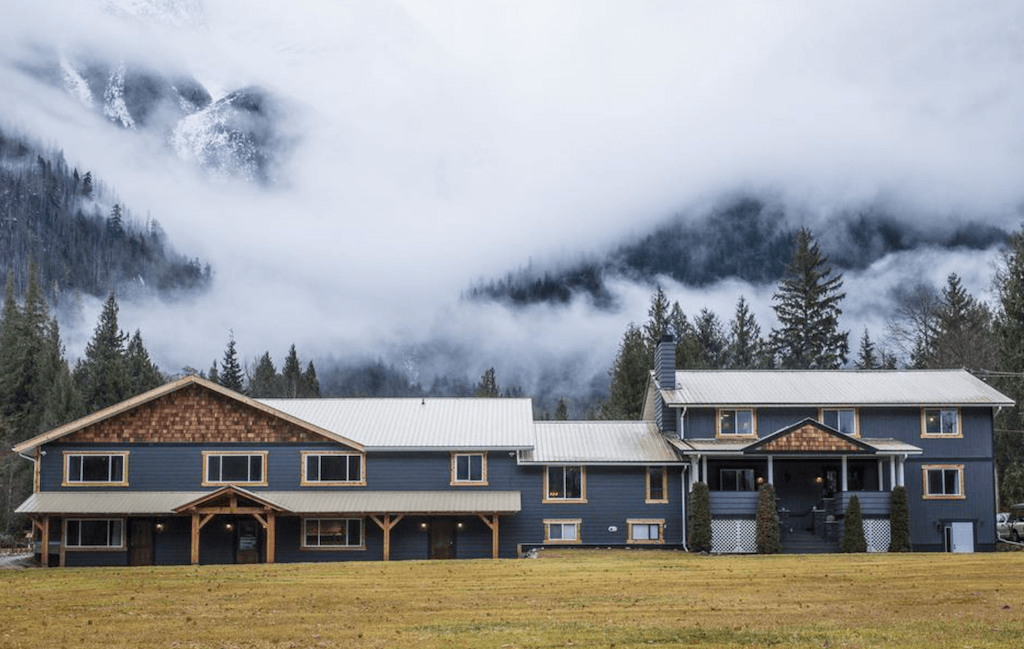 3. Tweedsmuir Park Lodge
If you are looking for a B.C. luxury wilderness lodge getaway, Tweedsmuir Park Lodge, just 40 minutes east of Bella Coola, is for you. With their expert guides and all-inclusive programming, all the logistics are taken care of for your bear watching, fly fishing, hiking or heli-skiing adventure.
Guests at Tweedsmuir Park Lodge stay in rustic luxury in their lovely timber-framed chalets. Fine fare is served in the lodge where guests can later retire to the cozy lounge or games room.
Learn more on the Tweedsmuir Park Lodge website or read recent reviews on TripAdvisor. See also this post on our 3 night stay at Tweedsmuir Park Lodge.
Tip: Inquire about specials. We received 30% off the 3-night Grizzly Bear Safari package – a unique deal offered to B.C. residents for fall 2020.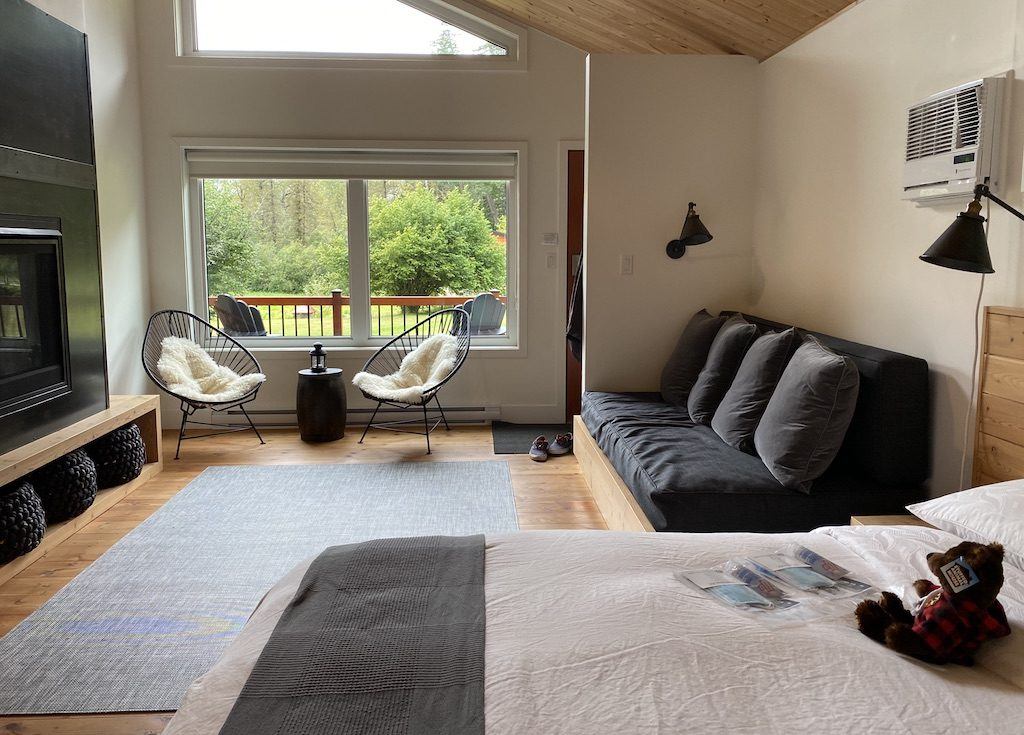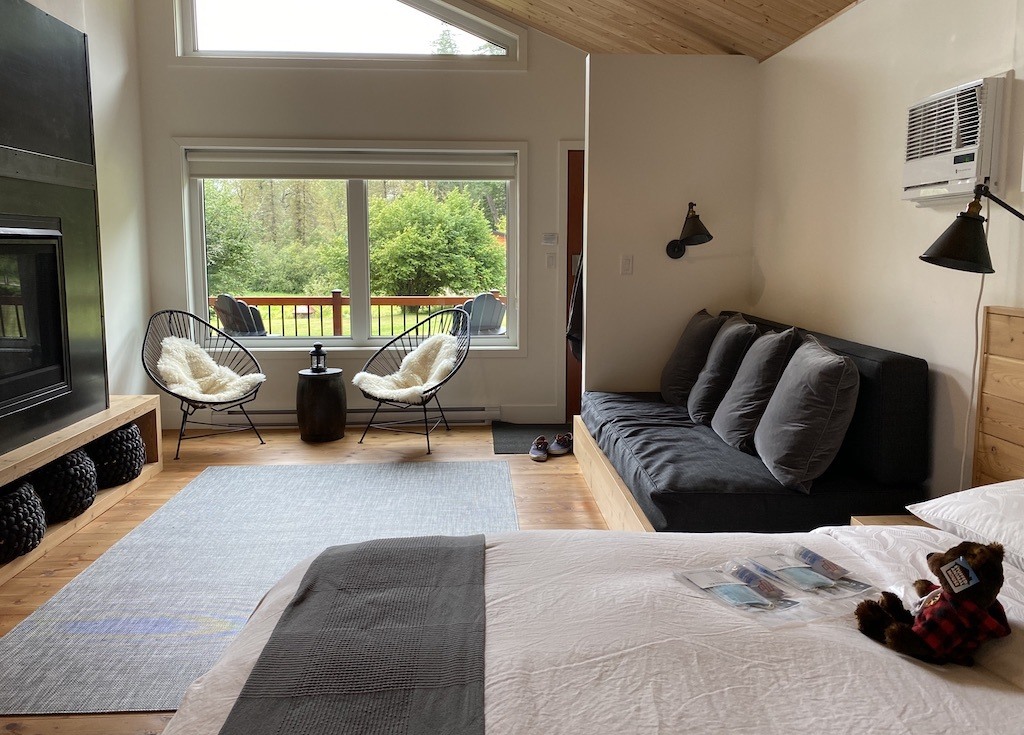 Getting to Bella Coola
Bella Coola can be reached by air, land and sea.
By Air: Pacific Coastal Airlines has daily flights to Bella Coola Airport (QBC) from Vancouver's South Terminal (YVR).The flight time is approximately 70 minutes.* Private planes and helicopter can also land at Bella Coola Airport.
*Note: If the weather is not great in Bella Coola, planes will sometimes land in Anahim Lake instead. The journey to Bella Coola is then completed by taking a 2 hour ride on a school bus down a rather precarious-looking dirt road ("The Hill") from the Chilcotin Plateau to the valley floor. (This happened to us in early Sept.)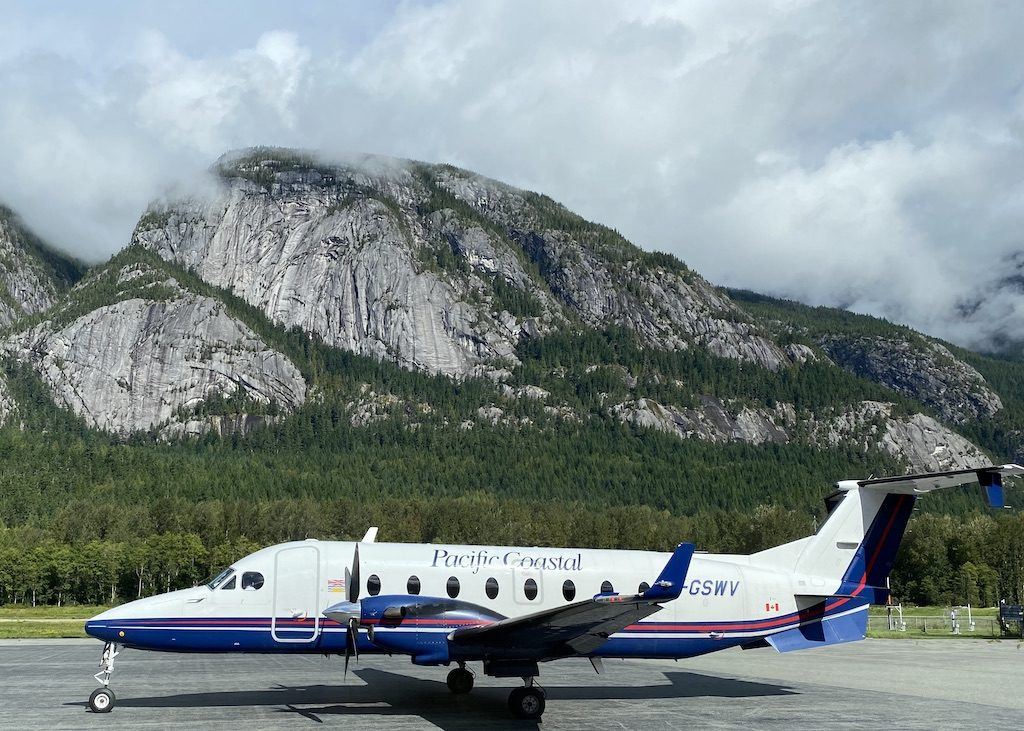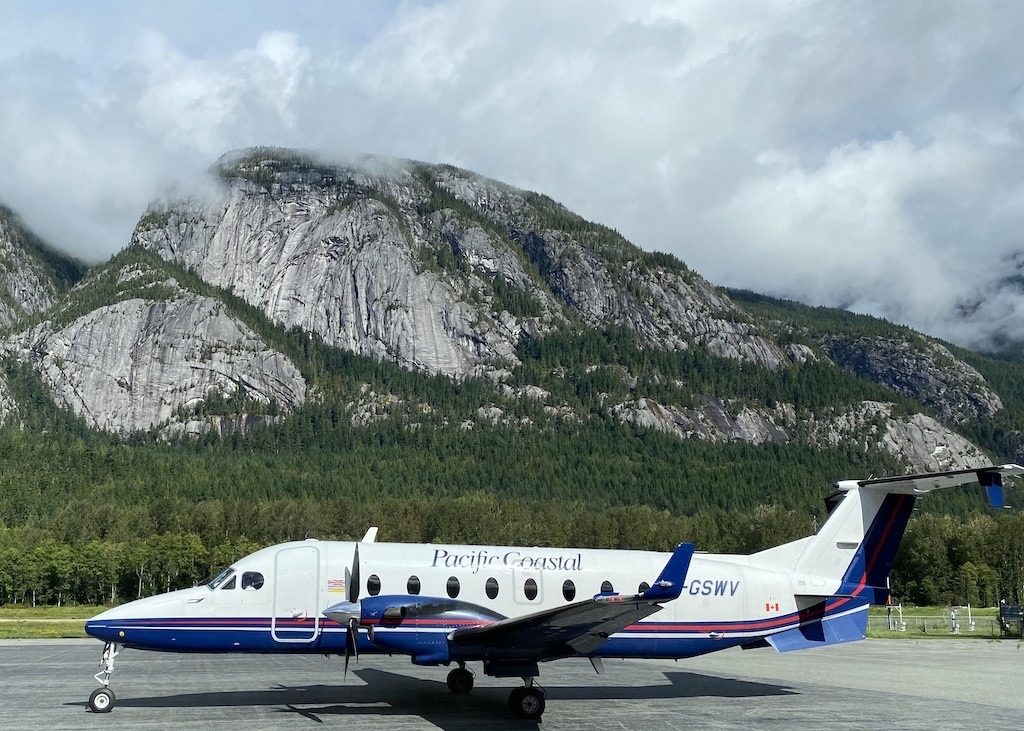 By Water: The Northern Sea Wolf ferry normally runs between Port Hardy and Bella Coola during the summer months, although it was put on hold for 2020. See the Central Coast Connector on the BC Ferries website for more information.
By Land: Follow Hwy 97 to Williams Lake and continue west on Hwy 20 for a 4-hour drive to Anahim Lake. The descent into the Bella Coola Valley involves a 20 minute drive down "The Hill" (a packed, dirt road with numerous hairpin turns) that must be driven slowly and carefully. From the bottom, it is another 60 minutes to Bella Coola. Bella Coola is 920 km from Vancouver.
Questions About Bella Coola?
If you have any questions about visiting Bella Coola, I recommend checking out BellaCoola.ca. Alternatively, feel free to reach out to me at [email protected].
More B.C. Travel Guides