Last update: May 8th, 2023 at 06:55 am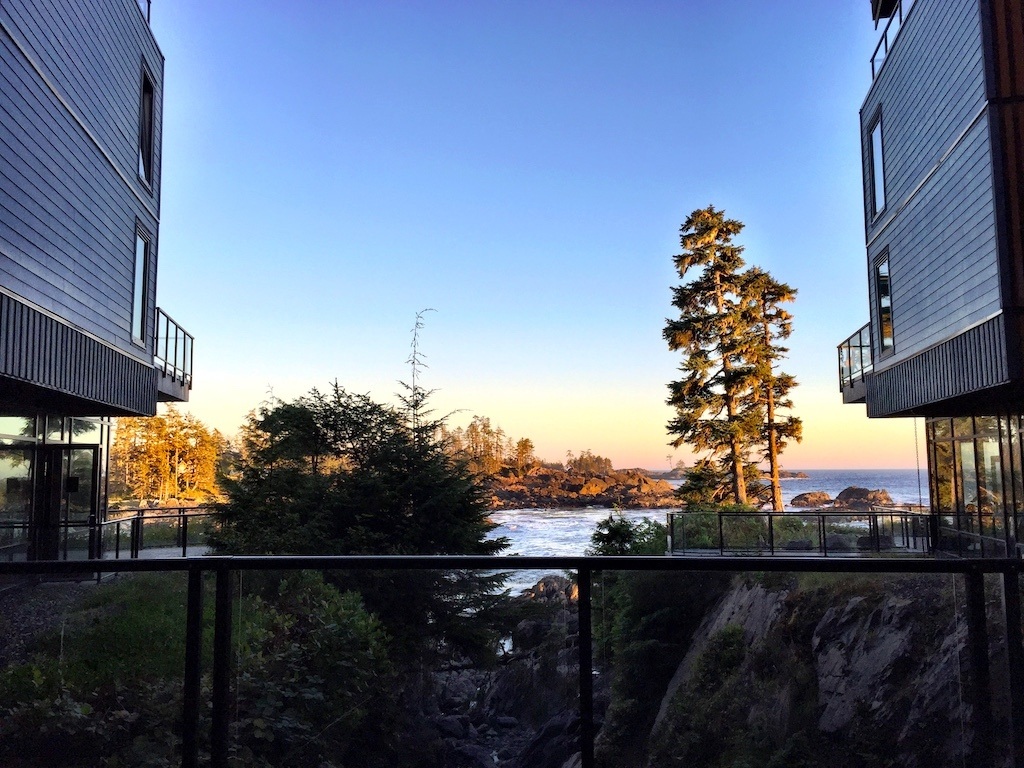 Best Ucluelet Accommodations
Looking for the best places to stay in Ucluelet? For a small town, Ucluelet has some really nice options for the perfect getaway – whether you plan on a weekend away or a week!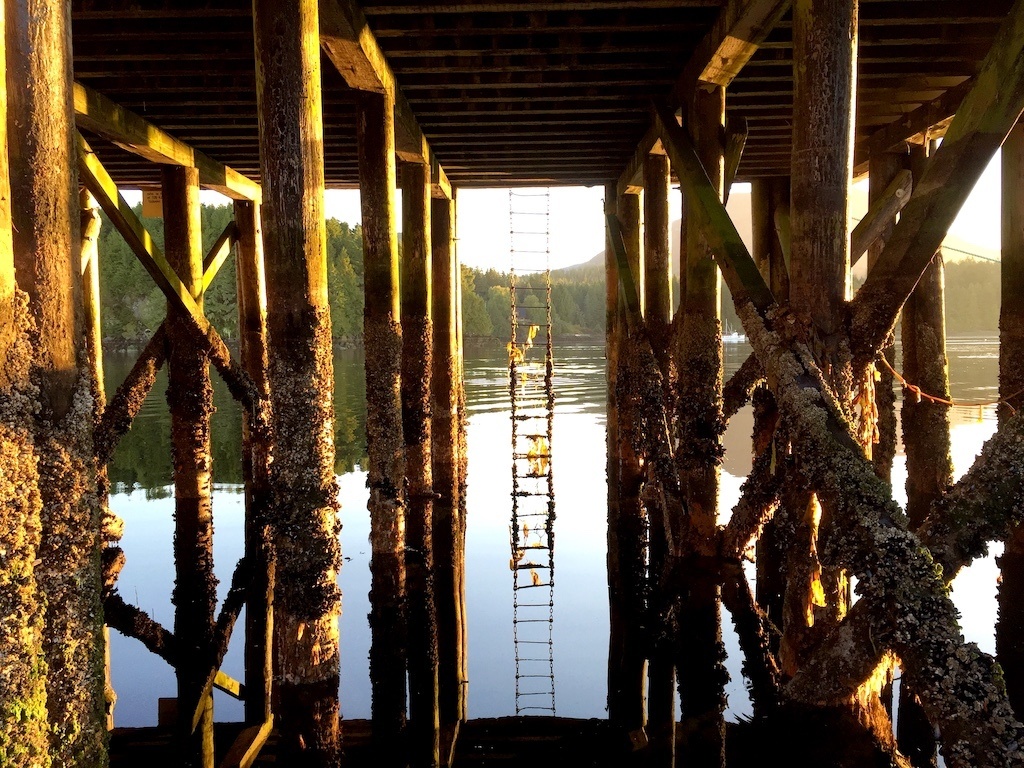 To be clear, Ucluelet is a getaway-worthy destination on its own, but I do want to mention that it is also only a 40 minute drive from Tofino. As Tofino can get very expensive and quite booked up during peak times, a Ucluelet hotel or cozy oceanfront Ucluelet cabin can make for an excellent alternative. I for one, have never visited Tofino without spending time in Ucluelet, and vice versa.
Read on to discover our favourite hotels in Ucluelet, followed by some lovely Ucluelet cabins and vacation rental options.
See also these top 10 things to do in Ucluelet.
Best Ucluelet Hotels
1. Black Rock Oceanfront Resort
From its coastal location, The Black Rock Oceanfront Resort lets you experience the rugged beauty of the the west coast without even leaving your cozy room! This secluded property is nestled right into the temperate rainforest along the Wild Pacific Trail.
The Black Rock is a great choice if you are looking for full-service hotels in Ucluelet. The hotel has a spa, outdoor pool, hot tub, restaurant (Currents), lounge and cafe.
Accommodations at the Black Rock Ucluelet include studio, one and two bedroom suites. Every room has floor-to-ceiling windows, a gas fireplace, a kitchenette and a soaker tub. Pets are welcome in select suites.
Even if you aren't staying at the Black Rock Ucluelet, I highly recommend at least popping in for a cocktail as the location is really quite spectacular.
Check rates for the Black Rock on Booking.com or see TripAdvisor reviews.
2. Pluvio Restaurant and Rooms – Ucluelet Boutique Hotel
Pluvio is located right in the town of Ucluelet and is perfect for those looking for a Ucluelet boutique hotel experience. It is also an ideal choice for foodies as the stylish rooms are located right behind the critically-acclaimed restaurant of the same name.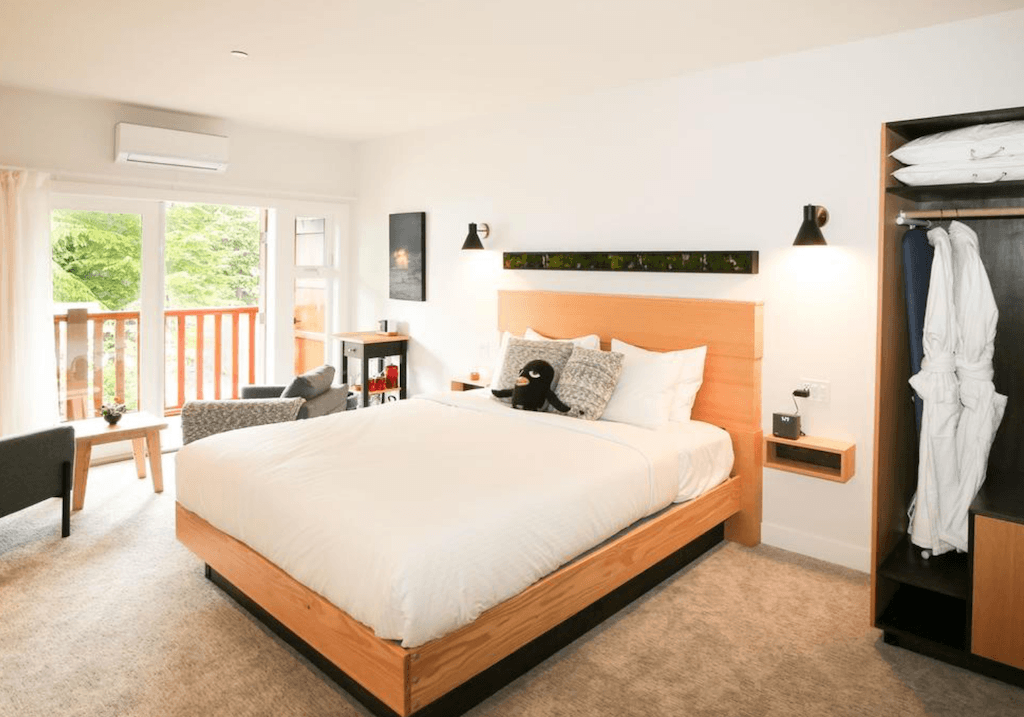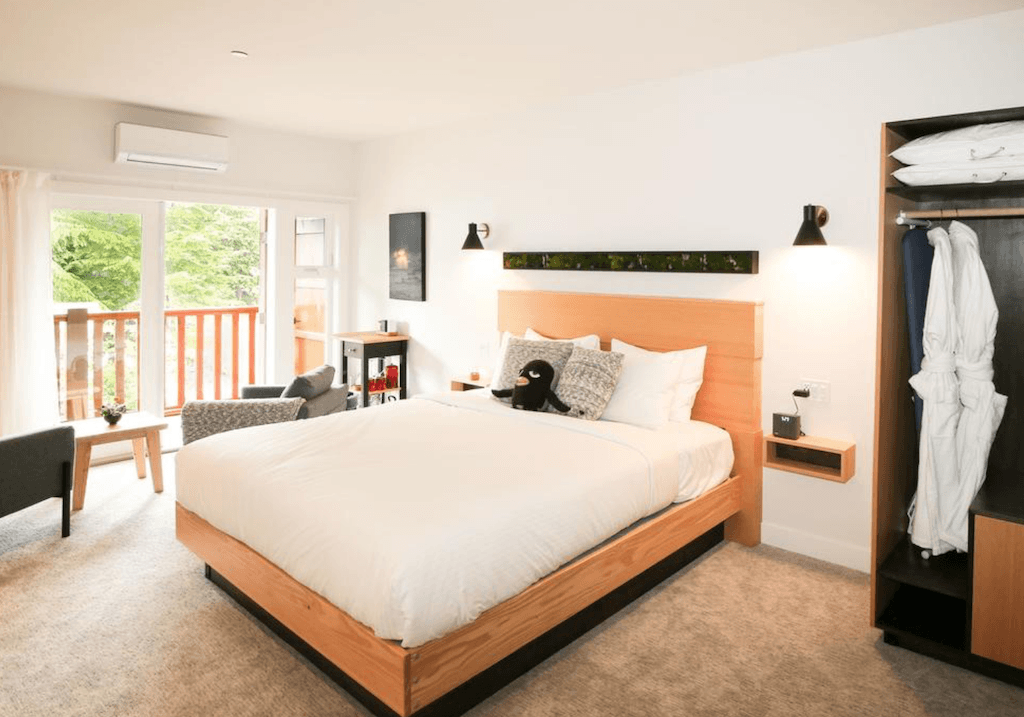 Owners Warren Barr and Lily Verney-Downey originally met in the kitchen of Tofino's Relais & Châteaux Wickaninnish Inn where Warren was the Executive Chef and Lily worked in management after completing her Culinary Arts Management degree.
Pluvio accommodations feature art pieces, textiles and furniture from local artisans. Each of the four rooms has a king size bed, walk-in rainforest shower, air conditioning, cable tv, wifi, tea + coffee making facilities and a private balcony.
Breakfast is included in a stay at Pluvio (delivered right to your doorstep) consisting of house-made baked goods, granola, fruit, yoghurt, cheese and juice.
This lovely property can accommodate guests 12 and above and welcomes pets in their garden level rooms (with prior arrangements).
Check rates for Pluvio on Booking.com or read TripAdvisor reviews.
Tip: Make dinner reservations at Pluvio ahead of time as it books out way in advance. Alternatively, you can request to have dinner delivered to your room.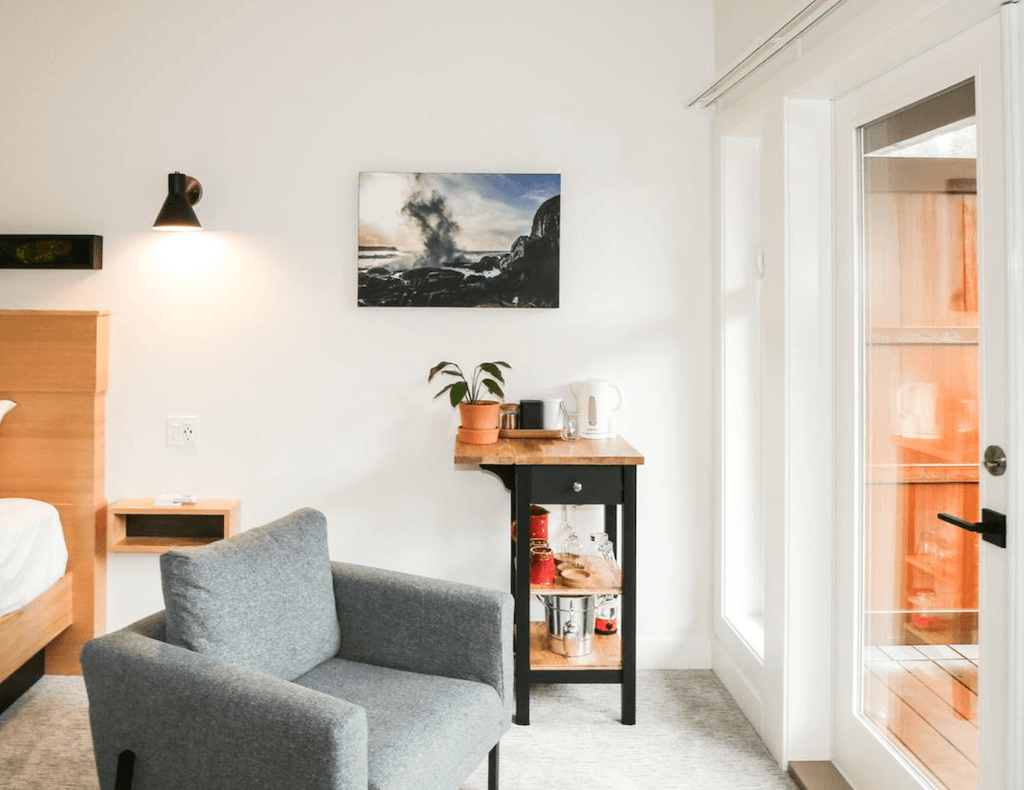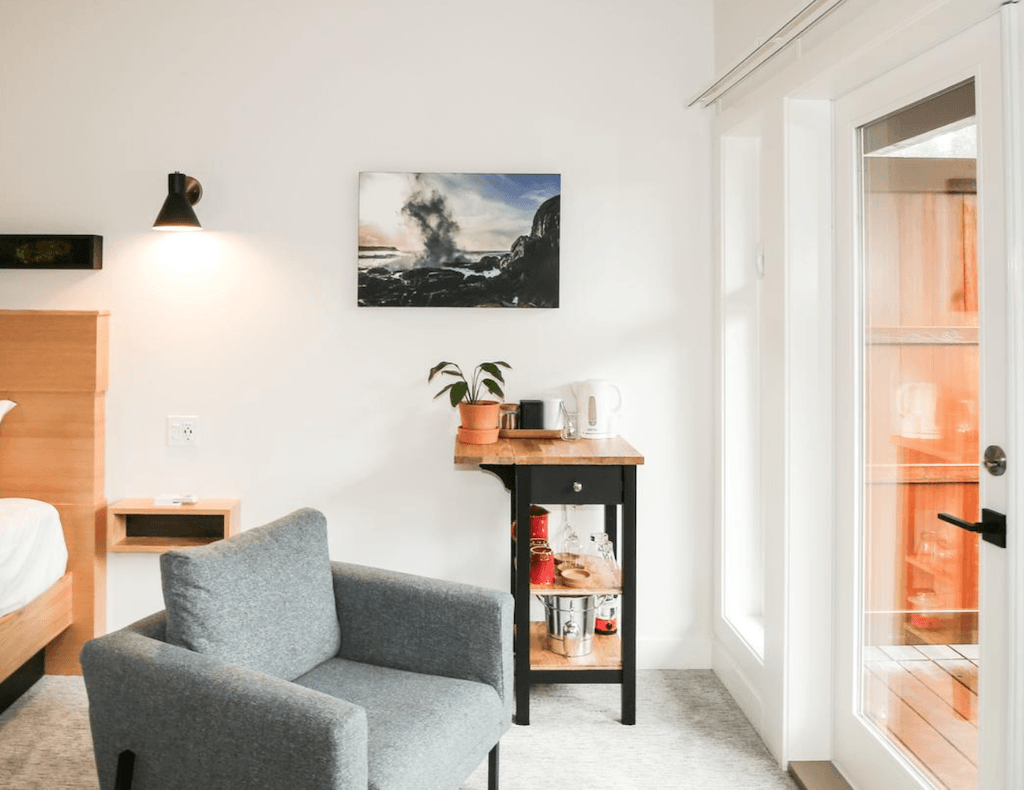 3. The Water's Edge Suites
The Water's Edge Shoreside Suites offer modest one and two bedroom self catering units (some pet friendly). All units have a full kitchen, a walk out patio with water views and a gas fireplace. The 2 bedroom suites have a jetted tub on the patio.
The Water's Edge is located on a little peninsula, right across from Ucluelet's main harbour (2km walk).
Check rates at the Water's Edge on Booking.com or read TripAdvisor reviews.
Cabins in Ucluelet
If a Ucluelet cabin stay is more your style, the options are quite plentiful with several cabin resorts not far from town.
1. The Cabins Ucluelet
The Cabins at Terrace Beach have something for everyone with family-friendly, pet-friendly and adults-only options.
The Cabins offers self-contained one and two bedroom rainforest or oceanfront cabins as well as lodge accommodation.
Check rates for The Cabins on Booking.com or read TripAdvisor reviews.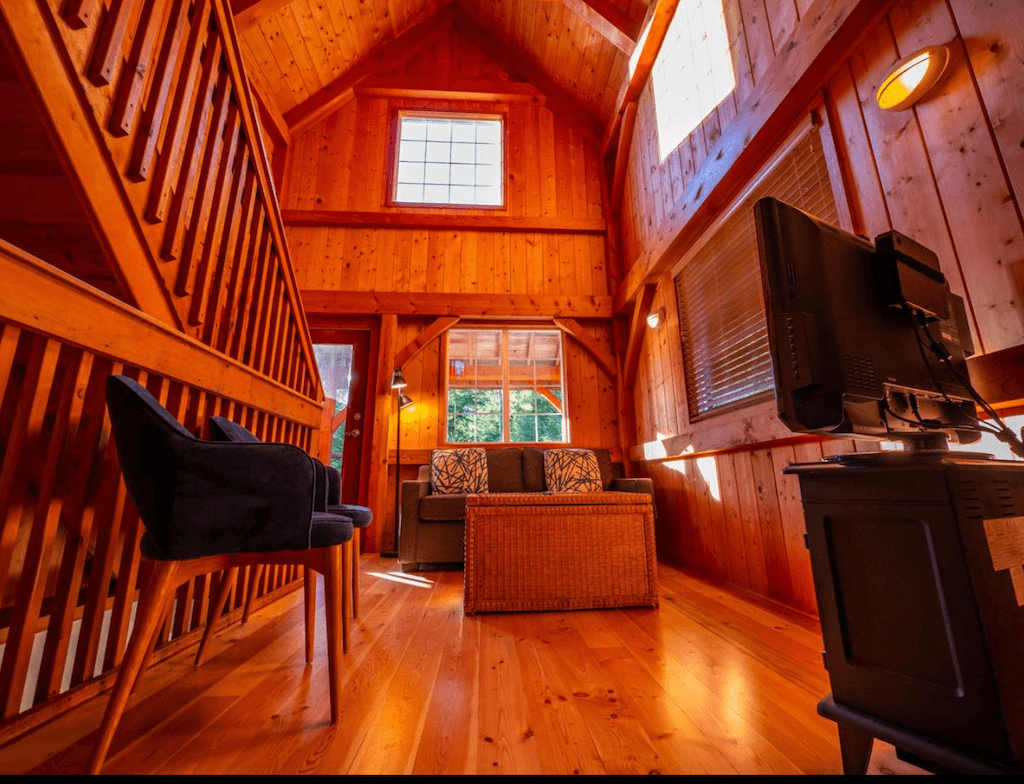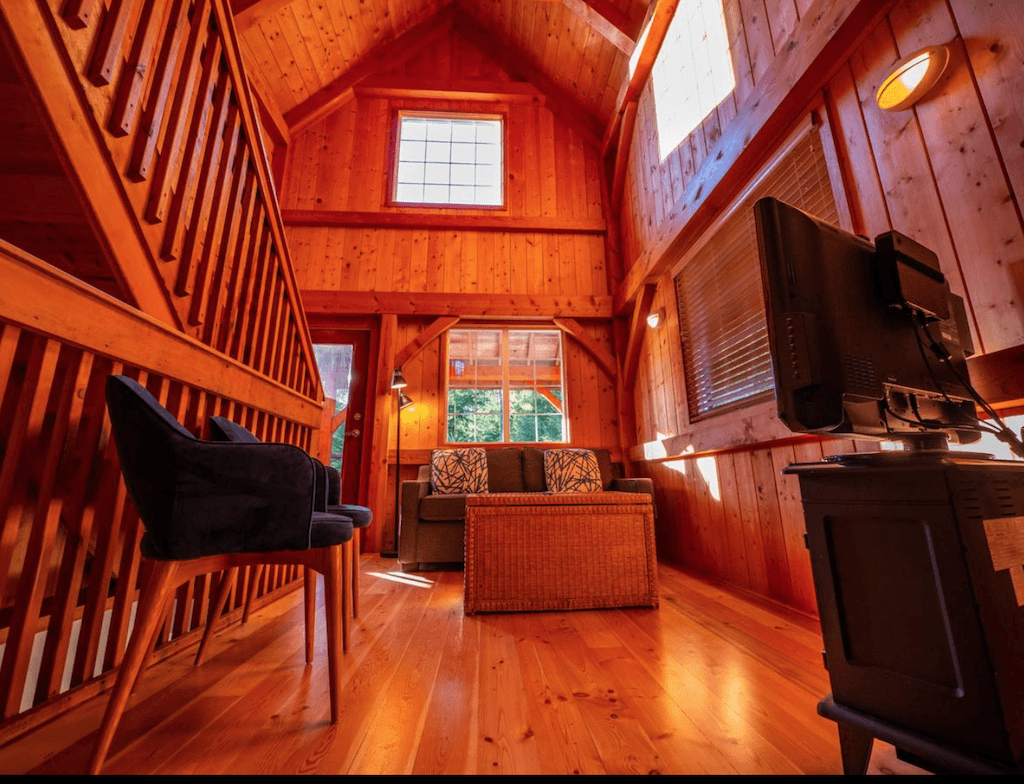 2. Cabins West Ucluelet
These wilderness inspired units consist of four cabins, each with a self contained 2 bedroom unit up top, and a one bedroom unit below.
Each suite has a fully equipped kitchen, private bbq, wifi and an electric fireplace. The two bedroom suites have either a jacuzzi tub or a large soaker tub. Picnic table are available for outdoor dining in nice weather.
Check rates for Ucluelet's Cabins West on Booking.com or read TripAdvisor reviews.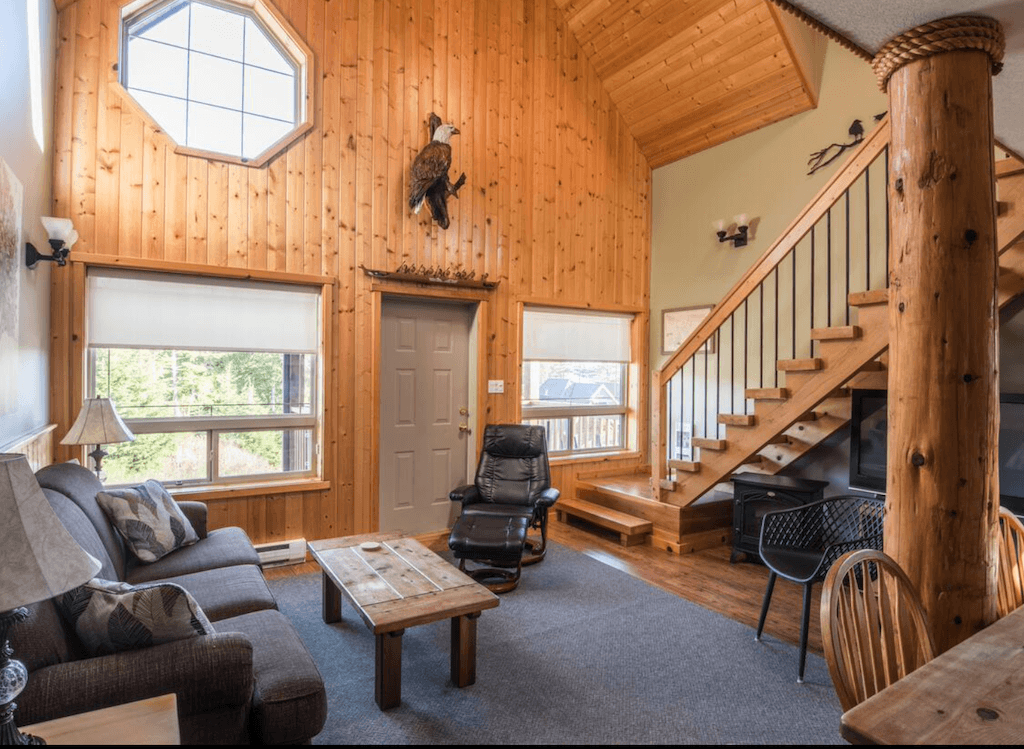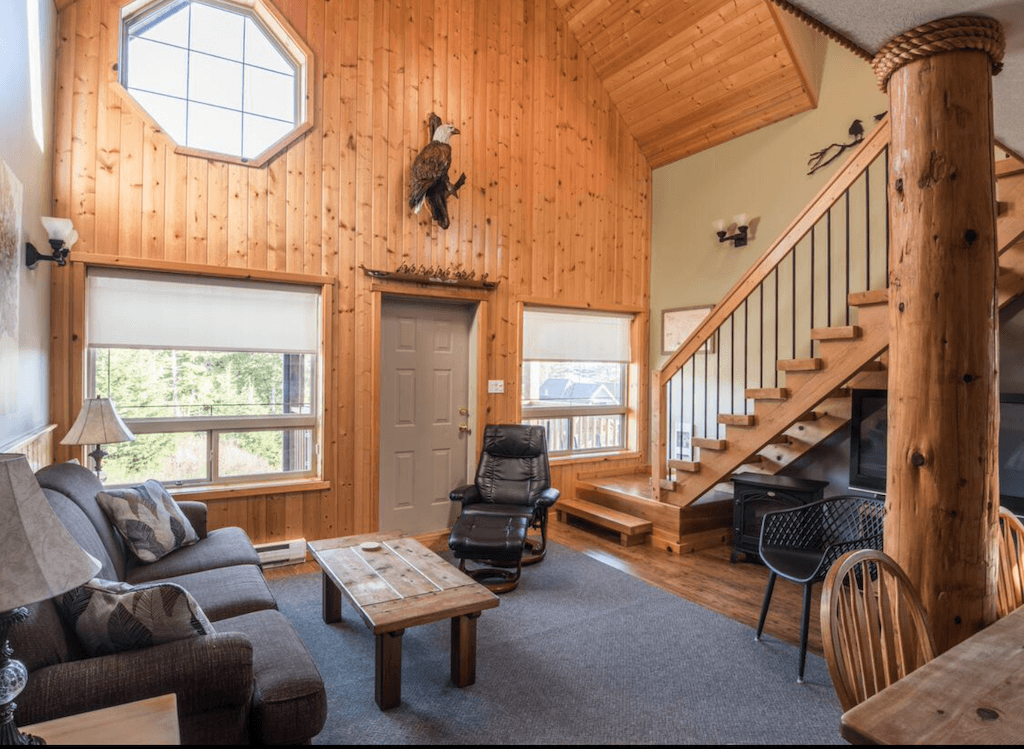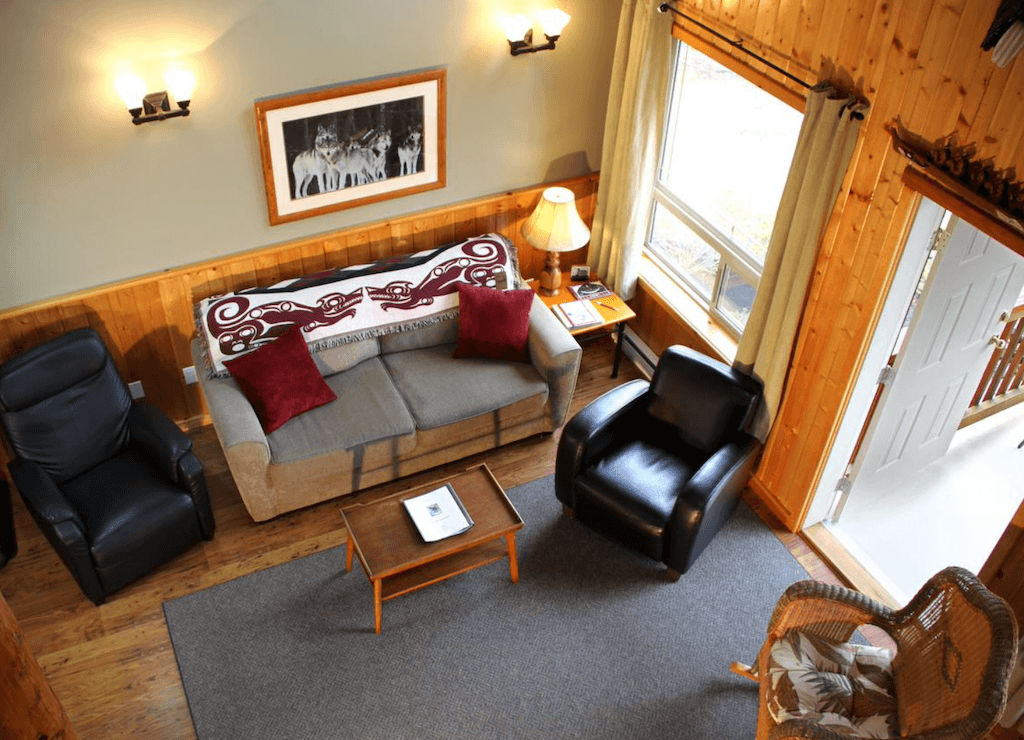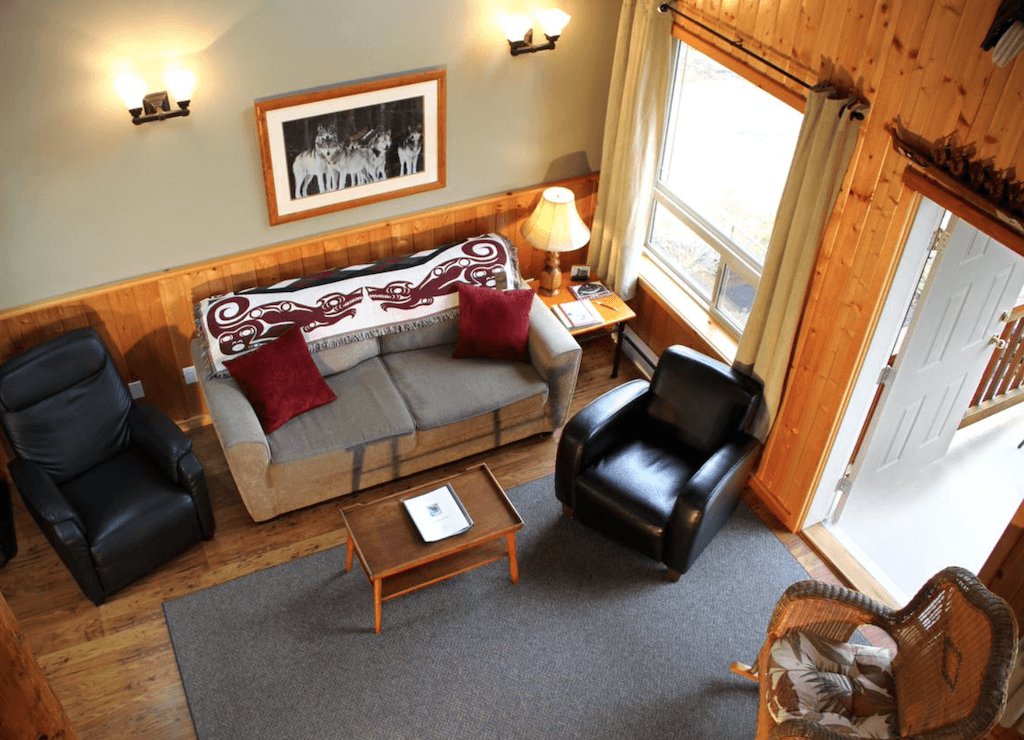 3. Point West Cottages Ucluelet
Point West Cottages offers 4 self-contained, private cottages (sleeping from 2-6), each with its own private hot tub and gas fireplace.
The cottages are located on 2 acres of waterfront property just outside of Ucluelet and on a quiet ocean-fed inlet surrounded by west coast cedar trees, privacy and peace.
Check rates for Point West Ucluelet Cottages or read TripAdvisor reviews.
Vacation Rentals Ucluelet
If you are looking for places to stay in Ucluelet that are more suitable for a longer term rental, you may prefer a Ucluelet vacation rental.
There are simply dozens of Ucluelet cabins, condos and suites to choose from on sites like VRBO and Airbnb. Just don't hesitate too long if you find something you like, as the best ones tend to book up quickly – like the incredible Black Rock Beach House shown below.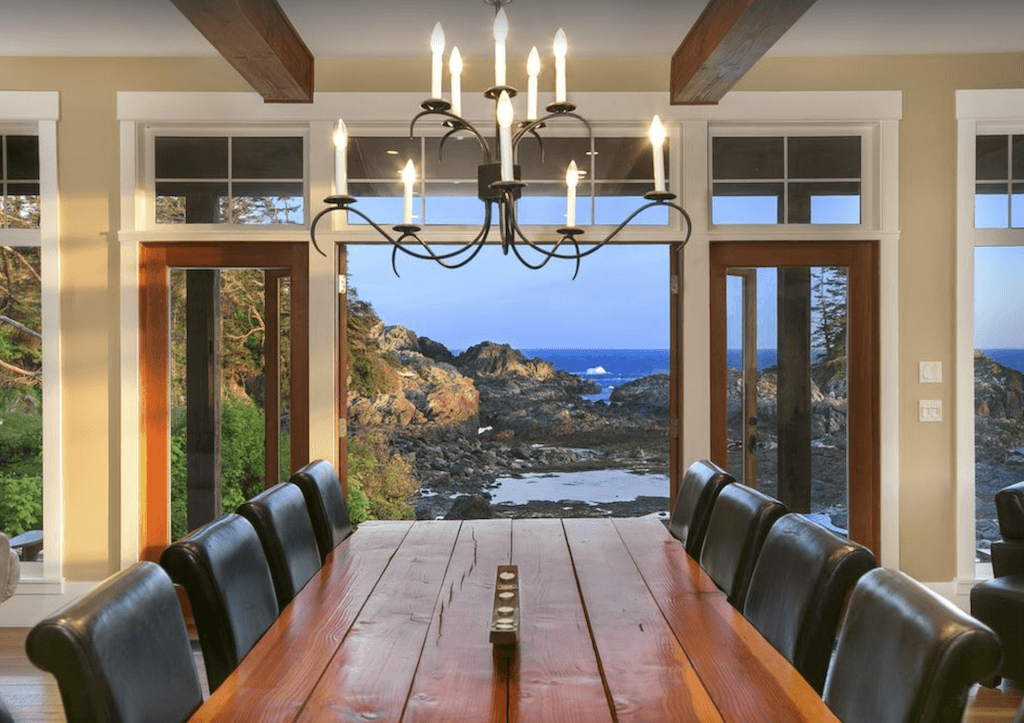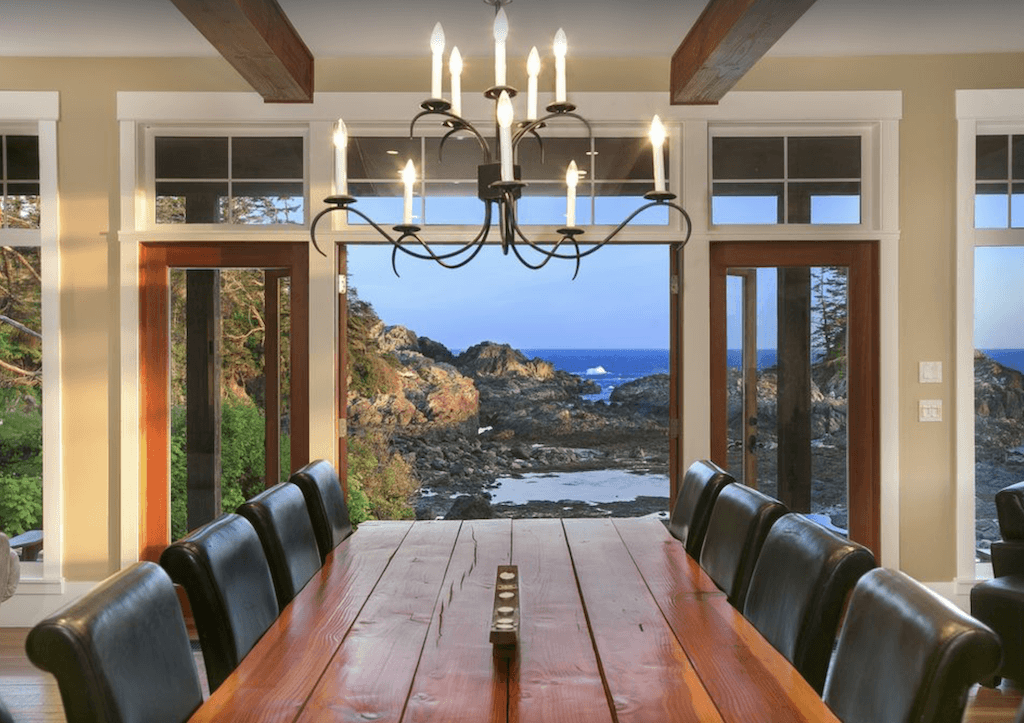 If you are looking for something a little smaller right in town, the condos at Black Rock Landing are pretty darn gorgeous. Check out this beautiful unit with vaulted ceilings and floor-to-ceiling windows overlooking the harbour. (Sleeps up to four and can welcome pets with prior arrangements.) See listing on VRBO.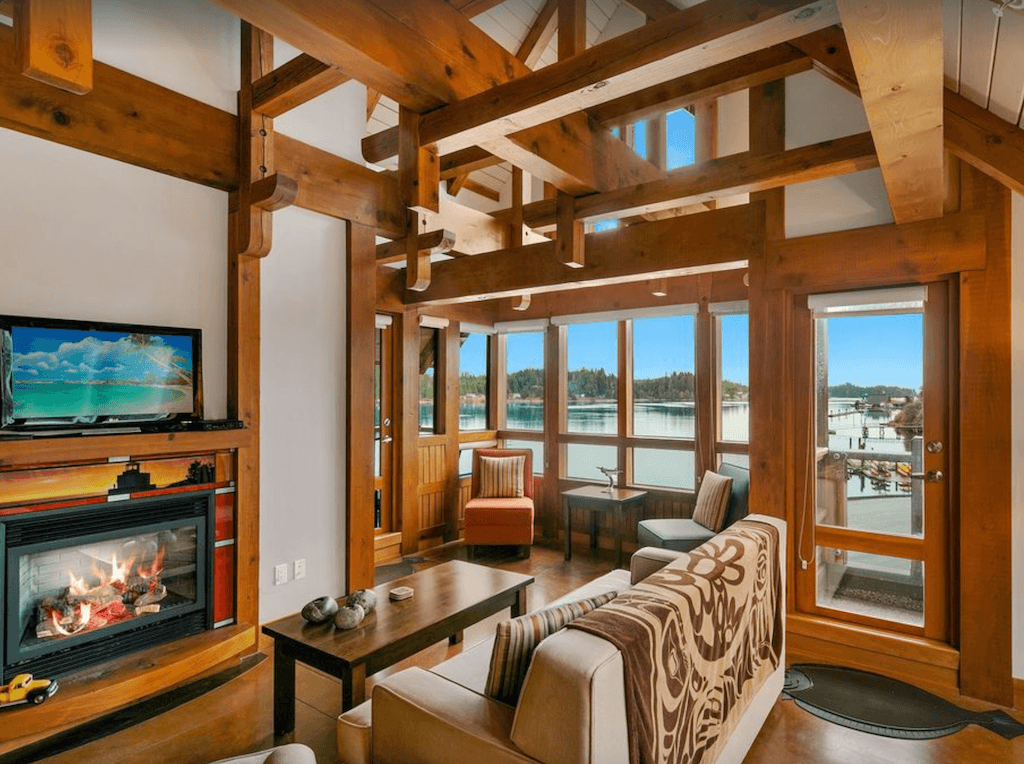 More on Ucluelet
If you have never been to Ucluelet before, you may also be interested in checking out our post on the top things to do in Ucluelet.
Want a little look around? Check out our 1 minute Ucluelet video.
Further B.C. Reading