The Best Lightweight Baby Carriers for Travel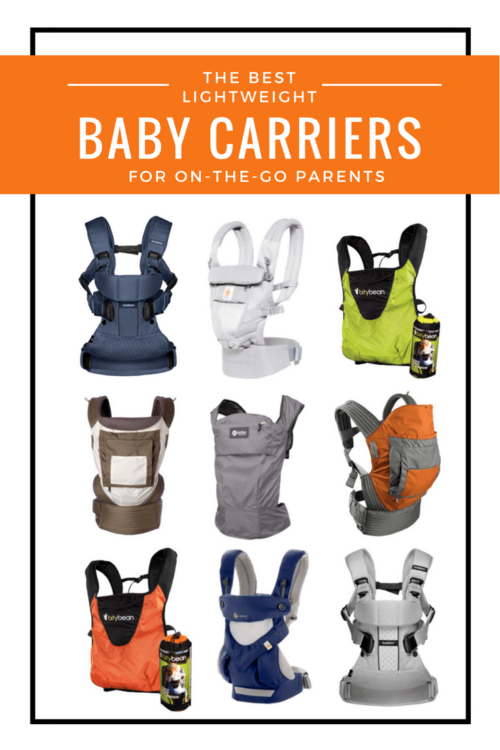 We never took a flight with one of our babies without having a lightweight travel baby carrier with us. Even though we always also had a travel stroller with us, it was nice to have another option if our child was fussy during a long delay at the airport. There was also the odd occasion where our gate checked stroller was returned back at the luggage carousel rather than at the gate, and it just gave us a Plan B.
In my opinion, the perfect baby or infant carrier for travel is lightweight, has a soft shell (so it can be easily be tucked away), has breathable fabric, is easily washable and has solid back support. While an infant sling is also very easy to travel with, it can be a little warm for a baby if you are traveling to a hot destination or if you are looking for the best baby carrier for summer. Also keep in mind that dark colors absorb more of the sun's energy than lighter colors, and thus can be hotter.
Important note: If you are researching airplane baby carrier options, please be aware that infant and baby carriers (or slings) are not permitted for use during takeoff and landing. This can be frustrating if your baby is nicely asleep in their infant carrier when you get on the plane. I recently sat next to a woman on a plane who was not asked to remove her baby from the infant carrier she was wearing, but I think it was simply because the flight attendant did not notice (and the mother certainly was not going to alert her to this fact). Lap babies (not in a paid seat) are expected to be held in a parent's lap during takeoff and landing. If you have purchased a seat for your baby, you have the options of either securing them in a Cares Air Safety Harness (the only FAA certified harness for babies that can be used during takeoff and landing) or an FAA certified travel car seat. For our top recommendations, please see this post on the best travel car seat options.
So, with that cleared up, let's get back to what your are looking for. With no further ado, here is our list of the best baby carriers for travel for 2018.
1. Ergobaby 360 Mesh Baby Carrier – From < $180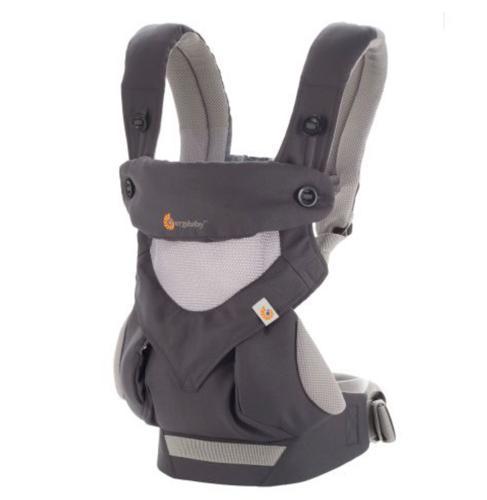 Claim to fame: The Ergobaby 360 Cool Mesh panels keep you and baby from getting too hot.
Ergo 360 Mesh Baby Carrier Features:
Good from 4-36 months (12-33lbs) or start with newborn infant insert (sold separately).

4 /5 stars by reviewers on Amazon.com.
The Ergobaby travel 360 mesh carrier is machine washable.

Cooler for you & baby with soft, lightweight & durable mesh – a good summer baby carrier.

Ergonomic for baby: baby is cradled in a natural M position.

All Carry Positions Included: Face baby in or out. Wear on the hip or back as baby grows.

Extra wide waistband and padded shoulder straps for parent comfort.

Easy breastfeeding & UPF 50+ tuckaway baby hood for sun & wind protection

Custom Fit: Easily adjusts to fit multiple wearers from petite to larger body types (waistbelt adjusts 26-52″, shoulder straps 28 to 46")

Reviews and further details about the Ergobaby 360 Mesh Carrier here.
2. Baby Bjorn Carrier One Air Mesh Baby Carrier – From < $180

Claim to fame: Can be use from infancy (without insert). Mesh fabric makes it one of the best baby carries for hot weather.
Features of the Baby Bjorn Mesh Carrier
4. 5 / 5 stars by reviewers on Amazon.com.
Multifunctional front and back baby carrier provides you with 4 different carry positions.
Perfect for infants – no insert needed.
Inward-facing comfort – ergonomically designed for both you and your growing baby.
Outward-facing option – (Minimum 5-months-old).
Easy back carrying – (Minimum 12-months-old).
Ergonomic design, adjustable, with generously padded shoulder straps and waist belt.
Machine washable.
Suitable for newborn 8-26 lbs (3.5-11.5kg) forward facing; 33lbs (15kg) inward facing/back carry.
100% polyester mesh outer, cover for leg position zip: 100 % cotton.
Reviews and further details about the Carrier One Baby Bjorn Air here.
3. Onya Outback Lightweight Baby Carrier – From < $140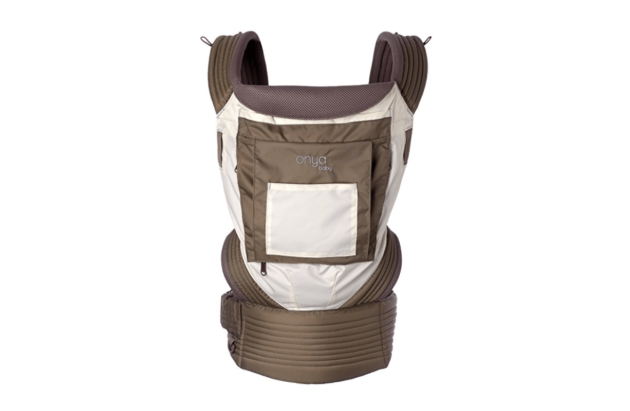 Claim to fame: Can be used as a chair harness.
Ergonomic soft structured baby carrier with 3 carrying positions: Front, back and hip

Exclusive feature: Integrated chair harness transforms adult chair into a safe seat for baby

Use from newborn (starting at 7 lbs) with baby booster (sold separately) to toddler (15-45 lbs)

100% rip-stop nylon body and air mesh lining for all climates

Tuck-away sleeping/rain/sun hood with UPF 50 + sun protection

Read reviews and learn more about the Onya Outback Baby Carrier here.
4. Boba Air Lightweight Baby Carrier for Travel – From < $70

Claim to fame: Loved by travelers, this is our #1 top selling lightweight baby carrier.
Features of the Boba Air baby carrier for travel:
100% easy to clean nylon.
4 / 5 stars by reviewers on Amazon.com.
Front and back carry options.
Sleeping hood and pocket.
Compact and self storing.
Comfortably fits heights 5'0″-6'3″.
Waistband range: 27″-55″.
Body of carrier rises 16″ to accommodate growing child.
Ultra lightweight – 0.7 pounds/330g.
Suitable for children 15-45 lbs (7-21kg).
Reviews and further details about the Boba Air baby carrier here.
5. Bitybean Travel Baby Carrier – From < $60

Claim to fame: Ultra lightweight. Great for getting wet (dries quickly).
Features of the Bitybean Lightweight Travel Baby Carrier
4/5 stars by reviewers on Amazon.com.

100% nylon, machine washable.

8 oz and easily packable for the utmost in convenience.

Fleece infant liner and hood/shade accessories available seperately.

Versatile front and rear carry for infants over 3 months and 8-40 lb. (3.6-10 kg.).

Comfortable anatomic shoulder and waist straps, state-of-the art materials and design.

Reviews and further details about the Bitybean Baby carrier here.
You May Also Enjoy the Following Posts:
The Best Travel Car Seats for Airplanes
New Hifold Travel Booster Car Seat
Best Wireless Headphones for Kids
Best Portable Baby Travel Beds and Toddler Travel Beds
Best Portable High Chairs for Travel
10 Great Items for Travel with Baby