Last update: November 9th, 2021 at 12:11 pm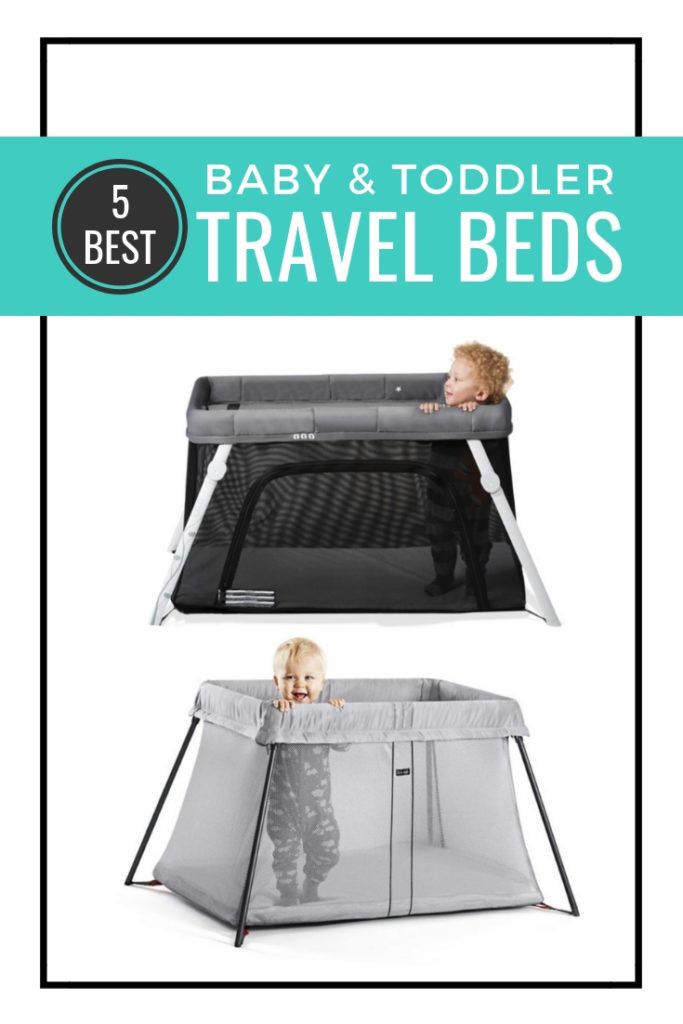 Affiliate Disclosure: As an Amazon Associate I earn from qualifying purchases. This post on travel crib best bets may also contain additional affiliate links.
Baby Travel Cribs & Travel Cribs for Toddlers
One of the biggest challenges for on-the-go parents is getting their child to sleep while away from home. A comfortable infant travel bed or portable toddler travel bed can be key.
Having tried many baby travel sleep solutions during my years of traveling with kids, I have learned that having a proper baby travel bed can be essential.
Whether you are looking for the best portable crib for grandma's house, or the best travel crib for flying – we've got you covered here.
In this post, I will share with you my top picks for the best travel bassinet, the best travel crib and even the best inflatable toddler travel bed, in terms of features, safety, quality and value.
Important Disclaimer: I intend for the information on this website to serve as a general overview on matters of interest derived from my experience traveling with my own children. I am not an expert on the subject and safety of baby and toddler travel beds. I attempt to ensure that the content is current and accurate but I do not guarantee its currency and accuracy.
Best Travel Cribs – Key Features
Lightweight — Let's face it — you are going to be toting this thing around, so it is advantageous to choose a lightweight baby travel crib or toddler travel cot that doesn't sacrifice other key features.
Easy to Assemble — It could be late at night when you arrive at your hotel, vacation rental or Grandma's house. Your baby or toddler will be tired and you don't want to go to war with your baby travel bed. The best portable crib or toddler travel bed should set up as easily as promised by the manufacturer.
Washable — Sh*t happens. It really does. I know this because my daughter once flung her full diaper around in a portable baby crib creating quite a nasty mess. While rarely necessary, when disaster strikes, your portable travel crib should be easily washable.
Breathable — For safety reasons, it is very important that a portable infant bed or travelling baby crib have proper venting and breathable fabric.
Travel Bag – While not essential, it certainly is nice when a portable baby sleeper, pack n play travel crib or inflatable toddler bed comes in a lightweight, easy-to-carry, travel bag. It's so much nicer than trying to shove a travel baby crib into a suitcase.
Safety – When considering the best travel crib options, I like to encourage people to go with a brand that they know and trust. For every top-selling brand name travel baby crib or portable pack and play, you will find a bunch of foreign-made knockoff travel cribs. I also would encourage you to buy from companies located in North America, making returns much easier.*
*Tip: If you are shopping on Amazon, click on the company brand name link until you get to the company address.
Travel Crib Comparison Chart
Please see the best small travel crib and toddler travel beds described in detail below. For quick reference however, see this handy comparison chart.
Click on headers to sort by column and scroll to the right for more information.
The List – Best Travel Cribs and Toddler Beds
Lotus Travel Crib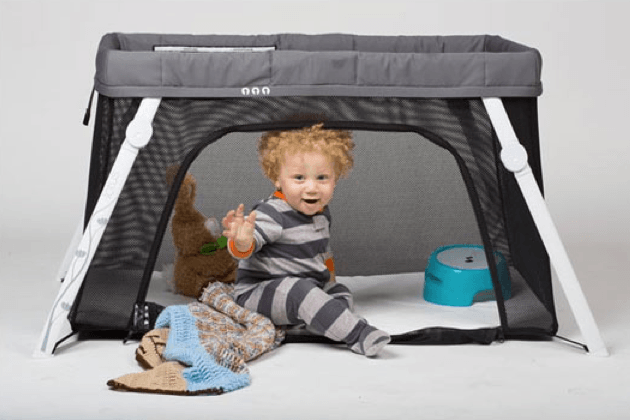 People simply love the Lotus travel crib by Guava Family (rarely do I see so many 5 star reviews!). My two favorite things about this crib are the 15 second set up, and the clever mesh side door access so that you can slide a sleeping baby into it (rather than breaking your back trying to put them down carefully).
Whether you are looking for the best portable crib for baby, or the best travel crib for toddlers, this one could do the job to up to 3 years of age.
Features of the Guava Travel Crib:
Our #1 best selling portable crib.
The Guava travel playpen and crib weighs only 13lbs / 6kg.
Suitable as a newborn travel crib.
Excellent travel toddler crib solution (suitable to 3 years old – or when your child can climb out).
This portable travel baby bed has a 15 second set-up.
Assembled dimensions: 42″L x 24″Wx 25″H. (106cm x 61cm x 63cm).
Folded dimensions: 24″ x 7″ x 11″ (61cm x 18cm x 28cm).
Breathable mesh allows for full airflow and an unobstructed view your child.
Convenient travel cot carry bag that can be used as a backpack.
Free of PVC, Lead, Phthalates, Formaldehyde, and Heavy Metals (Cadmium, Arsenic, Mercury, etc.).
Meets all required safety standards including 16 CFR 1221 / ASTM F406-13 – US.
Watch the Lotus Travel Crib assembly video here.
See reviews and learn more on Amazon.com.
Baby Bjorn Travel Crib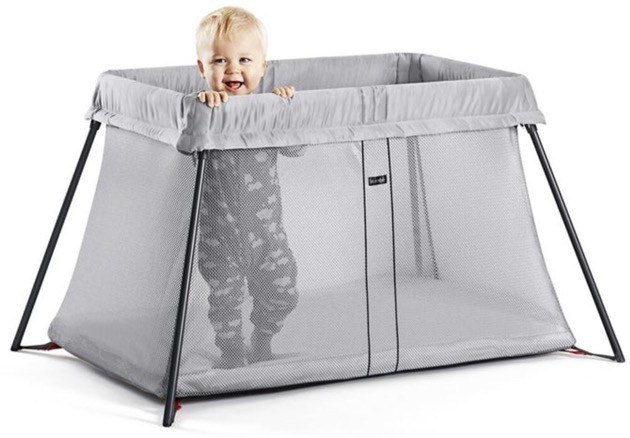 Features of the Easy Go Travel Crib:
This baby travel bed weighs only 13lbs / 6kg.
One of the best infant travel beds – suitable from newborn.
Suitable up to 3 years old or when they can climb out (good travel crib for toddler solution).
Assembled dimensions: 32 x 44 x 24 in/82 x 112 x 64cm.
Folded dimensions: 19 x 23.5 x 5.5 in/49 x 60 x 14 cm.
Soft and comfy baby travel bed mattress.
Crib fabric is machine washable (do not tumble dry).
Includes a portable baby bed travel carry bag.
The Baby Bjorn Travel Crib Light complies with the standard ASTM F406.
Watch the Baby Bjorn travel pack and play (crib) assembly video here.
See reviews and learn more on Amazon.com.
Munchkin Fold n' Go Bassinet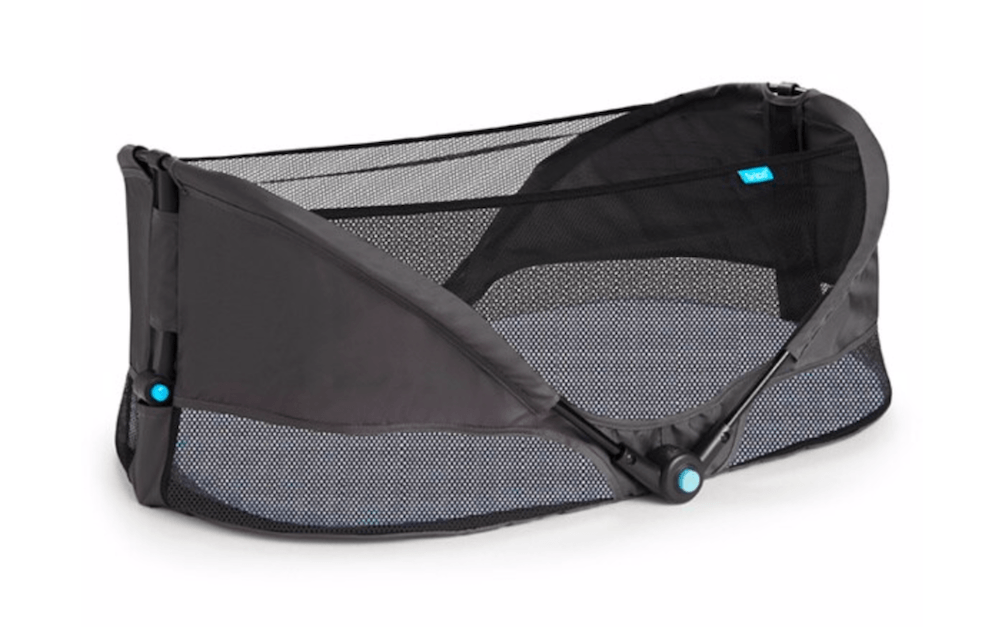 The Brica Fold N' Go travel bassinet (by Munchkin) is my current favorite for those looking for the best portable baby bassinet for travel. I once saw a gentleman with this stealthily folded portable infant sleeper slung over his shoulder in an airport. He looked so chill, that I actually mistook his baby travel bassinet for a sports jacket bag.
Lightweight and compact, the Brica travel bassinet is a great option for flights with an infant. In the case of this family, they had a long layover and needed a portable baby sleeper solution for the airport. During their layover, they found a quiet spot in a corner and just tucked their baby in for a nap.
For people looking for the best travel bassinet for an infant up to 15 lbs. (or 6.8kg), this is a great solution. The Brica Fold n Go travel travel bassinet is very well priced as well.
Features of the Brica Fold n' Go Infant Travel Bassinet:
Our #1 selling travel baby bassinet.
This portable baby travel sleeper weighs only 2.45lbs / 1.1 kg.
Suitable for newborns up to 15lbs / 6.8 kg.
Assemble dimensions: 30″ x 18.5″ x 10″ (76cm x 47cm x 25cm)
Folded dimensions: 22.5″ x 17.5″ x 3.2″ (57cm x 44cm x 8cm)
Updated design with mesh panels, breathable fabric, and a locking frame.
Firm mattress on this baby travel bassinet is removable.
Included sheet is machine washable for easy cleaning.
Baby travel bed has a foldable design and carry handle.
See why it is one of the best portable bassinet solutions in this product video.
See reviews and learn more on Amazon.com.
KidCo PeaPod Toddler Travel Bed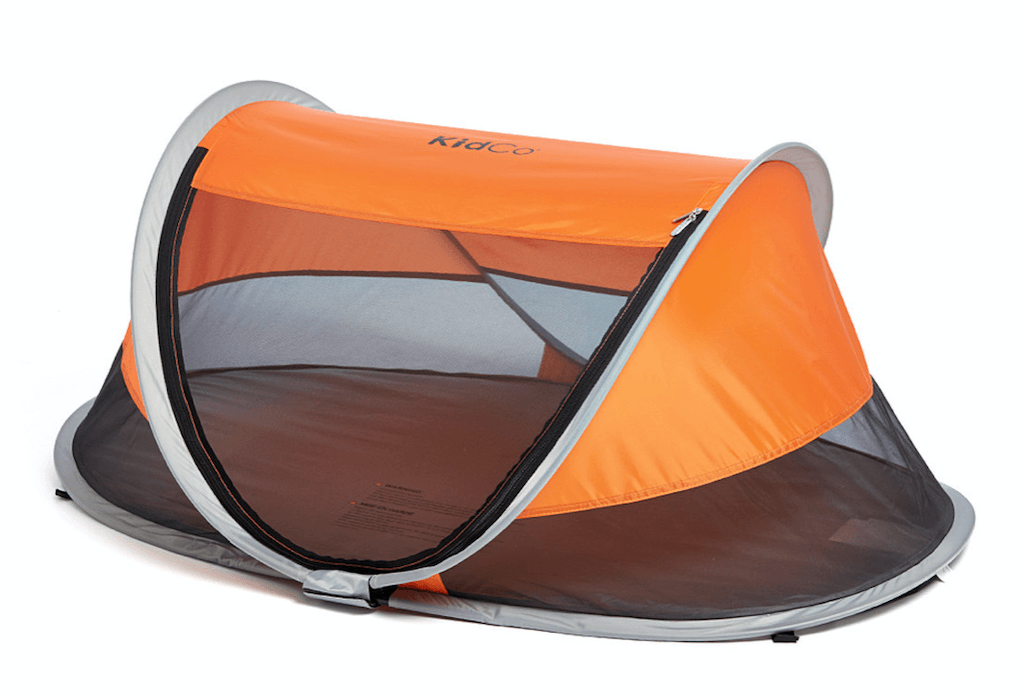 I bought the Kidco Peapod toddler travel bed for my daughter when she was about 2 years old after researching the best portable crib for toddler solutions. Initially she wasn't interested in sleeping in this toddler travel tent, but from about 3 years on, she would have slept in it every night if I let her.
It is a very light and compact toddler travel bed, making it easy to bring along on trips or for sleepovers at Grandma's house. I also found it useful in situations where my children were not sleeping well together on a pull out sofa (a common family accommodation setup in hotels).
Although my daughter has now outgrown it, she still loves to set it up and play in it. With as much use as we got out of the product, I think it provided great value. For those looking for a travel bed for a 1 year old and up, this could be a good travel crib for toddler solution.
Features of the Peapod Travel Toddler Bed :
Weighs only 3.65lbs / 1.65kg.
Designed for children 1-3 years (not suitable for infants).
Assembled dimensions: 52.5″L x 34″W x 25″H (133cm x 87cm x 64cm).
Folded dimensions: 19″L x 3.5″W x 19″H (48cm x 9cm x 48cm).
Comes fully assembled with sleeping pad attached to outside bottom of PeaPod Plus.
Great for indoor or outdoor use, including as a baby beach sleeper (1 year and up).
Comes with handy carry bag.
See reviews and learn more on Amazon.com.
Shrunks Toddler Travel Bed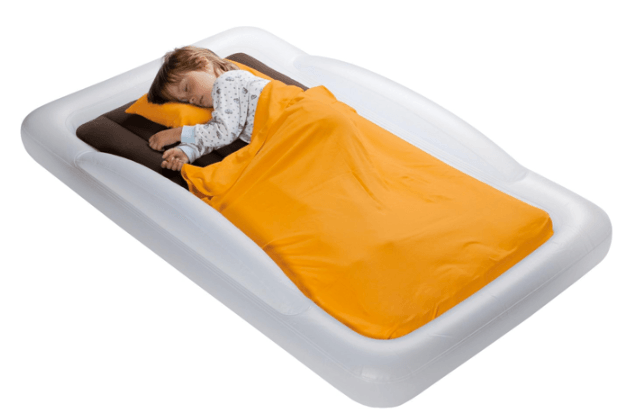 The Shunks portable toddler bed is a great solution for sleepovers. Set-up is a cinch with the included electric pump and comes in its own handy carry bag ! Even better, the Shrunks kids portable bed is not just for toddlers, since it also comes in a youth twin size travel mattress.
Features of the Shrunks Toddler Travel Bed:
Weighs 8.5lbs / 3.8 kg.
Suitable for toddlers and children 2-6 years (roughly 30-100lbs).
Inflated dimensions: 60″ x 37″ x 9″ (152cm x 94cm x 23cm).
Rolled up dimensions: 16″ x 7′ x 7″ (40cm x 18cm x 18cm).

Inflates quickly in 30 seconds.

Includes a convenient carrying bag, repair kit and the compact yet powerful Jetaire Electric Pump.

Security rails helps prevent child from falling out. Designed low to the ground, for complete safety.

Phthalate-safe, BPA-safe and lead-safe.
See why this is one of the best toddler travel bed solutions in this product video.
See reviews and learn more on Amazon.com.
Looking for something bigger? The Shrunks Travel Bed also come in a twin size.
Further Reading