Last update: October 10th, 2020 at 10:07 am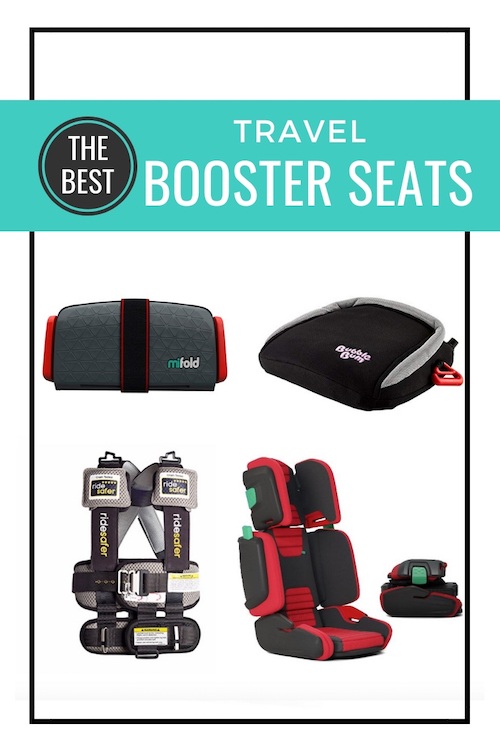 We travel frequently as a family and I cannot tell you how happy it made me when my kids finally graduated to a travel booster seat. In fact, all of those milestones where we could shed some gear or luggage were momentous occasions. Goodbye suitcase full of special organic baby food ! Goodbye bulky travel car seat ! Goodbye travel stroller ! Still, finding the right travel booster car seat was not without its challenges. If you, too, are on the search for the best travel booster seat, I will share with you here my top picks.
Important Disclaimer: I intend for the information on this website to serve as a general overview on matters of interest derived from my experience traveling with my own children. I am not an expert on the subject and safety of travel booster seats. I attempt to ensure that the content is current and accurate but I do not guarantee its currency and accuracy.
Affiliate Disclosure: As an Amazon Associate I earn from qualifying purchases.
Travel Booster Seat Comparison Chart
In this post, I have tried to outline everything you should consider when purchasing a travel booster car seat. Some of you, however, may just be interested in getting straight to the list of the best ones. If so, please see the following comparison chart.
| Name | Image | Weight (lbs) | Size (Inches) | Weight Range | Our Rating | Check Price |
| --- | --- | --- | --- | --- | --- | --- |
| mifold Grab-and-Go | | 1.7lbs | 1 x 13 x 7 | 40-100 lbs | 4 / 5 | |
| Bubble Bum | | 1.2lbs | 11.8 x 5.9 x 3.9 | 40-100 lbs | 4.5 / 5 | |
| RideSafer Vest | | 2.4 lbs | 14.5 x 9.4 x 4.5 | 30-60lbs | 3.5 / 5 | |
| hifold High Back Booster | | 10.3 lbs | 9.8 x 13.5 x 13.5 | 33 - 100 lbs | 4.5 / 5 | |
What You Should Know About Travel Booster Seats
Travel Booster Seat Safety
A child that has out-grown their car seat (40+ lbs and 4+ years old) is safest in a booster seat. The primary job of a booster seat (whether a high back or backless version) is to correctly position a car's seatbelt over a child's chest, shoulders and hips. It is generally agreed upon by experts that a child is safest when secured in a high back booster seat because of the extra support and protection it provides for a child's head and neck. Quite frankly, however, a high back booster seat is not the most practical to travel with and therefore most portable booster seats for travel are backless (=smaller and lighter). I want to be clear, however, that this list of the best travel car booster seats does not compromise on safety as it only contains booster seats that meet or exceed safety standards in the markets where they are sold. *
*Please note: Occasionally, you can find a travel car booster seat listed through an online seller that is not approved for use in your country. I know, because I once really wanted a travel booster seat I had seen in Europe (the Trunki BoostAPak) and I was able to find it from a local online seller, despite it not having Canadian safety approval (where I live). I ended up buying it at Heathrow Airport and using it for a driving trip around Europe (where it was approved). I just never used it at home (I am a rigorous rule follower by nature.)
Different Countries Have Different Rules
The laws surrounding the use of booster car seats can differ greatly by country (and sometimes by state or province). In Canada for example, most provinces require that a child from 40-80lbs and under 4'9″ (145cm) use a booster seat. In Costa Rica, however, children 4-12 years are required to use a booster seat (and a high back booster if they are 4-6 years old). In contrast, many developing countries have few, if any, rules surrounding the use of car seats and booster seats. I encourage you to research your destination ahead of time. (See, for example, booster seat rules for the U.S.A and Canada here.)
It should also be noted that in many cities taxis are exempt from the typical booster seat laws. In Sydney, Australia, for example, you are not required to use a booster or travel car seat for 4 year olds when traveling by taxi, but they would need to be secured in an approved restraint or booster seat when using a car service or ride share service such as Uber.
Booster Seat Approval is Not Universal
Different countries have different standards and regulations when it comes to the sale and use of booster seats. For example, my favorite portable booster car seat for travel (The Trunki BoostAPak) is approved for use in most countries in Europe, but not in Canada or the U.S. The inflatable BubbleBum booster seat, which I am also quite fond of, is approved for use in the U.S. and most of Europe, but not in Canada. The very popular mifold booster seat is approved for use in Canada, the USA, and Europe, but they have different models depending on the regulatory requirements for each market (a mifold booster sold in the USA is meant for use in the USA).
Australia presents some unique challenges for family travelers as the sale of backless booster seats is no longer permitted. I fully understand that this can create quite a conundrum for traveling parents as I have lived it ! This is also one of the reasons I ended up owning 4 different lightweight booster seats for travel. (Did I mention that I am a rigorous rule follower?) Hopefully, you can get away with just one.
Is there a High Back Travel Booster Seat?
In October 2019, a high back booster seat with hit the market (from the people who make the mifold). The hifold booster seat will be a foldable high back travel booster seat, designed to meet the regulatory requirement of counties around the world, including Australia ! Take a quick peek at the video or see our full post on the hifold travel booster seat. I can't wait !
Is There a Single Booster Solution?
I would love if this list included the perfect compact booster seat for travel that could also be used as your go-to car booster at home. As mentioned earlier, I owned 4 different travel booster car seats over the years, but none of them replaced my children's car boosters at home. The thing is, when you are dealing with a lightweight booster seat for travel, there are some features that you are giving up in favor of portability. What a travel booster seat offers in terms of convenience, it often gives up in comfort, because comfort (as well as added features such as drink and snack holders), increases bulk and weight. That said, I do realize that a portable booster car seat can be a great solution at home for carpooling, taxis, and ride sharing services such as Lyft and Uber.
When Should You Consider a Travel Booster Car Seat?
I think you should consider purchasing a travel booster seat in the following situations:
If you will be driving around with family or friends at your travel destination who don't own, or have access to an approved booster seat.
If you are worried about the availability, cleanliness or the quality of a booster seat offered by your chosen car rental company. There is some comfort in not having to leave this to chance.
If you will be using a taxi, ride sharing or car service at your destination that does not offer booster seats (most don't). Local laws may not require that your child ride in a booster seat in a taxi even though they would obviously be safer that way.* Drivers for ride sharing services such as Uber and Lyft, however, usually have to adhere to the regular car and booster seat regulations for the region. While both companies are testing a fee based car seat service options (+$10/ride) in select cities, in most places, you risk having your ride canceled if you don't have your own age/size appropriate booster seat.
*Note: I can recall one harrowing taxi ride from JFK into Manhattan where we had our baby secured in a travel car seat, but our 3 year old son was in a regular seatbelt where he was sliding back and forth in the car as the driver erratically changed lanes on the highway. It wasn't my proudest parenting moment. By the time our next trip came around, I had discovered the BubbleBum inflatable booster seat that became a travel essential for us.
When Might You Pass on a Travel Booster Seat?
If you are renting a car from a reputable company and are confident in their ability to deliver a clean, quality booster seat. If you are an AAA or CAA member, Hertz offers one free car seat or booster seat with your rental. As the cost of a booster seat rental is $10-$15 a day (normally capped at $60-$70 per rental), the discount alone from a week long car rental almost covers the cost of an AAA annual membership.
If you can make use of Uber or Lyft car seat service – available in New York City, Washington (D.C.), Philadelphia, and Orlando (Lyft is currently New York only). As a user, you are charged an extra $10 per ride and the service includes 1 car seat. When this service is available, it will show up in the app, although I would research it prior to your trip to see if your child will fit in the seat. For example, at the time of this post (Feb. 2019) Uber Car Seat New York states that their seats are suitable for a child who is at least (a) 12 months old AND (b) 22-47 lbs AND (c) 31-52 inches.
If you can find a reputable car service that will provide a travel booster seat (such as Kidmoto in NYC). I have also sometimes used the help of my hotel and TripAdvisor travel forums to find a suitable car service.
Booster Seat on Airplane – Not Allowed
Although of course it is great to know that you will not need to bring a bulky car seat with you once your child has graduated to a travel booster car seat, you should be aware that you cannot use a booster seat on a plane. The reason for this is that for use on an airplane, a travel car seat must be designed for use with a lap seat belt only. All the best travel car booster seats are designed to be used with a 3 point lap and shoulder belt. Your options on an airplane with a child of 2 years or more, is to seat them in the regular airplane seat, use an FAA certified car seat or a Child Airplane Travel Harness. It should be noted that the Cares Airplane Safety Harness is only suitable for children up to 44 lbs and is not for use in vehicles.
Where Things Go Sideways
I want to mention one other thing. On occasion, despite my best efforts to keep my kids safe in vehicles while traveling, my plans have been foiled. I have very inconveniently dragged travel car seats and travel boosters seats to distant lands (generally developing countries or remote islands) only to discover that seat belts just weren't a thing. Sometimes back seats weren't even a thing. While writing this post, I discussed this subject with a globetrotting and safety-conscious friend who had just returned from a trip to Bali with her husband and 4 children. She described the fact that she had toted along a booster seat for their youngest as "ridiculous" since the cars they rode in did not have seatbelts. While I am big on safety, sometimes your best efforts will be thwarted. If you are traveling to a developing country, do keep this in mind.*
*Note: In such places, you can still usually find a car service that will have a decent car with seatbelts. You will just have to pay a premium for it.
Best Travel Booster Seat Options
1. Mifold Grab and Go Booster
The mifold Grab-and-Go booster seat is the most compact booster seat for travel currently available on the market. At 10x smaller than a regular child's car booster, its compact design makes getting around easier for school carpools, holidays and taxi rides – while providing the safety of a traditional booster seat. Take a peek at it in this video:
Mifold Grab and Go Features:
Suitable for children 4 years and up that are 40 to 100 lbs, and 40 to 57 inches tall.
Dimensions are 1 x 13 x 7 inches.

Made from aircraft grade aluminum and super tough plastic for superior impact resistance.

Designed for occasions when a traditional booster seat is not available or practical.

Folds up to fit into a child's backpack, glove compartment or bag.

Easy to clean with soap and water (air dry).

For regulatory reasons, there are different versions of this product for different geographical markets. Please see mifold's regulatory requirements by country so you can select the appropriate model.
Pros:
Can easily fit in a backpack or suitcase.
Can fit in even very small car back seats.
Cons:
It is not the most comfortable. Some kids say it is like sitting on a board.
The child is not "boosted" up meaning they can't see out the windows of a car as well as with a traditional booster seat.
2. Hifold Travel Booster Seat
Taking pre-orders as of October, 2019, the hifold portable booster seat looks like it is going to big a big hit.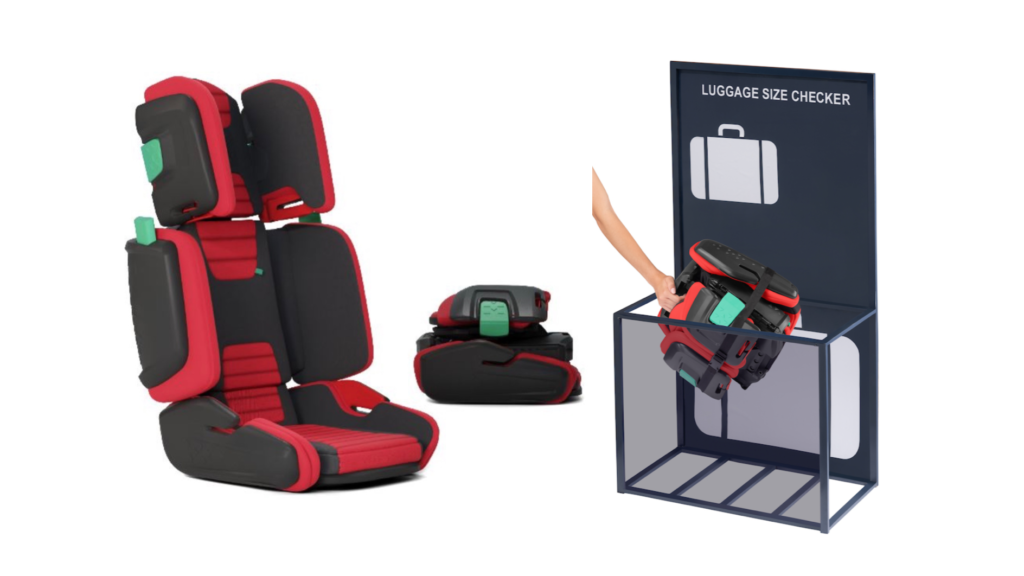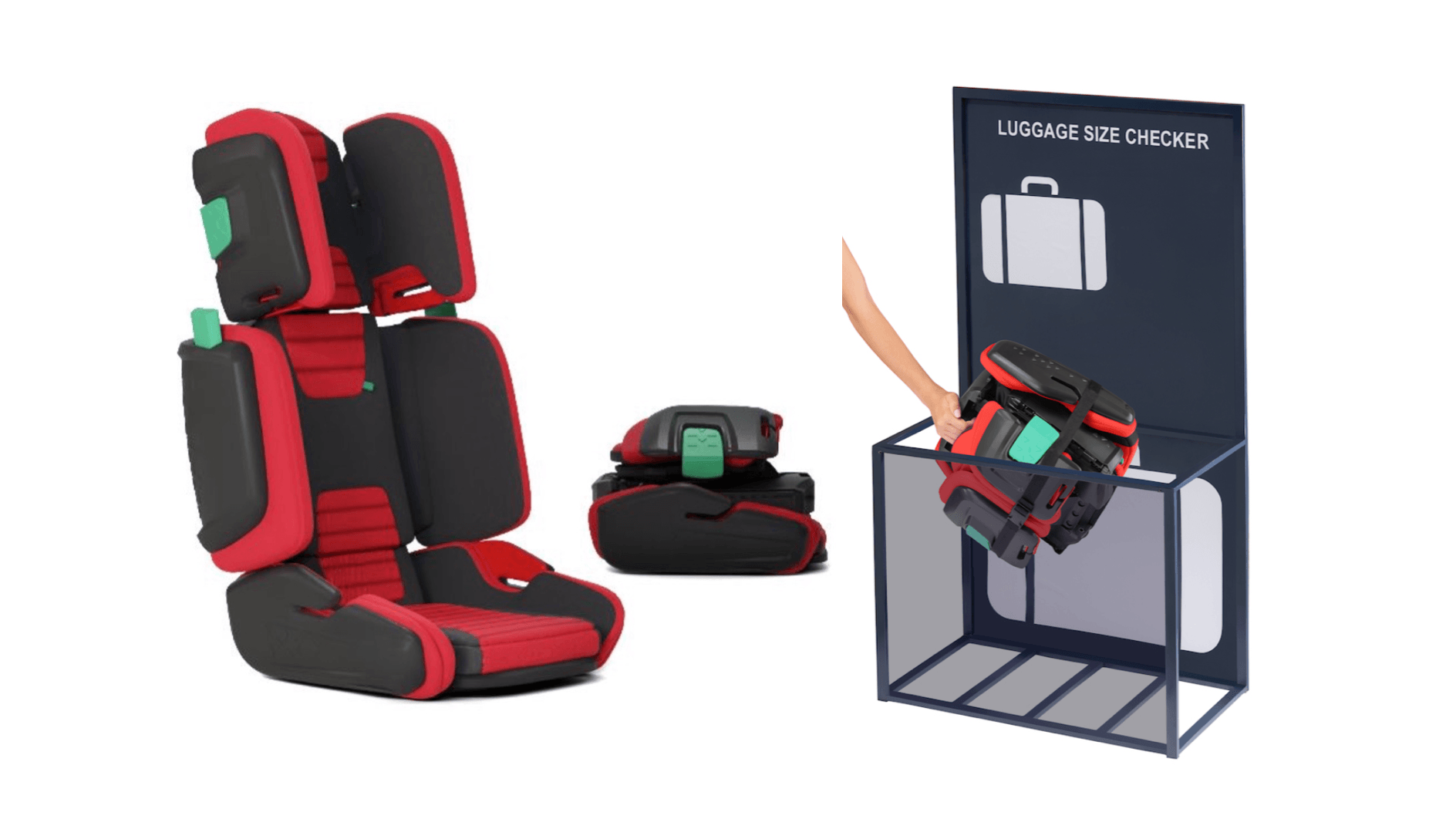 hifold Travel Booster Features:
Weighs only 10.3 lbs.

Suitable for children weighing 33-100 lbs. and 36″ to 59″ tall.

It's unique "multi-fit" technology can be adjusted to 243 individual settings.

Can be adjusted in 4 areas (the seat, body, head width, and height).

hifold grows with the child and ensures optimal seatbelt fit and comfort.

hifold folds down to a compact and convenient size for storage.

Carry strap make hifold great for taking on vacation, moving from car to car or for carpooling and taxis.

Meets or exceeds NHTSA standard FMVSS 213 and is regulated for global use almost everywhere around the world.

Read reviews and check availably for the hifold booster here.
3. The BubbleBum Booster Car Seat
The BubbleBum booster seat is a pretty good travel booster seat solution. It is very compact and you simply need to inflate it, attach it, and go. It is really quite comfortable for kids and also gives them that extra "boost" so they can easily see out the vehicle windows. Take a peek at the BubbleBum inflatable seat in this video:
Bubble Bum Booster Features:
Suitable for children 4-11 years and 40–100 lbs.
Dimensions are 12 x 6 x 4 inches (when stored).
Perfect for vacations, car rentals, car pools and tight "three across" fits because of the small, narrow and light design.
When deflated, it easily fits in your backpack or tote bag making family life easier!
Read reviews and check prices for the BubbleBum Booster here.
Pros:
Very compact size for travel. Can easily fit in a suitcase or backpack.
Quite comfortable to sit on.
Cons:
Seat area size is a bit small for older children.
You have to blow it up (extra time at your destination).
4. The Ride Safer Travel Vest
Like I said, we tried them all ! We used an earlier model of the RideSafter Travel Vest on a trip to Barbados. While it definitely provided a solution, quite frankly it was not my favorite. It was nice because it could lay flat on the top of our carry-on bag without taking up too much room. That said, my daughter never seemed comfortable in it and she sat quite low in the car which didn't allow her to see very well out the window. That said, I want to make sure you see all the options in this post !
Take a peek at the RideSafer Travel Vest in this video:
RideSafer Travel Vest Features:
Suitable and recommended for use with children 30 pounds to 60 pounds.

Dimensions are 15 x 9 x 5 inches.

An alternative to booster seats and car seats. Certified for use in motor vehicles in the USA.

Tested with lap only seatbelts plus tether and lap/shoulder belt to meet certification and performance standards according to FMVSS 213.\

Read and check prices for the Ride Safer Travel Vest here.
Pros:
Doesn't take up much room in a suitcase
Cons:
Can take more time to secure your child in than some other booster seats*.
*Tip: One user said she would put her child in the vest before hailing a cab so it wouldn't take so long to get them into the car.
Other Great Travel Products