Last update: March 4th, 2022 at 10:42 am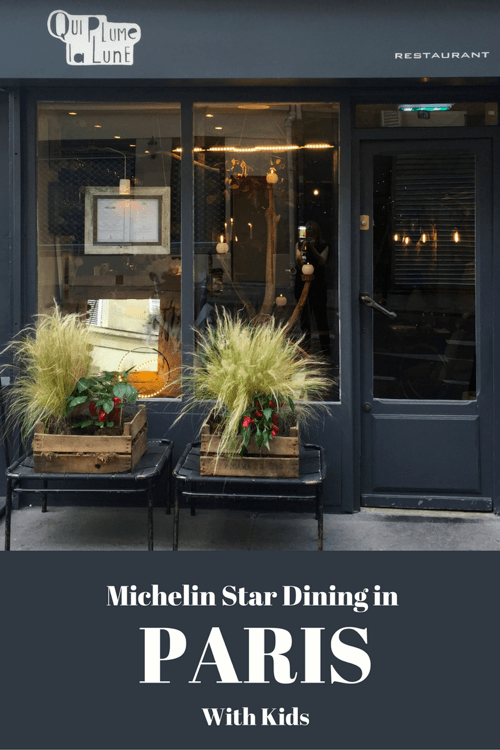 Food plays an important role in our family travels. Since our children were babies, we have strategized on how to enjoy a great restaurant experience with them by our sides (see post on Dining Out with Kids). On a recent trip to Paris, however, we wanted to raise the bar a little higher.
We had our eyes fixed on a few fine dining establishments. That said, we wondered if we would even be able to enjoy a Michelin-starred restaurant with our kids at the table. Surely, there had to be one or two in Paris that could cater to a family. I set my husband on the project, and he discovered that the Michelin 1 star restaurant Qui Plume La Lune, not far from our vacation rental apartment in Le Marais, actually had a kids' menu *. We set out to give it a try.
Qui Plume La Lune is located in Paris's 11th arrondissement. Along with a set 5 course dinner menu for adults (substitutions allowed for allergies), their modified menu enfant offers 3 simplified courses, and allows children a choice of main course (chicken strips are mini pizza are not an option).
As in many fine dining restaurants, Qui Plume La Lune does not offer an à la carte menu. In recent years, many Michelin star restaurants have moved to a set menu in order to reduce food wastage. This approach also encourages guests to enjoy a complete culinary experience.
*Note: At the time of our visit to this Michelin-starred Paris restaurant, our kids were 8 and 11. I don't think I would have attempted this with a child under about 6. These are long meals (3 hrs+) and it seems rather like pushing the envelope too far (as well as a waste of money).
The Experience of Michelin-Starred Dining with Kids in Paris
The Michelin Star Rating System
Quite frankly, prior to this trip to Paris, I wasn't entirely clear on how the Michelin star rating system worked. For the uninitiated (like me), here it is:
* A one star Michelin rating means the restaurant has "High quality cooking, worth a stop!"
** A two star Michelin rating means the restaurant has "Excellent cooking, worth a detour!"
*** A three star Michelin rating means the restaurant has "Exceptional cuisine, worthy of a special journey!"
The Preparation
We had discussed this special meal with our kids at great length, explaining that there were many things we had done in Paris just for the them and that now it was our turn. They were well aware that this was going to be a long meal that would not be rushed. We also hyped the fact that this was going to be a unique experience and an opportunity to try new things.
Note: We did bring some back up — each child was allowed to bring a book to quietly read if things went on too long (even I get a little antsy in a 3 hour meal).
The Arrival
To our absolute delight, as we walked in the restaurant with a bit of trepidation, we noticed that there was another family of four with children slightly younger than ours. This french family looked very much at ease with Michelin star dining. I also couldn't help but notice that their kids ordered the full adult set menu, not the modified "menu d'enfant".
A Michelin Menu
The children's menu included an amuse bouche, a first course of prawns and seared salmon and a main course of filet mignon with several sides. Along with those dishes, our 5 course meal included an oyster gyoza course, a fish course prepared several ways, and a duck foie gras course. My kids did very well, although as we moved into dining hour three, I could tell that their patience was thinning. It was perfect timing for the lovely trio of desserts, including house made cotton candy, which quite delighted them.
Throughout the meal, I glanced over at those perfectly behaved french children who seemed to relish every single bite of shellfish, cod and foie gras. I must admit, however, that I was almost relieved when the youngest finally made a small fuss and had to be taken outside for a little chat. I cannot blame him for the mini breakdown as it was getting quite late and he had noticed that my kids were allowed to read (something I'm sure he found quite unjust).
How Much Does a Michelin Star Meal in Paris Cost?
As would be expected, this was not an inexpensive meal for us. The 3 course kids menu was 35€ (for children 10 years and under), and the full 5 course dinner set menu was 120€. Add to that the wine pairings and this became a very pricey affair (Honestly, do you think we would have attempted this without some liquid courage?).
Alternatively, for a shorter and less expensive dining experience, consider visiting for lunch (see full menu options here).
The Best Part
As we left the restaurant, I had a quick chat with the Maître D' to thank him and tell him that we were thrilled that our dining experiment had gone so well. I told him how encouraged we were when, upon entering the restaurant, we had noticed the other family of four. To my surprise he replied, "Oh my God! We all laughed so hard tonight when we saw that there were 2 families coming. Never, ever, ever, in the history of this restaurant have we had two families on the same night ! Usually, we get about 1 a month."
Michelin Star and Fine Dining with Kids – Further Resources
Related Posts