Last update: January 4th, 2023 at 10:40 am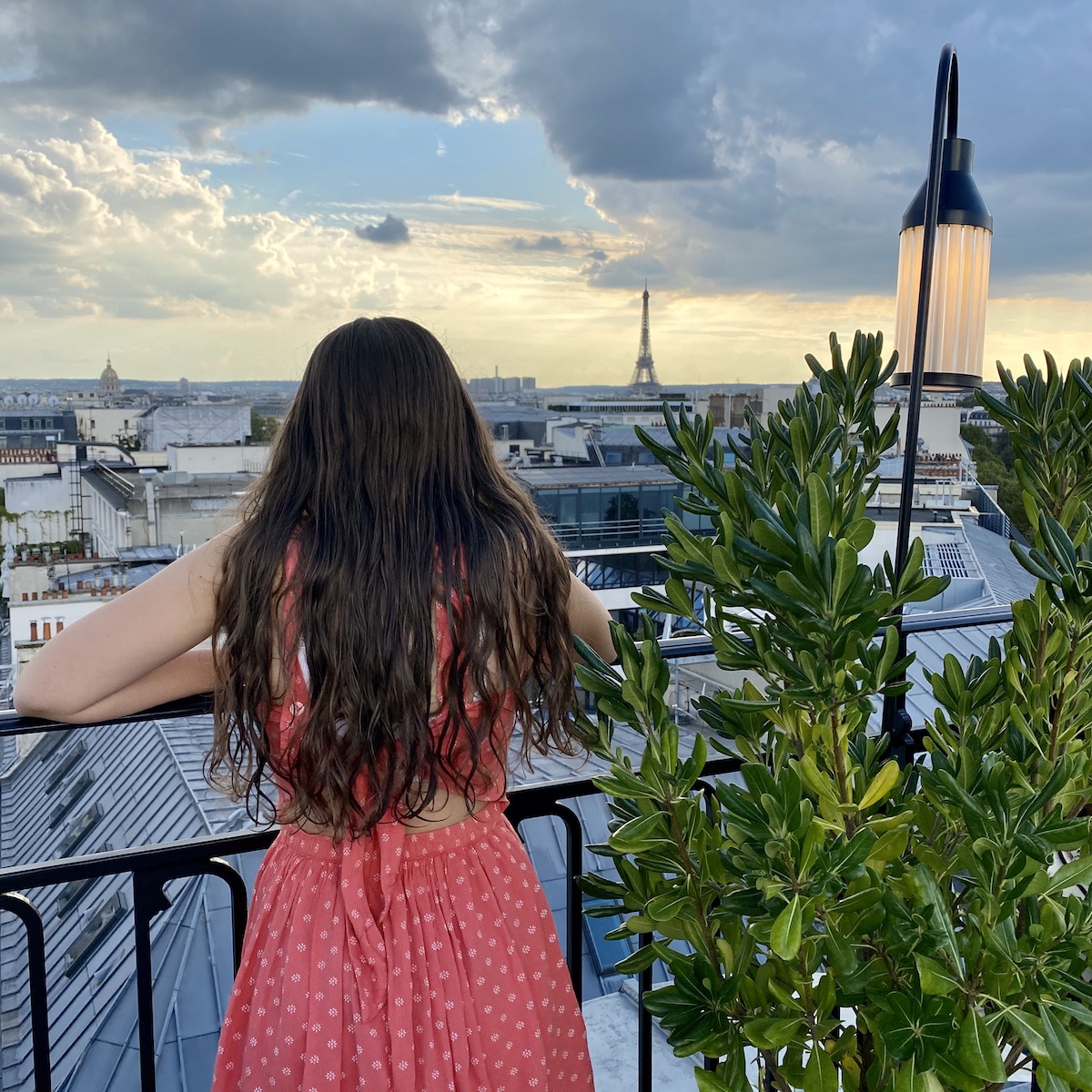 Affiliate Disclosure: This post on Paris for kids contains affiliate links. If you click on a link and make a purchase, I may receive a small commission at no cost to you. All opinions are entirely my own.
Kids in Paris – The Guide
Are you looking for the best things to do in Paris for kids? Whether you want to ride carousels all day, enjoy a perfect Paris picnic, or take a day trip to Monet's Garden, we've got you covered here! Have more than just a couple of days? Check out this brilliant 5-day Paris itinerary.
Please use the following menu to find what you need quickly. If you want a little peek first, start with our short video (90 sec.) on our favourite things to do in Paris with children.
See also: The Best Paris Hotels for Families
Paris Kids Video
The 15 Best Things to do in Paris with Kids
Seine Boat Cruises
I am a big fan of taking a boat tour on a first family trip to Paris. It is a great way to get your bearings (you can see a lot of the major sites from the boats – Eiffel Tower included). It is also a wonderfully low-key activity if you are jet-lagged.
There are numerous companies that run boat tours along the Seine. Regardless of which Bateau Mouche you choose, a boat ride is one of the best kids activities in Paris (enjoyable for parents too!). Personally, I have always found that when visiting Paris with kids, mine are the happiest when kept on the move.
Popular Paris boat tour operators include Bateaux Vedette du Pont Neuf
, Bateaux-Mouches
and Bateaux Parisiens
. Most Seine boat tours offer commentary in various languages, but some also offer dinner and special event Seine River cruises.
Alternatively, the Batobus
is a basic hop-on, hop-off, boat transit system that runs along the Seine. It has 9 stops along the river connecting the major tourist sites.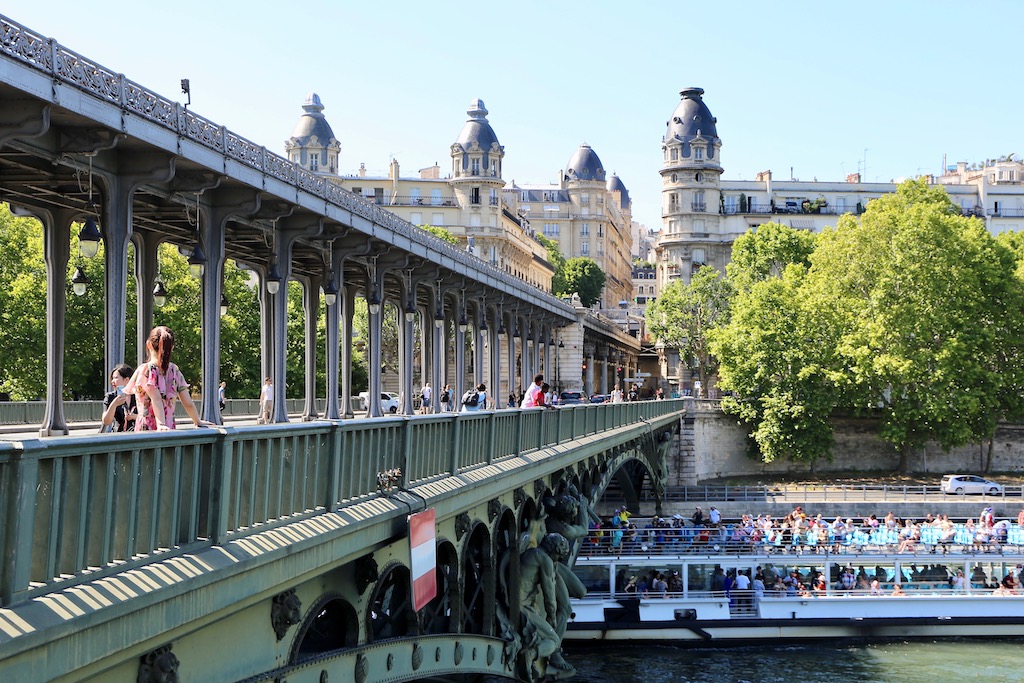 Family Friendly Seine Dinner Cruise
On one trip, in search of fun things to do with kids in Paris, I decided to try an evening dinner cruise on the Seine. We chose the boat Le Calife because of its kids' menu option (see photo). This boat cruise also consistently receives good reviews (see Le Calife Tripadvisor reviews).
The food on Le Calife is very good (not amazing), but we thought they provided a very nice experience. It should be noted that there is not a ton of room to move around on the boat. If you have a young child with you, you may want to bring along a couple of activities for the 3 hour trip.
The cruise runs from 8pm-11pm. If this is too late for your family, Le Calife also offers a Seine lunch cruise on weekends. Something to consider if you have just flown in from North America, however, is that 8pm Paris time will feel much earlier with the time difference.
Tip: Not all seats on Le Calife are equal in terms of viewing opportunities, so be sure to arrive early for the best selection.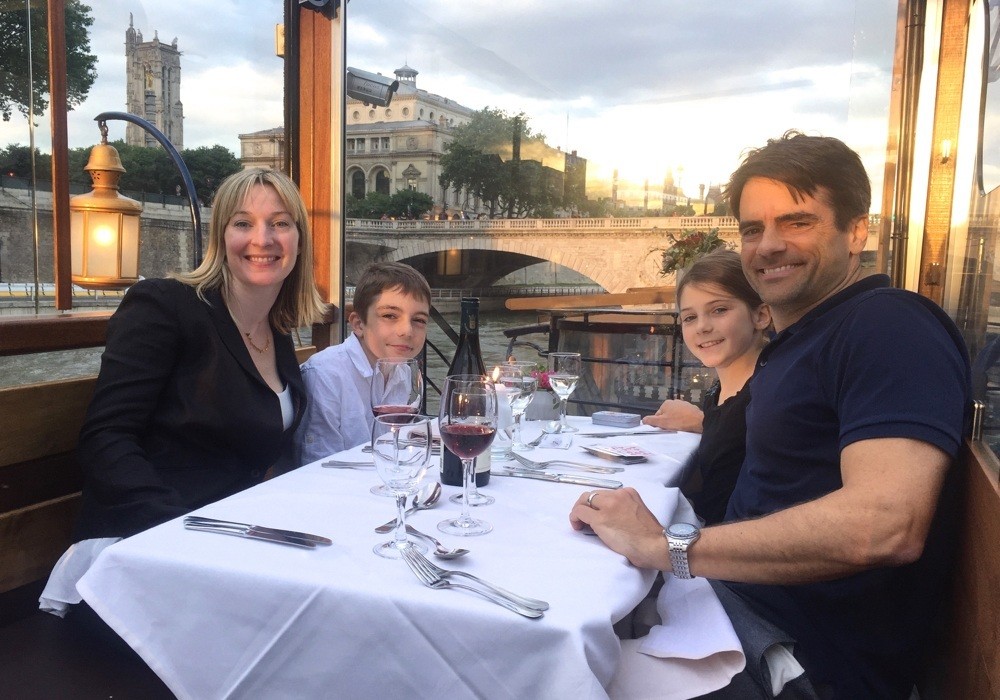 Luxembourg Gardens
These lovely gardens in the 6th arrondissement are not to be missed when visiting Paris with kids. Not only is the park a beautiful place for a stroll, it also has one of the best playgrounds in Paris. Oh yes, and I almost forgot the most important part – the playground is fenced. For parents navigating Paris with toddlers, this place is a real sanity-saver.
Directly outside the playground is a puppet theatre and carousel. On weekends, Wednesdays, and during the summer, the park has pony rides, carriage rides and little boats available to sail on the Grand Basin in the center of the park.
Learn more about Luxembourg Gardens here or see recent Tripadvisor reviews.
Note: If you are looking for chic children's clothing in Paris, this area is also home to many lovely stores. Along Rue Vavin you will find Petit Bateau and Jacadi and more.
The Eiffel Tower
When researching Paris attractions for kids before our very first trip, I read an article that suggested visiting the Eiffel Tower without even introducing ascending it as an option. Although we have always ended up going up the tower, I really like this idea if you are traveling to Paris with a toddler or very young child.
Option A: Enjoying the Tower from Below
By taking the Paris Metro to the Trocadero Station just before sunset, you can enjoy a fabulous view of the tower. For kids, there is a beautiful double decker carousel, gelato and crèpe stands. From this lovely vantage point, you can join the crowds in a collective "Ahhhh!" as the twinkling tower lights are turned on at dusk.
We tried this on our first trip to Paris (when my youngest had just turned five) and it was magical. I only wish we had stopped there. If we had, it would have been the perfect evening in Paris.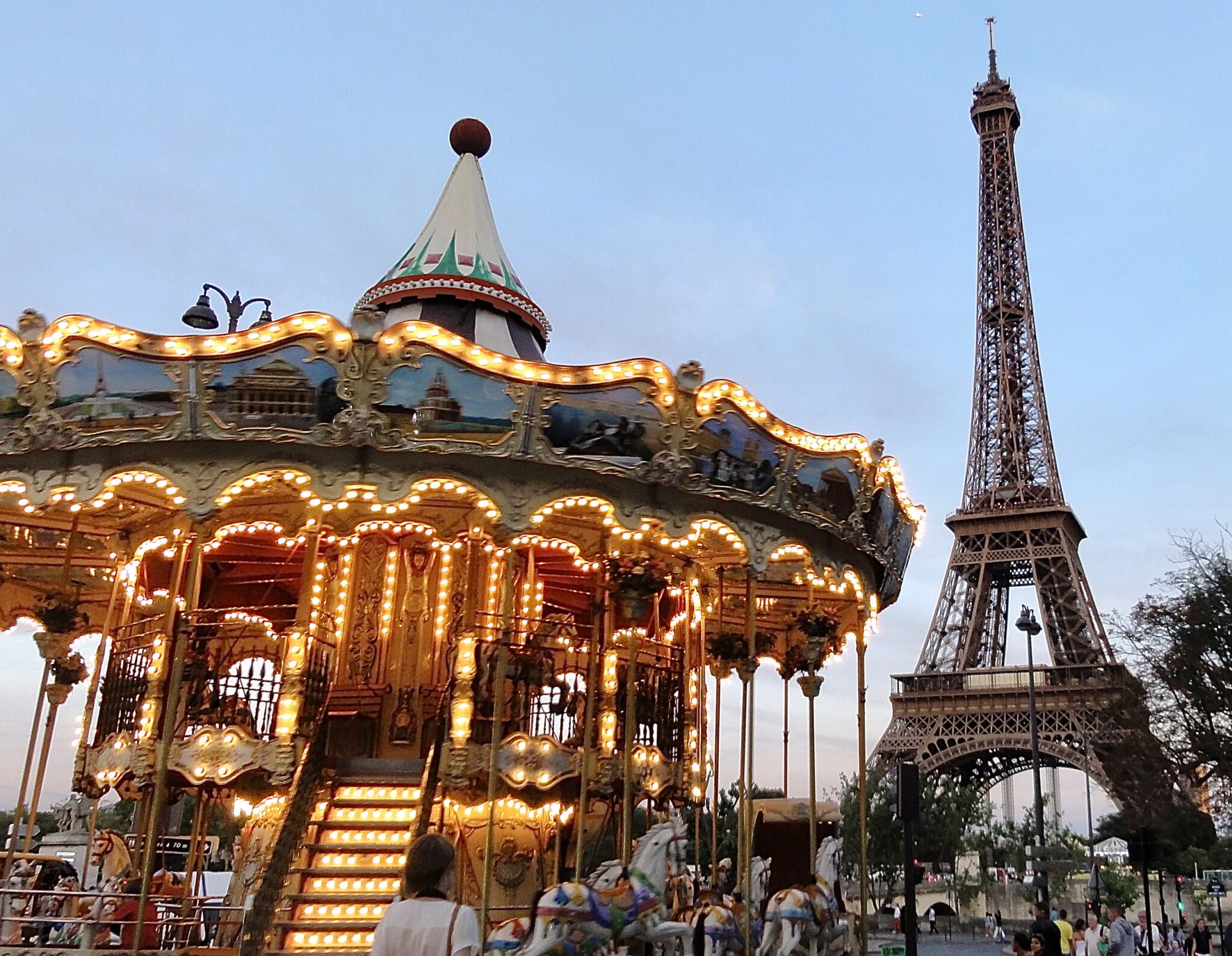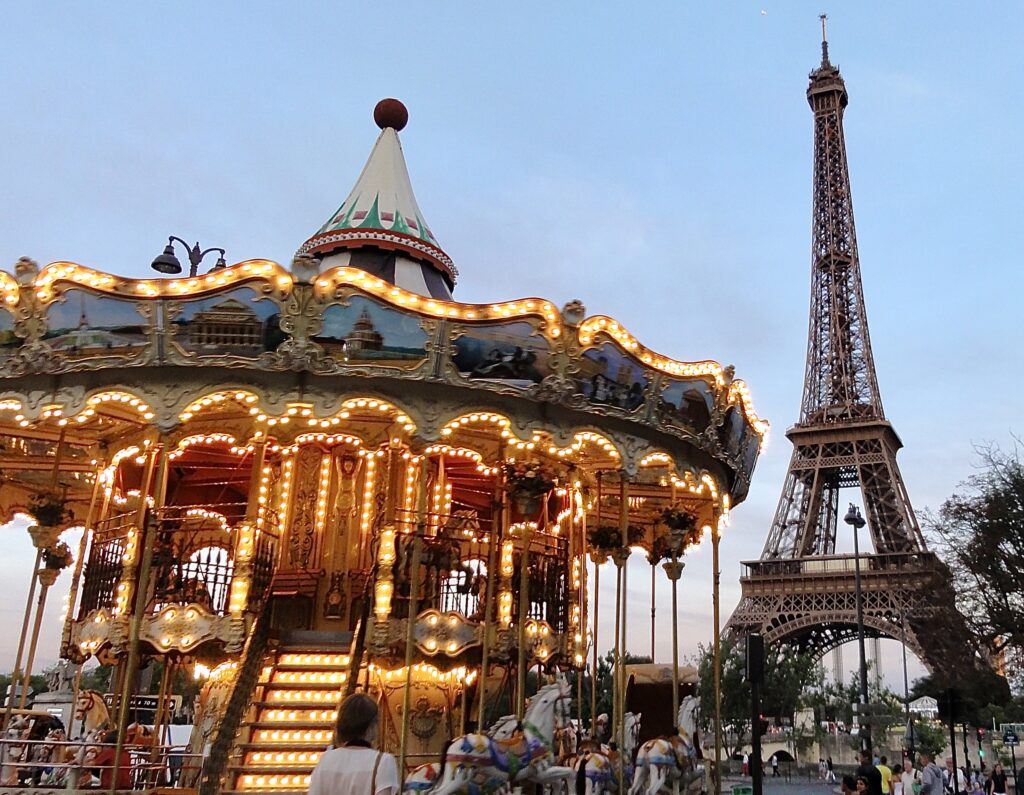 Unfortunately, my eldest child knew that going up the tower was an option and was desperate to do it. We purchased tickets at the base for the stairs to the 2nd floor, followed by the lift to the top. This particular ticket combination can only be purchased at the tower from a separate line (no long waits).
The kids loved the stair climb (it took us about 25 minutes). Frankly though, they we interested in checking out the view from the 2nd floor for about 5 minutes. We then had to stand in a very long line to take the elevator to the top. After about 30 minutes, we bailed (we were only half way through).
Anyway, if you can pull it off, I think viewing the tower from below at dusk is a great idea. If you are visiting during the day, the Champs de Mars lawn beside the tower is the perfect for a Paris picnic.
Option B: Going Up the Tower
On another visit to the tower with when my kids were older, we pre-booked online tickets to the very top. Honestly though, I find the view from the second level much nicer as it is unobstructed (less cage like). You can get an idea of the different perspectives from the photos below.
If you have the time, visit the 1st floor interactive space. It has a unique transparent floor, touch screens, children's play area, restaurants and shops. Although I have yet to do it, I think it would be a glorious place to enjoy an overpriced glass of rosé.
*Online tickets for the Eiffel Tower are booked by date and time slot. The elevator tickets become available 60 days in advance (at 8:30 Paris time). You can alternatively book a ticket to take the stairs to the second floor 14 days out. Tickets for the stairs to the 2nd floor plus the elevator to the top are only sold at the base.
I really like Rick Steve's post on how to visit the Eiffel Tower and I encourage you to read it before booking. Please also remember to bring identification for each member of your party when visiting the tower (even for children).
Book tickets online at: www.toureiffel.paris.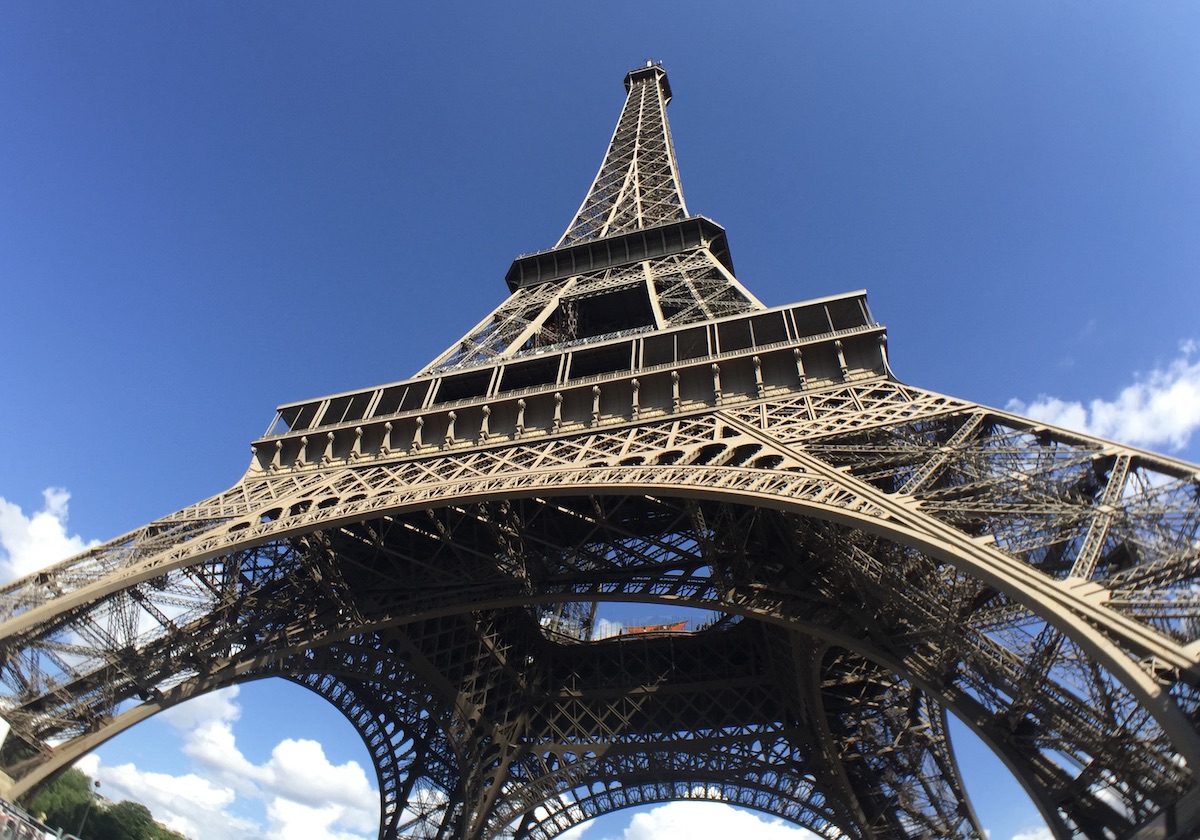 What to do if the Eiffel Tower is Sold Out
Eiffel Tower sold out for your dates? No need to panic. There are still several options.
Same day tickets are always available at the Eiffel Tower ticket booth. You may just have to wait in a rather long line. If you want some exercise, the lineup to buy a ticket for the stairs is usually short (and cheaper).
Tour companies pre-book priority access tickets. On sites such as GetYourGuide and Viator, you will find all kinds of Eiffel Tower ticket options.
Jardin des Tuileries
It is a big sprawling manicured garden, yes, but the Jardin des Tuileries is also one of the top things to do in Paris with kids. It's a great space for them to run, shout and get their beans out. It also has a wonderful fenced playground, a trampoline park, a carousel, and often a gelato stand or two.
The Jardin des Tuileries is sandwiched between the Louvre and the Musée de L'Orangerie Impressionist gallery. It can make a great reward for kids after doing a museum visit.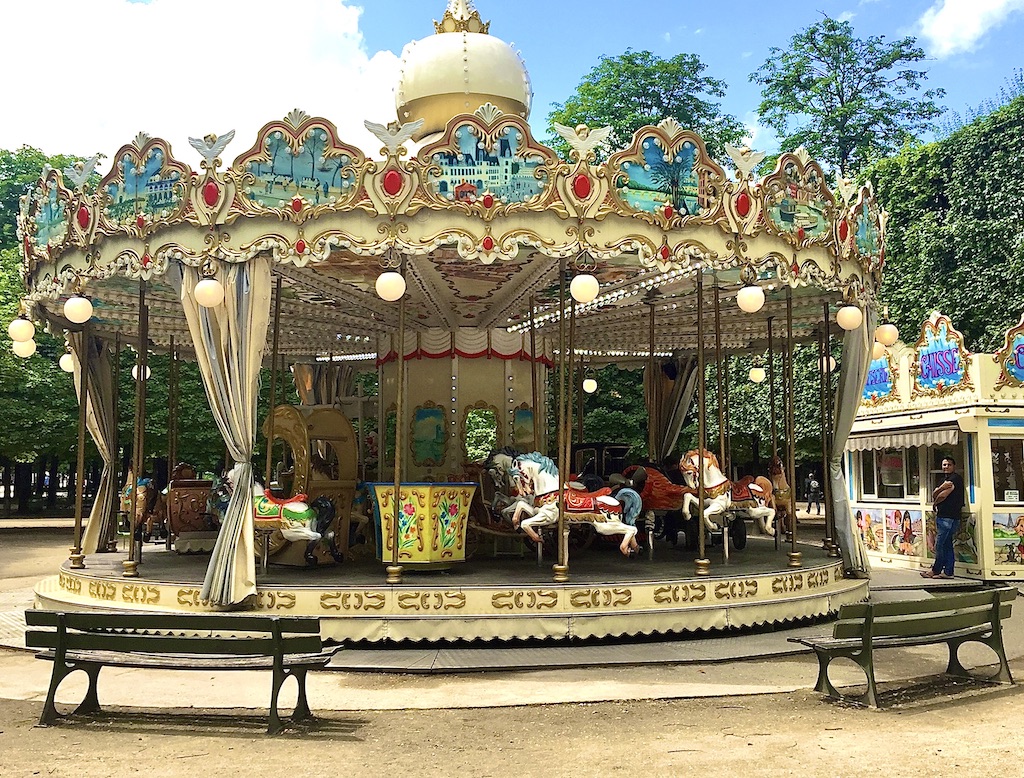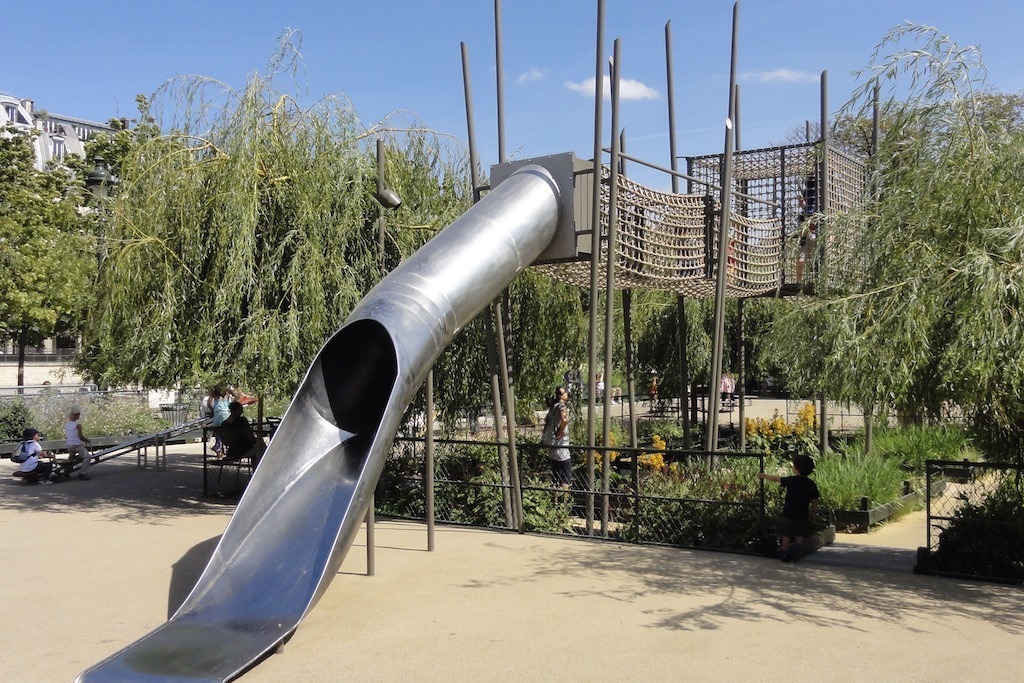 From late June until late August, the park also becomes home to the Tuileries Fairground. This temporary amusement park offers over sixty carnival rides and attractions. The ferris wheel is also a great way to get a fabulous view of the city.
Learn more about Jardin des Tuileries here or see Tripadvisor reviews.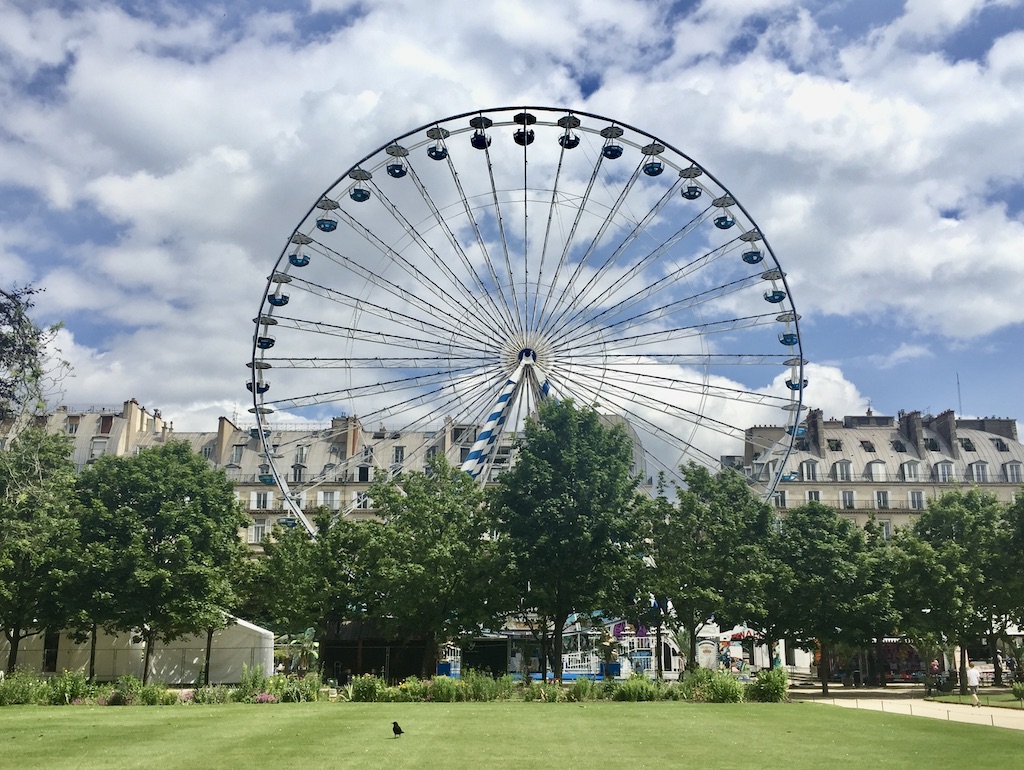 Paris Museums with Kids
On our first visit to Paris, I chose to only take my kids to the Musée de l'Orangerie. It is the perfect size to be able to just duck in for a short period of time. Inside you will find classics by Monet, Cezanne, Renoir, Picasso, Rousseau, and Matisse.
The Tuilleries trampoline park, playground and carousel are also close by. This "incentive" can really go a long way in getting kids to hold it together in the museum.
On a more recent visit to Paris, we did a more immersive private tour of the Louvre. Context Travel has excellent guides and offers all kinds of Paris tours (small group and private) that are perfect for families. See Context Tripadvisor reviews.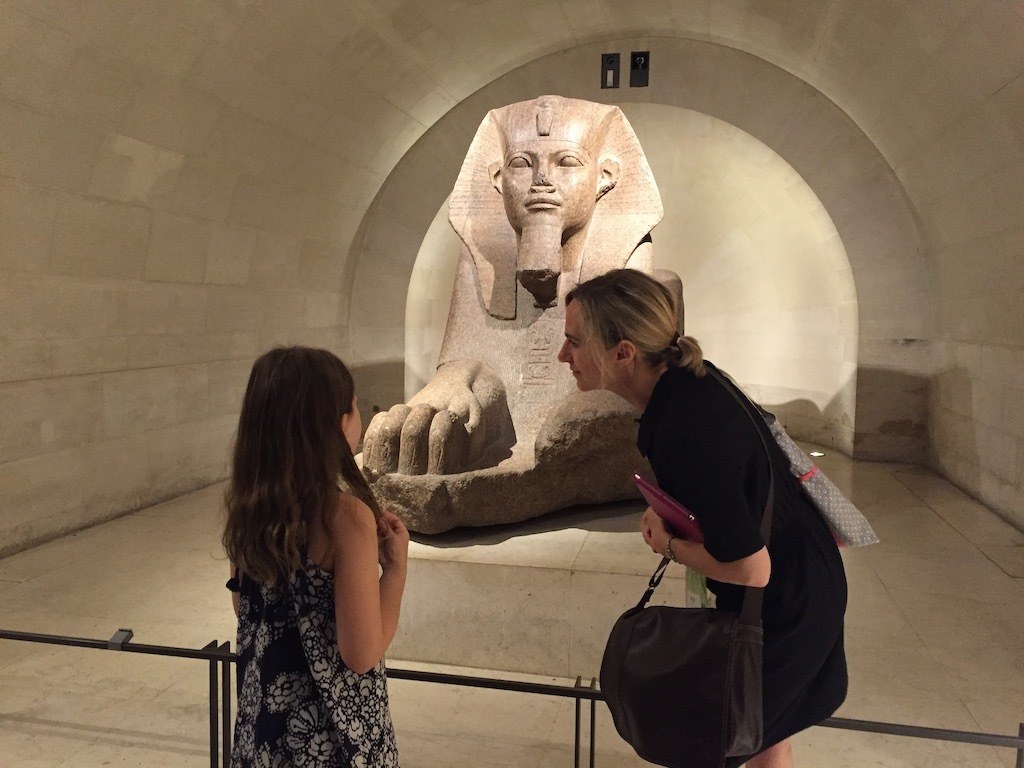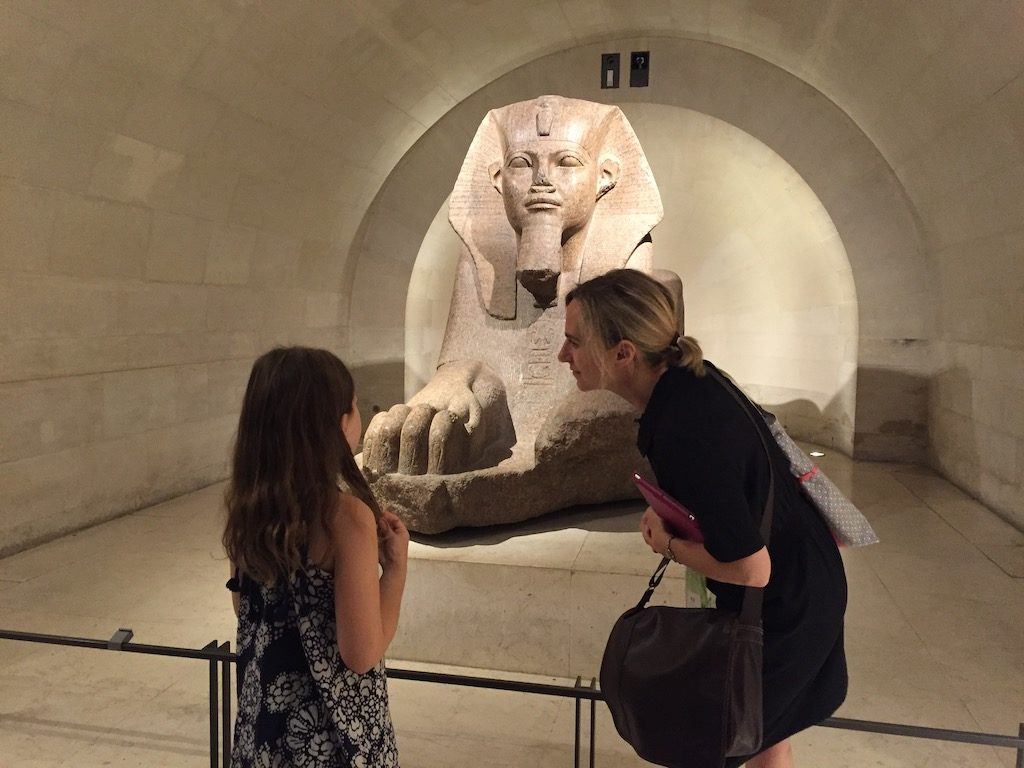 The beauty of booking a family Paris museum tour (specifically designed to engage children) is that they tend to be more concise. They are typically shorter, and contain more of a story-telling component to keep young minds engaged. You can find many options for family-friendly Paris museum tours (both group and private) on sites such as Viator.com and GetYourGuide.com
Most Paris museum tours include skip-the-line admission. Alternatively, If you purchase the Paris Museum Pass, you can also skip the line with kids (under 18s are free). The Paris Museum Pass is good for 55 museums and monuments including the Louvre, the Orsay Museum and Versailles.*
*It should be noted that the Paris Museum Pass is actually included with the Paris Pass (2+ days). The Paris Pass is a pricier pass that covers most of the city's top attractions. Not confusing at all, right?
When planning visits to Paris museums with kids, keep in mind that they generally close one day a week. For example, the Louvre is closed on Tuesdays year-round.
See also this post on the most family-friendly museums in Paris.
Cooking Classes in Paris for Kids
Why just buy pastries, when your budding little chef can learn how to make them as well? Paris has a number of cooking schools that offer pastry and cooking classes for kids, including Cook'n with Class, Cooking Baz'Art and Le Cordon Bleu.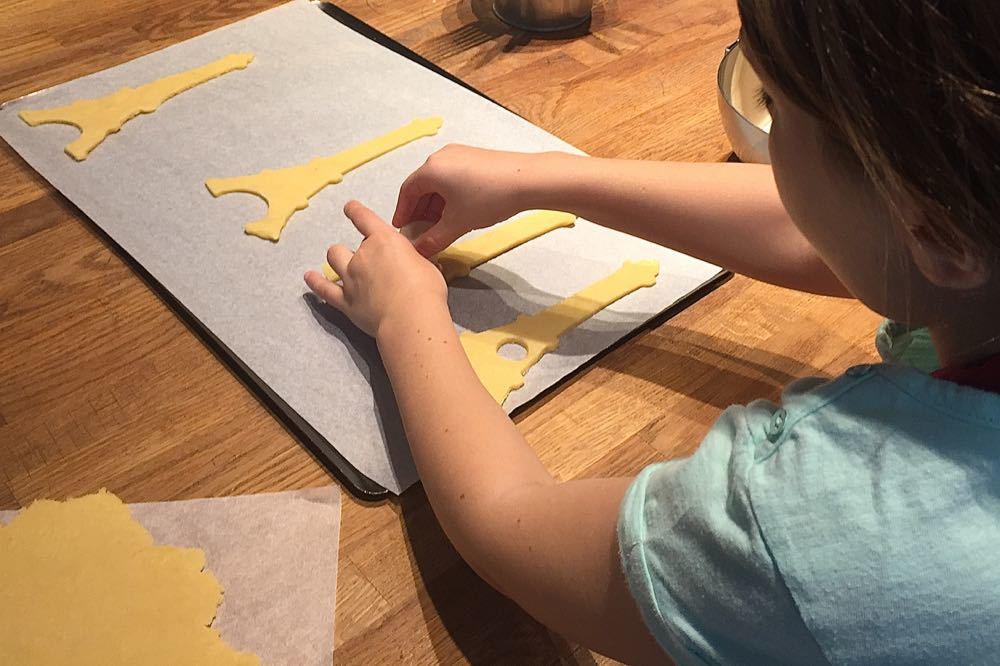 My daughter absolutely loved her french desserts workshop at Cook'n with Class. This school is located quite close to Sacre Coeur, so you can possibly do both on the same day.
Of all the activities for kids in Paris that we have done, this is the one that my daughter speaks most highly of. Learn more on the Cook'n With Class website or read reviews here.
Although we had to cancel our reservation in 2020 (the pandemic had other plans for us that involved baking copious amounts of bread from home), La Cuisine Paris offers private 2 hours classes for families (plus group classes for ages 13+). It is conveniently located in the 3rd arr., close to Notre Dame. See Tripadvisor reviews.
Jardin d'Acclimation
A great way to spend a day in Paris with kids is to take in the attractions at Jardin d'Acclimation. This fun little park has amusement rides, a train, an adventure playground, wacky mirrors, a puppet theatre, a water park, trampolines and a farm.
While I was a little tentative about taking my kids to an amusement park in Paris (it didn't feel very cultural), there was enough that felt French to curb my guilt. By French enough, I mean that we enjoyed French snacks, watched a puppet show at the quintessentially French marionette theatre, rode on the carousel and watched French families enjoying picnic lunches that seem to consist of little more than chocolate biscuits, wine, and cheese.
Please note, like many amusement parks, this Paris kids attraction is a little overpriced. Learn more about the Jardin D'Acclimation or see reviews on Tripadvisor.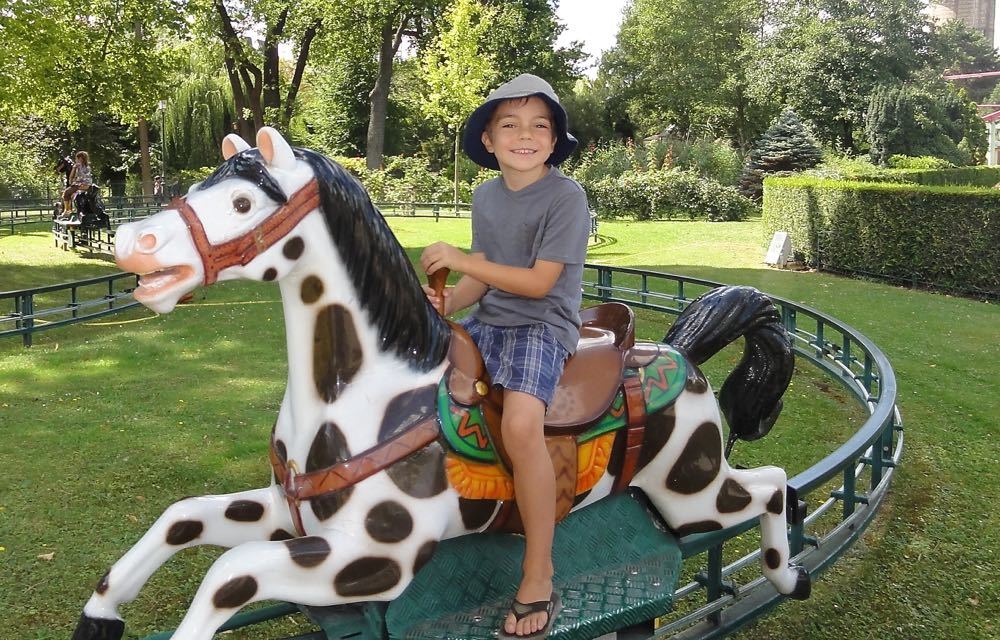 Centre Pompidou
The Pompidou Center is located in the fashionable Marais district. It has a Children's Gallery inside, but is also great fun outside. The area surrounding the center has a lovely outdoor space for an impromptu picnic, artistic fountains, many cafes and lively street entertainers.
If you are looking for things to do in Paris with toddlers, this area is especially nice because there is a large pedestrian-only section where your little one can run around, leaving you relatively stress-free.
We have a personal bias towards Le Marais and believe that it is one of the best areas to stay in Paris with kids. We have often started our days of exploring the city with coffee and pastries in this very spot.
Learn more on the Centre Pompidou website or read Tripadvisor reviews.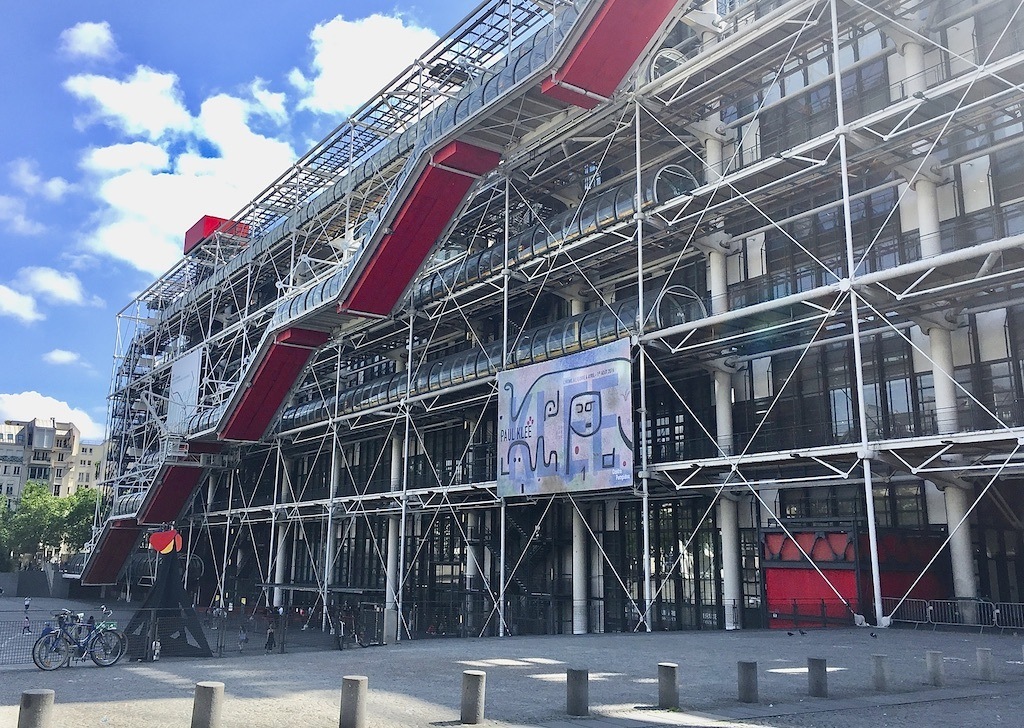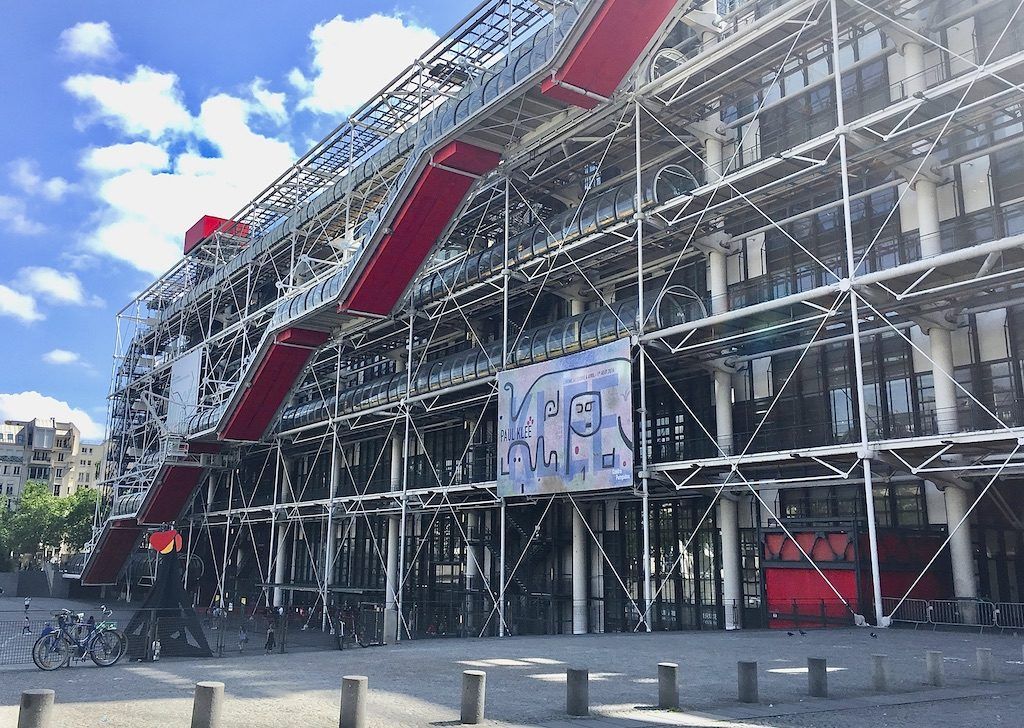 Notre Dame de Paris
As I'm sure you know, a devastating fire destroyed much of Notre Dame's roof in April of 2019. Stunned by the loss of such a treasure, donors from around the world came together to provide financial support so that she can be restored to her former glory.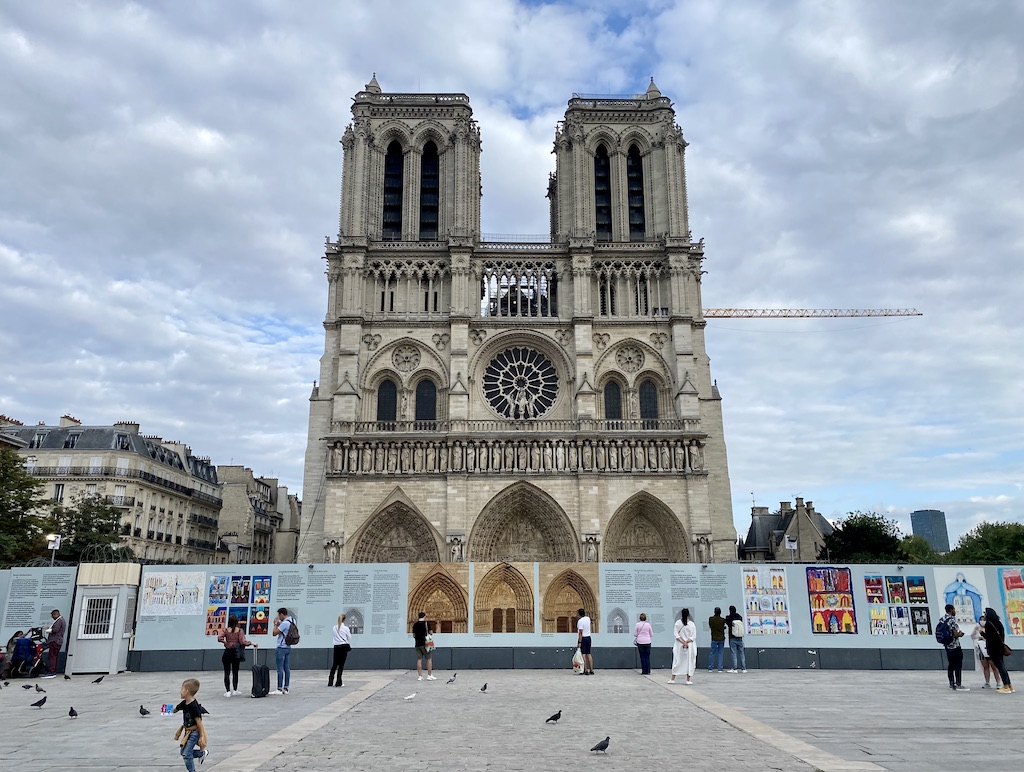 The earliest projected date for Notre Dame's reopening is 2024 – to coincide with the Paris Summer Olympics. This date, however, is looking increasingly unlikely. (It took 182 years to build the first time!)
Personally, I still think Notre Dame is worth taking a peek at from the outside, even during the reconstruction period. There are some interesting information boards on the outside that explain the reconstruction process. You also may want to take a peek at this little video from CNN.
The cathedral is located on Île de la Cité. Also on the island you will find Paris's famous flower market (or bird market on Sundays). Learn more about the Paris Marché aux Fleurs et Oiseaux here or see this post on the Top 10 Markets in Paris.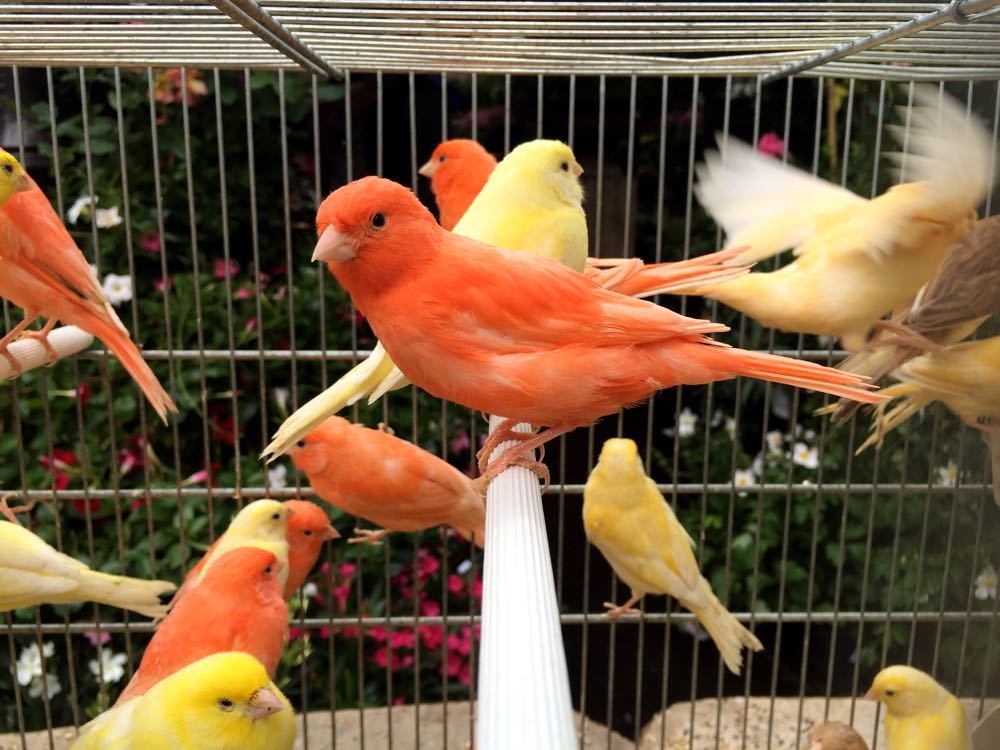 If you cross the little bridge behind Notre Dame over to Île St. Louis, you can sample some of Paris's best ice cream at Berthillon.
The lineups here can get very long (especially in the summer), but if you are willing to pay a little extra (a 2-tier pricing system), there are usually tables available inside.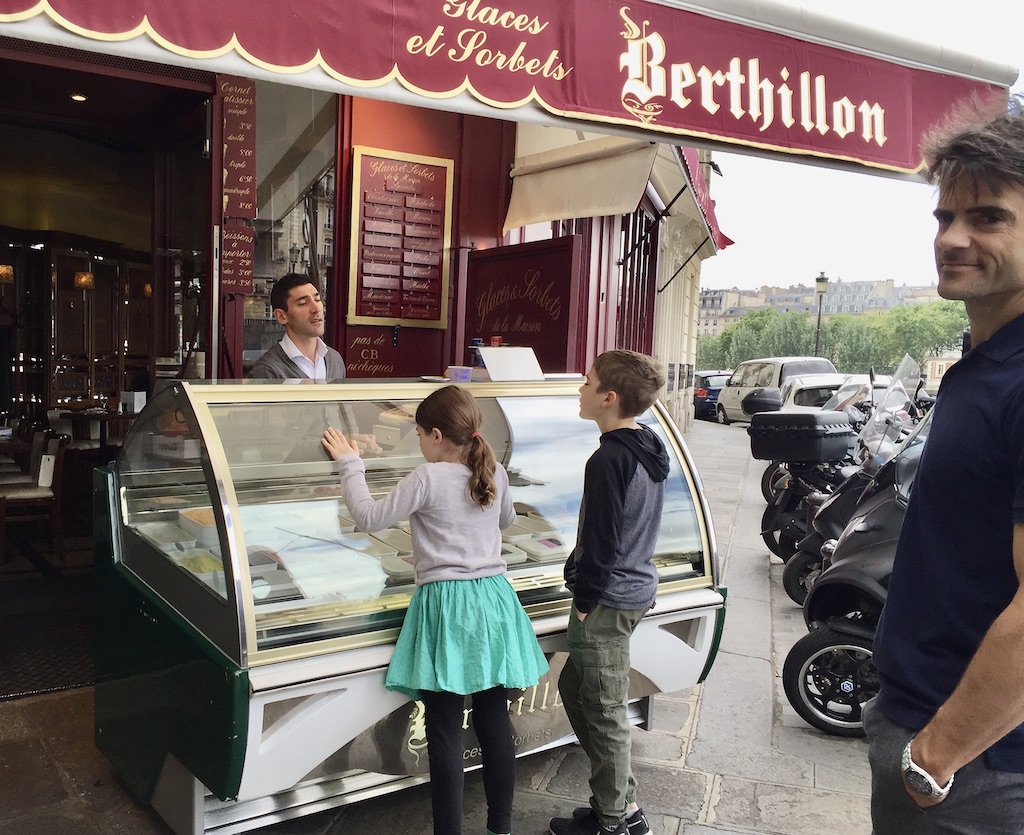 Now, I really love Berthillon, but I have to admit, on our most recent trip in 2021, my delectable boule de chocolat was so miniscule that it was almost comical. My kids much prefer the petal-shaped gelato offerings from Amorino. With over a dozen locations in Paris, it won't take you long to stumble upon one. (There is one around the corner from Berthillon.)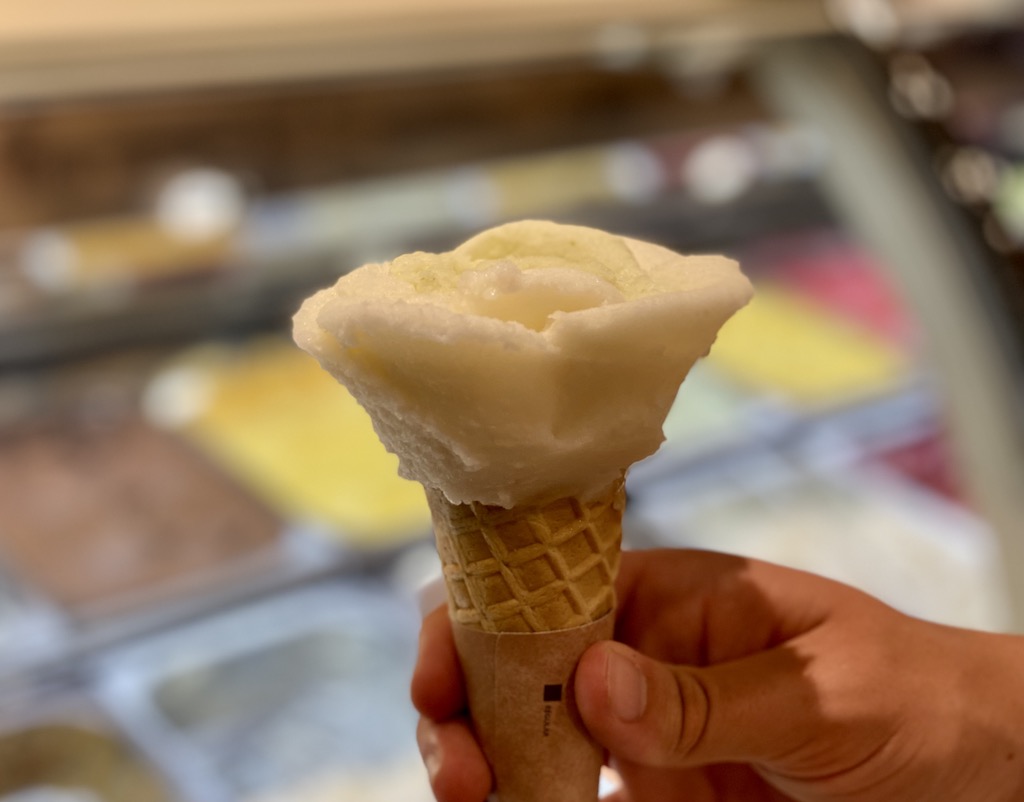 Disneyland Paris
I have a lot to say about our visit to Paris Disneyland. From a cultural perspective I felt a little guilty about taking my kids there, and wondered if we should instead be going to the more authentically french Parc Asterix — but I'll admit that I was also a little bit curious to see the french version of "the happiest place on earth".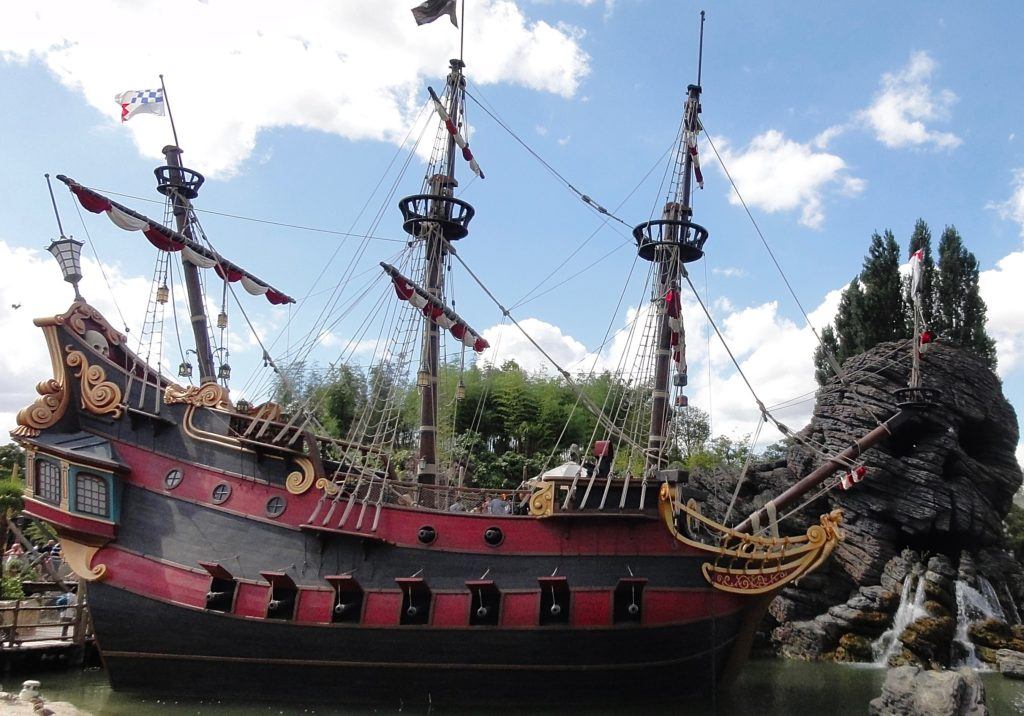 Well, I want to start by saying that my kids loved it. It is a smaller version of the California or Florida parks, but the layout is more or less the same. That said, I will quote my son who commented upon our arrival "Mom…..I have never seen so many parents smoking!"
Even as a child, I remember being impressed by how perfect and clean everything was at Disneyland California. Disneyland Paris is a little rougher around the edges and just feels a little grittier. It seems to be missing the attention to detail that good old Walt was famous for.
These details, however, did not bother a 5 and 8 year old even in the slightest, and they had a wonderful time. I had a better time once I discovered that I could order a glass of wine with lunch.
Learn more about Disneyland Paris or read Tripadvisor reviews.
How to get to Disneyland Paris
Travel from Paris to Disneyland Paris can be done as a day trip. You simply need to hop on the RER A train (at Charles de Gaulle-Etoile, Auber, Chatelet les Halles, Gare de Lyon, or Nation station) and hop off about 40 minutes later at Marne-la-Vallée station (right outside Paris Disney Gates).
Tickets that include both gate admission and transportation from Paris can be found on Viator.com.
Versailles with Kids
To be 100% honest, my kids enjoyed the grounds of Versailles more than the palace itself. The palace can get very crowded and lines can be very long. On our visit, I heeded some excellent advice and enjoyed the grounds first – leaving visiting the palace until one hour before closing (at which point we whipped through very quickly)*.
*Note: Tons of sites mention visiting Versailles at opening to avoid long lines, but if you have just arrived in Europe from North America, it can be hard to get kids going in the morning. 9am in France might be feeling like the middle of the night until you are over your jet-lag. This is why we chose to visit near closing instead.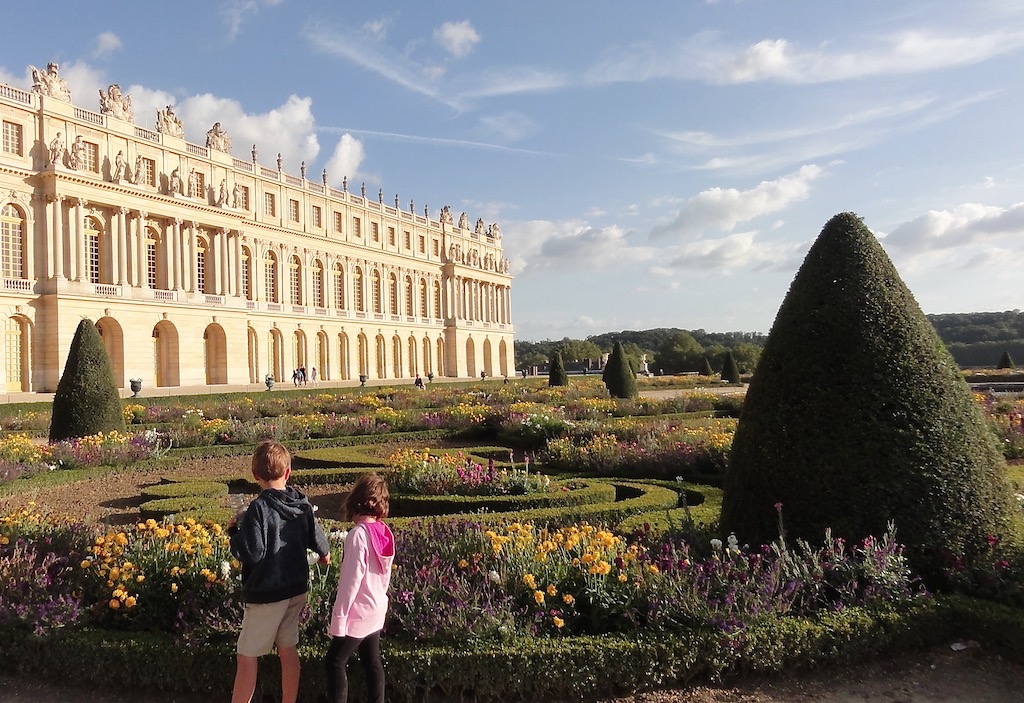 One of the most popular places for kids at Versailles is not the palace itself, but rather, The Queen's Hamlet. Marie-Antoinette ordered her Hamlet to be built in 1783 to get away from the Court at Versailles and to enjoy the charms of peasant life. Kids can peer into the little cottages and visit the farm where they will find sheep, goats, pigs, ducks and more!
As little legs can tire quickly (and a day trip Versailles is a big adventure), you should consider a little help to get you around the grounds. Options include golf carts, a mini-train and bike rentals (with kids bikes and baby trailer options available).
Learn more about the Palace of Versailles or read Tripadvisor reviews.
Picnics in Paris
Enjoy lunch in plain d'air in one of Paris's beautiful parks or plazas. On our most recent trip, I brought along a picnic blanket specifically for this purpose. We spent a beautiful afternoon at Place de Vosges – and yes, I just might be holding a glass of wine in the photo. When in Paris…
For more family picnic spot suggestions see this post on the best spots for a picnic in Paris written by a local.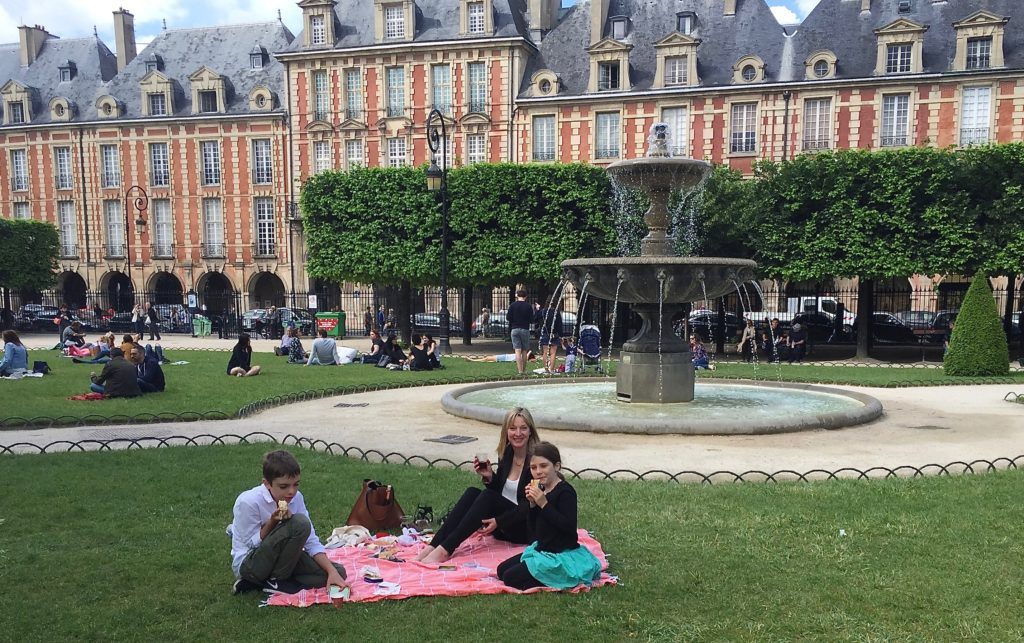 Paris Family Perfume Workshop
Did you know that there are a number of Paris perfumeries that offer workshops where you get to create your own custom scent blend? Candora Atelier de Parfums offers not only classes for adults, but also family classes that can include kids as young as 6.
Learn more at: candora-fragrance.com.
Visit Monet's Garden
Take a day trip to Claude Monet's garden and house in Giverny. The gardens are approximately one hour away by train trip or car from the center of Paris. Admire the water lily ponds and bridges that inspired some of his most famous works, before touring his colourful home.
Tip: I highly recommend going to see the Impressionist collection at the Musée de l'Orangerie in the Tuileries before going to the gardens to get a special close up look at Monet's work before seeing the setting in which they were painted.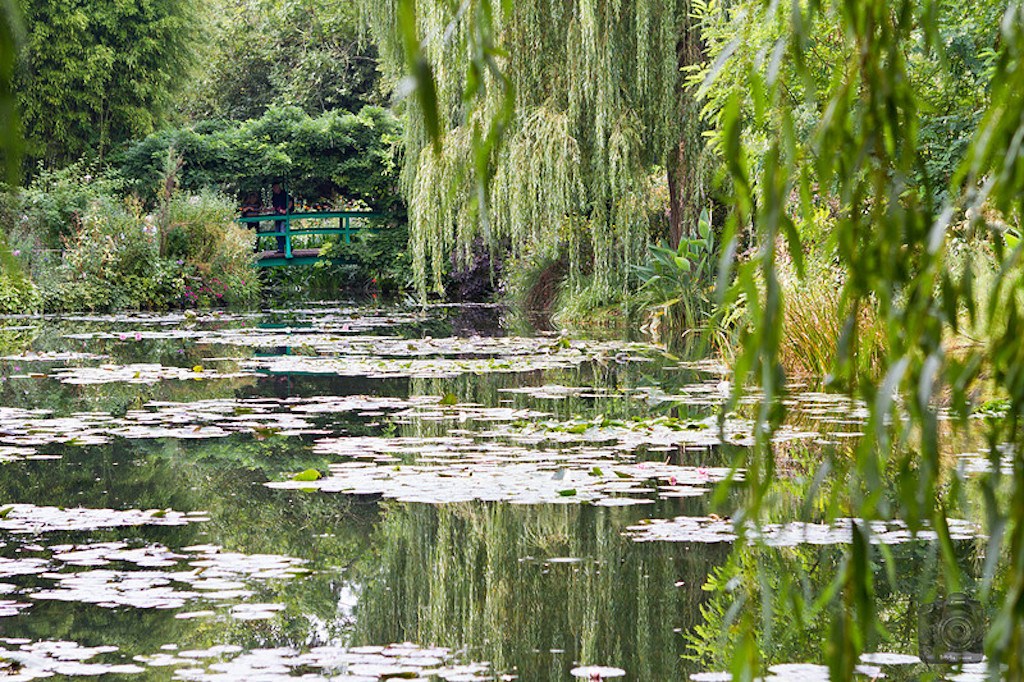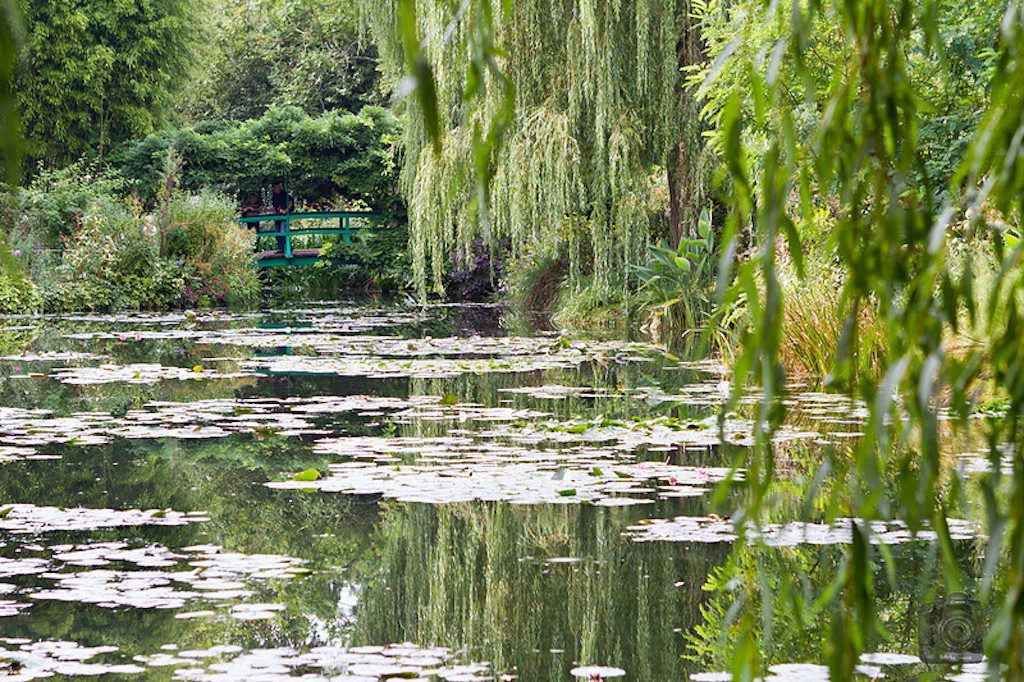 "Jardins de Claude Monet (3)" by [email protected] is licensed under CC BY-SA 2.0
Do a Family Photo Shoot
In most families, there is one person who is conspicuously missing from family photos. In ours, it happens to be me since my husband has zero interest in taking photos. If I can cajole him into taking a photo with me in it (making me feel slightly narcissistic), I am rarely in focus.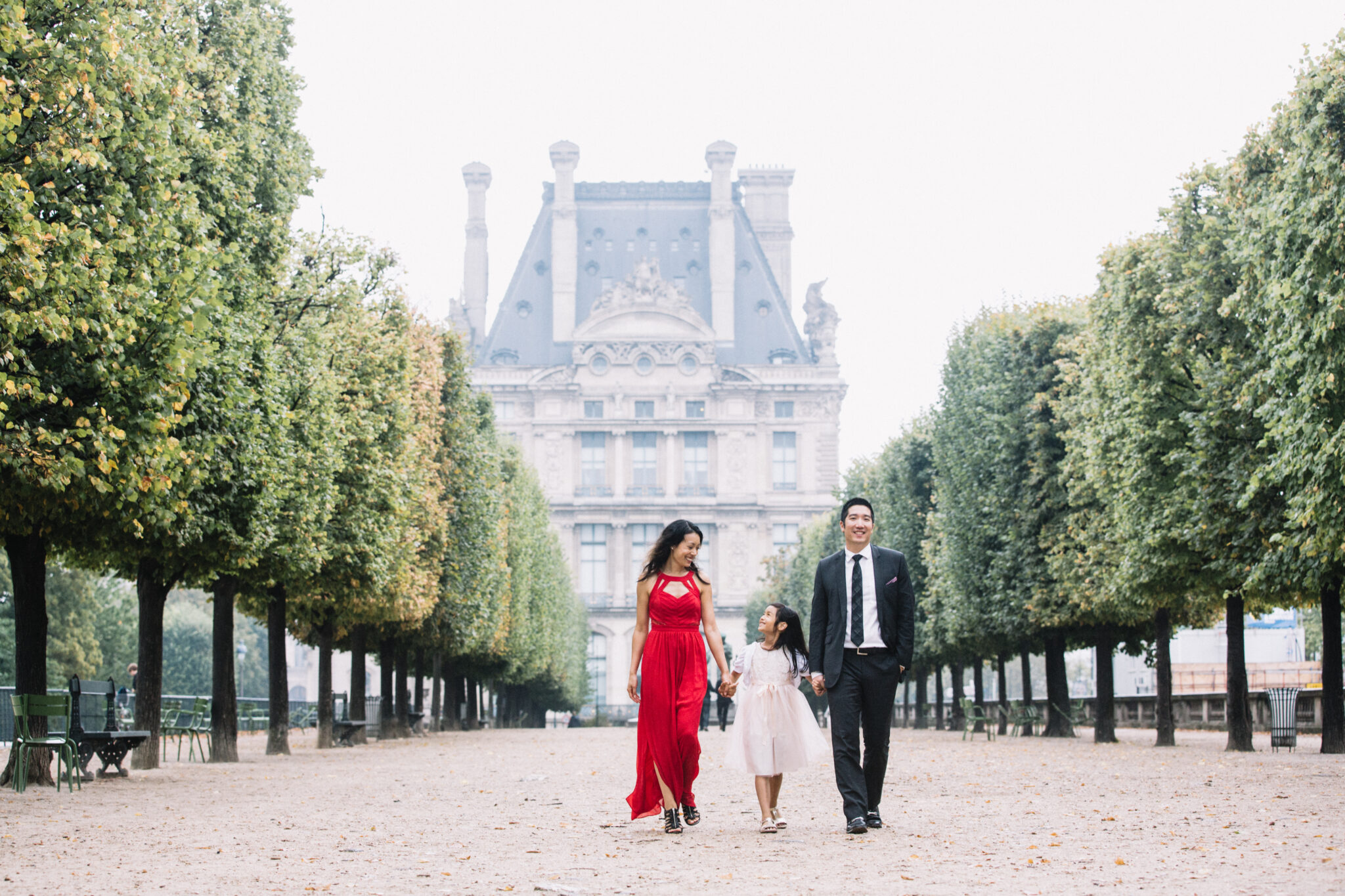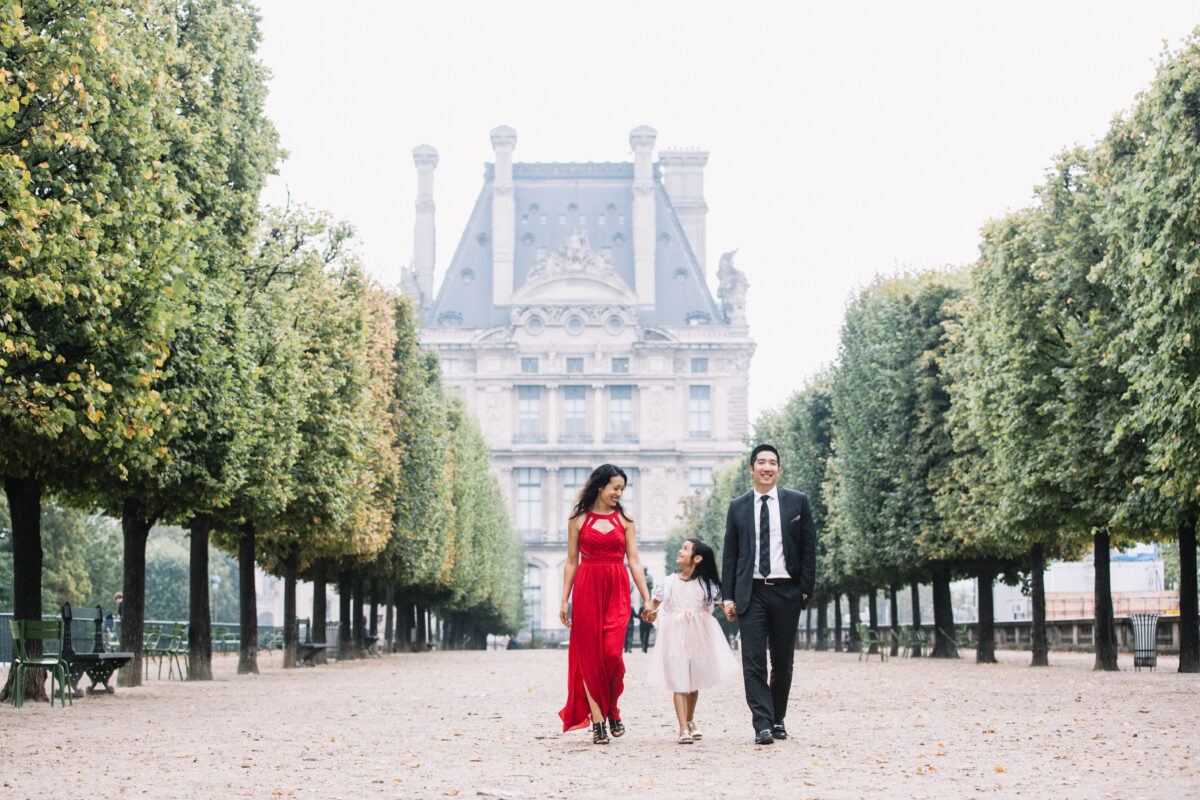 One of the best things I have ever done while on vacation is to set up a short family photoshoot with a local photographer. I love using Flytographer for this because they make organizing the shoot so easy.
With Flytographer, you simply input your destination, choose your photographer (from a carefully curated selection) and pick your package. The packages start at 30 minutes (1 location) and go up to several hours (multiple locations).
I have booked both the 30 and 60 minute packages (the longer for a multigenerational trip) but in Paris, I might be tempted to do a longer one to take advantage of all those amazing backdrops. If you want to see what a photoshoot with Flytographer is like, check out our experience using a photographer in Barbados.
Use Flytographer discount code MYSHOOT for $25 off your first booking or gift card purchase.
Saving Money in Paris
Discounted Attraction Passes
If you plan on visiting a lot of attractions in Paris with kids, you may want to look at the Paris Pass. It conveniently includes admission to over 60 museums, tours and attractions, fast track entry to some of the busiest venues, a metro card, a Paris guide book and more. This pass comes in 2,3, 4 and 6 day options. Keep an eye out for promotions as the Paris Pass sometimes runs a 10% off special.
I sincerely hope that you have the most wonderful family trip! If you have more questions about things to do with kids in Paris, feel free to comment below. I love hearing from you.
Further Reading