Last update: February 26th, 2021 at 10:08 am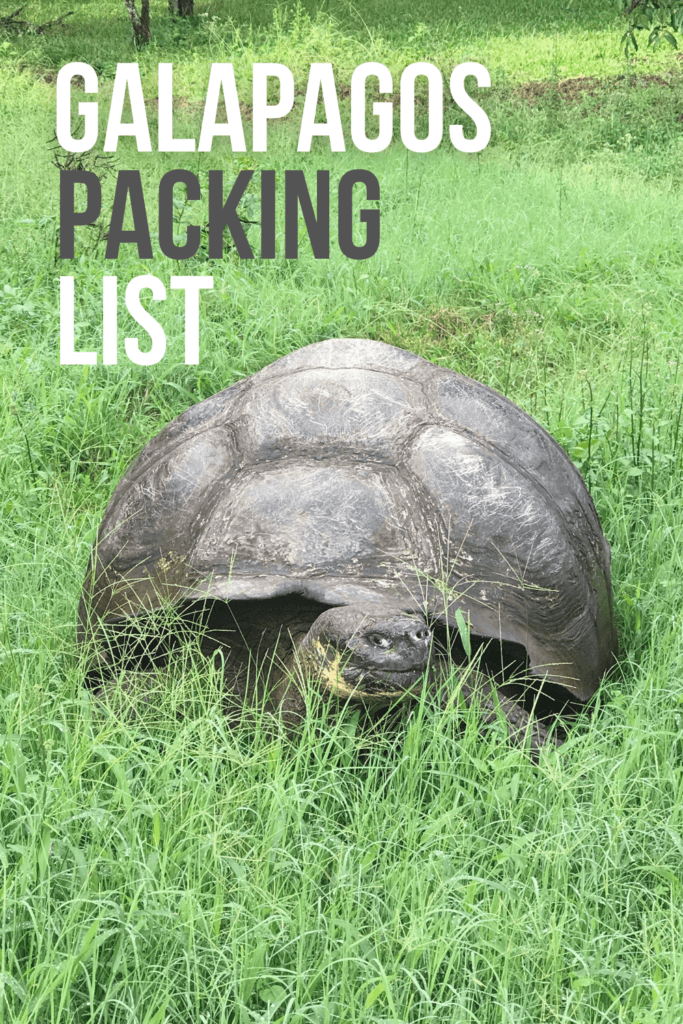 Affiliate Disclosure: As an Amazon Associate I earn from qualifying purchases.
Why You Need A Galapagos Packing List
Looking for a packing list for Galapagos travel? You have come to the right place! The Galapagos is truly the trip of a lifetime, and if you are going all that way, you want to make sure you have packed the right gear.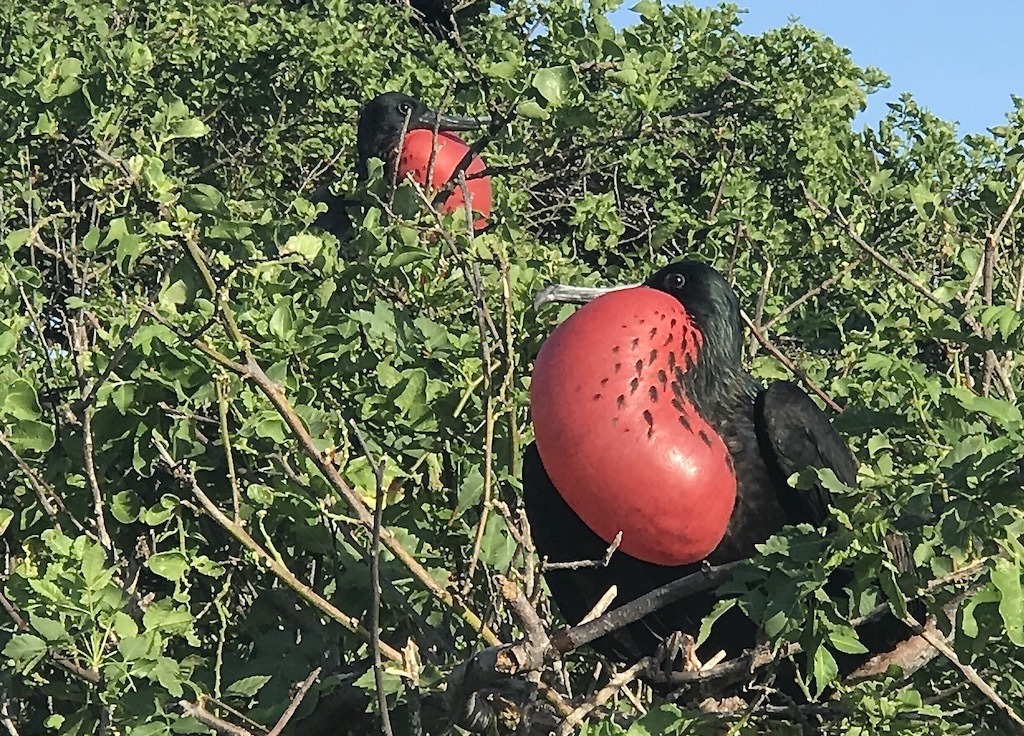 Packing for the Galapagos is a little unique in that you need the right clothes to protect yourself from the sun, from tropical downpours, and from the sea. Footwear is also an important consideration since you are often hopping in and out of boats and walking on sharp, uneven lava rock.
It is also a trip on which you are probably really going to want to capture those memories. When packing for Galapagos travel you will want to make sure that you have brought along the right camera equipment and accessories for both land and under-water photography.
So, with no further ado, here is our list!
Galapagos Packing List
This list was based on our experience on an 8-day Galapagos cruise, but for the most part, it should also be appropriate for land-based, island-hopping Galapagos travel. It outlines what you need specifically for the Galapagos above and beyond what you would normally pack. (I'm hoping I don't have to tell you to pack underwear.)
Galapagos Packing – Key Items
Quick-Dry Travel Clothing – Bring clothing made ideally of lightweight quick-dry synthetic fabrics, lightweight cotton, or linen (including quick dry socks). The Galapagos Islands are humid, so any heavy cottons will take days to dry. Long sleeve lightweight shirts and long pants are ideal because they will help to protect you from the elements (so you are not constantly having to lather yourself in sunscreen). Our guide's unofficial uniform was lightweight nylon pants and long sleeve nylon shirts with under arm venting (made by the brand Columbia). Other brands offering a decent selection include FjallRaven, Marmot and Arc'teryx.
A Lightweight Waterproof Jacket – Do not make the mistake of simply bringing a water resistant jacket. They are pretty useless in the tropics. After several trips to jungle regions, I finally bought a good waterproof travel jacket, and have never regretted the purchase. Quite the opposite, actually. Every time I pack it, I actually feel smug. Look for fabric technology such as Gor-Tex, Hy-Vent, OutDry Extreme and Nano-Pro (brands use different patented fabrics to achieve the same goal). Once again, Columbia, FjallRaven, Marmot and Arc'teryx have a good selection. When looking for one, key in on words such as waterproof (not "water repellent"), breathable and lightweight. Tip: If you love wildlife adventures, buy this jacket in a neutral colour that won't scare off the animals that you are hoping to see (avoid that Instagram-perfect bright yellow or orange).
Note: While it doesn't rain often in the Galapagos, when it does rain…it can really come down in buckets!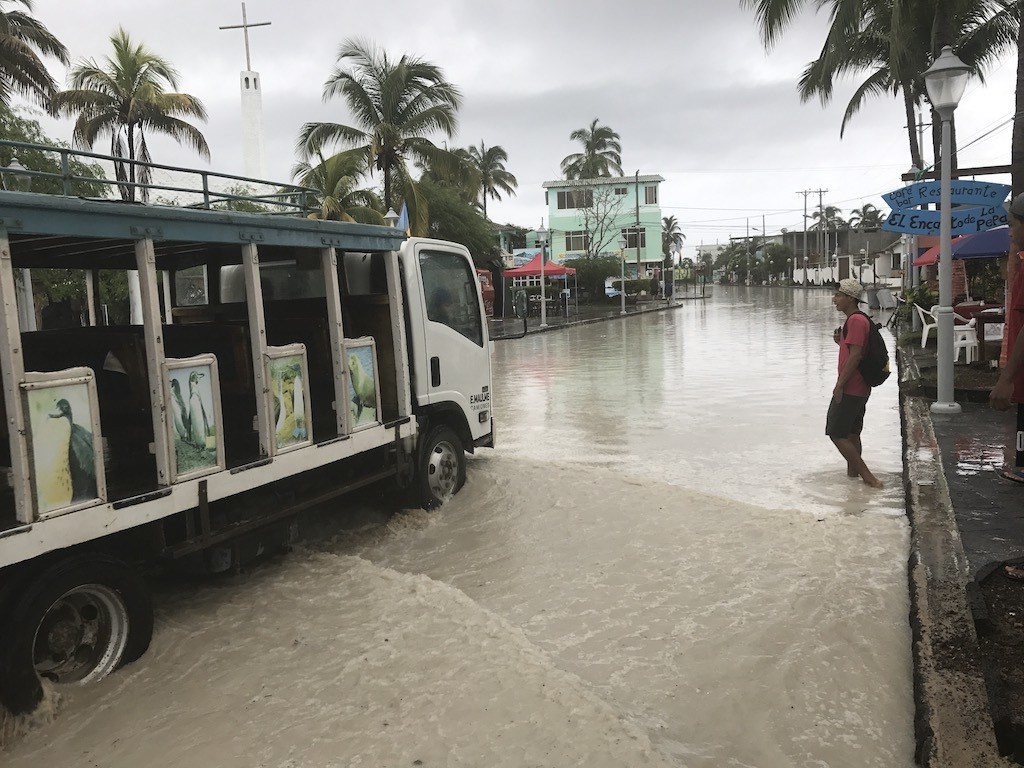 Swimsuits – Most people will spend a lot of time in the water on a trip to the Galapagos. It is handy to bring along 2 swimsuits so that you always have a dry one to put on.
Sun Hat with a Brim – A sensible sun hat with a brim, venting (or mesh panel) and a chin strap is perhaps the most important item on your packing list for Galapagos travel. There is very little shade on the islands, it is often humid and it can be breezy on boats. True story: I bought a beautiful Ecuadorian hat for the Galapagos while we were staying in Quito. While it was a very attractive hat, it was entirely unsuitable for the Galapagos. By the end of the week, it had been reduced to a frayed pile of straw (it had flown off into the ocean several times). The following photo shows several of the right kind of hats for the Galapagos. Function over fashion.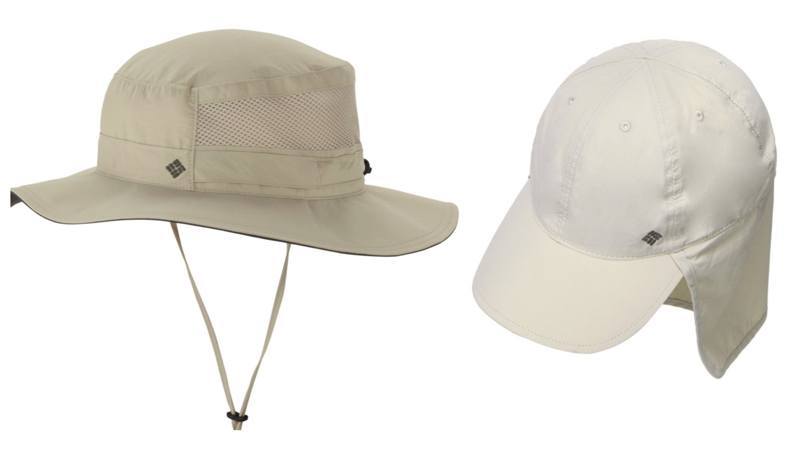 Waterproof Shoes – We purchased Teva sandals which were pretty good for hopping in and out of dinghies and onto islands (wet landings), but perhaps the most sensible shoes are closed-toe waterproof hiking sandals because they are better for walking on sharp lava rock. Brands such as Keen, Salomon and Merrell all offer various models. They are ugly as sin, but do the job because the water just drains right out.
I took the following photo to show you someone who managed to get their apparel pretty right on our trip (in the middle with the navy pants). She has the full brim lightweight nylon hat, the long sleeve shirt with venting, quick dry pants, closed-toe hiking sandals and what I think is a waterproof backpack.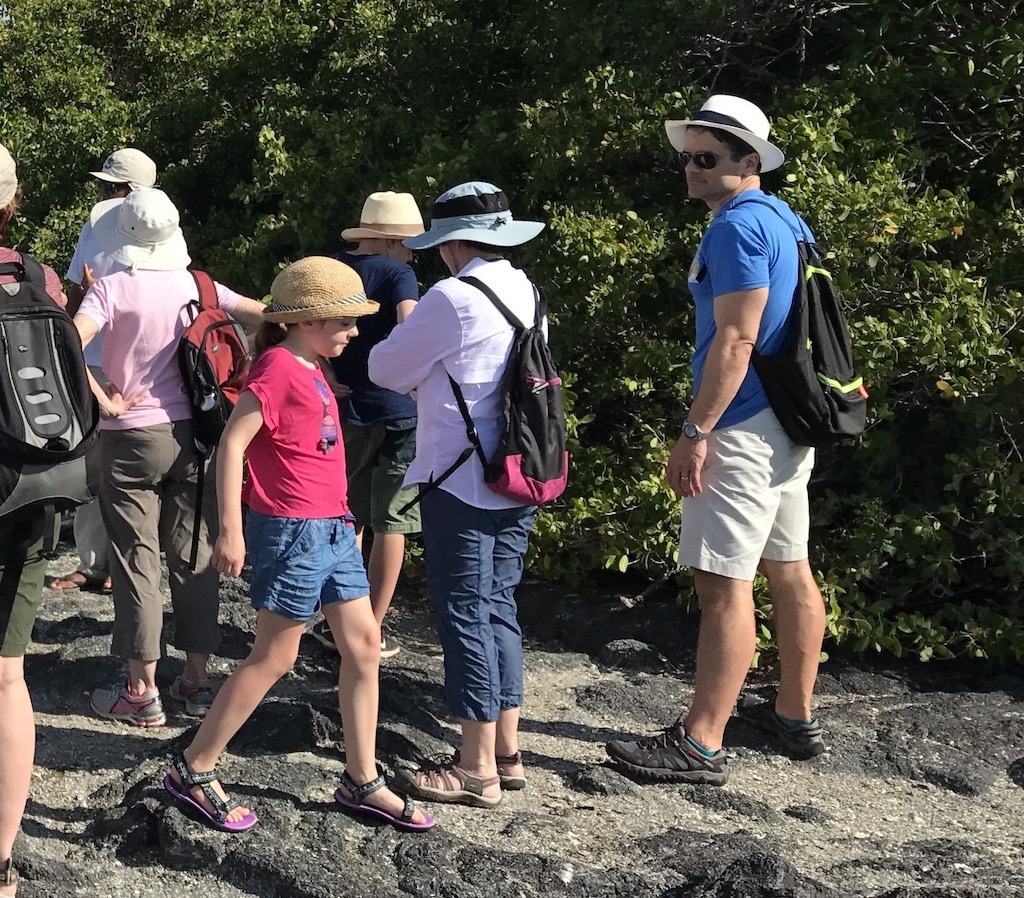 Running or Hiking Shoes – For dry landings on islands (at a dock, not into a few inches of water) you may prefer a regular running or hiking shoe. My Nike trainers were just fine, but you may want something more sturdy with ankle support, especially for uneven lava rock. Most of the time we were in the Galapagos we were on fairly well-trodden paths, but there was a little bit of this: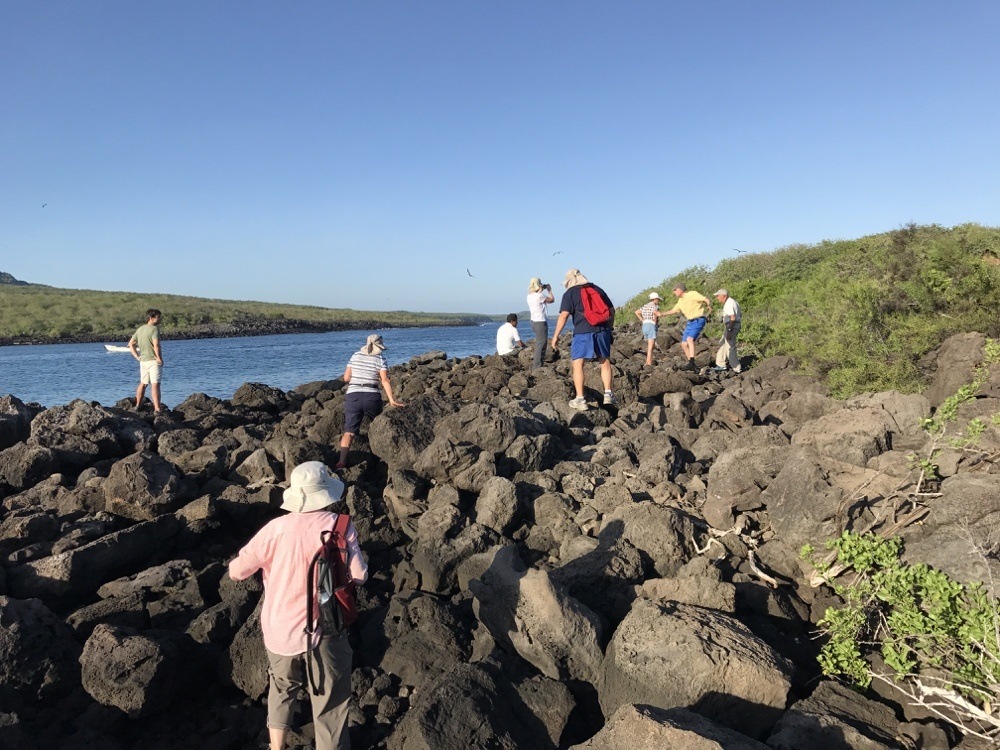 Trekking Poles – While most of the islands are pretty flat, if you have any knee or other mobility issues, you may want to bring a pair of trekking poles along. (Some cruises and hotels have them available for guest use.) I have also often seen couples sharing a pair, each taking one pole for a little extra stability.
Waterproof Backpack – For years, I have just put my camera, iPhone etc. in a big Ziploc within a backpack for day tours, but actually owning a waterproof backpack or watertight bag is handy. We have one for family use now. Store such as REI and MEC have a decent selection of small waterproof day packs.
Cameras – Most photographers will want to bring more than one camera (different shots/in case one breaks etc.) I prefer to shoot almost entirely with an iPhone and purchased the latest model of the iPhone Pro for our trip. While an iPhone isn't always the greatest for wildlife distance photography, it was fine in the Galapagos because the animals are so fearless that you can shoot them from quite a close proximity. This sea lion, for example, was very happy to pose for me from just a couple of meters away.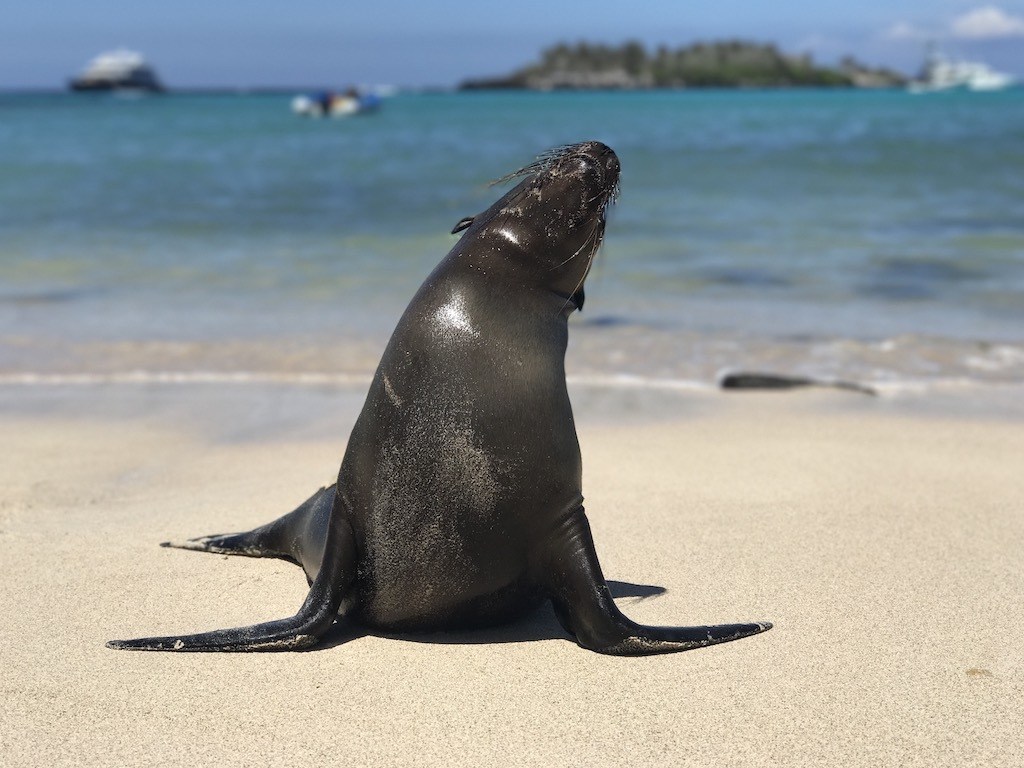 A GoPro – I splurged on the latest Go Pro Hero for our trip. It was amazing for getting underwater shots of sea lion pups while snorkeling (both still shots and video). That said, it has sat in its box ever since. I'm glad I had it, I'm just not sure if my purchase of the latest and greatest model was justified. The best way someone explained GoPro footage to me is that it is like the sprinkles on the cupcake. It can really elevate your video, but it is usually just used for a few shots. Tip: While you can spend a fortune on GoPro branded accessories, I purchased a whole kit of generically branded Go Pro Accessories for under $20 USD (including the all-important floatie so you don't lose your GoPro to the bottom of the ocean).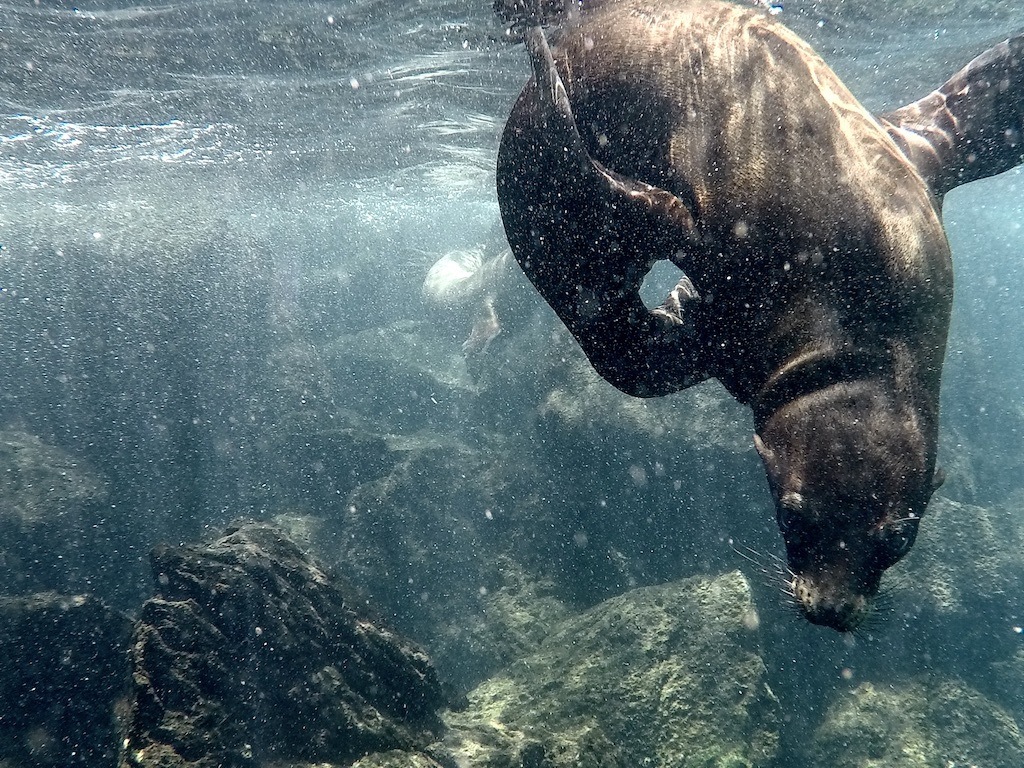 Extra Batteries and Memory Cards – Extra rechargeable batteries and memory cards are important because you are probably going to be taking more photos and video than you normally do. If you are on a cruise, there often isn't much time to fully charge batteries or download photos between excursions, so being able to quickly swap them out is a convenient option.
Binoculars – I have noticed that a lot of Galapagos packing lists mention binoculars, but quite honestly, the creatures of the Galapagos are so fearless (see photo of frigatebird below), we almost never used ours in the islands. We did, however, use them on mainland Ecuador in the Cloud Forest and in the Highlands outside of Quito.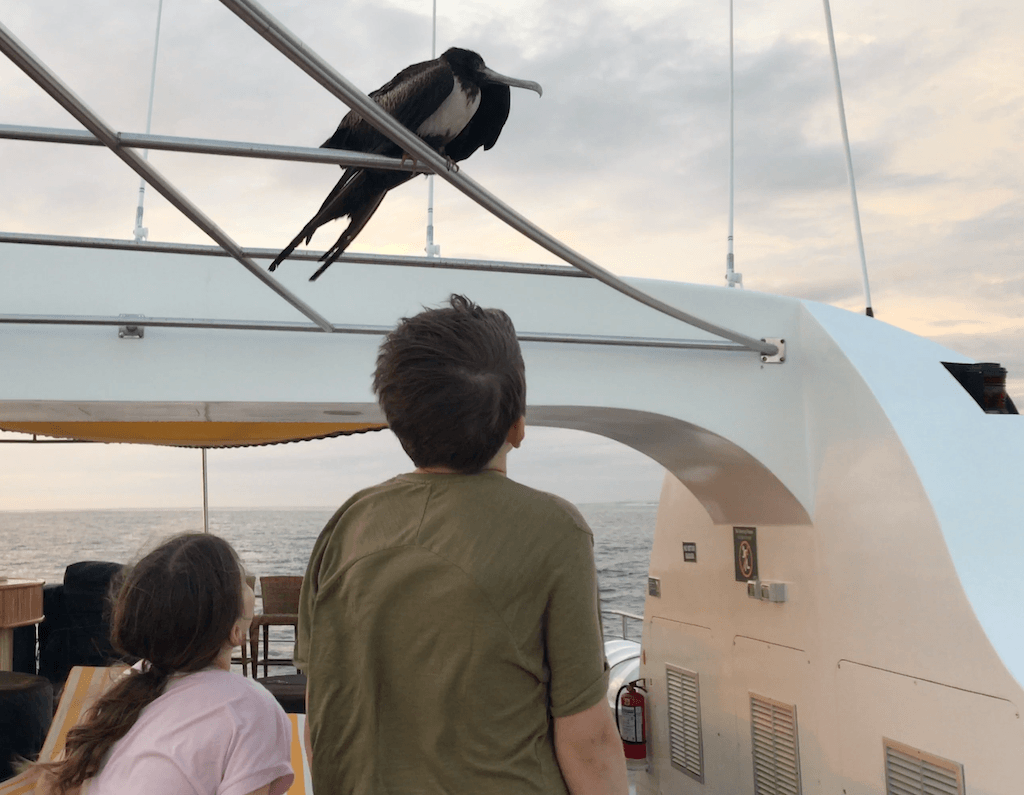 Multi-port Device Charger – One of the best purchases we have ever made for travel is a multi-port universal travel adapter and charger so that we can charge all of our devices and batteries in one place. It saves digging around hotel or cabin rooms for extra outlets. (Note: Ecuador uses 110V power, the same as the U.S. and Canada.)
Entertainment – The Galapagos are a great place to detox from technology. Bring along a deck of cards, a travel-sized board game or some good books. Although technically "technology", I bought my first Kindle e-reader for our Ecuador trip and found it to be incredibly convenient. Remember to do any downloads before your travels to the Galapagos as internet connectivity is often spotty, or totally unavailable (cruises).
Mosquito Repellent – Bugs are not a huge issue in the Galapagos, especially when visiting the islands on a cruise. You may, however, get the odd bite on inland tours on some of the bigger islands (visiting the tortoise refuges, for example). If you would prefer to avoid a single bug bite, put mosquito repellent on your packing list for Galapagos travel.
Sunscreen – There is very little shade in the Galapagos, so bring along ample sunscreen (it is also very expensive to purchase in island towns).
Reef-Safe Sunscreen – For swimming and snorkeling, please bring along a reef safe sunscreen. These formulas do not contain ingredients that can be damaging to aquatic life or take years to degrade like mineral oil, titanium dioxide, oxybenzone and octinoxate.
Swim Shirt (Rash Guard) – An easier way to use less sunscreen is simply to expose less skin by wearing a rash guard (or sun shirt when on land). That said, the waters around the Galapagos are quite cool so many people prefer to wear a wetsuit while snorkeling. While most tours offer them for loan, we brought along shortie wetsuits for our kids because we weren't sure if our boat cruise would have the small sizes for them (our boat was not specifically a "family cruise").
Snorkel Equipment – If you are taking a Galapagos cruise, they should have snorkeling equipment available for your use. If you are on a land-based Galapagos trip you will be able to rent equipment for your snorkeling tours. That said, although we are a family that packs very light (often just carry-ons), we always bring our own snorkeling gear for ocean adventure trips. It is simply so nice to know that our gear fits us perfectly, has only been used by us and has no broken bits – even if that means the added expense of checking an extra bag. Tip: If purchasing snorkeling gear for the first time, spend a little extra for a mask with tempered glass, and a silicone rim that fits snuggly around your face (not rubber or plastic which can be quite uncomfortable). The mouthpiece on the snorkel should also be silicone and the snorkel should have a splash guard.
Sunglasses – Bring along decent sunglasses (ideally polarized) as well as a neck strap in case they fall off your face when you see something amazing below the water's surface – like this incredible sunfish!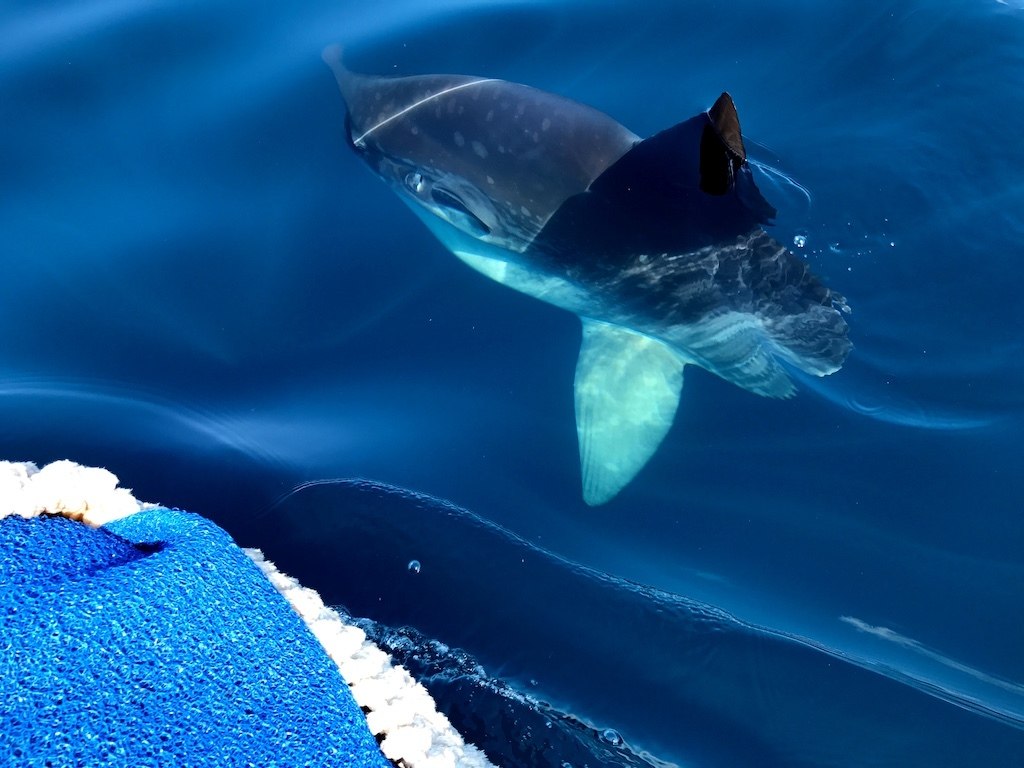 Sea Sickness Medication – In addition to any regular medications that you would normally travel with, bring along some sea sickness medication. On our one-week cruise, I took Dramamine twice during rougher open water passages. Some people also swear by sea sickness wristbands. Although I can't vouch for them myself, I bought them for my kids and they seemed to think they worked.
Reusable Water Bottle – Unfiltered water is not drinkable in the Galapagos. Bring along your own reusable water bottle to fill up from filtered sources to take along on day trips.
Travel Clothes Line – As you are likely to have some damp clothes during your time in the Galapagos, a travel clothes line can be very handy.
US Dollars – The Galapagos uses U.S. dollars. It is best to bring some cash with you to the islands as ATMs sometimes run out of cash, and credit cards aren't always accepted (or an extra fee may be charged). On cruises, the staff much prefers to be tipped in cash as tips processed by credit card through the parent company take much longer to arrive.
Questions?
Still have questions about Galapagos packing? Please feel free to reach out to me by commenting below or by messaging me on Facebook or Instagram.
Galapagos Cruise Video
If you are interested in seeing a little snapshot of what a Galapagos cruise is like, check out the following 3 minute video of our family trip.
More on Ecuador