Last update: March 5th, 2021 at 01:43 pm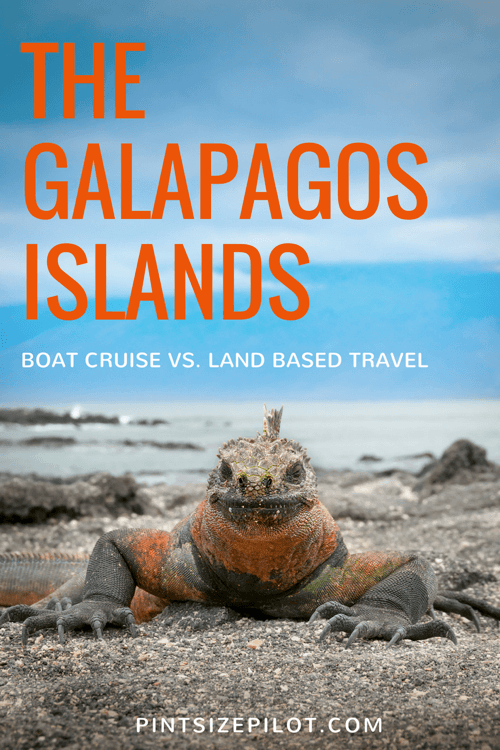 Galapagos Travel Introduction
The Galapagos Islands, Ecuador, had been on our family vacation bucket list since my kids were very young. I couldn't wait to share with them the unique wildlife experiences that this volcanic Pacific Ocean archipelago had to offer, including lumbering giant tortoises, seafaring iguanas, playful sea lions, and blue footed boobies.
We waited on a family vacation to the Galapagos for several reasons. First, we wanted our kids to fully appreciate, and later, recall, this amazing experience. Second, we wanted to ensure their safety. Since a trip to the Galapagos would likely involve a lot of time in the water, we wanted strong, capable and willing swimmers.
I always assumed that the best way to see the Galapagos would be by boat cruise. As I delved into my research of the different boat options, however, I also discovered that a growing number of travelers were choosing to visit the Galapagos by land — spending their nights in hotels and taking day trips to some of the neighboring islands.
Although in the end we chose to do a Galapagos family cruise, through research, we learned that there were advantages and disadvantages to both land and sea-based travel. For the purpose of this post, I thought I would try to outline the pros and cons of each. Perhaps it will help you avoid some lengthy traveler forums that sometimes (often) drift off topic.
Galapagos Boat Cruise vs. Land Based Travel
About Cruising the Galapagos
There are dozens of boats to choose from when cruising the Galapagos, ranging from 12 to 98 passengers. They are generally ranked into 4 categories based on services and amenities (tourist, tourist superior, first class, or luxury).
Many offer different island itineraries (from 4-21 days) depending on their departure date and often dividing the islands into east and west. The daily cost of a cruise ranges from $300 – $800+ USD per person, per day, not including park fees, flights, tips and other extras.
Pros – Galapagos Islands Boat Cruise
Galapagos cruises provide the most efficient itinerary to see the islands without having to backtrack to a hotel base each night.
As one of the most unique things to experience in the Galapagos is the ecological diversity between the islands, the ability to see more islands (such as cruise-only access Fernadina and Genovesa) allows you to experience this more completely.
As the cruise boats generally have long standing relationships with their naturalists and guides, you will have a consistency of quality that you may not have if you are planning daily day trips to the islands on your own.
The ships tends to have a smaller ecological footprint on the islands, with guests visiting, but ideally, leaving nothing behind.
A cruise provides a great way to get unplugged and spend quality time with loved ones as there is very little cell coverage and internet connectivity out on the water (except at a few island stops along the way).
You only need to unpack once, as you are not hopping between hotels.
There is no need to research restaurants, as meals on cruises are included.
Cons – Galapagos Boat Cruise Tour
You are stuck with the same group of people for the length of your boat tour. What if you get some duds? I still recall a 4 day boat cruise in Fiji where enthusiastic traveler Bob could be heard loudly sharing his knowledge of the islands with anyone who would listen at almost any hour of the day.
No matter what level of Galapagos cruise you choose, the experience does come with a bit of sticker shock in comparison to many other vacations. If you have some flexibility, you can get a discount (15-30%) by booking a Galapagos cruise outside of high season (high season includes June – August, Spring/Easter Break and December.) Even deeper discounts can found by booking cruises at the last minute from offices in Quito,Guayaquil (mainland Ecuador), or better, by flying to the islands and booking from there.
Seasickness can be an issue for people cruising the Galapagos. Generally, the seas are more temperamental from July to December, with the roughest months being September and October. It is advisable to bring sea sickness remedies along just in case.
A Galapagos boat cruise generally has an action packed itinerary with several excursions planned for each day. If someone in your party is more sedentary, this may not be an enjoyable vacation for them. Naturally, a person can opt out of a particular tour, but it is already built into the cost of the cruise.
Galapagos cruise boat reviews are a little more difficult to find than reviews for Galapagos hotels. Tripadvisor has threads that are dedicated to some of the boats, but you definitely need to dig a little deeper, requiring more research time.
Most Galapagos cruise ships do not accept children under the age of 7 (for reasons of safety and as a courtesy to other guests). Furthermore, although there are generally discounts for kids 7+ (15-50%), this is not exactly a cheap family vacation (no kids cruise free specials). The company Ecoventura runs some specific Galapagos cruises for families (7+) as does Quasar Expeditions (7+). Lindblad Expeditions has the largest ships and can welcomes kids of all ages, including babies and toddlers.
Galapagos Land-Based Island Hopping Tour
About Land Based Galapagos Vacations
Not interested in a boat cruise? You can still experience the Galapagos by staying in hotels on the inhabited islands (Floreana, Isabela, San Cristobal and Santa Cruz) and doing day trips to some of the other islands. A land based Galapagos vacation can be organized in a DIY fashion (the cheapest), or there are also companies that will arrange a hotel based tour for you. These tours generally range from $150 – $500 USD per person, per day, depending on the level of accommodation and they type of tours included.
Pros – Galapagos Land Based Vacation
Boats work on specific scheduled departure dates. If you have a very tight vacation window, these dates may not work for you, but you should be able to make a trip work with land based travel. Do keep in mind that hotels and day tours do book up ahead of time for peak season in the Galapagos.
You can save a lot of money by staying in hotels rather than on a cruise ship where the cost of fuel adds a lot to the total vacation cost. That is not to say that you can't have a luxury land based Galapagos vacation. There are some companies that specialize in exactly this. Check out the lovely Galapagos Safari Camp for one (website).
More of your tourist dollars are going to go to the local economy when you do a land based itinerary, as you will be supporting local tour operators, local lodges and restaurants.
A land based itinerary makes the Galapagos much more accessible to families with babies, toddlers and young children, since most cruise boats only take kids 7 years and up.
A land based itinerary allows you the freedom to go at your own pace, in a less regimented format. Need a down day? Need to plan around toddler naps? No problem, this can easily work.
This is a much better option for people who suffer terribly from sea sickness.
If you are planning a multi generational trip, a land based vacation could be a better choice so people can choose which excursions to participate in based on their age, energy level and mobility (as opposed to a cruise where you have paid for all tours up front).
While you cannot dive from a regular Galapagos cruise (you need to book a specific diving live aboard cruise), you can easily do a day trip dive from Puerto Ayora, Santa Cruz (and several other islands), where there are a number of dive shops.
Cons – Galapagos Land Based Vacation
If you have not booked an island hopping tour package, you may spend much of your time negotiating day trips. As they will probably be with different operators, depending on the destination, you will likely have variations in quality (boat comfort, guide experience, etc.)
There are special islands you will simply miss out on such as cruise access only Fernandina and Genovesa, because they are too far away to visit on a day trip.
You may spend a lot of hours getting to and from your day trip destinations. Isla Bartolomé, for instance, is a 2 hour boat ride (each way) from Santa Cruz. Cruise ships, on the other hand, do much of their travel at night, with guests simply waking up at their new destination.
The Plan for our Galapagos Family Vacation
After much consideration, we decided to book an 8D/7N luxury cruise with Haugan Cruises on their 16-person M/C Petrel. Although the company did not specifically offer a family Galapagos cruise, we felt very welcome with our children (9 and 12 years at the time).
There are other companies that offer Galapagos cruises specifically aimed towards families, especially during school breaks. Most of these boats are larger and offer the added advantage of several guides so that groups can be split by interest or age group for island tours.
Please see our full post on cruising the Galapagos with kids and take a peek at our 3 minute video to get an overview of the experience.
Family Galapagos Cruise Video
Further Reading