Last update: March 5th, 2021 at 01:43 pm
Like many people traveling through the beautiful country of Ecuador, we set out to enjoy a rather wide range of unique experiences in a relatively short period of time. We wanted to see the wondrous creatures of the Galapagos, traipse through the dense jungles of the Cloud Forest and discover the rich culture of the Andean highlands.
Unlike the backpacking days of our 20s however, we wanted to do so in style. While researching luxury eco lodges in Ecuador, we came across a high-end hacienda that looked very unique and special. Even better, it was easy to get to — only a mere 2 hour drive from Quito through the scenic Highlands (or "La Sierra" as the region is also known).
Exhausted from a long overnight international flight (and with 2 kids in tow), we were delighted to find that Hacienda Zuleta was simply an amazing place to unwind before setting off on what would be quite an action-packed itinerary for the rest of our Ecuador family vacation.
About Hacienda Zuleta
Hacienda Zuleta is a sprawling family estate turned luxury boutique hotel property. It has been owned and run by the family of former Ecuadorian president Galo Plaza Lasso for over 100 years.
The working farm encompasses over 4000 acres and includes organic gardens, a dairy, a creamery (their cheeses are delicious), a condor and spectacled bear conservation project, pre-Incan burial mounds, an indigenous handicraft cooperative and much more (all of which can be explored by guests on foot, horseback, bike or motorized vehicle)
Before I tell you more about this gorgeous luxury Ecuador hacienda, please take a quick peek at our 2 minute video.
Hacienda Zuleta – The Welcome
At Hacienda Zuleta, guests are welcomed as family, with a designated host taking care of any and all of your needs (as well as some whims too). The 15 hacienda guest rooms, guest lounges and library are all beautifully decorated with regional hand embroidered linens, antiques, special heirlooms and lovely family photos.
Oh, and the roses ! Throughout the hotel you will find the most beautiful arrangements of roses in a great variety of colors. Ecuadorian roses, grown on farms not far from Zuleta, are said to be some of the most beautiful on the planet. They produce larger blooms, longer stems, and unique color combinations, owing to the perfect growing conditions and long hours of natural light offered at the equator.
Hacienda Zuleta – The Rooms
Guest rooms are thoughtfully recommended at Hacienda Zuleta based on what is most suitable for your party. For our family of four, we were made to feel very much at home in a 2 bedroom, 2 bathroom lock-off suite, with gorgeous flower garden views. The hotel also has a number of spacious junior suites, which are great for people who are looking for a little more room, or are traveling with young children.
All the rooms are uniquely beautiful (this was originally a family home, after all). Each has a wood burning fireplace that is lit in the early evening to ward off the chill from those Andean nights. As we tucked in to bed, we were also delighted to discover a cozy hot water bottle to warm our toes.
Hacienda Zuleta – Dining
A stay at Hacienda Zuleta is all inclusive. All meals and beverages are provided (except alcohol), including a 3 course gourmet dinner incorporating both contemporary and regional dishes. Although my children are pretty adventurous eaters, our host kindly offered them special kid-friendly meal options (vegetarian and vegan options are also available for guests).
While at the time of our visit meals were enjoyed together with other guests at a long table, a beautiful new dining room has since been added for guests to dine more intimately should they so desire.
One of the most enjoyable parts of the day at Hacienda Zuleta was a fireside gathering of guests in the living room just before dinner. It was a great time to have a glass of wine, enjoy some of the house-made cheeses and to share stories and experiences with other guests.
In 2021, Hacienda Zuleta was featured in the Travel and Leisure article: 12 Once in a Lifetime Dining Experiences Around the World.
Hacienda Zuleta – Activities
You cannot help but feel relaxed with the peace and tranquility of Hacienda Zuleta. That said, there are also tons of activities available (most included, some for a modest fee).
During our stay we hiked around the sprawling property, toured the organic gardens, visited the dairy and cheese factory, rode on horseback through ancient Caranqui pyramids to the condor conservation project, admired the beautiful birds in the hummingbird garden and enjoyed quiet reading time in the presidential library.
For those wishing to explore further afield, excursions can be arranged to the nearby town of Zuleta, to a rose farm, to the famous Otavalo craft market and more.
What was my favorite thing at Hacienda Zuleta? Returning from dinner to our lovely room, where a bathtub full of bubbles and rose petals was waiting for me.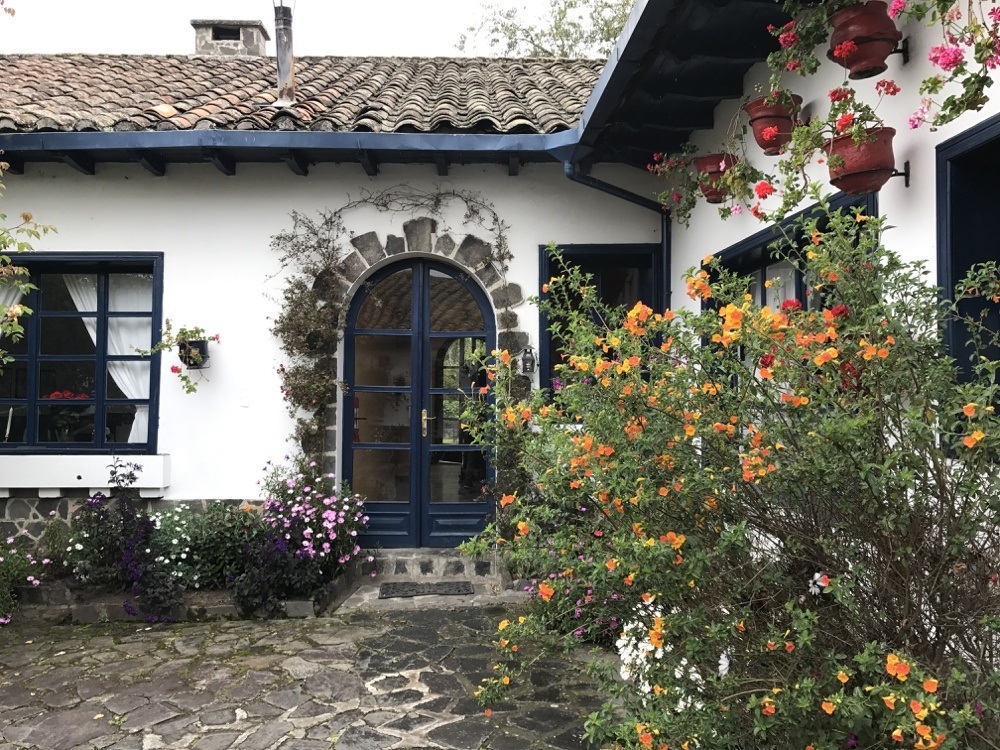 Someone has put a lot of thought into the kids' programming at Hacienda Zuleta. I felt as if it was almost custom tailored for my children, who loath traditional kids camps, and instead attend farm camp every summer.
During our stay, they milked a cow with a local villager, helped to feed the calves at the dairy, had an embroidery lesson, built a fantastic hay fort in the barn, and were pulled around in a carriage by an adorable pony.
If we had stayed longer, other optional activities included a lesson in crafting leather, planting and harvesting vegetables in the garden, cooking lessons, dressing up in traditional Zuleteno costumes and an evening bonfire. What delighted my kids more than anything, however, was the freedom to roam this giant property while playing with the many friendly farm dogs.
Fundación Galo Plaza Lasso
Over the years, our family has visited many hotel properties that make a commitment to give back to their communities — something that we value greatly. Never, however, have we seen a program as all encompassing as the hacienda's Fundación Galo Plaza Lasso. Founded in 1995, the goal of the foundation has been to improve the overall living standards in the community of Zuleta through education, conservation and socioeconomic development.
Their initiatives include the Condor Huasi Project (reintroducing the Andean Condor to the area), revitalizing the traditional weaving and embroidery industry, support of the Zuleta library (offering courses in English, Quechua, math, art and handicrafts), scholarships and free summer camps for local children. The foundation also has a goal to establish a museum about the Caranqui archeological site – one of the best preserved sites in all of Ecuador.
This support of the local economy is evident throughout the hotel, from their practice of hiring from the community of Zuleta whenever possible (the manager of the condor project is the 4th generation in his family to work at the hacienda), to the local villager who received a gratuity for teaching my daughter how to embroider.
Hacienda Zuleta – Getting There
Hacienda Zuleta is approximately a 2 hour drive from Quito. If you have not rented a car, the hotel can help you arrange a driver (see getting here). We did this on our own, however, using a company called Quinde Adventure Quito. They seamlessly picked us up in nice SUV at the Quito airport and provided some interesting stops and commentary on our way to the hacienda (including a stop at the Cayambe equator marker). We also used them several days later to drive us from Hacienda Zuleta, to Mashpi Eco Lodge in the Cloud Forest with a stop at the Otavalo craft market).
You can contact the owners Angel and Guillermo at : [email protected]. If you are traveling with small children, they can provide a car seat for you if you request one ahead of time.
Hacienda Zuleta – Learn More
To learn more about this beautiful luxury hacienda in Ecuador, please see http://zuleta.com. You may also want to check out recent Hacienda Zuleta reviews on TripAdvisor.
As mentioned above, this is an all inclusive Ecuador hotel providing 3 gourmet meals a day, non alcoholic beverages and many activities (some, like horseback riding are an additional fee). Children 3 years and under stay free and children 4-12 years pay 50% of the adult daily rate.
Although we stayed for 2 nights, I encourage you to stay a little longer as Hacienda Zuleta is such a beautiful and peaceful place to unwind (especially if you are coming from the Galapagos or a jungle lodge, where days are quite scheduled).

Disclosure: During our stay, we were kindly hosted by Hacienda Zuleta. All opinions in this post are entirely my own.
Further Reading