Last update: August 2nd, 2020 at 09:23 am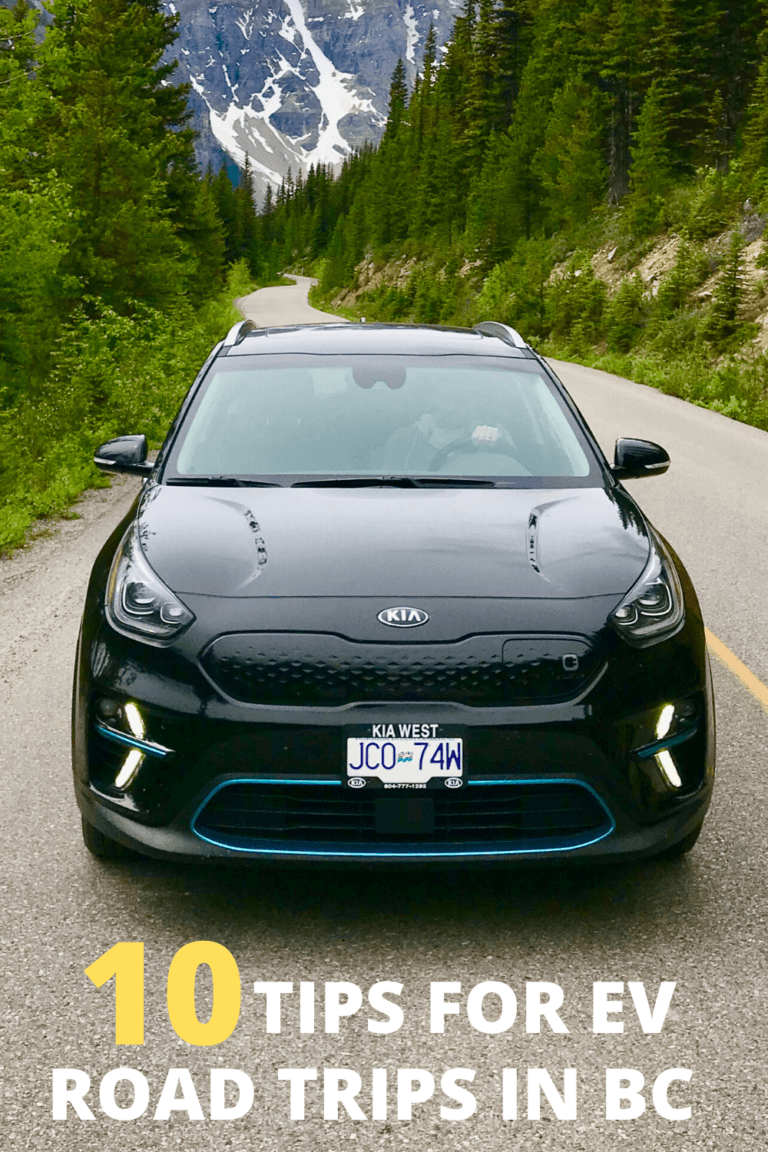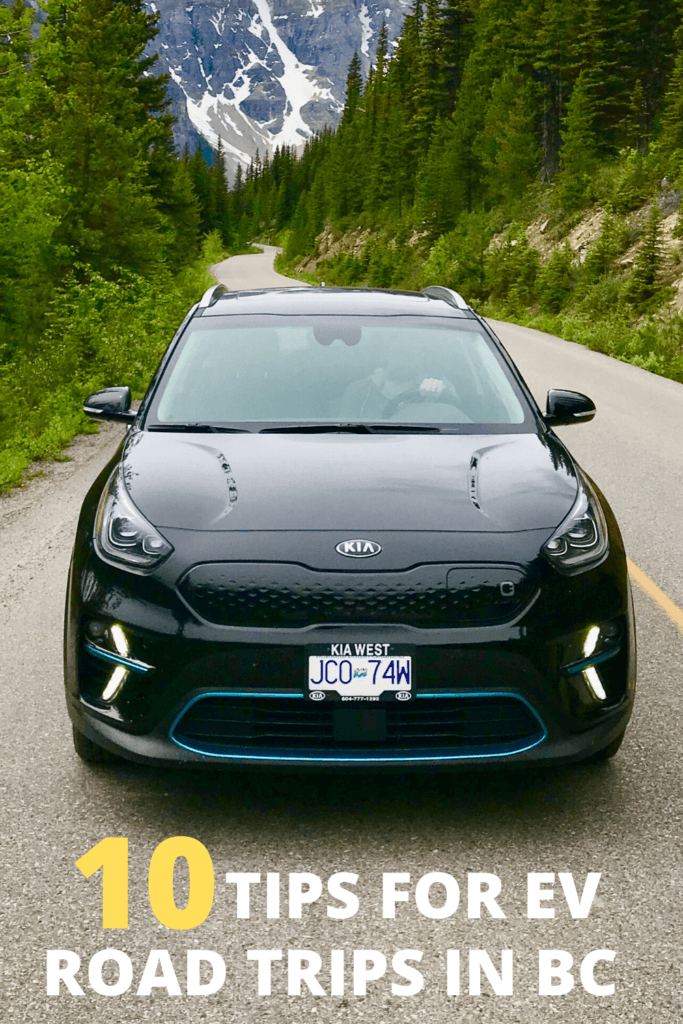 BC EV Road Trip – Trip Planning Tips
As I write this, we have just returned home from a 1 week, 2400km British Columbia EV road trip. We traveled from our home in Vancouver, to the Kootenays (Revelstoke, Golden, Nelson), and then looped back through Osoyoos on our way home.
We drove our 2019 Kia Niro EV on this trip, which, when fully charged, has a range of about 385km. We also chose to stay primarily in more remote locations, so we did not have the benefit of a Level 2 charger at a hotel from which to get topped up overnight. We relied entirely on the EV chargers along the BC highway system and in towns that were on our route.
As range anxiety is a real thing (especially when you are in the middle of nowhere), I wanted to share our BC electric vehicle road trip experience to set you on the right path if you are considering doing the same.
Please note: This post does not speak to the specifics of road trips with a Tesla and the Supercharger network – although much of this information would still apply.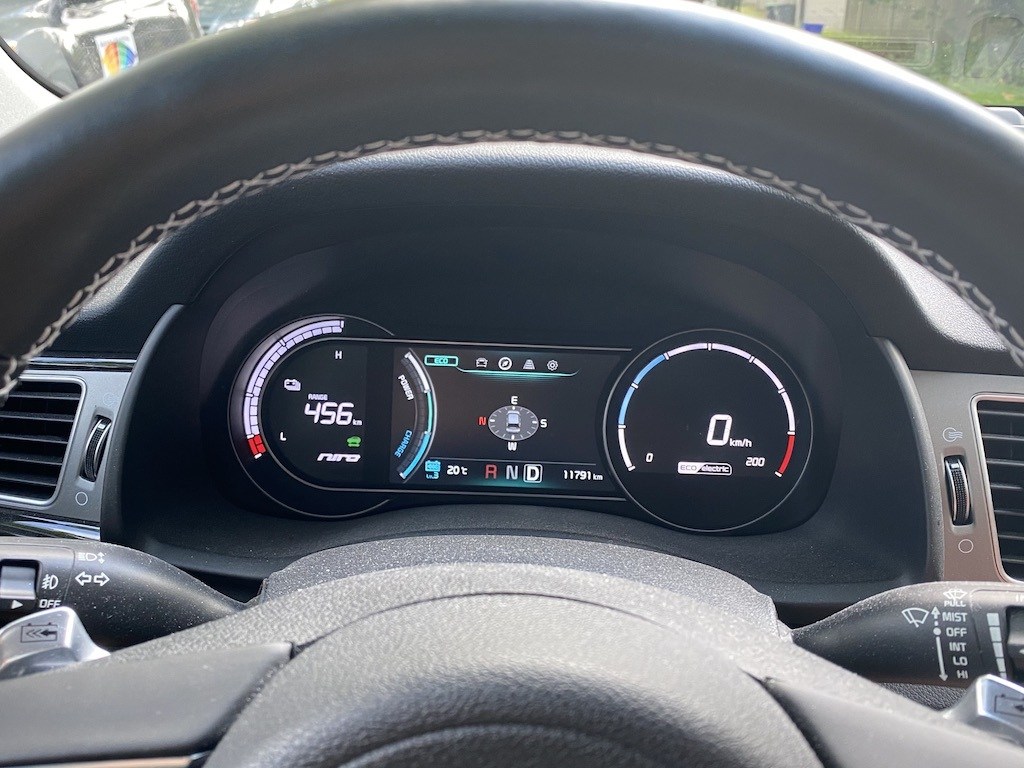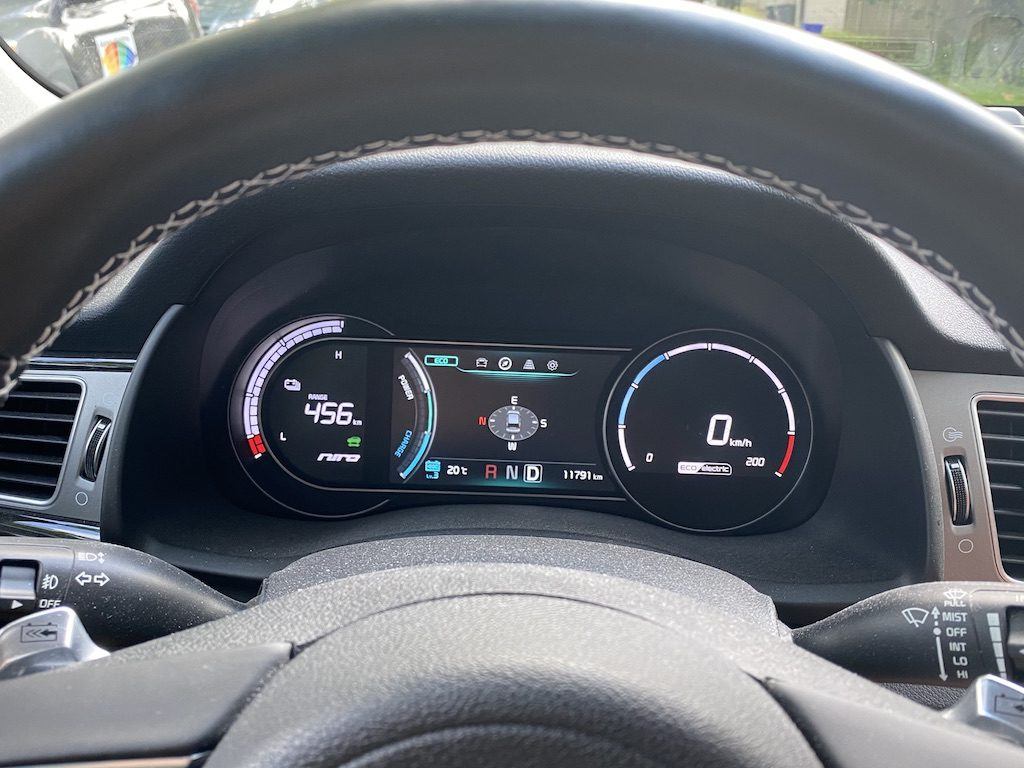 10 Tips for a BC EV Road Trip
Get the Right EV Apps
The Plugshare App is necessary for planning your stops. PlugShare is handy in that it shows both free and paid EV chargers and allows you to filter for exactly the kind of charger you need.
With our Kia Niro EV, for example, we filter for stations that have the CCS/SAE plug and that are 50KW and higher (DC fast chargers that can get us topped up in roughly an hour). The app is also handy because you can tell if the charger is already in use before you arrive.
Have a Plan B
It is helpful to have a second option for a charging station. You may not want to wait in line to use a free BC Hydro charger if it might only cost you $10 to get topped up at a paid one a couple blocks away.
Or, as we experienced in Hope, the free BC Hydro charger was working fine at the beginning of our trip, but on our return trip a week later, it was broken (so we charged up at a pay charger at the nearby Petro Canada station).
Download All the EV Charging Apps
We started our trip with 2 apps downloaded, BC Hydro and PlugShare. A week later, we had also downloaded Flo and Greenlots – to use charging stations that we had not anticipated having to use. These downloads also had to happen on the fly, in areas with poor cellular coverage. With each one, you have to set up an account and wait for a confirmation email – things that seem time consuming when you just want to get charging.
As for the cost of charging, a DC fast charging Flo station in Nelson cost $18/hour, while a GreenLot station in Keremeos was about $10 hr.
Get the RFID Card
Probably the most frustrating thing we encountered on our BC EV trip, was the fact that our phone app would sometimes have trouble communicating with the charging unit. Why? Because at many of the remote charging stations, there is little to no cellular service.
There are typically 2 alternative ways to get the charge started. One is to have an RFID card for that specific charging company, and the other is to call the help number on the machine to see if they can start the charge manually. The latter, of course, still requires that you have enough of a cell signal to get a phone call out.
I highly recommend ordering the RFID card for the BC Hydro EV charging network ahead of time, and perhaps for 1 or 2 other networks that you may end up needing to use.
EVs in Mountain Passes
One of the most surprising things to us what how quickly the range on our EV dropped in mountain passes on the ascent – most dramatically on the Coquihalla between Hope and Merritt, and on Hwy 5 between Merritt and Kamloops. We drove from Hope to Kamloops on one charge (194km), but dropped 336 in range (a 142km difference!).
Watching the range drop in a free fall is a little stressful. The saving grace is that you do gain some range on the descent (we usually gained 10-14kms).
Avoiding Range Anxiety
According to Wikipedia, Range Anxiety is defined as "The fear that a vehicle has insufficient range to reach its destination and would thus strand the vehicle's occupants." Range anxiety is real and we most certainly felt it on this trip. With that in mind, we decided that going forward, we would always like to have a 100km range buffer…just in case.
EV Road Trip in the Summer vs. Winter
We had almost ideal conditions for a BC road trip with the outside temperature hovering around 17 degrees C during the day. We had little need for anything other than just having our fans on that could cause additional drain on the battery (no A/C, seat heaters etc.).
We also had fine weather for charging. We could take a nice stroll to a cafe or go on a little hike. Back to range anxiety, my stress on the long mountain passes would have been much higher if it was freezing outside. I would not do this trip in the winter.
Plan Charging Stops Ahead
In most cases, we planned our stops around meals. We could usually find a charger that was within walking distance of a decent cafe or restaurant (places that we usually stop on our BC road trips anyway). In one case, we decided to do a wine tasting in Osoyoos (Moon Curser), where the charger was 1km away. My husband simply dropped us off first and then returned on foot.
Build in Extra Time
We were extremely lucky in that due to a lack of cars on the road (BC had only just allowed travel within the province), we only had to wait to use a fast charger once (5 minutes). On holiday long weekends, however, EV chargers can get backed up, especially the free ones that are around big mountain passes such as Hope, The Coquihalla Summit and Merritt.
Consider traveling at off-peak times or using the less-popular pay chargers in these major EV charging hubs to save time. We probably spent $30 on pay chargers on a trip that would have cost us $450 in fuel. As small price to pay to be able to just get on our way.
Note: When we first bought our EV, we did a shorter road trip from Vancouver to Tofino, staying at an Airbnb (no charger). Although we knew there were numerous EV chargers in Tofino, we didn't realize that there were no DC fast chargers. While we did manage to get fully charged up for the way home (plugging in whenever we went to town), it required a little more coordination than we originally expected.
Route Planning and Timing
We found that along Highway 1, between BC and Alberta, the EV charging options were robust and well-located. When we got into the eastern and southern Kootenays, however, some of the charging stations were in odd places.
While I understand the economic reasoning behind locating an electric vehicle charging station in the little town of Radium Hot Springs, charging up in Canal Flats (shown below) was a bit of a drag. In small towns such as this one, restaurants tend to have very limited opening hours. For these more rural stops, I encourage you to look at the opening hours of surrounding amenities (and no, the Canal Flats Arena was not open).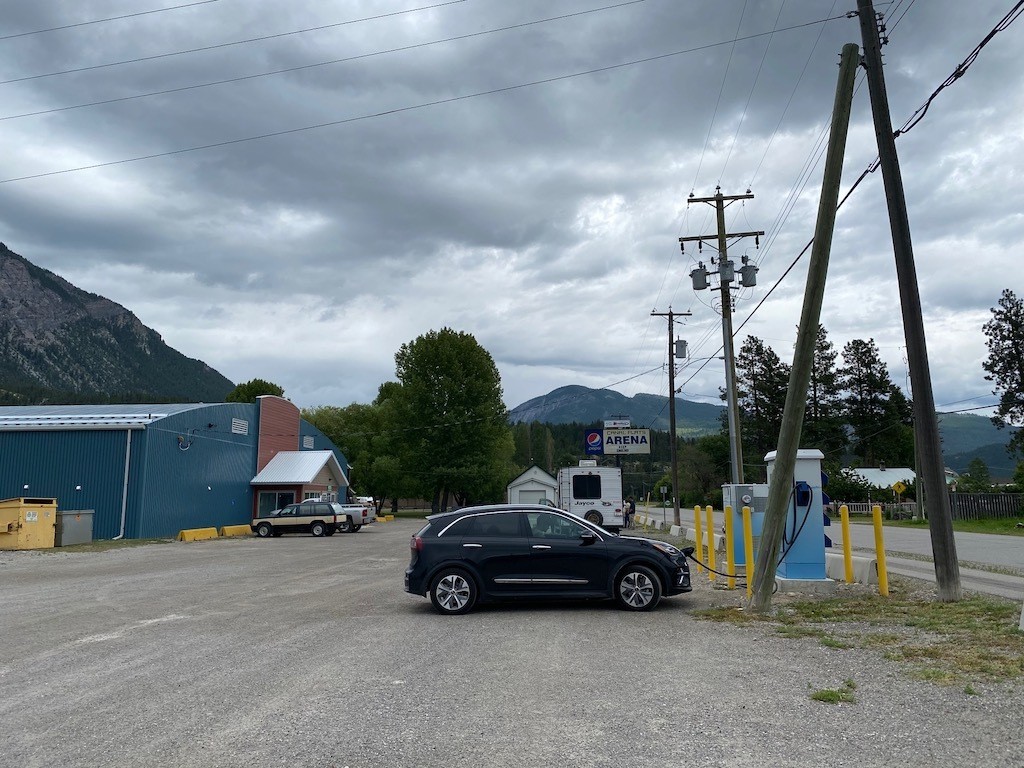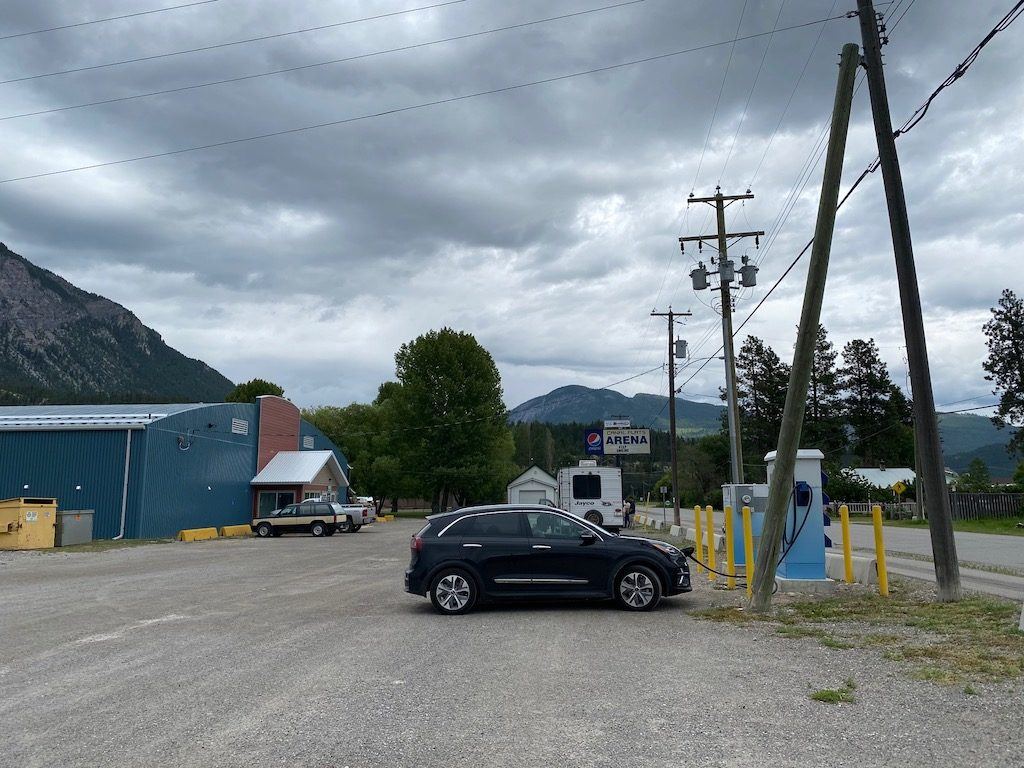 Kootenays EV Road Trip Map
In case you are interested, I have mapped out our route and stops on the following Google Map. Chargers are in green, restaurants are in purple and hotels/inns are pinned in red.
More BC Travel Posts