Last update: November 29th, 2021 at 03:22 pm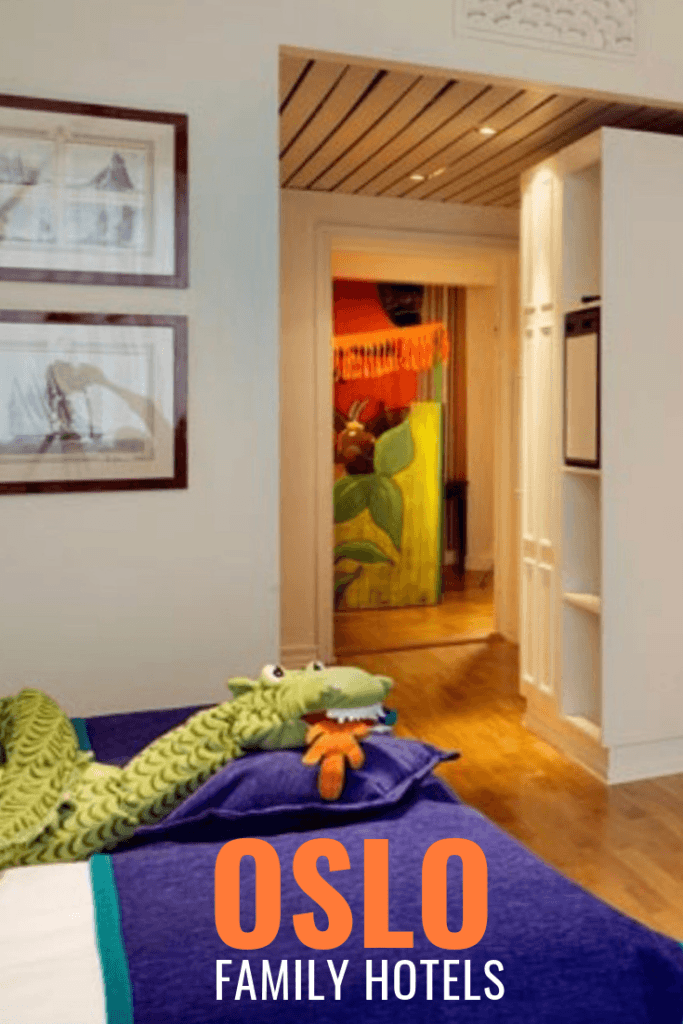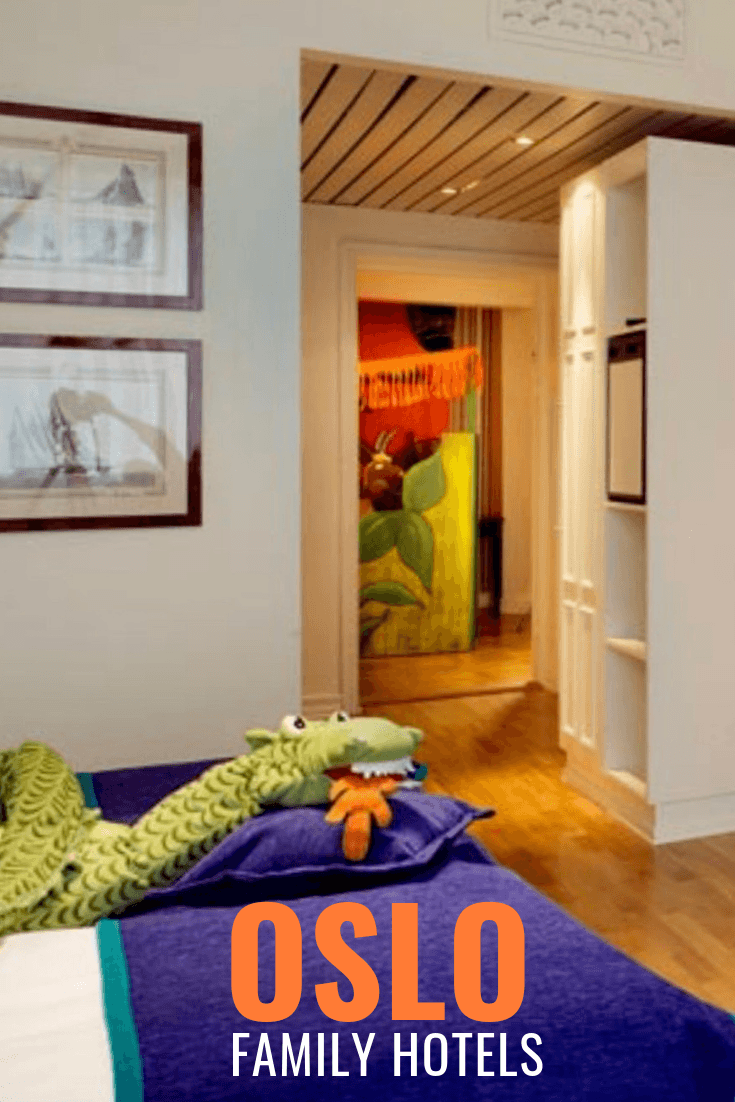 Are you planning a trip to Oslo with kids? If so, you are probably also researching Oslo family hotels. Guess what? Finding a family hotel in Oslo is actually not that difficult.
In fact, as I write this, I am just finishing off booking another trip to Norway with kids and I simply cannot believe all the great family-friendly hotel options we have had to choose from. My booking experience has been almost entirely free of that dreaded line that I am so used to seeing: "You have exceeded the max. number of guests."
Norway seems to really value the traveling family. Many hotels, for example, will ask guests if their child will need an extra bed or their own bed – fully acknowledging the fact that many families travel with a 2 year old sleeping between them.
Quite a number of hotels also offer something called a family room which will either have the addition of a sofabed, bunkbeds, or have room for a cot (or crib) to be added. These rooms generally sleep 4-5 people (and sometimes more).
Family Hotels Oslo – Hotel Brands
Norway is home to one of my favorite family hotel brands: Scandic Hotels. Not only are their hotels airy and modern, but they have some wonderful perks for family traveling with kids (family-sized rooms, adjoining rooms for teenagers, welcome gifts for kids, complimentary breakfast, a kids' menu or 50% regular menu items, free wifi and more).
On our first trip to Norway, we toured around for nearly a month and at least half of our hotels were Scandics. It's not that I didn't want to try others (I'm not typically a chain hotel person), but upon researching each city, they always ranked high with reviewing guests (and especially high with families). Scandic also happens to have over 90 hotels in Norway so they are everywhere.
Other brands that do a decent job with families in Norway are the Radisson Blu, Thon, and Nordic Choice Hotels (Clarion, Comfort).
Family Hotel Norway – Tips
Book Early – I recommend booking as early as possible, with a flexible reservation (no deposit /no penalty for canceling). Sites such as Booking.com
usually offer this option. Oslo is not bad for availability, but Bergen during the summer months tends to book out very early (don't leave this reservation until last).
Breakfast Included – One of the things that takes up a lot of our budget in Norway is restaurant meals. Eating out is enormously expensive – often costing double what a similar meal would cost in Canada or the U.S. It is quite typical for breakfast to be included in the rate at Norwegian hotels, and if not, it can usually be added for a reasonable fee. Be sure to look for this perk when booking.
Weekend Stays – It is common for hotels in Oslo to offer good discounts on weekends, especially during the summer months. Norwegians make good use of their weekends and tend to head for those summer cabins on Friday nights. If you can work your Oslo hotel (and other city stays) over a weekend, you should be able to save a few dollars.
Read Reviews – I highly encourage you to read current reviews from other family travelers (TripAdvisor, Google etc.) prior to making a booking decision. Tip: When I am searching TripAdvisor, I filter results so I only see reviews from families, and then I type kids into the search bar. This way, I weed out the mature mother-daughter trips etc., that can also fall under family reviews. As I final step, I look at Room Tips to see what specific recommendations recent travelers have.
The Midnight Sun – If you are visiting Norway during the summer, it is likely going to be light out when you are trying to go to sleep (unless you are really getting your party on). While most hotels have blackout blinds, you may also wish to bring along a sleep mask
if you are sensitive to light. Our kids like them too. We have also tried a travel blackout blind
during our Norway travels with mixed results (always read reviews).
Budget Family Hotels Oslo – 3★
The Anker Hotel – 3★
In a very expensive city, this hotel is a great budget-friendly pick. It is in a very good location – only a 15-minute walk from Oslo's busy main street, Karl Johans Gate. The property has basic family rooms that can accommodate 3, 4 and 5 people (depending on the bed setup). A modest buffet breakfast is included, as is free wifi.
Check rates on Booking.com
or read TripAdvisor reviews for the Anker Hotel here
.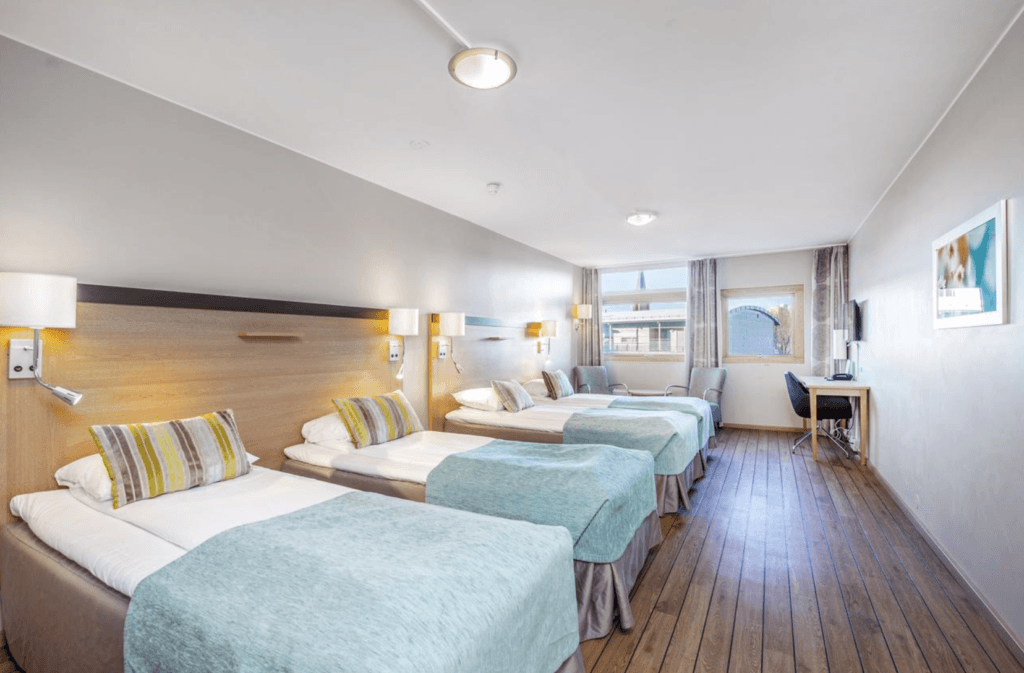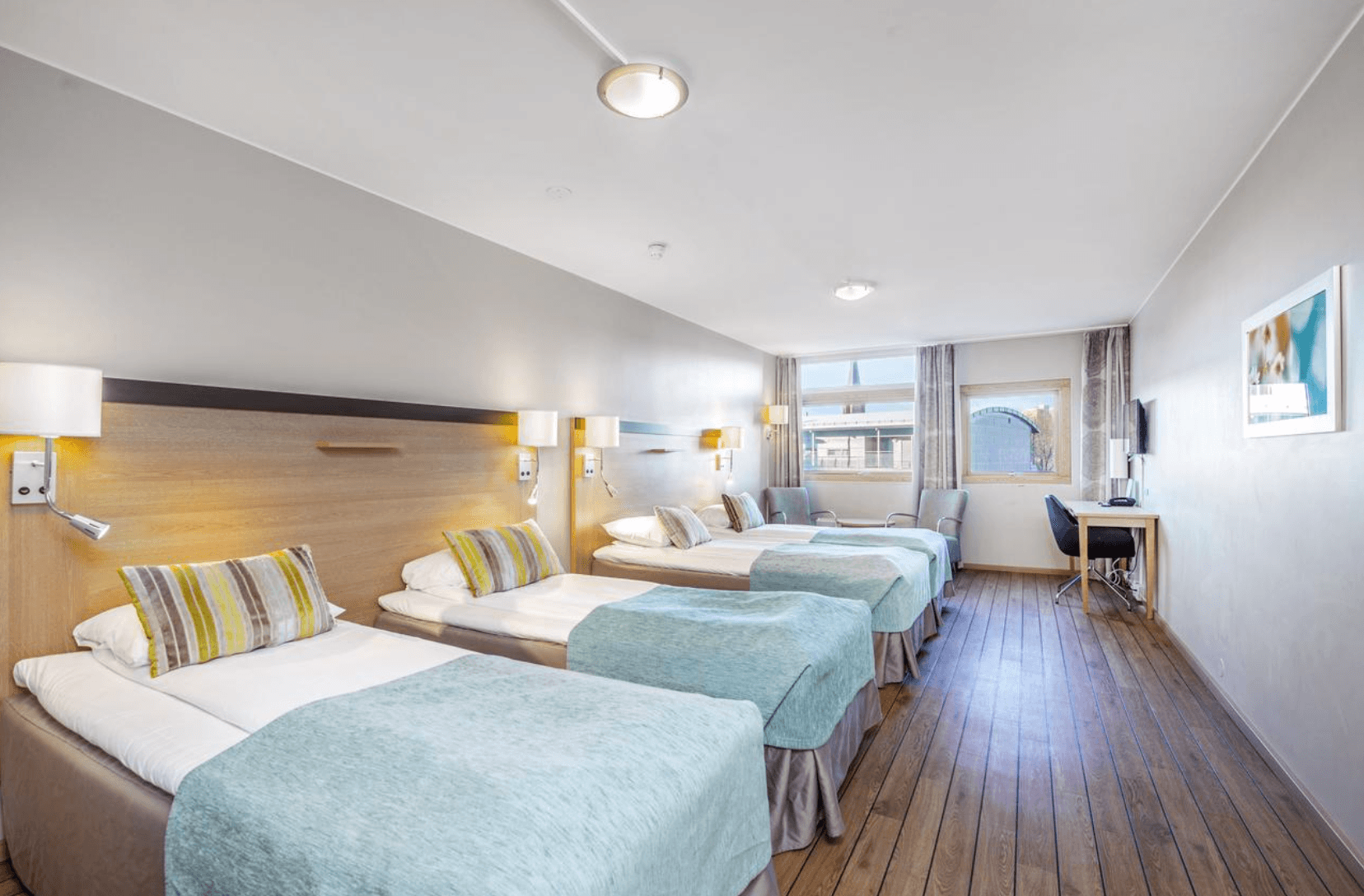 Hotel Citybox Oslo – 3★
The budget friendly and basic Hotel Citybox gets high marks for value in Oslo. It is in a good location, only 250m from Oslo Central Station and only 150m form Karl Johans Fate. It offers bright rooms with free wifi. There are no TVs in the rooms, but they can be found in a public guest lounge. Family rooms at the Citybox have one double bed and a bunkbed. Please note that this property does not include breakfast, but there is a cafe attached to it and many restaurants nearby. There is also a microwave available for guest use.
Check rates on Booking.com
or read TripAdvisor reviews for the Citybox Oslo here
.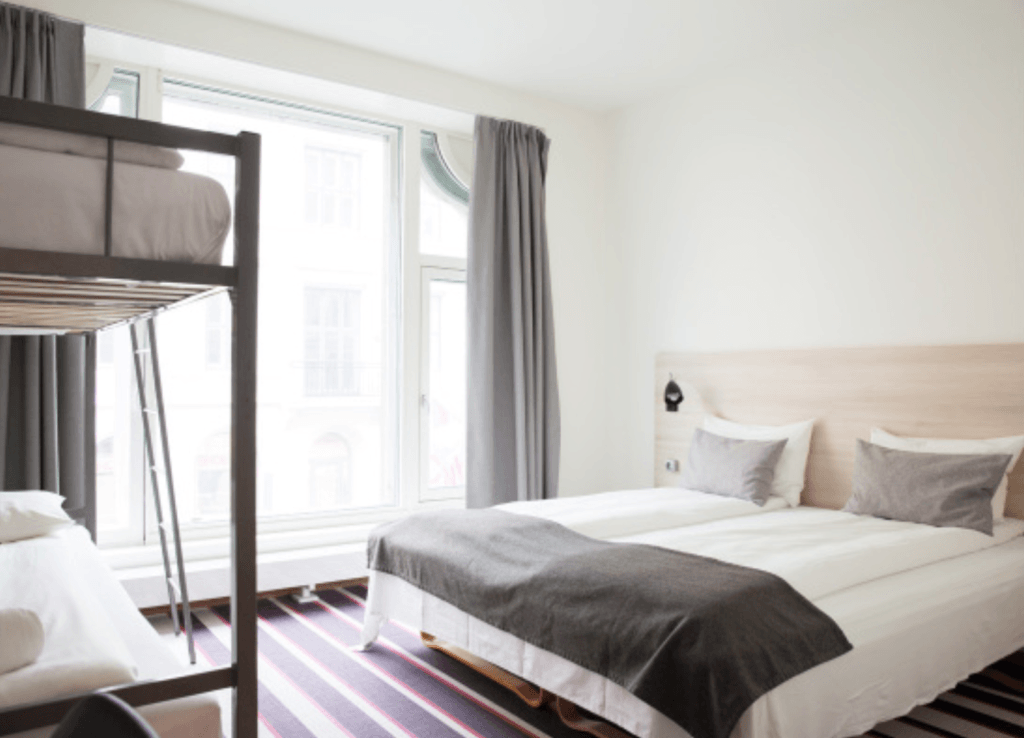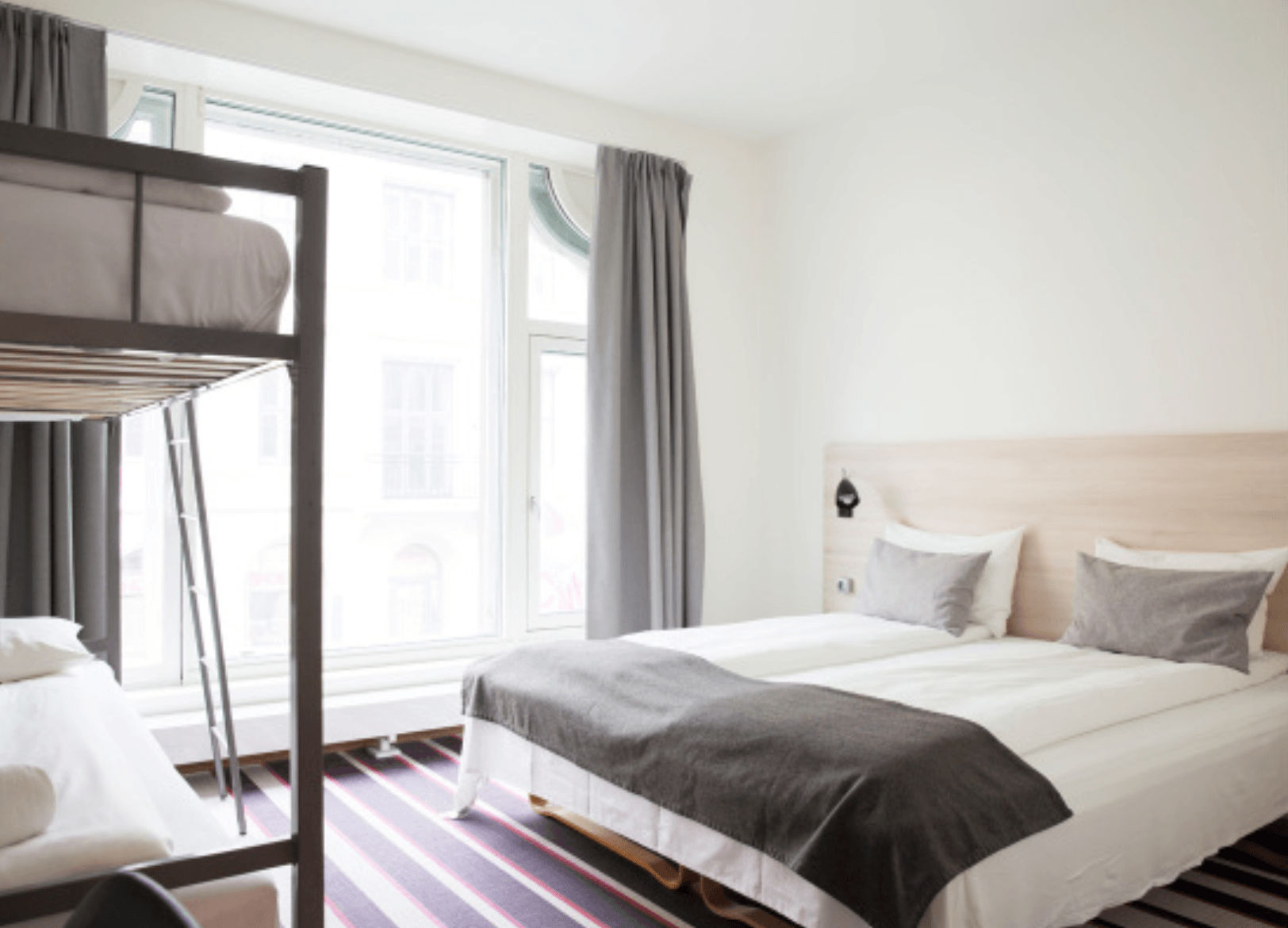 Mid-Range Family Hotels Oslo – 3.5★
Scandic Byporten – 3.5 ★
The Scandic Byporten is very centrally located in the same building as the Byporten Shopping Centre and within walking distance of Karl Johans Gate and the Oslo Opera House. The Oslo Central Station, with the Flytoget Airport Express Train, is right next to the hotel. The property has several different room configurations for families including a double bed plus bunkbeds, a 2-twin room with bunkbeds and a junior suite (separate bedroom + sofabed for kids). Please note that many people comment on the fact that the double + bunked rooms are functional, but tiny. If you want more space, you may want to choose the junior suite option instead. Breakfast is included at the Scandic Byporten and kids are welcomed with a little gift.
Check rates on Booking.com
or read TripAdvisor reviews for the Scandic Byporten here
.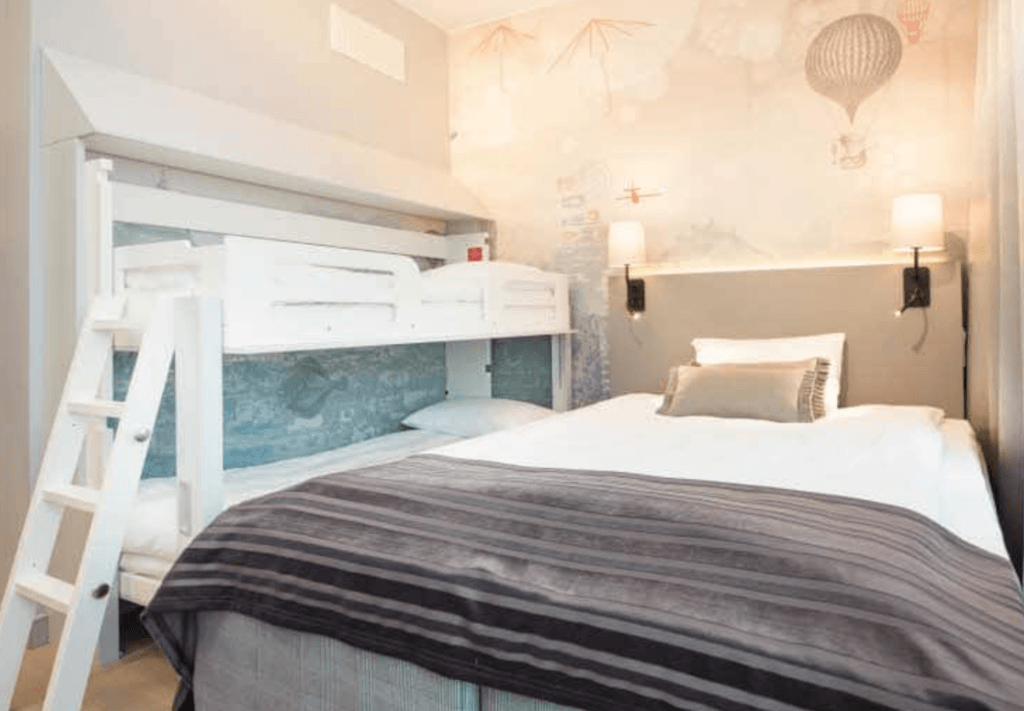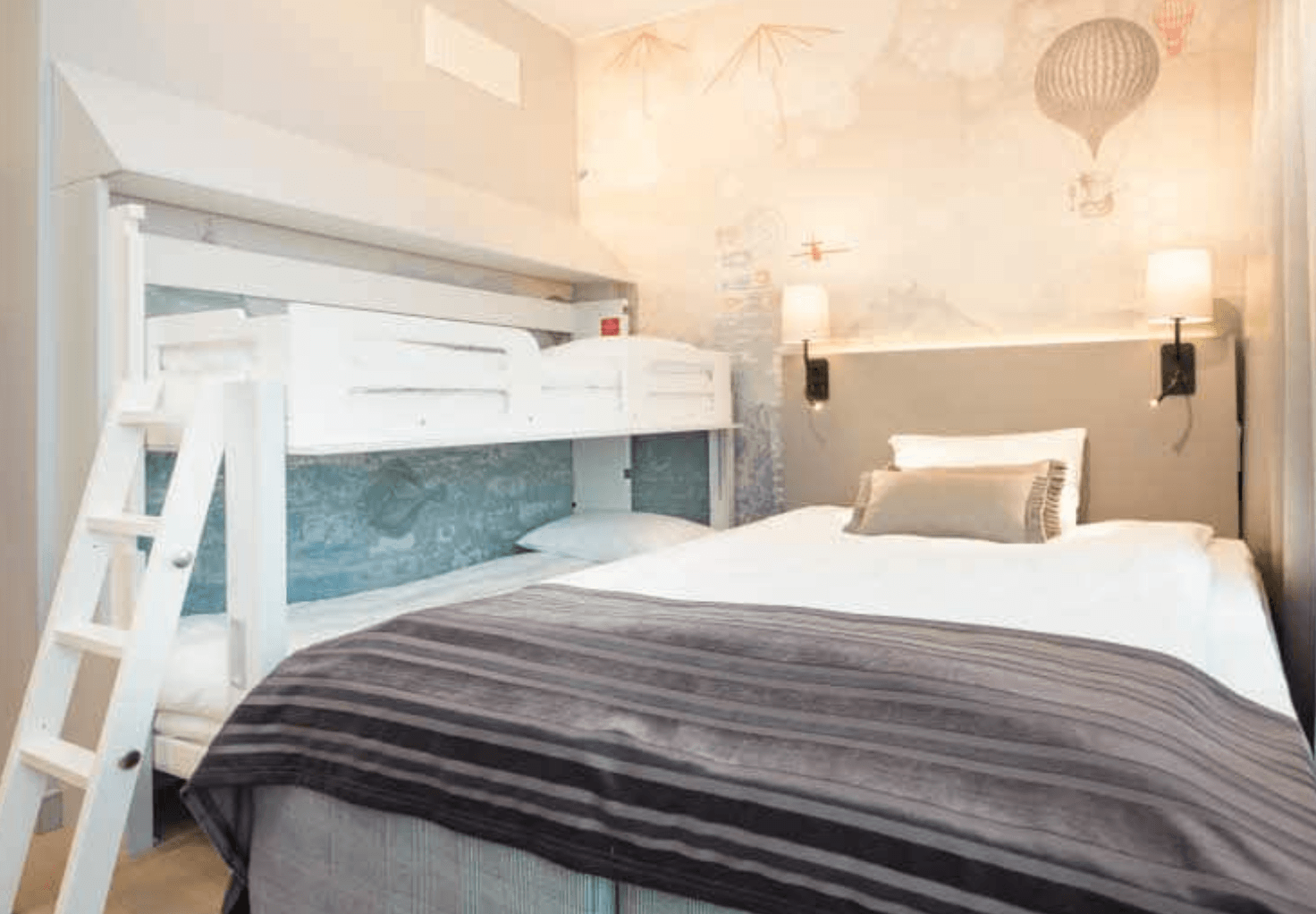 Thon Hotel Panorama – 3.5 ★
Thon Hotel Panorama is centrally located in a peaceful and quiet part of central Oslo. Karl Johan high street, the Opera House, are just a few blocks away, and the Aker Brygge waterfront district is within easy walking distance. Most rooms have a balcony, and from the upper floors you can enjoy a beautiful view of the city and the Oslofjord. The Thon Hotel Panorama has family rooms that have a double bed in the bedroom and a sofabed in the living room. They also offer Business Rooms that are similar to the Family Rooms but also have a full kitchenette (they are about 40% more expensive). Stays at the Thon Panorama Oslo include an organic buffet breakfast.
*Note: The living room in the family suites and business suites do not have blackout blinds. The hotel, however, does offer sleeping masks (we bring sleeping masks for our kids when traveling in Norway during the summer months).
Check rates on Booking.com
or read TripAdvisor reviews for the Thon Panorama Oslo here
.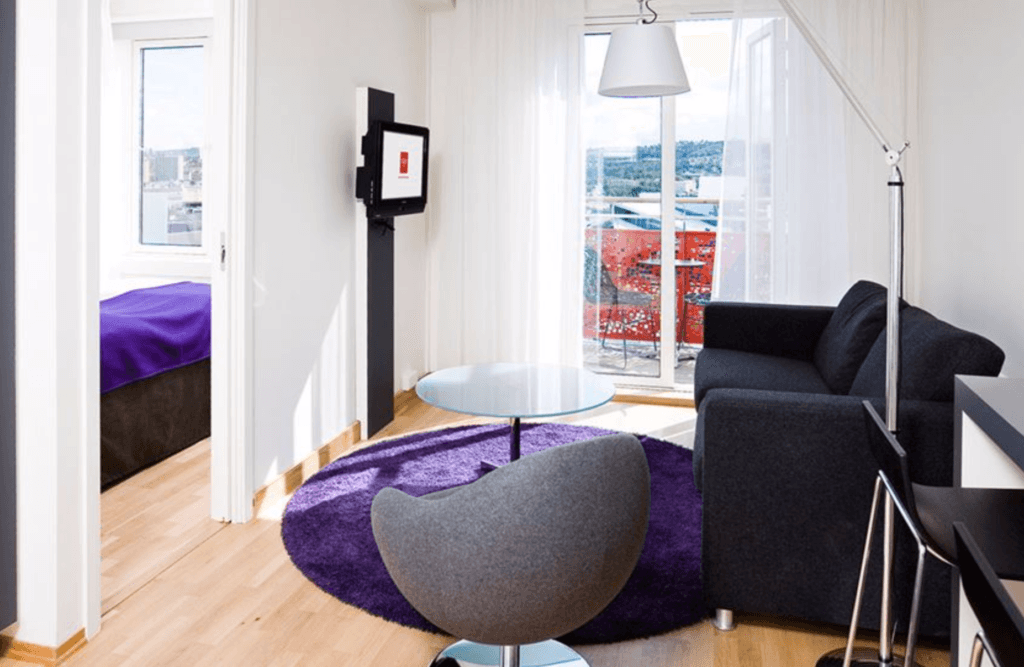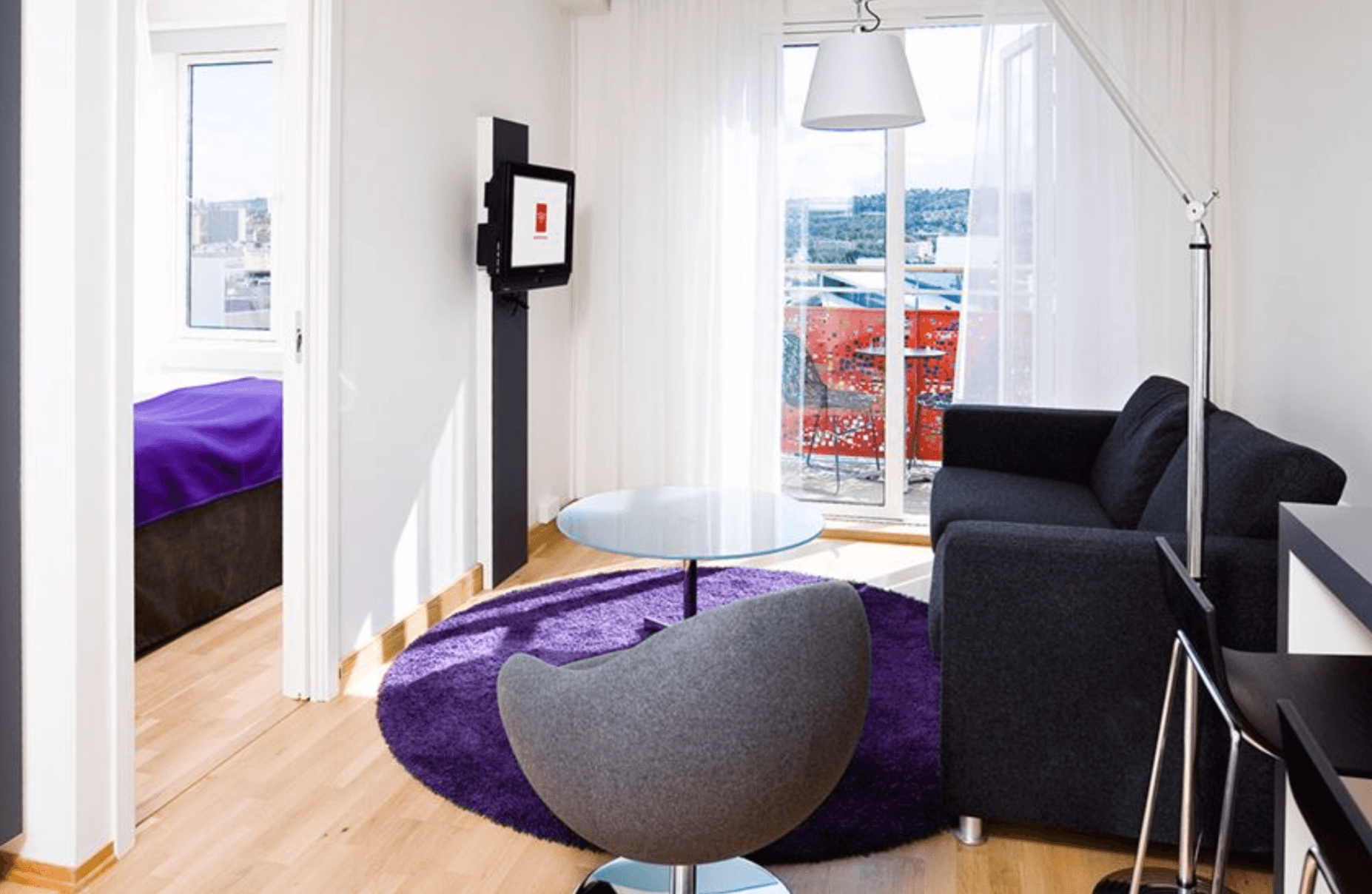 Thon Hotel Vika Atrium – 3.5 ★
Situated right next to the Aker Brygge shopping and entertainment area in Oslo, Thon Hotel Vika Atrium offers free wifi, flat-screen TVs and a mini bar in the rooms. Free tea and coffee is served in the lobby and a daily buffet breakfast is included. Their Business Double rooms have a double bed plus a pull out sofa (4 people max).
Check rates on Booking.com
or read TripAdvisor reviews for the Thon Hotel Vika Atrium here
.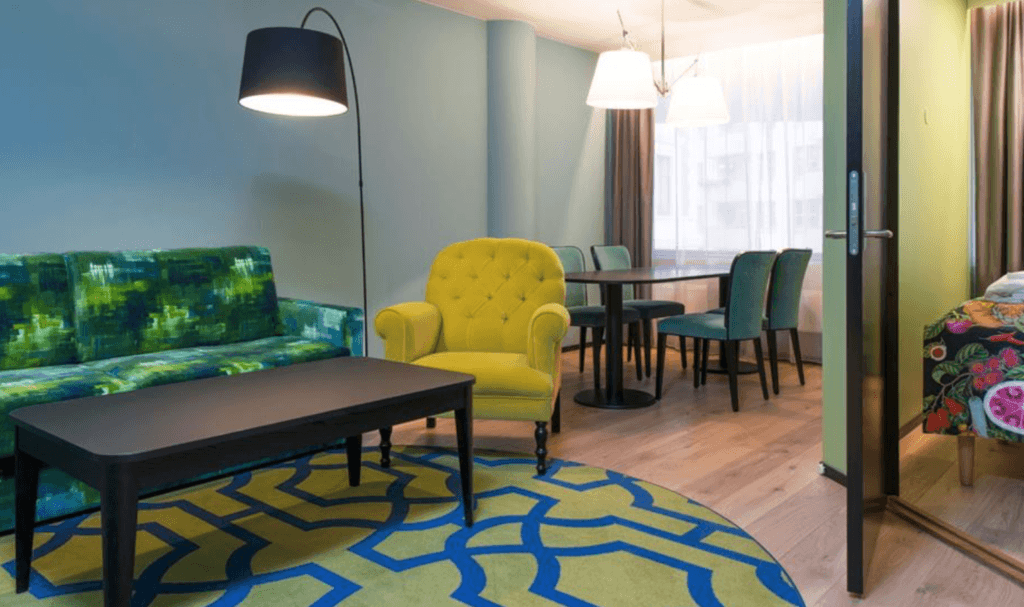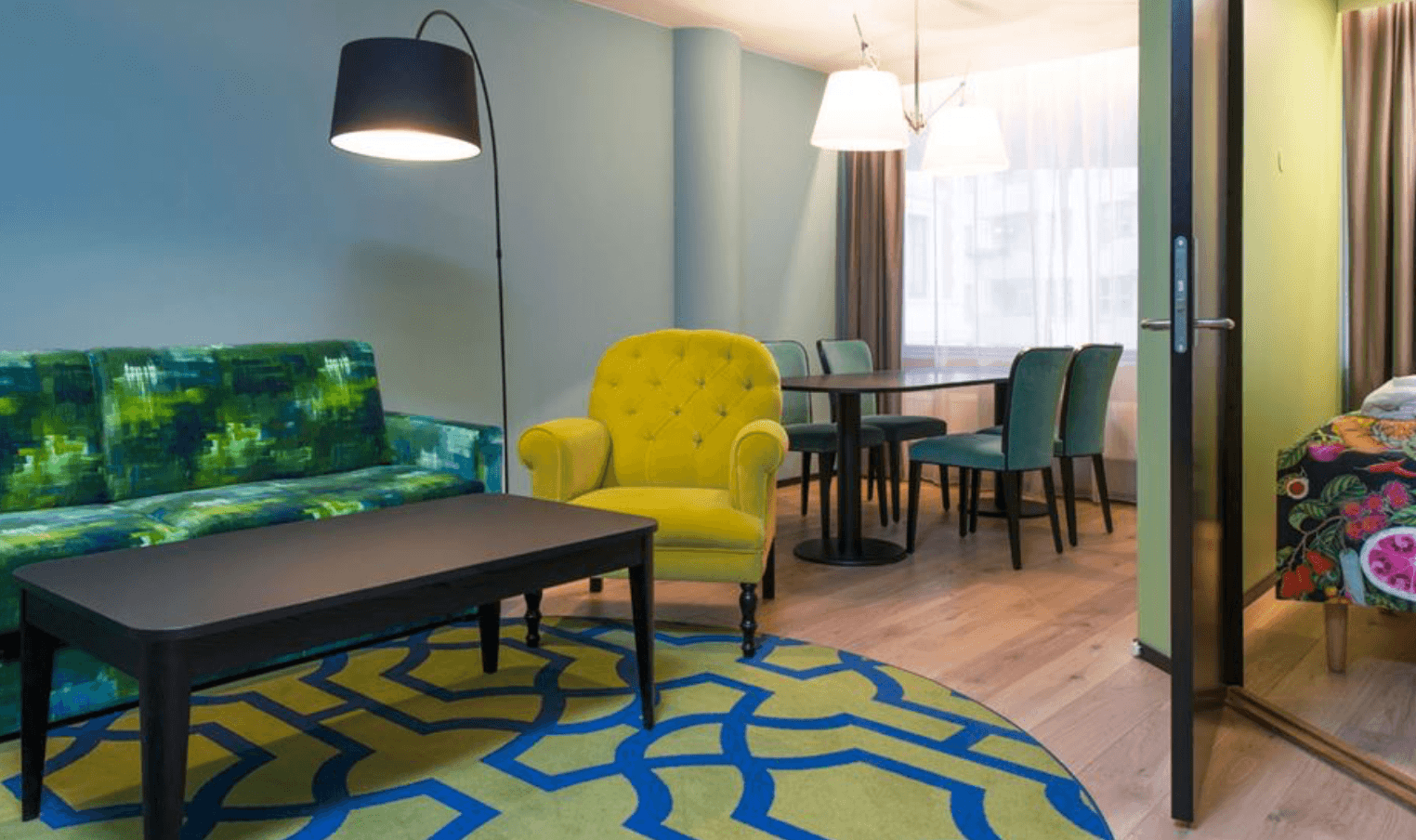 Luxury Family Hotels Oslo – 4★
Clarion Hotel Bastion – 4★
The Clarion Hotel Bastion is conveniently located near Oslo's Central Station and main shopping street, Karl Johans Gate. Although it is priced more steeply than some of the other properties listed here, it can be a good value considering the fact that stays includes a daily breakfast buffet, afternoon snacks, tea and coffee service, and a light dinner buffet. The Clarion Hotel Bastion has several lovely family suites with adjoining room for kids. including one very special jungle themed suite (shown below).
Check rates on Booking.com
or read TripAdvisor reviews for the Clarion Hotel Bastion here
.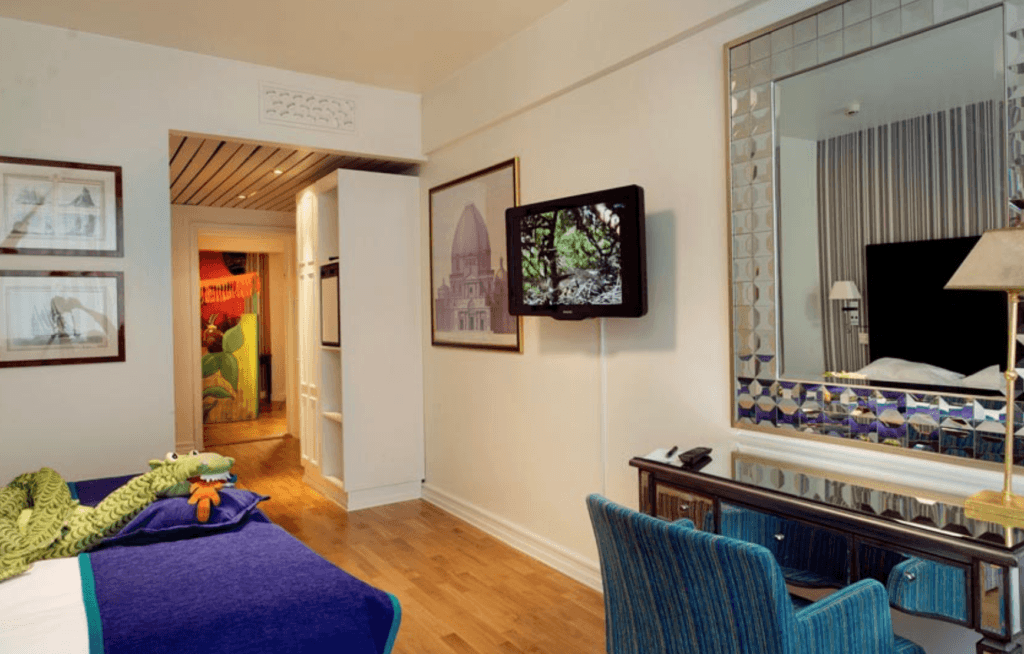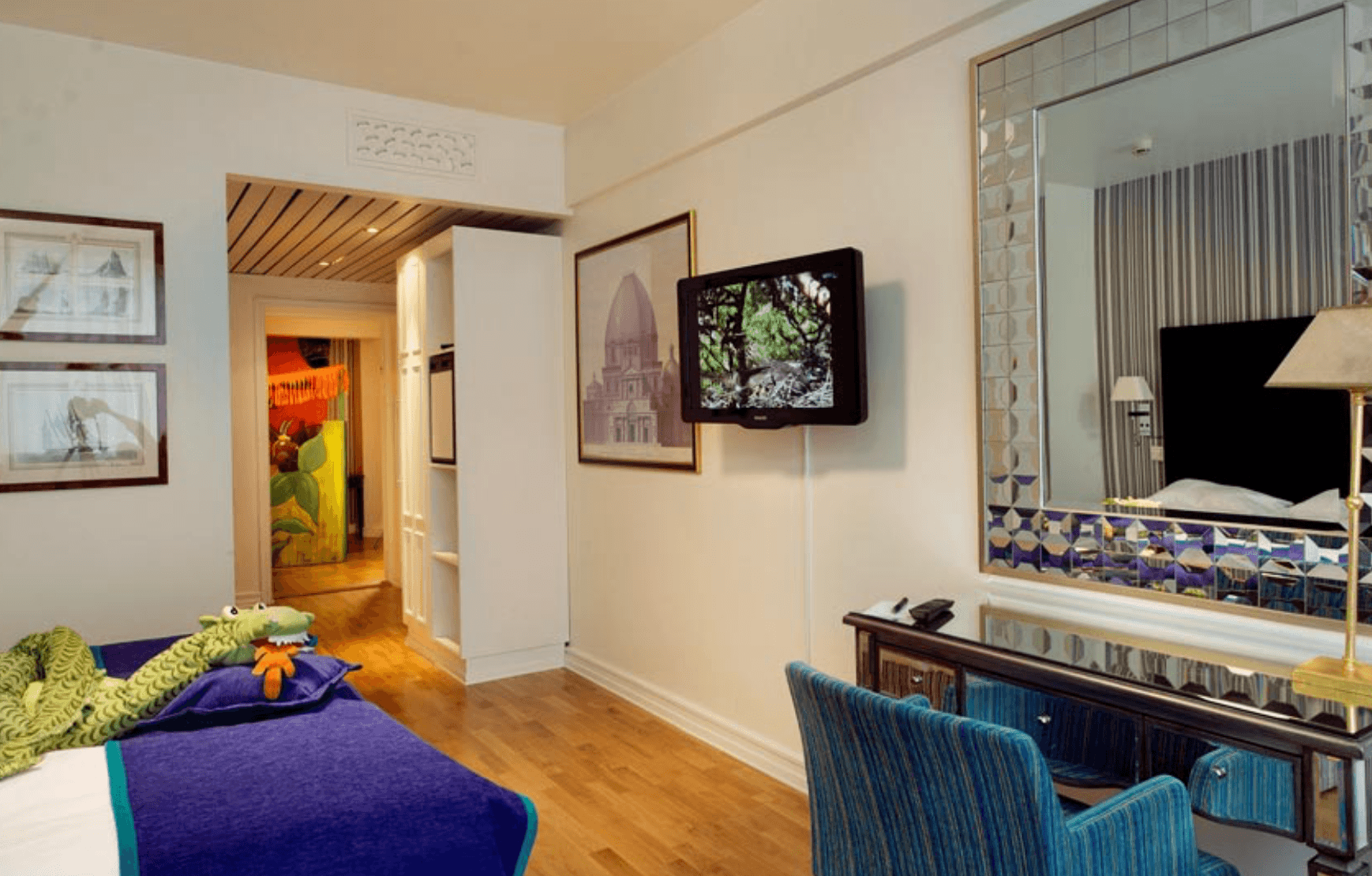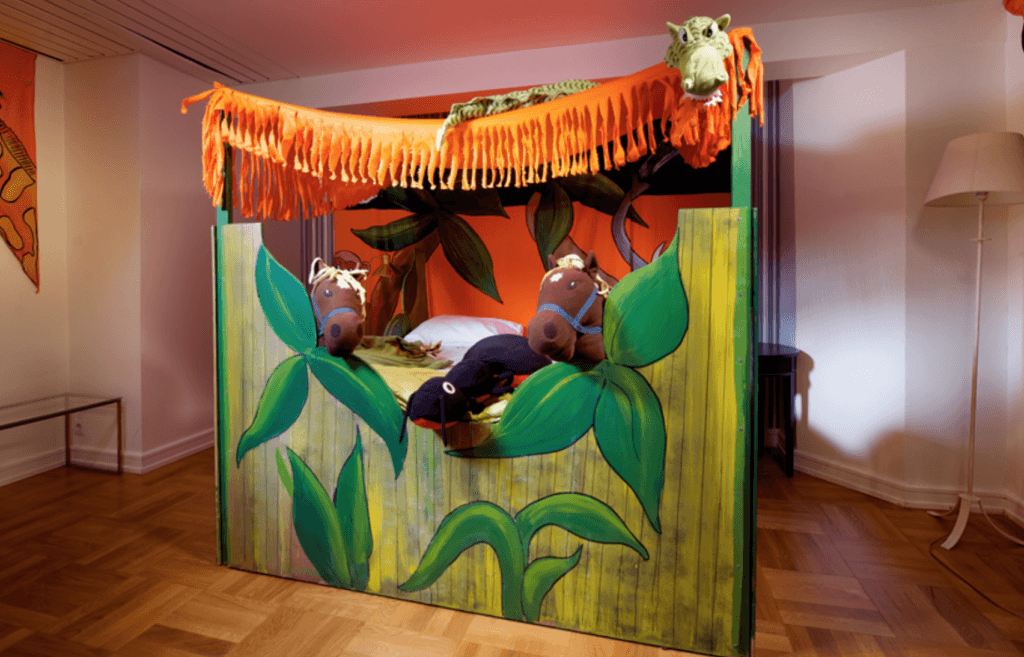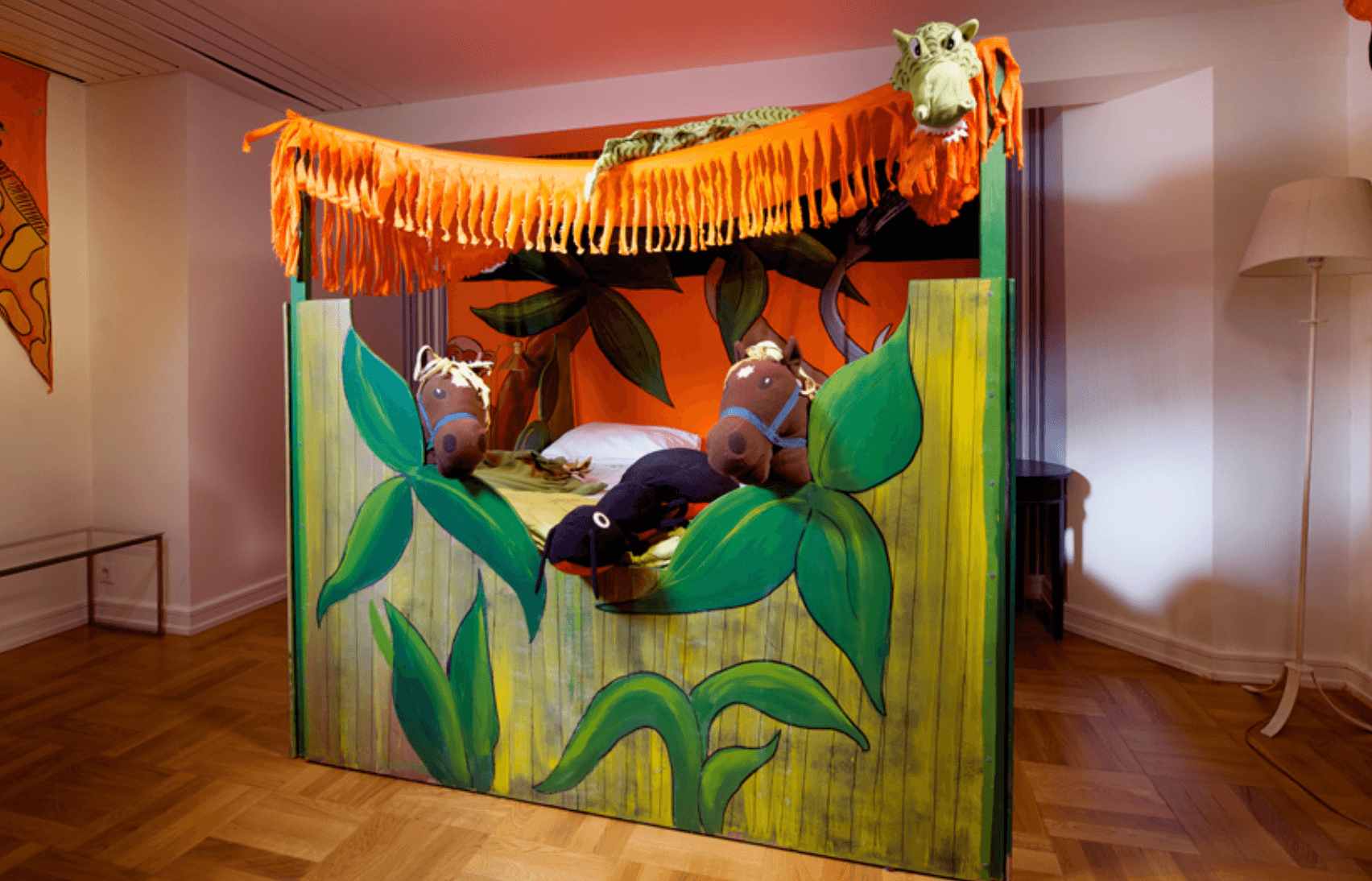 The Oslo Guldsmeden – 4★
This eco-friendly boutique hotel is in an excellent location just a 12 minute walk to Karl Johan Gate, 5 minutes to the Royal Palace and a 3 minute walk to the Aker Brygge harbour area. Rooms are uniquely decorated in a Balinese-style décor with Sami-inspired pelts. The hotel has a 2 bedroom Family Suite that can accommodate 5 people (1 double, 2 singles, and a sofa bed). The property offers an organic breakfast (extra cost) and has free wifi throughout.
Check rates on Booking.com
or read TripAdvisor reviews for the Oslo Guldsmeden Hotel here
.