Last update: June 27th, 2023 at 09:00 am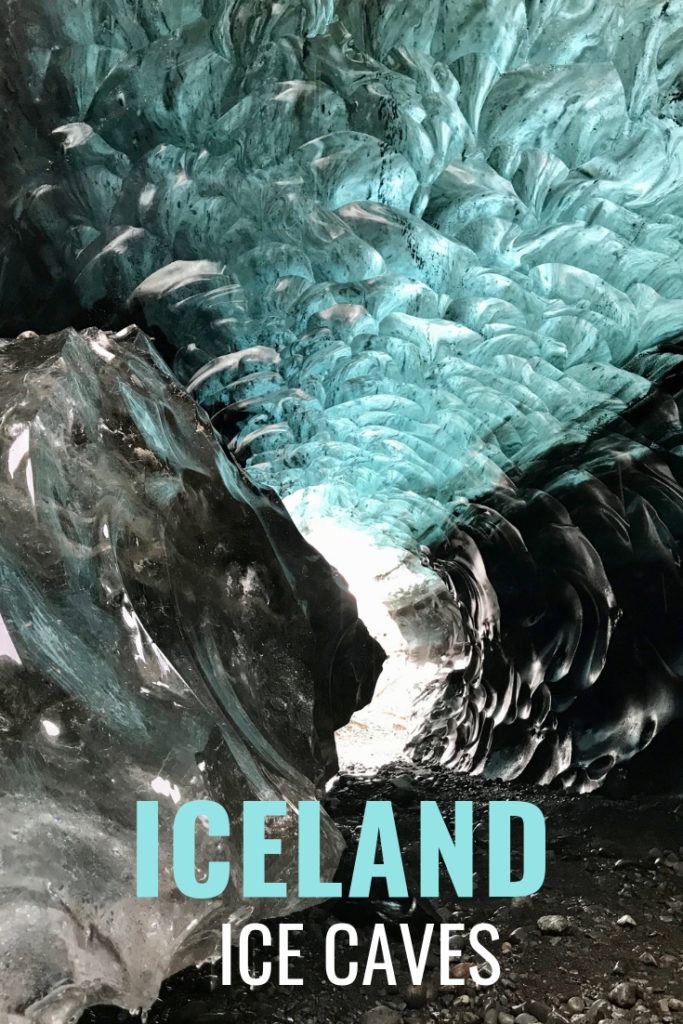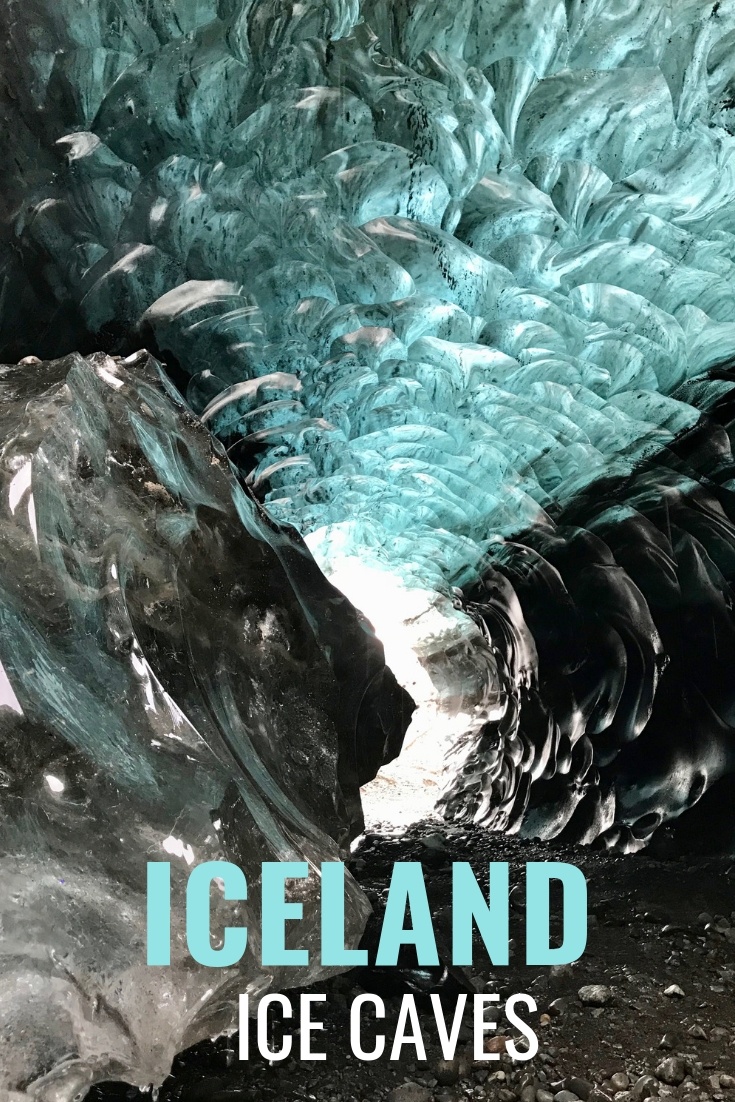 Iceland Ice Caves – Introduction
I think I first saw an Iceland ice cave on Instagram. I couldn't believe that such a beautiful place existed that a mere mortal could visit (rather than one of those winter adventurers gracing the pages of Outside magazine).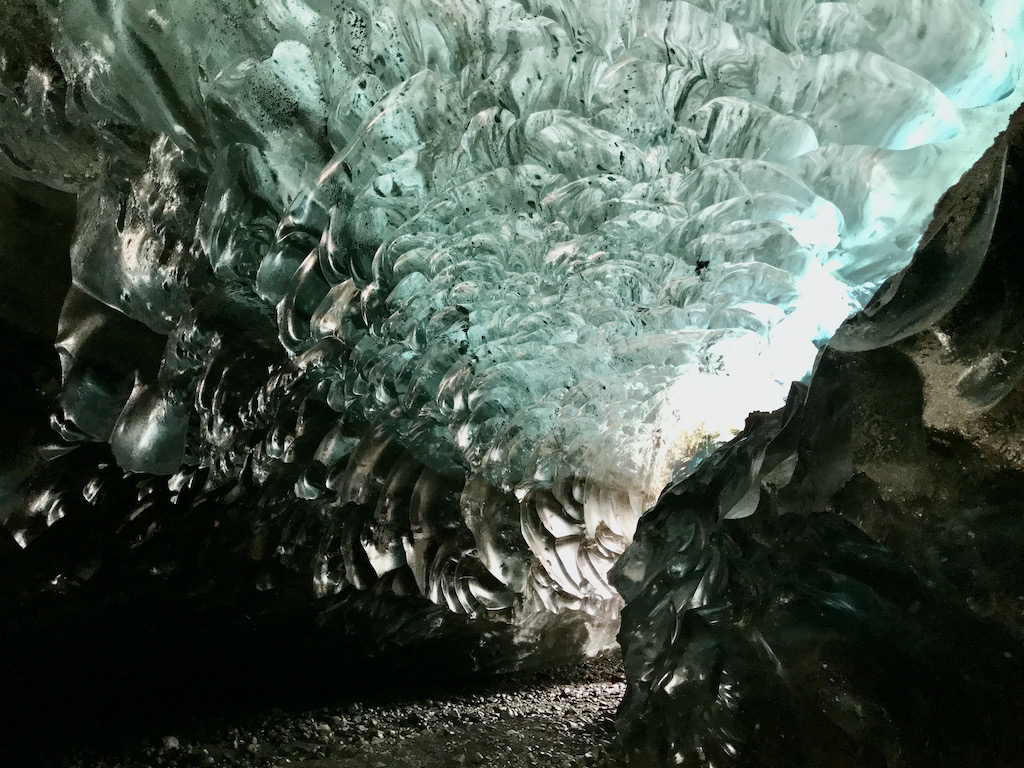 The photos planted a seed for what would become our second trip to Iceland (and first during the winter season). Our timing looked perfect! It would be just the start of Iceland ice cave tour season. The conditions also looked ideal for seeing the Northern Lights (new moon = total darkness).
Now, as a family that is rather obsessed with unique adventures, we often seek out special experiences in nature. When I reflect back on this trip however, I would definitely list ice-caving in Iceland as one of our top experiences anywhere in the world. (And Iceland has so much more to offer too!)
Want to learn more? Please use the following menu to find what you need to know about ice cave tours in Iceland quickly. Want a little peek first? Start with this 1 minute ice caving in Iceland video.
See also:
Ice Cave Tours Iceland Video (1 min.)
How Are Ice Cave Formed in Iceland
Sometimes called Iceland blue ice caves or crystal ice caves, the more technically correct term is an Iceland glacier cave.
These colorful caverns are formed in the summer months from meltwater draining down through the cracks in the glacier. The melting water weaves a path under the surface of the ice. Eventually, it makes its way out at the base of the glacier leaving the colourful ice caves.
One of the interesting things about Iceland ice caves is that they are constantly changing. Every ice cave season brings new or very different caves from the year before.
The Best Time to Visit Ice Caves in Iceland
Iceland ice cave tour season typically runs November to March (weather dependent). The tours can begin with the cooler weather when the caves become stable enough to visit.
Note: In the off season (Nov.-Apr.) many companies offer a glacier hike in lieu of ice caving.
Can You Visit Iceland Ice Caves On Your Own?
Ummm…no. Please don't do this.
An important thing to know about heading out to explore an ice cave in Iceland is that you can't just slap on a pair of crampons and venture out on your own. You need to be with an experienced guide(s) that is intricately familiar with the current and ever-changing glacial landscape.
Finding an Iceland Ice Caves Tour
Disclosure: As I was planning this trip, Ryan Connolly, co-owner of the Iceland small group tour company Hidden Iceland happened to reach out to me to see if we wanted to join them on a complimentary tour. His timing was impeccable, but then again, so was the fit. Admittedly, we are not large group tour kind of people and their boutique style offerings were right up our alley.
Hidden Iceland is dedicated to providing special and carefully curated Iceland small group tours, private tours, and self-drive tours. The owners all came from larger tour companies but felt there was room for a smaller, niche tour company.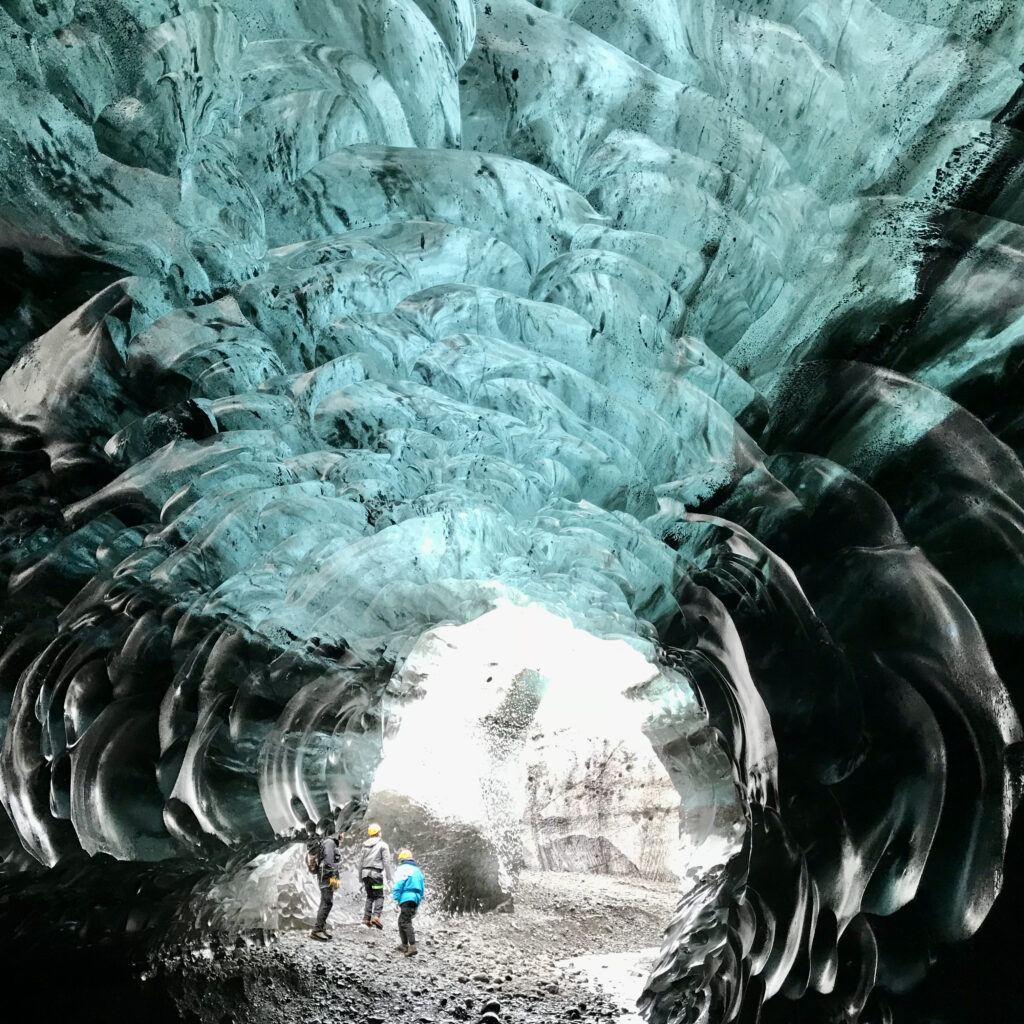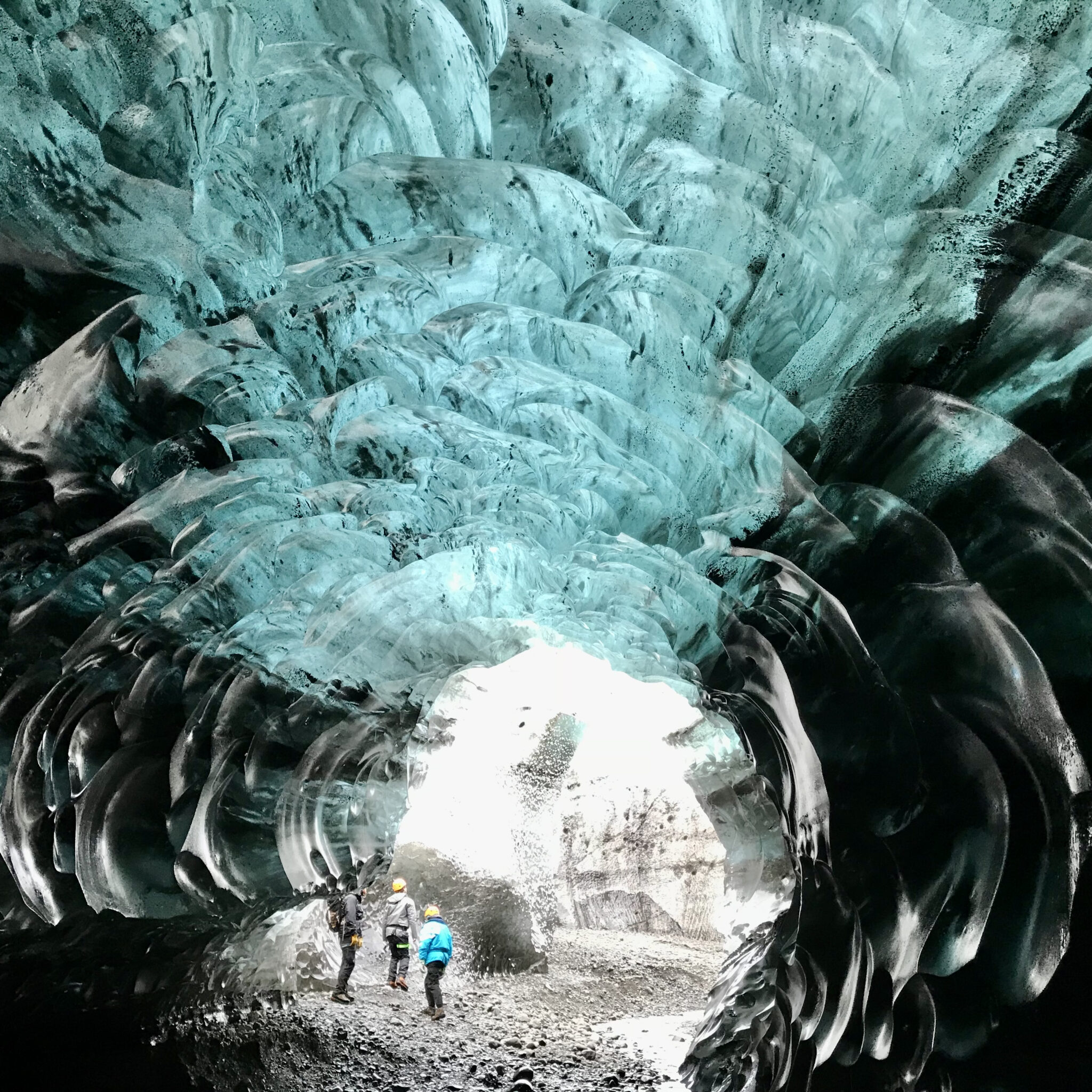 PROMO CODE ALERT
Use Hidden Iceland promo code PINTSIZE10 for a 10% discount on their small group tours*.
*Note: Due to the fact that their customized self-drive and private tours are already so sharply priced, the 10% discount only applies to the small group tours.
I have so many great things to say about our experience, but I always want to encourage you to also read reviews from other travelers before making a booking. See Hidden Iceland Tripadvisor reviews. (Their 2-day Jokulsarlon Glacier Lagoon Tour and Hike was voted #8 on the Multi Day Tours World List on the 2020 Tripadvisor Travelers' Choice Awards.)
Ice Cave Iceland Tour – The Experience
We joined Hidden Iceland on their Jökulsárlón Glacier Lagoon & Ice Cave Discovery 2-Day Tour. The tour starts and ends in Reykjavik and covers ice caving, the Jökulsárlón Glacier Lagoon, Diamond Beach, Reynisfjara Black Sand Beach and several stunning waterfalls.
Note: By the time we had connected with Hidden Iceland we had already planned to rent a car from Keflavik Airport and self-drive South Iceland. Although I would have loved to have done the whole 2 day adventure with them, we joined up with them on the 2nd day for the glacier caving portion after staying one night at the family-friendly Magma Hotel.
On the day of our tour, we hit the road early to join up with the group at Jökulsárlón Lagoon. For this portion of the tour, Hidden Iceland partners with Local Guide of Vatnajökull as they are this region's ice caving experts. It is their guides who are out discovering the new caves before each season has started.
What can be really nice about an Iceland small group tour is the ability to be flexible. For example, several days before our tour, Ryan emailed us to see if we could meet a little earlier in the morning. A new ice cave had been discovered and he wanted our group to be the first of the day to see it.
Before heading out, we were fitted up with crampons, ice picks, helmets and harnesses. (Please note: only the crampons were needed – the other gear is precautionary safety equipment.) We were then off in a van for a bit of a bumpy 30 minute ride, followed by a relatively easy hike of another 30 minutes to the base of the glacier where we stopped to put on our safety gear and crampons.
Once we reached the ice cave, we had about 45 minutes to explore before the next group arrived – getting all those nice pictures without a bunch of strangers in them. After the cave, we were able to enjoy beautiful views of Jökulsárlón Lagoon. The following photos will give you a better idea of what the experience is like.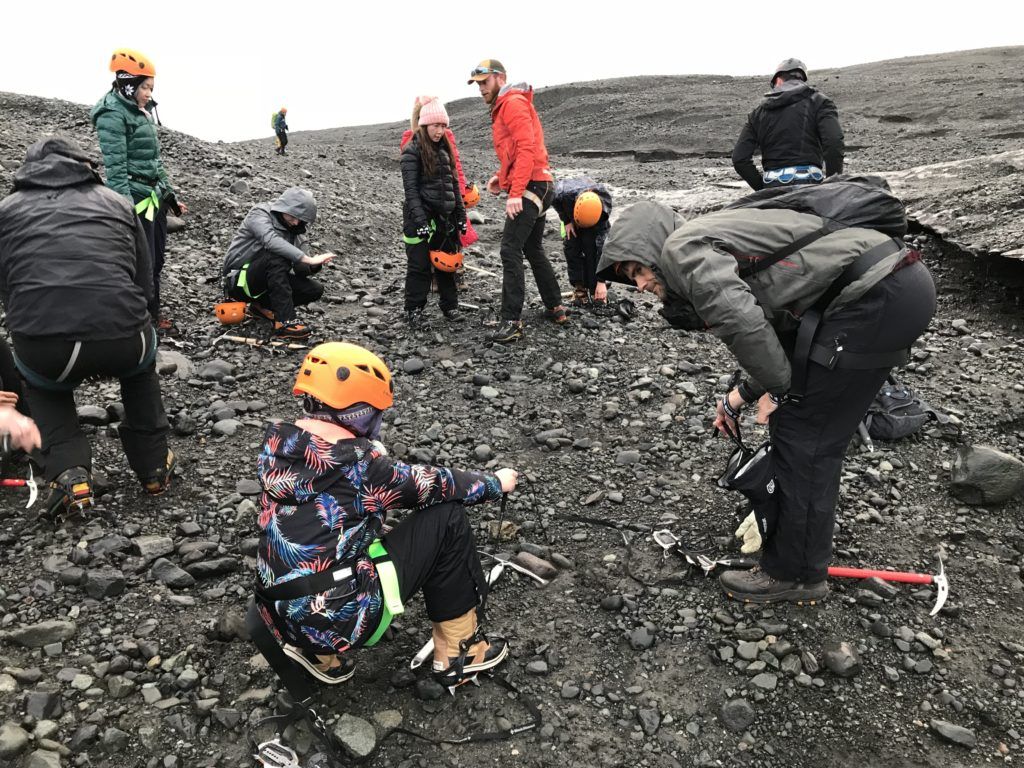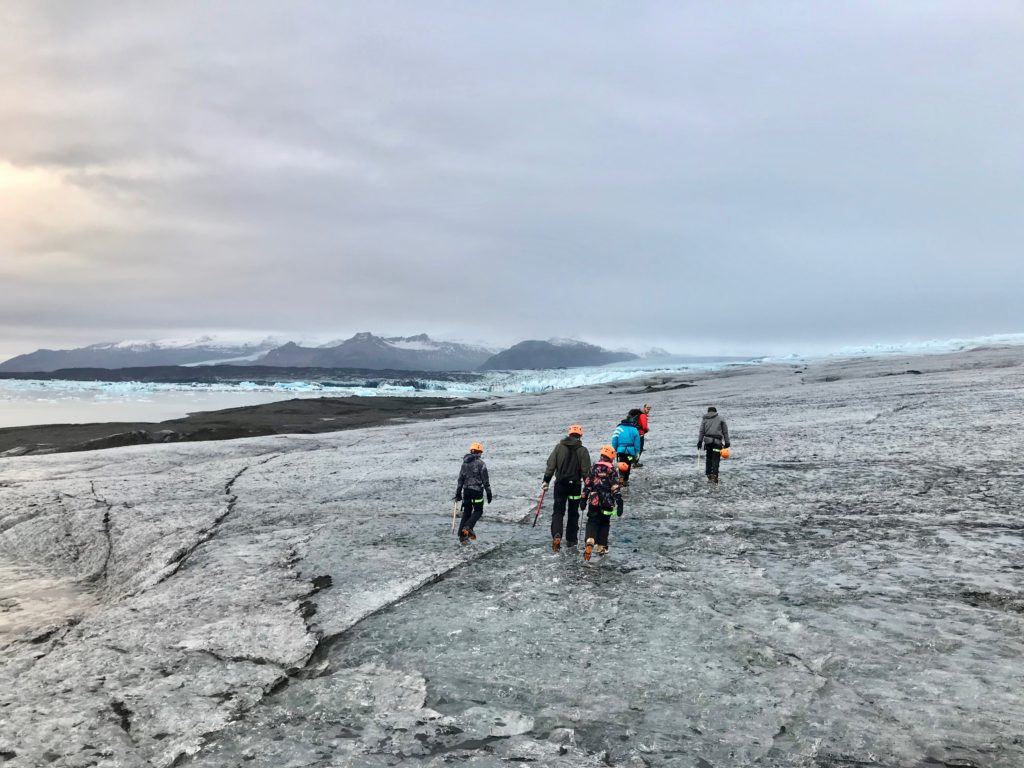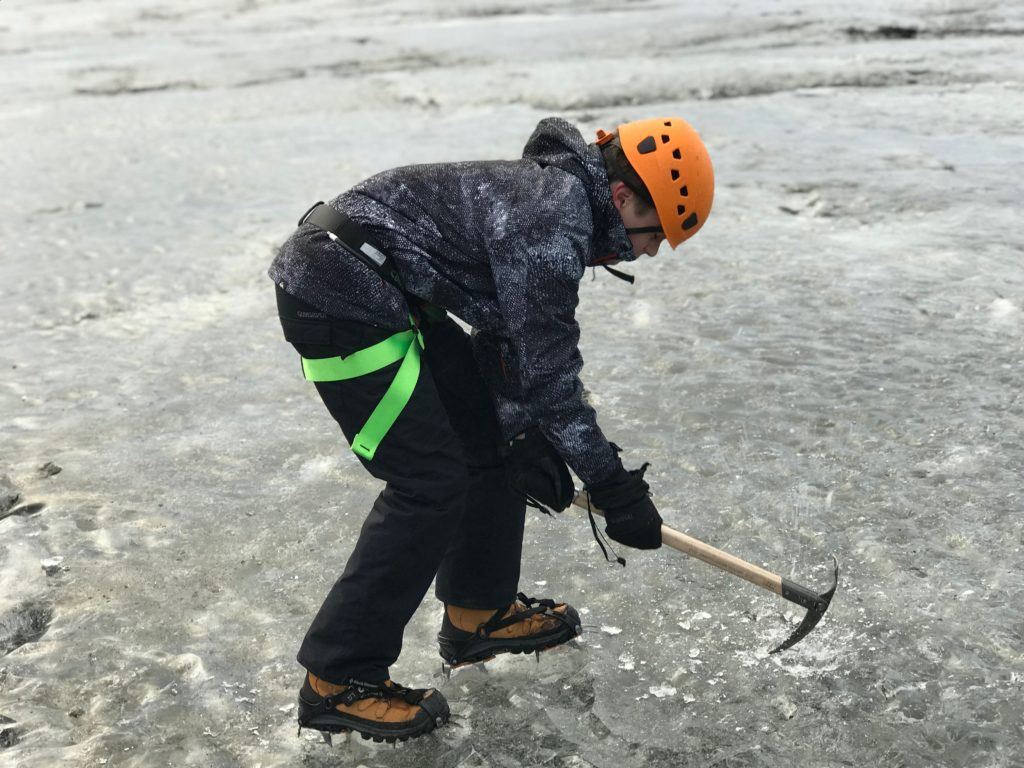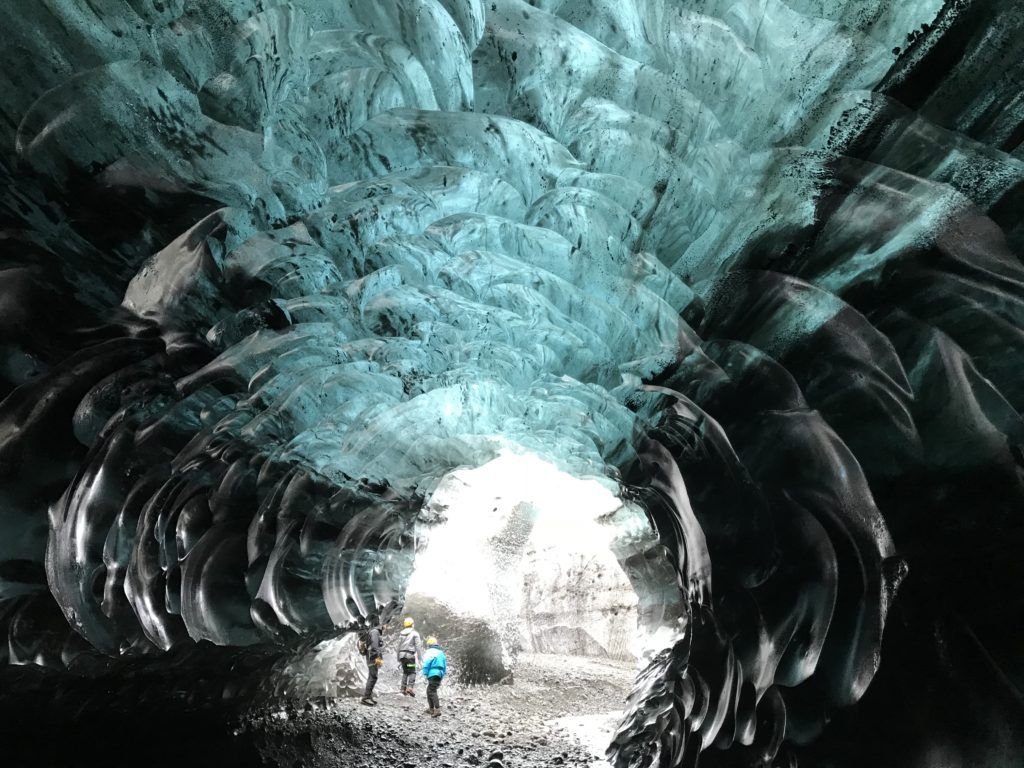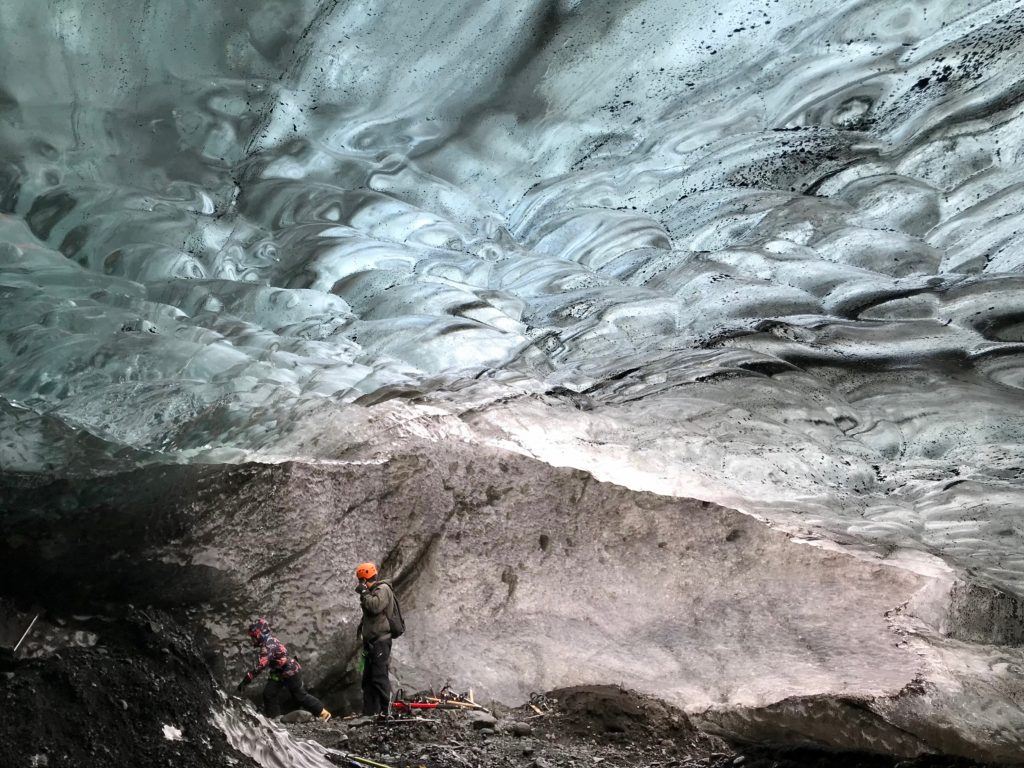 Ice Cave Tours in Iceland FAQs
When can you see ice caves in Iceland?
Iceland ice cave tour season generally runs from the beginning of November to the end of March. Keep in mind that in the off season months you have the option of doing a glacier hike tour instead. (See Hidden Iceland options.)
Where are the best ice caves in Iceland?
It is important to understand that just because a tour company advertises ice caves, doesn't necessarily mean that you will see blue glacier ice caves like the ones shown in this post. The reason for this is that the term "ice cave" simply means a cave with some ice in it all year round.
The appearance of an ice cave can vary greatly so you should read the details of an ice cave tour carefully before booking. For example, there are some ice caves in Iceland that are in close proximity to active volcanoes and thus are more ashen in colour and there are also man-made ice caves that have been drilled into the side of a glacier.
The most stunning crystal or blue glacier ice caves are found within Vatnajökull Glacier or one of its outlet glaciers (Falljökull Glacier, Svínafellsjökul Glacier and the very difficult to pronounce Breidamerkurjökull Glacier).
How much time do you need for an Iceland ice cave tour?
While the activity of visiting an ice cave in South Iceland typically runs about 2.5 – 5 hours depending on the location of the cave within Vatnajökull National Park, you should plan on a 2 or 3 day adventure (self driving or as part of a tour).
The reason for this is that the meeting spot for the tours (Jökulsárlón Glacier Lagoon) is a 5-6 hour drive from Reykjavik and is not something that should be rushed in winter conditions. There are also a lot of other beautiful sights to see in the region. We had 2 days and nights but I would have loved the luxury of another day.
What else is there to see in South Iceland?
In addition to the glaciers, there are also many more interesting places to visit in South Iceland. Our highlights included Jökulsárlón Lagoon, Diamond Beach, Reynisfjara Black Sand Beach, Seljalandsfoss and Skógarfoss waterfalls. Take a peek at the photos below.
What to Wear for an Iceland Ice Cave Tour?
It can be cold and it can be wet. We essentially wore what we would wear on a ski mountain (layers, waterproof pants, waterproof jacket, gloves, warm socks, toque).
Our tour company provided us with crampons, a helmet, ice pick and harness (the latter 3 are precautionary only). We all wore some form of hiking boot or Sorel boot, but a hiking boot is best for the rocky terrain leading up to the glacier before your crampons go on.
While updating this post, I came across this cute video by Inspired by Iceland on how to dress in Iceland. As someone who had often not quite had the right clothing for our travels to the Nordic nations, I find it to be spot on. See it on YouTube here.
Can Kids Go on an Ice Cave Tour?
It depends on the company, and there are certainly exceptions, but in most cases kids need to be at least 10 years old for a glacier hike and 12-13 years old to visit a glacier ice cave. This is for reasons of safety and also endurance, as some of the best ice caves in Iceland (and the least crowded) can take some time to get to.
Note: I couldn't wait for my kids to be old enough to do really interesting stuff like visiting an ice cave in Iceland, but if you have younger children, there are still tons of cool things to do in Iceland with kids. For example, on the same trip we decided to self drive the Golden Circle with some friends (their youngest being 3 years old).
Hidden Iceland also runs a Golden Circle Platinum small group tour that can welcome kids as young as 8 (use code PINTSIZE10 for 10% off). In addition, their private tour offerings can accommodate families with much younger children (providing a car seat upon request). Sorry, no discount on that one but their pricing is very fair.
Reach Out
Do you have a different question? Please feel free to reach out to me in the comments or via my email under the About Us tab. I'm always happy to help.
Further Reading