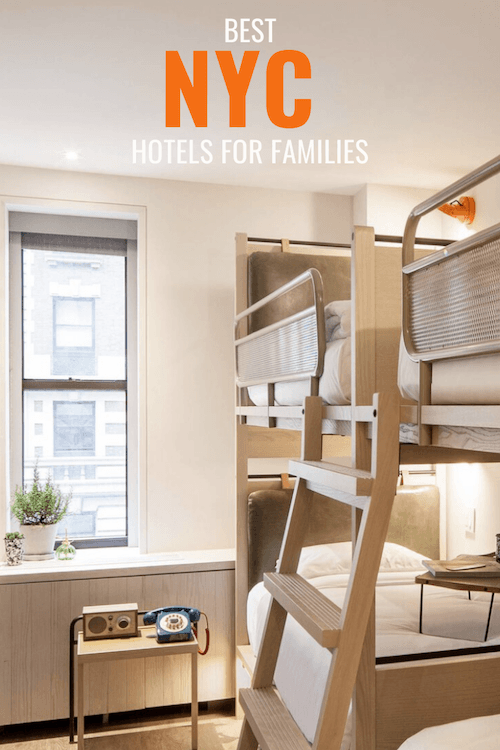 Affiliate Disclosure: This family friendly hotel NYC post contains affiliate links. If you click on a link and make a purchase, I may receive a small commission at no cost to you. All opinions are entirely my own.
BEST FAMILY HOTELS NEW YORK CITY GUIDE
I simply obsess over finding the best NYC family hotels. In fact, it is not unusual for me to make changes to our NYC family hotel numerous times before actually arriving in the Big Apple. Visiting New York City with kids is such a special trip, I always just want to make sure that we find the perfect place (and get the best value for our hard-earned dollars).
Now, I fully realize that spending hours (or days) researching NYC hotels for families is not everyone's cup of tea. For that reason, in the following post, I have tried to simplify things. In addition to my list of the best hotels for families in New York City, you will also find some quick tips on where to stay and how to save money.
Please read the following NYC kid-friendly hotel booking tips, or just go straight to the Best NYC Family Hotels List.
FAMILY HOTEL NYC BOOKING TIPS
BOOK EARLY
Get your head around the fact that NYC family hotel rooms are extremely pricey in comparison to most other North American cities. You are paying for prime real estate in one of the world's most expensive cities. That said, there are always deals to be found even on some of the best New York City hotels for families – especially if you can book early.
Sites such as Booking.com usually offer a no deposit / flexible cancellation policy. I tend to book my chosen New York family hotel as soon as my flights are booked and check back periodically to see if rates have dropped. If they have, I cancel and rebook at the lower rate.
ROOM SIZE
New York hotels rooms can seem shockingly small by North American standards. l've also noticed that many of the new hotel builds have rooms that are smaller than ever (think bunkbeds – but not necessarily for kids). Most booking sites list the square footage of a hotel room. When looking for suitable family friendly hotels in NYC, personally, I prioritize ones that offer rooms that are larger than 300 sq. ft (around 29 sq. meters). I also keep an eye out for rooms with queen beds rather than double beds (doubles are quite common in NYC hotel rooms).
THE BUDGET
Consider how much time you will be spending in your hotel room. If it is a first New York City family vacation, you may not spend much time in your room at all. Will a comfortable bed and a decent pillow at the end of a long day of sightseeing do the trick? Or, is this a once-in-a-lifetime experience where you want to splurge on a gorgeous room at one of the best hotels in New York City for families?
READ REVIEWS
When researching the best NYC family friendly hotels, please take a little time to read recent reviews. One of the most common annoyances in New York City for example, is noisy construction. Another issue as of late has been hotels turning off the central air-conditioning before the fall season has truly begun (= very hot rooms). A hotel property is unlikely to mention this when you book, but recent reviewers will surely let you know!
I generally use Tripadvisor – filtering first for reviews by families and typing kids into the search bar to narrow those reviews down even further. I also like to look at Tripadvisor's Room Tips. All rooms are not created equal and requesting a high floor or a room away from the elevator could dramatically improve your experience, while usually costing you nothing.
LOCATION
When considering family friendly hotels in New York City, take into account the location of the attractions you would most like to visit. When my kids were really little, I loved being close to Central Park (Upper East Side/Upper West Side). It was great because it gave us walkable access to so many great playgrounds, the Central Park Zoo, the American Museum of Natural History and the Children's Museum of Manhattan.
With older children, I now prefer family friendly NYC hotels in a more central location, like Midtown. This gives us easy access to Times Square, Radio City Music Hall, Grand Central Station, Bryant Park, the Museum of Modern Art, Madison Square Garden, Rockefeller Center and the Broadway Theater District.
VACATION RENTALS
New York City has some of the strictest rules around vacation rentals in the world. This has severely limited the supply of units on popular sites such as VRBO.com and Airbnb.
There is one company that I do really like for apartment-style stays in NYC. The company Sonder offers curated apartments in many cities around the world and is a favourite of savvy travelers looking for good value, good style and more space. They also allow you to choose from a variety of extra services (daily towel service etc.) that wouldn't necessarily be available at a typical vacation rental.
15 Best NYC Hotels for Families
Note: These hotels are arranged in order of how frequently they are booked by families through my site (unless they are marked as NEW).
1. BEST WESTERN HOSPITALITY HOUSE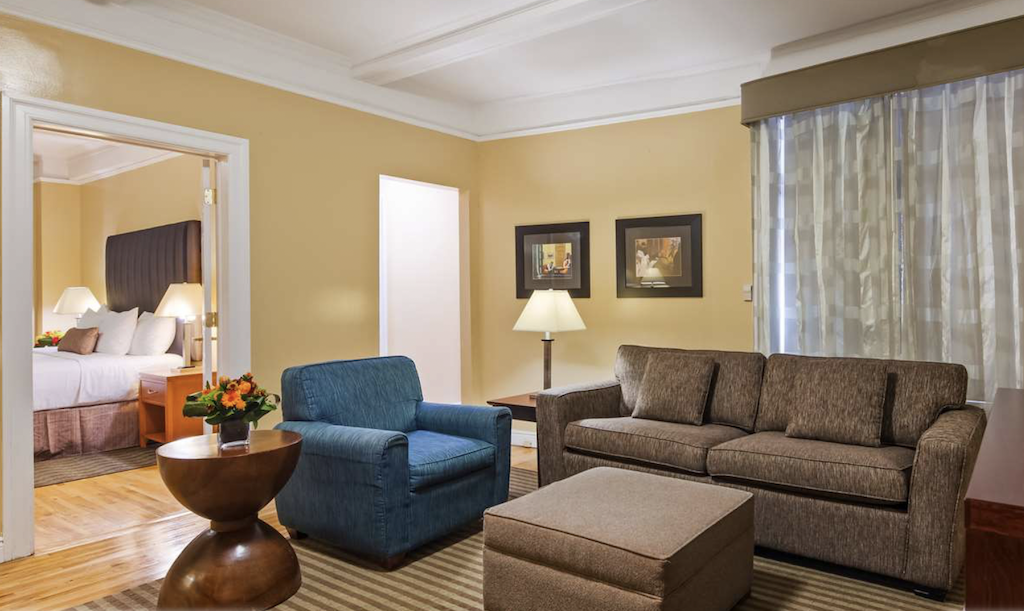 The Best Western Plus Hospitality House is a solid choice. I know…I don't sound super excited about this property, but I am excited about how well it delivers in terms of value and ample space for a family. By New York standards, the apartment-style rooms are huge (800 square feet and up) and it adds further value with a free breakfast (hot and cold buffet).
The suites offer fully equipped kitchens, free high-speed internet access and iPod docking stations. A welcome basket including snacks and bottled water is provided in each room upon arrival. The property is conveniently located close to Rockefeller Center, Radio City Music Hall and the MOMA, and just a 15 minute walk to Times Square.
2. THE HOTEL BEACON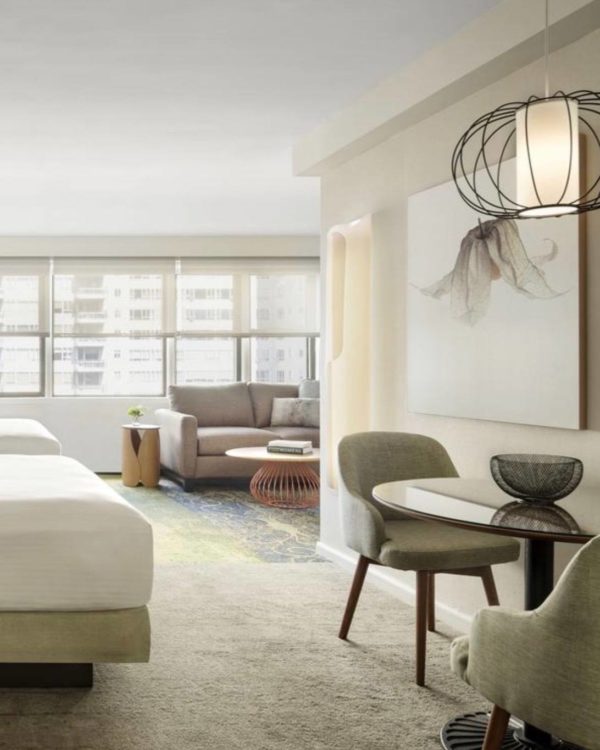 The Beacon is one of the best hotels in NYC for families looking to stay close to Central Park. It is also within walking distance of the the American Museum of Natural History and the Manhattan Children's Museum.
Rooms and suites have a classic styling but with modern amenities such as flat-screen TVs, iPod docks and wireless WiFi access. The kitchenettes have a microwave, refrigerator and coffeemaker. Suites at the hotel have a living room with a sofa bed and sleep up to 6 people.
There is both a grocery store and metro station right nearby. The hotel also has convenient on-site laundry facilities.
3. THE SAN CARLOS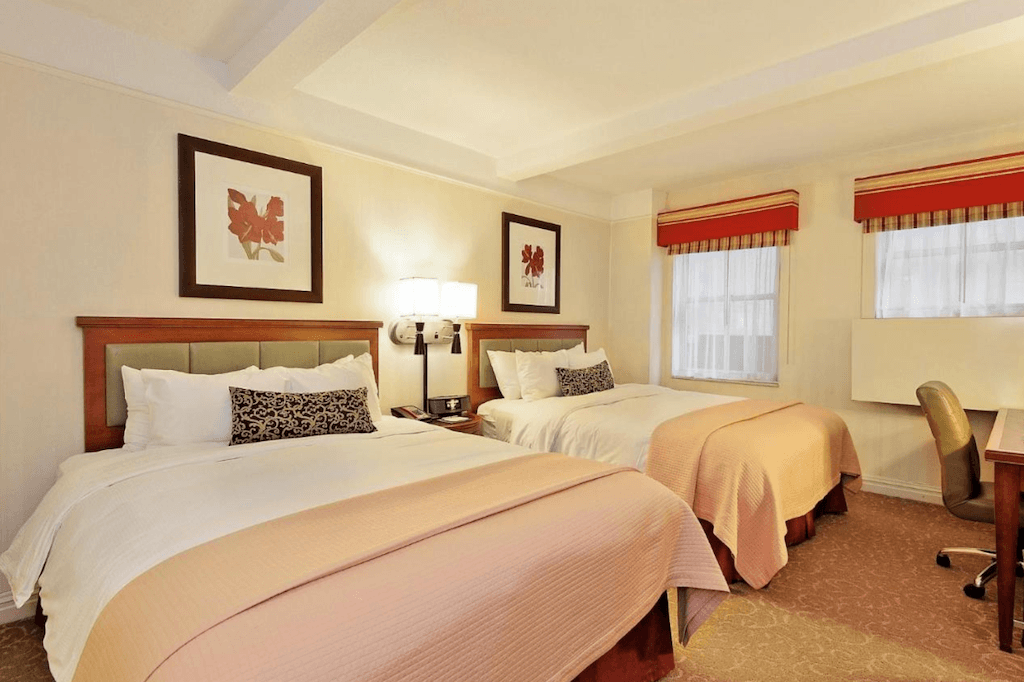 The San Carlos is conveniently located in Midtown East, just a 10 minute walk to Rockefeller Center (the new FAO Schwarz, a LEGO store, Top of the Rock, the skating rink).
The property offers spacious rooms and suites (starting at 350 sq. ft.) that feature a 42″ LED HD flat-screen TV, a docking station, WiFi, plush terry robes and Aveda bath products. The one-bedroom suites also feature a kitchenette and dining area. The San Carlos has an on-site restaurant and gym.
Families love this property for its excellent customer service and for the many different family room options, from double queen guest rooms to suites that can sleep up to six people.
4. THE KIMBERLEY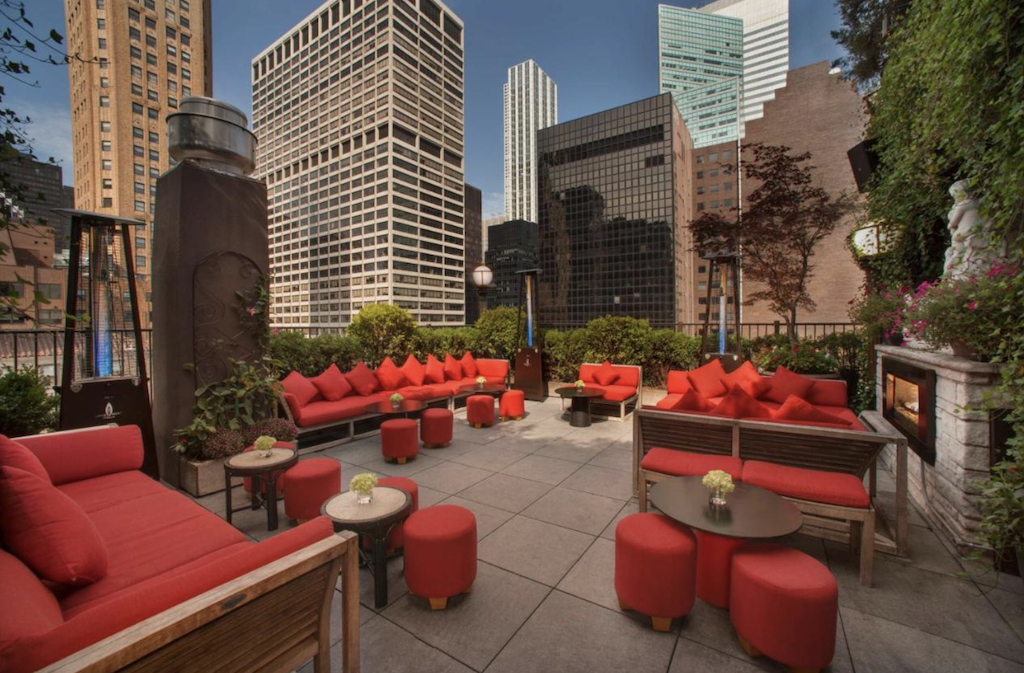 The Kimberly is a classic NYC hotel that is known for its old school charm and excellent service. The property has a restaurant, private parking, a fitness center and a rooftop bar. The Midtown location offers easy access to city sights such as Radio City Music Hall, Rockefeller Center and the MOMA.
Family rooms at The Kimberley are very large by NYC standards and most have a terrace. Select rooms also feature a kitchenette with a microwave and a fridge. All rooms and suites are equipped with flat-screen TVs, iPod docks, high speed internet and L'Occitane toiletries. Kids especially love the giant aquarium full of colourful fish in the hotel lobby!
5. THE SHELBURNE SONESTA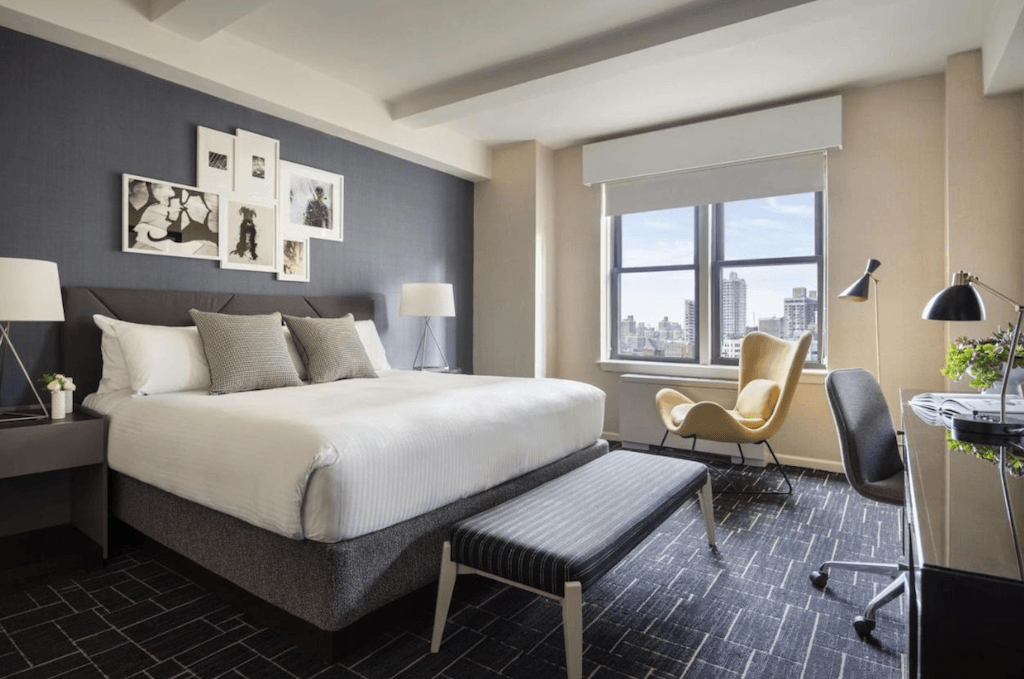 Located in NYC's Murray Hill district, The Shelburne Sonesta is conveniently close to The Empire State Building, Bryant Park and the Chrysler Building. The hotel has a 24-hour fitness room, business center and offers a grocery shopping service.
Guest rooms at The Shelburne Sonesta are equipped with seating areas, coffee makers, flat-screen TVs and in-room movies. Select rooms have kitchenettes with refrigerators and microwaves.
The rooms and suites at the Shelburne are above average in size by NYC standards and have family room options that can accommodate up to 6 people.
6. TRYP BY WYNDHAM TIMES SQUARE
Looking for a NYC hotel for a family of 5 or more? The Wyndham Tryp in Times Square South is very popular with families looking for large hotel rooms in NYC as some of their suites have room for up to 8 guests! They also have these really fun family-friendly Theatre Rooms featuring 2 large LED TVs and a Hi-Fi sound system (sleep 6).
The hotel has a restaurant, air conditioned rooms, free in-room wifi, and a fitness center. Many of their family rooms also include a mini-fridge, coffee maker (with free milk and coffee) and a microwave upon request.
7. THE CONRAD DOWNTOWN
(New – Recently added to list.)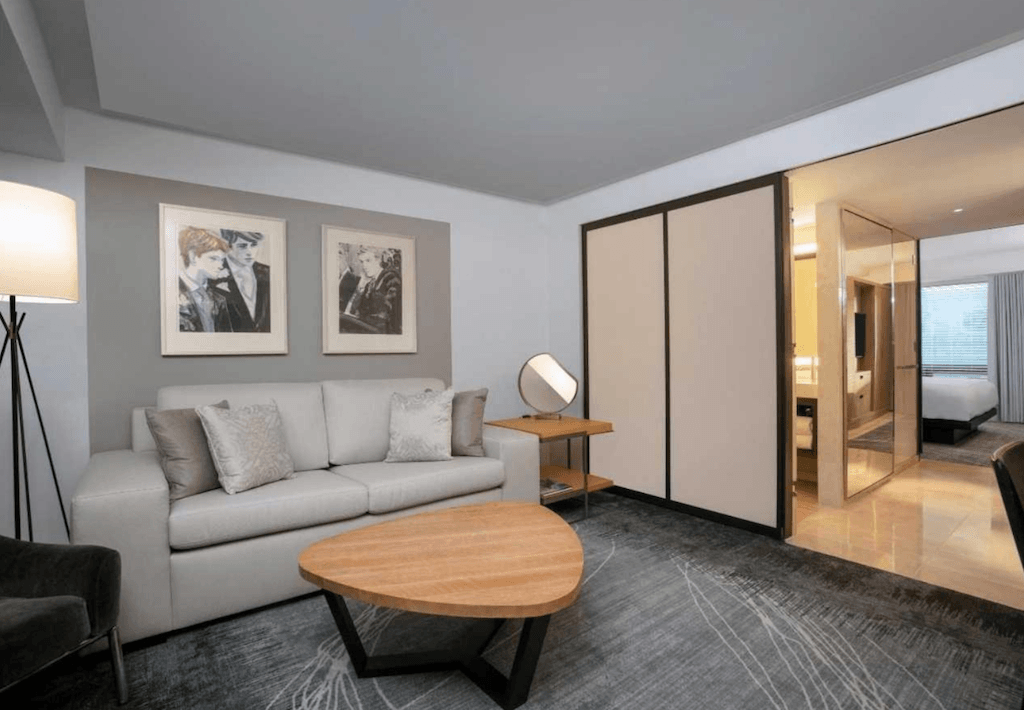 The Conrad Downtown is a recently renovated property located at the south end of Manhattan – close to the World Trade Center, the Oculus and the ferries to the Statue of Liberty. The rooms are large by NYC standards and offer numerous configuration options for families.
Room features at The Conrad include a separate living room, 2 flat-screen TVs, an espresso machine, robes and slippers. Guests can enjoy views of the Hudson River from some of the suites. The property has a restaurant, wine bar and seasonal rooftop patio with beautiful views of the Hudson River. There is also a 24-hour fitness centre on site.
8. THE GARDENS SONESTA
Like its sister hotel The Shelburne (listed above), The Gardens Sonesta is a very suitable hotel for families. Self catering is a breeze with the well equipped kitchens and optional grocery delivery service.
The Upper East Side location is quite nice for families as the area is very quiet and yet close to many family attractions such as Central Park, The Museum of Natural History and the Children's Museum.
Note: I stayed at this hotel when my children were 1 and 4 years respectively. I liked the fact that it was in such a quiet area but still within an easy stroller roll of Central Park. Our room was spacious enough to have some friends over for a glass of wine while the kids watched a movie.
9. THE LUMA HOTEL
If you are struggling over where to stay in New York City with family, The Luma Hotel is in an excellent location – nestled between Times Square and Bryant Park. What makes this one of the best NYC family hotels? It is one of just a handful of Manhattan hotel properties offering rooms with 2 king beds (very rare in NYC).
Also very fun at this hotel is Alina – the little robot that delivers towels and other goodies right to your room. See her in action in this short video.
10. THOMPSON HOTEL CENTRAL PARK
(New – Recently added to list.)
The Thompson Central Park offers a combination of suites and rooms with varying views. It is in a great location for family, within a close proximity to Central Park, Rockefeller Center and the MOMA.
The property has both a signature dining experience with chef Manish Mehrotra's Indian Accent and the more casual Burger Joint. The hotel also has a gym and beauty salon.
11. THE MOXY TIMES SQUARE
What The Moxy Times Square lacks in room size (many rooms are less than 300 sq. ft.) it makes up in fun. Kids love having their own bed with the quadruple bunk rooms and hanging out in the funky 2nd floor lounge.
Rooms have free wi-fi, oversized rain showers, and smart streaming TVs. The property has a fitness centre, on-site restaurant and a rooftop bar.
12. THE HOTEL GIRAFFE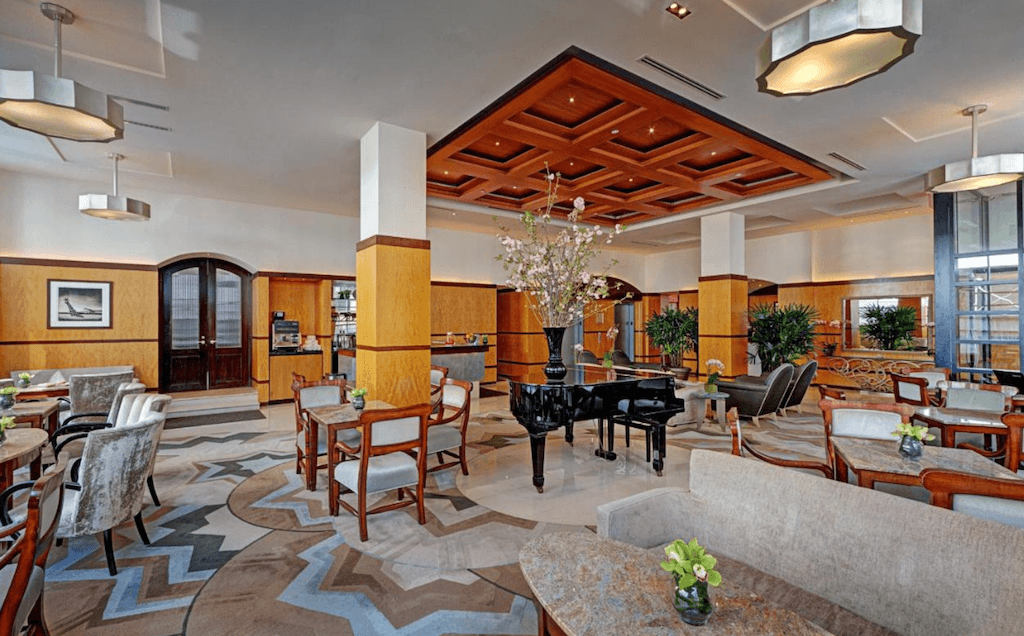 Located in the NoMad neighborhood, the 72-room boutique Hotel Giraffe is within a 10 minute walk of Madison Square Park and the Empire State Building.
Rooms at The Hotel Giraffe feature high-speed internet access, complimentary bottled water, a 40″ flat screen TVs, an iHome alarm clock dock and aromatherapy bath products. The hotels also has a lovely rooftop patio.
While the property charges a $25 resort fee, this includes a light Continental breakfast in the lobby and refreshments and snacks including cappuccino, coffee, teas, water, soda, fruit, and health bars throughout the day.
Note: For lovers of boutique hotels, The Library Collection has two other suitable NYC hotels that are worth taking a peek at – The Library Hotel (Midtown 4★) and The Casablanca (Midtown 3.5★).
13. THE SOHOTEL
The moderately priced Sohotel has a great location within Soho which is perfect for shoppers. The property offers several options of family rooms, sleeping up to 5 guests. Rooms include free WiFi, flat-screen TVs, hardwood floors and an iPod docking station.
14. THE BEEKMAN (BY THOMPSON)
The Beekman luxury Thompson-branded boutique hotel is located close to the Brooklyn Bridge and the World Trade Center. The rooms include custom beds, leather headboards, oak floors, craft cocktail tables and marble bathrooms. Top room choices for families include the double queen or king suite configurations.
15. THE RIU PLAZA
The Riu Plaza Times Square often comes up near the top of best family hotel NYC lists for its excellent central location (5 min. walk to Penn Station) and several options for family rooms. They are actually one of the few brand name hotels with two bedroom suites in New York City (sleep up to 6). Families also love that this hotel offers a daily free breakfast (buffet-style) for the whole family.
This popular hotel provides easy access to Times Square, the Theater District and Rockefeller Center. Room are well set up for families with a mini refrigerator, desk, wifi and TV with multimedia connections.

FURTHER READING