Last update: February 14th, 2019 at 01:56 pm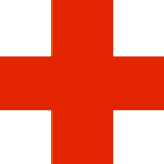 One of the things I find most difficult to pack for family travel is my emergency first aid medical kit.  Although I keep a list, on my last trip I decided to just take a picture of what I like to bring and have found this even easier to work with.  Please keep in mind that my children are now over 2 years so nothing here is for infants and would need to be adjusted accordingly. In the case of our family we have some mysterious allergies (thus explaining the Kids Benadryl and EpiPen).
You may also find useful : The Pint Size Pilot Family Packing List ( in PDF and Excel)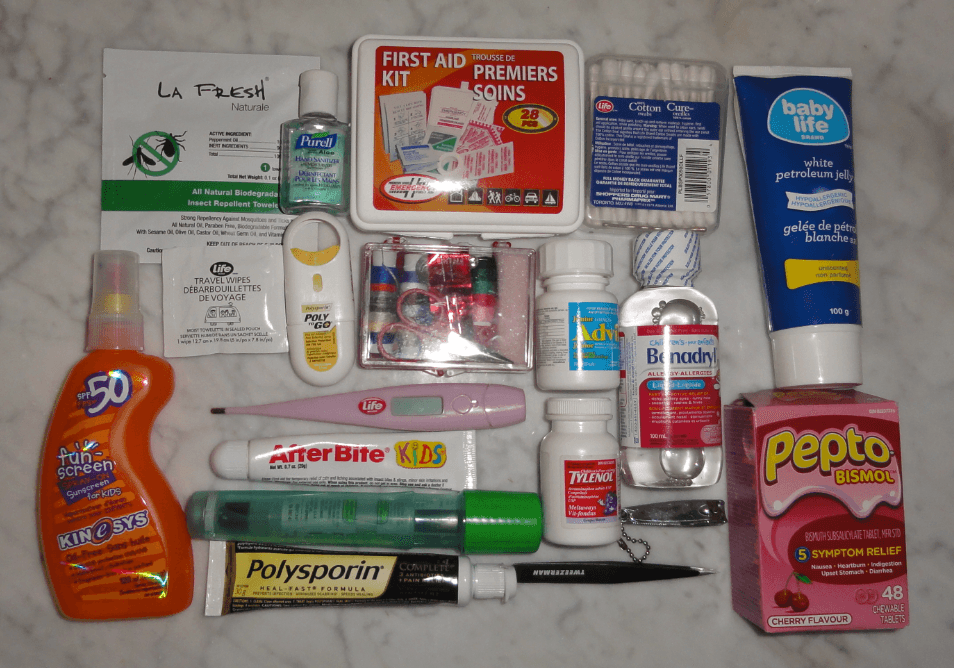 In case some of these are hard to see, my kit includes (although this is not an exhaustive list and you should adjust for your vacation needs):
mosquito repellant wipes (check for appropriate age range)
kids sunscreen (check for appropriate age range)
hand sanitizer
bandaids and alcohol wipes (in a mini first aid kit)
cotton swabs
petroleum jelly
junior Advil for 2+ years (or Advil Pediatric < 3 years as directed by doctor)
junior Tylenol for 2+ years (or Infant Tylenol  < 3 years as directed by doctor)
kids Benadryl
kids antidiarrheal for 3+ years
kids Afterbite (for bites and stings)
kids Polysporin
a small sewing kits (with scissors and needle)
nail clippers
tweezers
thermometer (preferably instant read)
you may also want to add:
a cold pack
an emergency first aid card
a copy of any family drug prescriptions
gauze
aloe vera lotion for sunburns
Pedialyte (or other child friendly rehydration solution)
saline drops for stuffy noses
I also did some online research to see what kind of pre-packaged family travel medical kits are available.   Keep in mind you would still need to add to it any kind of pain relieving medications (Infant or Junior Tylenol etc.)
The Medibag Family First Aid Kit  (<$40)
The 7 time award winning 117 piece medikit includes:
(12) Assorted kid-friendly bandages(12) junior bandages
(12) 3/4″ X 3″ sheer bandages
(2) knee and elbow bandages
(2) Fingertip bandages
(20) Antiseptic sting-free wipes
(6) 2 X 2 gauze pads
(6) 3 X 3 gauze pads
(1) Anti-itch ointment
(2) Antibiotic ointments
(1) sting relief pad
(1) Burn gel
(1) First aid guide
(1) instant cold pack
(2) hand sanitizer packs
(2) blue kid-friendly exam gloves
(1) plastic disposable tweezers
(10) applicator cotton swabs
(1) emergency information label
(20) kid-friendly fun stickers
(1) 45 item refill kit coupon
(1) Doctor's bag organized case
If you are simply looking for a general first aid kit for travel, this one looks like a good bet:
The Tripworthy Travel First Aid Kit (<$20)
Now….just cross your fingers and hope you never need to open the kit on vacation !
You May Also Enjoy the Following Posts