Last update: May 12th, 2022 at 11:41 am
Visiting the Fogo Island Inn
I am pretty sure that I first stumbled across the Fogo Island Inn in an issue of Architectural Digest. I remember the swell of pride I felt when I realized that this magnificent project, built at what seemed to be the end of the earth, had been an all-Canadian endeavor. Fortunately, it turned out that Fogo Island was not quite at the end of the earth, although nearby Cape Spear, Newfoundland was pretty darn close.
As the years passed, I would find myself checking the Fogo Island Inn website periodically, trying to justify a visit. I was waiting for a sign of some kind that would make it a no-brainer such as a lotto win, a bank error in my favour, or perhaps a modest inheritance from a distant relative. Sadly, the years went by without any of these events coming to pass.
My tipping point came one spring when I happened to stumble across an article predicting an epic season for iceberg spotting off the coast of Newfoundland. Durning the spring and early summer, large chunks of ice break off the Arctic shelf, passing by the coast of Newfoundland and along its famed Iceberg Alley. I made the call to pull the kids from school for a week (Could you find a better science class?) to enjoy a short visit to Fogo Island as part of a larger Newfoundland road trip.
Please see the following menu. If you are dying to take a peek at Newfoundland's Fogo Island Inn right away, start with this 2 minute video.
Fogo Island Inn Video (2 min.)
How the Inn Came to Be
Prior to visiting the Fogo Island Inn, I didn't know the complete story of how this incredible Newfoundland luxury hotel came to be. I was, however, aware of the plight of the cod fishermen in eastern Canada. In the early 1990's, the east coast cod industry collapsed, largely as a result of new industrialized fishing methods that were unsustainable.
For the decades that followed, fishing communities such as those on Fogo Island would see young people leaving in droves to seek their financial future elsewhere. Enter resident Zita Cobb, who grew up on the island, but had left to pursue a career in high tech — subsequently becoming a multi-millionaire when she cashed out in the late 90s.
In 2004, Zita, who had since returned to the island, donated 10 million dollars of her own capital to found the Shorefast Foundation along with two of her brothers. With further funding from numerous agencies, she set into action a plan to secure the economic future of Fogo Island, while at the same time preserving its culture. As the story goes, she apparently met with very little resistance when pitching the project to Newfoundland-born architect Todd Saunders, who by then had set up shop in Norway.
Getting There
Typically I wouldn't start a post with a getting to section, but it was such an exciting and memorable part of our adventure! Although some guests arrive on Fogo Island by helicopter or chartered plane (via one of Newfoundland's international airports), most guests we spoke to at the Inn had, like us, taken the ferry from the appropriately-named Farewell, Newfoundland.
The Fogo Island ferry handles both cars and walk-on passengers, making it convenient for guests who are making Fogo Island part of a larger Newfoundland road trip adventure. As we visited in the beginning of June (during what was an unusually cold year for Newfoundland), the ferry crossing was an event in itself. It felt more like we were on an icebreaker actually, as the ship shuttered and bashed its way through a minefield of ice.
As we had arrived on the island a little early for check-in, we took some time to explore. We could not resist a stop at the Tower Studio — one of four Todd Sauders designed artist residences on the island. Learn more about Fogo Island residencies for artists at Fogo Island Arts.
Fogo Island Inn Rooms
As beautiful as I had imagined and hoped our room would be, it far exceeded my expectations. Traveling with children, we had chosen one of the larger suites with floor to ceiling windows, a loft bedroom, a separate main floor nook containing two single beds, a full living room with wood burning fireplace, and a gigantic bathroom with soaker tub.
I imagine that the view is spectacular all of the time, but what was especially mesmerizing to me was the ever-changing ice covered seascape, that would change dramatically depending on the wind and tide. I simply couldn't wait to wake up in the morning to see what the view had to behold.
The beauty of this contemporary take on traditional Fogo Island arts and crafts could be found throughout the room in details such as the felt covered hangers, the hand knit rugs, the cheery patchwork quilts, the custom wallpaper print (each room has a unique design) and in every piece of locally crafted furniture. Honestly, the room was so beautiful, and the welcome tray full of baked goodies so enjoyable, that I had a hard time prying myself away, despite the fact that my kids were dying to explore the hotel further.
At the urging of my children (because I would have just as happily spent 2 days in our gorgeous room), we set out to explore the hotel. We went straight to the top to see the incredible rooftop spa, where two outdoor hot tubs and two saunas awaited us — the former taking advantage of a spectacular view.
Working our way down a floor, we came across the 37-seat movie theatre. A collaboration with the National Film Board of Canada, the theatre shows many NFB documentaries, films about Fogo Island and the Inn, as well as some contemporary films.
While we were there, we took in the award winning movie Strange and Familiar: Architecture on Fogo Island. While I very much enjoyed watching this film at the Inn, I wish I had watched it before our visit. It truly helps you understand why this project, on this particular island, is so important. Take a peek at the trailer here.
Returning to the main floor and the hub of all the activity, we took a stroll through the art gallery and marveled at the library (with the most exceptional collection of Canadian literature).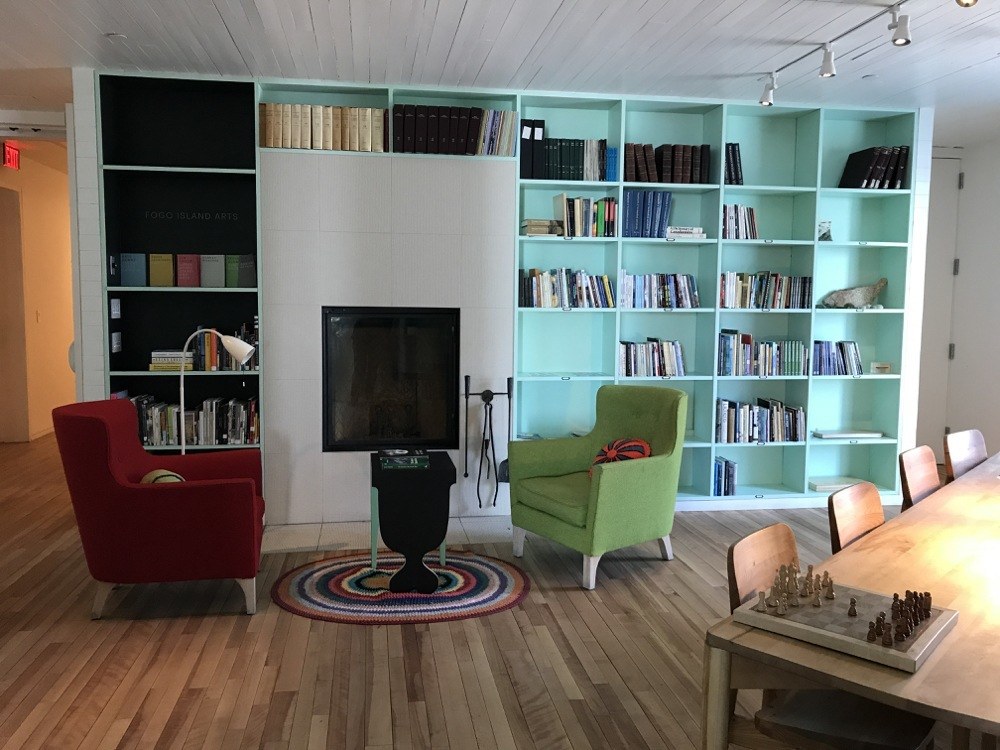 Fogo Island Inn Restaurant
Of all the gathering areas in the hotel, perhaps the most spectacular is the restaurant. Floor to ceiling windows offer the most incredible Atlantic sea views, providing almost too much of a distraction from the delicious food. As an example, one morning at breakfast, all of the guests left their tables to watch a fox working her way back to her den.
The Fogo Island Inn menu makes use of seasonal locally-sourced ingredients wherever possible. During our visit, the menu included partridge berries, juniper, fiddleheads, Atlantic cod and much more.
Top Service: I have to share this story as a testament to the great service at the Inn. At our first breakfast, my daughter asked for orange juice, but our server explained that they only had juices made from local berries. The following day, low and behold, orange juice had magically appeared on the menu just for her (although of course by now, she had become a big fan of the berry juice).
Things to do at The Inn
Sipping on apple cider and watching the ever-changing ice-covered seascape was magical enough to keep me amused for days, but of course there is much more to do at the Inn than that. Many guests we spoke to said that touring the island with a local was a highlight for them.
There is also an on-property furniture workshop to visit as well as the Wind and Waves arts and crafts store, where you can watch local quilters in action. There are loaner bikes for both adults and kids, which makes for the perfect mode of transport to get you to Growler's Ice Cream shop just down the way.
The island has a number of beautiful hikes to enjoy, including the nearby Joe Batt's Point Trail that winds you along the ocean and past The Long House artist-in-residence studio. Nature lovers can keep an eye out for the resident caribou along this hike and elsewhere on the island.
We would have loved to have done a boat trip on the M/V Ketanja to Little Fogo Islands, but alas, at the time of our visit, the amount of ice on the water made the ocean rather impassable. On a clear night, my kids were absolutely delighted to stuff themselves full of s'mores alongside a bonfire under the stars.
Outside of all the other wonderful activities at the Fogo Island Inn, the highlight for my kids was to spend hours parkouring on the giant boulders outside.
My husband and daughter have a travel tradition that apparently has been shared by other past guests of the Inn — the polar bear swim. Finding a calm bay just down from the hotel, these two took their icy plunge and followed it up by a well deserved warm-up in the rooftop hot tubs. Clearly, it's not for everyone — certainly not for me, but they wouldn't miss it.
The Service
The service is really unique at the Inn and helps to contribute to an immersive and enriching travel experience. As an example, Sylvia from the restaurant took the time to explain to me the difference between a Newfoundland Kitchen Party and a Shed Party. Incidentally, at the time of our visit, the Inn was building their own contemporary version of a shed in order to offer future guests the experience of a traditional Lobster Boil.
We also learned a bunch from island resident Colleen, who kindly drove us to the ferry on our way off the island. She shared with us how Zita Cobb had taught her that she shouldn't be ashamed of her accent or where she came from — that her heritage was something to be proud of, preserved and treasured. After years of the young people leaving the island, Colleen's daughter and family were in the process of moving back to Fogo Island. Is Zita's project working? Time will tell….but apparently the census numbers are promising.
Fogo Island Inn Rates
The Fogo Island Inn price (a daily rate) includes breakfast, lunch and dinner. plus a beautiful day break basket left outside your door each morning. Rates are per room, per day, based on double occupancy. Children under 12 are free when staying in the same room as 2 adults. (I was in a huge rush to visit before my eldest turned 13!)
For current rates and availability, please see www.fogoislandinn.ca. Please also see Fogo Island Inn reviews on Tripadvisor.
In addition to the Fogo Island Inn, there are some really sweet vacation rental homes on the island. Check out the Orange House or see these options on The Old Salt Box House Co website.
Note: It is also sometimes possible to visit the Fogo Island Inn as a non-guest. It is such an interesting building that it is definitely worth seeing. When available, reservations for the restaurant and tours can be booked by calling the front desk +1(709) 658-3444 or by emailing [email protected].
More About Fogo Island
Fogo Island is such a special place that I created one more little video on the island itself. Here it is:

You may also be interested in this further reading about Zita Cobb and the island.
More Unique Hotels
Our family have been lucky enough to travel quite extensively. The Fogo Island Inn is probably our favourite hotel stay anywhere in the world thus far. If you are interested, however, here are a few others we have also fallen in love with.
Disclosure: We were welcomed with a discounted media rate stay at the Fogo Island Inn. All opinions are entirely my own. In addition to reading this post, as always on this site, I encourage you to also read current reviews for this property on Tripadvisor.