Last update: September 8th, 2022 at 08:53 am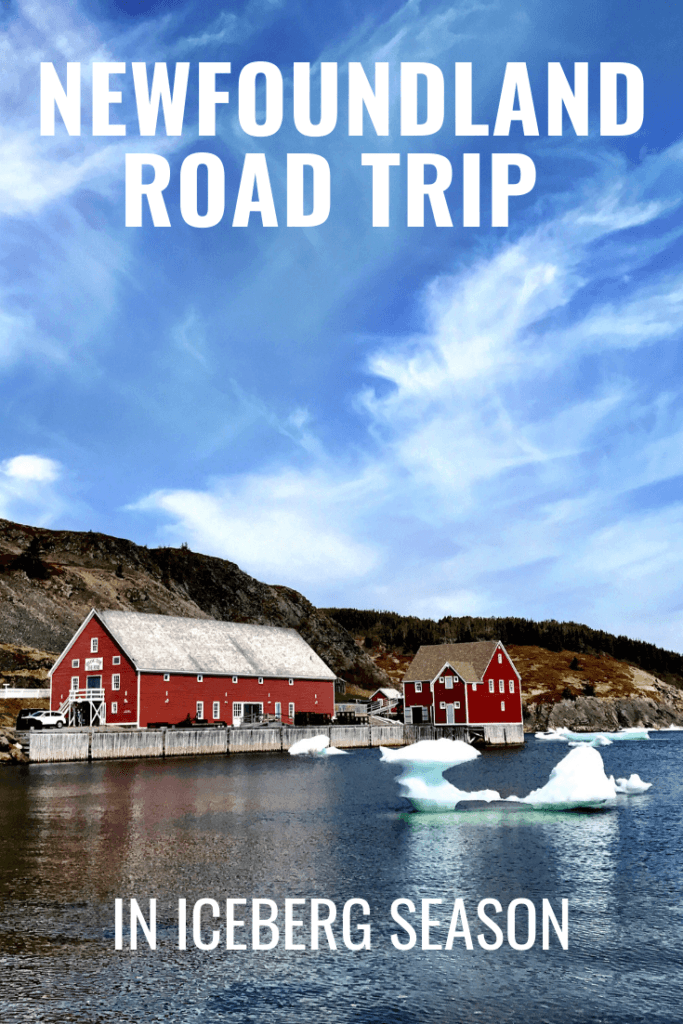 I get a little obsessed with things sometimes. Two common themes that keep me up into the wee hours surfing online are natural wonders and unique hotels. And when those two themes collide – look out – wild horses couldn't keep me away.
Such was the case a few years back when I came across a tourism video for Newfoundland showcasing Iceberg Season. From spring through early summer, icebergs that have broken away from western Greenland and the Arctic float down what is referred to as Iceberg Alley, along the eastern coastline of Newfoundland and Labrador. (Peak season for iceberg viewing is May/June.)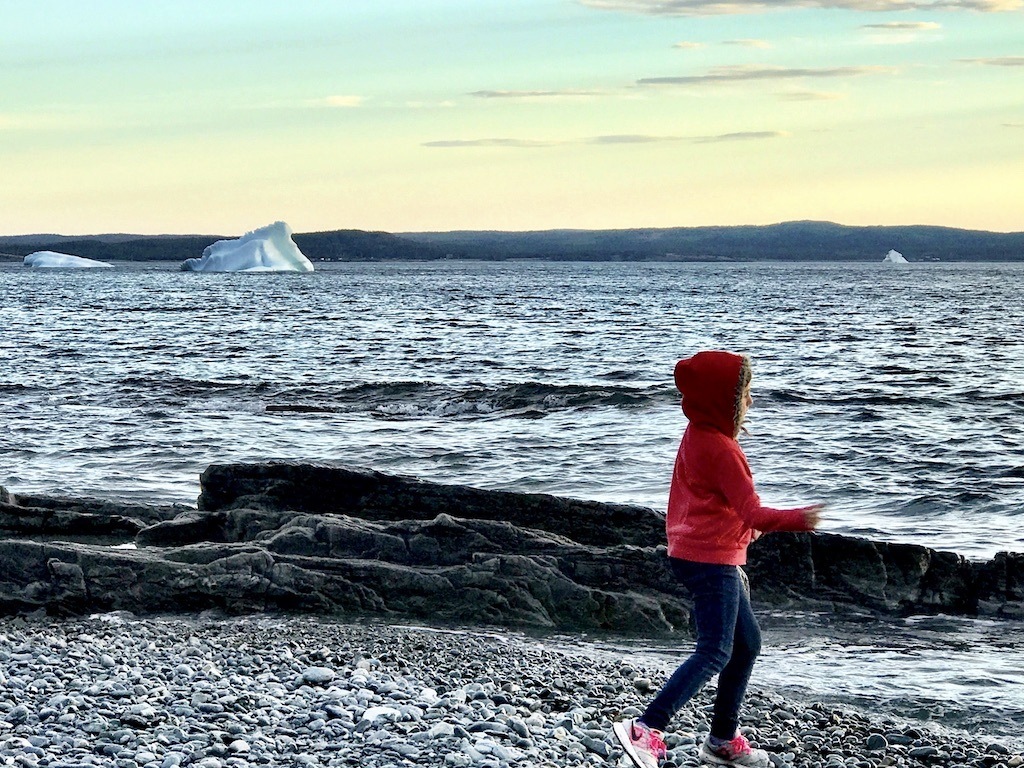 I was equally intrigued (obsessed) by one of Canada's most impressive hotels, the Fogo Island Inn. I had been reading about it for years and was determined to find a way to stay there. Unfortunately, every time I looked at it, the price seemed to go up.
After much deliberation, I finally opted to book a once-in-a-lifetime, 2-night splurge at the Inn as part of a larger one week, early June Newfoundland trip. I then scrambled madly to try to offset the cost by booking our flights on points (thankfully with success).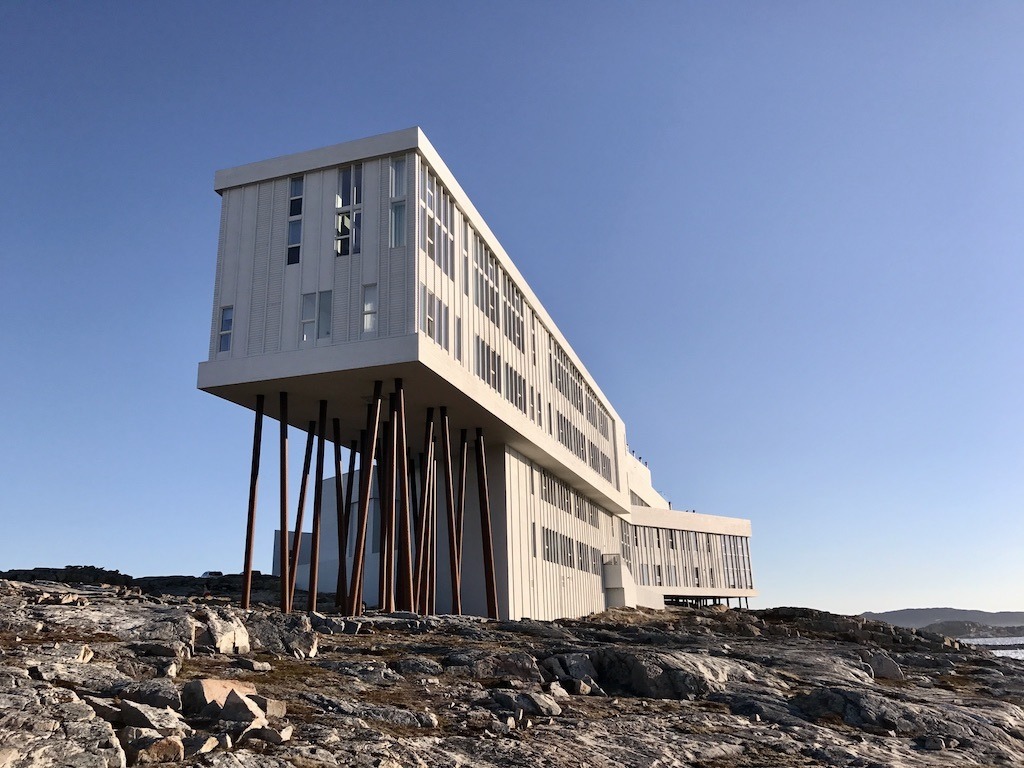 Note: I have never regretted the expense of staying at the Fogo Island Inn. Not only did the Inn blow us away with its sheer beauty, it also forever changed the way we, as a family, approach our travels. From the outset, one of the goals of the Inn was to help sustain and benefit the Fogo Island community as a whole (which had been economically devastated by the collapse of the cod stocks in the 90s). In the years that followed our visit, positive community impact became part of our criteria when looking for unique places to stay around the world.
Newfoundland Road Trip Itinerary
Our Newfoundland vacation was built around nature (most importantly icebergs), interesting places to stay and great food. Due to time constraints (we had only a week), we flew in to St. John's (YYT) and out of Gander (YQX).
We also did a one-way car rental from airport to airport. While this more than doubled the price of our rental, it was worth it for the time and driving it saved us.
Following, you will find our Newfoundland road trip map and itinerary. I hope you find it helpful as you plan your own wonderful Newfoundland road trip adventure. Happy travels!
Note: Alas, we did not have time to visit Gros Morne National Park on this trip. It is still on my bucket list of Canadian adventures.
Newfoundland Road Trip Video (2 min.)
In a hurry and just need some Newfoundland road trip inspiration? Check out our short video.
Road Trip Newfoundland – Map
You can see from the map below that our Newfoundland road trip itinerary had us pretty much hugging the east coast. This allowed us to maximize our viewing opportunities during Newfoundland's iceberg season.
See link to map here.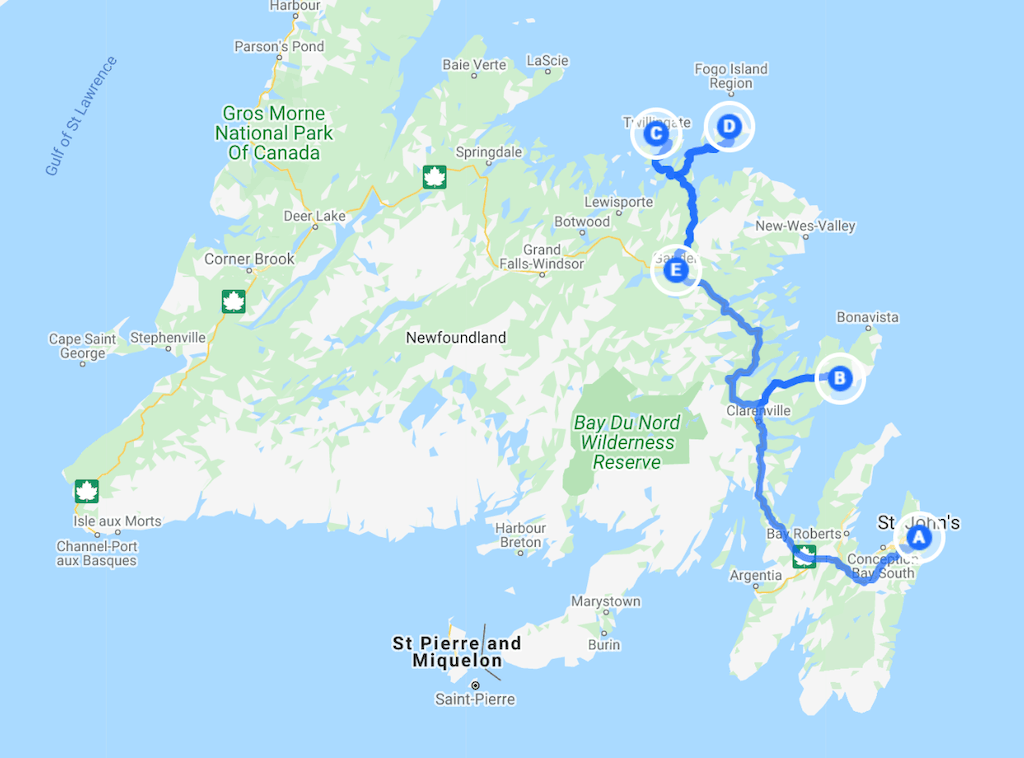 St. John's
A cross-Canada multi-leg flight had us getting in to St. John's in the early AM hours and directly hitting the pillow. The following morning we set out to explore the city streets (including the colourful Jelly Bean Row houses) and the harbour. St. John's is very compact and we found it easy to navigate in one day – finishing up with a hearty pub dinner and live music.
Some of the top places to see in St. John's include the Signal Hill National Historic Site (with great views of the city and harbour) and the Cape Spear Lighthouse (the oldest surviving lighthouse in Canada). Also a must-visit is The Rooms – a cultural space showcasing Newfoundland and Labrador's history, heritage and art.
See also: Things to do in St. John's with Kids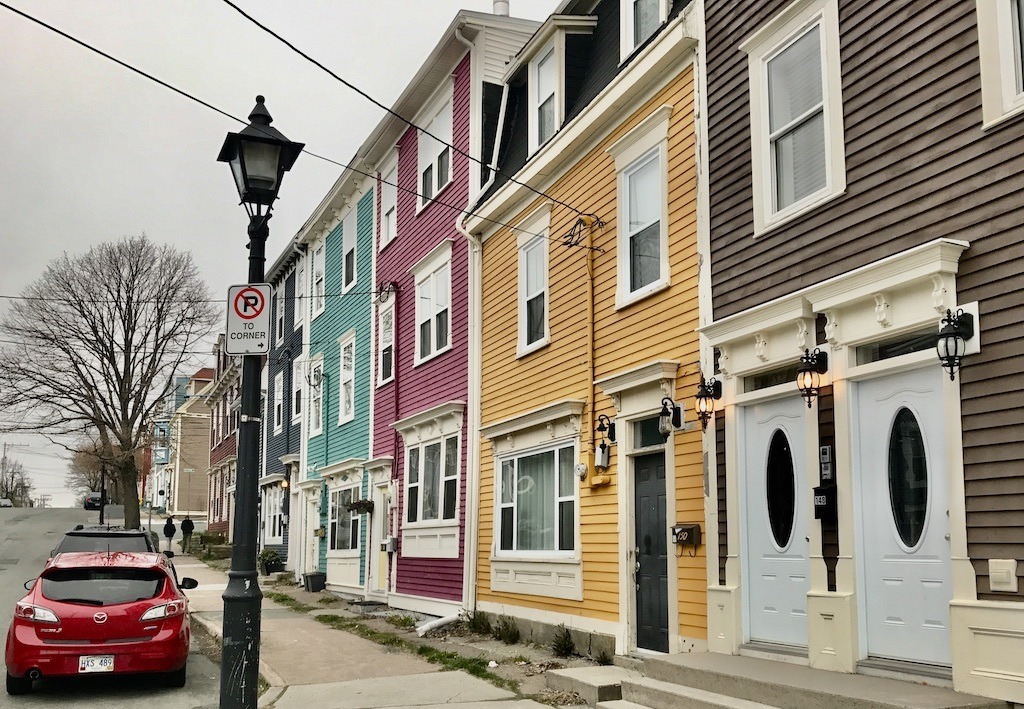 We had originally intended on staying 2 nights at The Jag – a fun, rock n' roll themed boutique hotel in St. John's. We were literally flying out of Vancouver however, when we saw an article in Air Canada's enRouge inflight magazine about another boutique hotel just outside of St. John's (7 minute drive) in Quidi Vidi. We made a quick pivot and booked in for our second night at the gorgeous Inn by Mallard Cottage.
See also: More St. John's Hotels on Booking.com
Quidi Vidi
The little village of Quidi Vidi (pronounced Kiddy Viddy) has a most beautiful, picture-perfect harbour. While we were there, we hiked up the hillside path to see the open Atlantic Ocean and saw our first iceberg. From this vantage point, you can also sometimes see whales during the summer months.
We also checked out the Quidi Vidi Village Plantation artist studios (great for locally made gifts), the brewery and had both a fantastic dinner and brunch at the much celebrated Mallard Cottage Restaurant (possibly a familiar name if you follow the list of Canada's top 100 restaurants).
See also: Falling in Love with Quidi Vidi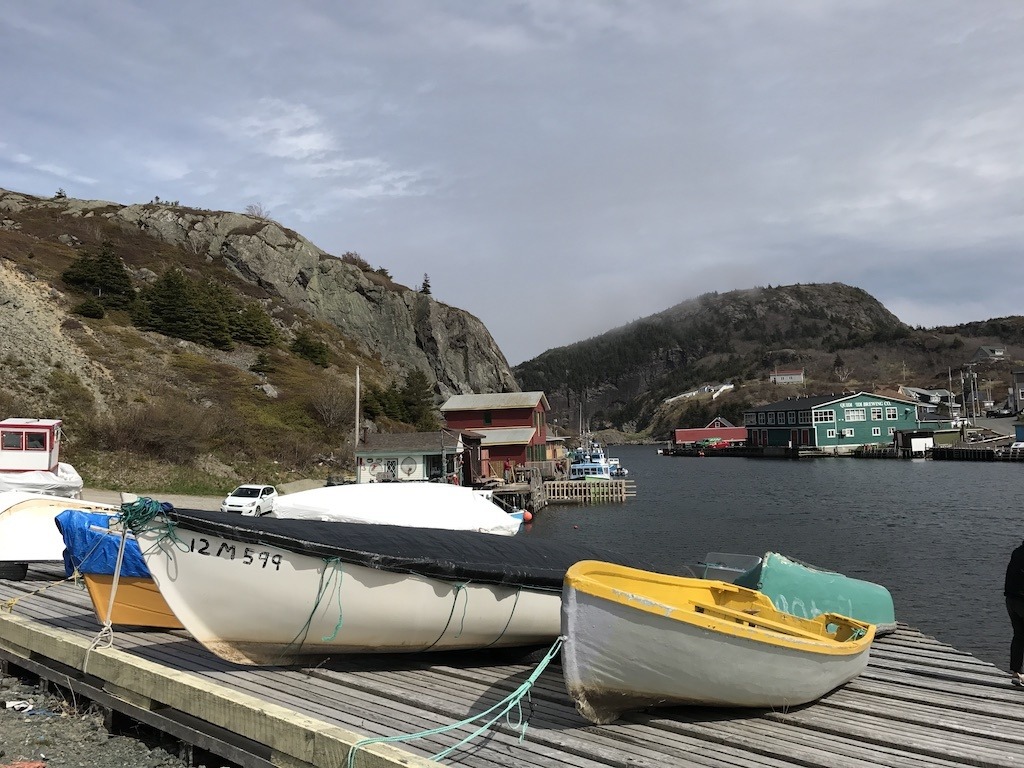 Port Rexton
Based on recommendations from some new Newfoundlander friends made in Quidi Vidi, we made another change to our accommodation plans and made our next stop the Fisher's Loft Inn in Port Rexton. Not only did we find it to be a lovely boutique hotel, but it was also the perfect location for a gorgeous coastal hike.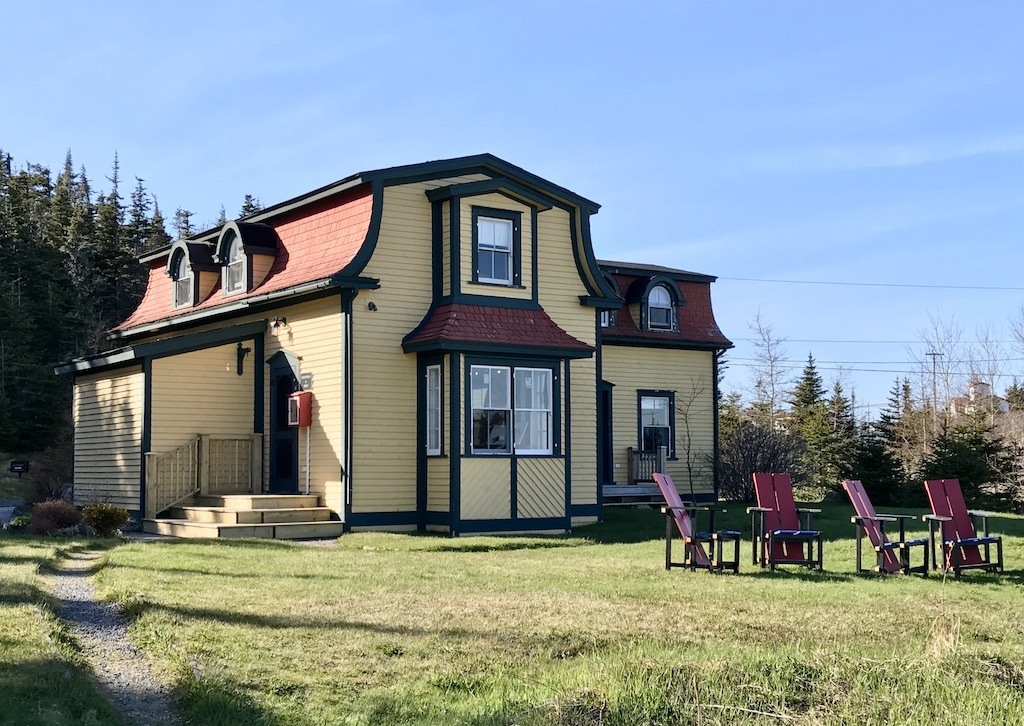 The Skerkwink Trail near Trinity and Port Rexton, is considered one of the top hikes in North America. The 5.3km coastal trail showcases beautiful sea views, sea stacks, and, depending on the time of year, sometimes even iceberg and whales. The trail is considered moderate to difficult. Learn more at NewfoundlandLabrador.com.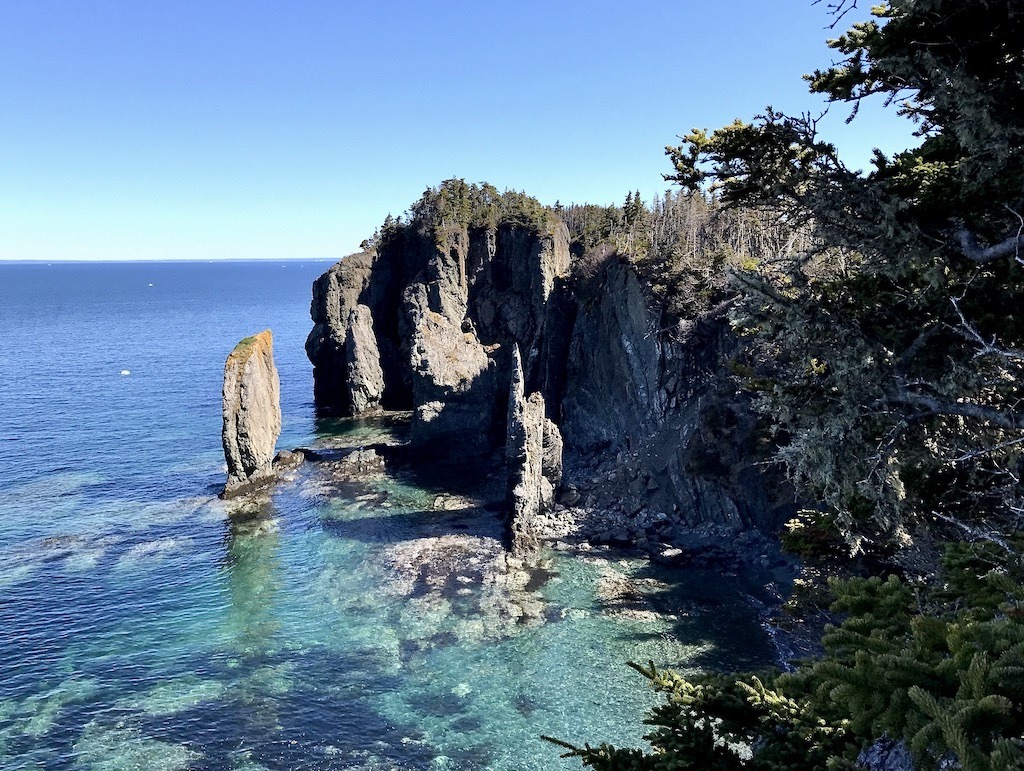 While the Fisher's Loft Inn is said to have wonderful food, we were tempted by another spot for dinner just a half hour drive to the north in Upper Amherst Cove on the Bonavista Peninsula.
The Bonavista Social Club did not disappoint and neither did the locale. It is a true farm-to-table operation where guests are encouraged to walk the gardens, check out the animals and take in the gorgeous views. (See Tripadvisor reviews.)
WHERE TO SEE MOOSE IN NEWFOUNDLAND – Newfoundland has quite an abundance of moose (more than 120K at last count). While sightings are common in Gros Morne National Park (not where we were headed), we were told that we might get lucky and see some at dusk on the Bonavista Peninsula. I am happy to report that on our drive back from the restaurant (between Upper Amherst Cove and Port Rexton), we had a fleeting glimpse of a large bull by the side of the road. Tick – moose in the wild off the list.
Twillingate
The following day, we drove several hours straight up to Twillingate. This is where our Newfoundland iceberg watching got real! Whenever we build a trip around a natural phenomena, I always have this worry that we won't see anything at all (like the elusive Northern Lights) – but Twillingate delivered ice in spades.
In Twillingate, we stayed the night in a salt box house. These cute little houses are dotted all around Newfoundland and are named after the shape of the salt boxes they resemble from the era in which they were originally built.
You can find many salt box houses on VRBO, but we booked ours (Daisy's House) through The Old Salt Box House Co.
Farewell
After our brief stay in Twillingate we drove to Farewell, Newfoundland to board the Change Islands Ferry to Fogo Island. To date, this is the most exciting (and slightly terrifying) ferry ride I have ever been on as the boat shook and shuddered its way through the ice covered ocean. I took my cue, however, from the locals who seemed to not be surprised or alarmed in the least.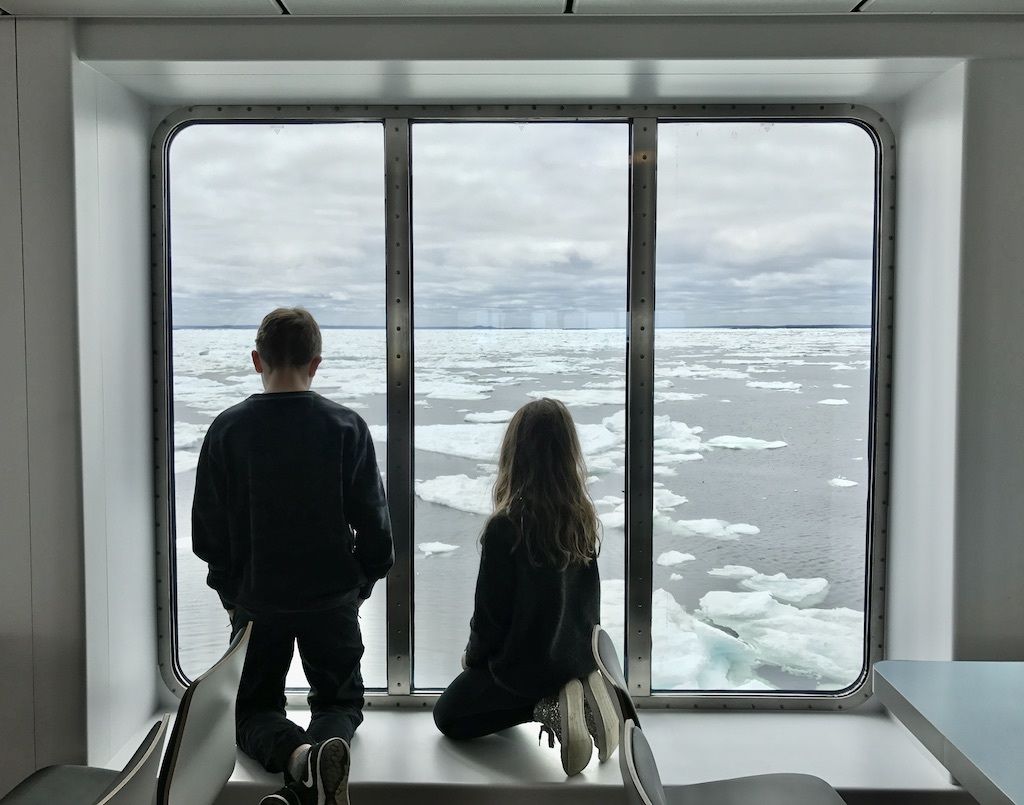 Interesting Place Names – Newfoundland has some of the most interesting and charming town names. In addition to a departure point called Farewell, how about Tickle Cove, Blow Me Down, Happy Adventure, Heart's Desire, Come by Chance, Seldom-Come-By and of course…Dildo (made even more famous by Jimmy Kimmel).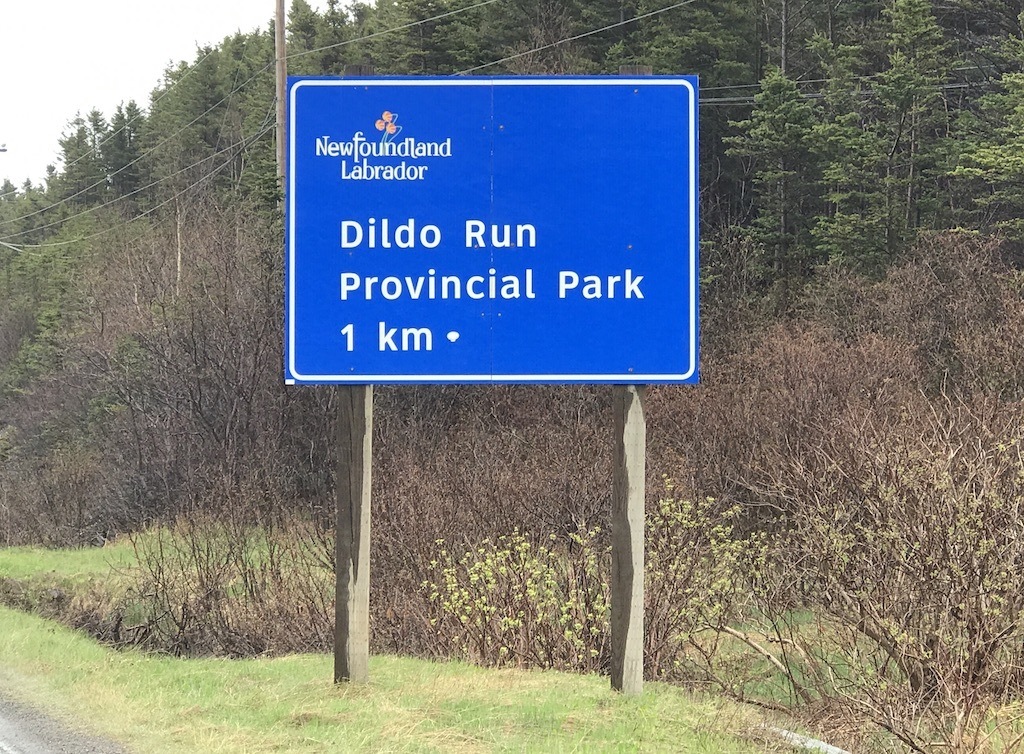 Fogo Island
I could go on at length about how much we loved both the Fogo Island Inn and Fogo Island itself. While I would absolutely go back at almost any time of year, visiting the island when it was surrounded by an ice covered ocean is one of my most treasured travel memories.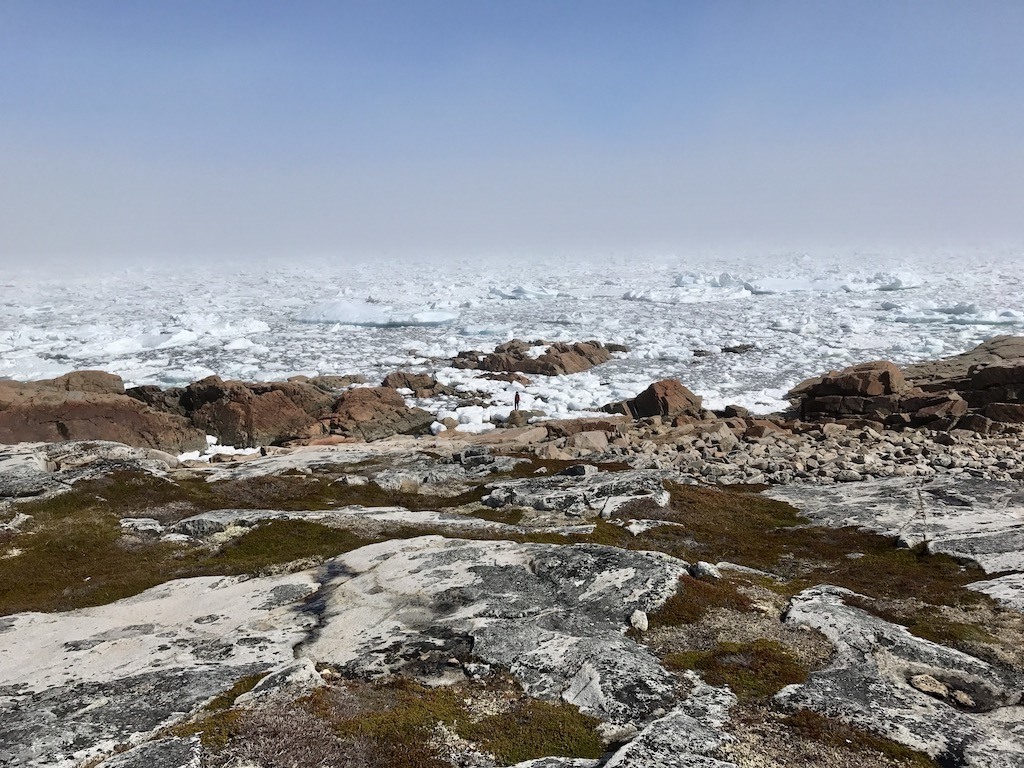 When we weren't completely mesmerized by the sea, we drove around the island popping into cute galleries and doing little hikes. On those hikes, you can get a peek at the four unique off-grid artist studios that are part of Fogo Island's international artists-in-residence program.
And if there are any Flat Earthers reading this, Fogo Island is definitely a must-visit for you. One little hike takes you to Brimstone Head, considered one of the corners of the world by the Flat Earth Society!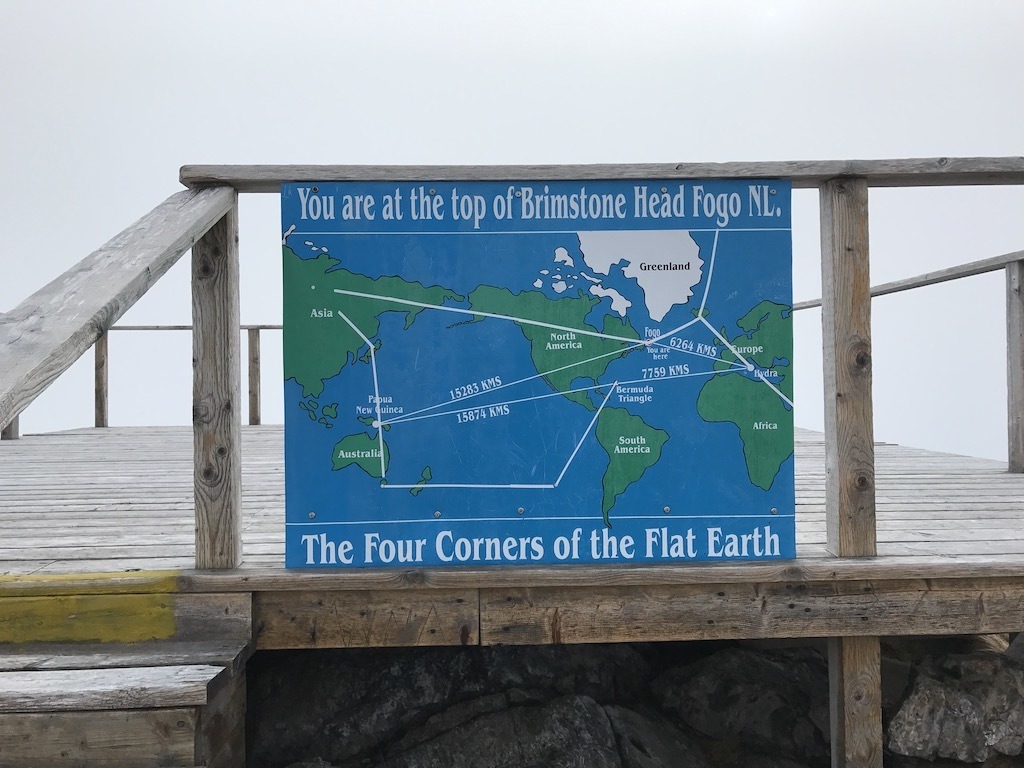 In addition to the Fogo Island Inn, there are some really sweet vacation rental homes on the island. Check out the Orange House or see these options on The Old Salt Box House Co website.
Note: It is also sometimes possible to visit the Fogo Island Inn as a non-guest. It is such an interesting building that it is definitely worth seeing. When available, reservations for the restaurant and tours can be booked by calling the front desk +1(709) 658-3444 or by emailing [email protected].
See also: Fogo Island & The Fogo Island Inn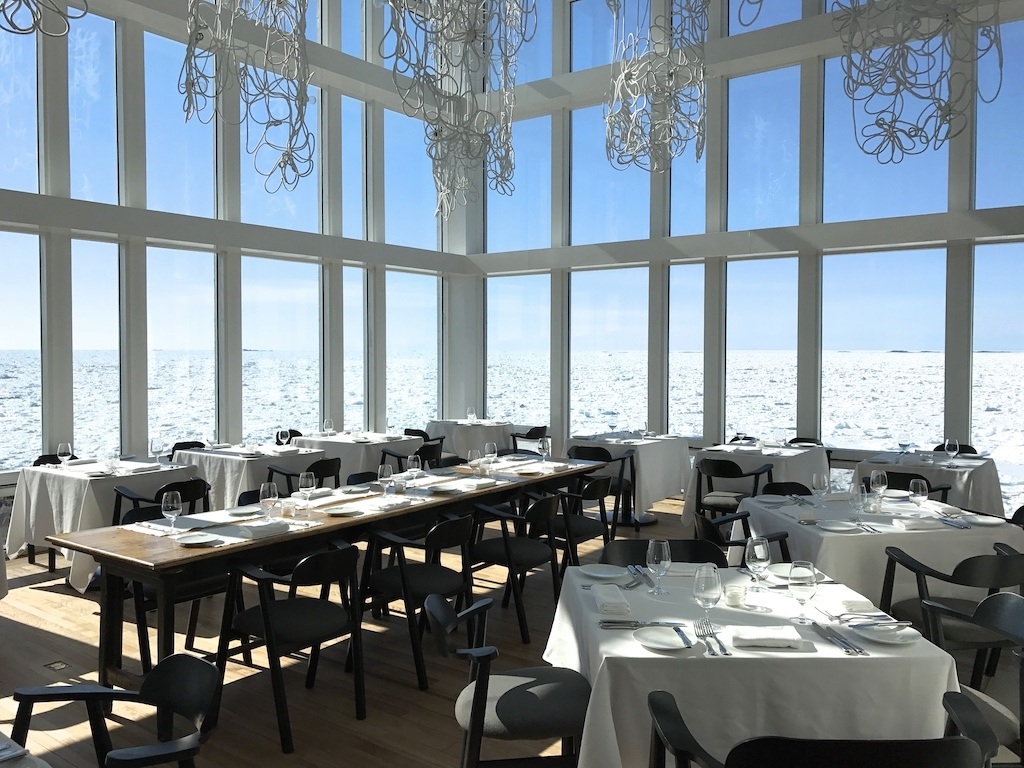 Gander
Our Newfoundland road trip journey ended in Gander. If you only have time to do one thing in Gander, I recommend the North Atlantic Aviation Museum (conveniently located only a 5 minute drive from the airport).
This museum showcases the important role that Gander has played in the history of air travel. Did you know, for example, that Gander Airport was once the largest airport in the world due to its important location as a fueling stop for the earliest trans-Atlantic flights?
Gander also played a very important supporting role after the tragic events of 9/11. The town cared for almost 6700 people from 42 planes over the course of several days. If you have time in your schedule, the Beyond Words Tour covers the events that transpired during those uncertain days (and gets great reviews).
More Information
Iceberg Tracker – Prior to our trip, I became fixated on tracking icebergs. You can follow them on IcebergFinder.com as well as sign up for iceberg email alerts.
The Weather in June – Newfoundland's weather can be very unpredictable, even in the late spring and summer. We had everything from a bit of frozen rain on Fogo Island to warm summer-like days (22C/72F) further south. Pack accordingly.
Renting a Car in Newfoundland – Rental cars are often in short supply during the summer months in Newfoundland. Be sure to reserve your rental car as soon as your plans are fixed.
Driving Tips – When we rented our car, we received a full page of additional instructions regarding moose. Basically moose on the road are a big issue and you should avoid driving at dawn and dusk if possible.
Related Posts
Please also feel free to reach out to me (Tara Cannon) directly in the comments, or message me on Instagram or Facebook. I love hearing from you.