Last update: December 13th, 2022 at 08:14 am


Manshausen, Norway Design Hotel
As long I have been traveling, I have been obsessed with unique hotels. Treehouses, design pods, teepees – you name it. The more remote, and the more difficult to get to – the better. When a property has a greater goal or purpose, however, such as endeavoring to make the world a better place through contributions in education, the local economy or environmental projects, then I am truly transfixed.
While researching unique places to stay in Norway, I stumbled across a gorgeous design hotel on Manshausen Island in Northern Norway. It reminded me a bit of another very unique hotel in Norway that we had missed out on during our last trip because it was fully booked – the beautiful Juvet Landscape Hotel.
Manshausen Island Resort was slightly out of the way in relation to our intended destination of the Lofoten Islands, but it seemed that it would be worthy of the extra effort. I managed to scoop up the last available cabin for a 2-night stay in July, and rejigged our itinerary to make it happen. Coincidentally, this opening happened to fall over my husband's birthday, helping me to justify the splurge, as it was definitely pushing our budget. (Who needs to eat?)
Manshausen Video
If you just want to take a quick peek, here is a 2 minute video of our Manshausen stay. Otherwise, read on to learn more about this magical place.
About Manshausen
Manshausen Island Resort consists of 55 private acres just a 5 minute speed boat ride from the tiny northern village of Nordskot. The resort is the first hotel project of renowned polar explorer Børge Ousland*. One of his goals in creating Manshausen was to help visitors connect with nature, which you can do in a multitude of ways.
Activities include hiking, kayaking, fishing, diving, caving, and rock climbing. Manshausen can also host groups in the winter, with the resort being a starting and ending point for ski touring trips by boat.
* If you want to feel like you have done almost nothing with your life, please read Børge Ousland's full bio here.
Manshausen Cabins
Manshausen Resort includes 7 cantilevered sea cabins as well as a dorm-style lodge for larger groups. Each sea cabin has a kitchen, a front bedroom with uninterrupted sea views, as well as a back bedroom with a bunk bed (perfect for families).
Breakfast is included in the stay and guests have the option of self-catering for lunch and dinner or eating in the main lodge. We chose the latter and very much enjoyed the seasonal, locally sourced fare (reindeer, halibut, salmon and more !).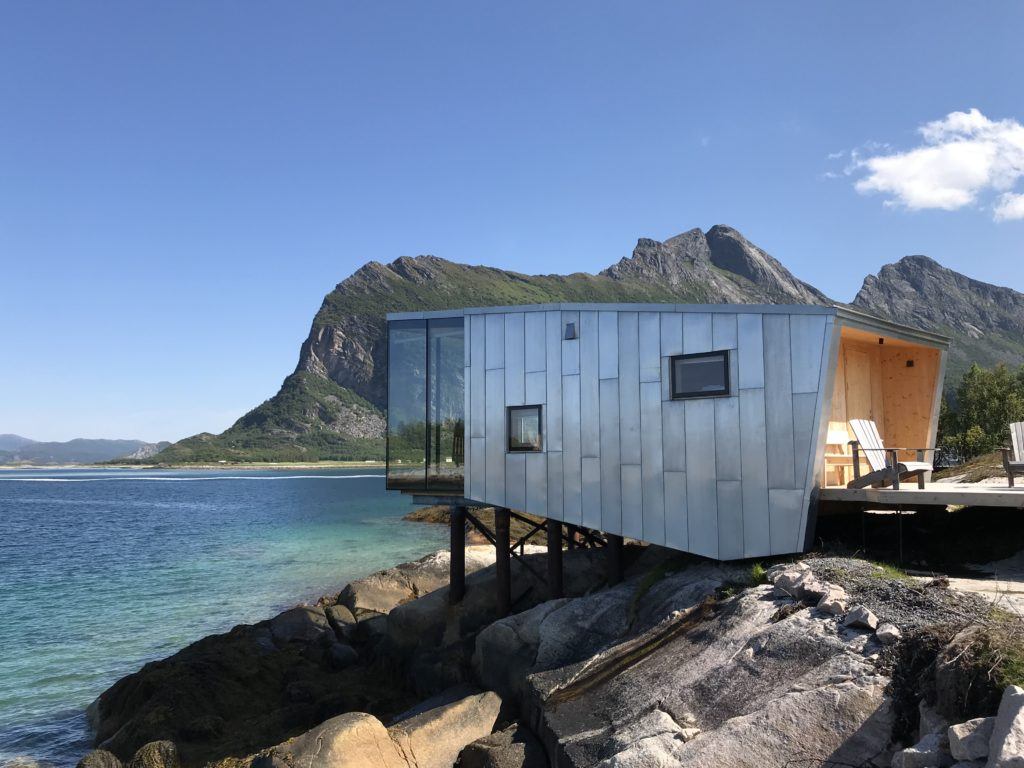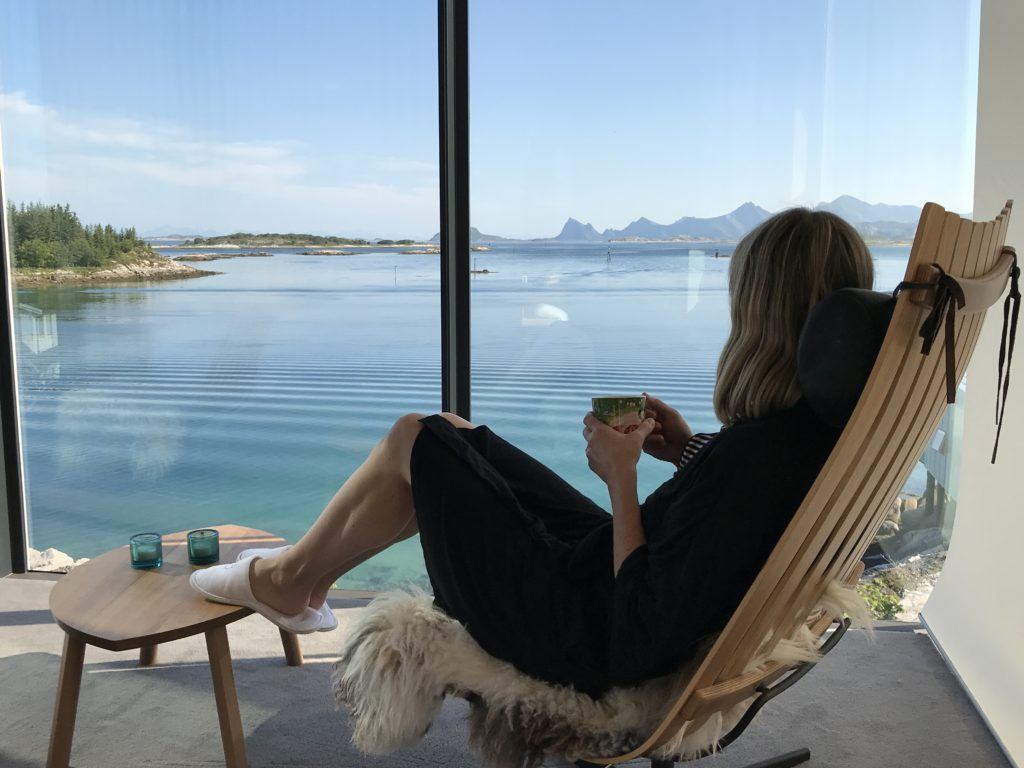 The Experience
While at Manshausen, we very much enjoyed exploring the island by foot, kayaking around in the crystal-clear waters, perusing the fabulous collection of books in the library, and staying up late with new friends to experience the Midnight Sun. During our July visit to Northern Norway, the sun would set around 12:30am, and then rise again about an hour later, with it never actually getting dark.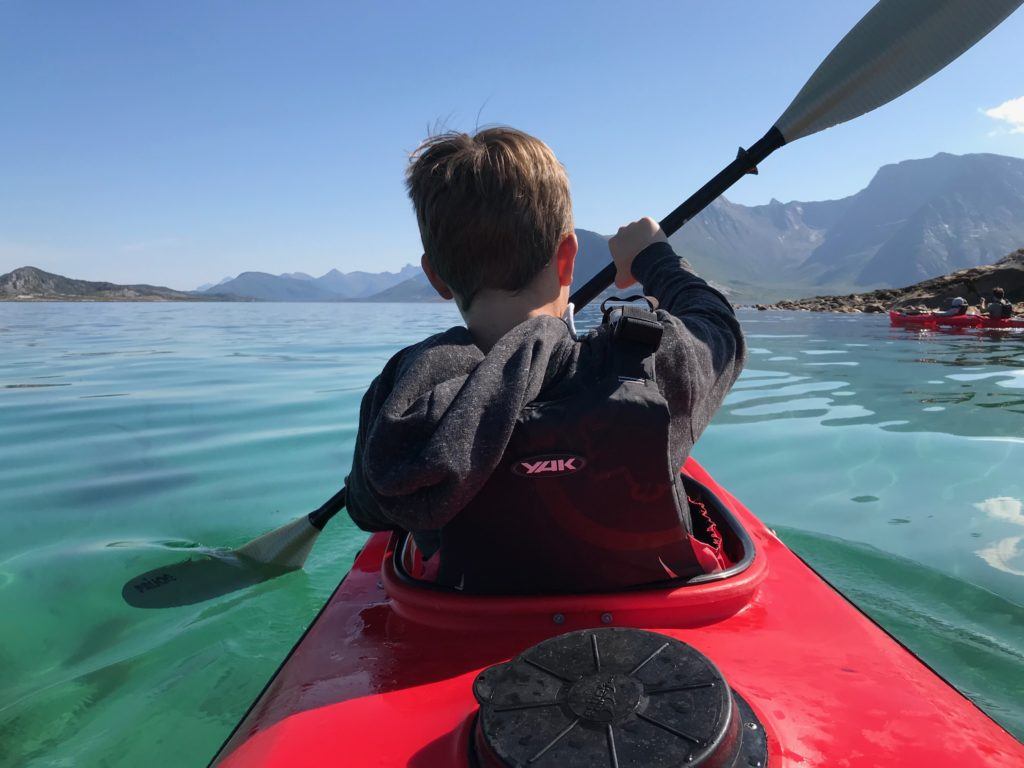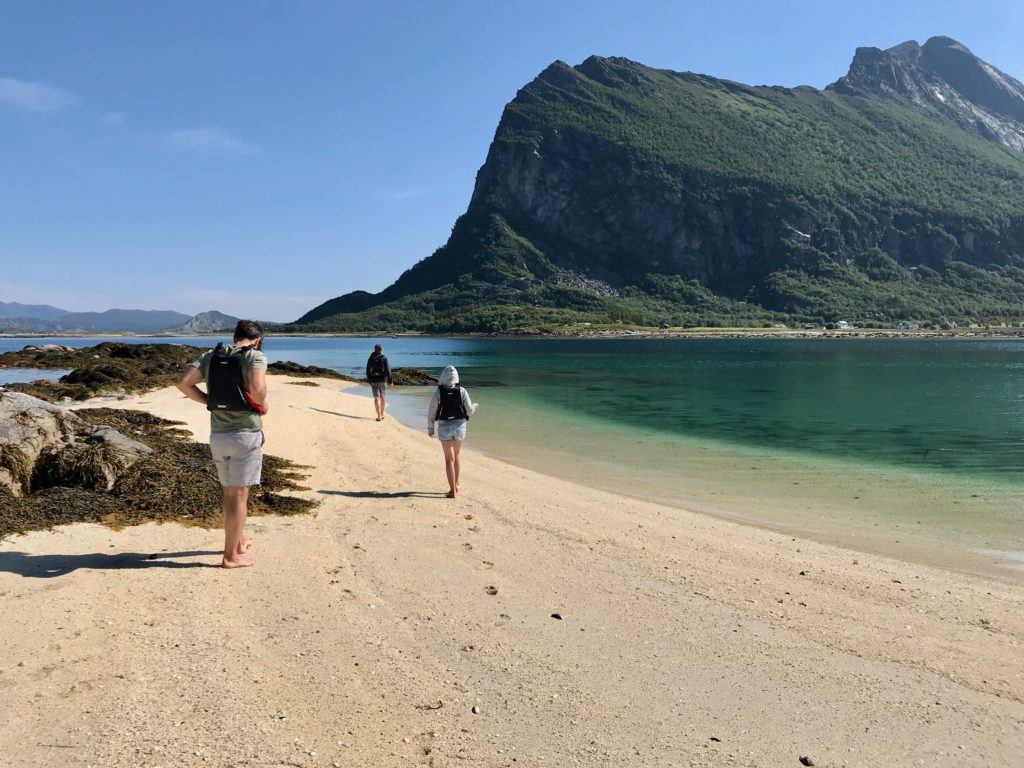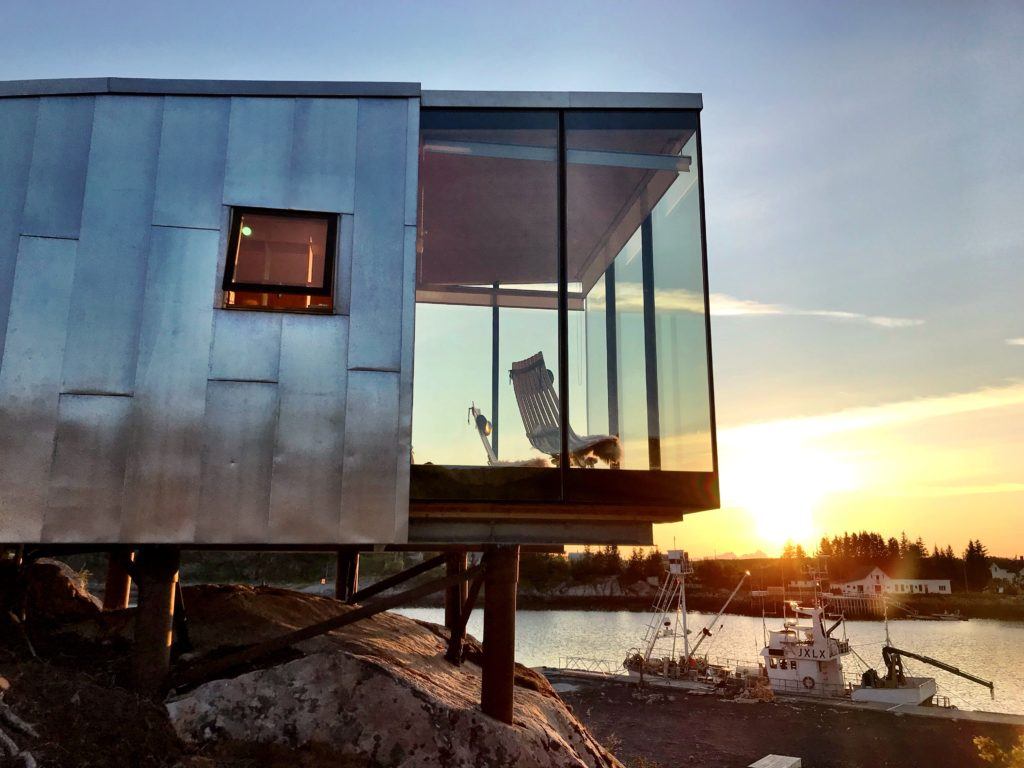 The Spa
Another highlight was making use of the beautiful sauna and sea water-fed plunge pond. We also booked the wood-fired hot tub one day for our own use. As someone who isn't a huge fan of sharing a hot tub with strangers, I appreciated that if you booked the hot tub (for a fee), they would fill and heat it just for your group.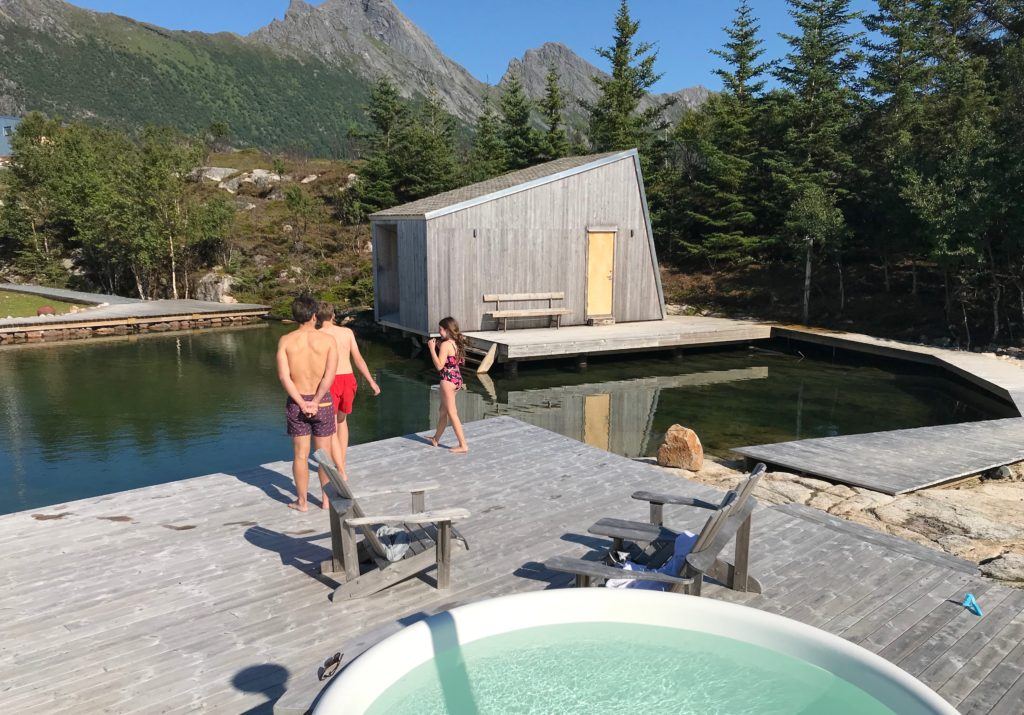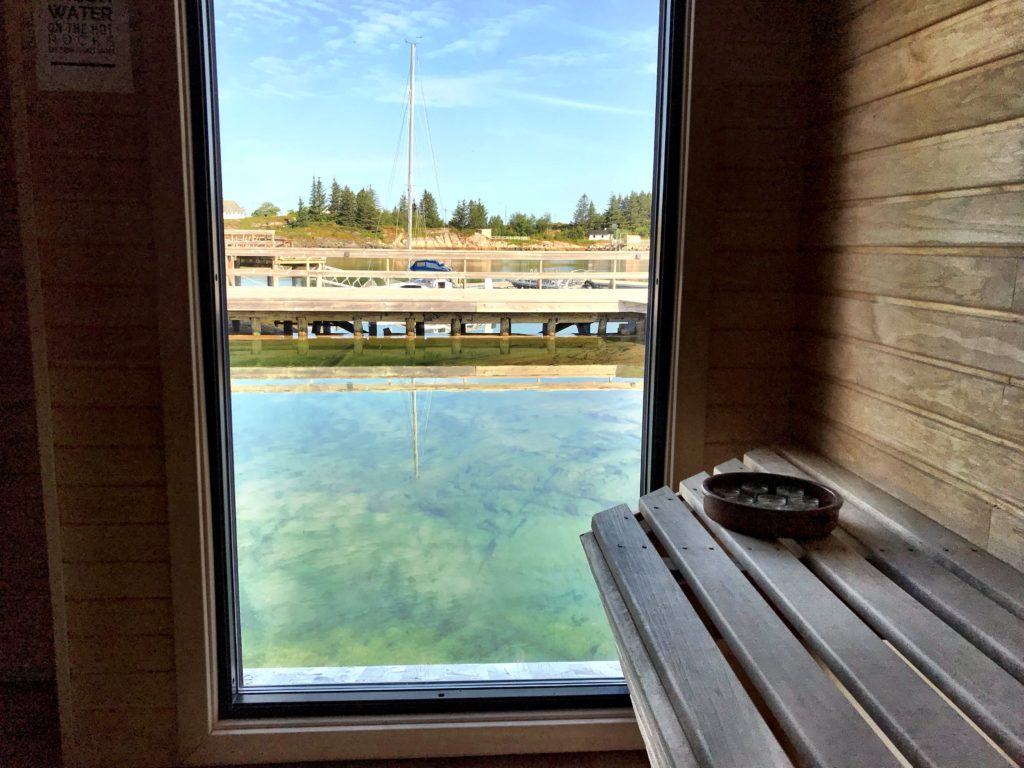 Manshausen for Families
While the resort would make for an amazing romantic retreat, I was also very surprised by how well they cater to families. It has been my experience, that at many design hotels, families are an afterthought. Well not at Manshausen. Upon arrival, co-manager Jesper Hansen made a point of encouraging my kids to go off and explore – to look for the sheep and their new lambs, to climb aboard the large ship that was being restored at the dock (carefully), and to try out the kayaks and row boats as a family.
Manshausen provided for us the kind of free-range travel experience that we absolutely love in Norway (few concrete rules – just expected common sense in parenting). We felt welcomed and valued at Manshausen and noticed several other families also enjoying the resort (with children from infants to teens).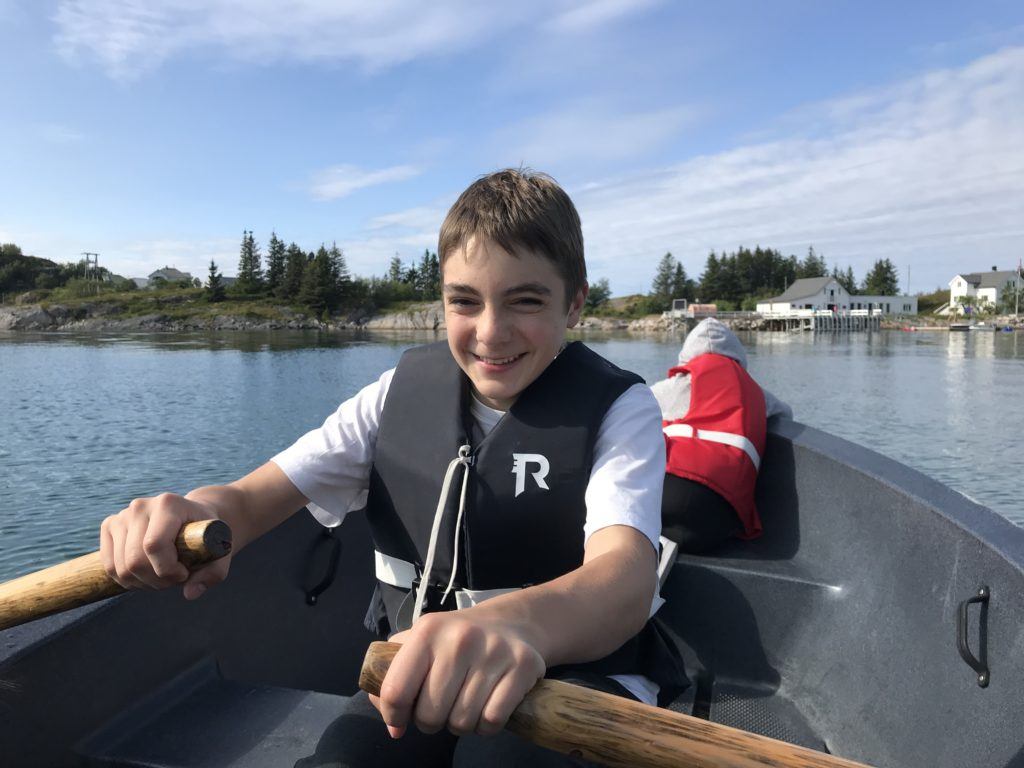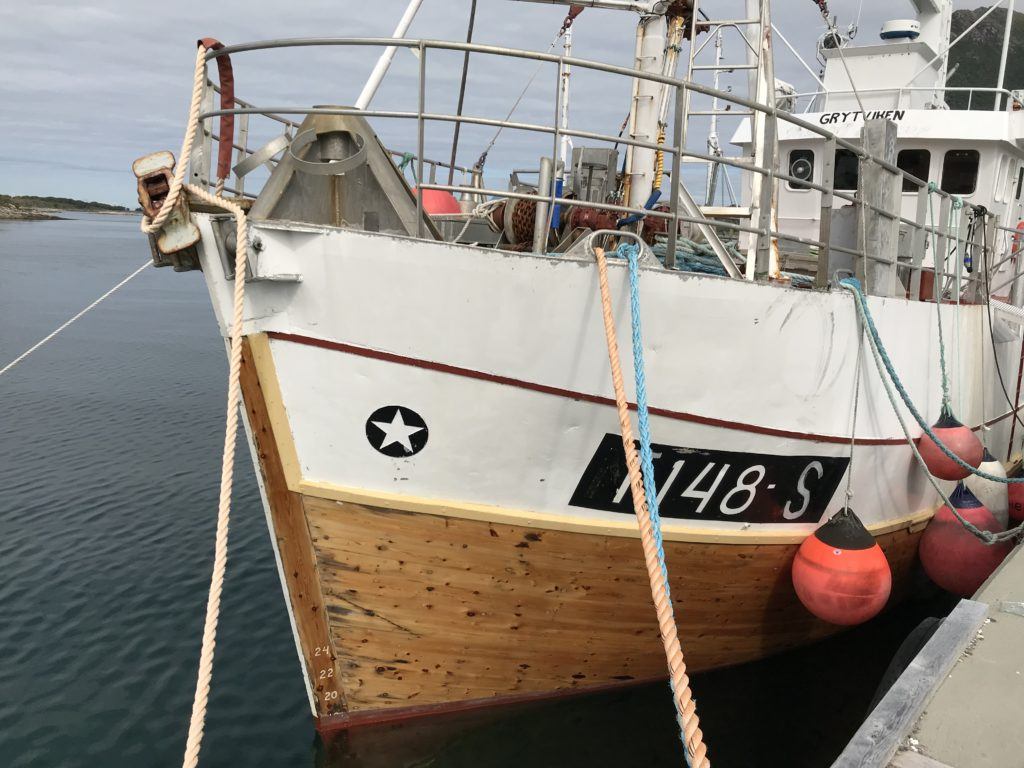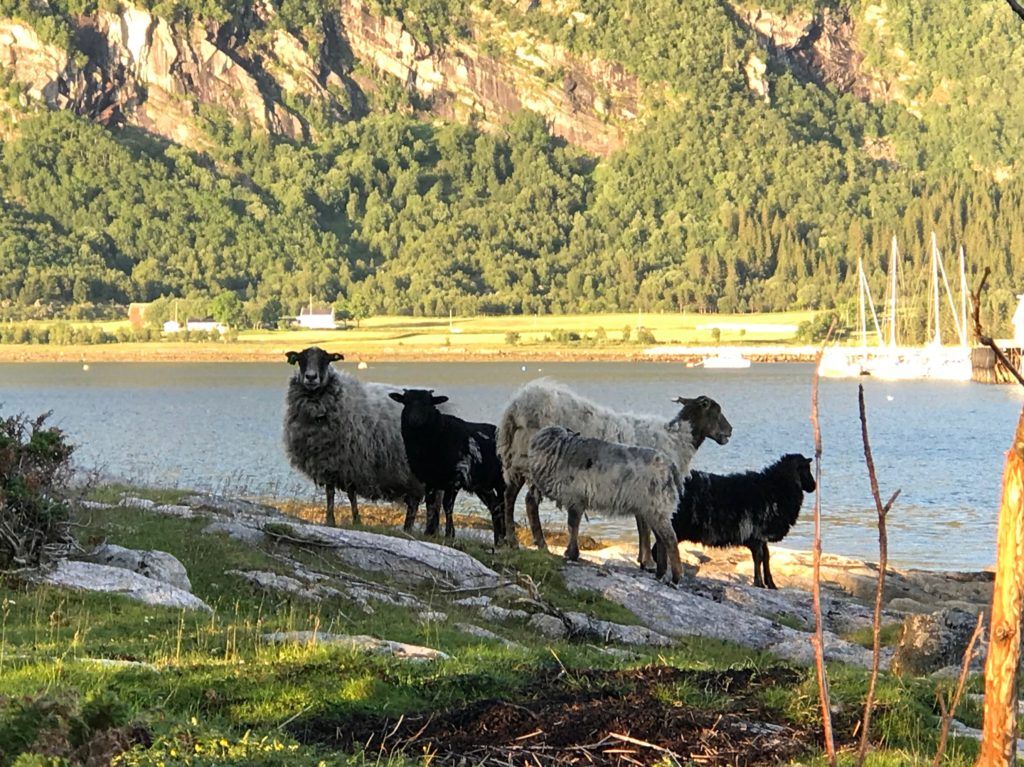 Tips for Visiting
Reserve Early: The sea cabins book way out. We had to work our whole trip around the only 2 open nights that we found available during our window.
Stay Longer: We stayed 2 nights, but would have loved to have stayed 3. It requires a bit of an effort to get there so you may as well settle in.
Bring Snacks: If you are not self-catering, I still recommend bringing some provisions such as some extra snacks and drinks. While you can always purchase things from the Manshausen kitchen, the bill will add up. There is a store at the dock in Nordskot where you are picked up by boat to take the short ride to Manshausen. You can even just kayak over if need be (when seas are calm).
Kids Meals: A kids' meal is offered for lunch and dinner but it is just a smaller version of the main meal. If you have a fussy eater, you may want to brings some food for them.
Disconnect: The sea cabins do not have WIFI but 3G is available in the main lodge. For us traveling with kids (who are often tempted by their devices), this was a selling feature.
Getting There
Most people get to Manshausen by first flying into Bodø and then taking the ferry or driving to the village of Nordskot. Once in Nordskot, you simply need to take the short (5 min.) boat transfer to Manshausen. Please see your options for driving or taking a ferry to Manshausen here.
Our route was slightly different. Prior to visiting, we had been on a driving trip through the Lofoten Islands. There is a passenger ferry that runs from the town of Svolvær (Lofoten) to Nordskot, but with a car, we were required to take the car ferry from Svolvær to Skutvit and then drive the two hours south to Nordskot.
Tip: If you are traveling throughout Norway by car in the summer, be sure to reserve your car ferries in advance online.
Learn More
Check rates for Manshausen Island on Booking.com and see current reviews on Tripadvisor.
Manshausen Map
Need to see where Manshausen actually is within Norway? Please see the following Google map.
Other Special Hotel Properties
We have been lucky enough to travel quite extensively and enjoy some other very unique hotel properties around the world. Here are our favorites:
More Norway Posts