Last update: June 10th, 2021 at 03:05 pm
Glamping in the Willamette Valley
I am never going to be a good camper. For the sake of my children, however, I have tried — 3 times, actually. The thing I can't get over, is the fact that a good night's sleep seems to elude me. I will also admit to a need for certain creature comforts while on holiday, such as plentiful hot water, nice toiletries, good coffee, and a decent chair to sit in.
That said, I do believe that camping is an important right of passage for kids, offering up a certain freedom that a hotel stay simply cannot. Perhaps that is why, while researching hotels in the Willamette Valley, I was so curious when I stumbled across The Vintages Trailer Resort in Dayton, Oregon. Holiday in Style, the website promised, by overnighting in one of almost 3 dozen unique trailers.
I was rather intrigued and eventually ended up booking an Airstream Bambi for our 2 night stay in Oregon Wine Country. Read on to learn more about our family Oregon glamping adventure.
About The Vintages Trailer Resort
With 34 thoughtfully restored vintage trailers (Airstreams, Westwoods, Neutrons, Shastas and more), The Vintages in Dayton, Oregon provides a very upscale trailer park experience. The well equipped and whimsically decorated units include such luxury touches as L'Occitane toiletries, plush terry robes and slippers, locally sourced coffee, high quality linens, cruiser bikes and more.
The resort has a small pool and hot tub, a gym, and a nicely curated General Store (basic provisions, Oregon wines, fun souvenirs and party games).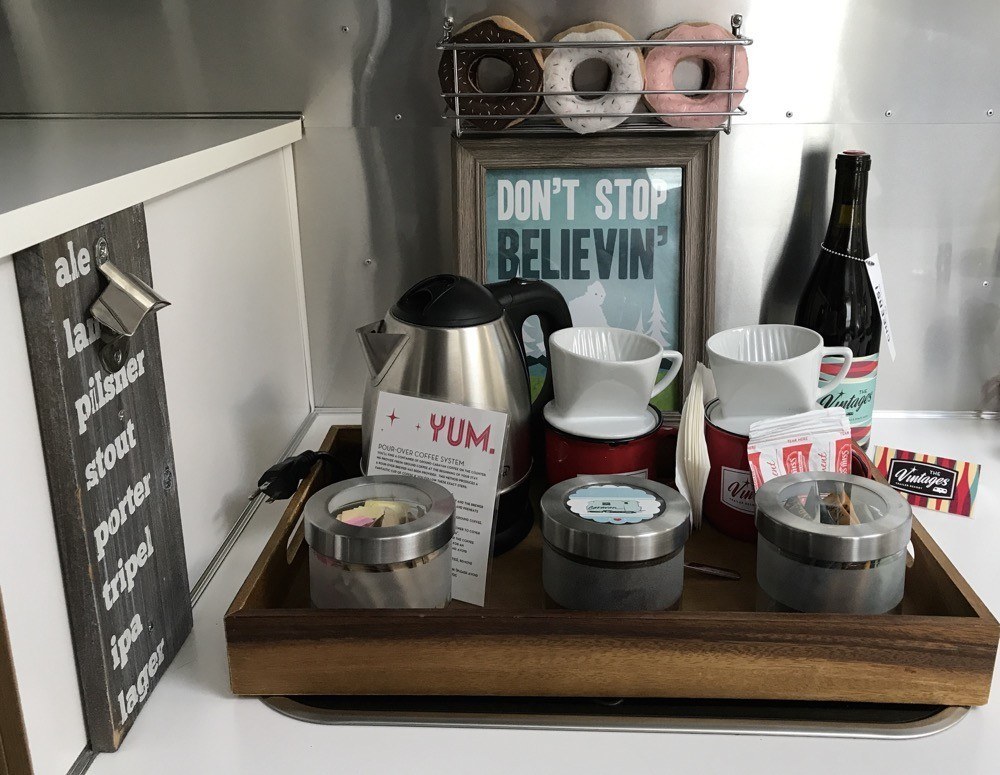 What Makes The Vintages Trailer Resort Special?
One of the really nice things about The Vintages, is the fact that if you were simply looking for a short Oregon getaway, you could almost just show up with your clothes and be set. The trailers have pretty much everything you need including a gas BBQ, microwave, fridge, dishes and silverware, and even a flat screen TV. Celebrating something? Add the Rose all Day pink flamingos package.
Too tired to cook dinner? Add the Pizza and Pints package. Don't want to worry about breakfast? Book the Rise and Shine BBQ breakfast casserole and mimosa package.
We found The Vintages to be a great experience for kids. Mine loved biking around on the cruiser bikes, swimming in the pool, watching the free Saturday night outdoor movies and making s'mores under the stars. They spent so much time outside, that they didn't realized there was a TV in the Airstream until we were leaving.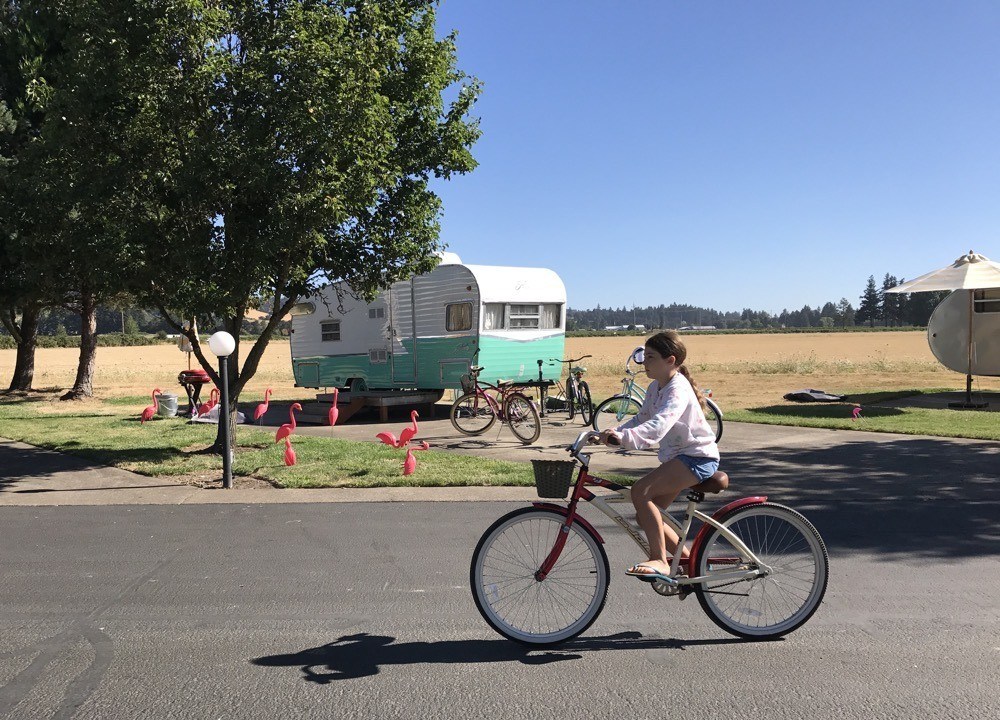 What's New at The Vintages Trailer Resort
Update 2019
Having just returned from another Willamette Valley family vacation where we once again stayed at The Vintages, we noticed a few nice upgrades.
The public shower facilities by the pool had been freshly renovated.
The were 3 lovely new fire pits. They are perfect for toasting s'mores over. Kits can be bought at the store for $15. (These are delicious gourmet s'mores with nice chocolate).
Where is this Oregon Trailer Park for Glampers?
The Vintages is conveniently located in the heart of Oregon Wine Country between McMinnville and Dundee, making it a great base from which to do some wine tasting. During our stay, we enjoyed some delicious sips at Argyle Winery's gorgeous new tasting room in nearby McMinnville.
Many of the local wineries have nice picnic areas, so grab your provisions at Dundee's Red Hills Market and set out for a great day. Alternatively, The Vintages also has their own picnic-to-go package.
Confession: Wine tastings are excruciatingly boring for kids, so after we had exhausted all the books and games in our bag of tricks, we allowed our kids to play video games on their person devices. Please don't judge — we are from Canada and many of these gorgeous wines are not easily found in our homeland.
Helpful Tips When Booking The Vintages
Tip #1: There are 34 vintage trailers on the property. Odd numbered trailers back on to a picturesque field (my preference). The higher the number, the further away you are from the gym, pool, store and bypass (which can be a little noisy).
We loved staying in the Airstream Bambi right at the end (#31) next to our friends staying in the Shasta (#29). Most of the trailers are suitable for 2 or 3 people, but several can squeeze in two adults and two kids (or 1 adult and 3 kids), especially if the kids don't mind bunking together. Options include the Airstream Bambi (#31), the Westwood (#5), the Vegabond (#19) the Boles Aero (#27) and the Airstream Overlander 2 (#33). In October 2018 The Vintages will be adding the Spartan Mansion that will be suitable for 2 couples or a family.
Tip #2: Be clear on what your trailer has in terms of bathroom facilities (no toilet was a deal breaker for our group). While ours also had a shower, in the end we actually chose to use the communal showers at the pool because it was just easier (and the hot water more plentiful than in the trailers).
Tip #3: If you can manage a weeknight visit, the rates are much cheaper.
For more information: Please see current rates or TripAdvisor reviews for The Vintages.
Further reading: If you are traveling with kids, you may find this post useful: Willamette Valley Wine Country: Perfect Day for Foodies and Families
Related Posts