Glamping in Oregon – The Vintages Trailer Resort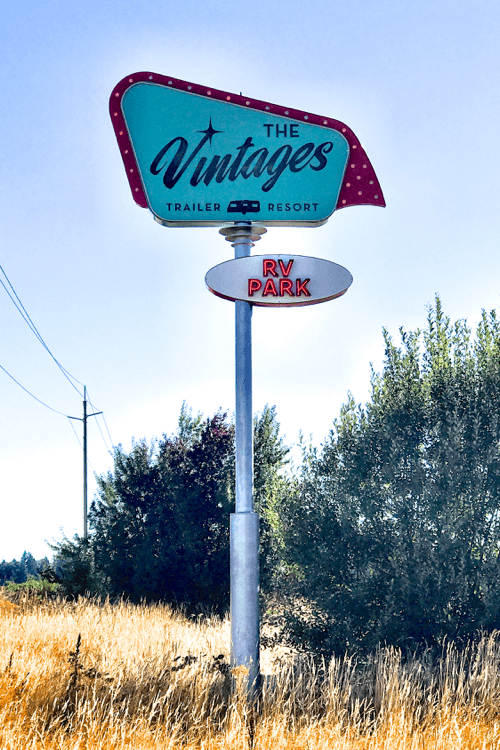 I am never going to be a good camper. For the sake of my children, however, I have tried — 3 times, actually. The thing I can't get over, is the fact that a good night's sleep seems to elude me. I will also admit to a need for certain creature comforts while on holiday, such as plentiful hot water, nice toiletries, good coffee, and a decent chair to sit in. That said, I do believe that camping is an important right of passage for kids, offering up a certain freedom that a hotel stay simply cannot. Perhaps that is why, while researching hotels near McMinnville, Oregon, I was so curious when I stumbled across The Vintages — a kitschy retro trailer resort. Holiday in Style, the Vintages tagline promised. I was rather intrigued and eventually ended up booking an Airstream Bambi for our 2 night stay in Oregon Wine Country. Read on to learn more about our family glamping adventure.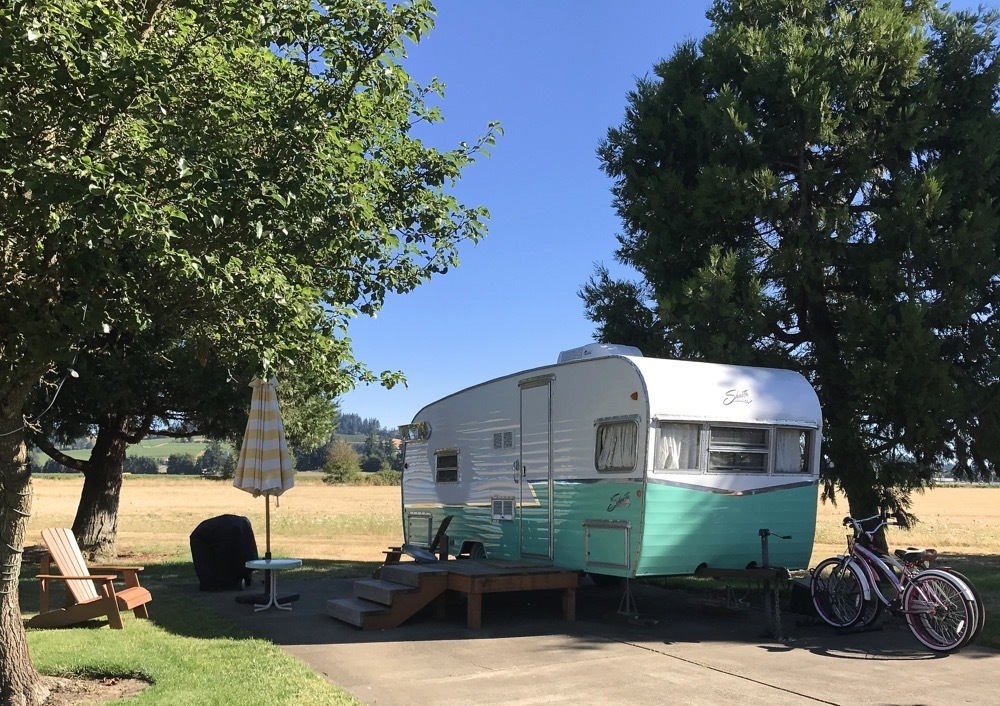 About The Vintages Trailer Resort
With 31 lovingly restored vintage trailers (Airstreams, Westwoods, Neutrons, Shastas and more), The Vintages provides an upscale trailer park experience. The well equipped and whimsically decorated units include such luxury touches as L'Occitane toiletries, plush terry robes and slippers, locally sourced coffee, high quality linens, cruiser bikes and more. The resort has a small pool and hot tub, a gym, a communal clubhouse (that can be reserved for special events) and a nicely curated General Store (basic provisions, Oregon wines, fun souvenirs and party games).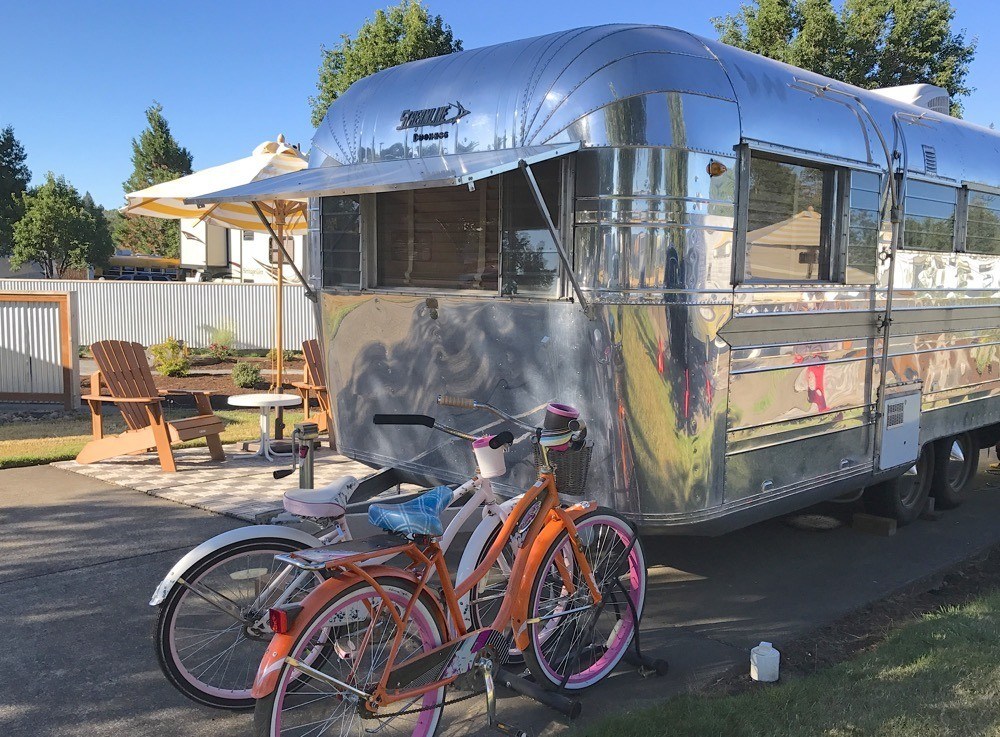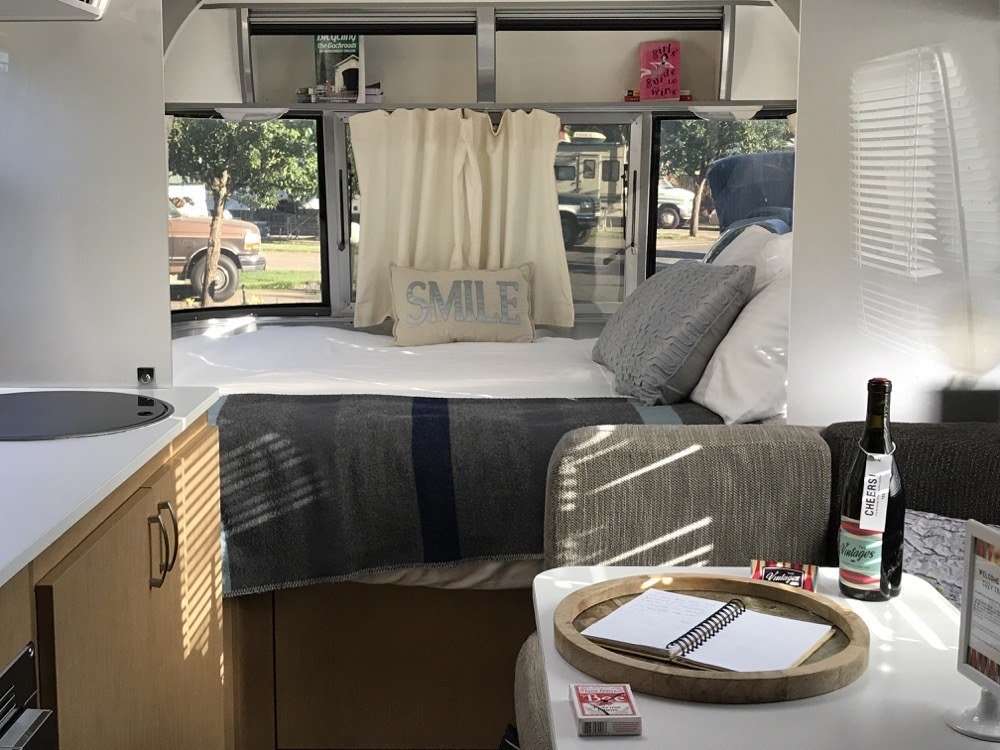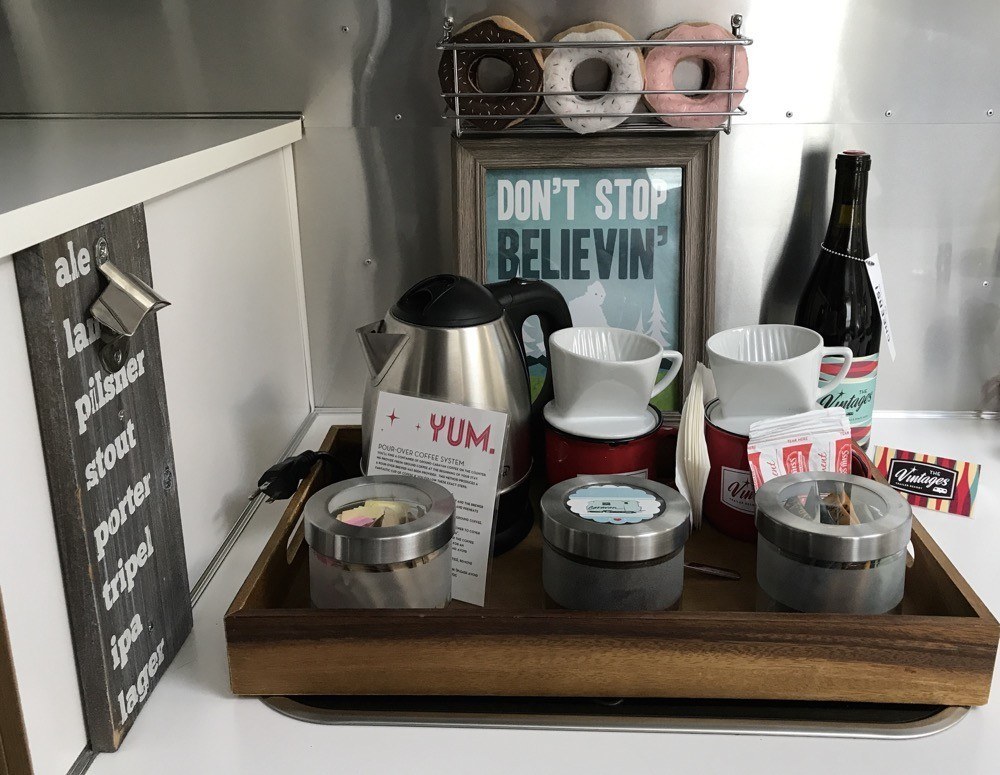 What Makes The Vintages Special?
One of the really nice things about The Vintages, is the fact that if you were simply looking for a short Oregon getaway, you could almost just show up with your clothes and be set. The trailers have pretty much everything you need including a gas BBQ, microwave, fridge, dishes and silverware, and even a flat screen TV*. Celebrating something? Add the Flock it to Me pink flamingos and champagne Shirley Temple package. Too tired after yesterday's overzealous Oregon pinot tastings to make breakfast? Book the Rise and Shine BBQ breakfast casserole and mimosa package. Don't feel like cooking dinner? Grab a cruiser bike and ride over the little wooden bridge into the town of Dayton where you will find several well reviewed restaurants.
*We spent so much time outside, that honestly I didn't even realize there was a TV in the room until my kids mentioned it while I was writing this post. We never turned it on as the kids spent most of the time riding around the property on the cruiser bikes.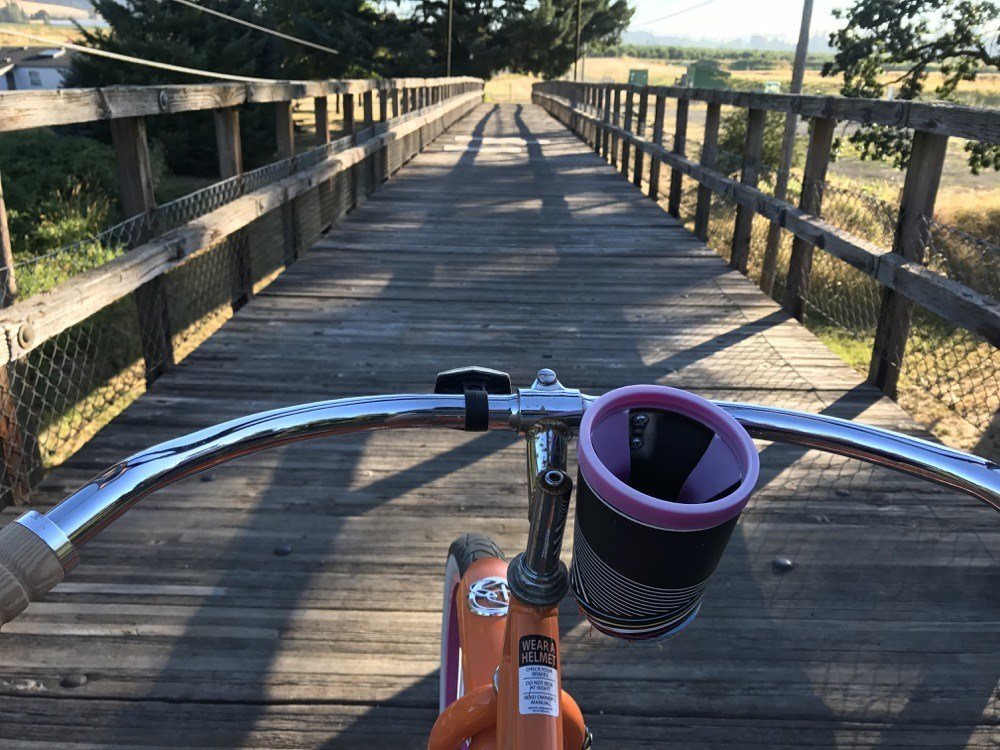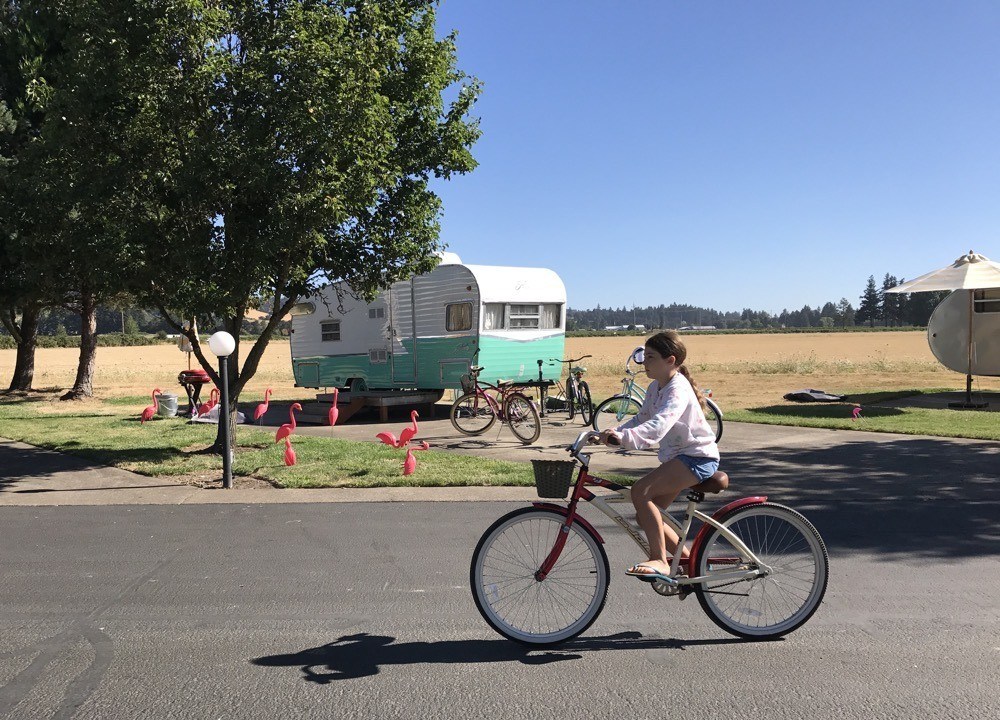 Where is this Oregon Trailer Park for Glampers?
The Vintages is conveniently located in the heart of Oregon Wine Country between McMinnville and Dundee, making it a great base from which to do some wine tasting. During our stay, we enjoyed some delicious sips at Argyle Winery's gorgeous new tasting room in nearby McMinnville. Many of the local wineries have nice picnic areas, so grab your provisions at Dundee's Red Hills Market and set out for a great day. Alternatively, The Vintages also has their own picnic-to-go package.
Confession: Wine tastings are excruciatingly boring for kids, so after we had exhausted all the books and games in our bag of tricks, we allowed our kids to play video games on their person devices. Please don't judge — we are from Canada and many of these gorgeous wines are not easily found in our homeland.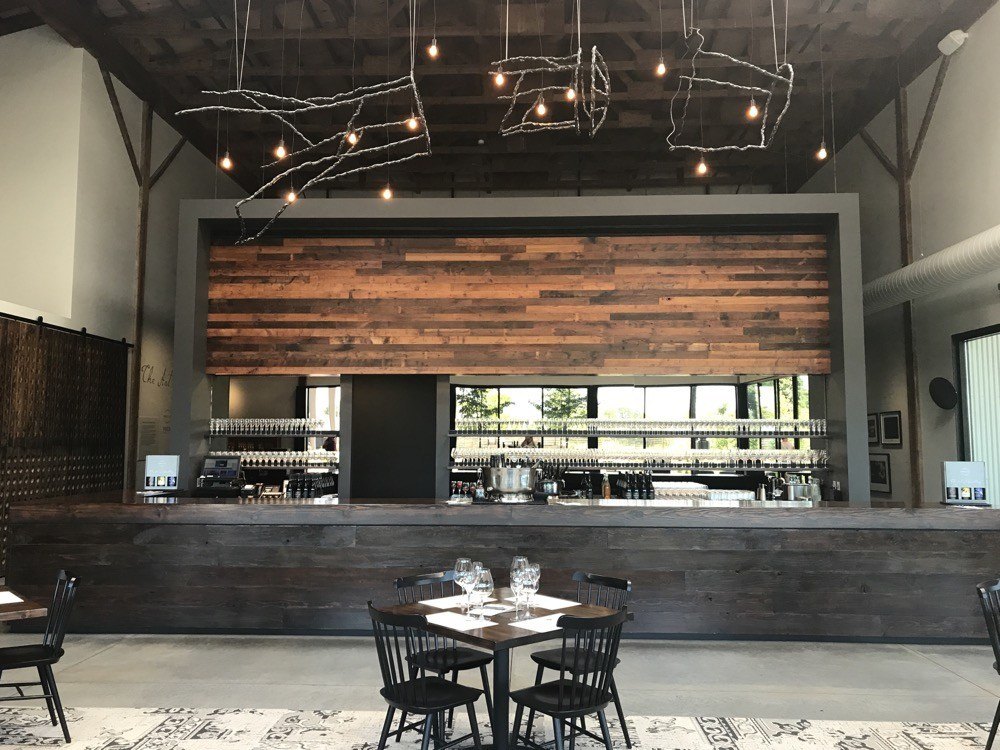 Helpful Tips When Booking The Vintages
Tip #1: There are 31 vintage trailers on the property. Odd numbered trailers back on to a picturesque field (my preference). The higher the number, the further away you are from the clubhouse, pool, store and bypass (which can be a little noisy). We loved staying in the Airstream Bambi right at the end (#31) next to our friends staying in the Shasta (#29).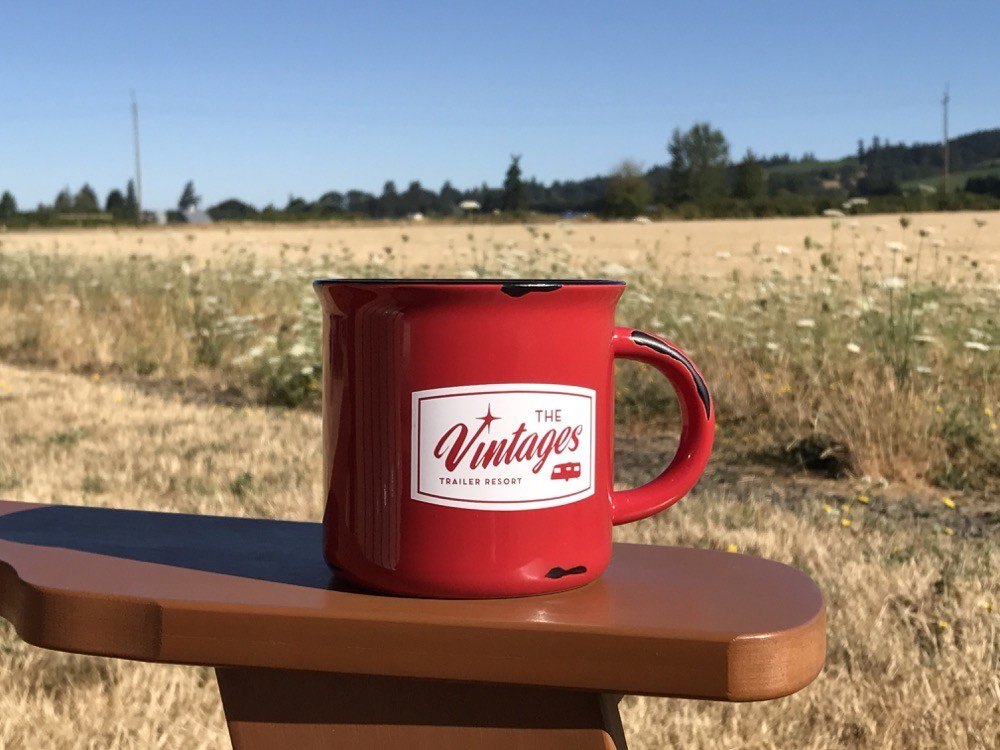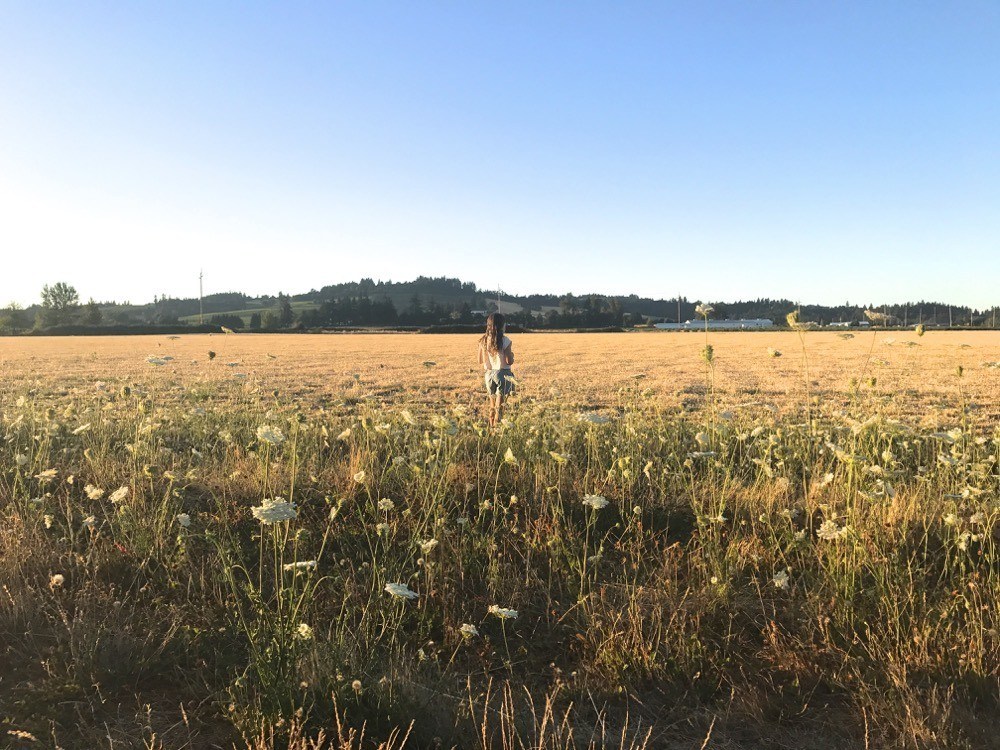 Tip #2:  Be clear on what your trailer has in terms of bathroom facilities (no toilet was a deal breaker for our group). While ours also had a shower, in the end we actually chose to use the communal showers at the pool because it was just easier (and the hot water more plentiful than in the trailers).
For more information: https://www.the-vintages.com. Rates start at $95 USD/night.
Further reading: If you are traveling with kids, you may find this post useful: Willamette Valley Wine Country: Perfect Day for Foodies and Families
Disclosure: We were welcomed with a complimentary stay at The Vintages Trailer Resort. All opinions are entirely my own. In addition to reading this post, as always on this site, I encourage you to also read current reviews for The Vintages Trailer Resort on Tripadvisor.
We are a participant in the Amazon Services LLC Associates Program, an affiliate advertising program designed to provide a means for us to earn fees by linking to Amazon.com and affiliated sites. If you choose to purchase something from Amazon, no extra cost will be incurred by you. For more information, please see our Terms of Use and Privacy Policy. Thank you very much for your understanding and support of Pint Size Pilot.
You May Also be Interested in the Following Posts:
Top 10 Things to do in Portland with Kids
McMenamins Kennedy School Hotel Portland
A Guide to Cannon Beach, Oregon with Kids
A Guide to Astoria, Oregon with Kids
Glamping in an Oregon Treehouse