Last update: September 8th, 2022 at 09:12 am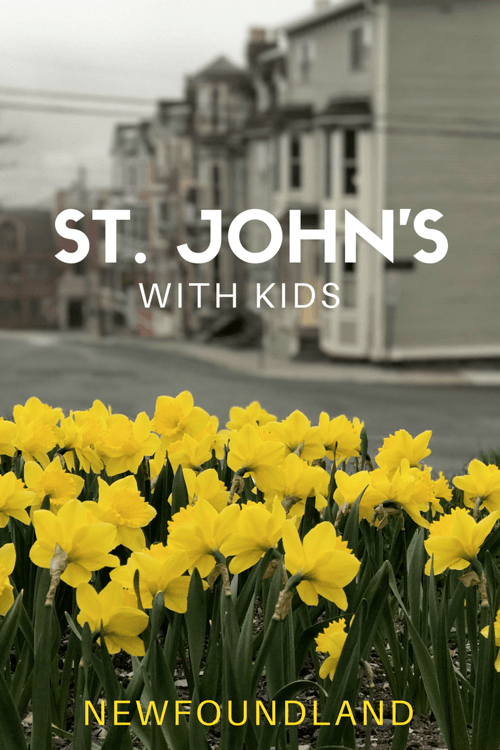 St. John's, Newfoundland with Kids – Intro

A record year for iceberg viewing off the coast of Newfoundland had me scrambling to find flights to Canada's easternmost province. Our Newfoundland road trip itinerary would eventually include many small towns and villages such as Quidi Vidi, Trinity, Twillingate and Fogo, but our natural first stop was Newfoundland's capital city of St. John's.
Settled by the British in the 1600s, this port city is steeped in Canadian history and makes for a great place to start a Newfoundland travel adventure. It also happens to be a very welcoming city to families, so we set out to discover the top things to do in St. John's, Newfoundland with kids. Here's what we found!
Want a quick peek at our Newfoundland road trip first? Check out this 2 min. video.
1. The Rooms
Part archives, part art gallery and part museum, this lively exhibition space highlights the history, arts and culture of Newfoundland and Labrador. Kids will love getting hands-on with real specimens in the Nature Nook, and participating in various special activities for children such as arts and crafts and fly fishing demonstrations (see their Special Events page). The Rooms Cafe has one of the best views of the city of St. John's, gets good reviews for their food, and even has a kids' menu.
Learn more at https://therooms.ca.
2. Cape Spear Lighthouse and National Historical Site
Cape Spear is the site of Newfoundland's oldest standing lighthouse and happens to be situated on the most easterly tip of North America. From the jagged clifftop, you might get lucky and catch a glimpse of an iceberg floating by the coastline (late spring/ early summer) humpback whales and porpoises (summer).
Check out their family friendly summer programming including songs and s'mores around the campfire. Learn more on the Parks Canada Cape Spear webpage.
3. Quidi Vidi
Explore the wee harbourside village of Quidi Vidi. Take the short hike up the trail on the east side of Quidi Vidi lake which offers beautiful views of the town and the sweeping scape of the North Atlantic (icebergs, whales, seabirds and more).
Quidi Vidi also happens to be home to the Mallard Cottage, one of St. John's top restaurants. If possible, book a table for their popular Sunday Brunch (with live music) or Monday evening Lobster Boil. See our complete guide to Quidi Vidi here.
Note: On our trip to St. John's, Newfoundland with kids, we ended up booking a very last minute stay at the Mallard Cottage after spending one night in town. We consider it to be one of the best boutique hotels in Canada and would love to visit again.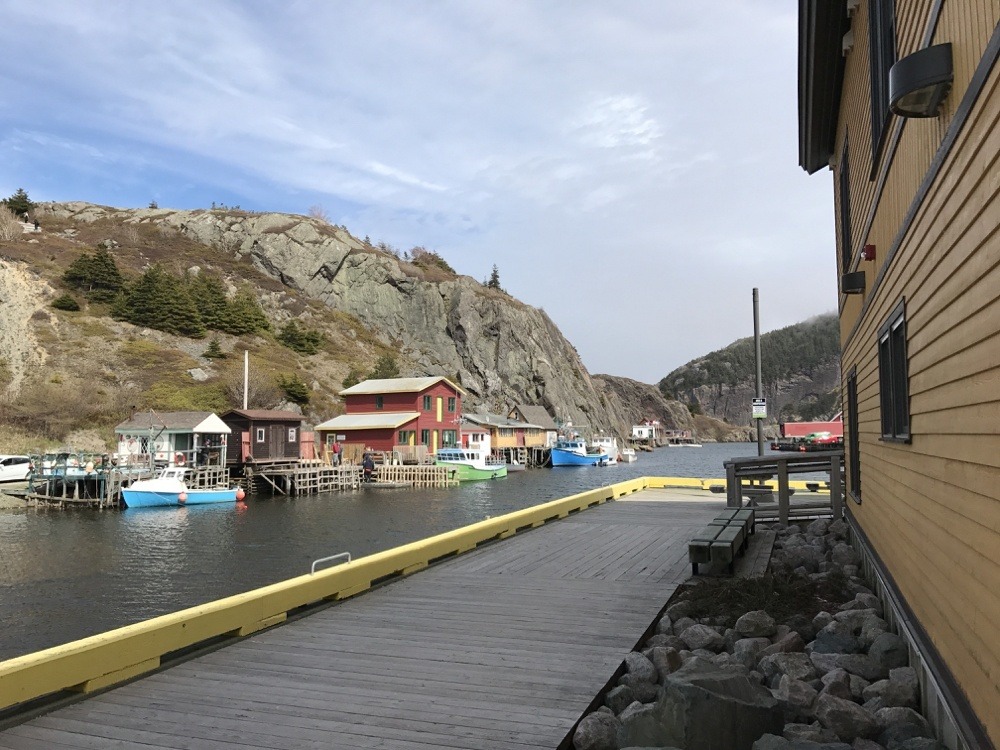 4. Signal Hill and the Cabot Tower
Not only was Signal Hill a strategic defense location for the St. John's harbour back in the 17th century, but is was also the spot where Guglielmo Marconi received the world's first transatlantic wireless signal.
Time your visit with the firing of the Noon Day Cannon (a tradition that goes back to the 1800s), watch the performances of the Signal Hill Tattoo, explore the Cabot Tower and enjoy gorgeous scenery from several coastal hiking trails.
Learn more on the Parks Canada Signal Hill webpage.
5. Johnson Geo Centre
Located on the same site as Signal Hill, the Johnson Geo Centre is home to exhibits focusing on Newfoundland's geology, oil and gas exploration, natural resources, space exploration, and the Titanic disaster. Other features include an educational area for children, a 3D movie theatre, a gift shop, and a seasonal café.
Learn more at https://www.geocentre.ca.
St. John's – Hotels and Accommodations
Hotels in St. John's, Newfoundland
Finding a family-friendly hotel in St. John's, Newfoundland proved a little more challenging than expected. The city accommodation options are primarily dominated by large chain hotels. They can be surprisingly pricey in the summer months and often require the purchase of two rooms for a family of more than 3 people.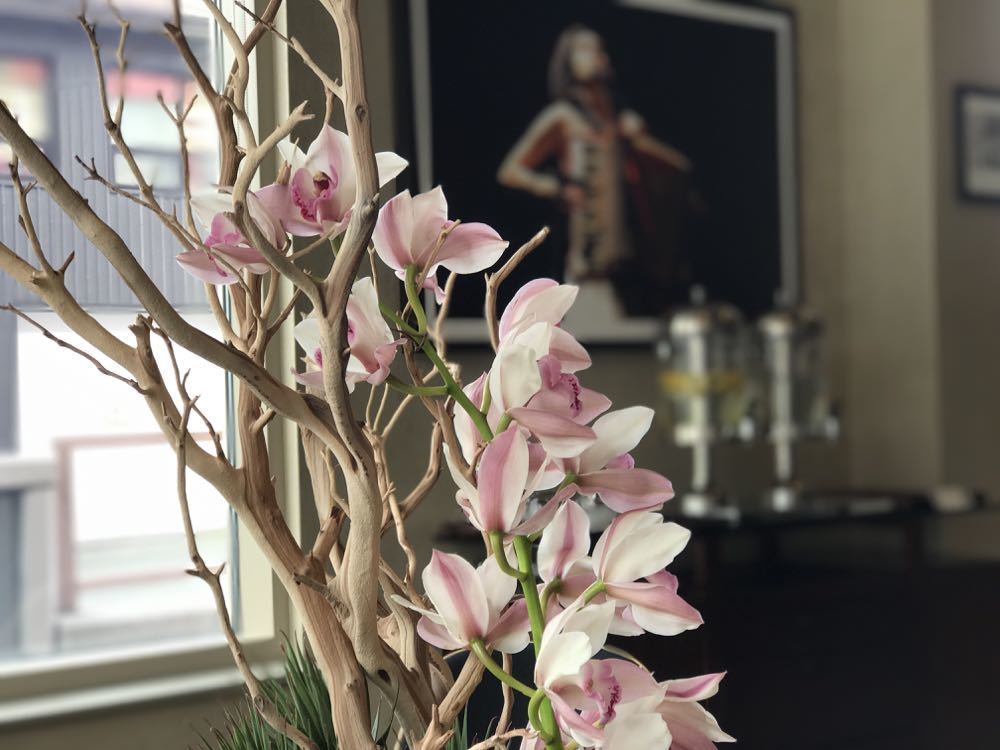 On one final search while planning our trip to Newfoundland with kids, and before surrendering to booking 2 rooms, I found space at The JAG Hotel. This hotel consistently receives good reviews from guests and has a fun rock n' roll theme.
Although we arrived bleary-eyed at 4am, we were warmly welcomed at the front desk and made our way to our well appointed double queen room (Keurig coffee maker, robes, etc.). The JAG also has a 1 bedroom or 2 bedroom suite option.
Learn more at: The JAG Boutique Hotel St. John's.
Since our visit, a new Alt Hotel offering double queen rooms with harbour views has opened. Although we have not stayed at this one, we have enjoyed their Halifax and Toronto propeties as a family. Learn more and check rates on Booking.com.
Vacation Rentals in St. John's NL
Another option for family-friendly accommodations in St. John's would be to go the vacation rental route. Both VRBO
and Airbnb offer some great house and apartments rentals in St. John's. There are some excellent properties to choose from in the colorful Jellybean Row area of the city,  which is just a short walk from the harbour and many excellent restaurants.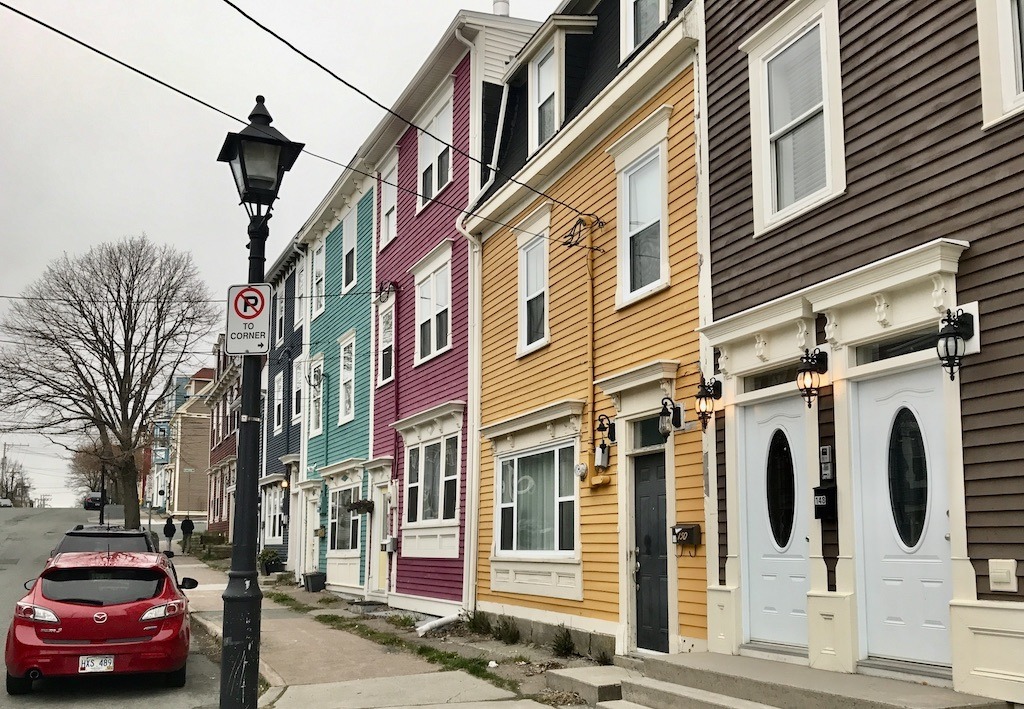 For something unique, check out this VRBO rental in a former Light Keeper's home with views of Signal Hill.
Learn much more about the city of St. John's, Newfoundland at: destinationstjohns.com
Related Posts