Last update: March 28th, 2023 at 12:40 pm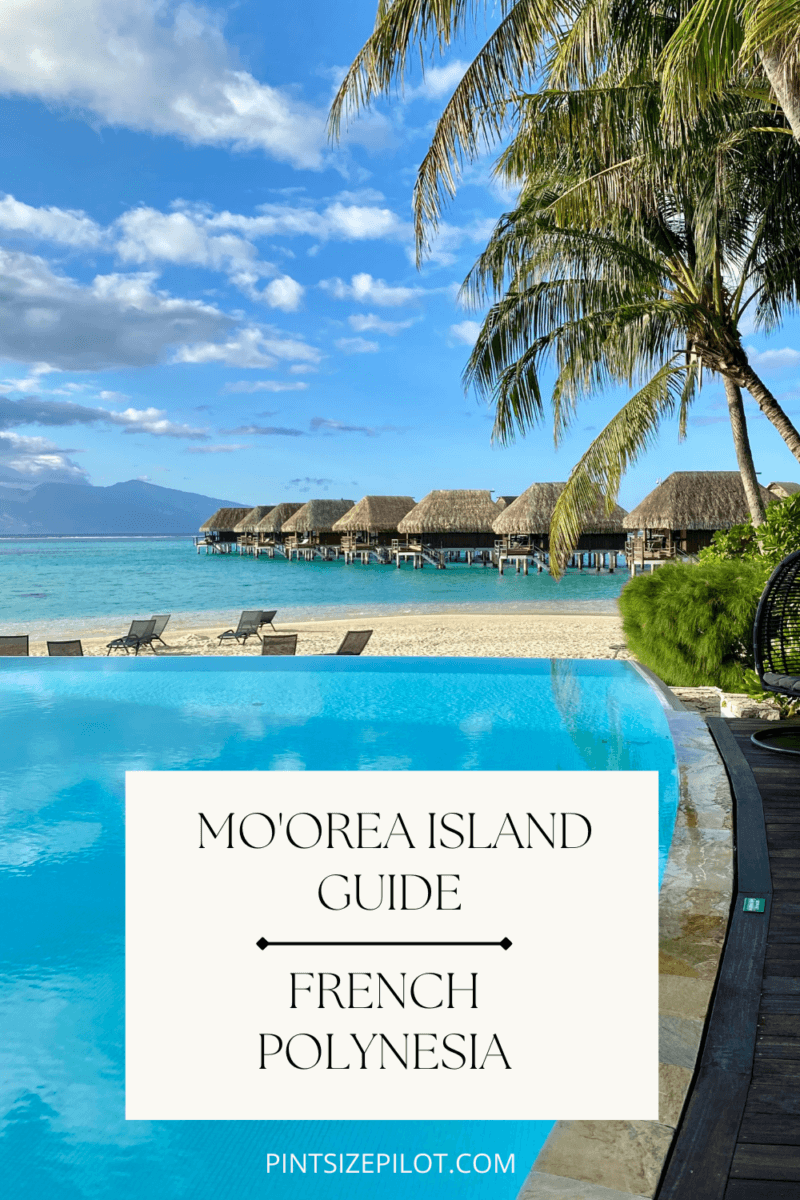 Affiliate Disclosure: This Moorea Island travel guide contains affiliate links. If you click on a link and make a purchase, I may receive a small commission at no cost to you. All opinions are entirely my own.
It took my husband and me twenty years to get back to the magical island of Moorea in French Polynesia. There were numerous reasons for the delay. We had kids. We became grownups with new budget lines past travel and entertainment. The fact that Moorea lies in the middle of the South Pacific also didn't exactly make it the easiest destinations for us to get back to from our home in Vancouver, Canada
Despite such a long time between trips, our memories of this beautiful, palm-fringed tropical island, where emerald hillsides drop dramatically into aquamarine lagoon waters, never faded. Yet strangely, our memories of the much more famous French Polynesian island of Bora Bora (also visited on that first trip) had faded. I can't quite explain why, but Moorea felt like a place that we were truly able to immerse ourselves in, whereas Bora Bora felt like a dream. A wonderful dream – but a dream nonetheless.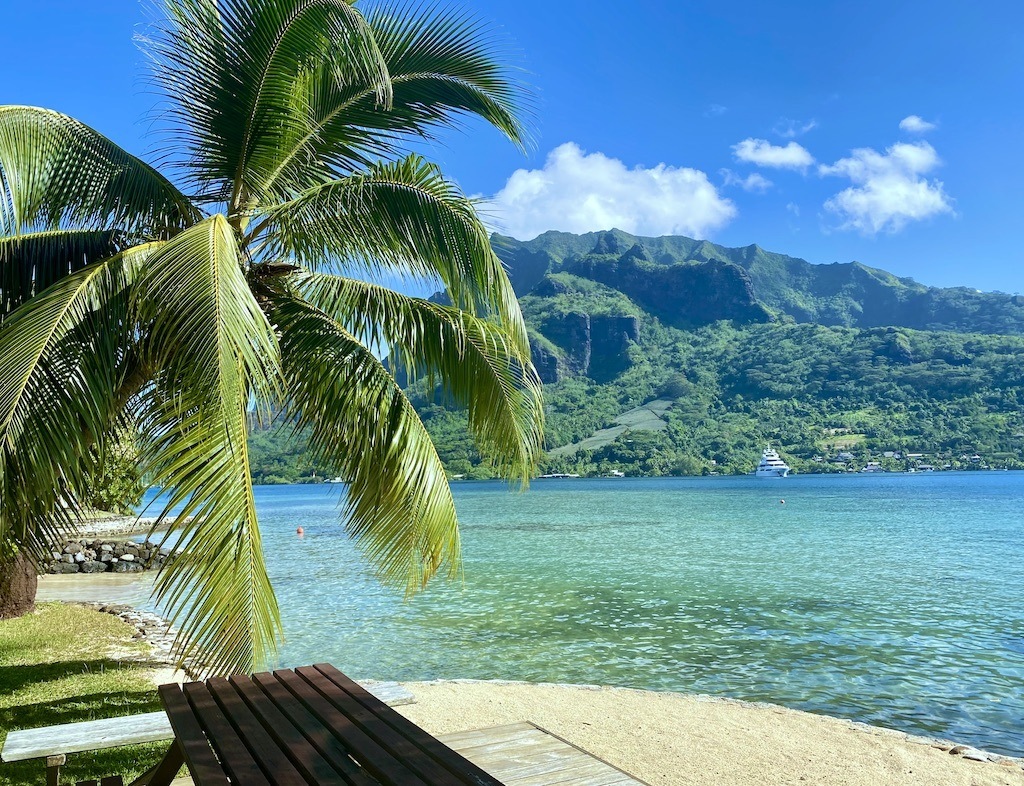 Over the years, I've met dozens of people who have confessed to having these very same feelings. They often utter the words in a rather hushed tone…"Do you know which island was actually our favourite? Moorea!". My theory is that because Bora Bora is such a massive splurge, people are often left feeling a little surprised – maybe even a bit guilty – when much more budget-friendly Moorea comes out on top.
MOOREA VS. BORA
Now, please don't get me wrong. Bora Bora is an absolutely spectacular place. If you are short on time, long on cash and just want to be transported into paradise for a week – it is perfection. It is my opinion, however, that it is most ideal for people who want a flawless, on-resort experience, in the most beautiful overwater bungalow accommodations, where everything can be seamlessly taken care of by an impeccably trained staff.
Moorea on the other hand, I see more as an island that you can really settle in to. It has several high-end hotels offering that classic overwater bungalow experience, but it also has a wide array of more modestly priced boutique hotels and vacation rentals. These options can be great for visitors wanting more of an à la carte tropical island experience.
Moorea is ideal for people who really like to get out and make new discoveries. Whether it's to chill on Temae Beach with the locals (considered to be one of the most beautiful beaches in French Polynesia), explore below the ocean's surface in Moorea's reef-protected waters, or hike to a mountain peak for 360 degree island views – there is something for everyone.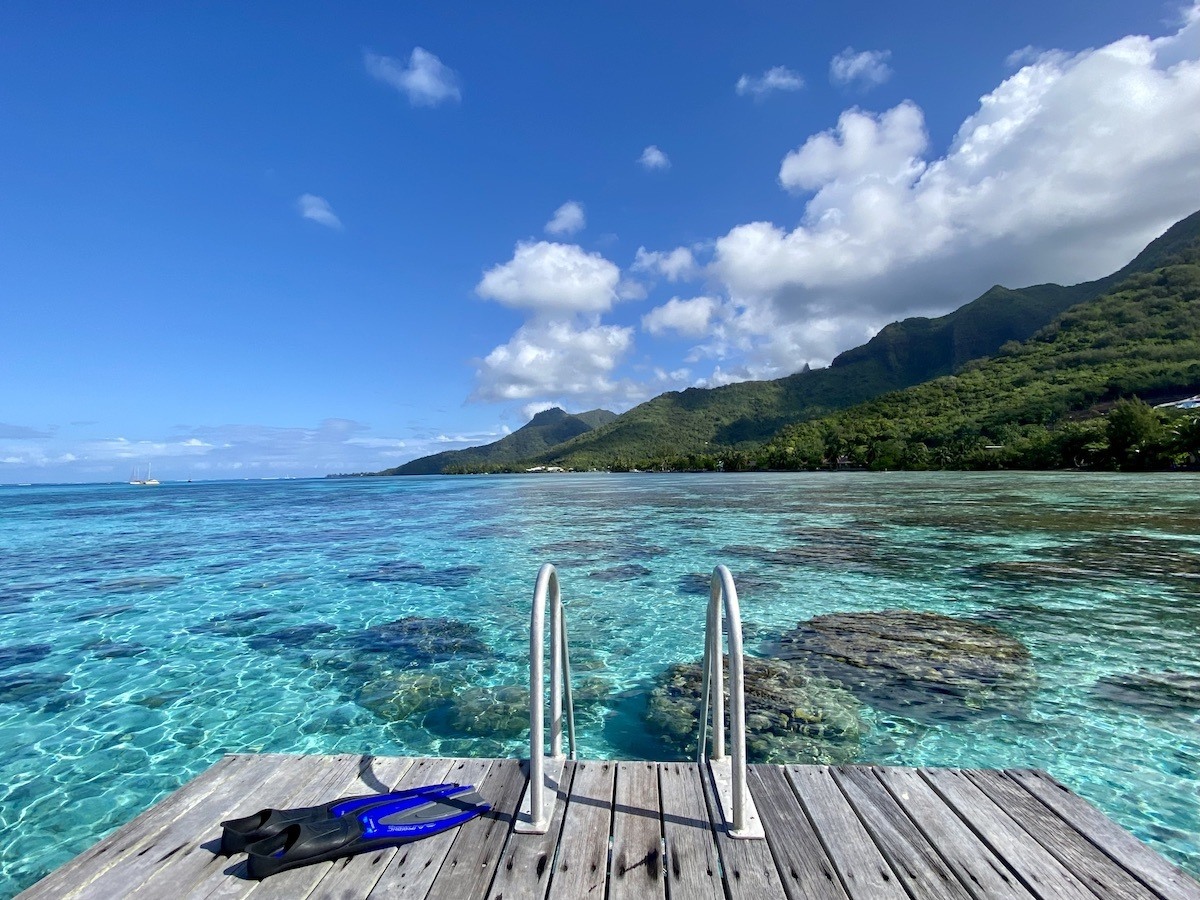 Furthermore, Moorea is an island that can strongly stand on its own as a destination. While most French Polynesia travel itineraries encourage island-hopping – those extra domestic flights can really add up. In my humble opinion, Moorea can offer a wonderfully authentic and complete French Polynesian vacation, without breaking the bank.
In this post, I hope to convince you to give this gorgeous South Pacific island a go – especially those of you longing for the way "Kauai used to be…" – the island that I most often hear Moorea compared to. With a new non-stop international flight from Seattle-Tahiti (in addition to flights from SFO, LAX and HNL), it also has never been easier!
Whether you are looking for a romantic getaway, planning a family trip to French Polynesia, or long for a solo escape, I hope to answer all of your questions here. Please use the following menu to find what you need quickly.
MOOREA – THE NEED TO KNOW (FAQ)
WHY CHOOSE MOOREA?
Moorea has incredibly dramatic scenery with beautiful green mountains and crystal clear, turquoise lagoons. It is protected by a coral reef, with the inside shallow waters providing excellent protection for sea turtles, stingrays, reef sharks and huge variety of tropical fish. This abundance of marine life makes it a very popular travel destination for snorkelers and divers alike.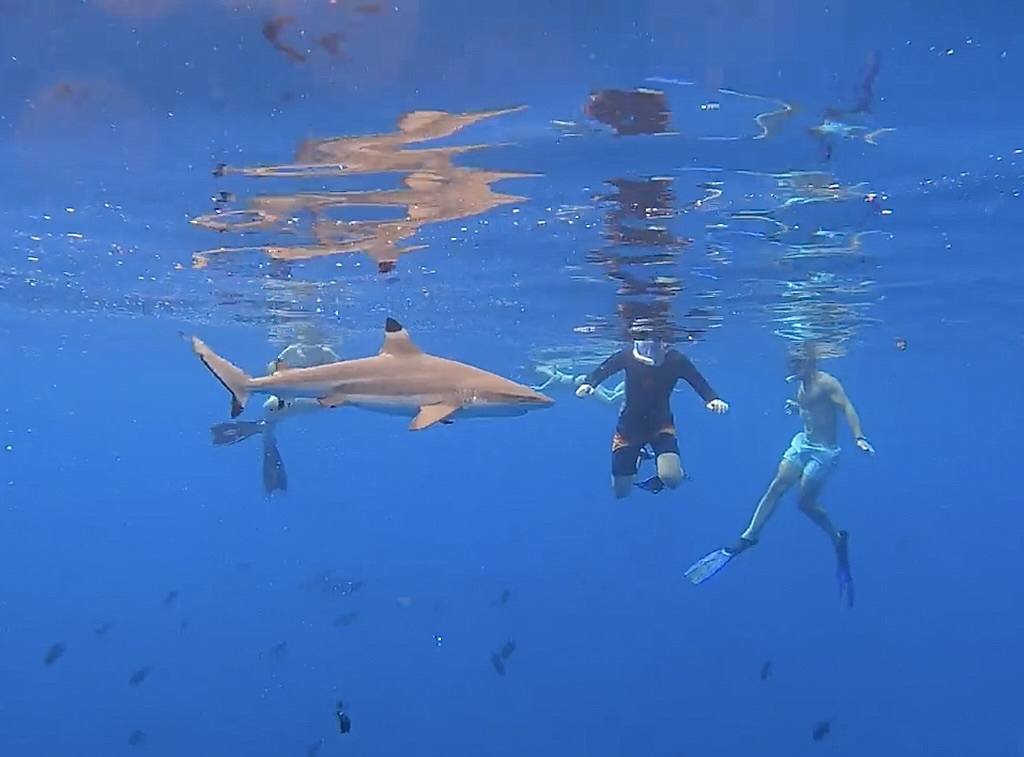 Moorea has Instagram-perfect, white-sand beaches, as well as an abundance of adventure activities. It is excellent for exploring – whether it be by foot, bike, scooter, ATV or rental car. It also happens to be one of the few places in the world where visitors have the opportunity to swim with humpback whales when they return to the local waters each July through November.
For foodies, Moorea has a surprisingly good selection of locally-owned restaurants. While they may not be quite as polished as the restaurants in Hawaii (a comment from a fellow visitor – and I 100% agree), they offer up exceptionally delicious and creative dishes in some really unique venues.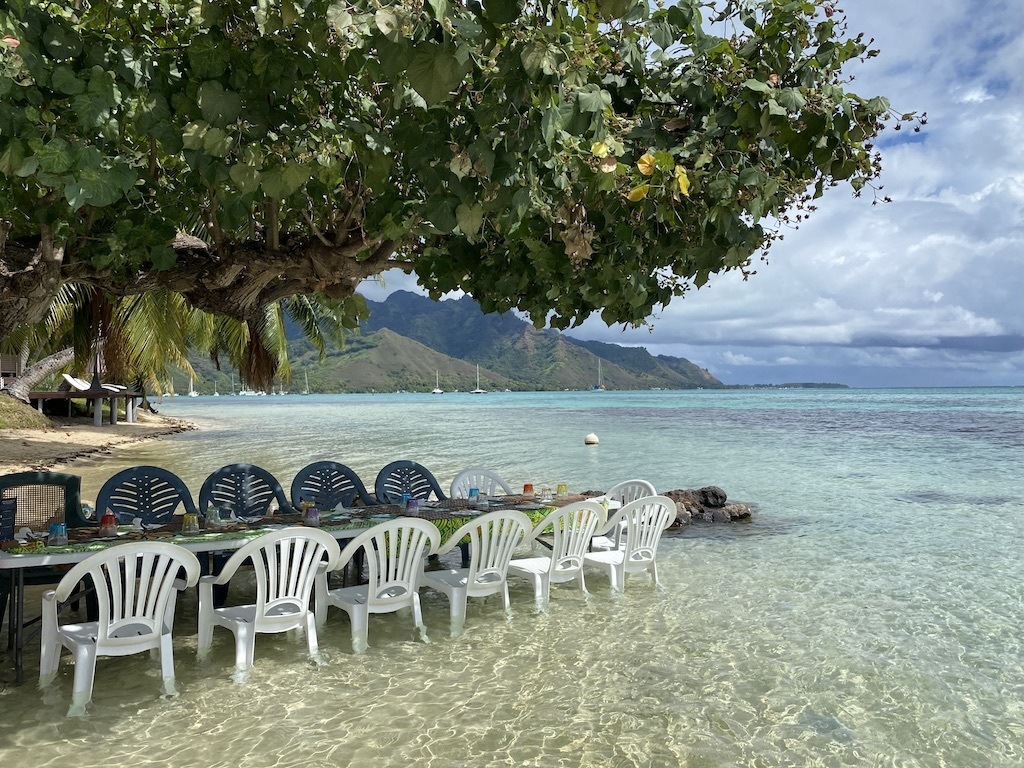 One of the nicest things about the island of Moorea is that it has not changed a lot over recent decades. The island has a strong sense of community and is refreshing free of shiny new timeshare condos and high rises. In fact, the only thing that was noticeably different to us on our most recent visit was that the freshly-paved main road now had a bike lane. That is the kind of change I can really embrace!
WHERE IS MOOREA?
Moorea is part of the 118 islands and atolls that make up French Polynesia, which is located in the South Pacific Ocean, almost directly in line with Hawaii. In fact, it is close to the same distance from the equator as Hawaii, but due south instead of north.
This island is part of French Polynesia's Society Islands – an archipelago that also includes Tahiti, Bora Bora and Huahine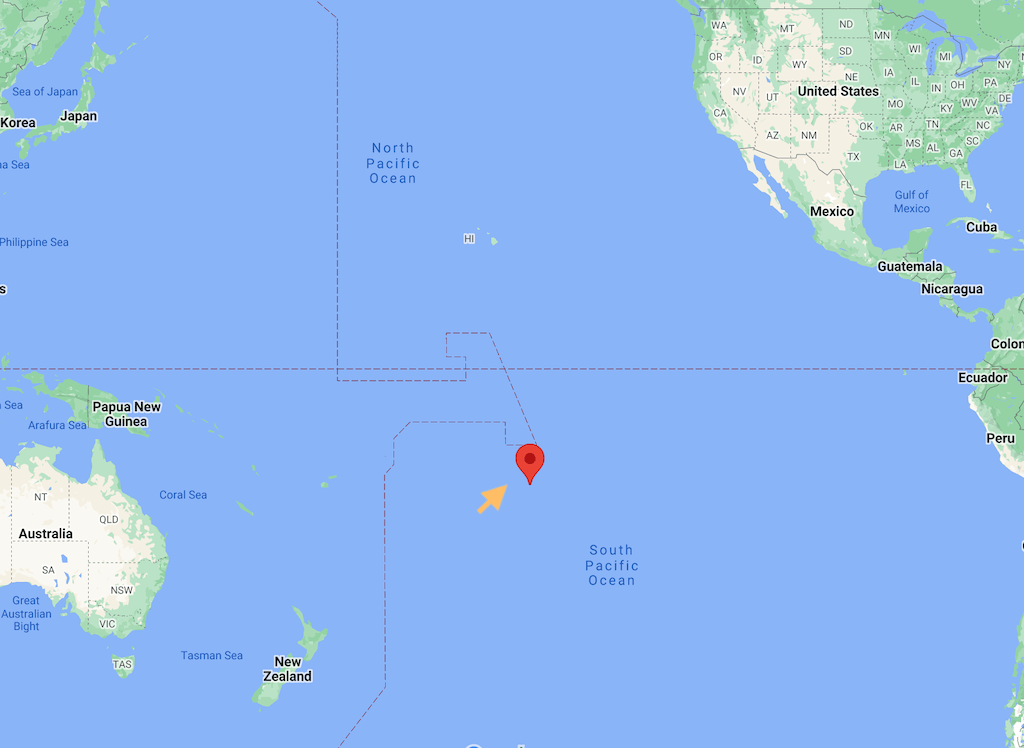 HOW DO YOU GET TO MOOREA?
You get to Moorea by flying first to the main island of Tahiti. From North America, there are direct flight to Tahiti from Seattle (9.5h), San Francisco (8.5h), Los Angeles (8.5) and Oahu (6h).
Upon arrival in Tahiti, you can take a 15 minute puddle-jumper flight to Moorea with Air Tahiti. Most visitors, however, prefer to take the much less expensive 30-40 minute ferry ride from Tahiti to Moorea. From the airport, it is a 15 minute cab to the Moorea ferries port in the capital city of Papeete.
There are two different ferry lines going to Moorea (Aremiti and Terevau) with multiple sailings each day. If you are walking on, there is no need to buy tickets in advance – just check the sailing times online and buy your tickets at the gate from the ferry company that has the next sailing.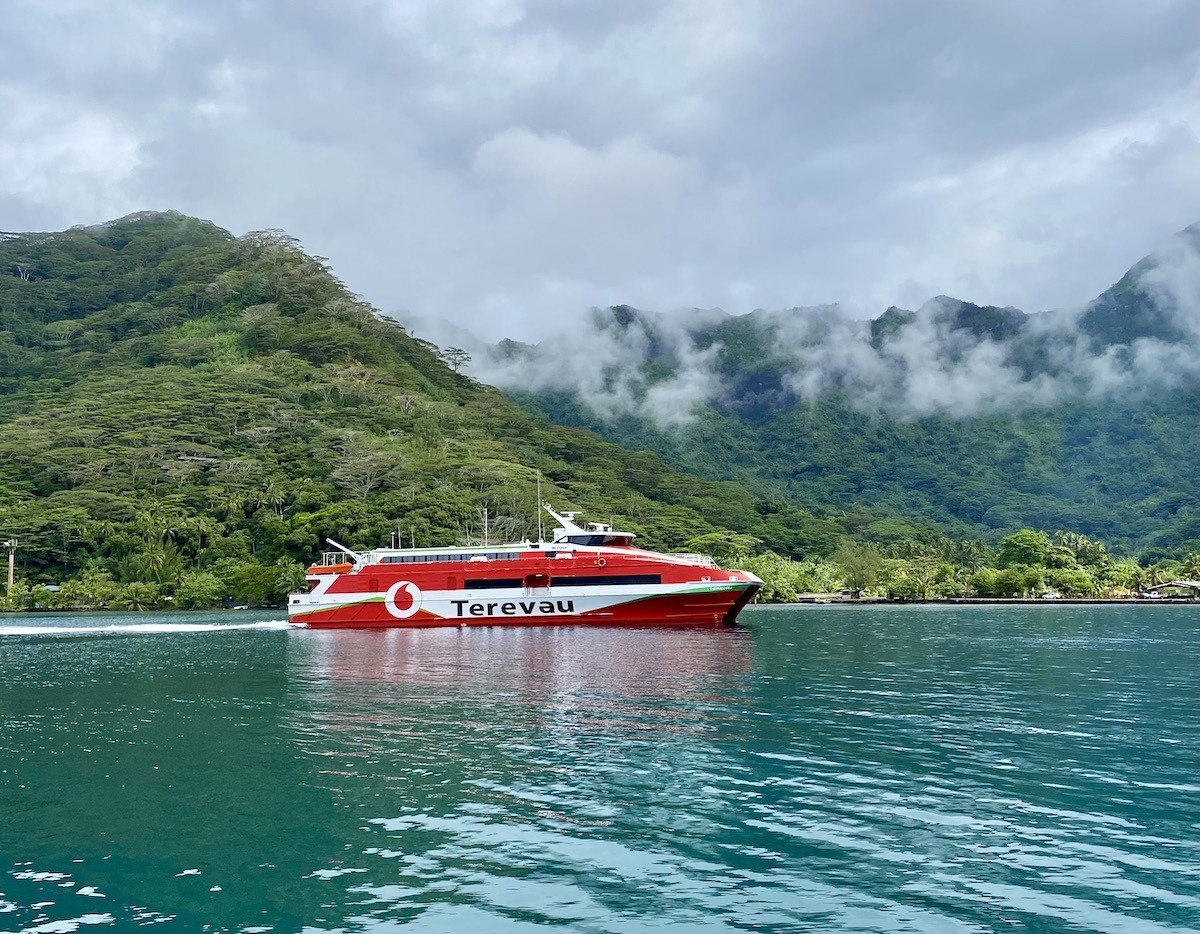 Note: Many international flights arrive into Tahiti, French Polynesia late in the day requiring an overnight stay prior to taking the ferry or flight to Moorea. The hotel options tend to be a little overpriced and dated (captive audience) but the Intercontinental Hotel and Spa is not bad. The property has a great view of Moorea across the water and is just a 5 minute cab ride to the airport or 10 minutes to the ferry. The resort will also store luggage for prior guests on their last day if they have a late flight out.
Alternatively, there is a brand new Tahiti Hilton Hotel that is getting decent reviews (fully booked at the time of our visit).
WHAT IS THE WEATHER LIKE ON MOOREA?
The temperature range on Moorea runs from a low of 71°F (21°C) to a high of 95°F (35°C). Dry season (which is generally the best time to visit Moorea) runs from May to October. Wet season in Moorea runs from November to April.
Note: On a recent early July trip, we still experienced some very short showers almost daily. This is clearly what helps to keep the island so lusciously green!
IS MOOREA AFFORDABLE?
I would never try to paint a trip to French Polynesia as a particularly budget-friendly holiday. That said, Moorea can be much less expensive than visiting many of the other popular islands in French Polynesia. Furthermore, if you are familiar with how expensive it has become to travel to places like Hawaii these days (surging demand), Moorea starts to look pretty reasonable.
Moorea of course does has some very pricey accommodations, such as the luxury over-the-water bungalows at the Hilton and the Sofitel. The rates on these units, however, tend to be much lower than what you would pay for something similar on Bora Bora. To be fair, the Moorea bungalows are likely less recently renovated, but personally, I find their classic retro Polynesian decor part of their charm.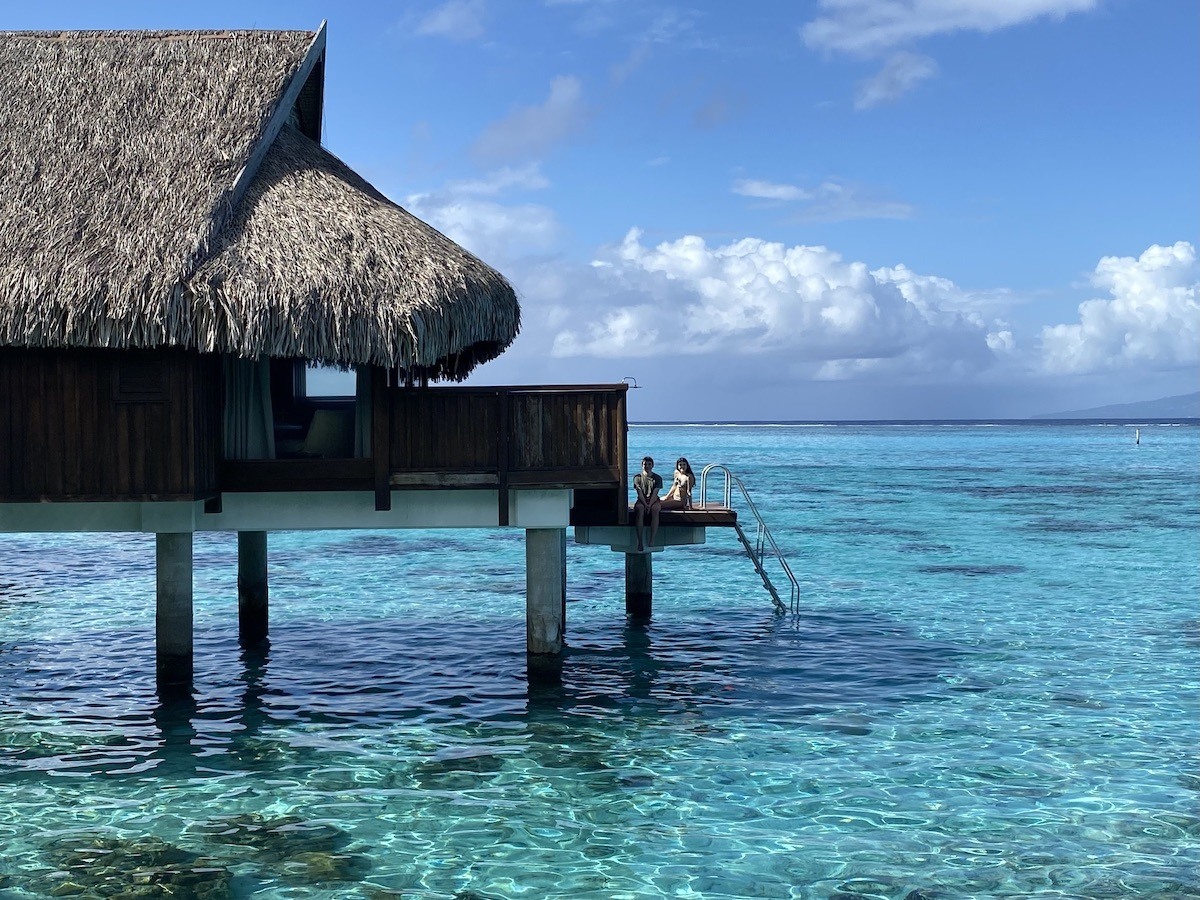 Note: On our first trip we stayed at the Moorea Hilton Resort. On our more recent trip we spent two nights in an over-the-water bungalows at the Sofitel Moorea before moving on to a perfectly lovely 3-bdrm, oceanfront vacation rental (at 1/5 the price). The cost of 2 bungalows at the Sofitel (required for our family of 4) was less per night than we paid for one on Bora Bora 20 years ago – and that was before adjusting for inflation! (More on this later.)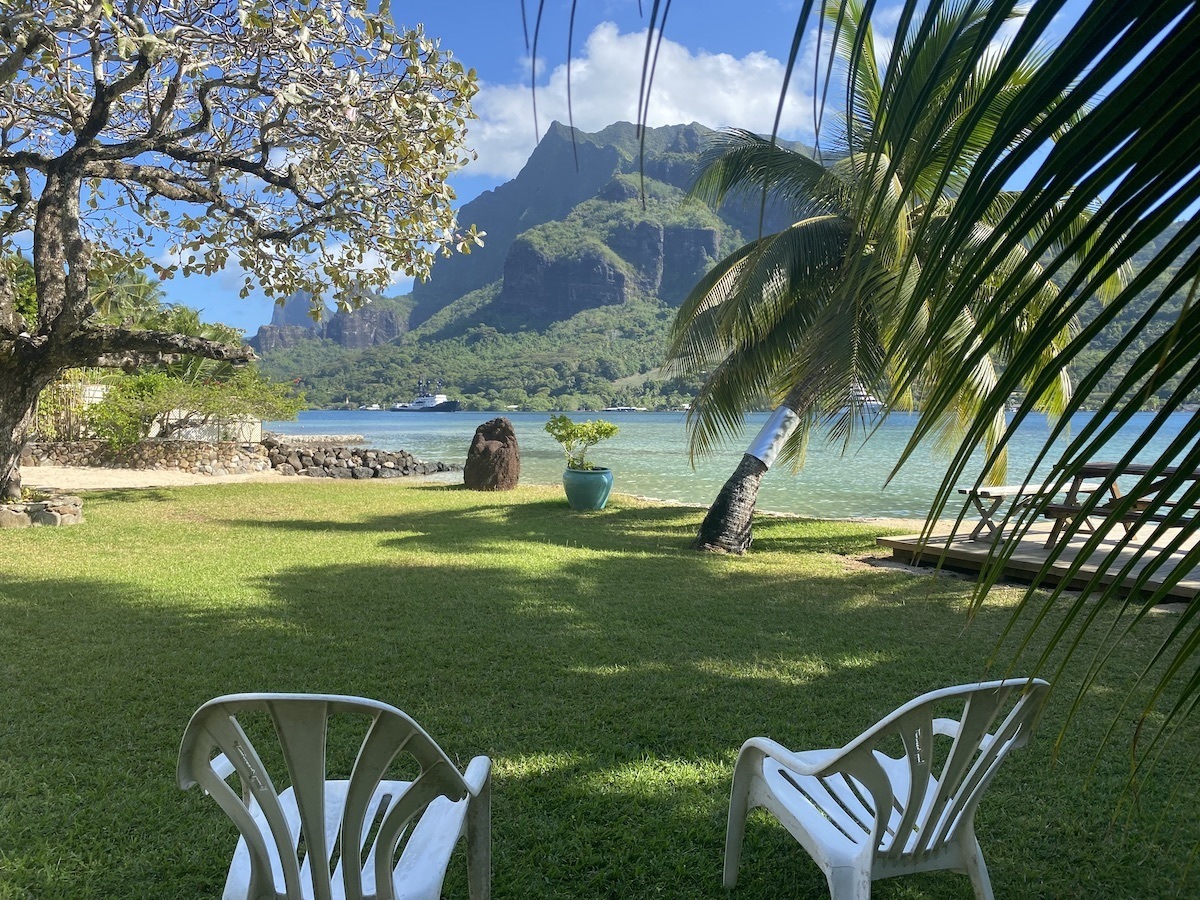 DO YOU NEED A RENTAL CAR ON MOOREA?
Yes. Well, okay…you could get by without one, especially if you are only staying for a few days and are booked in at a major hotel where some restaurants and activity providers offer pick ups. If, however, you are staying for a week or longer, I strongly feel that the way to get the most out of your time on the island is to rent a car. We loved having a rental car on Moorea for getting groceries, getting to hiking trailheads, and so that we could try out many of the fantastic restaurants on the island.
The major car rental companies on Moorea are Avis, Europcar and locally run, Albert Transport. All of them can arrange either a ferry terminal or Moorea airport pickup.
There are a limited number of rental cars on Moorea and most of them have a manual, not automatic transmission. If you are looking for an automatic, reserve your Moorea rental car well in advance. Another option is to rent a car in Tahiti and bring it over on the ferry (but in this case, make reservations on the ferry for your car).
THE 12 BEST THINGS TO DO ON MOOREA
1. MOOREA BOAT TOURS
When considering things to do in Moorea, a boat tour is a must. My husband and I were joking that we saw "The Big 5" on a four hour morning trip with Moorea Ocean Adventures. We started with humpback whales, followed by hopping in the water with stingrays (my kids' favourite part). A little later we snorkeled with some black-tipped reef sharks, jumped into the water with a pod of curious dolphins and snorkeled alongside a coral wall with beautifully coloured fish and several hawksbill turtles.
Moorea boat tour options range from several hours to full day tours. The longer tours often include lunch on a private motu (island).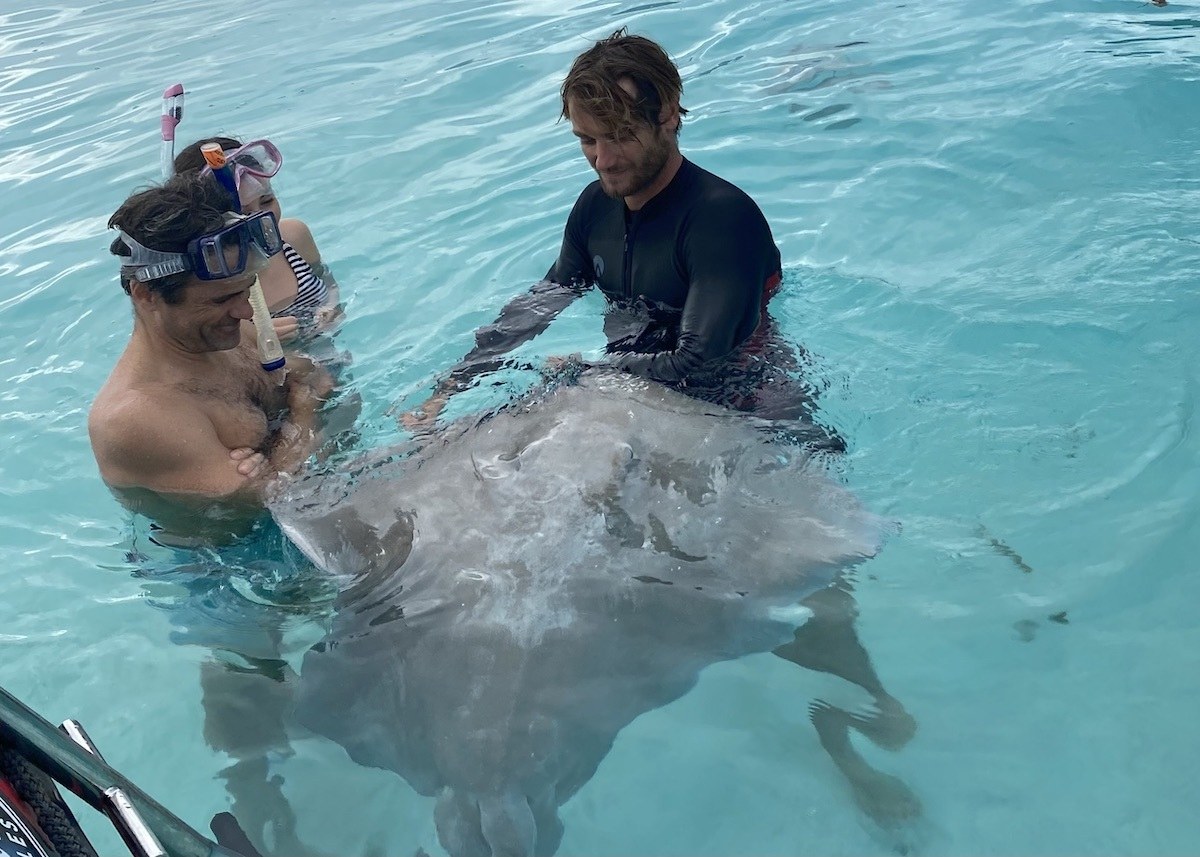 We chose Moorea Ocean Adventures because they have an excellent reputation for responsible wildlife viewing. I was really happy with how respectful their guides were. If Moorea Ocean adventures is fully booked (they often are), they recommend Ocean Addict Moorea and Tahiti Shark Expeditions.
2. SWIM WITH HUMPBACK WHALES
From July – November humpback whales return to the water off of Moorea to breed and nurse their young. During this window, there are plenty of tours that will take you out to observe these beautiful mammals from under the water (snorkeling or diving). The ads for these tours often advertise Swimming with Whales in Moorea, but more accurately, you are (or should be) quietly and respectfully observing them from a safe distance. It is truly a once in a lifetime experience!
3. MOOREA SNORKELING
One of the main reasons that we wanted to return to French Polynesia as a family is because of the incredible snorkeling. There are very few places like it, where you have access to such a wide variety of fish and marine life right from the beach.
If you are staying at one of the beachfront hotels like the Sofitel or the Hilton, you are going to have some great snorkeling right from the property.
Alternatively, Temae Public Beach (right beside the Sofitel) has some of the best (free) snorkeling I've ever seen (healthy coral, vibrantly coloured fish, stingrays, reef sharks in the protected waters 100m from the shore). The snorkeling off Ta'ahiamanu Public Beach is also very decent, but Temae is better.
SEE MOOREA SNORKELING DAY TRIPS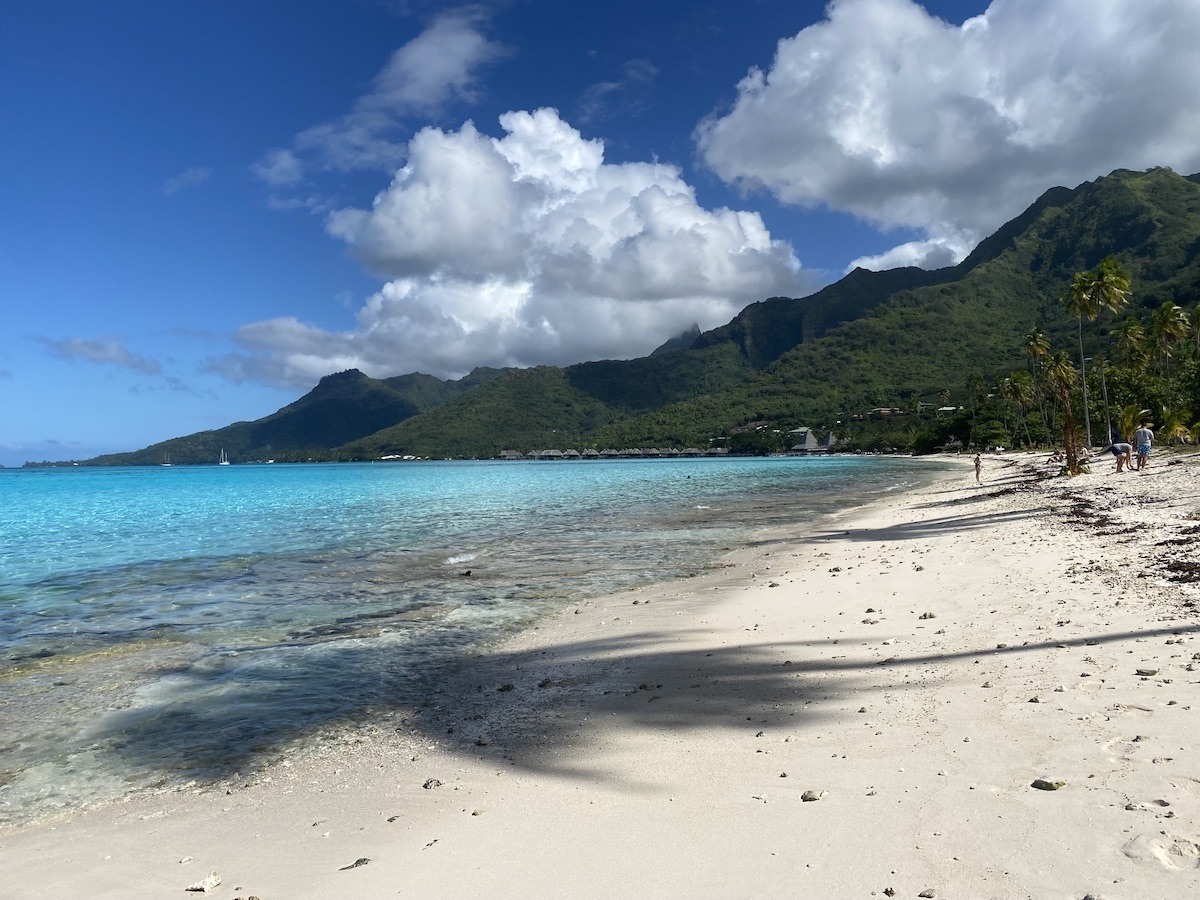 Important: Poison rock fish (or stonefish) are sometimes found in the waters off of Moorea. It is advisable to wear reef shoes or fins when in the water. After years of buying cheap ones (that typically fell apart after one use), I finally bought our whole family Speedo reef shoes from a local dive shop and I have been very happy with them.
4. SCUBA DIVING MOOREA
It is no surprise that Moorea is also famous for its dive sites. In fact, it has over a dozen great spots to choose from. Tiki Point is wonderful for viewing numerous species of sharks (including lemon sharks) as well as dolphins and sometimes whales. The Rose Garden (advanced dive) is one of the best coral reefs in Moorea and typically has numerous sharks hanging around. Along Ray's Corridor, divers drift through a beautiful fish-filled natural lagoon where schools of eagle rays also congregate.
Both Moorea Blue Diving Center (Hotel Manava Beach) and Nemoz Diving (Hilton) get excellent reviews.
5. MOOREA HIKING
You could spend a full week just hiking on Moorea as there are so many great trails to explore.
Many visitors to the island make the short and windy drive to Belvedere Lookout. (This is also a popular stop on island day tours.) From this location, there are trailheads leading to even better island views. (The 3 Pines/Les Trois Sapin as well as The 3 Coconuts trail.)
The 3 Sapin trail took us about 1.5 hours (in and back) and has a delightful view from the top (that must be seen from the swing). This trail seemed quite easily managed by families with young children.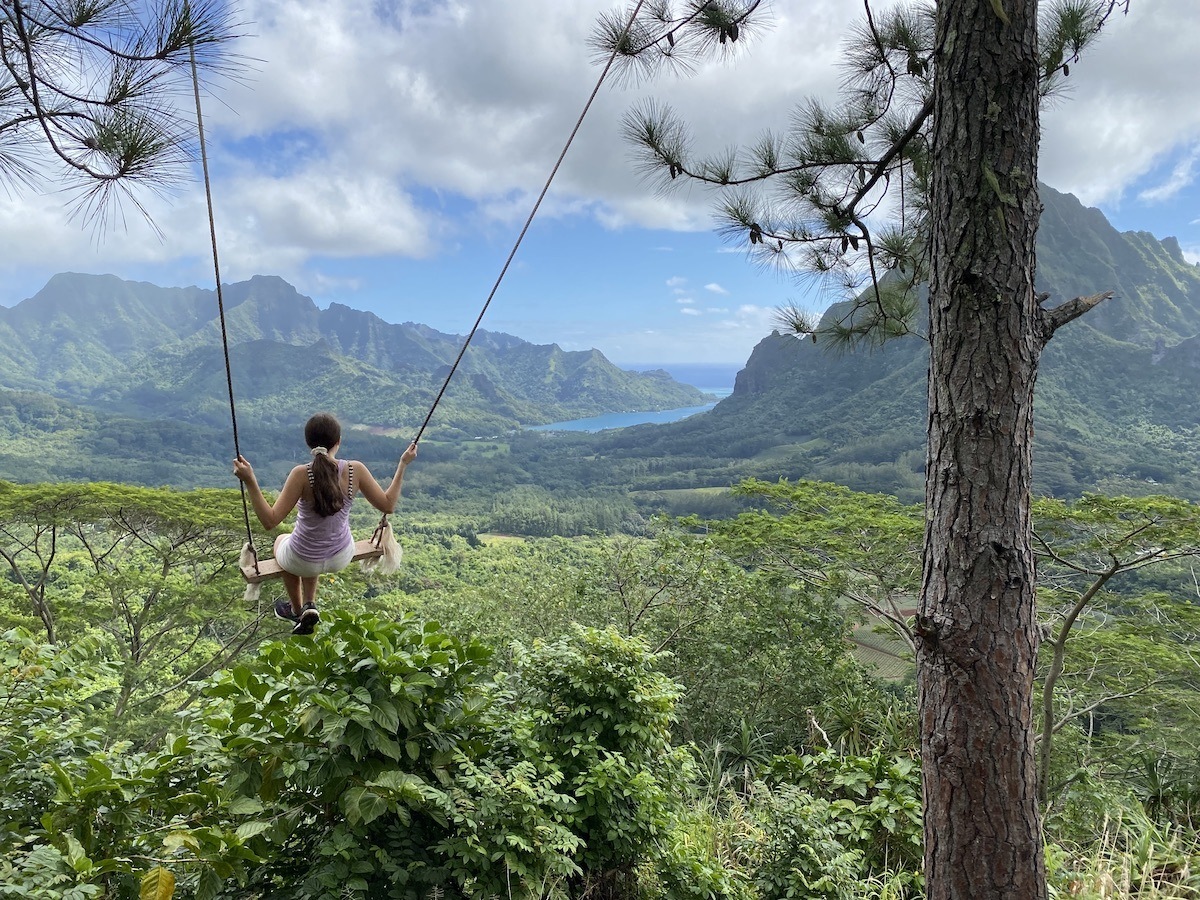 Magic Mountain is another very popular hike on the island offering sweeping panoramic views (slightly more dramatic than Belvedere). The lookout is reached by following a steep road to the top (approx. one hour in and back trail). The road can also be navigated by ATVs or a 4WD vehicle and is another popular stop on island tours. The trail has a small entrance fee (200 XPF pp)
There are some much more difficult hikes on the island that are described on other sites promising even more spectacular views. I am not going to describe them here as I am concerned about people heading out on them that are not prepared. (There was a recent tragic incident on the Mt. Rotui trail.)
True Story: Against my better wishes, my adventure-seeking husband and son did hike one of these trails. I just may have said "Just so you know, you are 100% responsible for whatever happens to him!" as my husband walked out the door. How's that for operating as a parenting team? They did enjoy some spectacular views and thankfully turned back part way when the trail…in their words…became "totally treacherous".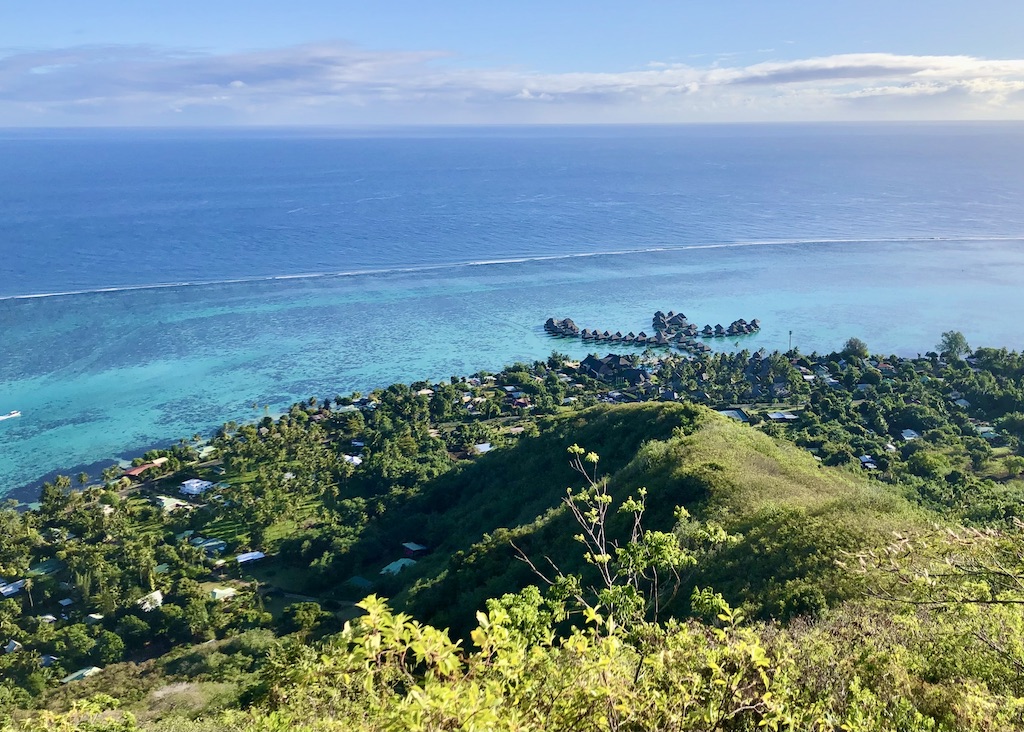 6. CYCLING ON MOOREA
Moorea is a great place to go biking. There is one main road circumnavigating the island and it has a bike path for most of the way. The road hugs the coastline offering some beautiful views and is almost entirely flat. It is, however, quite busy, and you do have to navigate around some dogs and chickens (part of the fun).
The major hotels have conventional and e-Bikes for rent. There are also several companies renting e-bikes on the island that will deliver to your accommodations including E-Bike Moorea. (They have bike trailers for kids as well.)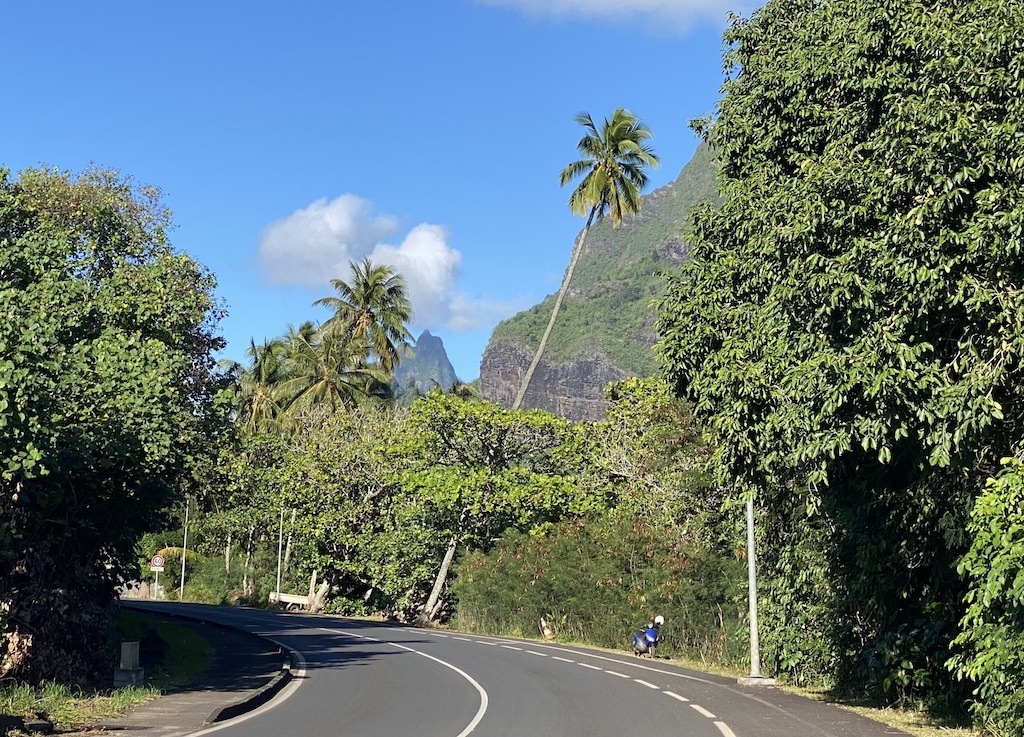 7. MOOREA ATV TOURS
Spend any time on Moorea and at some point you are going to have a bunch of ATVs roar by you. These popular 4WD Moorea quad tours typically take guests on adventures through the pineapple plantations, to the Belvedere and Magic Mountain lookouts and to several other fun spots on the island. If you only have a short time on the island, this can be a fun way to explore Moorea. (Open air jeep tours and scooter rentals are another option).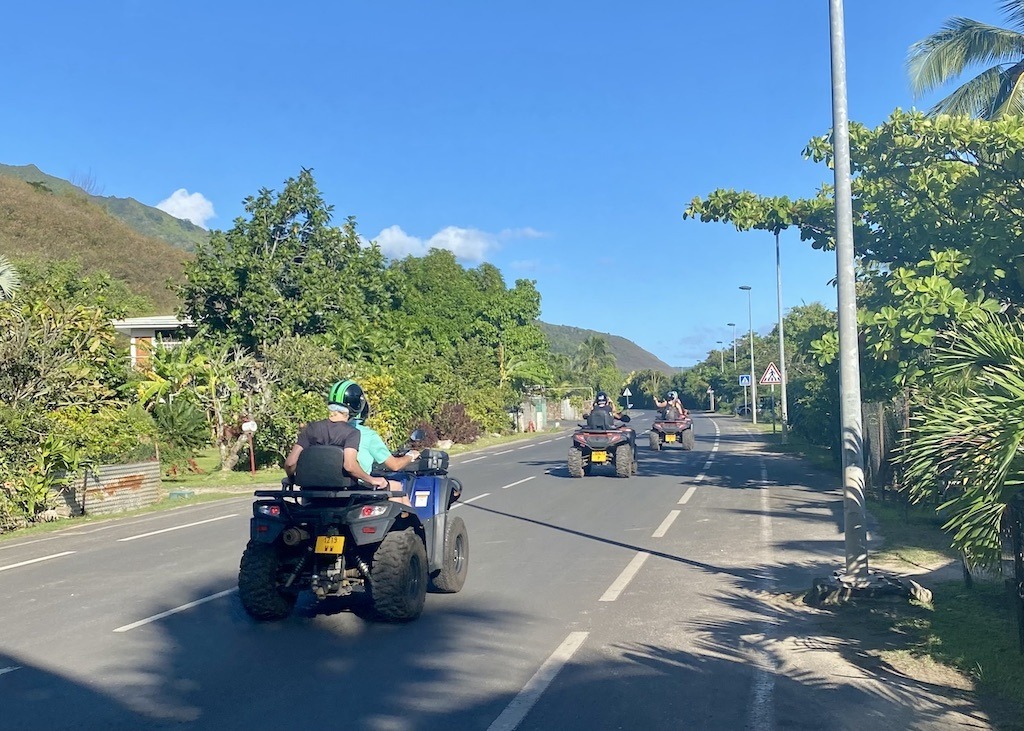 8. MOOREA BEACHES
A day at the beach is also a must on Moorea. If you are staying at the Hilton or the Sofitel, you already have access to a nice beach. If there is one beach that is worth going out of your way for, however, it is Temae Beach (beside the Sofitel). This beautiful palm-lined stretch of sand is a favourite of visitors and locals alike. It also has some of the best snorkeling on the island. (Restrooms available.)
Another favourite is Ta'ahiamanu Public Beach on Opunohu Bay. From this slender stretch of sand, visitors can enjoy calm waters for swimming, wonderful snorkeling and beautiful sunset views. (Restrooms available.)
9. POLYNESIAN DANCE SHOWS
I'll be honest, I could have skipped this one (I run from anything that looks vaguely touristy), but I caved when I saw the enthusiastic look on my teens faces when presented with the idea by the hotel concierge at the Sofitel. I was also swayed by the fact that we happened to be visiting French Polynesia during the annual Heiva I Tahiti dance competition. It was hard not to appreciate what an integral part of their society these traditional performances are when everywhere we went, we saw people rehearsing or working on their costumes!
Now, most visitors aren't going to make it to The Heiva (hosted on the island of Tahiti). If you would like to see a Polynesian Dance Show on Moorea, there are several options.
The Tiki Village Cultural Center offers dinner and/or show packages on Tuesdays and Fridays. They also run tours and crafting workshops during the day.
The three major hotels on the island also offer their own Polynesian dinner and show nights. The cost is usually just under $100 USD per person and half price for kids. The Hilton Resort is Mon/Wed/Sat, The Sofitel is Wed/Sat, and the Manava Beach Resort is Wed/Sat.
10. MOOREA FOR FOODIES
Something that really surprised me about Moorea was its impressive dining scene. We love trying new places! Each day, we were simply delighted with what we found – enjoying everything from freshly harvested fruit, to fine dining at some of the island's longest running establishments.
The food cart scene is particularly impressive on Moorea with everything from poisson cru (fish marinated in lime juice and coconut milk) to french macarons. Our personal favourites were Kaylakea Moz and Ianorana Smoothie. I highly encourage you to get out and try a few. If you just want the highlights, the best way to enjoy them is on a Moorea Street Food Tour. The tour comes highly recommended and I am definitely doing it on our next trip!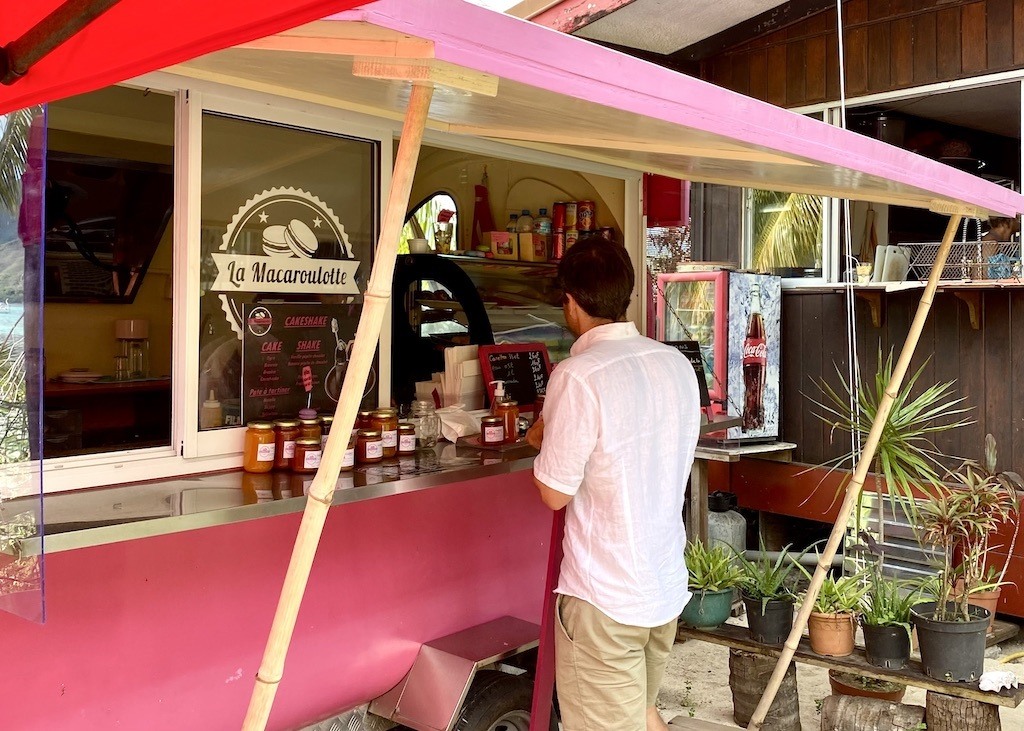 I do want to leave you with one other recommendation. The Tika Ata restaurant at the Fare Maheata hotel is simply a delight. It is a casual, open air (or feet in the water) experience with fabulous food. It is located right next to the Hilton and is definitely worth leaving the property for. Do make reservations though as we were turned away for lunch the first time.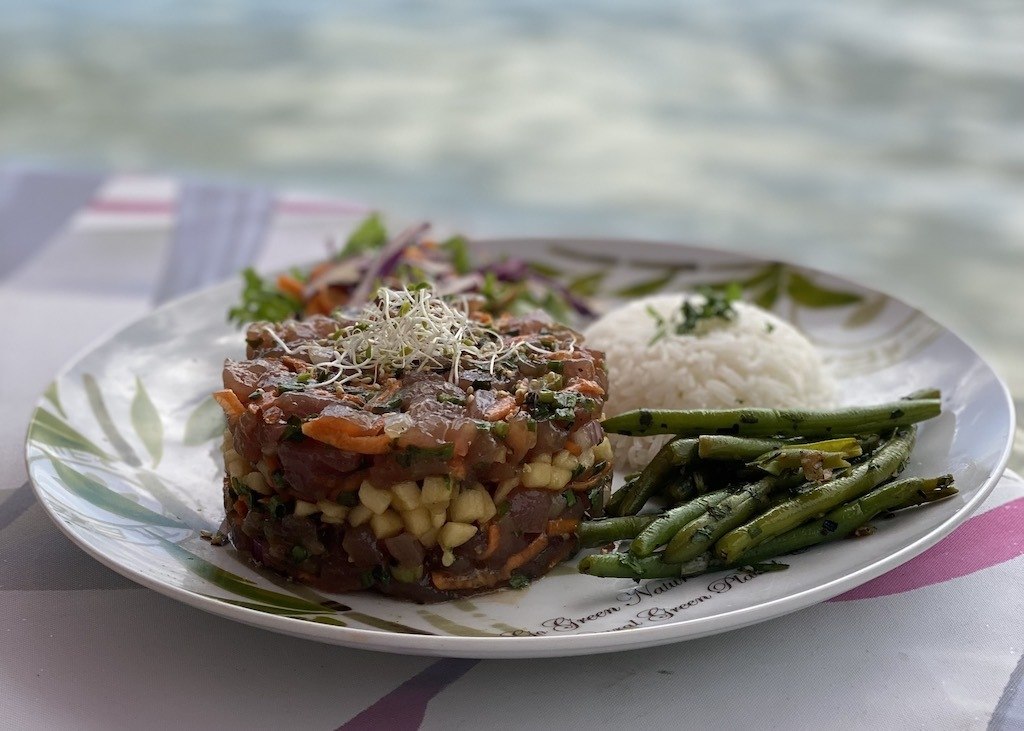 11. THE CORAL GARDENERS
The Coral Gardeners started as a small group of Moorea kids who wanted to help save the coral reef around their island. They have since grown into an international collective of scientists, engineers, creators, and advocates determined to save the reef by revolutionizing ocean conservation and generating collaborative action around the world.
Their "coral gardens" – or the underwater farms where they grow their resilient "super corals" – are located in the waters around the island. When these baby corals are large enough, they are replanted to the island reefs.
The Coral Gardeners head office is located on Cook's Bay and there is normally someone there to give you an informational tour (M-F, 9-4pm). There is no fee, but buying some Coral Gardeners swag is a great way to show your support.
Want to learn more? Check out this YouTube video showing their great work.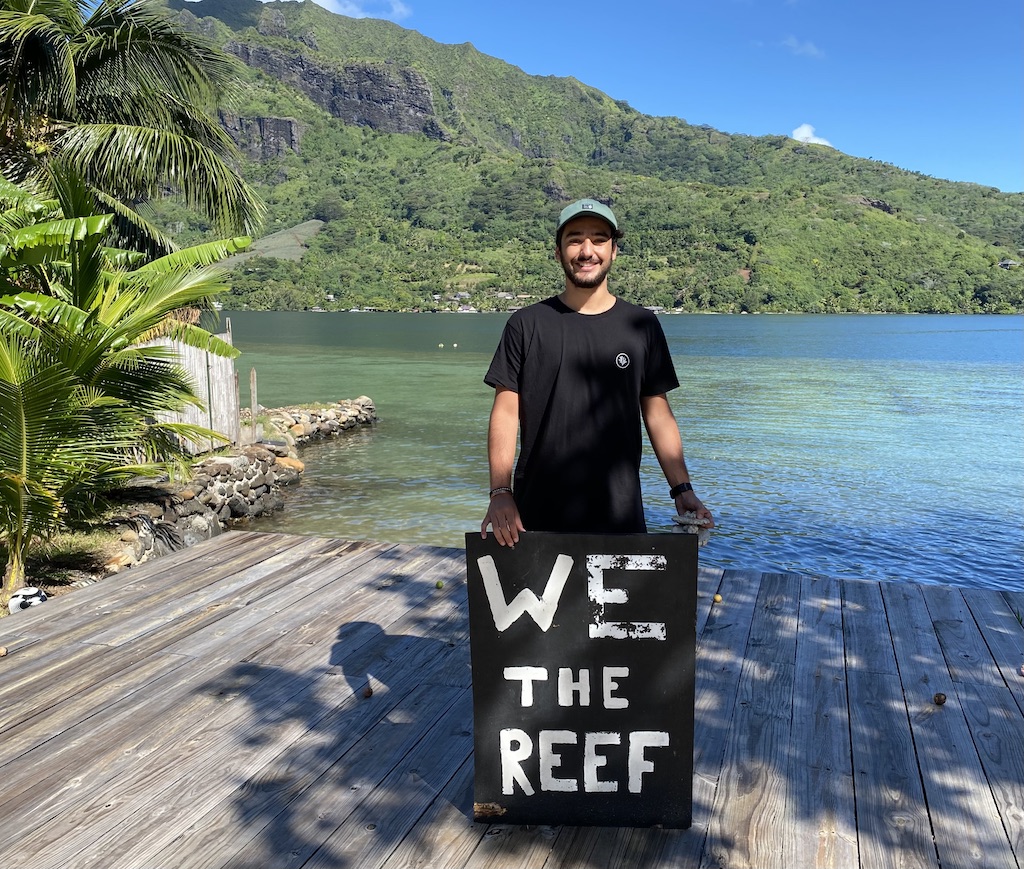 12. TE FARE NATURA ECO MUSEUM
It's hard to miss this striking (and sustainable) new building on Opunohu Bay. The Te Fare Natura Eco Museum has some beautiful exhibitions showcasing the great biodiversity of Moorea. The museum collection is quite small, perhaps owing to the fact that the facility is very new. Hopefully in the upcoming years, the exhibits will be expanded.
Learn more at farenatura.org or read reviews on Tripadvisor.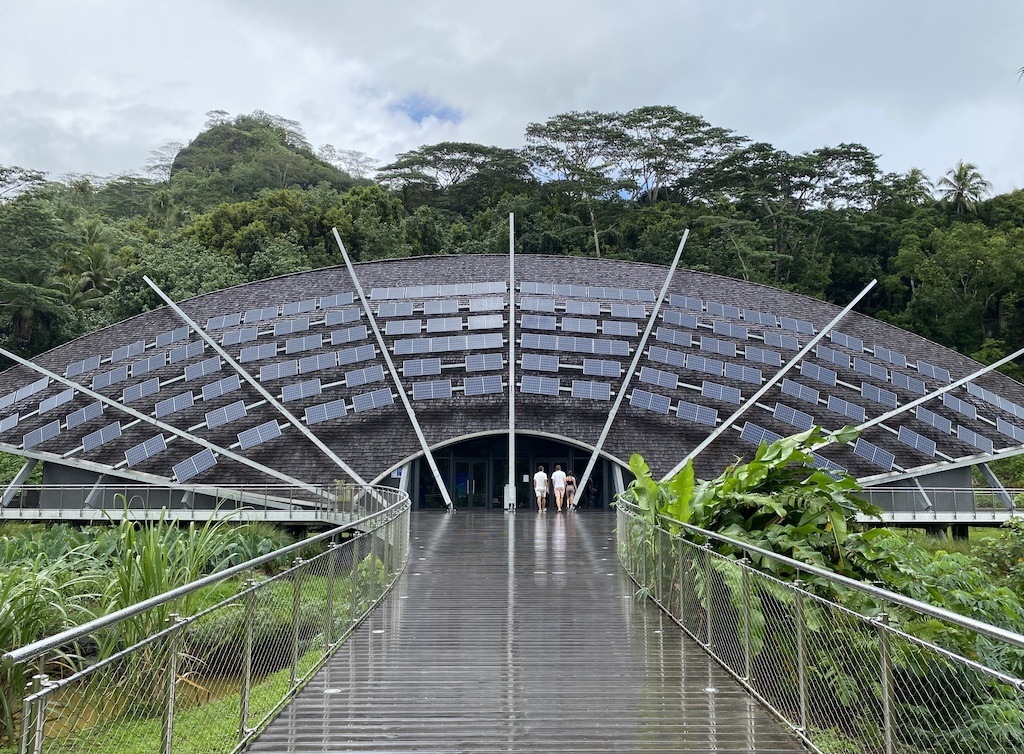 WHERE TO STAY ON MOOREA
WHERE IS THE BEST AREA TO STAY ON MOOREA?
I would recommend staying along the north to northwest coast of the Island. Why? Because this is where you will find the best beaches, the meeting points for activities, most of the retail stores and restaurants. There is also no road through the centre of the island. If you are staying in the south, you will be spending quite a bit of time getting places.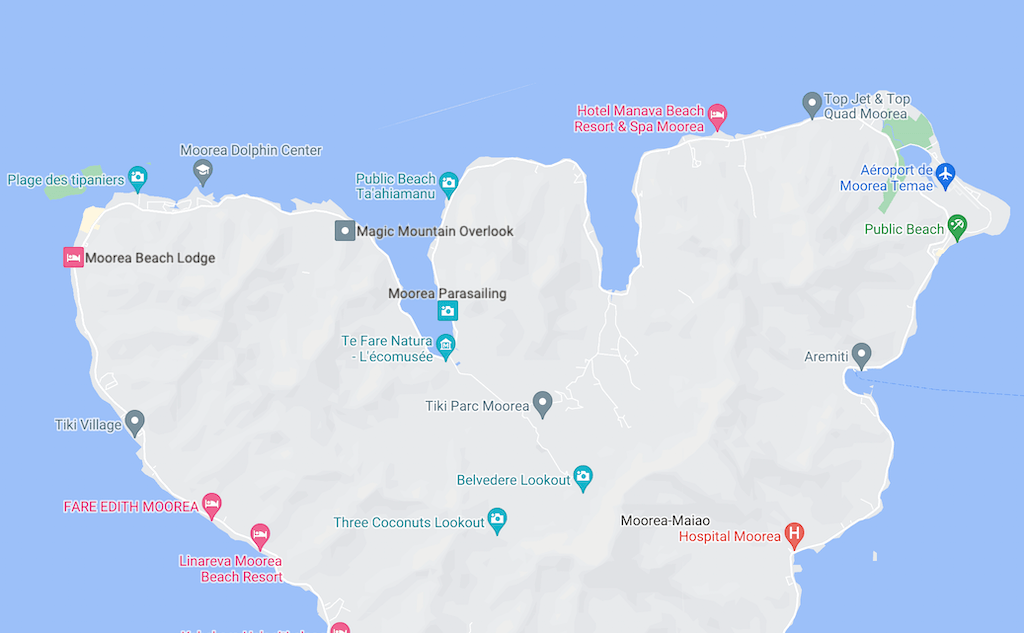 HOW TO GET YOUR EXPECTATIONS IN CHECK
If you have not been to French Polynesia before, I would like to warn you about a little thing called "sticker shock". Moorea accommodations (like many french island accommodations) are pricey for what you get and it's hard not to question the value equation just a little bit upon first viewing. Moreover, the accommodations are often a little dated. The hotels are simply not as frequently renovated as those on Bora Bora. But…and this is a big but…the location and the rest of the island experience totally makes up for any lackluster first impressions.
I share this because I want you to have your expectations fully in check. If you are pulling out all the stops for that over the water bungalow at the Sofitel Moorea, expect that it may have the odd scuff on that teak floor. (I noticed this right away.) If you obsess over hotel reviews as I do, you will quickly notice how often the words "dated" and "needs updating" come up on Tripadvisor reviews for the 3 major hotels on the island.
Now, with that said, it is also important to keep in mind, that you are likely going to be paying just a little over 1/2 of what you would pay on Bora Bora. So that is the trade off.
With that information in mind, here are my top picks for Moorea resorts, boutique hotels and other accommodations.
1. SOFITEL KIA ORA MOOREA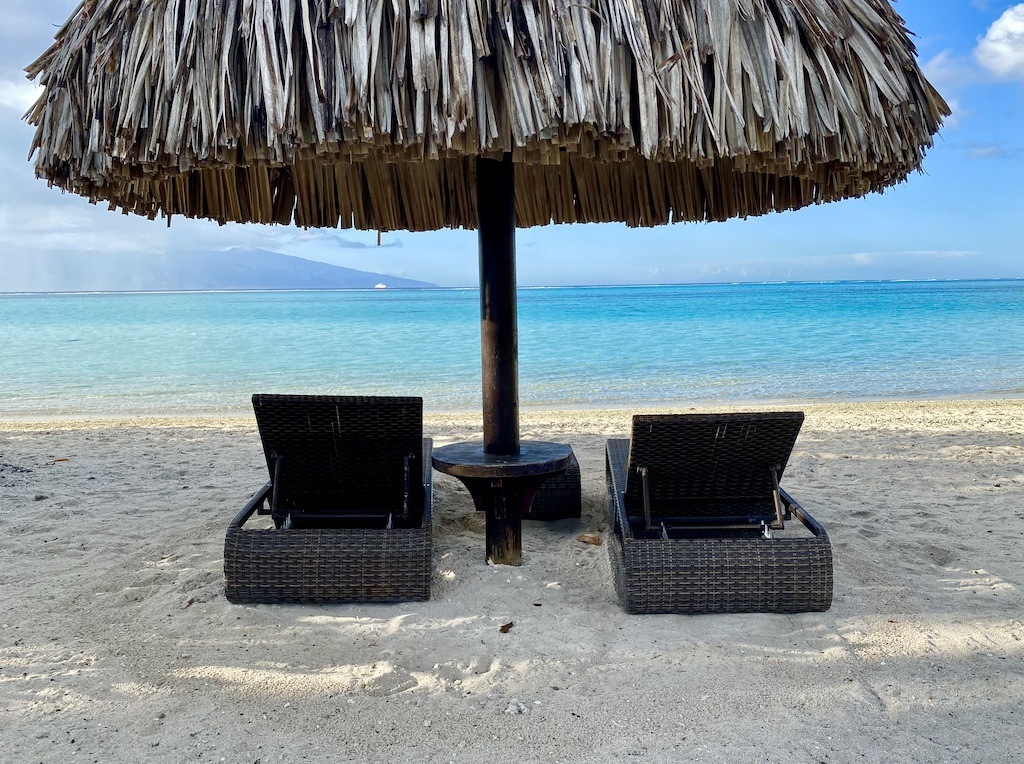 The Sofitel Kia Ora Moorea is located on the most beautiful beach on the island with absolutely spectacular snorkeling. The accommodations are all bungalows, ranging from garden views all the way up to luxury over the water horizon bungalows. The property has a full service spa, oceanside pool, a water sports center, tennis courts and several nice bars and restaurants.
Almost all of the Sofitel bungalows sleep a maximum of 3 people. Family accommodations on Moorea are hard to find, but the Sofitel has one 2-bedroom Luxury Villa that can sleep up to 6 people. Alternatively, they offer 50% off a second villa for families but it's a little hard to find on the website. To book this, call them directly at (011) (689) 40 86 66 66.
Note: The one drawback to the Sofitel is that it is set a little bit away from everything else on the island. That said, some restaurants and activity providers will provide a hotel pickup if you do not wish to rent a car. The hotel also has bikes for rent which can be a fun way to tour the island.
Learn more at the Accor Hotels Sofitel Moorea Resort.
2. MOOREA HILTON LAGOON RESORT AND SPA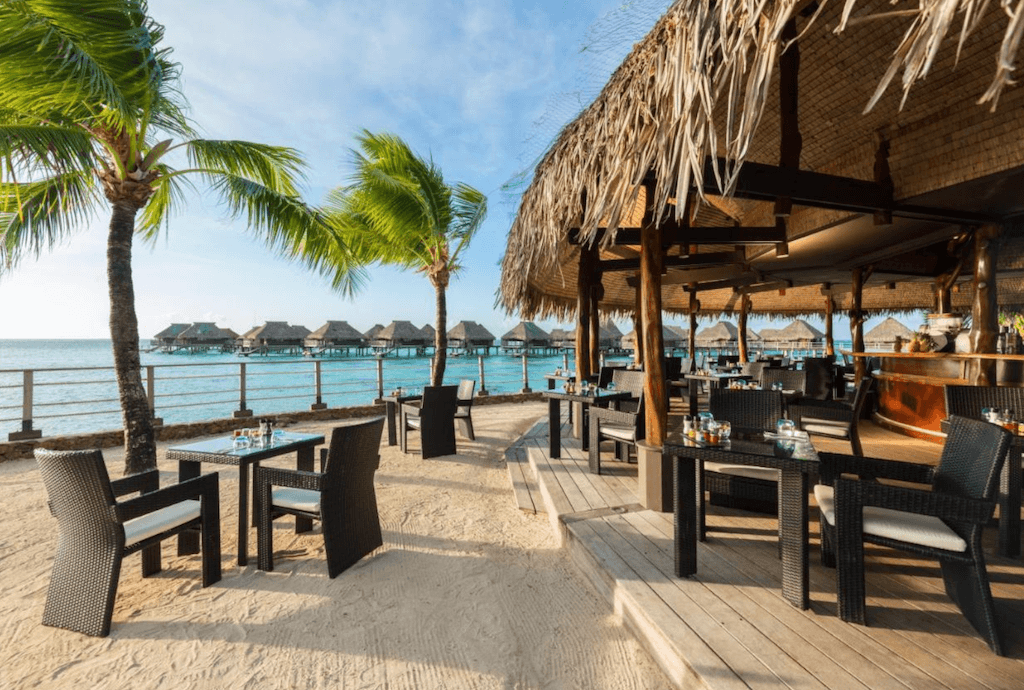 The Hilton Moorea Lagoon Resort and Spa is a very similar experience to the Sofitel and most visitors looking for Moorea overwater bungalows have a hard time choosing between the two. The resort has a nice (albeit slight smaller) beach, excellent snorkeling, bungalow style accommodations, restaurants, a full service spa, tennis courts, and a lovely pool area.
The Hilton has a little more around it in terms of outside restaurants and attractions, but not much. Once again, most activities and some outside restaurants will offer a hotel pick up.
The other minor difference is that the Hilton caters a little more to an American clientele, where the Sofitel seems to attract more Europeans. I think this is likely for no other reason than people tend to book with brands they are familiar with. Hilton, of course, is American while Sofitel is French (The Accor Group).
My husband and I stayed at this hotel pre-kids in a King Bungalow with a Lagoon View and I think those units provides excellent value. They are about as close to an over the water bungalow as you can get without being one (swim up private dock), but at half the price.
Most of the bungalows at the Hilton only sleep three and unfortunately, they do not offer a 50% a second family room promotion at this property. Alternatively, the King Garden Bungalows can be combined to offer a large family suite.
3. MANAVA BEACH RESORT MOOREA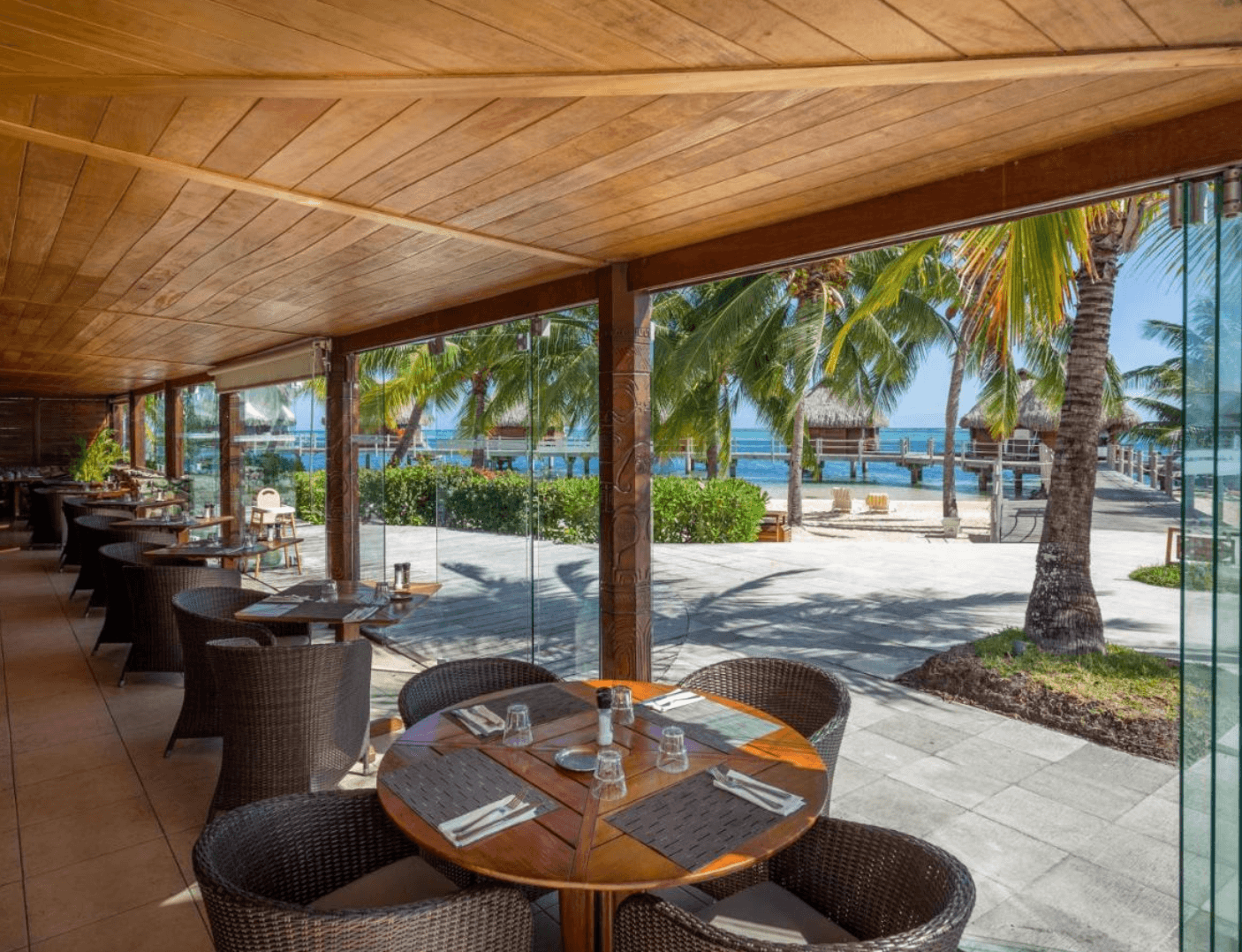 The Manava Beach Resort Moorea is the 3rd, and slightly lesser known Moorea over the water bungalow resort option. In my opinion, it has two really strong things going for it. One is its location, right in the village of Maharepa (lots of good restaurant options) and next door to a public dock where many of the boat tours leave from.
The property has a restaurant, bar, pool and spa. For divers, Moorea Blue Diving is located right on site. The resort also offer a really unique activity in that guests can participate in a Coral Grafting workshop to help restore the reef.
The second great thing about the Manava is the price. If you want that Moorea OTW experience but are on a tight budget, theirs are about 20-30% less expensive than those at the Hilton or Sofitel. With that said, the Manava is a little more compact in size than the other two sprawling resort properties. The result is a more crowded feel and obstructed views from the beach (by the overwater bungalows).
While most of the bungalow at the Manava sleep a maximum of 2, if you are looking for family hotels on Moorea, their Garden View Duplex units can sleep up to 4 people.
4. MOOREA ISLAND BEACH HOTEL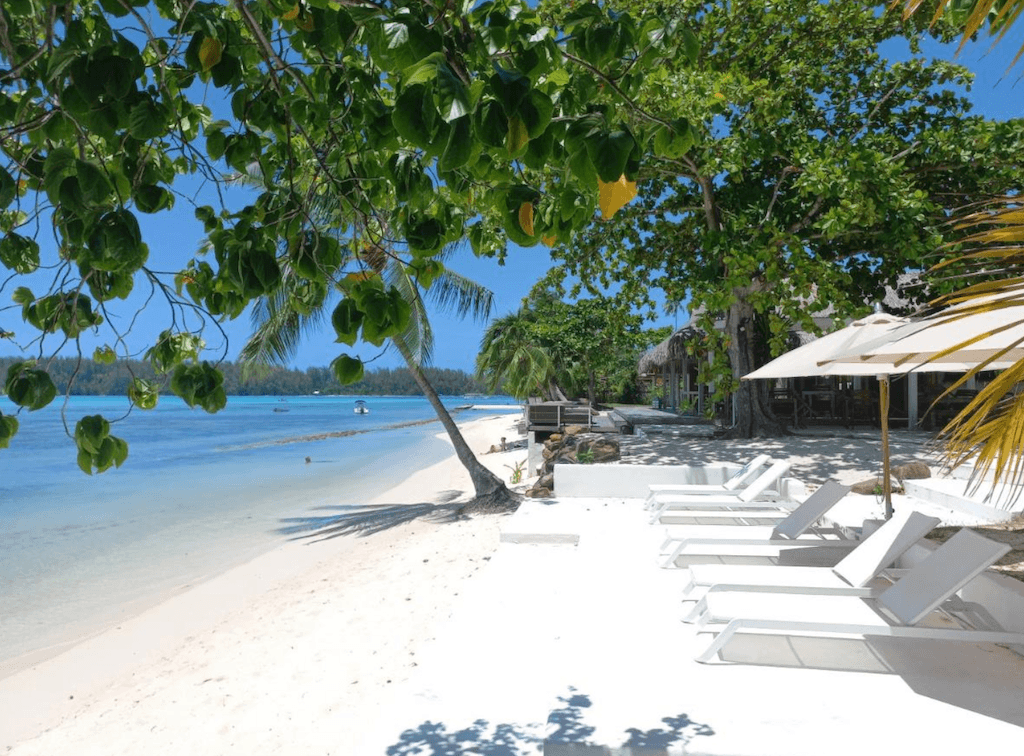 The Moorea Island Beach Hotel provides bungalow style accommodations right on the ocean. The hotel has bikes and kayaks for loan, free private parking, a garden and a private beach area. Rooms include a terrace, an inside seating area, air conditioning and free WIFI. There is also a shared kitchen and luggage storage area on the property.
This lovely Moorea boutique hotel is also within walking distance of half a dozen restaurants, a grocery store and Tiahura Beach.
Most of the bungalows at this small Moorea hotel sleep 2 adults. If you are traveling to Moorea with kids, however, the hotel also has a 2 bedroom, 2 bathroom garden-view family villa that can sleep up to 6.
5. LINAREVA MOOREA BEACH RESORT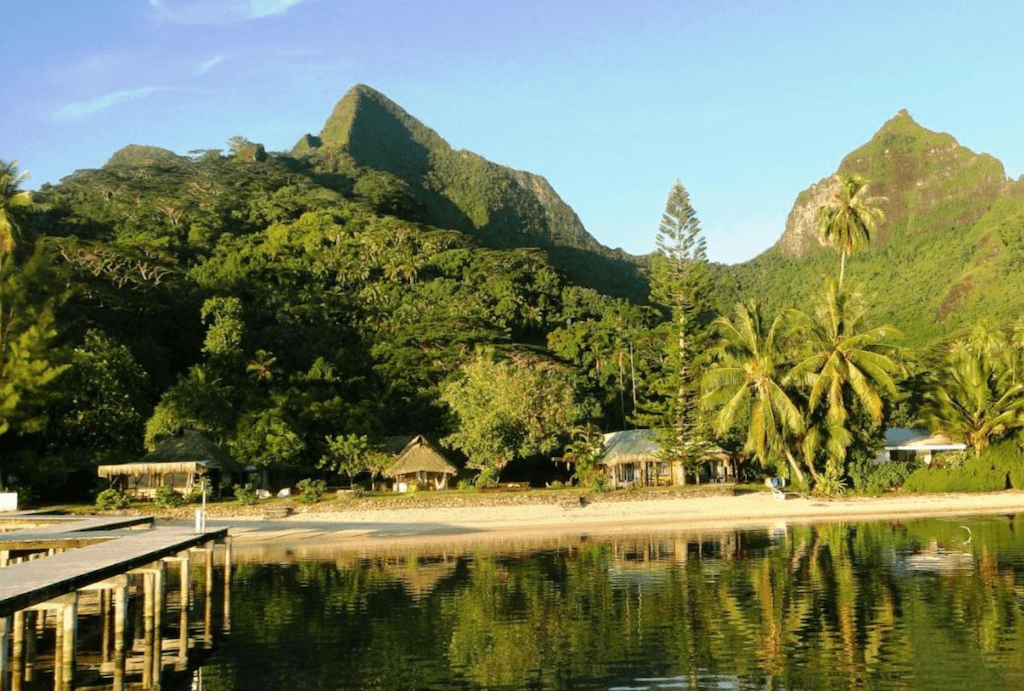 The Linareva Beach Resort is a charming, family-run boutique hotel on Moorea that is also much more budget-friendly than some of the larger hotels.
Located right on the beach, this Moorea boutique hotel is decorated in traditional French Polynesian style. Guests have free Wi-Fi access and can borrow canoes, bicycles and snorkelling equipment. The property also has its own private jetty.
All accommodations at Linareva feature a private terrace offering views over the sea or gardens. The rooms are serviced daily and include air conditioning and cooking facilities (great for self catering). Guests also have the option to order breakfast or a catered dinner to the property.
Note: There are no restaurants within walking distance of the Linareva Beach Resort.
Most of the units at Linareva Hotel sleep 2 guests but they also have 2 family rooms that can sleep up to four.
6. MOOREA VACATION RENTALS
A Moorea vacation rental can be a roomy and budget-friendly alternative on the island. These can be especially nice for multiple couples traveling together and family groups. (Family-sized hotel rooms are quite hard to find on Moorea.)
As with hotels, I would recommend looking along the north and northwest coastlines to be close to amenities and restaurants. Also be sure to book as early as possible as the most highly rated units tend to disappear months in advance! VRBO and Airbnb have a nice selection. I also really like the collection of houses list by OPM Tahiti.
Note: On our recent trip, we were travelling to Moorea with teens. We splurged for 2 nights at the Sofitel but needed to take 2 bungalows to accommodate us ($$$). We then moved to the 3-bdrm Villa Ohana on Cook's Bay (booked through OPM Tahiti) at a fraction of the Sofitel cost. Both experiences were great though.
MORE INSPIRATION
If you are not hooked on Moorea yet, let me try just one more thing. Please let me share with you a snapshot of our whole Moorea trip in this French Polynesia Instagram Highlight.
If you have any questions, comments or want to share something you love about Moorea, please comment on this post or email me directly through my contact link. I love hearing from you!
Prior to visiting Moorea on this trip, we also spent nearly a week at a French Polynesian private island resort on the Tikehau Atoll. Learn more about Ninamu Resort.
RELATED POSTS