Planning on visiting Reykjavik, Iceland with kids? Like many people traveling to this island nation, we chose to do a family trip to Iceland as a stopover on part of a larger European family vacation. We spent a delightful 4 days in and around Reykjavik with our 2 children, self-driving the Golden Circle, visiting a puffin colony, soaking in the Blue Lagoon and much more. Having based ourselves in Iceland's capital city of Reykjavik, we also had plenty of time to explore this picturesque city on the water. Check out our top picks for things to do with kids in Reykjavik.
In a hurry? Take a peek at our 2 minute video. Otherwise, just read on !
Iceland for Kids – 12 Things to do in Reykjavik
1. Hallgrímskirkja Church Tower
For sweeping views of the quaint and colorful city of Reykjavik, take the lift to the top of Hallgrimskirkja Lutheran church. It is a great place to get your bearings and take some very pretty pictures.
2. Reykjavik Whale Watching and Puffin Spotting Tours
There are a number of tour companies running right out of Reykjavik that can take you whale watching or puffin spotting (some tours are as short as 1 hour). Both Extreme Iceland and Elding get good reviews. See the Visit Reyjavik Activities page for a complete list of companies.
Note: This photo was actually taken from a day trip to the Westman Islands where there is a huge puffin colony.
3. Nauthólsvík Geothermal Beach
Possibly the coolest outdoor recreation area in Reykjavik is the Nauthólsvík Geothermal Beach. This multi-use facility has steam rooms, geothermal hot tubs, a man-made beach, and a heated kiddie pool that spills into a larger pool at the ocean's edge.
4. Ice Cream in Reykjavik
A stay in Reykjavik would be incomplete without a visit to Valdís for ice cream. Situated just off the harbor, it is the perfect stop along an evening city stroll. Do as the locals do and order the popular licorice flavor.
5. Walk, Run or Jump Rocks Along the Seawall
My kids loved jumping the rocks along the seawall from the Sun Voyager sculpture to the Harpa Concert Hall (home of the Icelandic Opera). As it can be a little chilly in Iceland even in the summertime, the cozy cafe inside makes for a nice place to warm up with a hot chocolate.
6. Laugardalslaug Pool – Geothemal Pools in Iceland
Icelandic people take their bathing seriously. Geothermal public pools are dotted across the whole country. Upon visiting Laugardalslaug in Reykjavik, I was rather taken aback by the large sign (shown below) explaining exactly where you need to wash. I came to appreciate, however, the fact that once in the pool, you have confidence that nobody did that fake shower walk through thing that is common at pools in North America. If you are a rarely-nude like me (or worse…. a never-nude), you will simply have to get over it. Showering with your bathing suit on is not tolerated. Just strip down and shower like nobody's watching. 
Note to parents of young children: The change rooms at Laugardalslaug conveniently have little baby baths and high chairs for wee ones.
7. Shopping in Reykjavik
We loved some of the unique souvenirs we found in Iceland. My kids bought some trinkets made out of lava rock, while I loaded up on Icelandic blankets and sweaters.The main shopping street is called Laugavegur and along it you will find some great boutiques filled with unique Icelandic goods. My favorites were: Hrím, Aurum, Reykjavik's Cutest, Geysir and Eymundsson Cafe and Bookstore. There is also a sweet little children's clothing store called Ígló and Indí on Skólavörðustígur. While on your shopping stroll, be sure to stop in at the gorgeous Sandholt cafe. Their beautiful creations are so delicious that we found ourselves returning daily.
Tip: If you are looking for some inexpensive souvenirs for friends back home, go to the supermarket and buy Iceland finishing salt, unique Iceland chocolate bars (Hraun is designed to look like a piece of lava), or Icelandic salted licorice (gross at first  then highly addictive).
8. Feed the Ducks at Tjörnin Pond
Although we ran out of time for this particular activity, Tjörnin Pond is a popular spot for families to gather to feed the ducks and geese, take a stroll, and admire the colorful houses along the western shoreline. This pond is also a popular spot for ice skating during the winter months. Learn more at: http:/visitreykjavik.is/tjornin-pond.
9. Eat Hot Dogs at Bæjarins Beztu Pylsur
The people of Iceland love their hot dogs and no one does it better than Bæjarins Beztu Pylsur with a little stand right in the center of Reykjavik. Be prepared to line up and have your cash ready (they do not accept credit cards).
10. Reykjavik Family Park and Zoo
The Family Park and Zoo is located in the Laugardalur valley and is home to various Icelandic farm animals, reindeer, harbour seals, arctic foxes, a selection of birds, and several reptiles. The park also has a carousel, a train, barbecue area and coffee house. Find out more at: http://reykjavik.is/en/family-park-and-zoo
11. The Blue Lagoon
No visit to Iceland is complete without a visit to the Blue Lagoon. Quite honestly, I worried that we might find it way too touristy after having visited several of the local pools, but we actually found it to be quite lovely and well designed.
Children 2 years and up are welcomed for free with a paying adult at the Blue Lagoon, but please note that they do not have robes and flip flops in kids sizes (included with the more deluxe Blue Lagoon ticket packages). Babies and toddlers less than 2 years old are not permitted at the Blue Lagoon due to the high water temperature and the fact that the water is really silty and murky.
Although expensive (all food in Iceland is expensive), the LAVA restaurant is very good and has a kids' menu. The facility also has a more casual cafe style restaurant.
The Blue Lagoon is located quite close to the airport so it makes for a great stop on the way to/from KEF international. We chose to spend an afternoon there prior to flying back to North America — hopping on our plane feeling amazing.
Book tickets in advance as key times can sell out. Learn more at: http://www.bluelagoon.com
12. Family Friendly Museums in Reykjavik
There are several well recommended museums for kids in Rekjavik included the Vikin Maritime Museum (close to Valdís Ice Cream), the Árbær Open Air Museum (explore history via an Icelandic village experience), the National Museum of Iceland (Vikings!) and the Whales of Iceland Museum.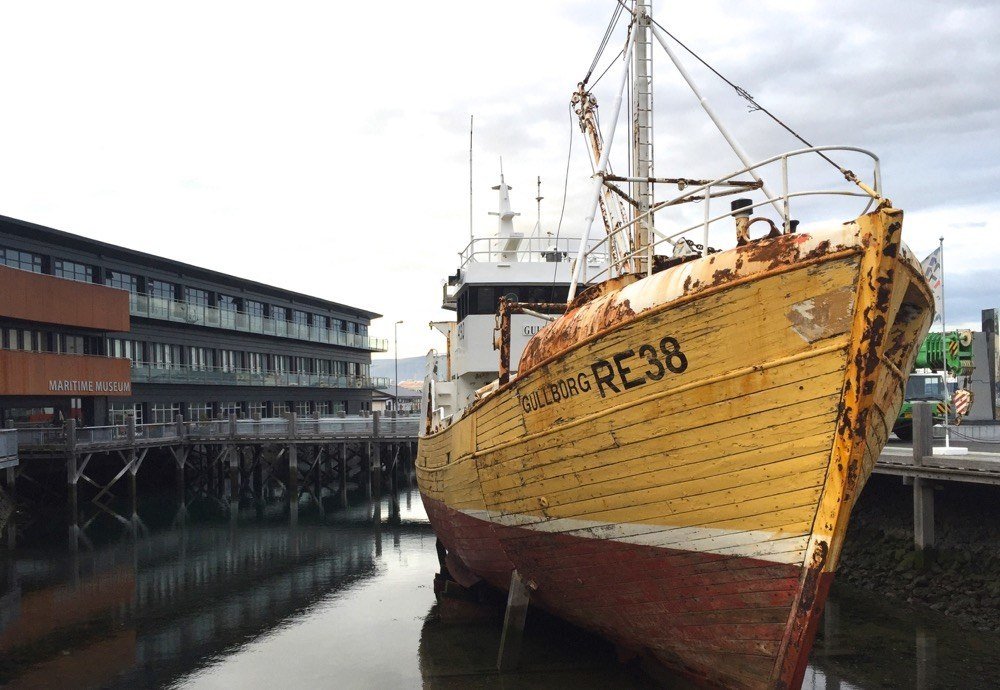 When is the Best Time of Year to Travel to Iceland?
The best time of the year to visit Iceland depends on what you are looking for. Most tourists visit in the summer months (May-Sept.) when the climate is more welcoming. September to mid-April, however, are the best months to see the Northern Lights.
Where to Stay in Reykjavik
Get ready for some sticker shock. Hotels in Reykjavik, Iceland are very expensive, especially in the main tourist season (May-Sept). If possible, I recommend making a reservation as soon as your travel plans are fixed. Reykjavik is a very walkable city, so as long as you are somewhere around the core, you cannot go too wrong.
In our situation, we planned our Iceland stopover at a very late date and found very few decent hotels available that weren't going to charge us an arm and a leg. We opted instead to book a vacation rental apartment. VRBO
and Airbnb have quite a nice selection in Reykjavik. We absolutely adored our 2 bedroom apartment right off of the main shopping street of Laugavegur. Owner Dyrlief has more than a dozen beautiful vacations rentals around Iceland ($110-$250 USD/night). Find all of them here. If you have never rented from Airbnb before, I can offer you a $34 USD ($45 CAD) Airbnb referral credit.
More Information on Reykjavik
For more family friendly things to do in Reykjavik, Iceland, including day trips and other tours, please see: http://visitreykjavik.is. On this site, you will also find the Reykjavik City Card which can save you money if you plan on visiting a lot of museums and attractions. The card includes free entry to a large selection of museums and galleries, all swimming pools in Reykjavík and free unlimited travel by bus within the Reykjavik Capital Area.
You May Also Enjoy the Following Posts:
Top Tips for an Iceland Car Rental
Top 10 South Shore Iceland Attractions
7 Incredibly Cool Places to Explore in Iceland with Kids – Travel Babbo
Self Driving the Golden Circle, Iceland
Finding Puffins in Iceland – A Day Trip to the Westman Islands
A Guide to Bergen, Norway – with Kids
Hiking Pulpit Rock – Simply Spectacular
Best Baby Travel Strollers for Airplanes