Last update: June 27th, 2023 at 08:58 am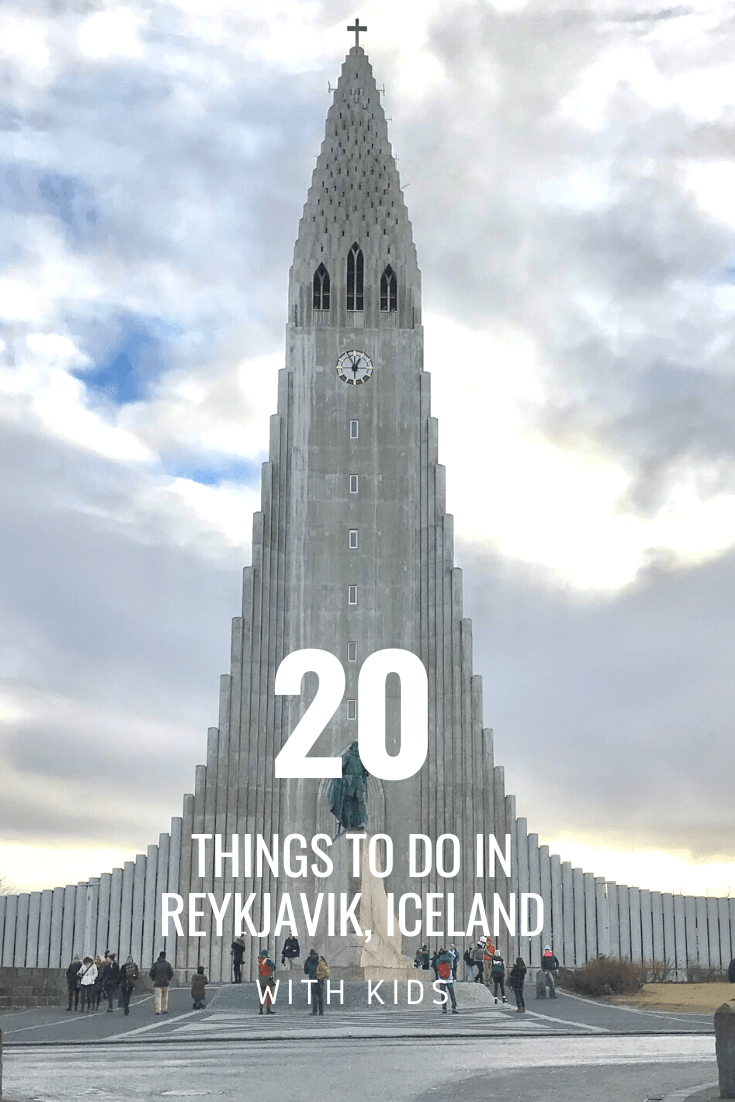 Affiliate Disclosure: This guide to Reykjavik, Iceland with Children contains affiliate links. If you click on a link and make a purchase, I may receive a small commission at no cost to you.
Iceland with Kids – Intro
Are you planning a trip to Iceland with kids? Like many people traveling to this northern island nation, our first Iceland family vacation began as a multi-day stopover that was part of a much larger European adventure. We quickly discovered that there were so many great things to do in Iceland with kids that we couldn't wait to return a few years later during the winter.
On both trips, we were based primarily in the capital city and really enjoyed checking out all the the fun things to do in Reykjavik with kids. Reykjavik is the perfect size to explore on foot and provides a wonderful base for doing Iceland family tours and day trips.
Reykjavik with Kids Video
In a hurry? You can see many of our favorite things to do in Iceland with kids in this 2 minute video. Otherwise, just read on for our top attraction picks in Reykjavik for kids!
20 Things to do in Reykjavik with Kids
1. Hallgrímskirkja Church Tower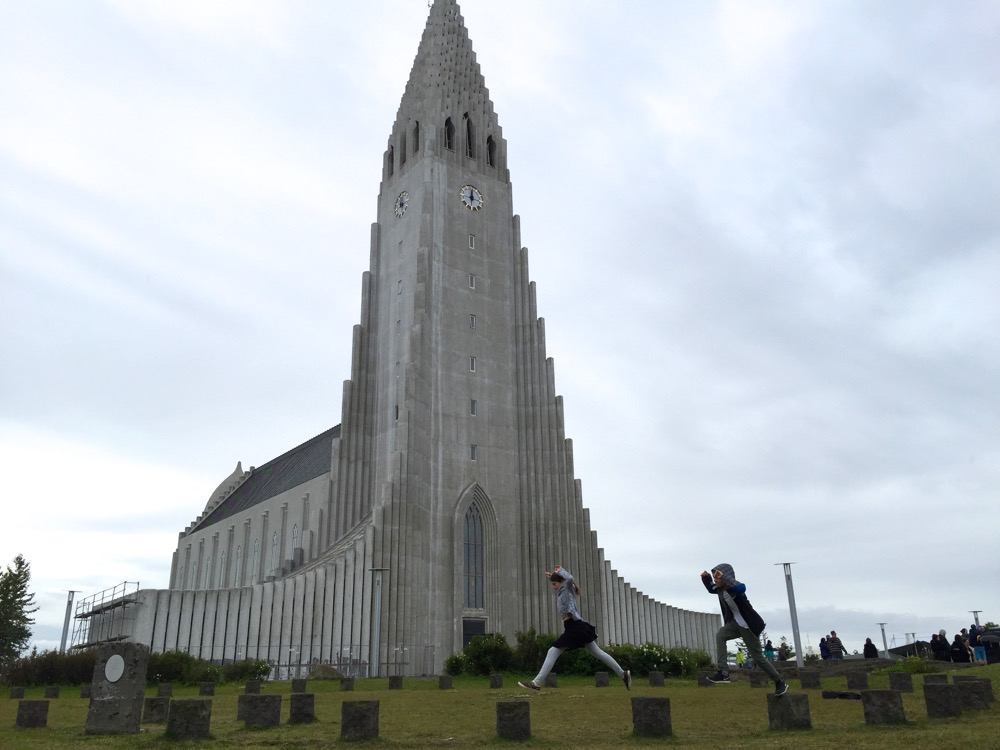 One of the things that I found when traveling to Iceland with kids was that my two were always the happiest when kept on the go. A visit to Hallgrímskirkja Lutheran Church is quite ideal in this respect because it is a short, but interesting walk from most major Reykjavik hotels. It's also a perfect first day activity because it really helps you to get your bearing in the city.
In front of Hallgrímskirkja, there is a nice plaza for kids to run around to get their beans out before entering the more subdued church environment. From the top of the tower (accessed by an elevator), visitors are rewarded with sweeping views of the beautiful city of Reykjavik.
Learn more on the Hallgrímskirkja website or read recent visitor reviews on Tripadvisor.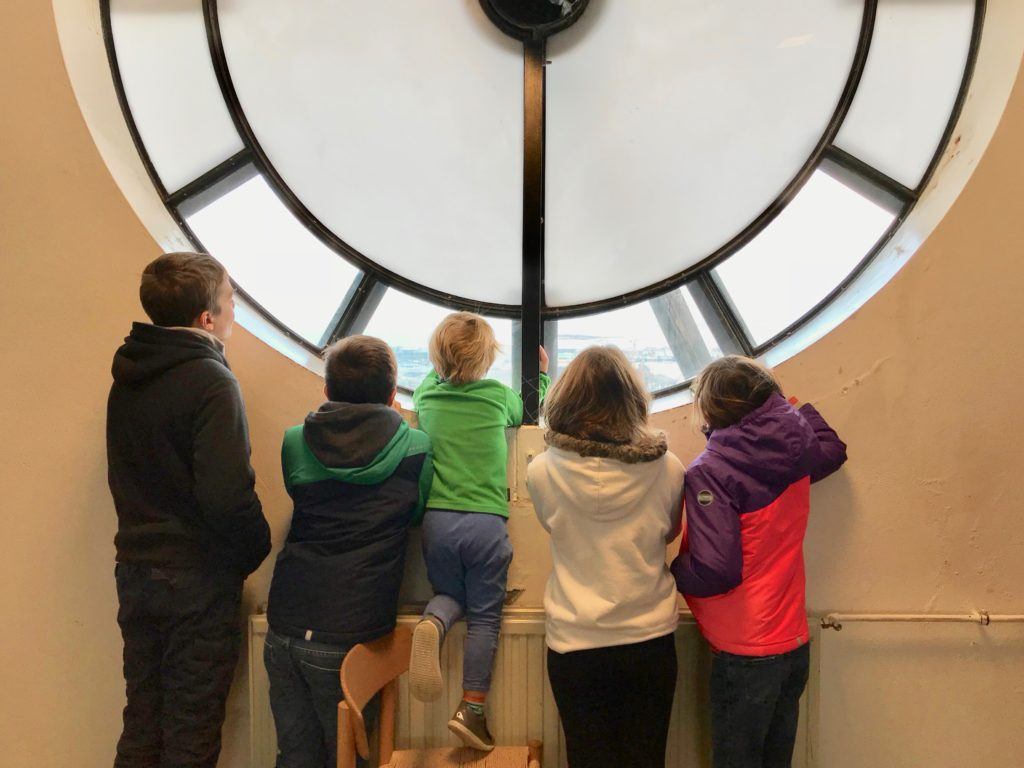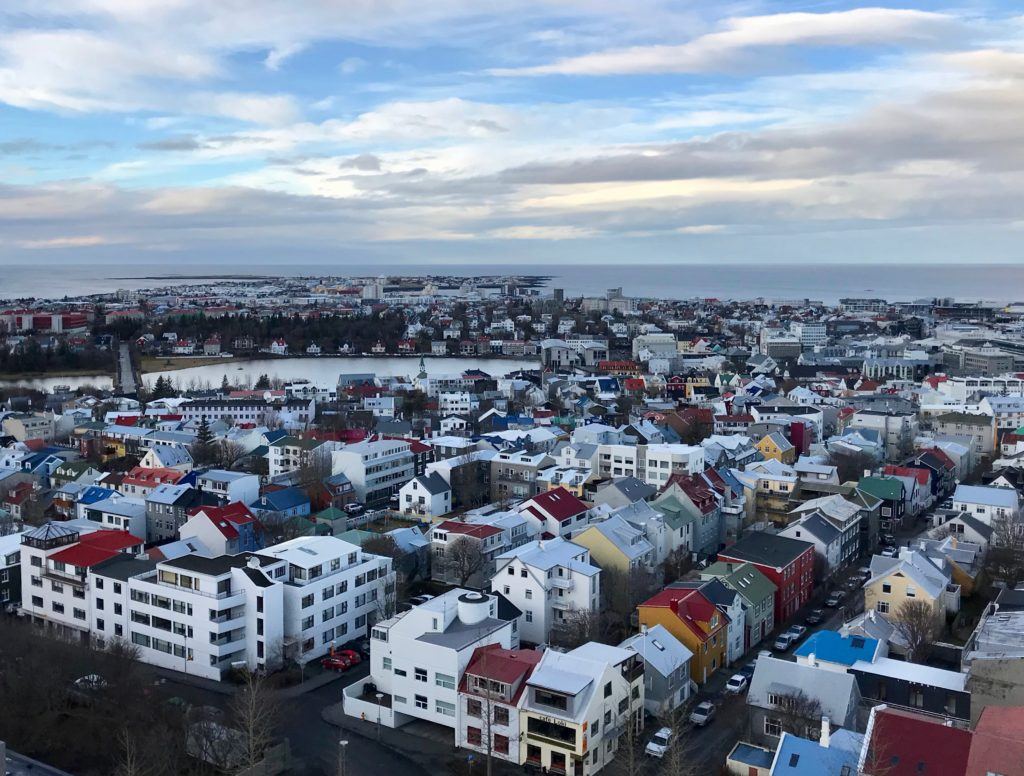 2. Whale Watching
There are a number of whale watching tour companies conveniently running right out of Reykjavik Harbour. Seeing these giant mammals in their natural habitat can be one of biggest highlights of family holidays to Iceland. On these tours, lucky guests have the opportunity to see humpback, orca and minke whales, as well as porpoises and dolphins (season and luck-dependent, of course).
Most of the larger vessels can take children of any age and run year-round. The smaller, and more maneuverable RIB boats typically have a minimum age of 10 years old and run only during the warmer months (April through October).
Most companies will offer you a complimentary tour if you do not see any whales. For this reason, you may want to plan this activity near the beginning of your Iceland family vacation.
There are many whale watching tour companies out of Reykjavik to choose from, but several that consistently get good reviews are Elding Whale Watching and Harpa Yachts (big boats), and Katla (small group, RIB boats).
Check out these whale watching tours from Reykjavik with Viator.com.
3. The Lava Show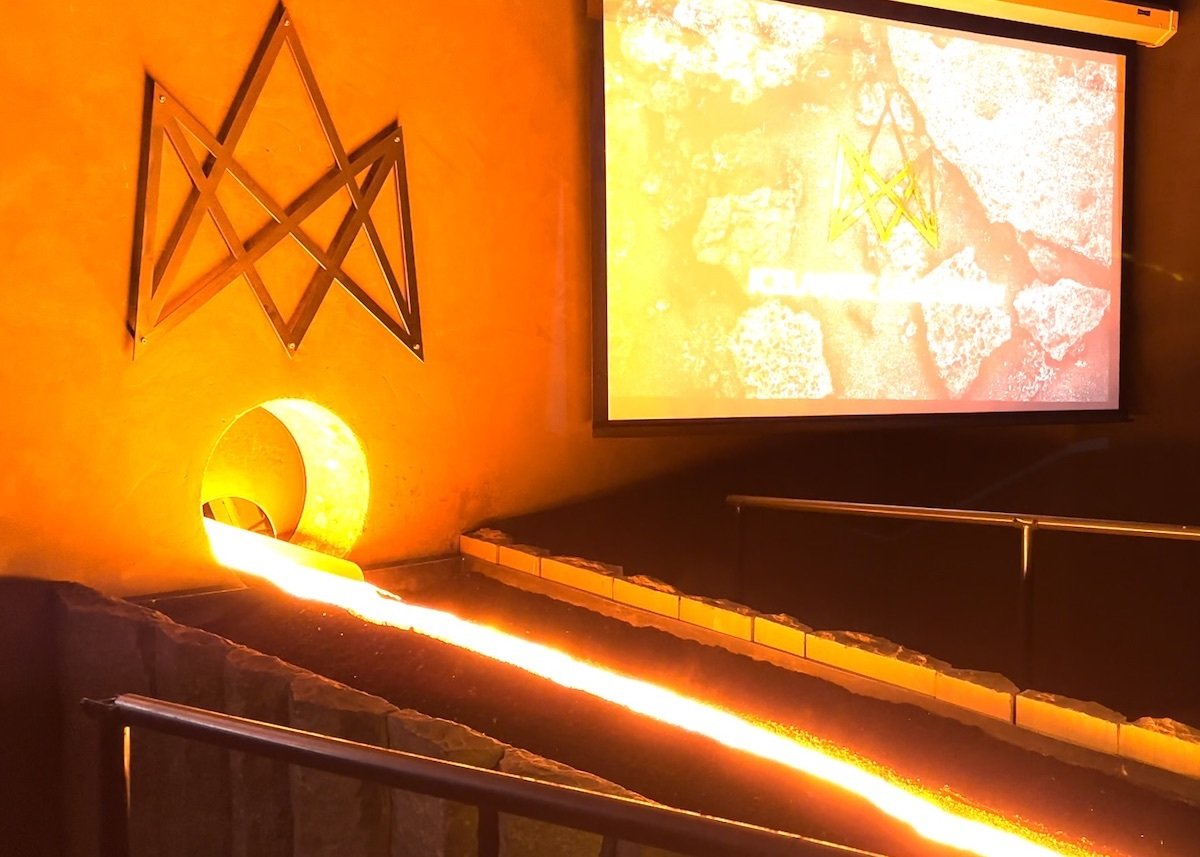 In March 2021, Fagradalsfjall Volcano near Reykjavik started erupting again (ceasing again in October 2021). While some intrepid tourists do hiking trips to its lava field, you can also see real lava in both Reykjavik and Vik at the very popular Lava Show.
At this attraction, visitors have the opportunity to get up close to real molten lava, see it flowing, hear it sizzling, and feel its heat (in a safe and comfortable environment). Guests also receive a little piece of lava (long cooled) on their way out.
While kids of all ages are welcome at this attraction, it is most suitable for those 5 years and above. Learn more on the Lava Show website or read recent reviews on Tripadvisor.
4. The Golden Circle Day Trip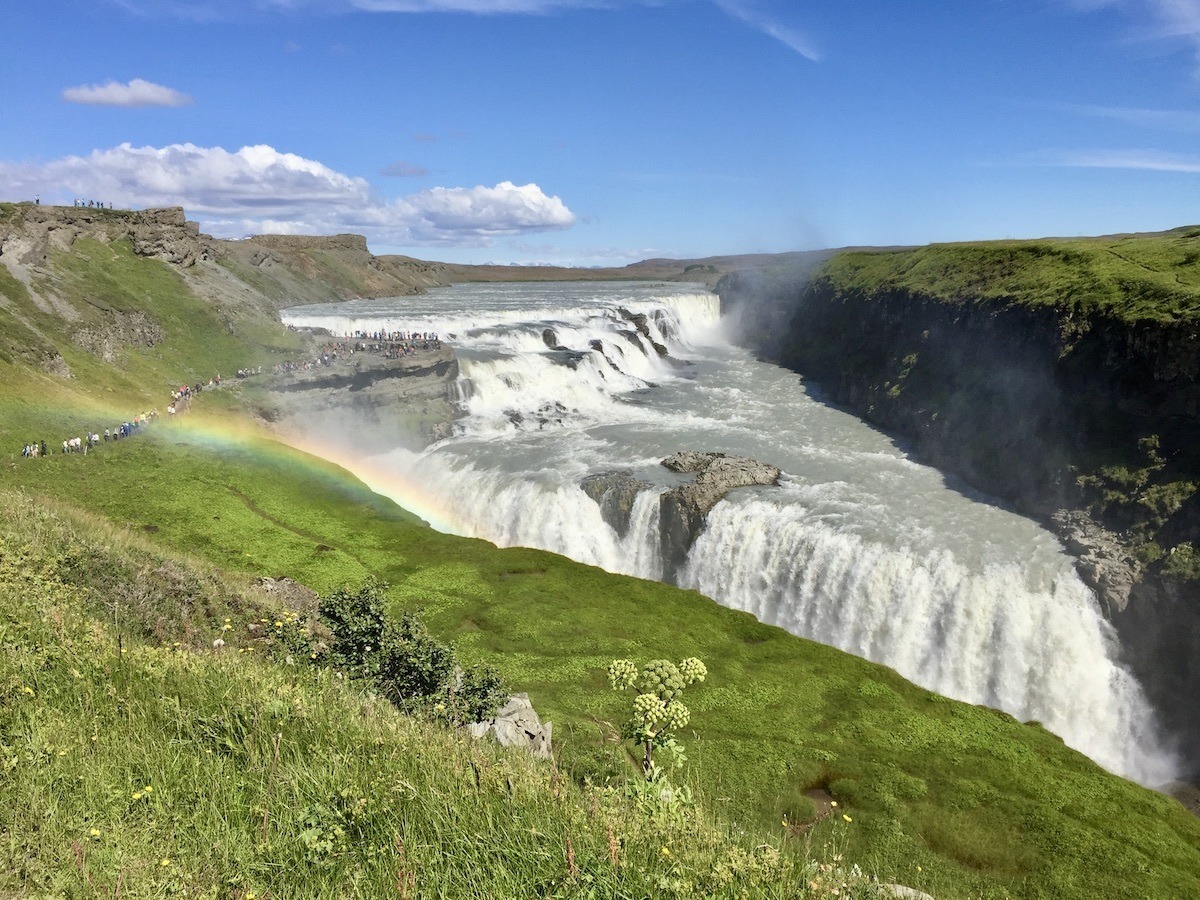 My advice to friends planning family trips to Iceland is that the Golden Circle day trip is an absolute must. Yes, it is touristy year-round, but it is also simply amazing. We have done it twice as a family (once in the summer, once in the winter) and we would do it again in a heartbeat.
On this driving loop from Reykjavik, you will see water shoot high up into the sky at the Great Geysir, you will walk between two tectonic plates in Thingvellir National Park, and you will see one of the world's most beautiful waterfalls, Gullfoss. Along the way, you will likely catch a glimpse of those gorgeous Icelandic horses and have the opportunity to relax in a geothermal heated pool at the Secret Lagoon.
Golden Circle Family Tours
This route can be done on a Golden Circle Tour from Reykjavik which typically takes about 9-10 hours. Not a fan of big groups? Lots of companies offer small or private Golden Circle tours as well.
Personally, I have had an excellent tour experience while working with a company called Hidden Iceland. They run some wonderful Golden Circle tours out of Reykjavik (for children 8 years +). Please also feel free to use the promo code PINTSIZE10 for a 10% discount on their small group tours. See reviews for Hidden Iceland here.
Golden Circle Self Drive
You can also quite easily self drive the Golden Circle. This allows for a little more flexibility if you are in Iceland with family (especially important if you are visiting Iceland with a baby or toddler). By self driving the Golden Circle, you can also shorten the length of the day trip (no wasted time doing hotel pick-ups and drop-offs). We did it on our last trip with another family – our kids ranging from 3-13 years, and it was simply a marvelous day.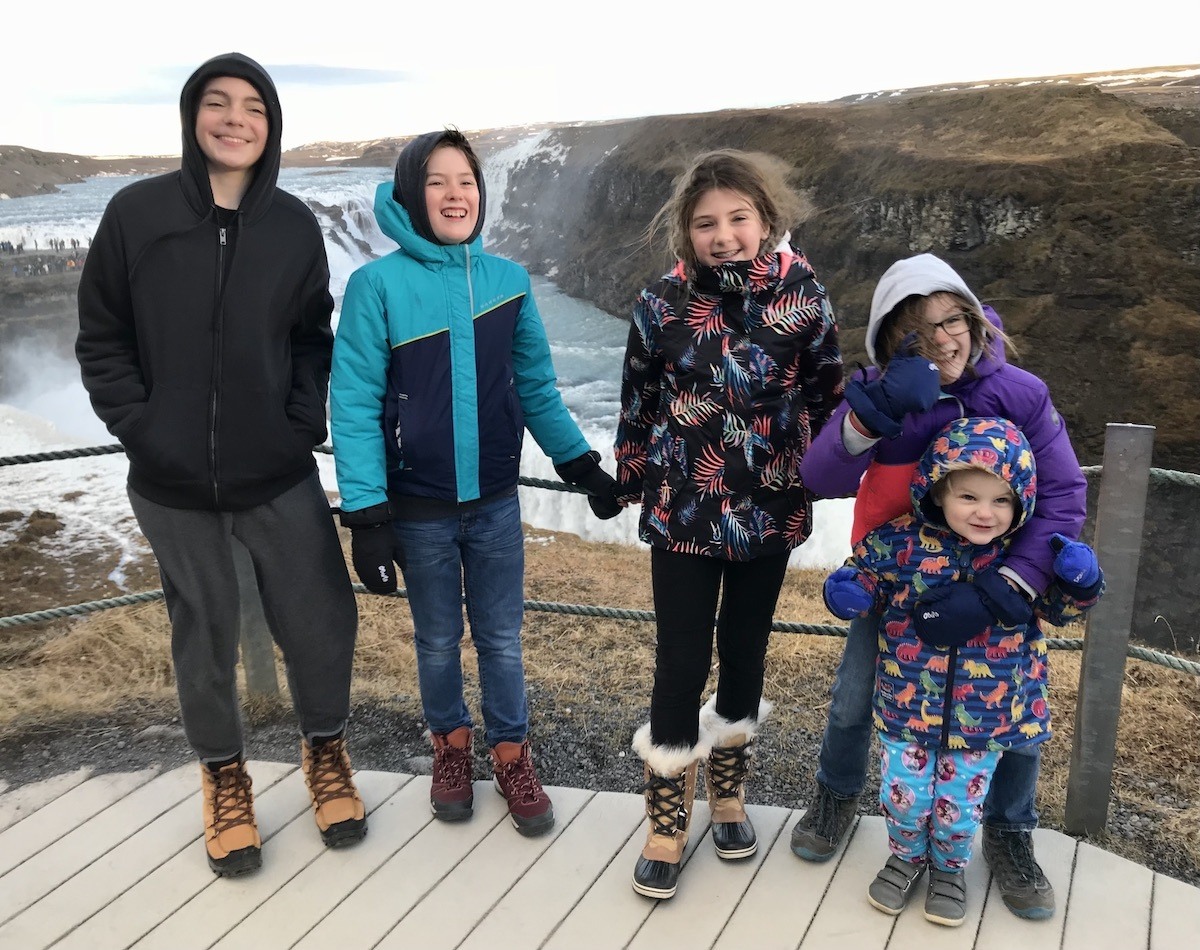 If you have not rented a car already, there are several Reykjavik car rental offices near the city centre. The Golden Circle roads are very well maintained year-round. That said, for our winter trip we took a look at the conditions a few days ahead and chose our tour day based on the most favourable weather (en.vedur.is).
AUTO EUROPE – SAVE UP TO 30% ON CAR RENTALS
See also our guide to Self Driving the Golden Circle, Iceland and our tips for Renting a Car in Iceland.
5. Perlan Museum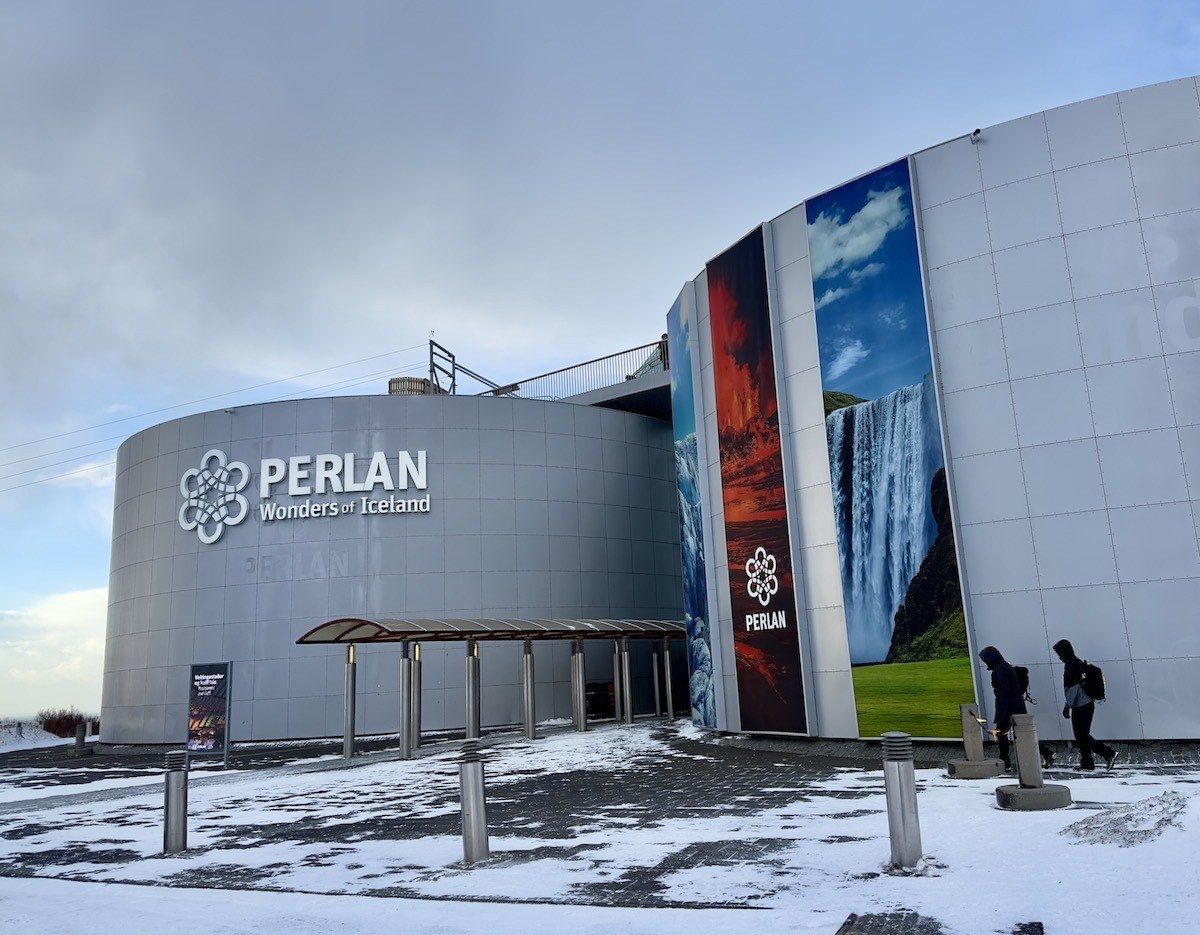 The Perlan Museum is basically Iceland's science and technology centre. It has many hands-on, interactive and educational exhibits that are perfect for kids. Being that it is primarily indoors, it is also an ideal family activity for a rainy day in Reykjavik.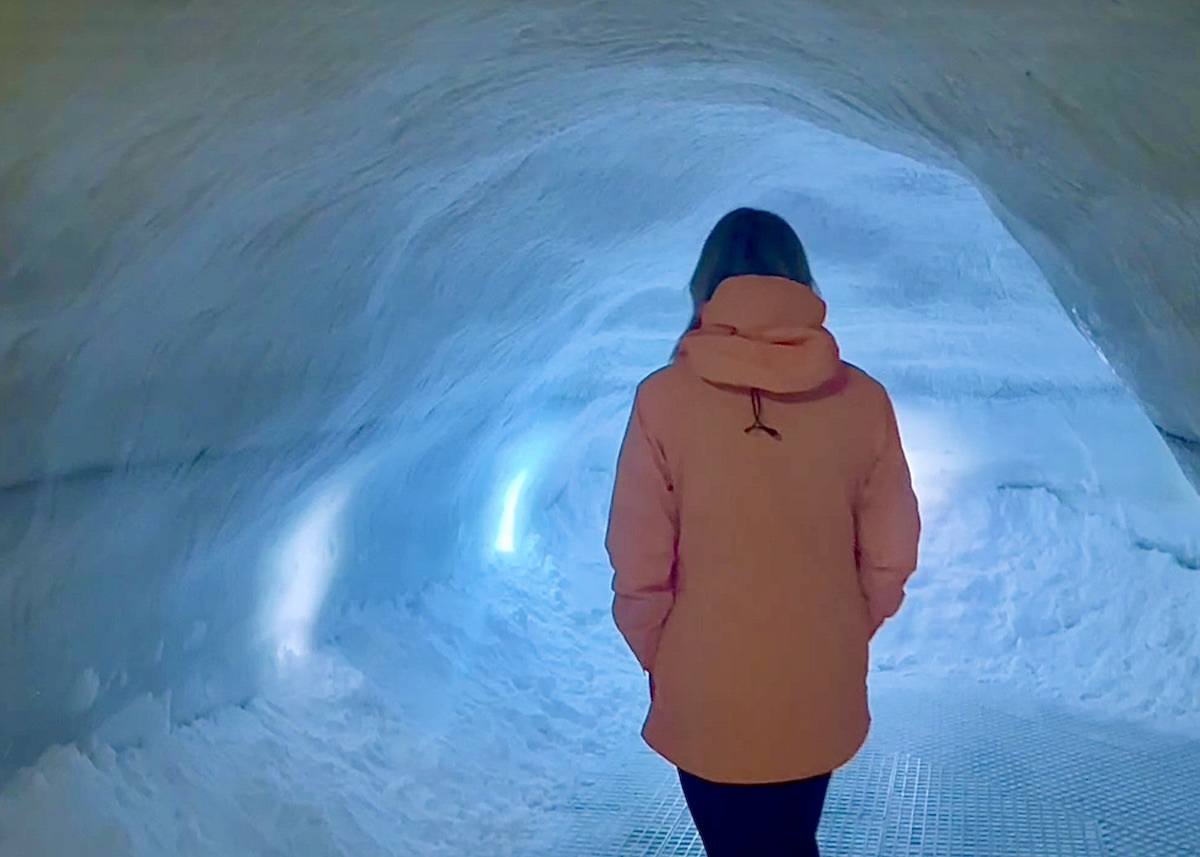 Other exhibits at the Perlan include an interactive glacier exhibition, an immersive Forces of Nature show, a virtual aquarium, and and 8K Planetarium Northern Lights show. One of the most impressive exhibits, that is sure to delight both kids and adults alike, is the 100m long real ice cave.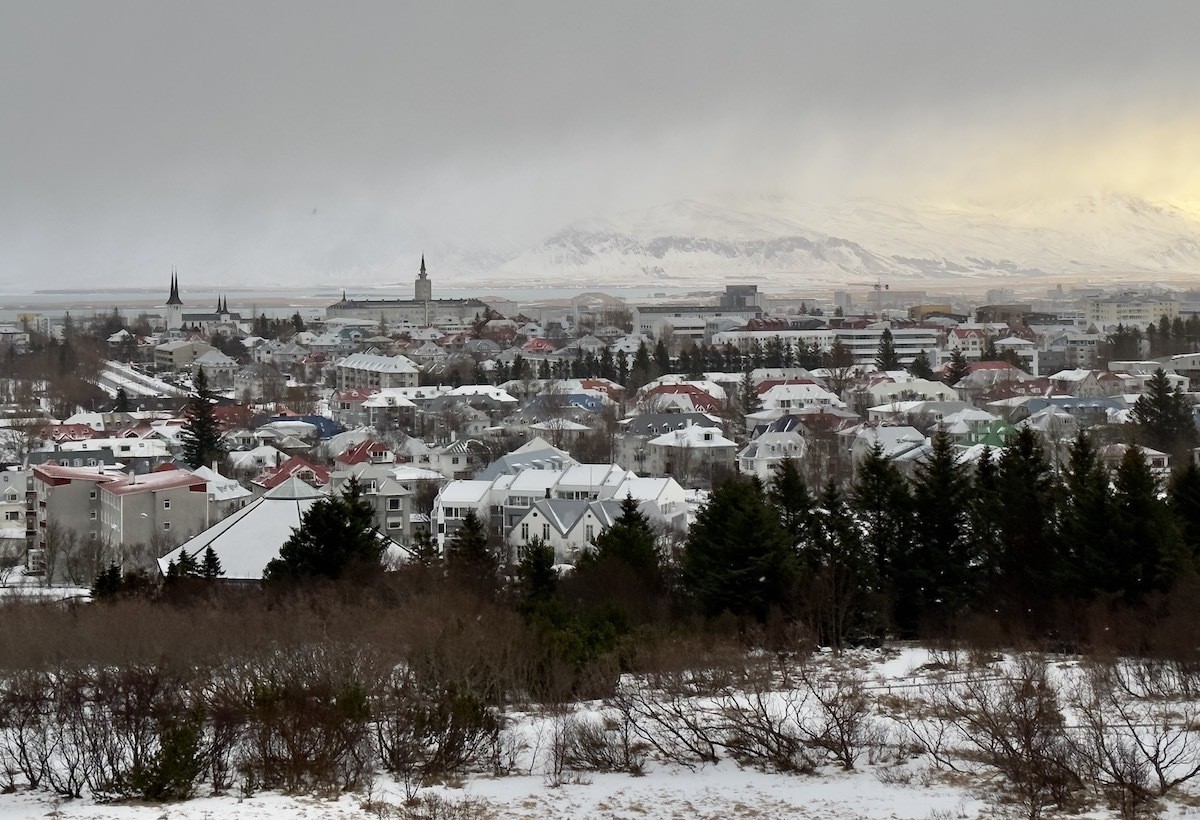 The Perlan is perched on a hill above Reykjavik offering beautiful views of the city from the observation deck, cafe and restaurant. The museum also has quite a good gift shop on the top floor if you are in the mood for souvenir shopping. I saw a few things there that I really liked, but chose not to buy them because I assumed I'd see them again in the city centre. I did eventually find these items in Reykjavik, but I really had to hunt around.
Learn more on the Perlan Museum website or read recent reviews on Tripadvisor.
6. Nauthólsvík Geothermal Beach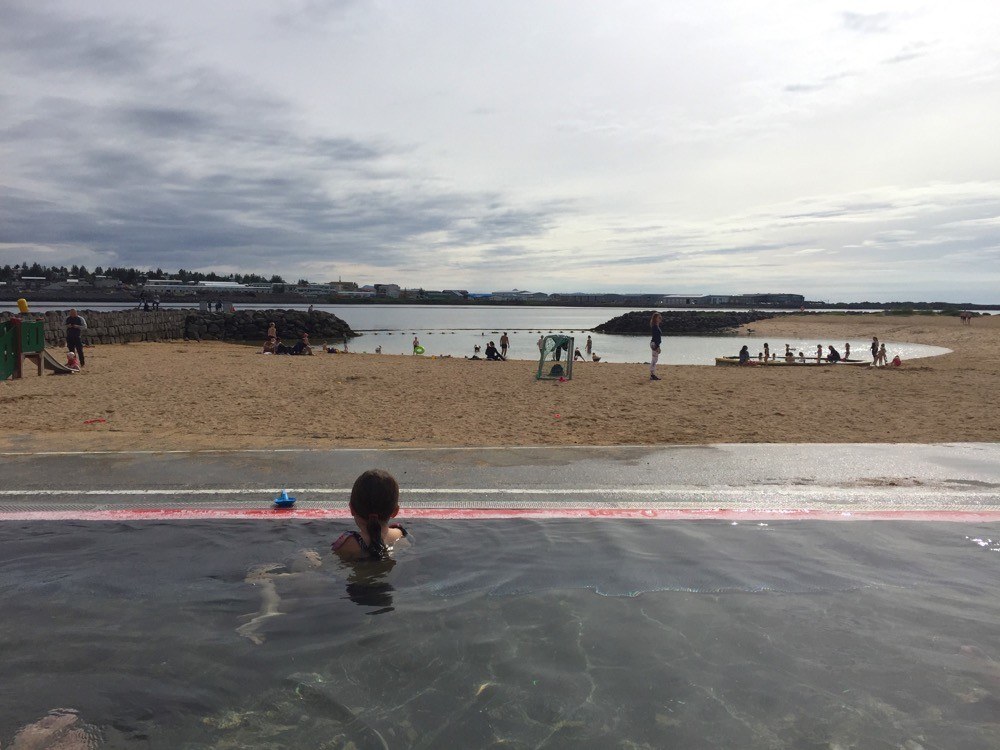 Possibly the coolest outdoor recreation area in Reykjavik is the Nauthólsvík Geothermal Beach. This multi-use facility has steam rooms, geothermal hot tubs, a man-made beach, and a heated kiddie pool that spills into a larger pool at the ocean's edge.
Of course, this is a completely different experience from the Blue Lagoon (much less fancy – more like going to a nice community centre). It's a really fun thing to do though if you want to experience something local. It's also a great Reykjavik kids activities that won't blow your Iceland family trip budget.
Learn more on Nauthóslivik Beach website or read recent reviews on Tripadvisor.
7. Eat Ice Cream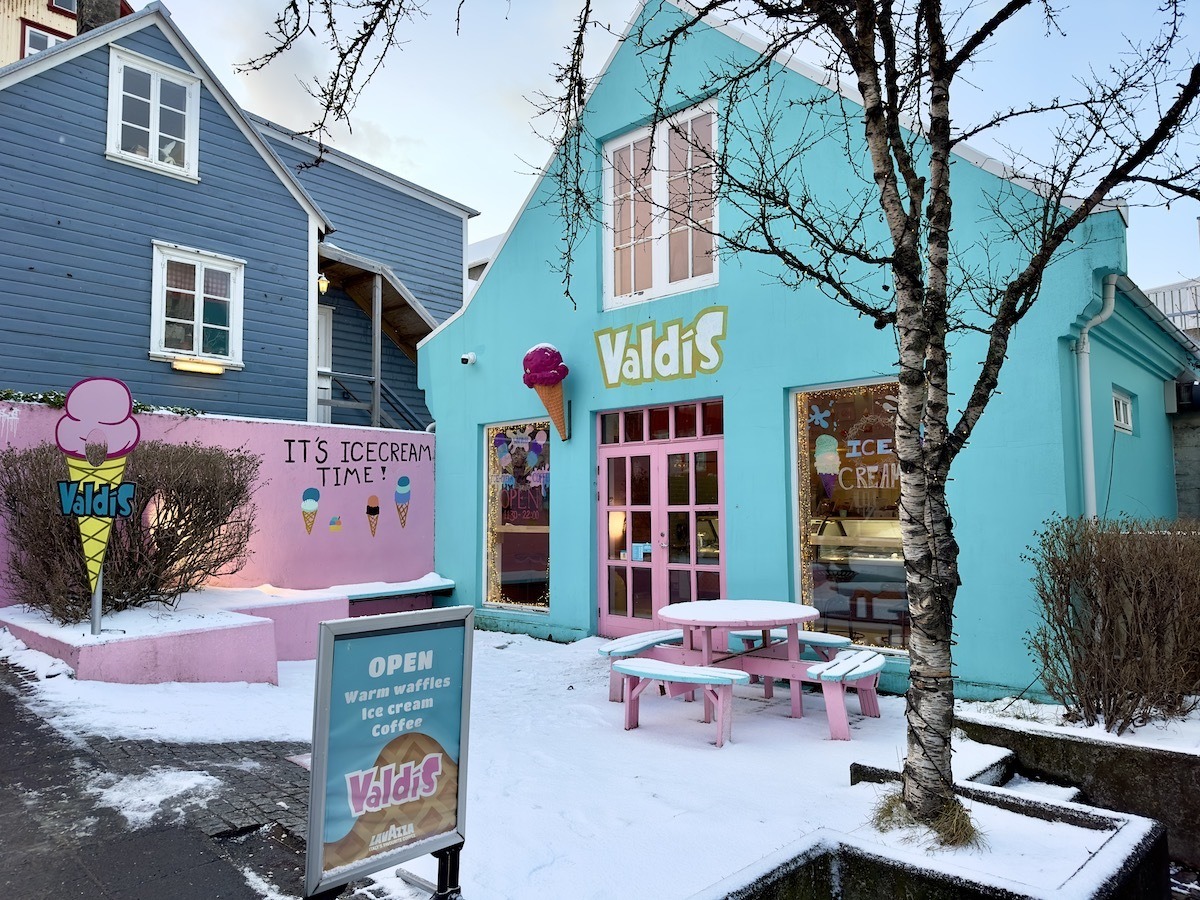 We have tried others, but Valdís is our favorite for ice cream in Reykjavik. With two locations in the city, I will confess that we have sometimes visited twice in one day!
Feeling adventurous? Try the locals' favorite – licorice flavor. Learn more at: http://valdis.is.
Ice cream outings are not just a summer pastime in Iceland, but a year-round activity. To understand the Icelandic custom of ísbíltúr a little better, check out this video from Monacle.com.
Update Feb. 2023: Since my last visit, a few new ice cream places have opened up in Reykjavik including Skübb and Gaeta Gelato. I plan on visiting them very soon, so stayed tuned!
8. Jump Rocks Along the Seawall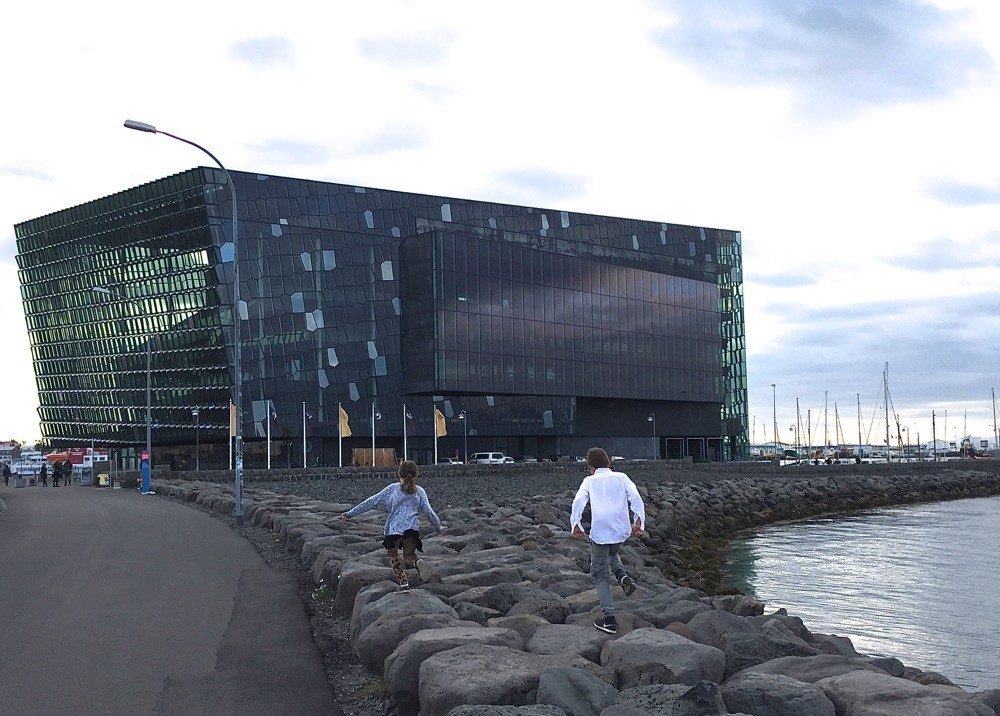 My kids loved jumping the rocks along the seawall from the Sun Voyager sculpture to the Harpa Concert Hall (home of the Icelandic Opera). As it can be a little chilly in Iceland even in the summer, the cozy cafe inside makes for a nice place to warm up with a hot chocolate.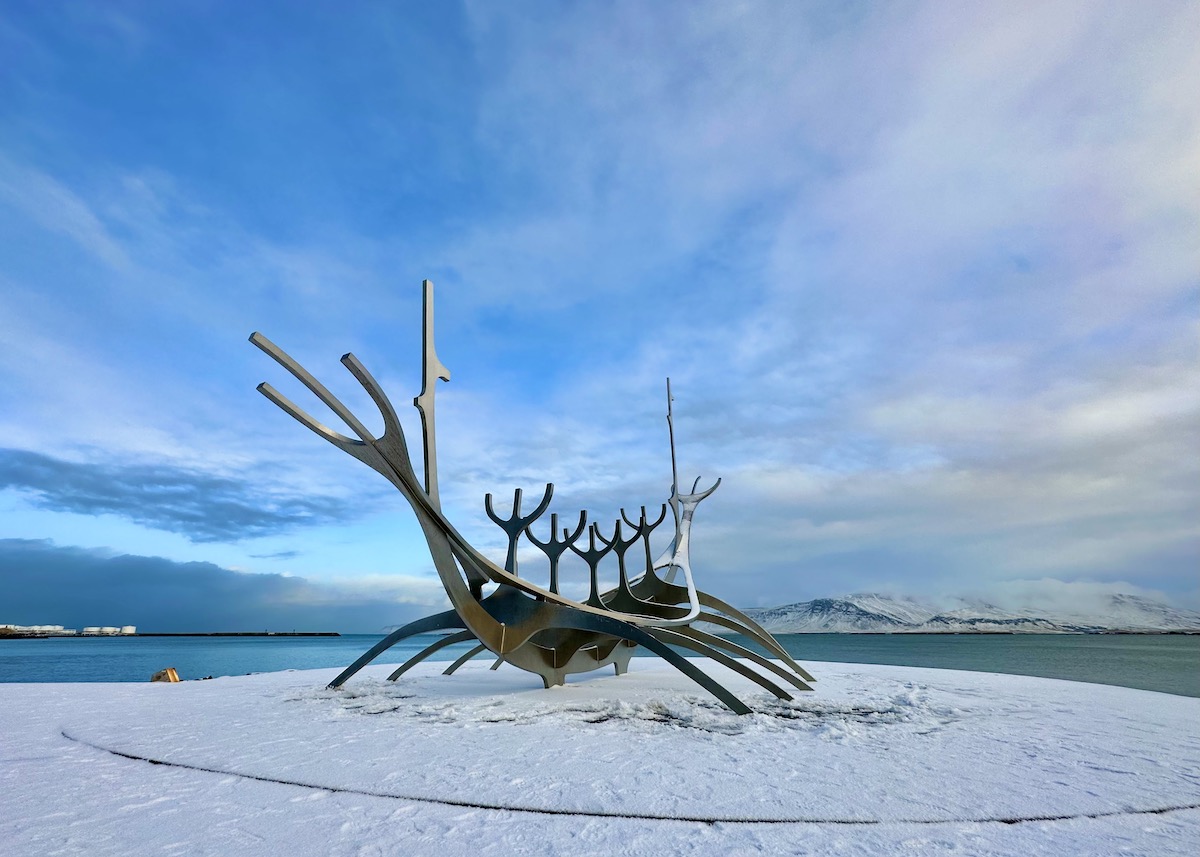 9. Harpa Concert Hall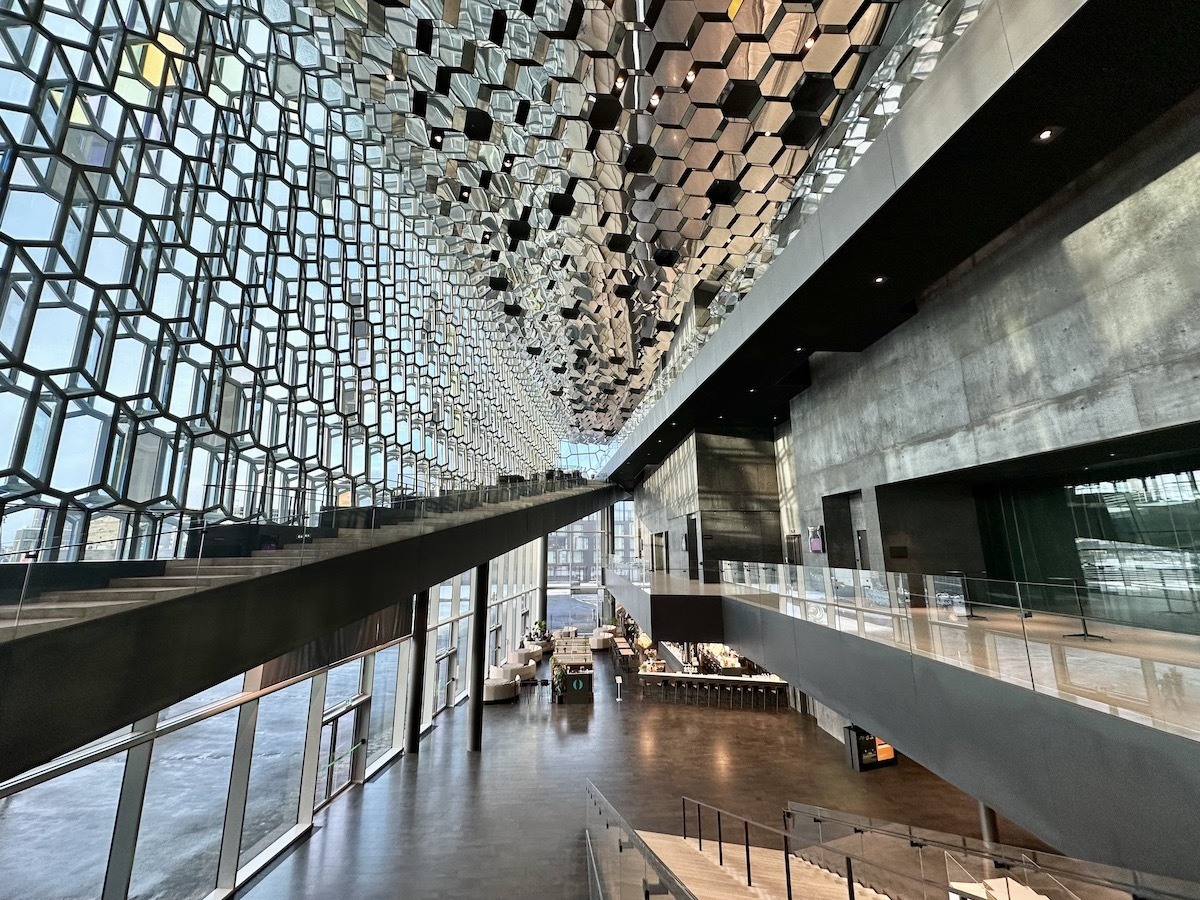 The Harpa, or the Iceland Opera House, it not just an incredibly beautiful building (that must be seen, even if you just pop into the lobby). It also happens to have some really great music programs for kids.
In 2021, the Harpa opened a new space specifically for children and families. They offer multiple concerts and workshops each week that could be especially interesting if you are visiting Iceland with a toddler.
Please see coming events at harpa.is/en/hljodhimnar. While many events are free, you still often need to obtain a ticket in advance.
10. Laugardalslaug Pool
Icelandic people take their public bathing very seriously, so it should come as no surprise that there are 18 thermal pools in and around Reykjavik. In fact, many locals visit their favorite pool multiple times a week. If you truly want to experience the Icelandic lifestyle, I encourage you to visit at least one Reykjavik public pool during your Iceland family holiday.
We chose to visit Laugardalslaug Pool because it seemed to be one of the most family-friendly facilities, with an outdoor children's pool, a paddling pool, two waterslides, numerous hot tubs, a steam bath, and mini golf course. If you are traveling to Iceland with a baby, Laugardalslaug conveniently has little baby baths and high chairs in the change rooms for wee ones.
See a full list of Reykjavik pools here: https://visitreykjavik.is. If you plan on visiting many public pools, museums and attractions during your stay, the Reykjavik City Card can save you money. For a fixed price, it offers free entry to most museums, pools, and some additional attractions. It also includes free public transportation in the capital area.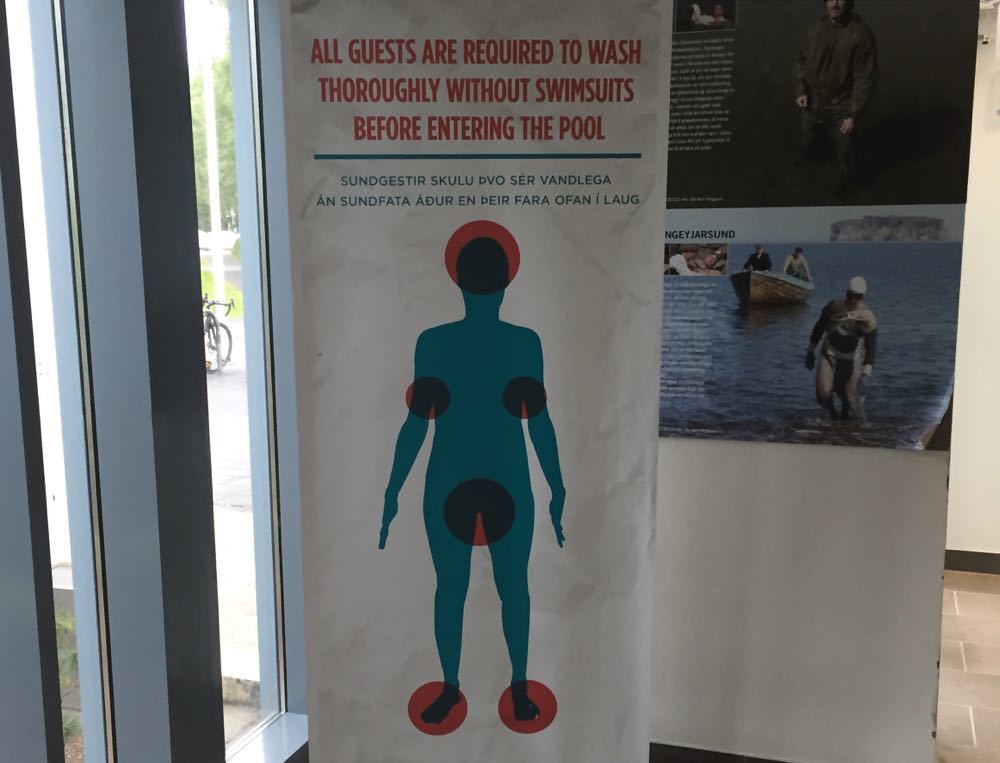 Note: Upon arrival at Laugardalslaug Pool, I will admit to being rather taken aback by the large sign (shown below) explaining exactly where you need to wash. I came to appreciate, however, the comfort that comes with knowing that nobody can get away with that fake shower walk-through thing that is common at pools in North America.
Showering with your bathing suit on is a definite no-no. Just strip down and shower like nobody's watching. If you are a rarely-nude like me (or worse…. a never-nude), you will simply have to get over it.
11. Go Horseback Riding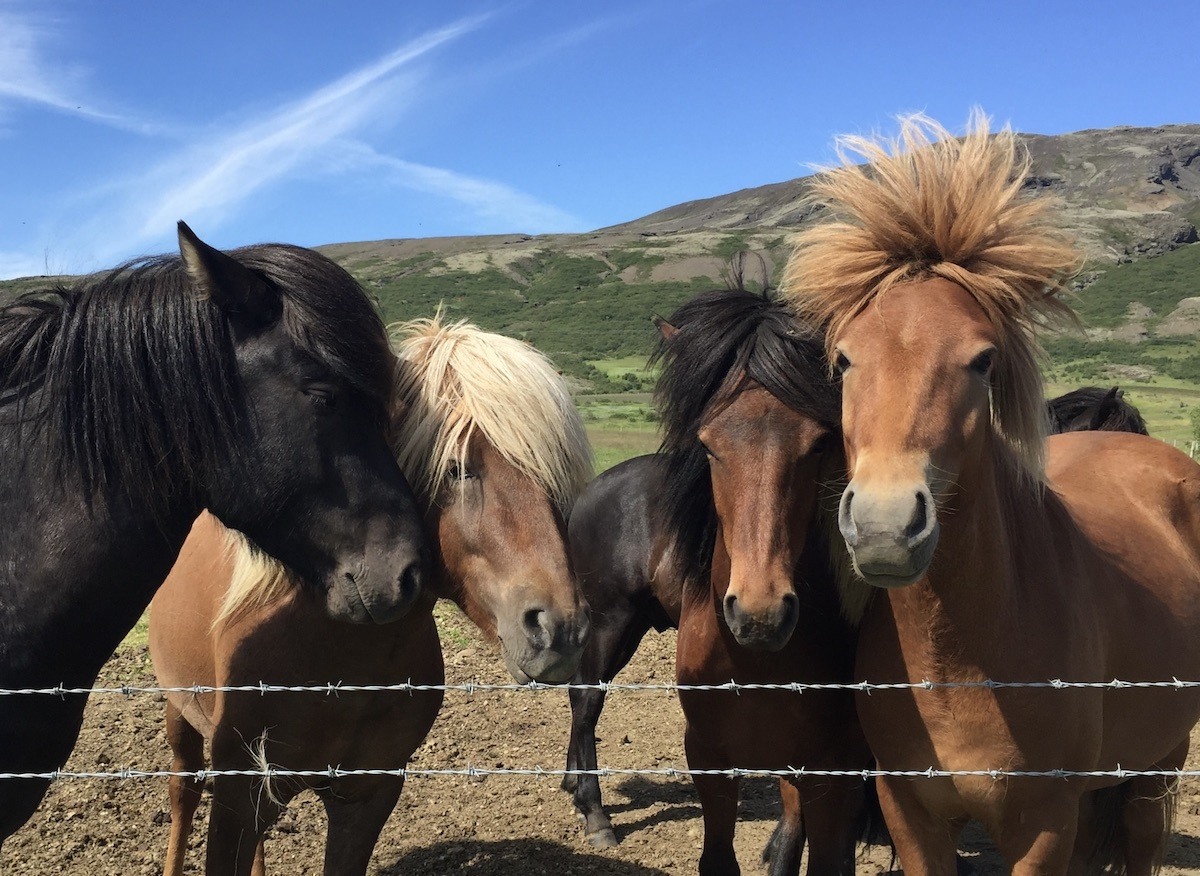 It's hard to do any research on Iceland without coming across photos and videos of those gorgeous and sturdy Icelandic horses! Thankfully, you don't have to go too far to find them. Within a 30-60 minute drive of Reykjavik, you have numerous options for horseback riding excursions (on everything from lava fields to black sand beaches).
Most horseback riding tours near Reykjavik have the option of a hotel pick up and a morning or an afternoon ride. The minimum age to ride is usually around 8 years old, although there are a few outliers that allow kids as young as 5. Please note that not all operators offer tours year-round, but the ones that do provide guests with extra clothing layers to keep everyone cozy and warm.
See all Reykjavik horseback riding tours on Viator.
As another option, a friend of mine took her teen daughter riding with Mr. Iceland and said that the experience was absolutely fantastic. He tends to do immersive riding experiences (with options to stay for dinner and even overnight) for the more advanced rider.
12. Reykjavik Shopping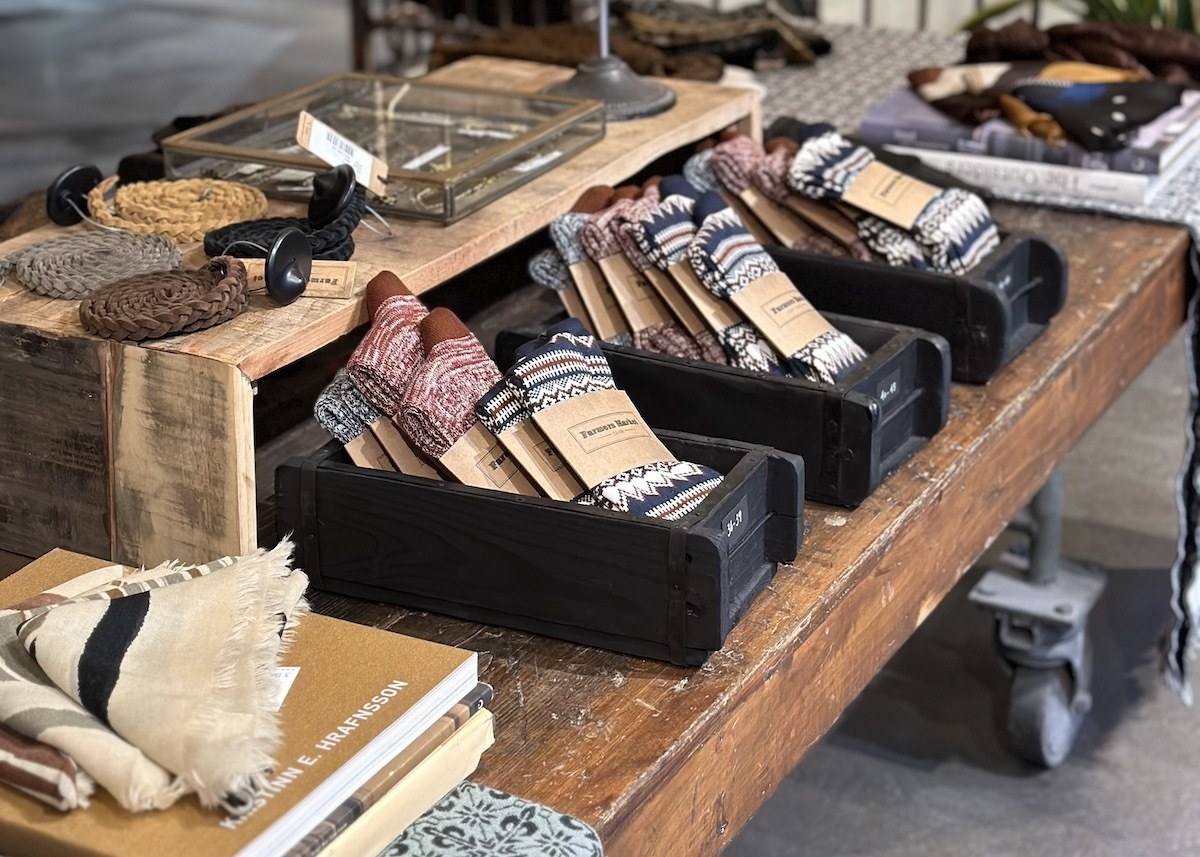 We loved some of the unique souvenirs we found in Iceland. My kids bought some trinkets made out of lava rock while I went straight for the sweaters, mittens and socks.
The main shopping street is called Laugavegur and along it you will find many tourist shops full of puffin and Viking themed items. In the mix, however, are also some great boutiques filled with unique, locally-made (or at minimum, locally designed) Icelandic goods. My favorites are: NLSN, Farmers & Friends, Epal, 66°North and Geysir. There are also some nice shops along Skólavörðustígur (the street leading straight up to Hallgrímskirkja church).
While you are out and about, be sure to stop in at the gorgeous Sandholt cafe and bakery. Their beautiful creations are so delicious that we found ourselves returning daily.
If you are looking for some inexpensive souvenirs for friends back home, try Bonus, the local supermarket (multiple Reykjavik locations, including on Laugavegur Street). This is a great place to buy Iceland finishing salt (blue box with the mermaid on it), unique Iceland chocolate bars (Hraun and Ris), or Icelandic salted licorice (odd-tasting at first – then highly addictive).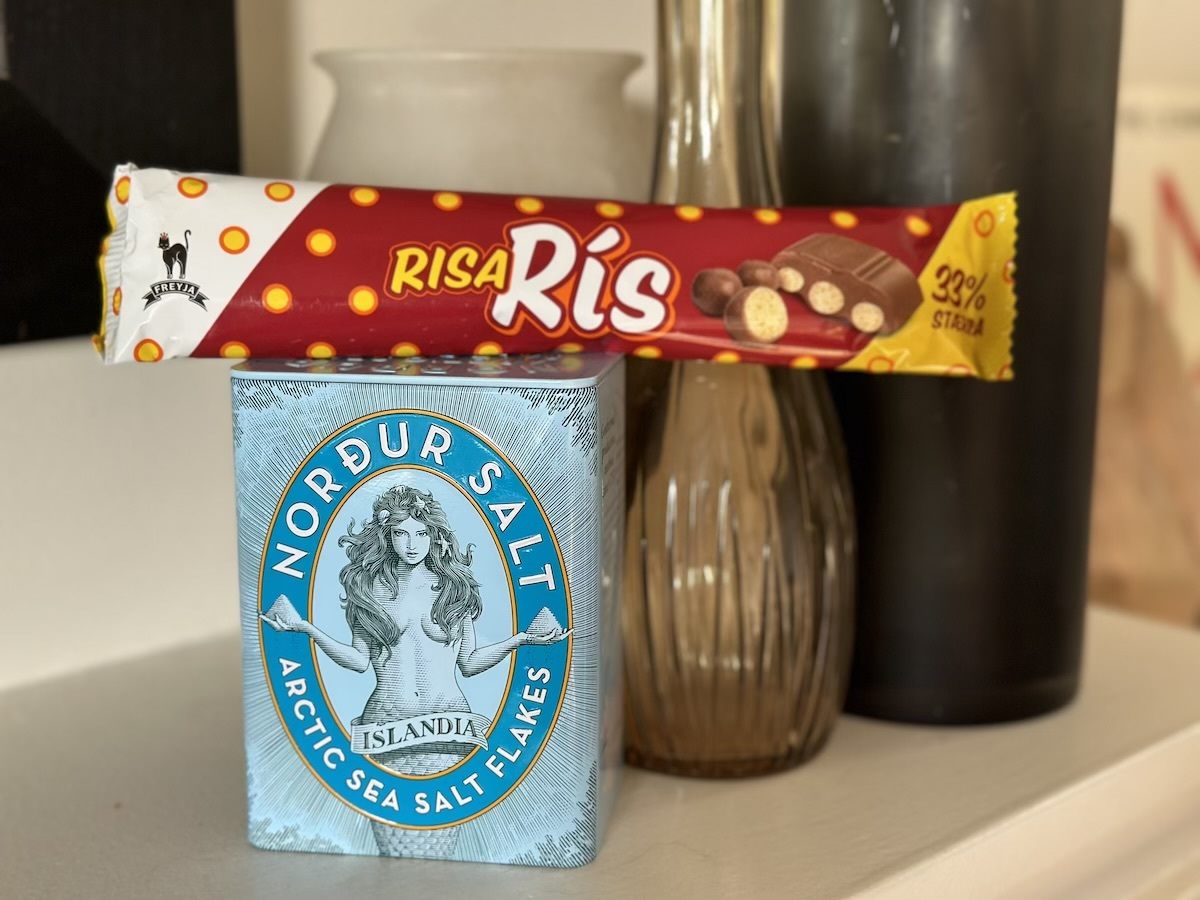 On my most recent trip to Iceland in 2023 (a girlfriend getaway), all my kids wanted me to bring them back was Icelandic candy!
13. Visit the Birds at Tjörnin Pond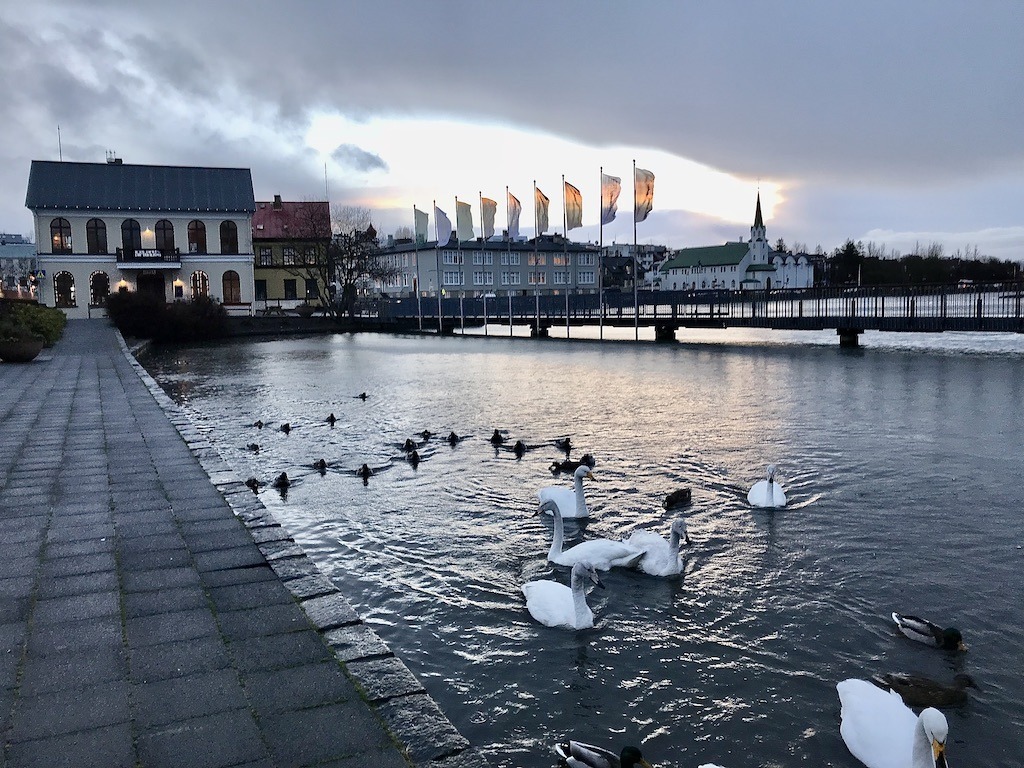 Tjörnin Pond is a popular spot for families to gather to watch the ducks and geese, take a stroll, and admire the colourful houses along the western shoreline. It is also ideal for avid bird-watchers and wildlife enthusiasts, as more than forty different species of birds have been spotted in and around the pond over the years.
14. Eat Hot Dogs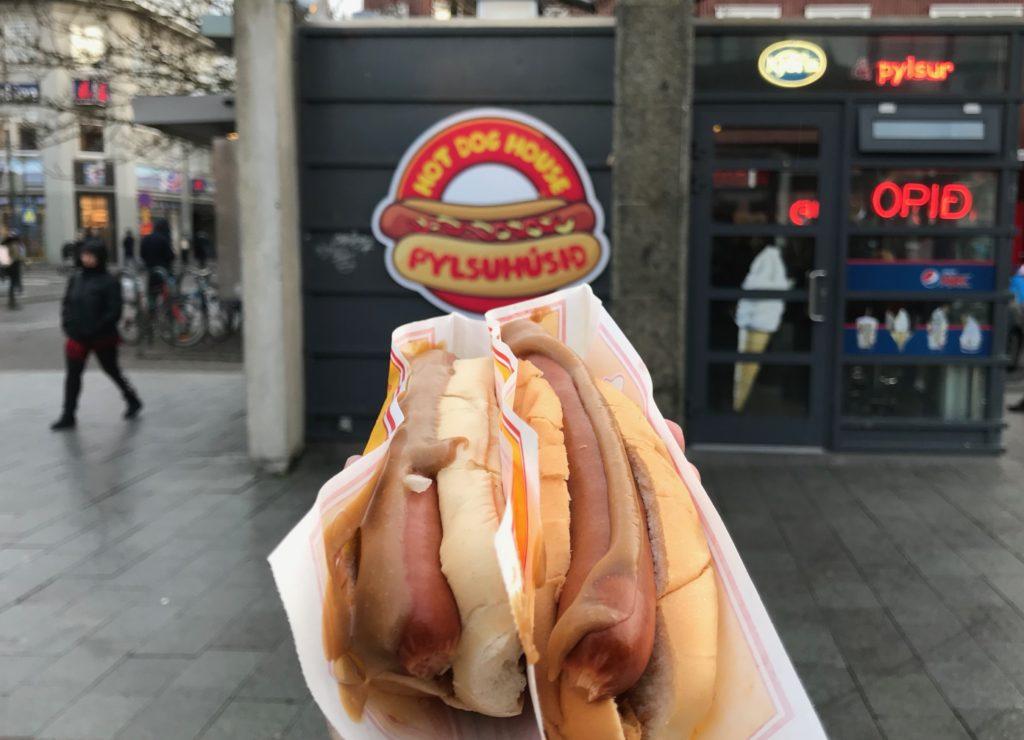 Almost a national pastime, the people of Iceland love to eat hot dogs. While there are plenty of options, you can't go wrong with either Bæjarins Beztu Pylsur or Vikinga Pylsur – both with stands in central Reykjavik. Just be prepared to line up as these places are popular!
15. Hradastadir Farm and Petting Zoo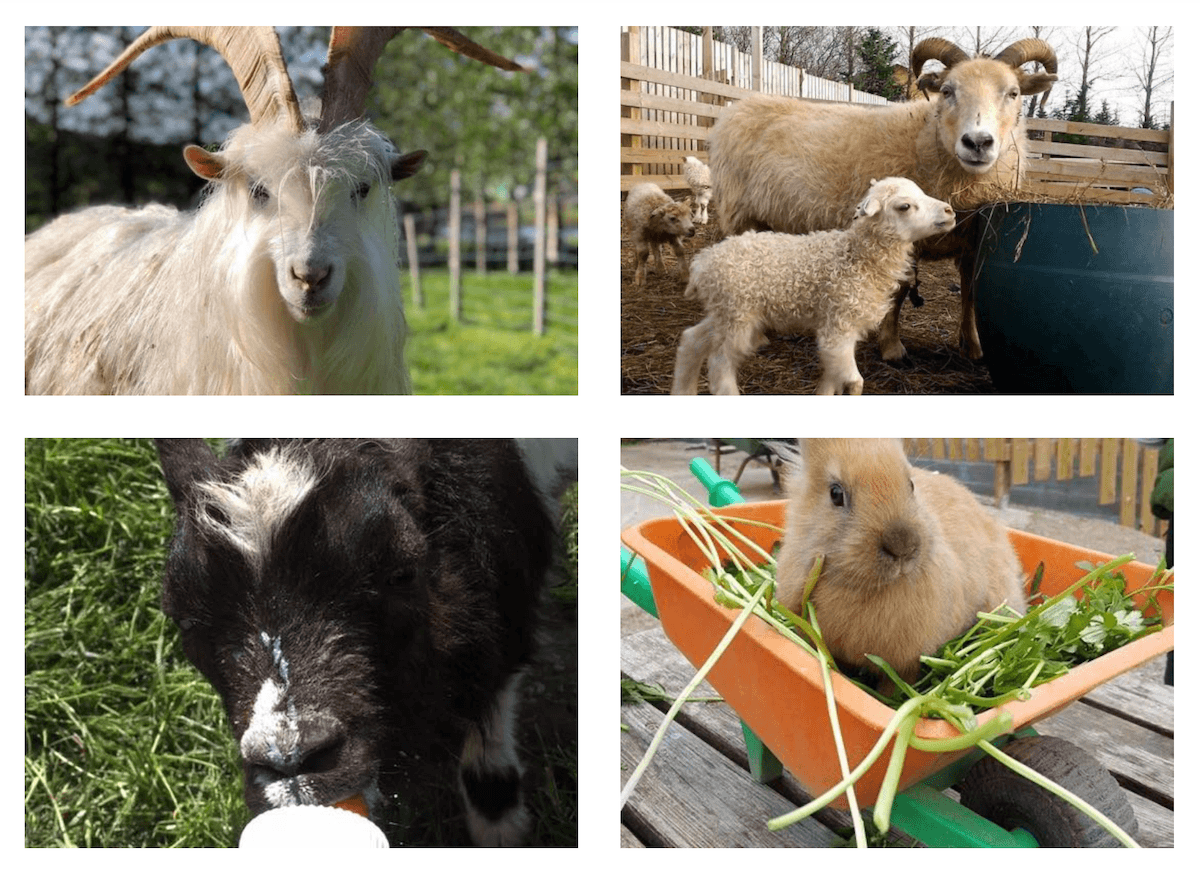 Hradastadir Farm and Petting Zoo is the perfect Reykjavik outing for animal-loving kids and it is just a 20 minute drive outside of Reykjavik in the town of Mosfellsbaer.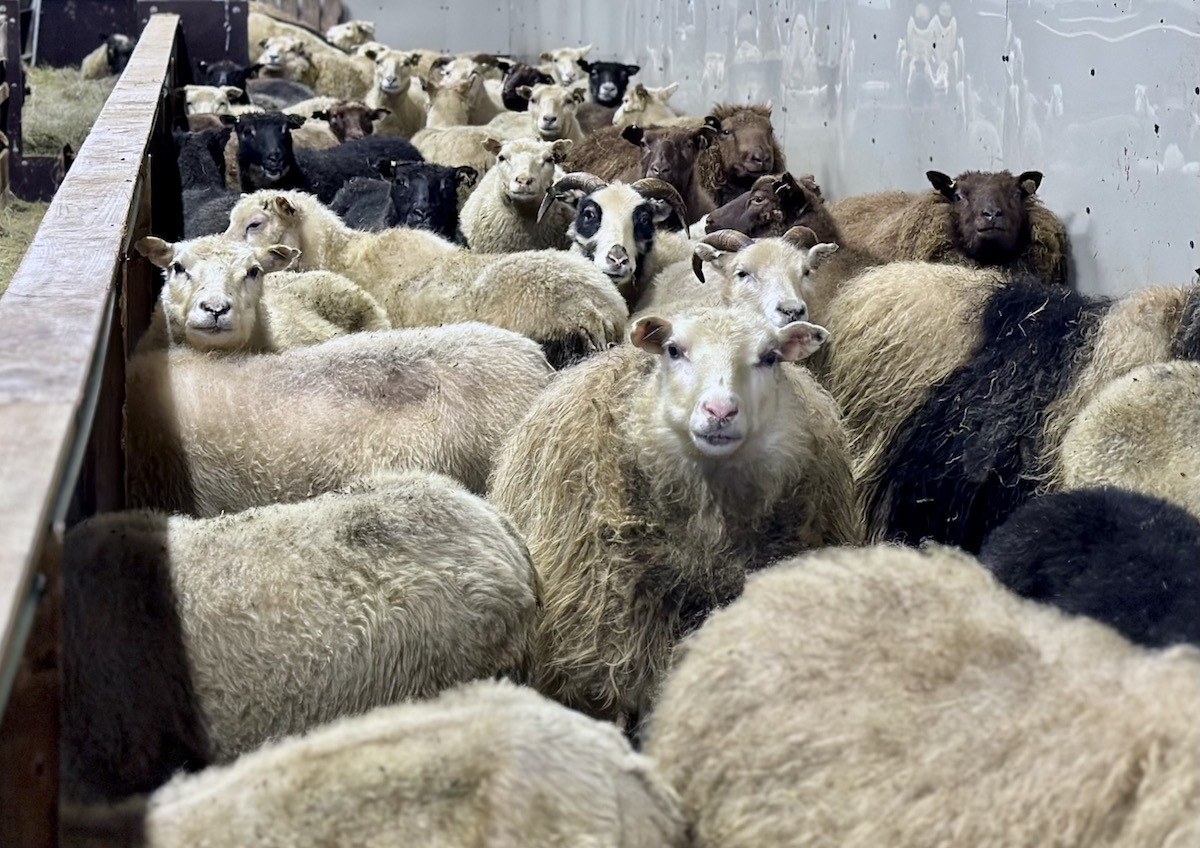 At Hradastadir, guests can pet lambs, kittens, bunnies, calves, a friendly pig, horses, and chickens. The entrance fee is ISK 1000 per person, free for children 2 years and younger. Hradastadir Farm also offers horseback riding excursions and lessons.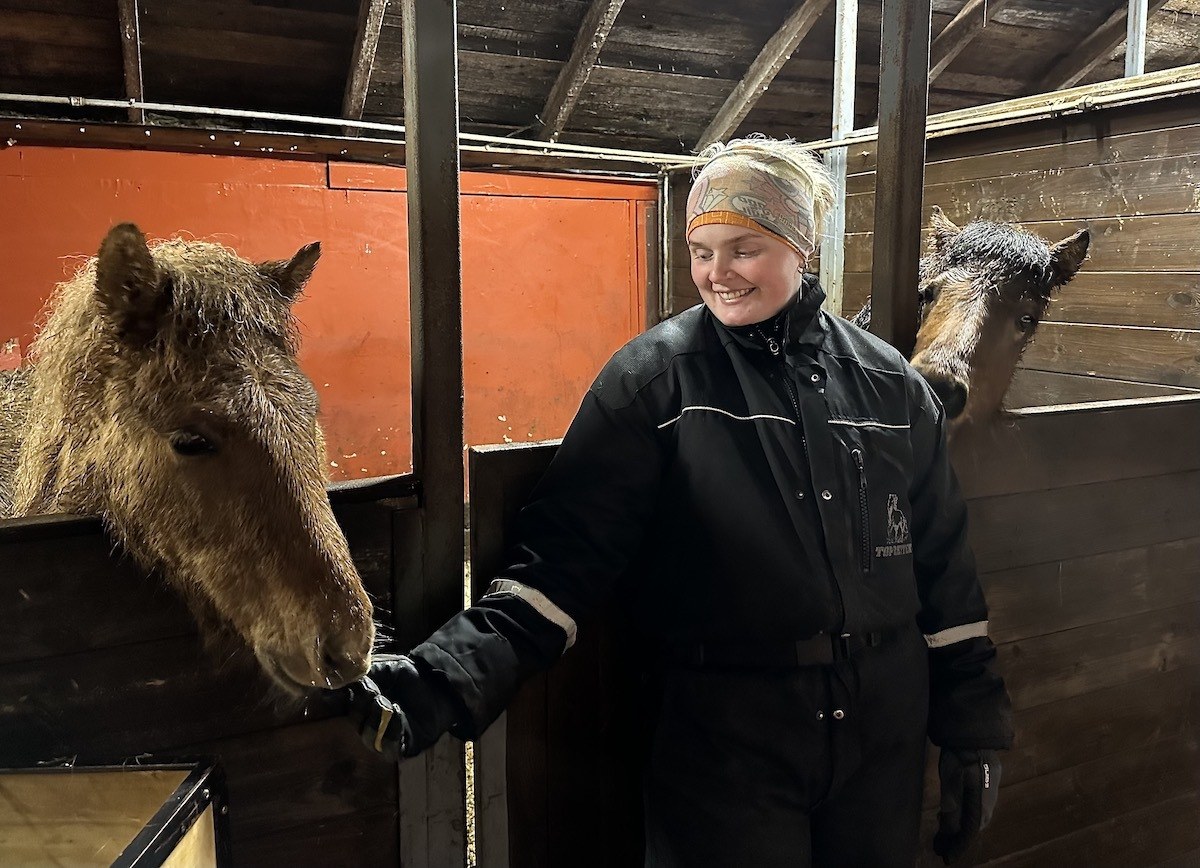 Hradastadir Farm is open during the summer months, welcoming guests on the weekends. (On weekdays they run summer camps.) Learn more at hradastadir.is or read reviews from recent guests on Tripadvisor. I also found their Facebook page to have very up-to-date information.
16. The Blue Lagoon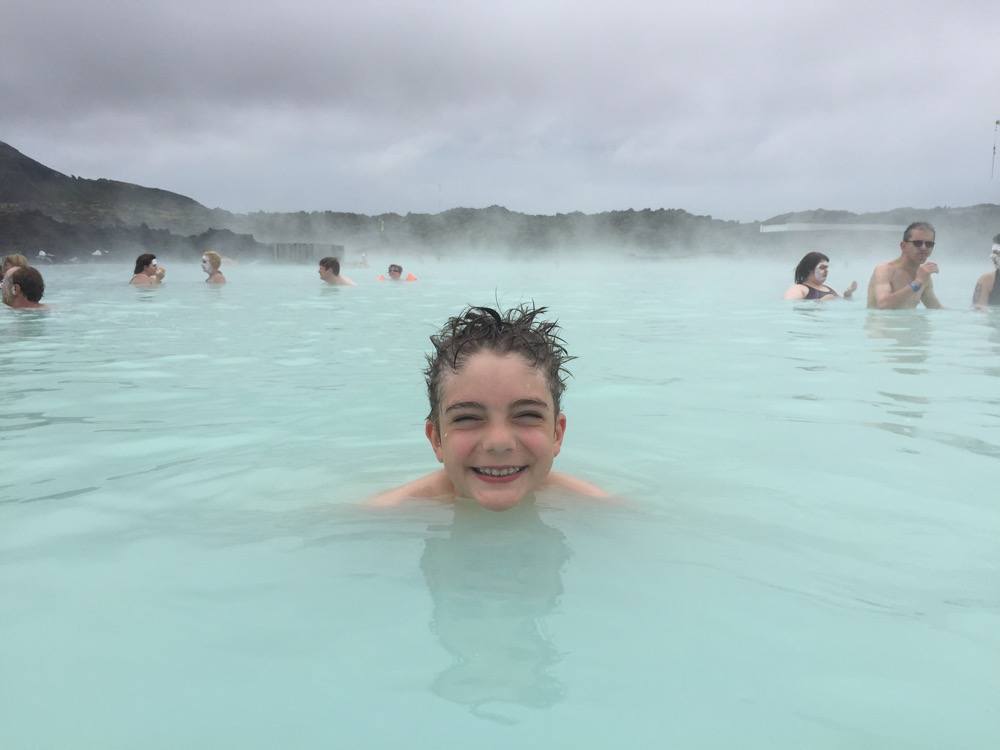 No visit to Iceland is complete without a trip to the Blue Lagoon. Quite honestly, I worried that we might find it way too touristy after having visited several of the local pools, but we actually found it to be very enjoyable.
At the Blue Lagoon, kids 2-13 years are welcomed for free with a paying adult, but please note that they do not have robes in kids sizes (typically included with the more deluxe Blue Lagoon ticket packages).
Babies and toddlers less than 2 years old are not permitted at the Blue Lagoon due to the high water temperature and the fact that the water is really silty and murky.
Although expensive (all food in Iceland is expensive), the LAVA restaurant is very good and has a kids' menu. The facility also has a more casual cafe-style restaurant.
The Blue Lagoon is located quite close to the airport, so it makes for a great stop on the way to/from KEF International. On our first family trip to Iceland, we chose to spend an afternoon there prior to flying back to North America — hopping on our plane feeling amazing.
Book Blue Lagoon tickets in advance, as key times slots can sell out. If possible, try to avoid visiting between 10am – 2pm as this is the busiest period.
Learn more at: bluelagoon.com or read reviews from recents visitors on Tripadvisor. If you require transport to and/or from your hotel or the airport, see these Blue Lagoon packages on Viator.com.
Note: If you are researching geothermal pools in Iceland, you may also come across the relatively new Sky Lagoon. Unfortunately, the Sky Lagoon only welcomes guests 12 and above, although this could make for an amazing "date night" if you are lucky enough to have a babysitter.
17. Family Friendly Museums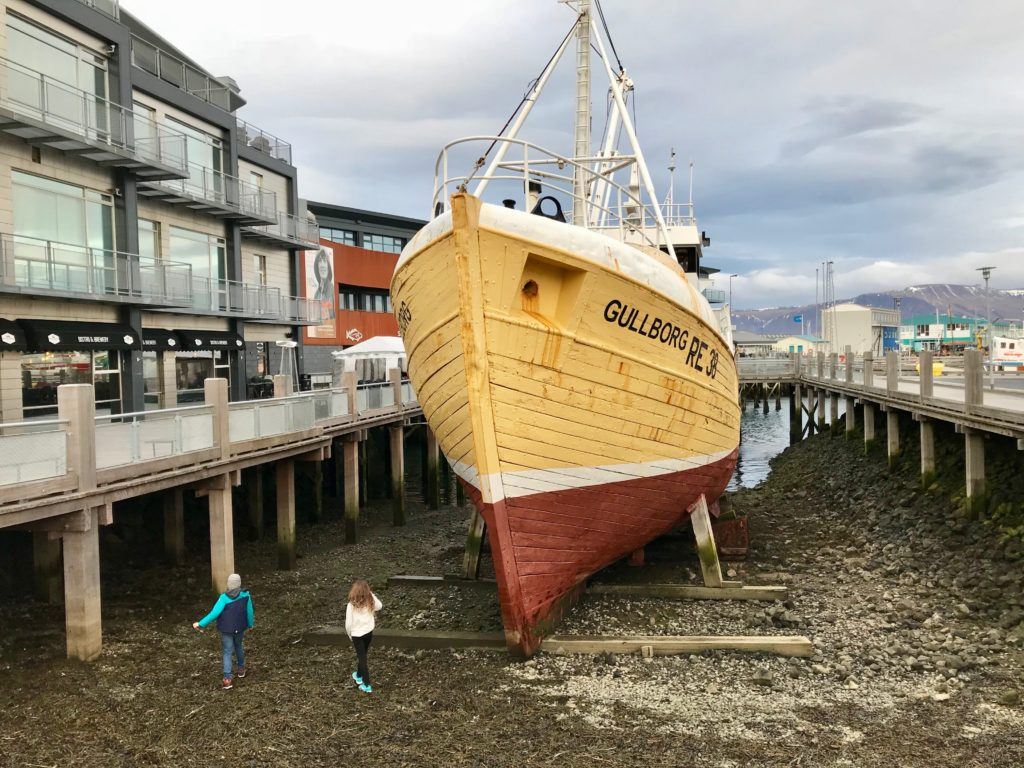 If the weather isn't looking great and you are seeking family-friendly indoor activities, Reykjavik has a number of museums that are engaging for kids, including the Maritime Museum (close to a Valdís Ice Cream location), the National Museum of Iceland (Vikings!) and the Whales of Iceland Museum.
For those of you visiting Iceland with a teen, you could shock (or impress?) them with a visit to the world's only Phallological Museum (my kids can't stop talking about their gift shop finds).
In better weather, the Árbær Open Air Museum is a nice place to explore history via an Icelandic village experience. For a full list of museums and galleries, please see: visitreykjavik.is.
Note: If you plan on visiting many museums and attractions during your stay, the Reykjavik City Card can save you money. For a fixed price, it offers free entry to most museums, public pools, and some additional attractions. It also includes free public transportation in the capital area.
18. Family Events in Iceland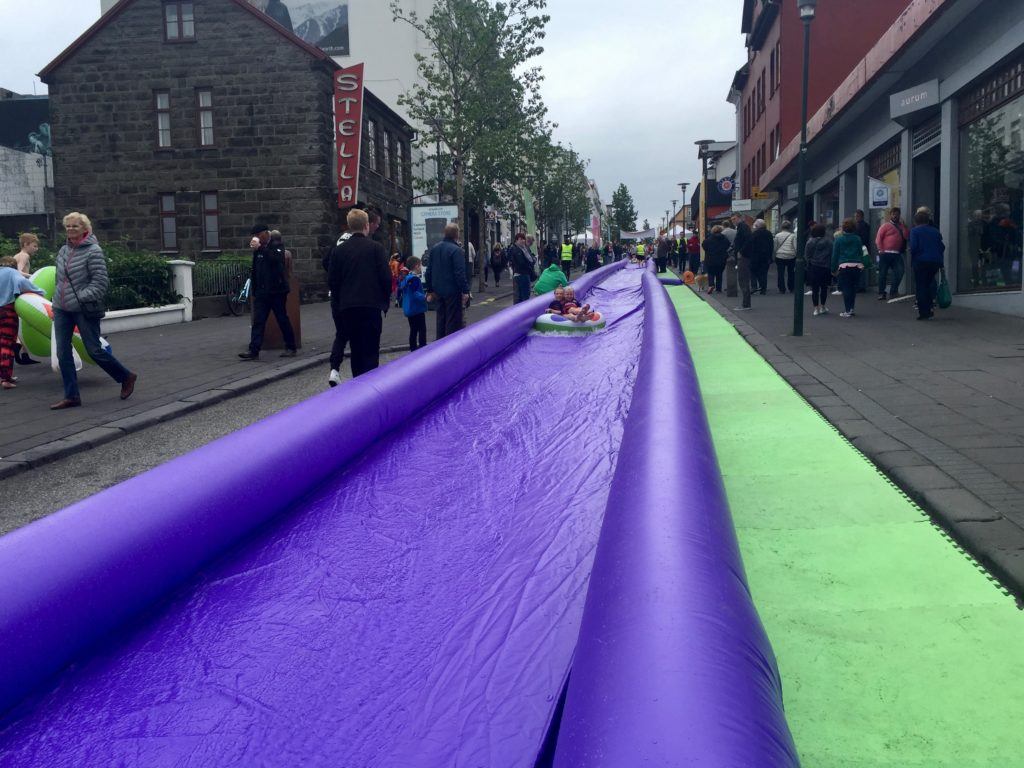 I think it can really be an enriching experience to enjoy or participate in a local event in any country. The top family-friendly events in Reykjavik include the Reykjavik Winter Lights Festival (February) the Children's Culture Festival (April), First Day of Summer (April), Festival of the Sea (June), The National Day of Iceland (June 17), and Reykjavík Culture Night (August).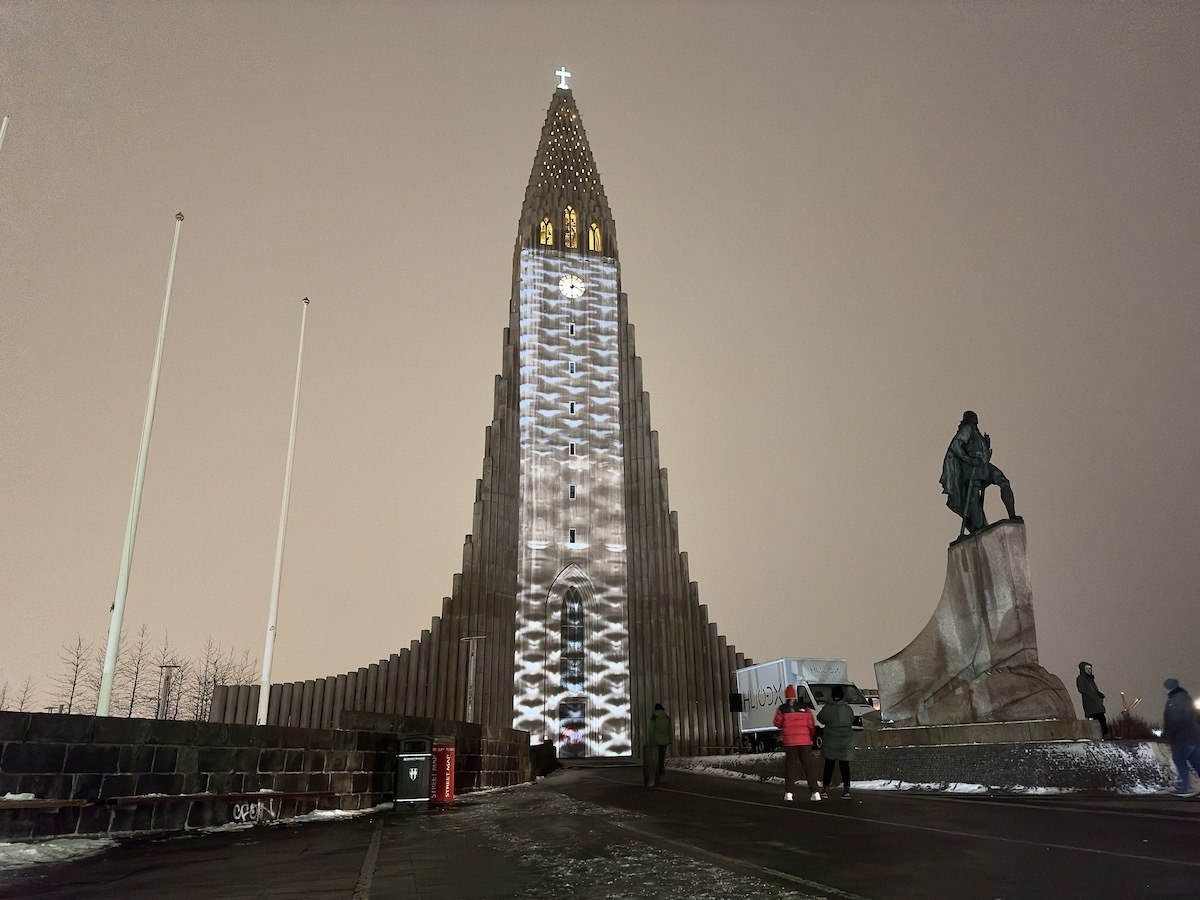 You can find further Reykjavik events and festivals on the City of Reykjavik events page.
19. Flyover Iceland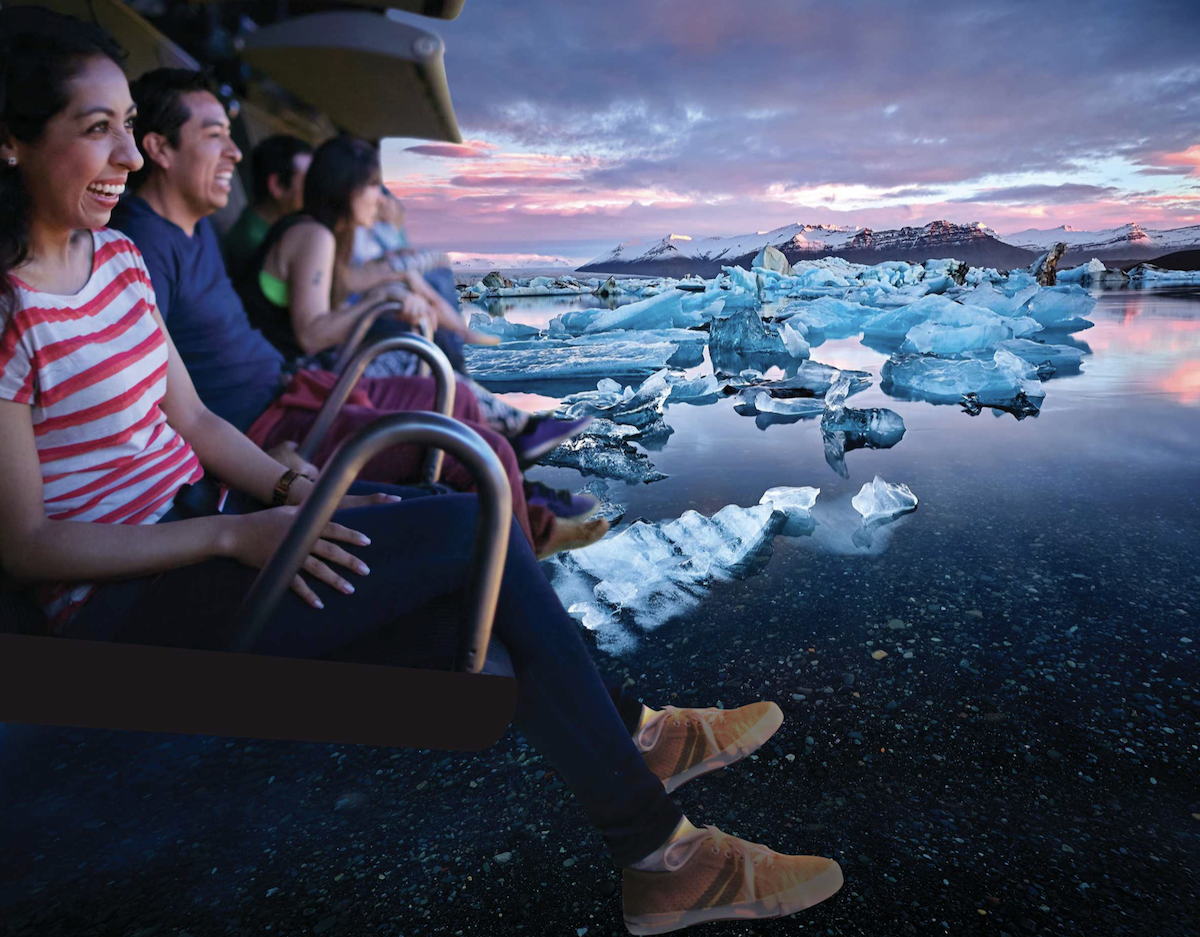 While you hang suspended, feet dangling, before a 20 meter spherical screen, the Flyover Iceland flight simulation experience takes you over some of the island's most iconic natural wonders, hard-to-reach locations and picturesque scenery. Special effects, including wind, mist and scents, combine with the ride's motion to create an unforgettable experience.
I especially like the idea of visiting this attraction if you will be spending most of your Iceland family vacation close to Reykjavik because it will show you some of the best of Iceland that you won't have the chance to see. (That is, until your next trip. People are always planning their next trip to Iceland. I know I am, right now – and I just returned from my 3rd trip 6 days ago!)
Learn more at FlyOverIceland or read reviews from recent guests on Tripadvisor. See also this little YouTube movie on the making of FlyOver Iceland.
20. Capture Those Memories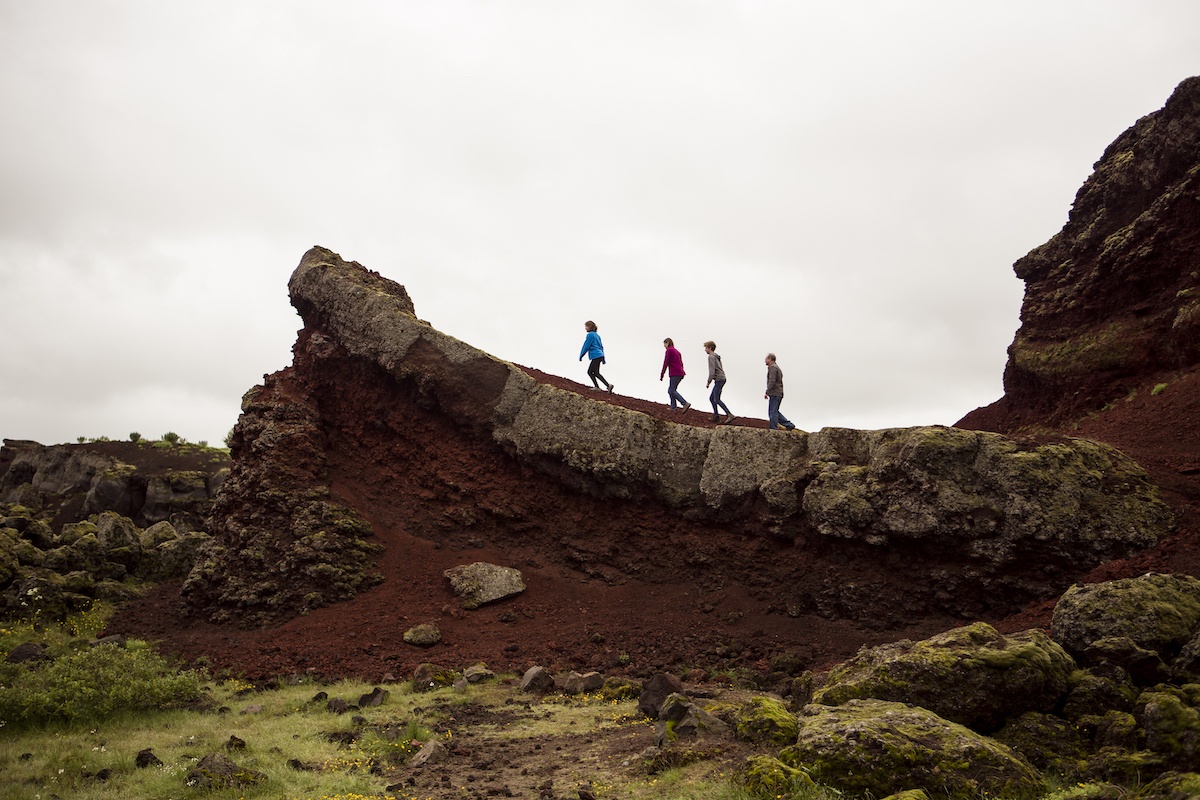 One of the best things we have ever done on one of our trips is to take an hour out of our day and do a family photo shoot. We've actually done it twice now and will be booking another shoot for a multigenerational trip this summer.
We use the Flytographer website because they make it so easy. You simply select your location, check out the portfolio of their curated photographers, pick a package, and set up a time. It's so convenient! In fact, why not take a quick peek at their Reykjavik photographers right here?
Packages run from a 30 minute – 1 location shoot ($285 USD), up to a 2 hour – multi-location shoot ($600 USD). It is truly some of the best trip money I have ever spent because it meant that as the only person who take photos in the family, I was finally IN the trip photos.
If you are interested in trying them out, please use Flytographer discount code MYSHOOT for $25 off your first booking or gift card purchase.
Best Family Hotels Reykjavik
If you travel to Iceland with kids, you are going to experience some sticker shock. Family hotels in Reykjavik can be particularly expensive, especially during the summer months.
If possible, I recommend making a reservation as soon as your travel plans are fixed. Most hotel sites, such as Booking.com, offer a Pay Later flexible booking option that you can cancel if something better comes along.
Reykjavik is a small, and very walkable city, so as long as you are staying somewhere around the core, you cannot go too wrong.
I have a full post on the best family hotels in Reykjavik, but I have also listed my 8 favourites here.
8 Best Family Hotels in Reykjavik
1. Reykjavik Residence Hotel – 4★ – Studio, 1, 2 and 3 bedroom luxury suites that sleep up to 6. Read reviews from recent guest on Tripadvisor or check rates on Booking.com.
2. The Sand Hotel – 4★ – Boutique hotel offering family rooms (2 queen) and junior suites (1 queen, 1 sofa bed) sleeping up to 4 people. Read reviews from recent guest on Tripadvisor or check rates on Booking.com.
3. Alda Hotel Reykjavik – 4★ – Modern hotel with Family and Deluxe room that can sleep up to 4 (1 king, 1 sofa bed). Read reviews from recent guest on Tripadvisor or check rates on Booking.com.
4. Tyr Apartments – 3★ – Modern studio, 1 and 2 bedroom family apartments for up to 6 people. Read reviews from recent guest on Tripadvisor or check rates on Booking.com.
5. The Black Pearl – 5★ – Luxury 1 and 2 bedroom apartment suites that can sleep up to 5 people. Read reviews from recent guest on Tripadvisor or check rates on Booking.com.
6. Ódinsvé Hotel Apartments – 3★ – 1 and 2 bedroom apartments sleep up to 5 people. Read reviews from recent guests on Tripadvisor or check rates on Booking.com.
7. Kvosin Downtown Hotel – 4★ – Their "Biggest Room" sleeps up to 5. Read reviews from recent guests on Tripadvisor or check rates on Booking.com.
8. Reykjavik Edition – 5★ (Opened in 2022) – Double queen rooms sleep up to 4. Read reviews from recent guests on Tripadvisor or check rates on Booking.com.
Family Trip Iceland – Other Accommodations
Reykjavik also has some very nice vacation rental apartments that can provide a more economical choice for families. I know on our first trip, Iceland became a surprise stopover because that was the least expensive way for us to fly to London (but then we had the cost of accommodations to deal with). VRBO
has quite a nice selection in Reykjavik (use the filter "Good for Families").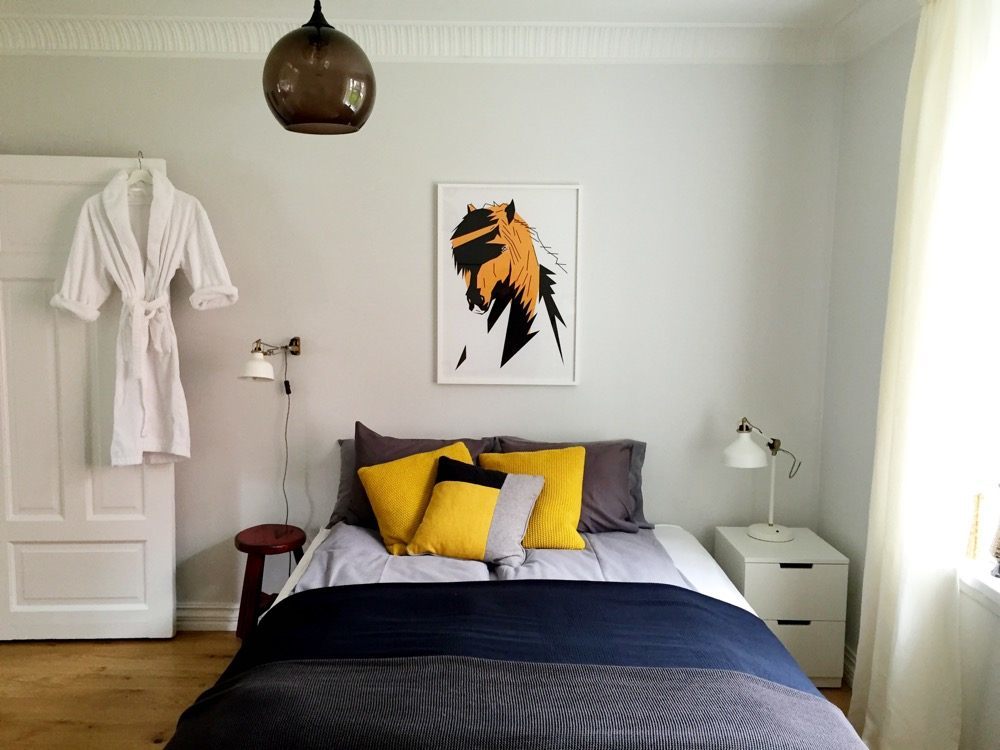 Family Vacation Iceland – FAQs
When is the Best Time of Year to Travel to Iceland?
The best time of the year to visit Iceland depends on what you are looking for. Most tourists visit in the summer months (May-Sept.) when the climate is more welcoming. The summer months are also a great time for whale watching and puffin tours.
September to mid-April, however, are the best months to see the Northern Lights, hike on the glaciers or visit the blue ice caves.
Should I Rent a Car in Iceland?
For a short Iceland stopover, a rental car isn't necessarily required. Buses run frequently between KEF International Airport and Reykjavik (Flybus and Gray Line) with stops near most of the major hotels and guest houses. Tickets can be purchased online or at the airport upon arrival. The Blue Lagoon also has an hourly bus that runs between their spa and the airport or Reykjavik.
Reykjavik is a very walkable city (no car required) and most tour companies offer a hotel pickup for day trips and tours.
With that said, we prefer to rent a car in Iceland.
As a family of four, the cost for tours and transfers can add up quickly, making hiring a car in Iceland a more economical alternative. We also like the freedom of visiting sites on our own schedule and really enjoy self driving the Golden Circle (one of the most popular Iceland day tours).
As long as you are not dealing with severe winter driving conditions, the route is not a difficult one to drive. There are a few things you should know about driving in Iceland, however, and I encourage you to review our tips for renting a car in Iceland.
Taxis are very expensive in Iceland and the airport is about a 45 minute drive from Reykjavik. You can expect a cab from KEF to Reykjavik to cost around $170 USD or more.
Is There Uber in Iceland?
Uber and Lyft do not currently operate in Iceland.
How Many Nights Should You Stay in Iceland?
I think a minimum of 3-5 nights is great for a first trip. We have stayed twice for five nights (once in summer and then again in winter). I have also recently (2023) returned from a 7-day "girlfriend getaway" that included Reykjavik and the South Coast. Still, I find myself wanting to plan a much longer trip (to do the Ring Road around the perimeter of the whole country taking 10-14 days).
Where is the Best Area to Stay in Iceland
For a first trip to Iceland, I think it is best to stay in Reykjavik and do day trips from there. That said, if you do plan on exploring the South Coast of Iceland near Vatnajökull National Park, I would advise staying at least one night in that area (whether on a tour of the region or self driving). There are day trips that run to the region from Reykjavik, but it makes for a very long day (especially if you have kids with you).
More Information on Reykjavik
For more family friendly things to do in Reykjavik, Iceland, see: http://visitreykjavik.is. I would also like to recommend taking a look at these great day trips from Reykjavik from my friend Tamara over at We3Travel.com. She loves Iceland as much as I do and has lots of very helpful Iceland trip planning content.
Related Iceland Posts