Last update: October 4th, 2022 at 05:21 pm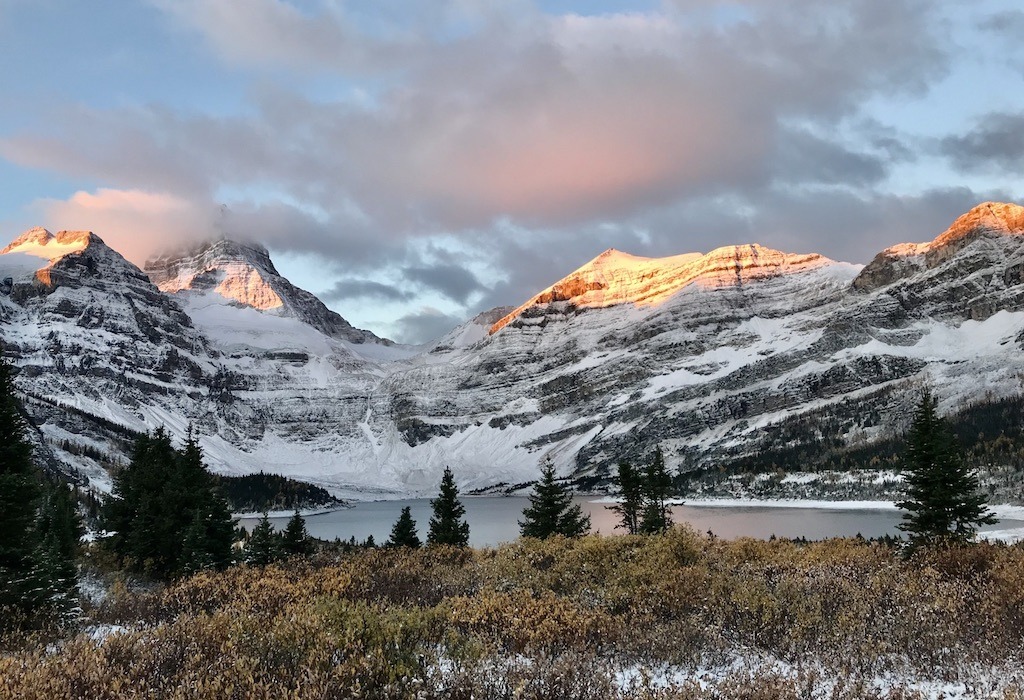 Guest post: This post was written by my husband Rann about his father-son hike to Assiniboine Lodge in the Canadian Rockies.
Assiniboine Lodge Hiking Trip
A father-son trip had been on the schedule for quite a while. For so long in fact, that my wife and daughter would start to snicker whenever I would say "I'm on it!" The two of them had done several mother-daughter getaways over the years, leaving our son with not much to report on.
I finally committed to a trip this past summer. I had actually contacted Assiniboine Lodge through their website prior to the world turning upside down (and local travel being our one-and-only option). I had read about the lodge over the years. Remote, stunning scenery, excellent food, rustic cabins – what more could we ask for?
Assiniboine Lodge Video
I thought it might be easiest if I first start by showing you why you should visit Mount Assiniboine Lodge with this 1 minute video taken from our hike in/helicopter trip.
How to Book Assiniboine Lodge
Booking Assiniboine Lodge is a little tricky. Unfortunately, as I would quickly discover, the lodge is a very popular spot. In fact, we found out later that many of the guests are repeat (if not annual) visitors. There was nothing available all summer long so I asked to be put on the wait list just in case.
As luck would eventually have it however, a few spaces for two opened up in September. I was hesitant, since I didn't want to take my son out of school for 2 days in Grade 11, but even school was looking a bit questionable at that time. Besides, if he had remote learning, he could always burn up all my data in the 20+ hours of driving! I booked it.
The Need to Know: Assiniboine Lodge's summer season runs from the end of June to the beginning of October. Reservations can be made via their online booking form which can be accessed on their website around August 1st of the year before. Reservations are confirmed in October or November. There is a minimum 2 nights stay at the Lodge.
Rates include lodging and all meals starting with afternoon tea and dinner on the first day and ending with breakfast and a packed lunch on departure day. Hiking is self-guided.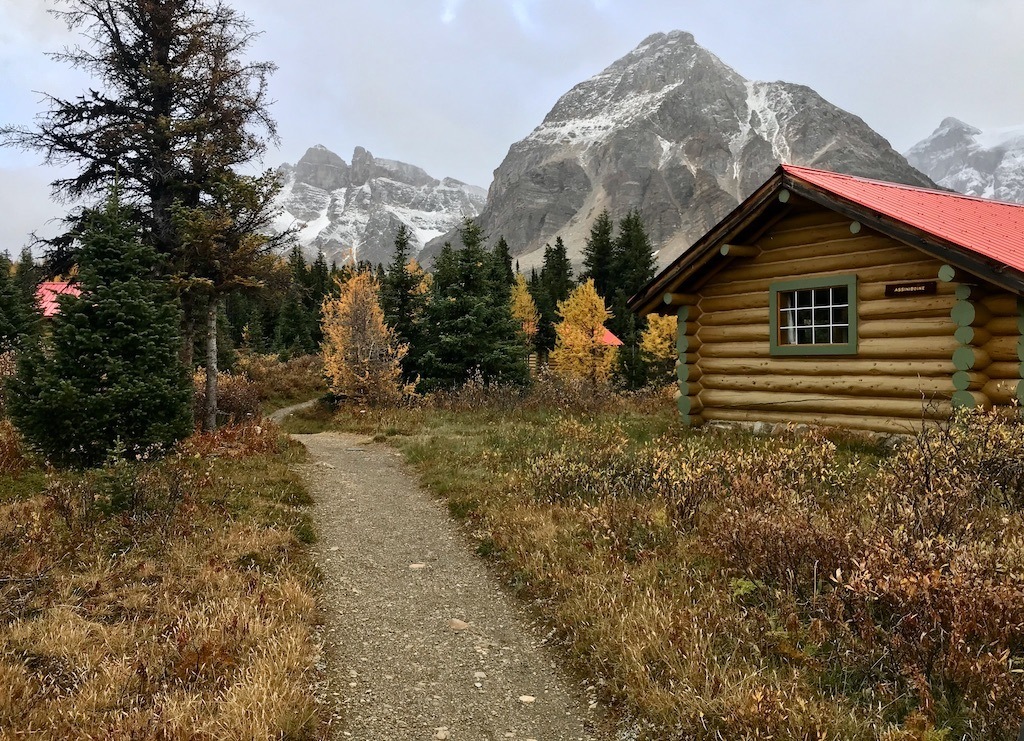 Still want to visit in the current year? You can, as we did, go on the waitlist and hope for the best. You can also try to book a nearby Naiset Hut (very rudimentary log cabin). The reservations for these open on or around Jan. 25th. (See Naiset Hut booking.)
Alternatively, there are several campgrounds in this area. They can be booked on the Discover Camping website up to 2 months in advance
How to Get to Assiniboine Lodge
Assiniboine Lodge sits in the middle of the Canadian Rockies on the BC-Alberta border at the foot of Mt Assiniboine. There are two main ways to get there – by foot and by helicopter. Both trails (top of Sunshine Village gondola or Mt Shark) are approx 27.5km. Since earlier in the summer we made the 26k Panorama Ridge hike, I figured that if we started our hike early, we could arrive before sunset and more importantly, dinner at the lodge.
Another logistical issue was the 10hr drive from our home in Vancouver to the Mt Shark trailhead. It would have been closer to drive to Sunshine Village but the gondola was closed for the season. Hiking up a mountain as a warm-up to a 27k hike is a bit excessive in my books. Also, unless we wanted to stay another night and miss school on Monday, we would need to catch the helicopter out to the Mt Shark trailhead on our return.
Where to Stay Close to Mt. Shark Trailhead
Our plan was to do a full day drive to Field, BC (< 2 hours drive from Mt. Shark) and start out early to the trailhead the next morning.
It didn't take much searching online to find the Truffle Pigs Bistro & Lodge when looking for accommodations in Field, BC. It was perfect! A cute little lodge right off the highway in Field. For me, it's always food that is the big attraction and their excellent gastropub did not disappoint for dinner or breakfast. (See Tripadvisor reviews.)
The Hike to Assiniboine Lodge
After being reminded to set our clocks ahead by an hour (Field is on Mountain Time), we hit the road around 9 and by 11 we were on the trail. The first 2/3rds of the the hike is an easy-moderate walk with a slight incline through open fields, forested areas and around a lake.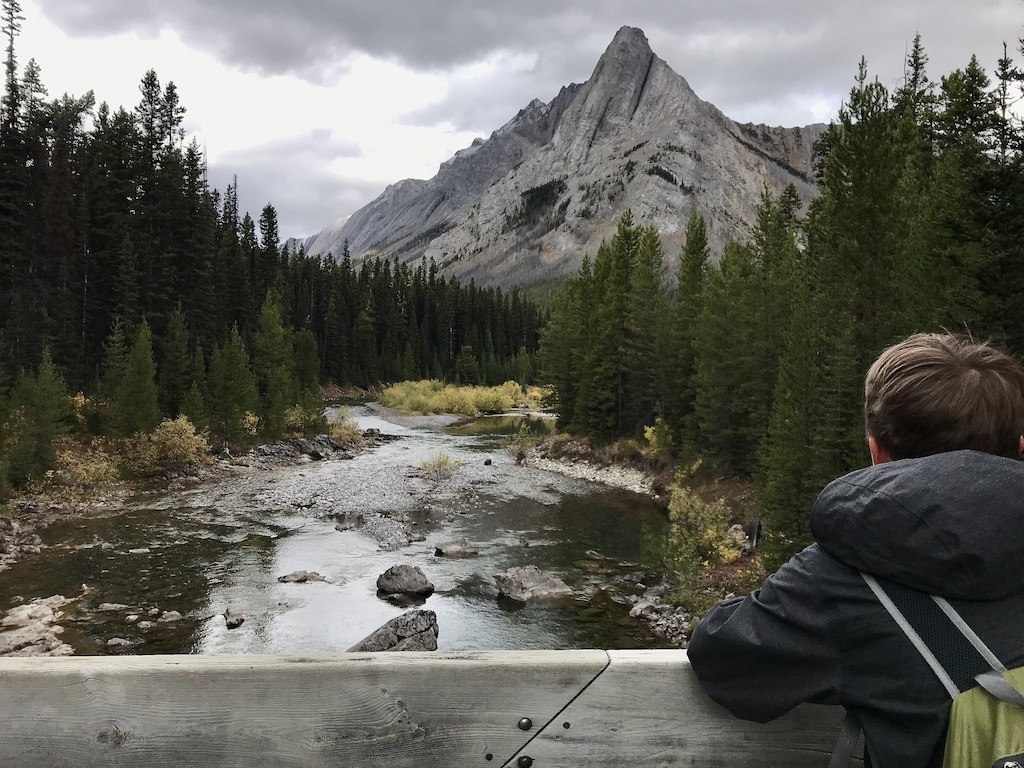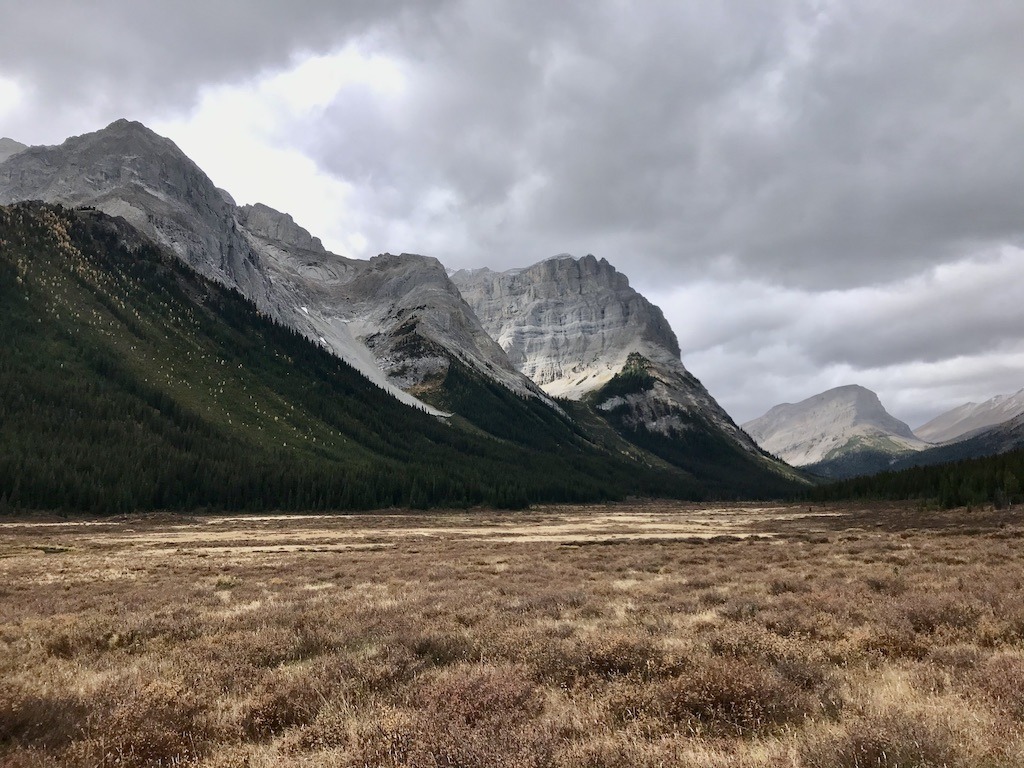 The last 1/3 through Wonder Pass is more of a vigorous hike (approx 800 of the 900M elevation gain) but, as I was told, more scenic than going through Assiniboine Pass. We walked through a family of deer on our way up the pass. They seemed quite curious and not at all skittish. The last few kms were slightly downhill to the camping area, rental cabins and then the Assiniboine Lodge.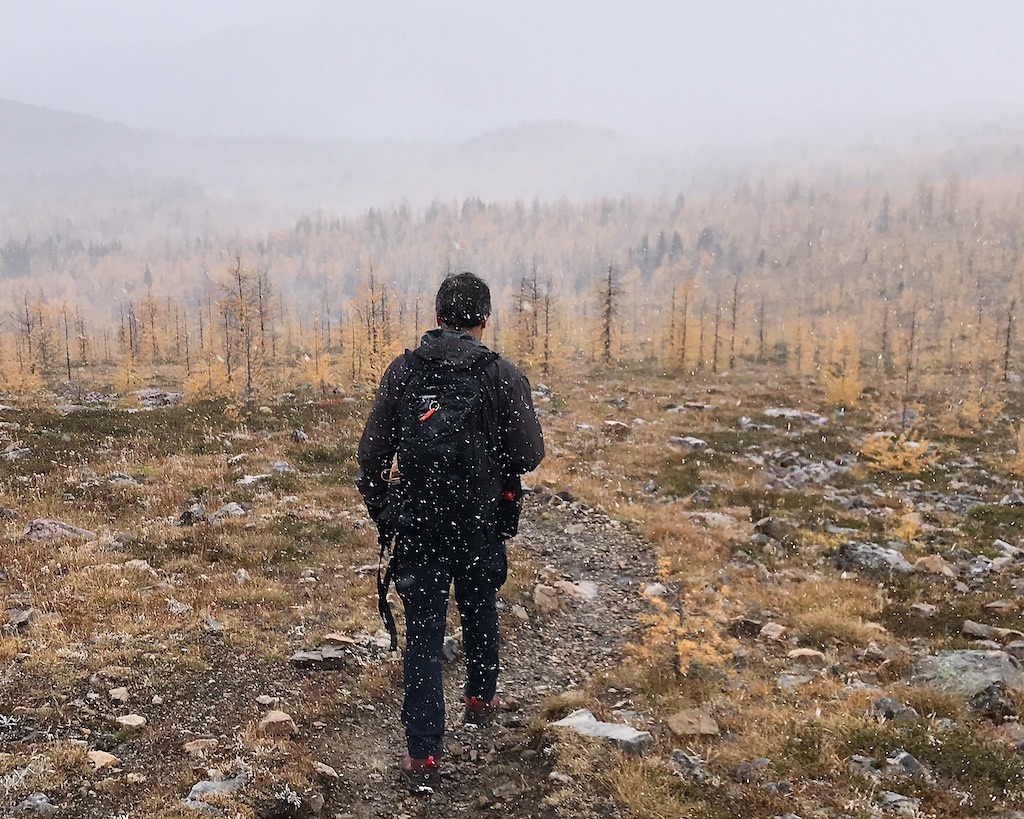 Note: We were moving at quite a brisk pace for our hike, only stopping briefly for lunch and water breaks. The hike took us just under 6 hours, but you may want to go at a more leisurely pace (giving yourself 7-8 hours).
Assiniboine Lodge Accommodations
You have the option to book a room in the main lodge or your own cabin (we opted for the latter). The cabins have a propane heater with small, propane lantern for light. Each cabin can sleep 4 with a queen and 2 single beds.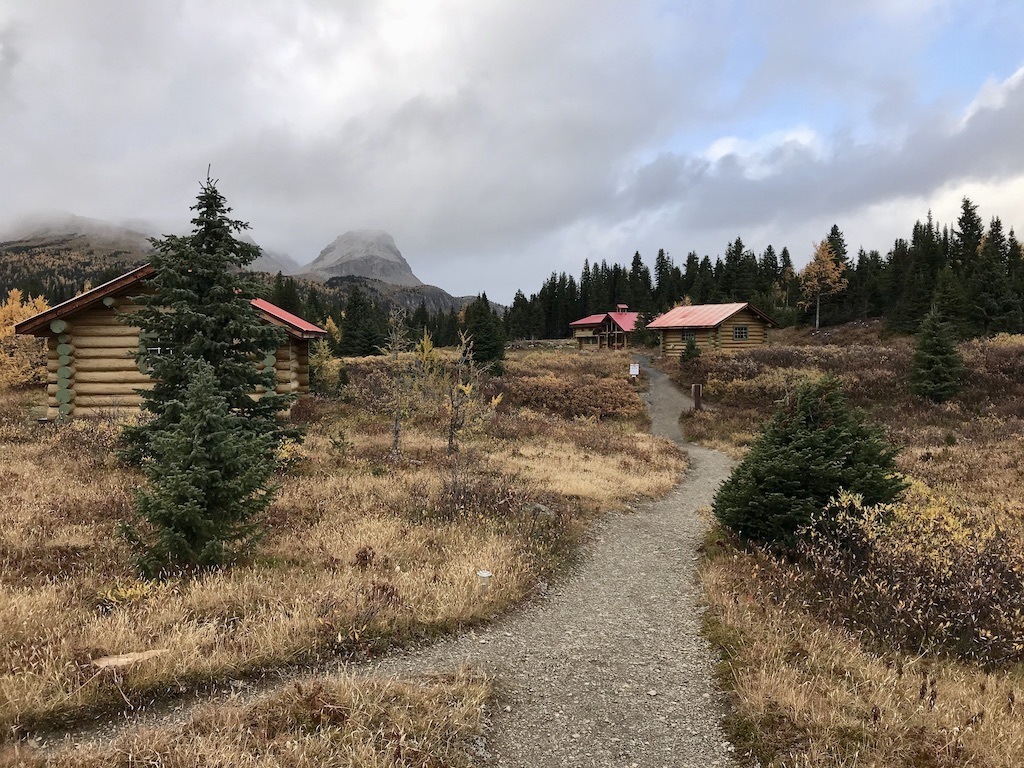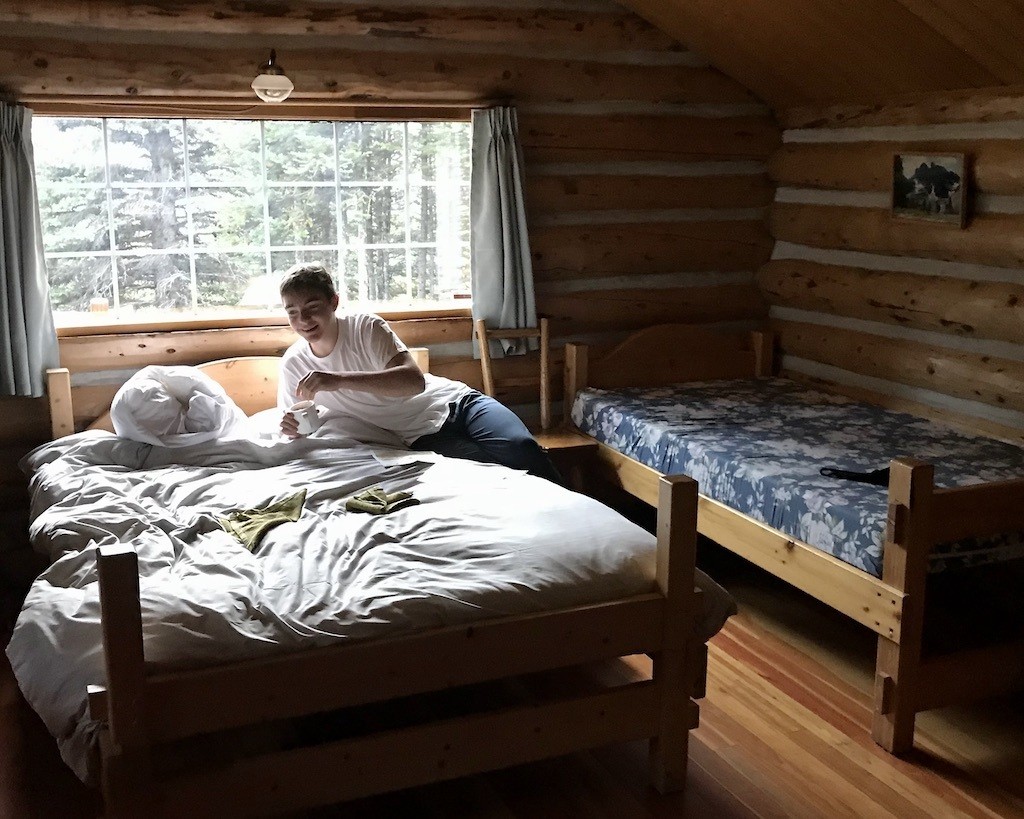 There are two outhouses for the cabins to share and a shared bathroom in the main lodge for the lodge rooms.
Meals are served in the main lodge, and while not fancy, the food is hearty and tasty.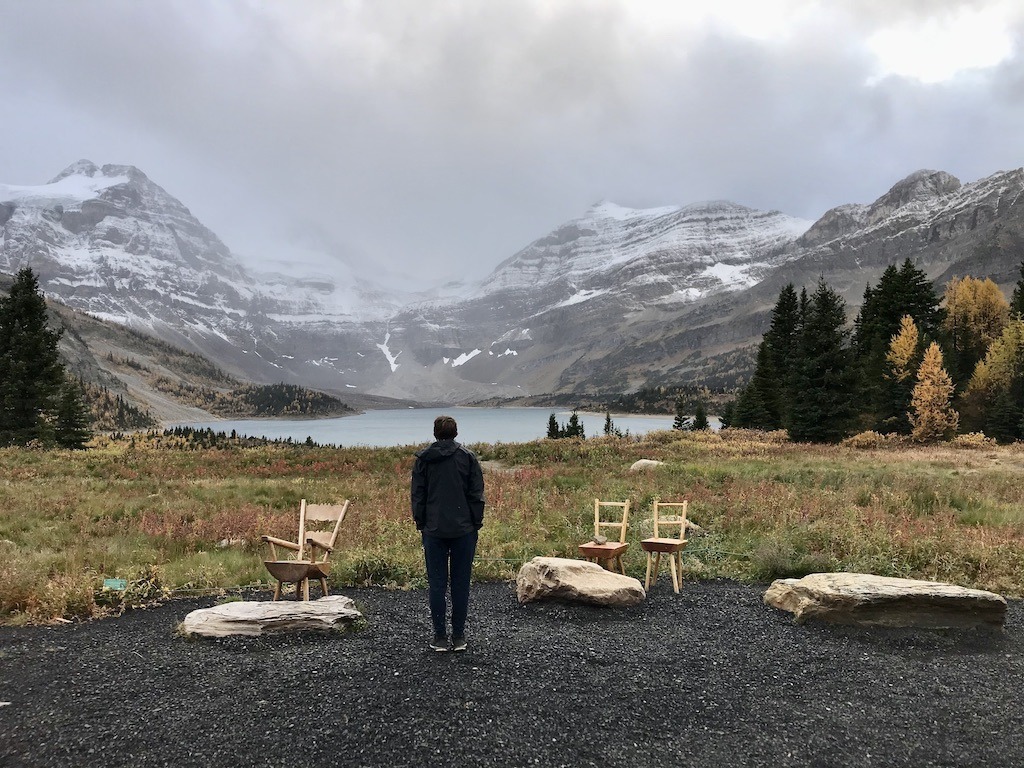 What to do at Assiniboine Lodge
Once you arrive at the lodge (hopefully by "tea time"), the staff give you a trail map, a brief tour and rundown on meal times. During "normal" times, most hikes are led by a guide, but health regulations currently prevent that so hikes are self guided.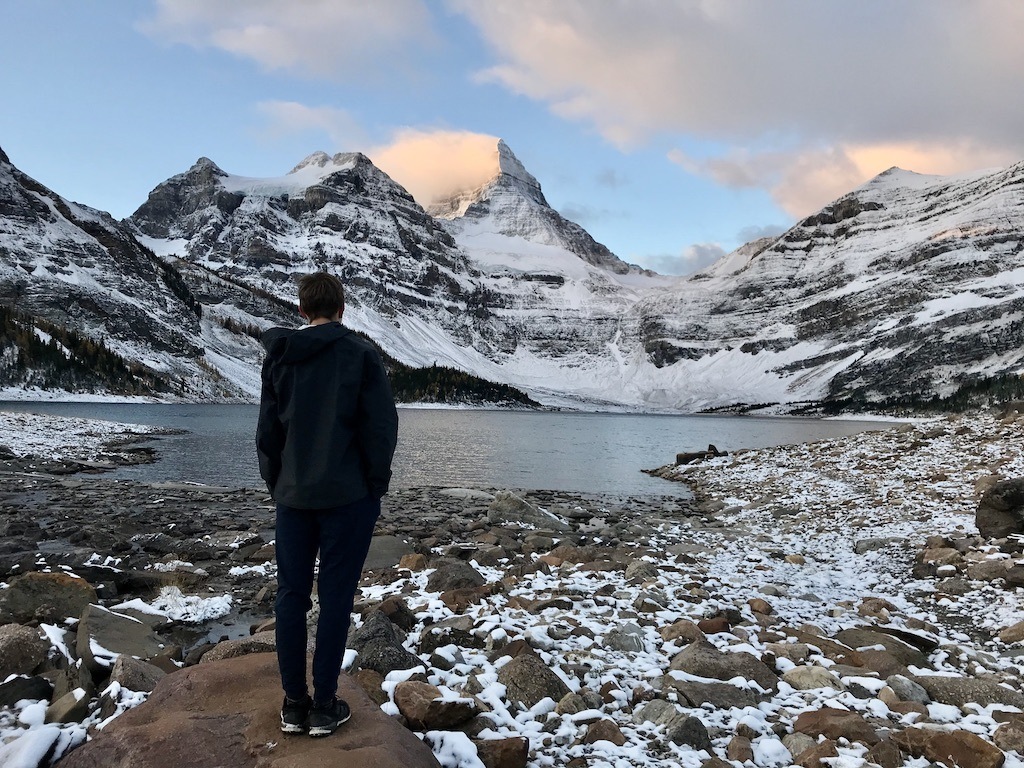 There are numerous trails of various lengths and levels of difficulty and the staff is very helpful in planning your day. Breakfast and dinner are served in the lodge. Lunch is prepped and laid out after breakfast so that guests may pack their lunch to take on their hike(s).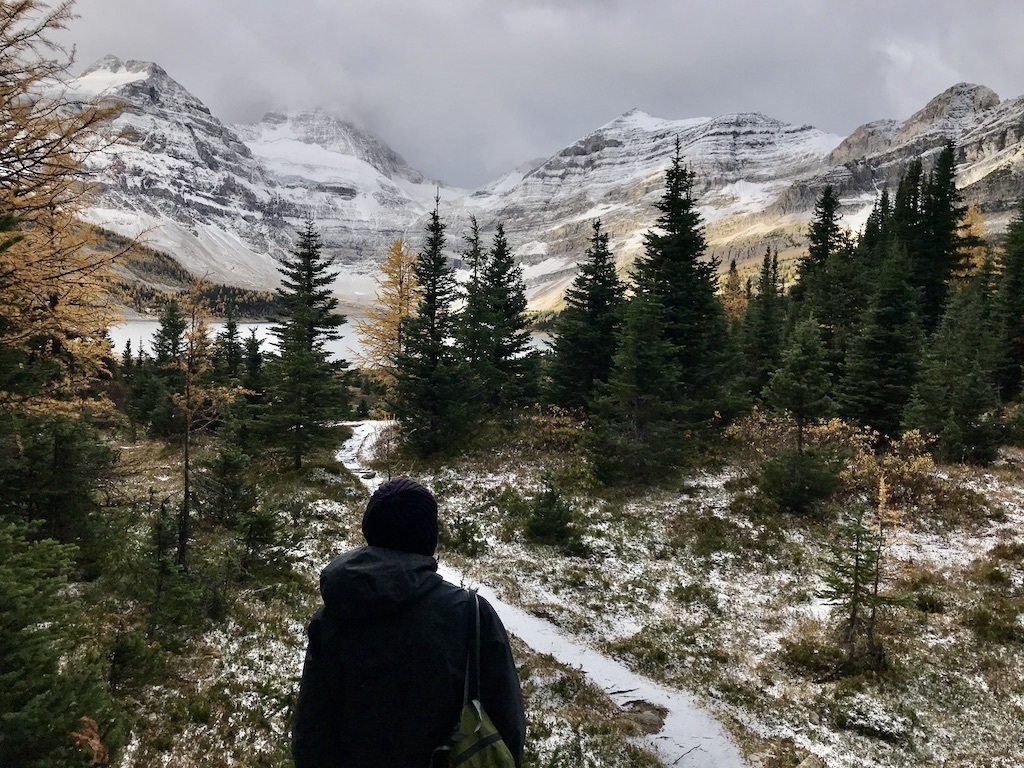 Getting Back from Assiniboine Lodge
After breakfast, those checking out are sorted into groups to catch the helicopters out to either Mt Shark Helipad or Canmore. Alternatively, you can also opt to hike back out. After taking the scenic flight, we were in our car by 11. Including gas and a drive-through for dinner, it took about 9.5hrs to get home.
What to Pack for the Assiniboine Hike
While on this hike, you are in bear territory. Although we didn't see any, we were prepared to – carrying with us bear bells and bear spray.
In addition to our regular hiking gear, we also brought along extra water, emergency blankets, gloves, head lamps, rain ponchos, and some extra snacks in case of emergency. We did not bring a toque, but should have (we bought them at the lodge) since it snowed both during our hike and while we were there. See also the Assiniboine Lodge packing list.
Check rates and learn more at: AssiniboineLodge.com.
Further Reading