Last update: May 1st, 2022 at 07:32 pm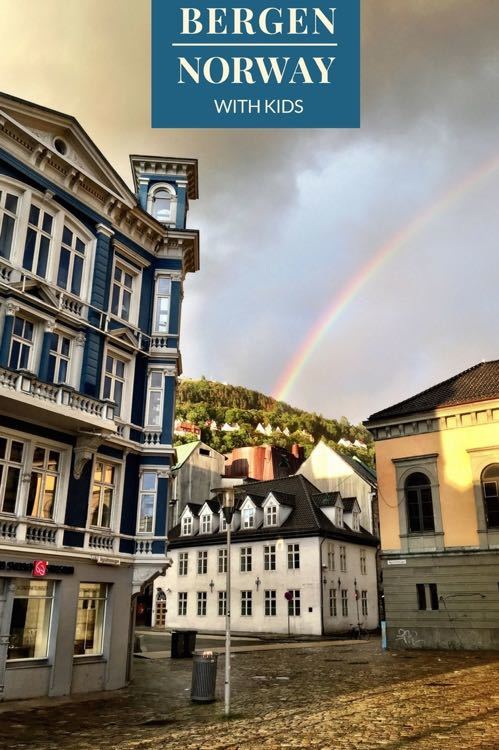 Bergen with Kids – Intro
As part of a two week summer trip through Norway, we had two wonderful days in Bergen with the kids. It would have been enjoyable enough to simply spend our time strolling around this beautiful and colorful city, but we also set out to find all things wonderful for kids.
Here are our favorite family attractions and activities in Bergen as well as the top family hotels and some useful travel tips.
Bergen with Kids Video
Things to Do in Bergen with Kids
Bryggen
Go for a walk past the colorful gingerbread houses of Bryggen – Bergen's waterfront old town.
As this area is top on the list for most travelers, you may want to avoid the midday hours as this is when the area seems to be busiest (especially if there are multiple cruise ships in port). If you are looking for souvenirs, this is a popular place to pick up your quintessential Norwegian sweater (tax free shopping !)
See also Bryggen TripAdvisor reviews.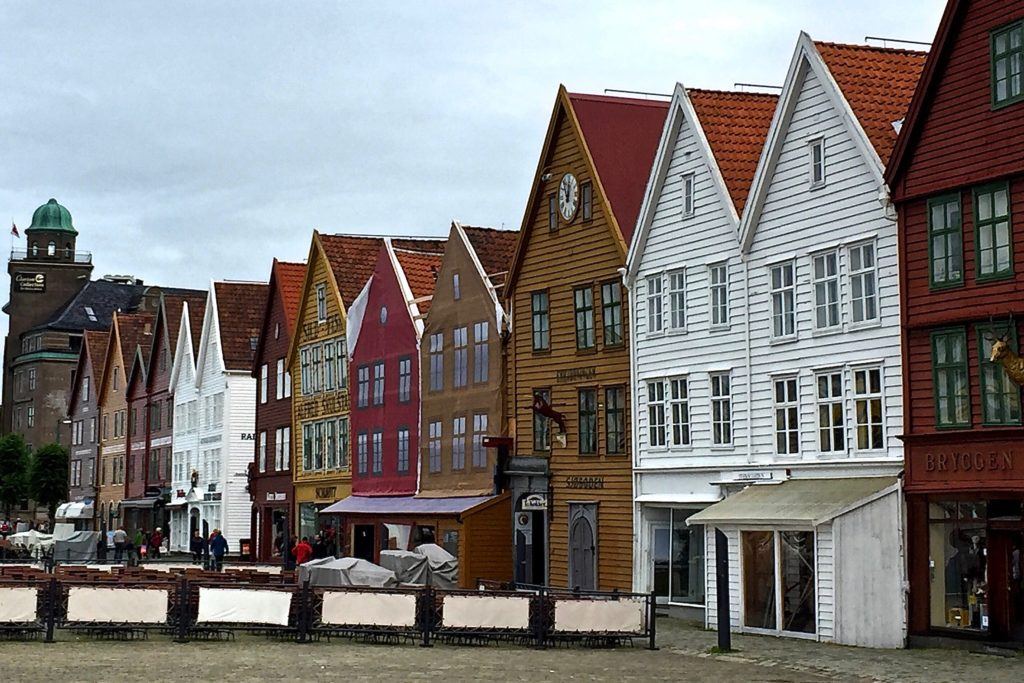 The Bergen Fish Market
Enjoy a delicious seafood lunch at Bergen's famous fish market. Our kids munched on fish and chips while we enjoyed the local fish soup and a delicious paella.
While pricey, it is a must do activity while in Bergen. As most of the market is outdoors, it is pretty easy with children. There is also a fun little ice cream shop right nearby (Hennig Olsen).
See also Bergen Fish Market TripAdvisor reviews.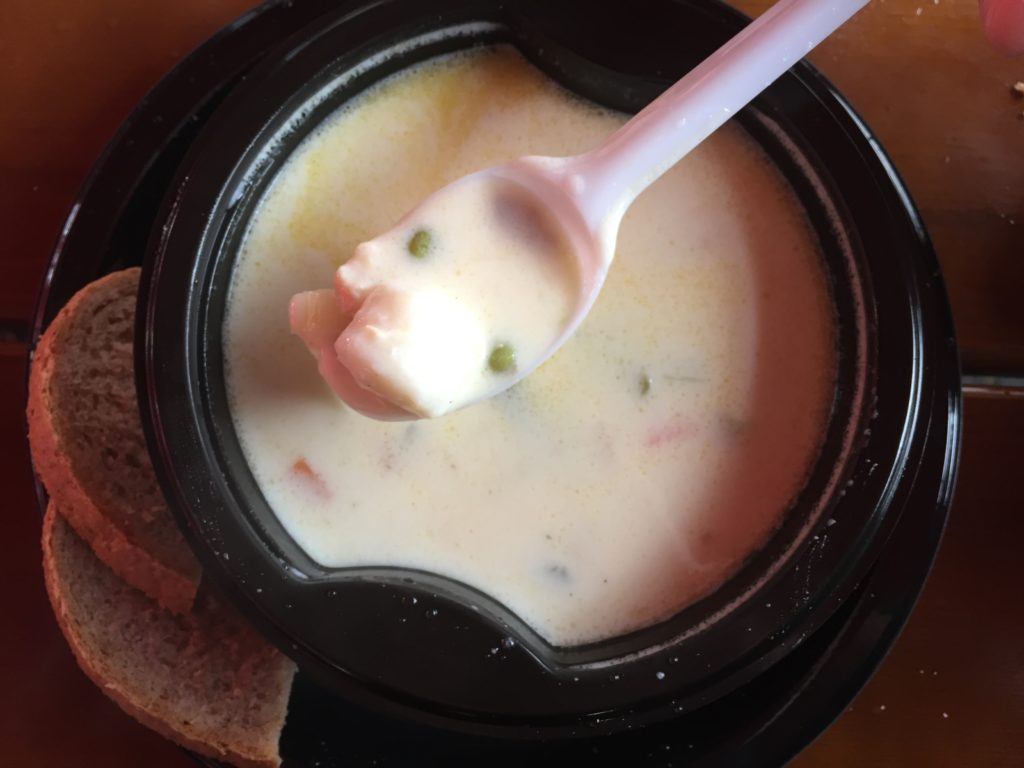 The Mount Ulriken Cable Car
Just a short bus ride from the center of Bergen takes you to the base of Mount Ulriken. Ride the cable car up to enjoy a beautiful view of the city.
My kids loved running around at the top (searching for the sheep they could hear in the distance) and playing on the obstacle course set up beside the lookout.
You can also hike up the mountain if you are so inclined. The walk is fine for all ages and takes about 1.5 hours for adults (but more with children, of course). See the Visit Norway website for more information.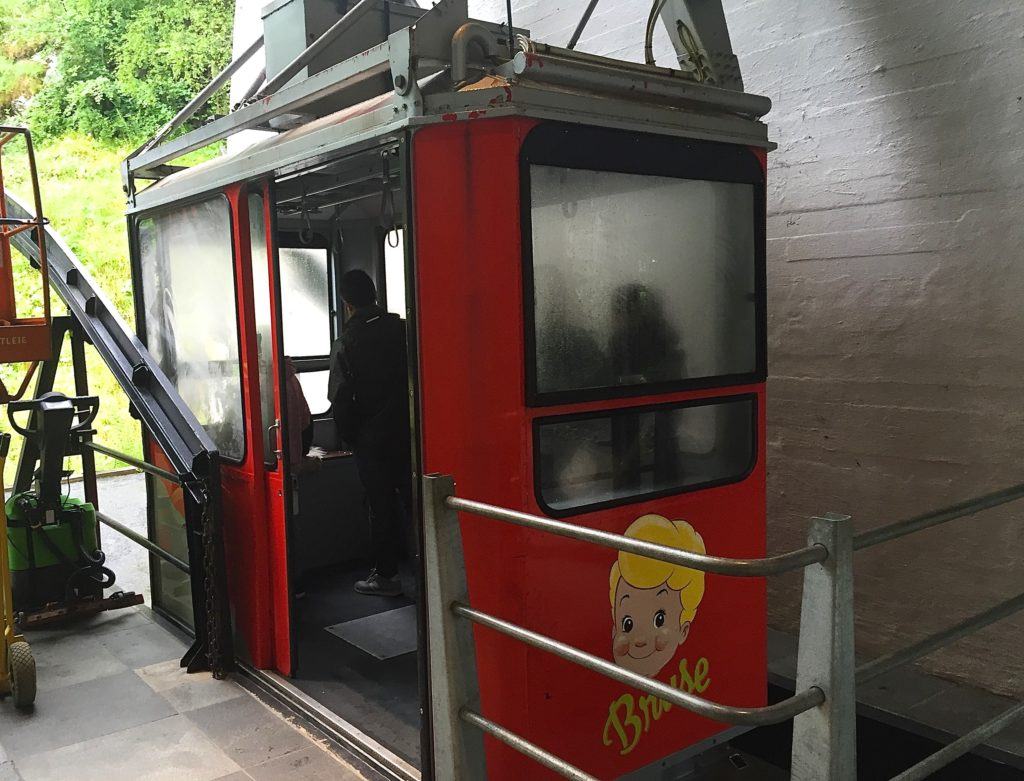 Floibanen Funicular Railway
The Fløibanen funicular is a great way to get a fantastic view of the city of Bergen, without having to travel as far as Mount Ulriken.
The cars leave from the center of the city (right near the Fish Market) and within minutes have you at the top of Mount Fløyen.
Even more interesting than the view for my children, was watching the goats navigate the perilously steep mountain slope. See the Fløibanen Funicular website for more information.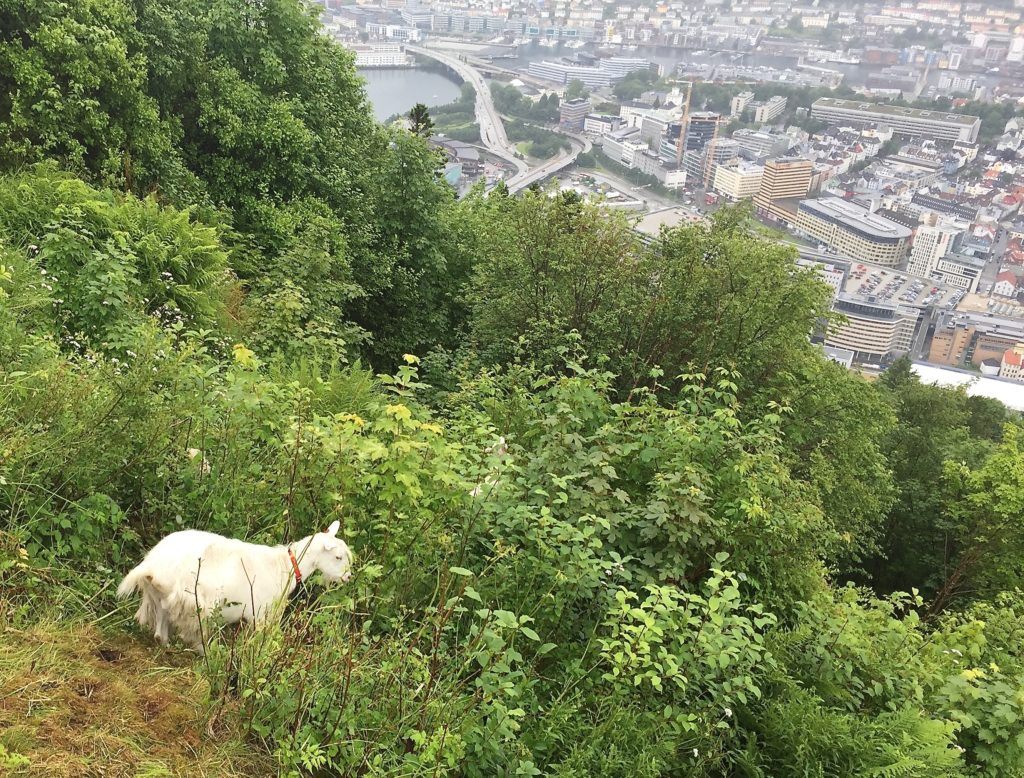 Nordnes Park Outdoor Pool and Sauna
One of the things we enjoyed most while visiting Bergen with kids was taking a short ferry ride (with great views of the harbor), to Nordnes Park to hang with the locals at the outdoor pool.
What immediately impressed me about this pool was how incredible clean it was (the Norwegians take their public bathing seriously). The seawater pool is kept at a pleasant temperature, but brave guests are welcome to walk the plank (diving board), for a cool off in the fjord. Warm up after in the pleasant cedar sauna.
Learn more here or read TripAdvisor reviews.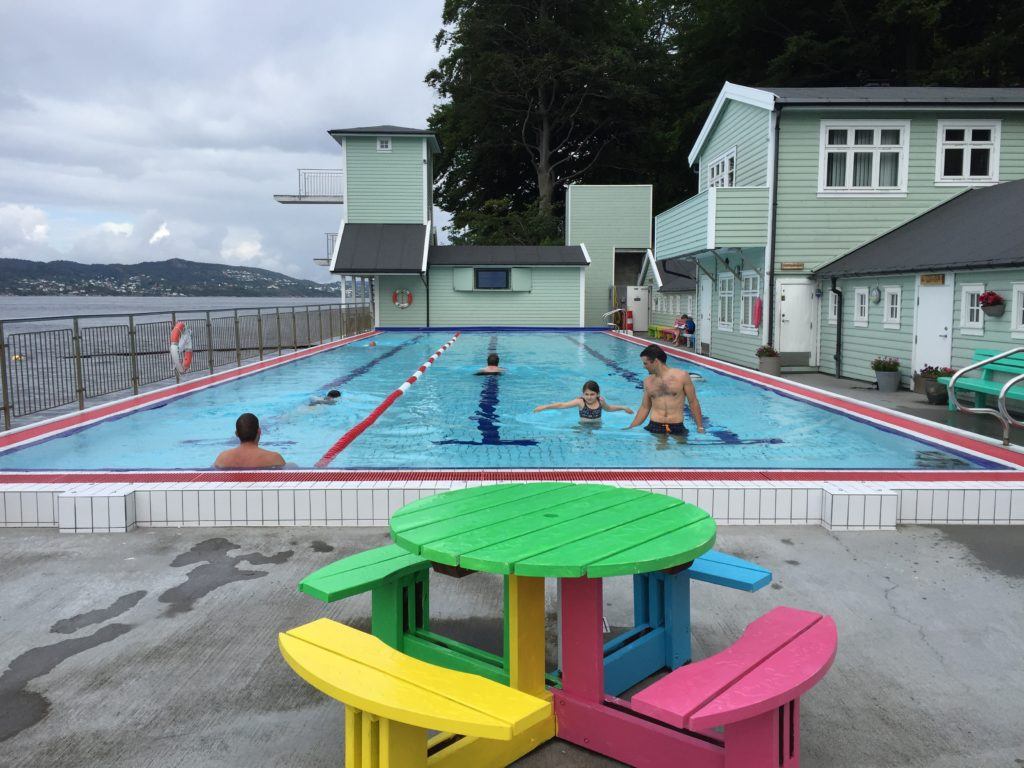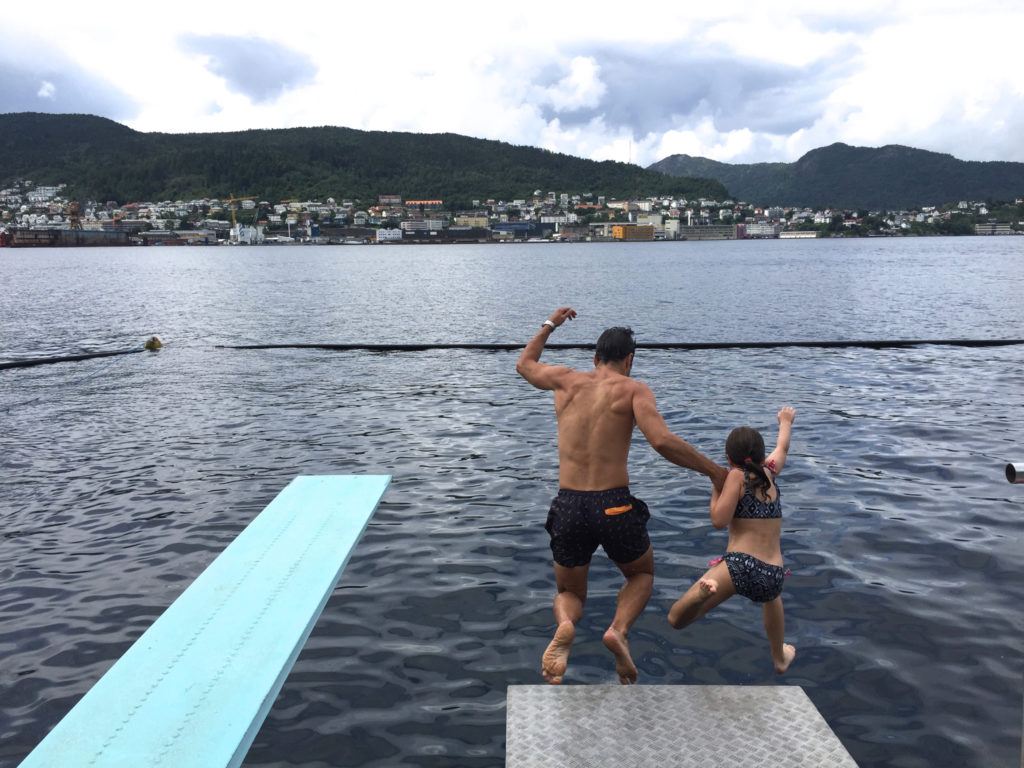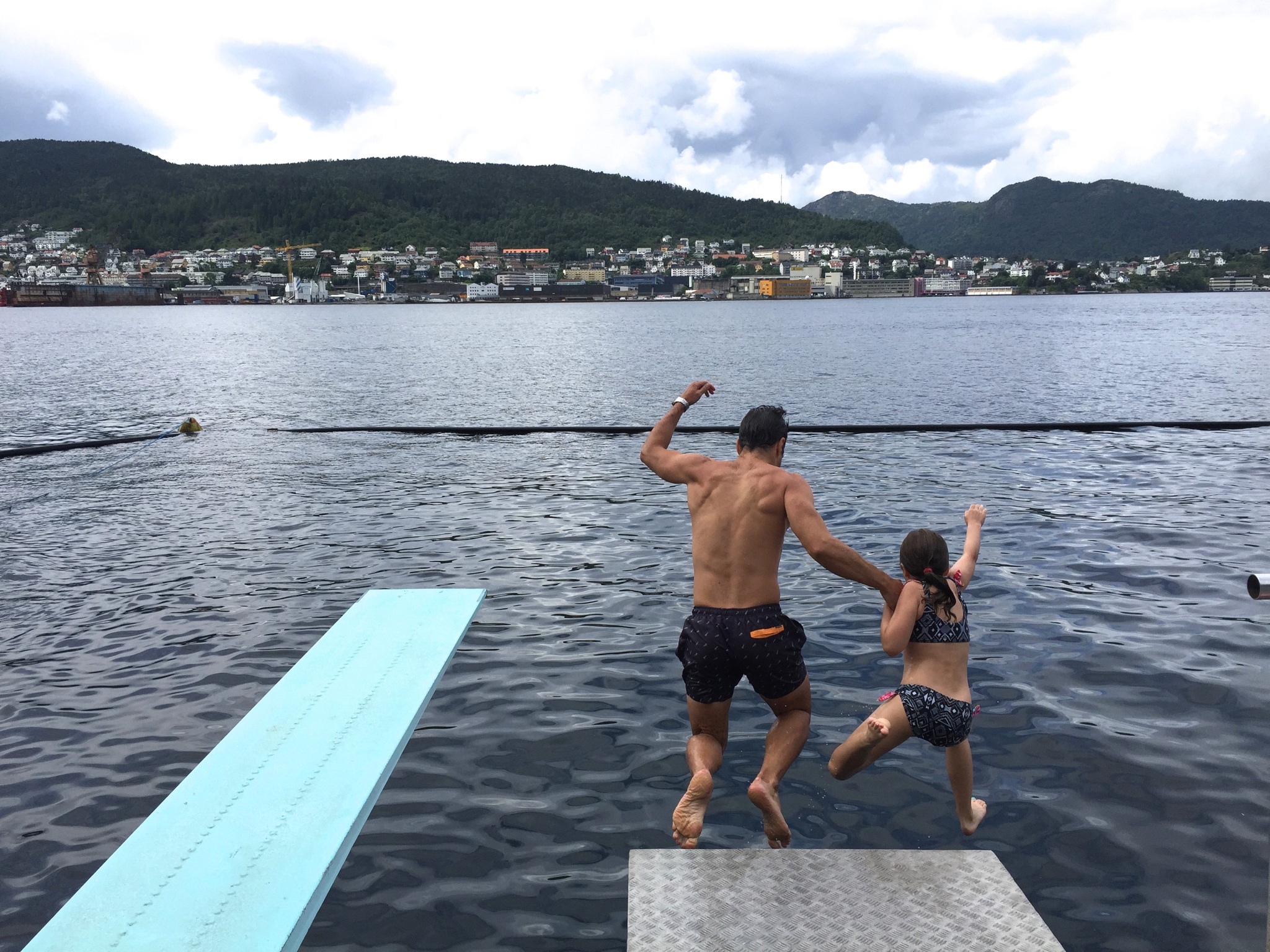 VilVite – The Bergen Science Center
Perfect for a rainy day in Bergen with kids, this attraction has tons of hands-on activities to delight the whole family. Be sure to check the schedule ahead of time so you can also take in one of their popular 3D films or a science show. Please note that VilVite is closed on Monday.
See website for full schedule and read TripAdvisor reviews.
Note: Aquariums are often top on our list of things to do in a new city, but as some of the reviews were a little lackluster, we decided to skip it (see reviews). If your Norway trip includes a stop in Ålesund, visit the aquarium there instead (Atlantic Sea Park). It is fantastic.
How to Save Money in Bergen
While in Bergen, we found it helpful to have the Bergen Card for free/discounted admission to attractions, and for the complimentary use of buses and the light rail system. Learn more about the Bergen Card here.
If you are staying at a hotel, most include a complimentary breakfast. Make the most of this meal, because restaurant prices in Bergen (and Norway in general) are quite shockingly expensive.
Alcohol is also very expensive in Norway, so if you enjoy a glass of wine or two, you may want to pick up a bottle at duty free on your way into Norway, or pop by a government liquor store where prices are much more reasonable.
Family Hotels in Bergen, Norway
If you are planning a whole Norway family trip, book your Bergen hotel first as this city books up very quickly, especially during the summer months. We liked our Bergen family hotel very much, but it was not our first choice – our other picks were completely sold out.
We stayed at the Grand Terminus Hotel. Although it is about a 10 minute walk to the harbor (Bryggen/Fish Market etc.), it is located very close to the bus station which was great for getting to/from the airport. We very much enjoyed our spacious family suite (with living room and sofa bed) and found it quite well priced.
The Grand Terminus also offers guests discount pricing at the AdO – a large indoor swimming pool complex (with waterslide) nearby.
Check rates on Booking.com or read TripAdvisor reviews.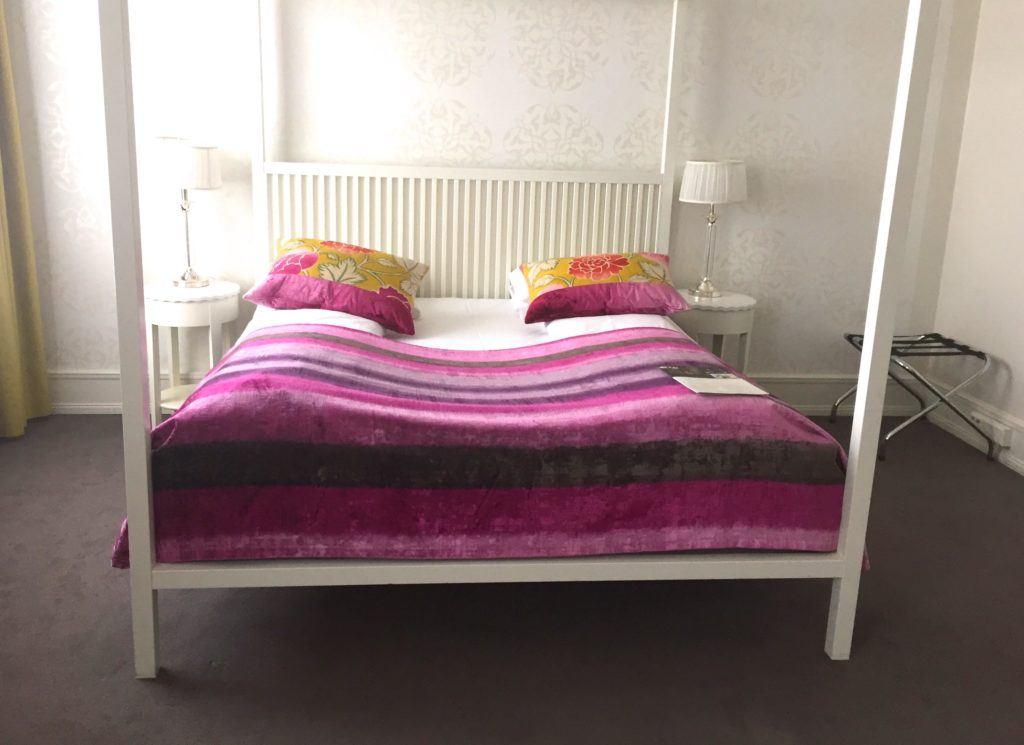 *All of these hotels offer family size suites and complimentary breakfast.*
Further Reading