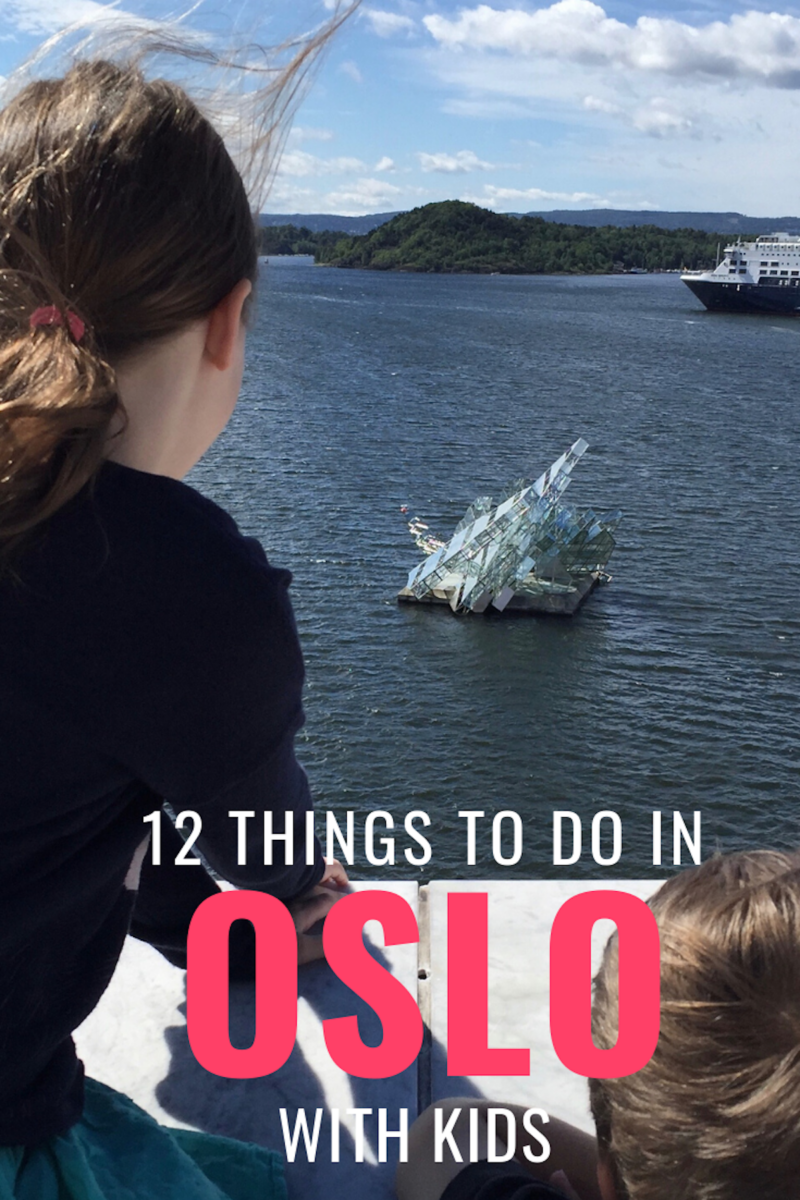 Affiliate Disclosure: This post on Oslo with Kids contains affiliate links. If you click a link and make a purchase, I may receive a small commission at no cost to you.
Oslo for Kids — Introduction
Are you planning a trip to Norway with kids? Whether you are doing the Norway in a Nutshell tour, or, like us, taking a more leisurely adventure across the country (we chose to drive from Oslo to Bergen) – Oslo is a logical and worthy place to spend a few days. With that in mind, I would love to help you make the most of your time there with the follow Oslo kids guide.
Please use the following menu to find what you need quickly (what to do in Oslo with kids, best Oslo family hotels etc.), or start with this 90 second video of our Oslo family vacation highlights.
Oslo with Kids Video (90 sec.)
12 Things to do with Kids in Oslo, Norway
The Kon-tiki Museum – Bygdoy Peninsula
Learn about Thor Heyerdahl's famous journey across the Pacific Ocean (from Peru to Polynesia) on the Kon-tiki. See the restored balsa wood raft that he used to prove that this type of journey could have been accomplished 1500 years ago.
Exhibits also include displays and artifacts from his other journeys such as the Ra ll which he sailed across the Atlantic (after a less successful voyage with the Ra l). Time your visit for the daily showing of the Oscar winning documentary Kon-tiki (12pm).
Learn more here or read reviews on Tripadvisor.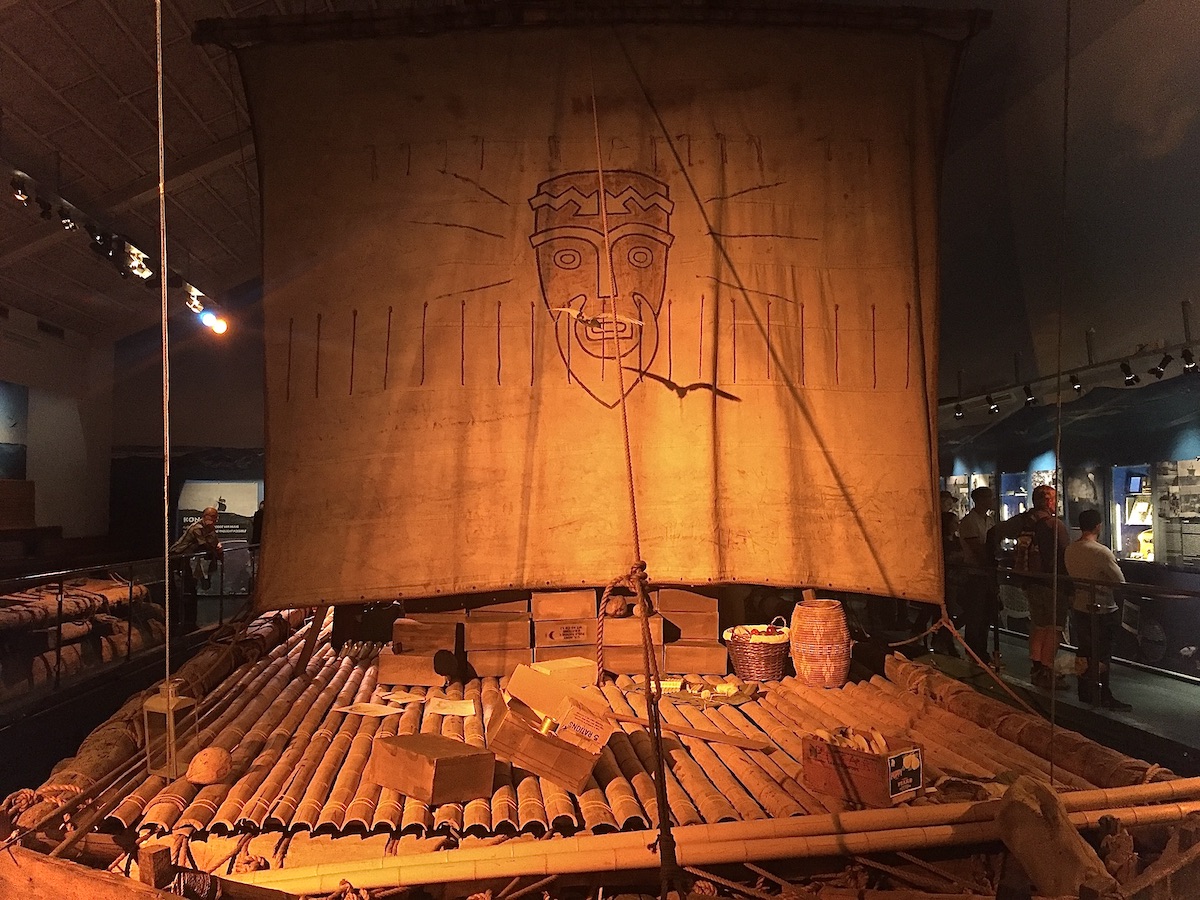 The Fram – Bygdoy Peninsula
I think this is one of the best things to do in Oslo for kids, since at this attraction, you are allowed to climb about and explore a bit (even better if you a visiting Oslo with a toddler)!
Visitors are welcomed aboard the actual vessel Roald Amundsen used to reach the South Pole. Recent additions to the museum include a continuous 270 degrees surround film shown from the deck of the Fram, as well as an igloo inspired by Roald Amundsen's journey through the Northwest Passage.
Learn more here or read reviews on Tripadvisor.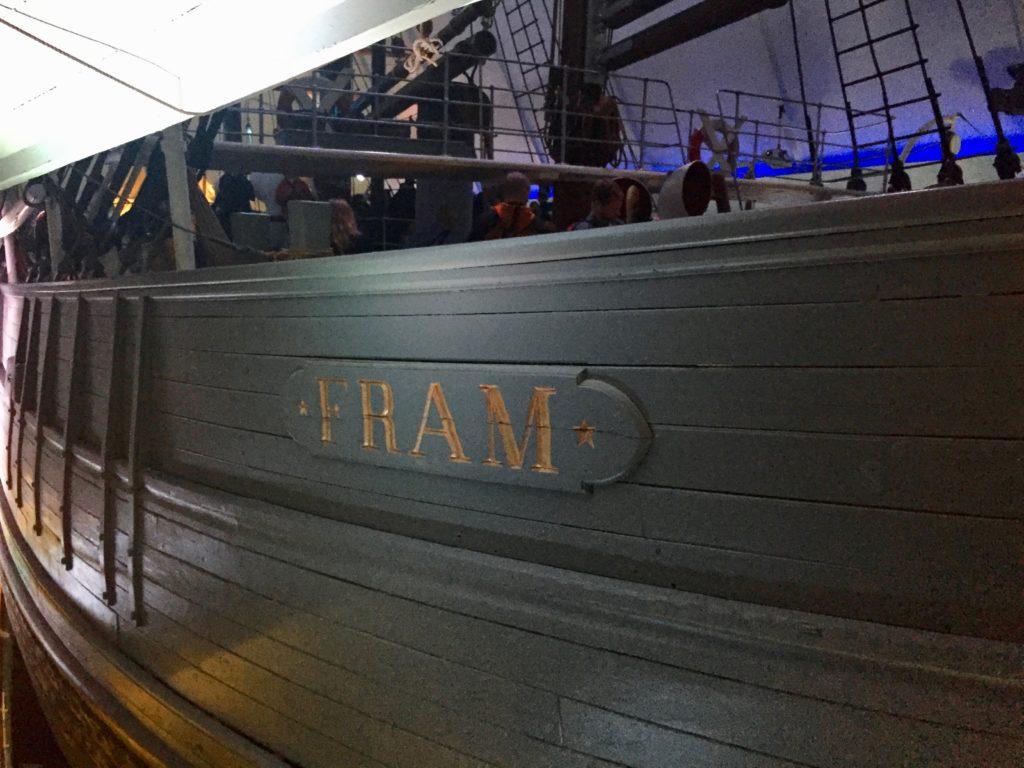 Norsk Folkemuseum
The Norwegian Folk Museum shows how people lived in Norway from 1500 to the present through its collections from around the country. One of the most special things to see at the museum is the Stave Church from Gol, dating back to the year 1200. This attraction also has over 160 historic buildings from various regions in Norway.
Be sure to check the daily events calendar before your visit. Learn more at norskfolkemuseum.no or read recent reviews on Tripadvisor.
The Viking Ship Museum – Bygdoy Peninsula
This interesting museum houses not one, but three, excavated viking ships; each more than one thousand years old. The elegant rooms compliment the ships beautifully and the museum is a worthy stop while visiting the other museums on the Bygdoy Peninsula.
Personally, this was one of my favourite places to visit during our Oslo family holiday (although, perhaps not for my kids as it is not terribly interactive).
Learn more here or read reviews on Tripadvisor.
Note: The Bygdoy Peninsula (sometime referred to as the "Museum Peninsula"), is only a 10 minute drive from downtown Oslo. You can get there by car, bus or ferry. While I only mention three of the museums in this post, if you have more time, you may also enjoy the Norsk Maritime Museum.
Furthermore, If you are looking for a nice cafe for lunch in the area (that also has a kids' menu), try the highly rated Cafe Hjemme. It has a lovely outdoor patio and is within walking distance of the museums.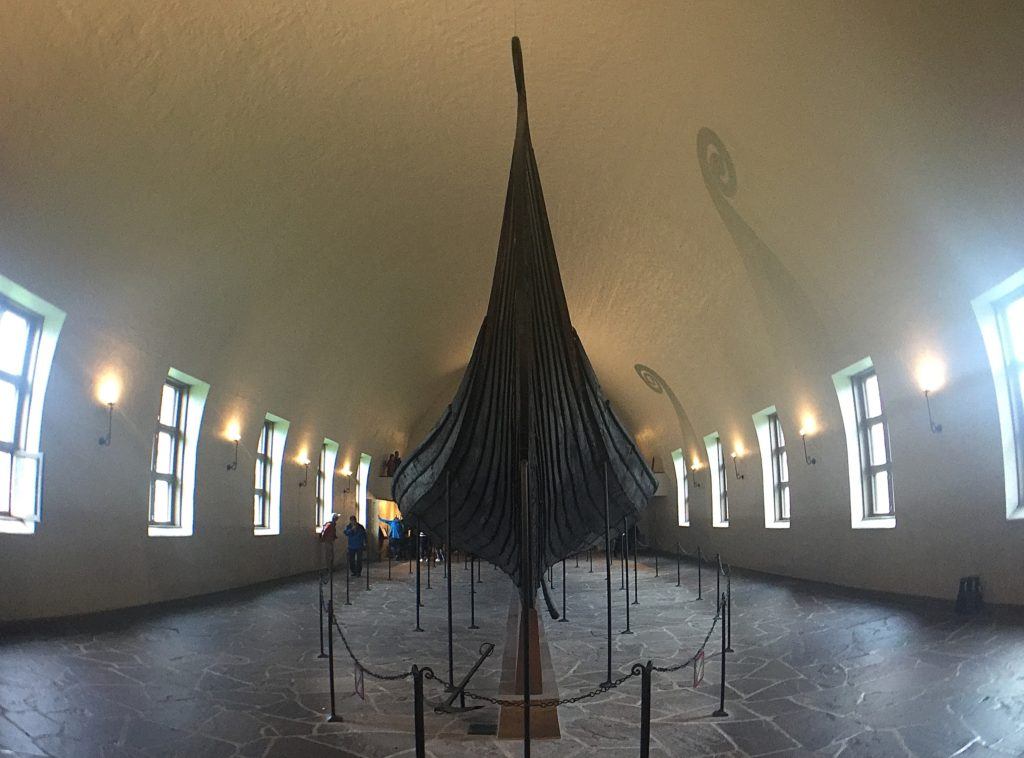 The Oslo Opera House
This beautiful building with exteriors of Italian marble and white granite has made its cultural mark on Oslo since its debut in 2007. (In impressively Norwegian form, it was completed ahead of schedule and under budget.) It is home to the Norwegian National Opera and Ballet and contains three separate performance venues.
What is most unique about this venue, however, is the fact that you can walk on the slanted roof. Take a stroll to enjoy the view of the harbor and the unique iceberg shaped glass and steel art installation She Lies floating within the fjord.
Learn more here or read Tripadvisor
reviews.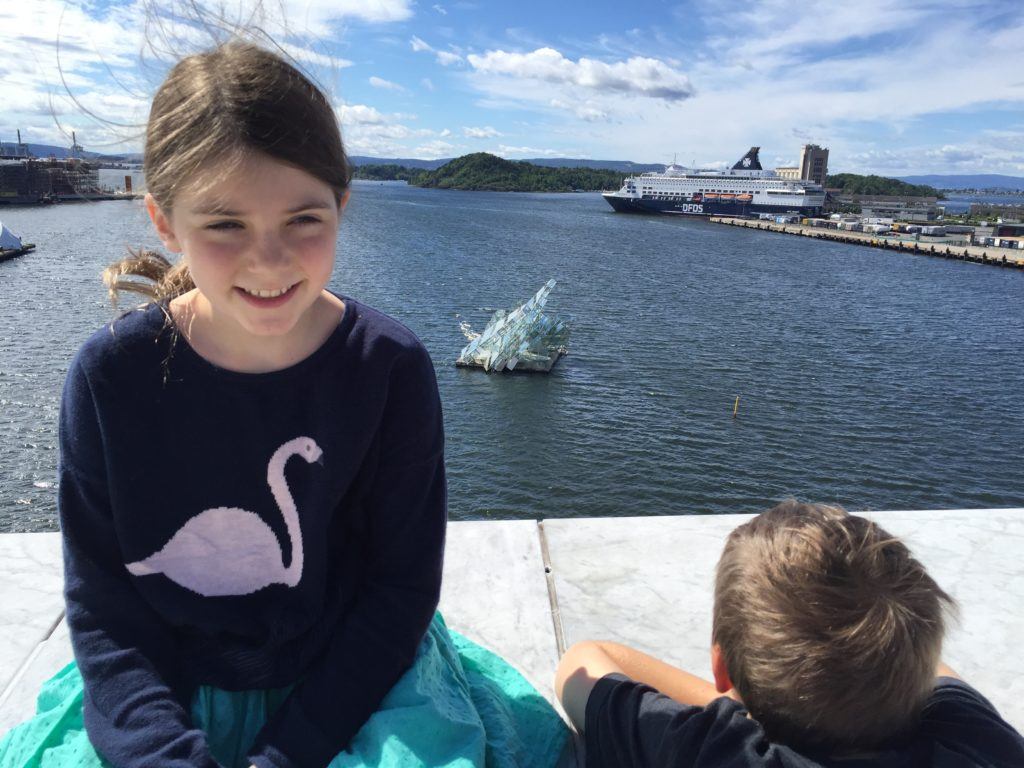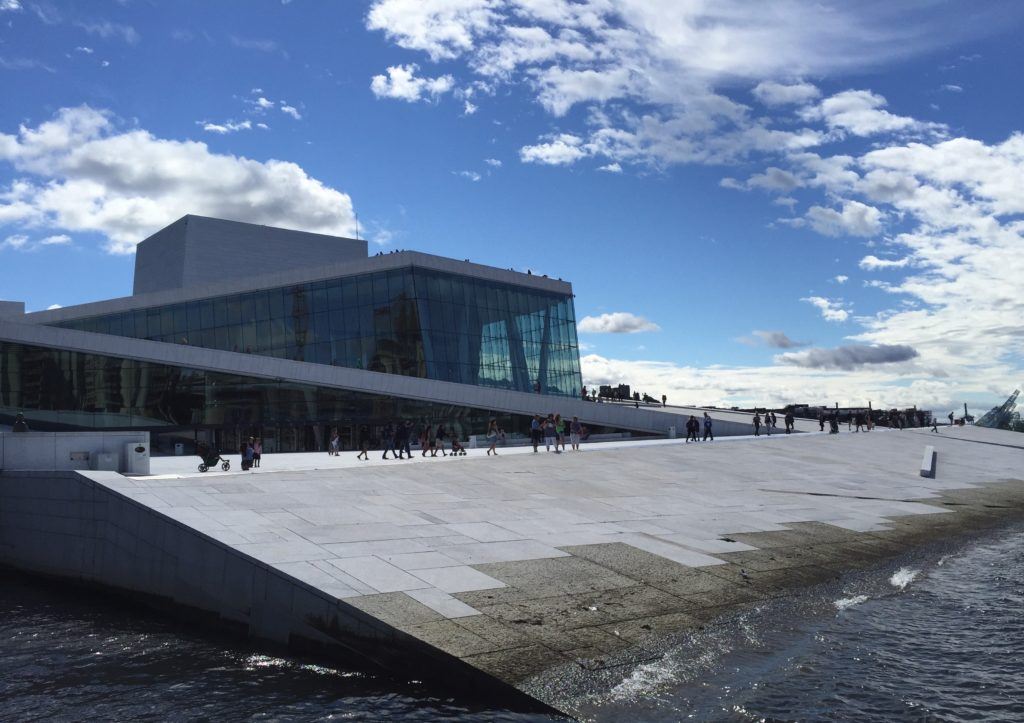 The Norwegian Museum of Science and Technology
In a quiet suburb Oslo, well served by public transportation, you will find this interesting museum of Science and Technology. Exhibits include those on Norway's medicine history, oil and gas production, hydroelectric power, transport and more!
Learn more at VisitOslo.com or read recent reviews on Tripadvisor.
Frogner Park and the Vigeland Installation
This 45 hectare park in central Oslo is home to the beautiful Vigeland Installation – featuring 212 bronze and granite sculptures designed by Gustav Vigeland. It is a perfect attraction in Oslo for families as kids have tons of room to run around and it is also home to an excellent and well maintained playground.
*Note: The Vigeland Sculpture Park is within Frogner Park. This can be a bit confusing, since both Frogner Park (Frognerparken) and Vigeland Park (Vigelandsparken) are reviewed on TripAdvisor. Just know that they are in the same location.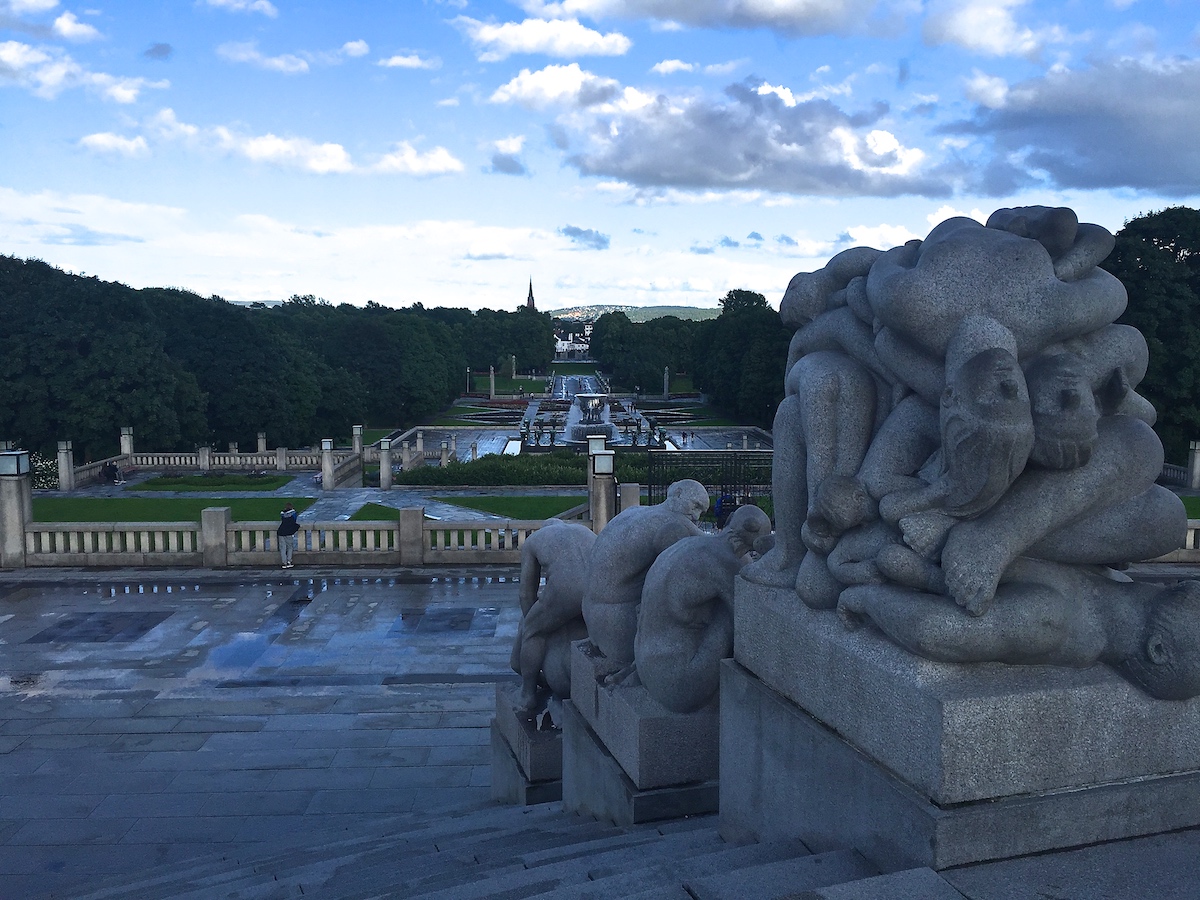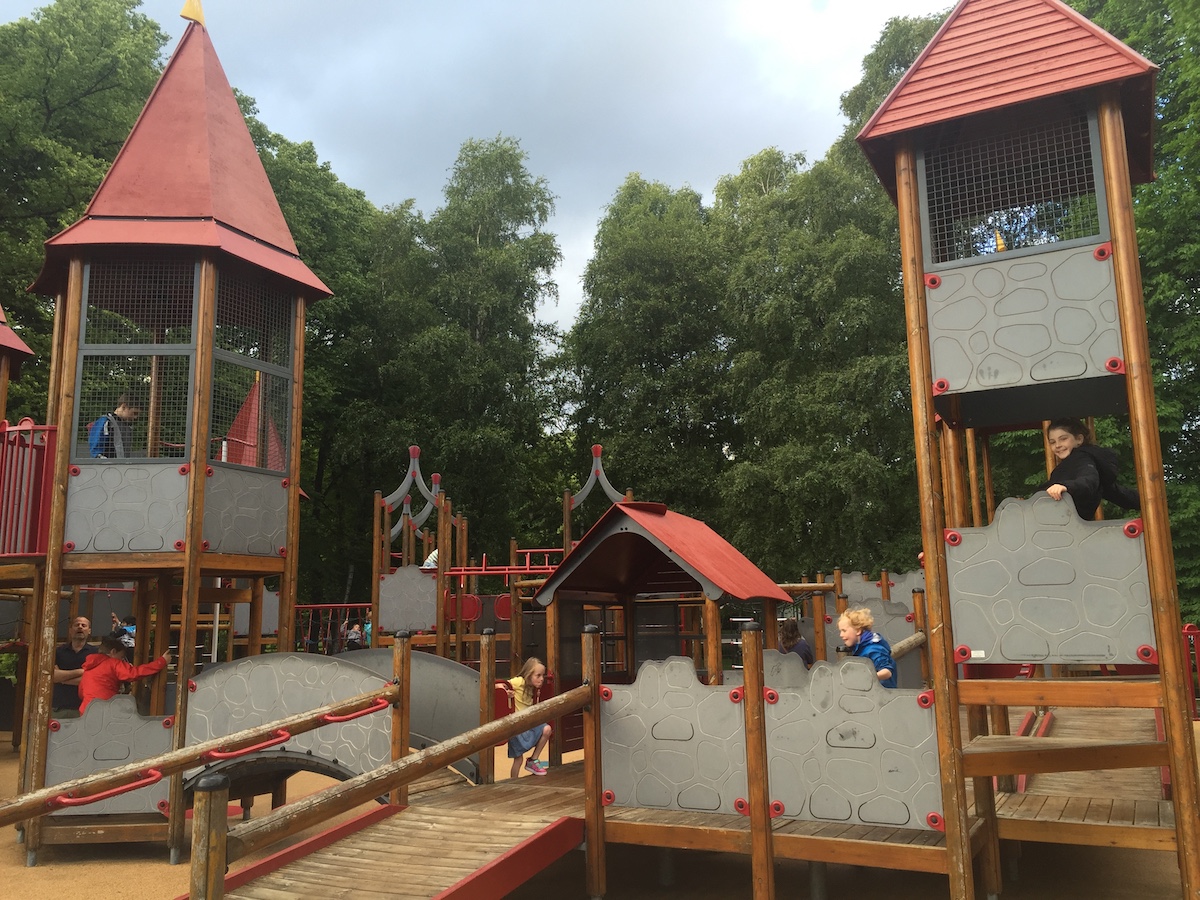 The National Art Gallery Olso
I'm not going to lie to you. My kids do not love visiting art galleries (although we drag them through them anyway as part of an educational experience). As a parent, however, what I really loved about The National Gallery of Oslo was the size of the collection. In a short, half hour visit, we had seen some of Edvard Munch's most significants works (including "The Scream", of course), as well as works by Cézanne, Renoir, Monet, Picasso and more.
If you have ever experienced the overwhelming crowds of the Louvre in Paris, this gallery is a refreshingly different, almost crowd-free way of enjoying art (or tolerating art, in the case of my children).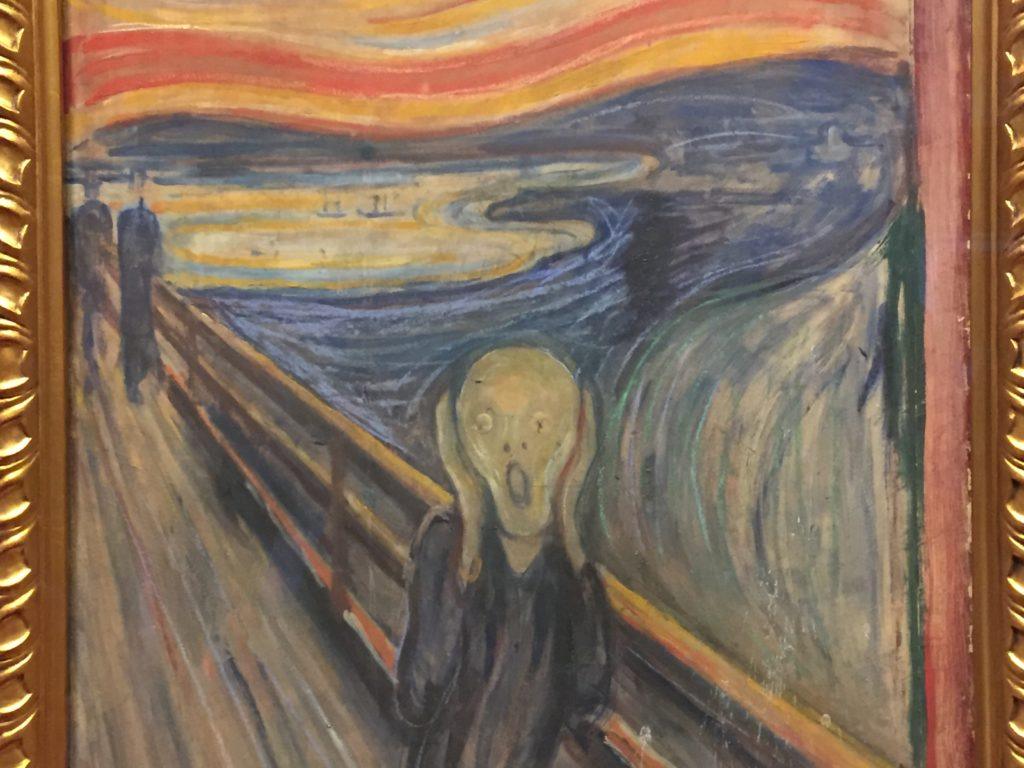 Children's Art Museum Oslo: Alternatively, the Oslo Children's Museum showcases children's art from 180 countries including textiles, drawings, paintings, and sculptures with the aim of preserving and promoting children's art worldwide. Learn more about the International Children's Art Museum Oslo here, or read Tripadvisor
reviews.
The Oslo Botanical Gardens
These unique flora filled gardens (over 5500 species!) are a lovely place to visit in Oslo with kids as there is plenty of room for them to run around. The gardens have a variety of play areas for children including five willow branch sculptures by British artist Tom Hare.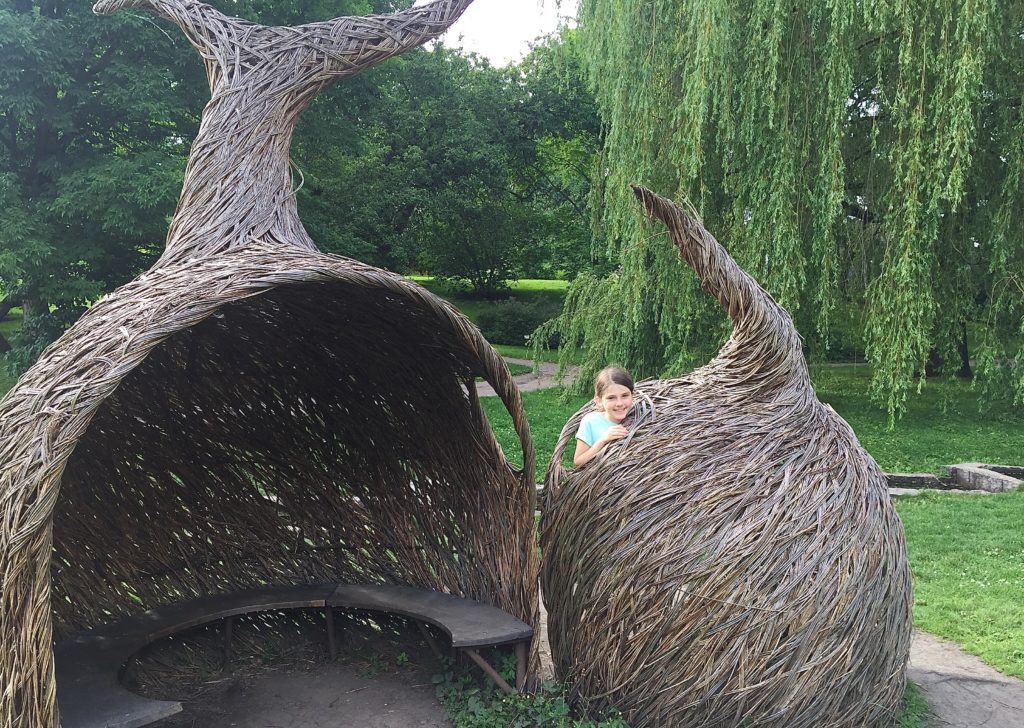 Mathallen Food Hall
Part attraction, part family-friendly place to eat, Mathallen Food Hall is a great place to try some tasty international fare (and Norwegian, of course). The hall has more than 30 specialty shops, cafés and eateries offering prepared food and groceries.
See the Mathallen Food Hall website for a full list of vendors, upcoming food and wine courses and other foodie events.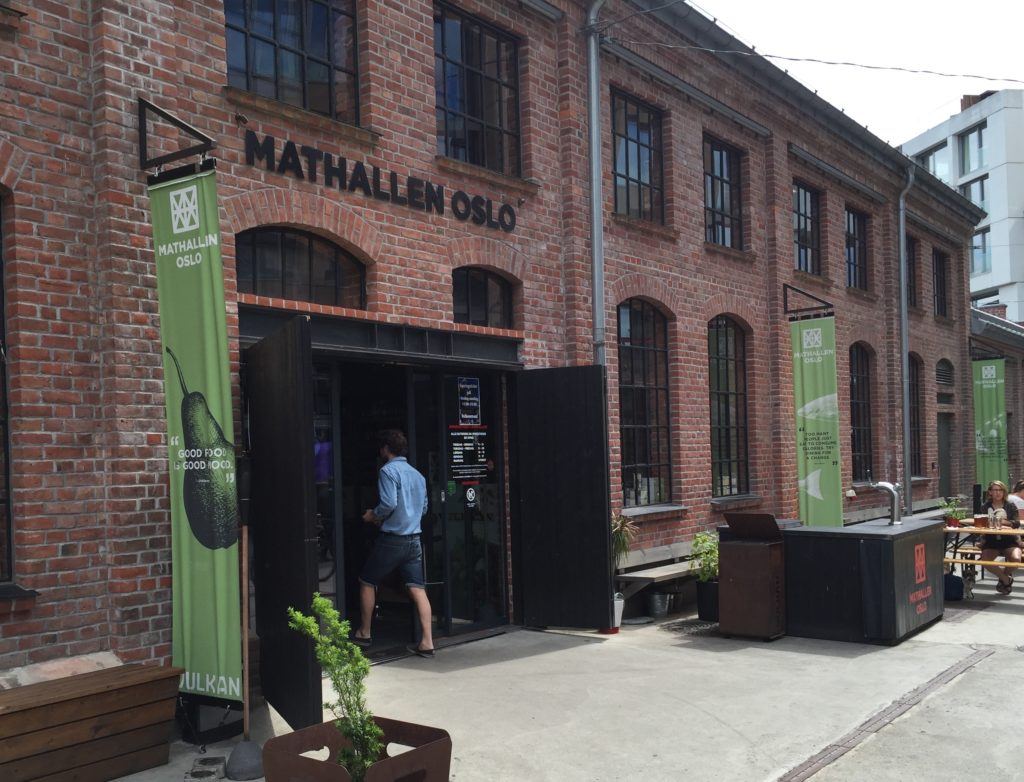 Holmenkollen Ski Museum
For skiers and non-skiers alike, the Holmenkollen ski jump and museum is an interesting attraction which also, on a clear day, offers a gorgeous view of Oslo from its observation deck.
The museum, located underneath the famous ski jump, is the oldest of its kind in the world, presenting more than 4,000 years of skiing history and Norwegian polar exploration artifacts. Perhaps even more exciting for kids? In the summer, you can zip line down the jump!
Learn more about the Holmenkollen Ski Jump here or read reviews on Tripadvisor
.
Please note: Kids must be 30kg (66 lbs) to go on the zip line.
Swimming in Oslo
One of the things I love to do most when visiting the Norway with kids is to go swimming. Pools and saunas are such a big part of the culture that I think it is simply one of the best opportunities to hang with locals.
Unfortunately, during our time in Oslo, the weather was pretty miserable, so swimming was not an option. A reader of this site, however, suggested taking a day trip from Oslo to one of the nearby islands for swimming. See the top Oslo outdoor swimming areas here.
If you are looking for Oslo public pools instead, Tøyenbadet Public Bath is hugely popular with locals and tourists alike. It has 2 giant indoor pools, a children's pool, a waterslide and two outdoor pools (summer). Please note, the pool closes for 10 days near the beginning of August (maintenance).
Learn more here or read reviews on Tripadvisor
.
Family Hotels Oslo
I have a whole post dedicated to the best Oslo family hotels, but I have listed my top three favorites below.
The nice thing about visiting Oslo with kids (and Norway with kids), is that there are quite a lot of hotels offering family rooms that include the addition of a bunkbed, sofabed or have room for a cot/crib to be added.
Scandic Hotels are particularly good for families with spacious rooms and welcome gifts for kids (and 90+ hotels throughout Norway). Most hotels in Norway also include a buffet breakfast in the nightly rate.
Citybox Hotel Oslo – 3 star – Check rates on Booking.com
.
Scandic Byporten – 3.5 star – Check rates on Booking.com
.
Oslo Guldsmeden – 4 star – Check rates on Booking.com
How to Save Money in Oslo
Norway is expensive, and by default, Oslo with kids is expensive. My first reality check came when our plane landed (late). We had to take a taxi from the Oslo airport into the city (45km/27 miles cost us approximately $225 USD).
Save money on attractions and transportation buy purchasing The Oslo Pass. The Oslo Pass gives you free entry to more than 30 museums and attractions, free travel on all public transport, free parking in municipal car parks, free entry to outdoor swimming pools, free walking tours, discounts on sightseeing, ski simulator, Tusenfryd Amusement Park, concert tickets, climbing, ski and bike rental, and special offers in restaurants, shops, entertainment and leisure venues.
Norway's Value Added Tax (VAT) is a shocking 25% (this helps to explain their high standard of living). When purchasing souvenirs, look for stores displaying a tax free shopping sticker. There are refund points at various locations in Norway, such as airports, road borders or onboard ferries and cruise ships. Visit them before checking your luggage and leave tags on your purchases, as you may be asked to show the agent an item you purchased. See this helpful page on the VAT by Visit Oslo.
Bring a water bottle to re-use throughout your trip. Tap water in Norway is safe, tastes great, and buying it (as well as other drinks) is expensive (think $4 USD/bottle). Also pack some snacks with you to avoid having to make hasty and expensive purchases along the way.
Spend a little extra time researching where you want to eat. I cannot take credit for this, but my husband is very good at finding excellent, well priced food. In Oslo, he used both Tripadvisor and Google for his research (Yelp is not great in Norway). You are going to feel like you are paying a lot at restaurants regardless, so you want to avoid making a bad choice.
Don't over-tip. Although not always expected, 10% is common if you are very happy with your service at a restaurant.
Best Time to Visit Oslo
The relatively balmy months of May to August are the nicest time to visit Oslo. Temperatures range from 43° to 70°F (6°- 21°C). We visited Norway in July and I would say that we experienced the full range of temperatures (and some rain).
The key is to dress in layers and have a light rain jacket or umbrella handy. In the peak of summer, you will also experience very long days (up to 19 hours of daylight!).
Books and Movies about Norway
Personally, I love to learn as much as I can about a country before I visit. Here are a few things I enjoyed reading and watching before our trip.
The Almost Nearly Perfect People – Michael Booth
"In The Almost Nearly Perfect People Michael Booth explains who the Scandinavians are, how they differ and why, and what their quirks are, and he explores why these societies have become so successful and models for the world. Along the way a more nuanced, often darker picture emerges of a region plagued by taboos, characterized by suffocating parochialism, and populated by extremists of various shades. They may very well be almost nearly perfect, but it isn't easy being Scandinavian. " – Amazon.com (Hard Copy and Kindle)
Culture Smart – Customs & Culture Norway
"Culture Smart Norway! provides essential information on attitudes, beliefs and behavior in different countries, ensuring that you arrive at your destination aware of basic manners, common courtesies, and sensitive issues. " – Amazon.com (Hard Copy and Kindle)
Lonely Planet Norway Travel Guide
Inside Lonely Planet Norway Travel Guide – Amazon.com (Hard Copy and Kindle)
Colour maps and images throughout
Highlights and itineraries help you tailor your trip to your personal needs and interests
Insider tips to save time and money and get around like a local, avoiding crowds and trouble spots
Essential info at your fingertips – hours of operation, phone numbers, websites, transit tips, prices
Honest reviews for all budgets – eating, sleeping, sight-seeing, going out, shopping, hidden gems that most guidebooks miss
Tips for Oslo with kids including the best things to do in Oslo with kids
Kon-tiki – Movie – 2013
"Based on the Academy Award-winning documentary, KON TIKI is the story of legendary explorer Thor Heyerdal's epic crossing of the Pacific on a balsa wood raft in 1947." – Amazon.com (Rent or Buy)
Further Reading