Last update: April 8th, 2021 at 05:21 pm
While hiking Pulpit Rock was my favourite experience throughout a 2 week Norway trip, driving the Trollstigen came in at a close second. Also known as the Trolls Road, the Trollstigen is an incredibly windy road (11 hairpin turns), that takes you up a mountainside to an awe inducing viewpoint above Stigfossen Falls. Take a quick peek at our short video or just read on to learn more about Norway's Trollstigen.
Driving the Trollstigen, Norway
Upon flying in to Alesund, we rented a car at the airport and used this pretty town as our base for a few days of exploring. The Trollstigen is actually part of one of Norway's National Tourist Routes (Road 63) which also includes the UNESCO protected landscape of Geirangerfjord. The drive can quite easily be done as a day trip from Alesund, although we chose to spend a night along the route.
The drive from Alesund to Trollstigen is a relatively easy one in the summer, taking about 90 minutes. Having kids with us, we made a requisite stop just before starting up the mountain to enjoy Norwegian waffles at Trollstigen Camping and Guesthouses. If camping is your thing, this is truly a beautiful spot in the valley, with mountain and waterfall views.
The windy drive up the Trollstigen is an exciting one, not just because of the steep grade and hairpin turns, but also because you need to be on the lookout for wildlife. Once you reach the top, you can admire the view from several beautifully designed viewing platforms, enjoy a meal at the kafé, or spend some time in the Visitor's Centre. Both the Centre and the viewing platforms were designed by Reiulf Ramstad Architects of Oslo. See some of their inspiring work here.
For my kids, the part they like the best about visiting Trollstigen was being able to climb around on the rocks and throw some snowballs in the summer sun. Like in other Scandinavian countries, people have a freedom to roam in Norway. My children were surprised and delighted to realize that they could, respectfully, go off the path and hike around a little. Despite some drop offs here and there, there was not an abundance of caution signs, with common sense and good parenting expected to prevail.
Very nearby to Trollstigen it the beautiful Juvet Landscape Hotel. If it had not been completely booked, we would have stayed there. In fact, I dream out returning to Norway for the chance to spend a few night at this very special place. Learn more about the Juvet Landscape Hotel here.
If you are lucky enough to visit Norway in the few summer weeks of strawberry season, you will never forget the taste. Driving away from the Juvet, we passed through a little village and grabbed a basket of mouthwatering jordbær, as they are called in Norwegian (meaning earth berries).
Continuing on to Geirangerfjord involved a ferry, more beautiful scenery, wildlife and waterfalls. Upon arrival in the town of Geiranger, we enjoyed a lovely lunch in the beautiful sunshine while awaiting the ferry that would take us through the fjord.The fjord landscape is included on UNESCO's list of World Heritage sites and it is one of my great regrets that we were only able to see the fjord from above (see the mistake below).
The mistake: Normally, we cover all of our bases when traveling, but in this case, we had not reserved the ferry. We missed the first one, but were assured that we should be on the next one. That was all fine, until 4 buses pulled up and it became clear that we were not getting on the next one either. May I strongly recommend that you make reservations ahead of time. See the Fjord Cruise Geirangerfjord.
Now, if you are going to have to do a little backtracking on your drive, as we unfortunately had to do, Norway is a pretty nice place to do it.   In the late afternoon, we arrived at our hotel for the evening. As it was my husband's birthday, we had planned a splurge. With the Juvet being completely booked for a wedding, we had discovered another special looking place, The Storfjord Hotel. The Storfjord is a secluded luxury boutique hotel located on a hillside overlooking the fjord and the Sunnmøre Alps.
Sadly, we had a few hiccups at the start, including a mis-recorded reservation and a room change. That said, the staff did go above and beyond to rectify the situation.  Although expensive (even by Norway standards), the food is very nice, with a regional four course dinner menu offered nightly. To this day, however, I can't help but giggle when I think about the enormously expensive 2 course kids' meal, especially since my kids didn't eat much of the gourmet gluten-free pizza (but they loved the bread and house-made gelato). In all of our travels, it was definitely the most expensive kids meal we have ever come across, and that includes a 3 hour Michelin star dining experience in Paris.
Anyway, if money is no object, it is a beautiful and very romantic spot. I'm glad we had the chance to stay there, but next time….and I hope there will be another trip to Norway, we will make our splurge the Juvet.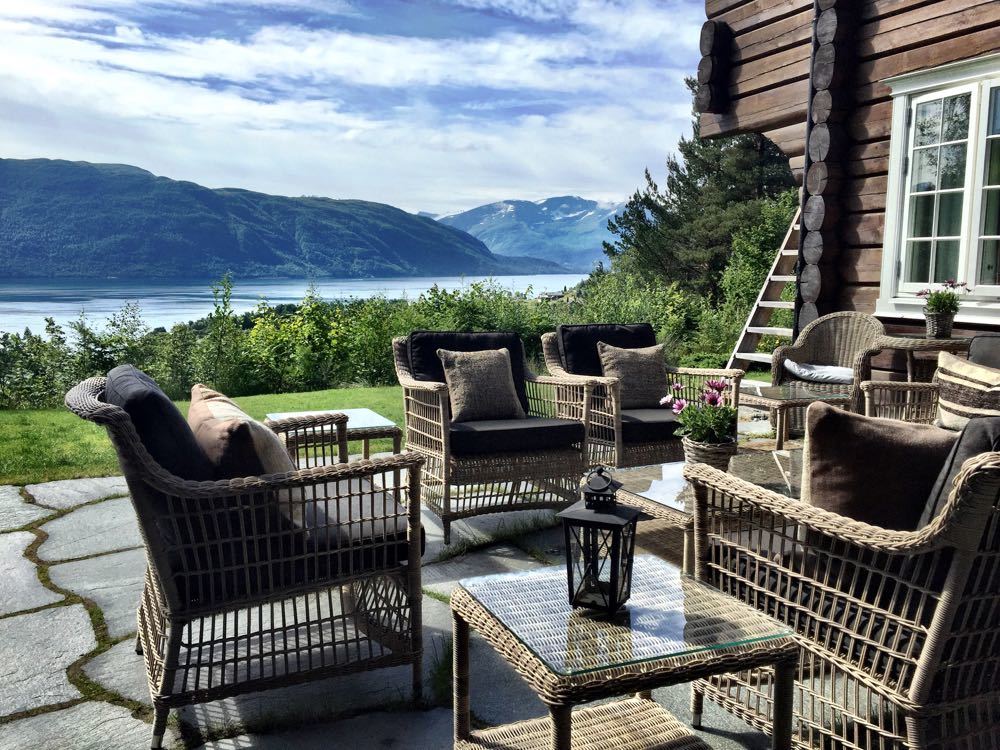 Learn more about the Trollstigen drive at VisitNorway.com.
Related Posts