Last update: May 1st, 2022 at 07:49 am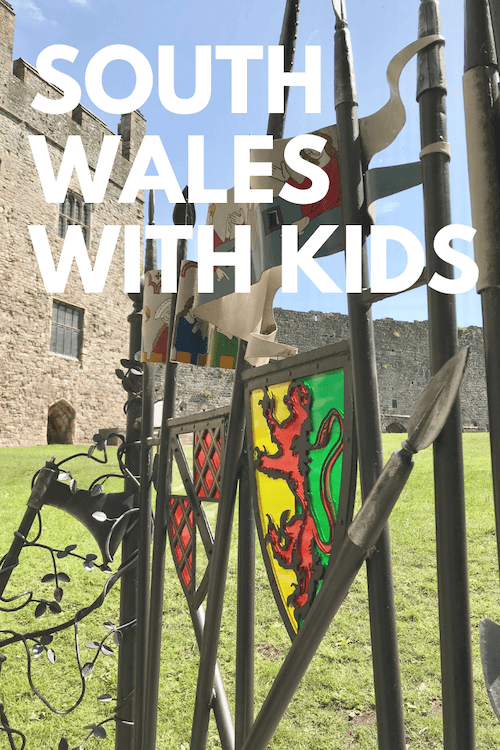 Kids South Wales Intro
To be honest, we didn't initially plan to spend part of our summer family holidays in Wales. Whenever we are fortunate enough to visit Europe, however, we try to see as much as we can – driving hours to hit another country if possible. When a Norway trip had us routing through London's Gatwick Airport, we decided to tack on a few extra days to enjoy a little family holiday in South Wales as well.
Although this region of the world isn't typically known for its stellar weather, we lucked out with an early July heat wave (meaning we could wear short sleeve shirts sometimes). From 5 wonderful days of exploring with our children in Wales we created this list of our Top Things to do in Wales with Kids (southern region).
South Wales with Kids Video
Want a quick look first? Check out everything we loved in South Wales for kids in this 2 minute video.
8 Things to do with Kids in South Wales
1. Wales Castles with Kids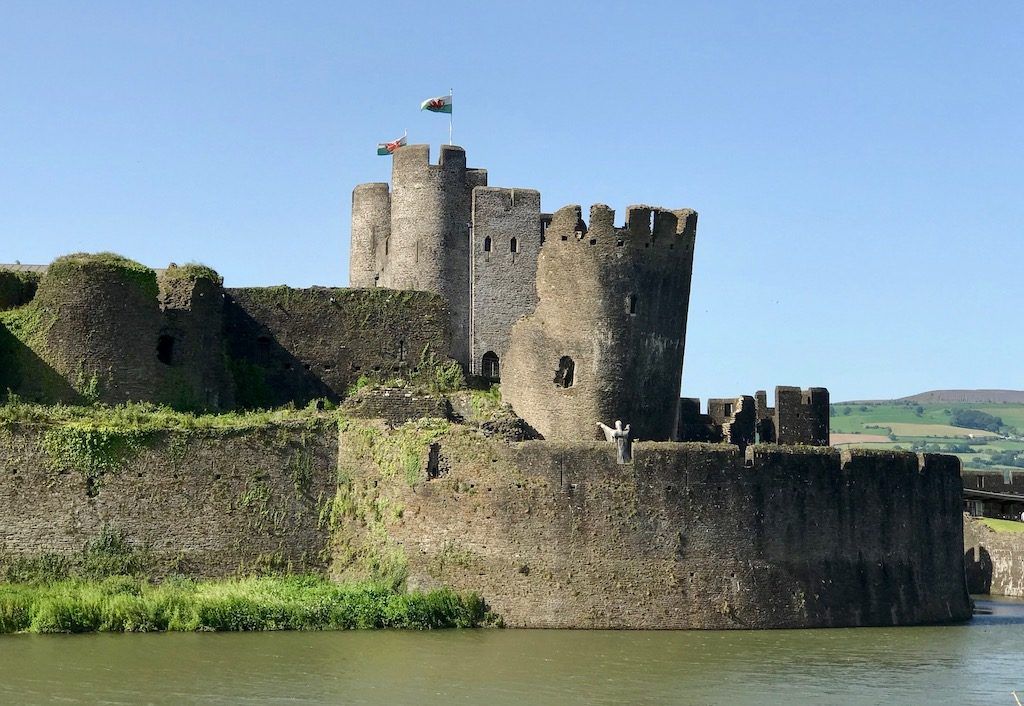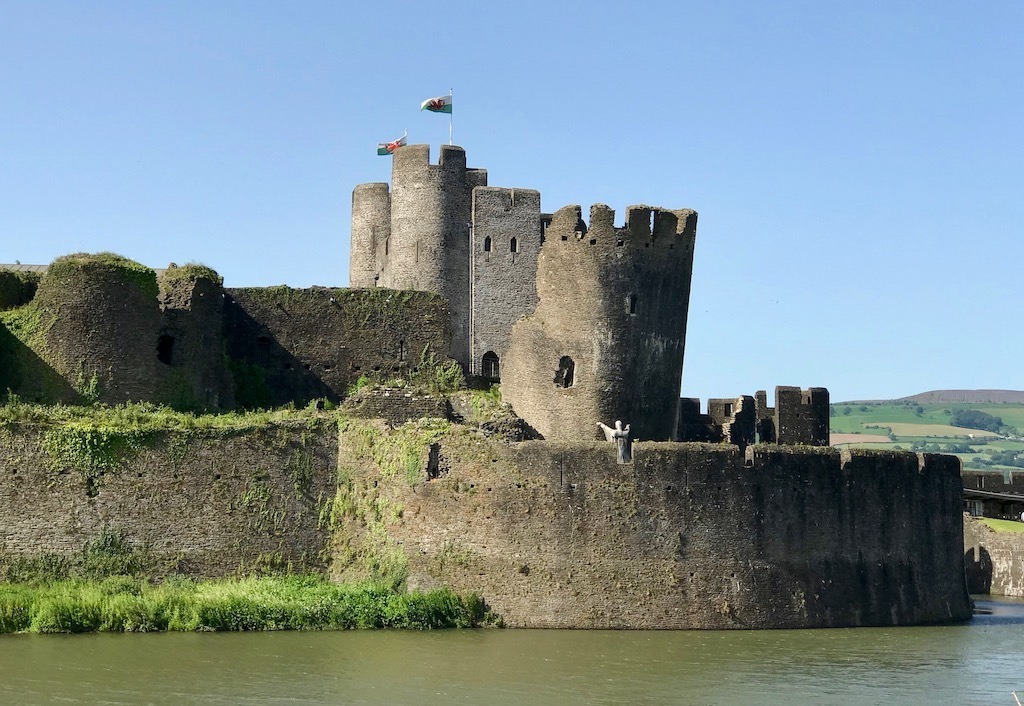 While there were once over 600 castles in Wales, more than 100 are still standing today (which of course is way more than you need on your Wales family holiday). In fact, it's hard to go anywhere without happening upon one.
As we had rented a car in Wales (pretty much a necessity), we found it easy to just work a castle or two into our daily itinerary. The one we found most impressive was Caerphilly Castle with its giant moat, leaning tower and even a fierce-looking dragon in a pit.
We also visited Chepstow Castle, Castle Coch, and Carreg Cennen (this one has a nice cafe). All of them have beautiful grounds and picnic areas.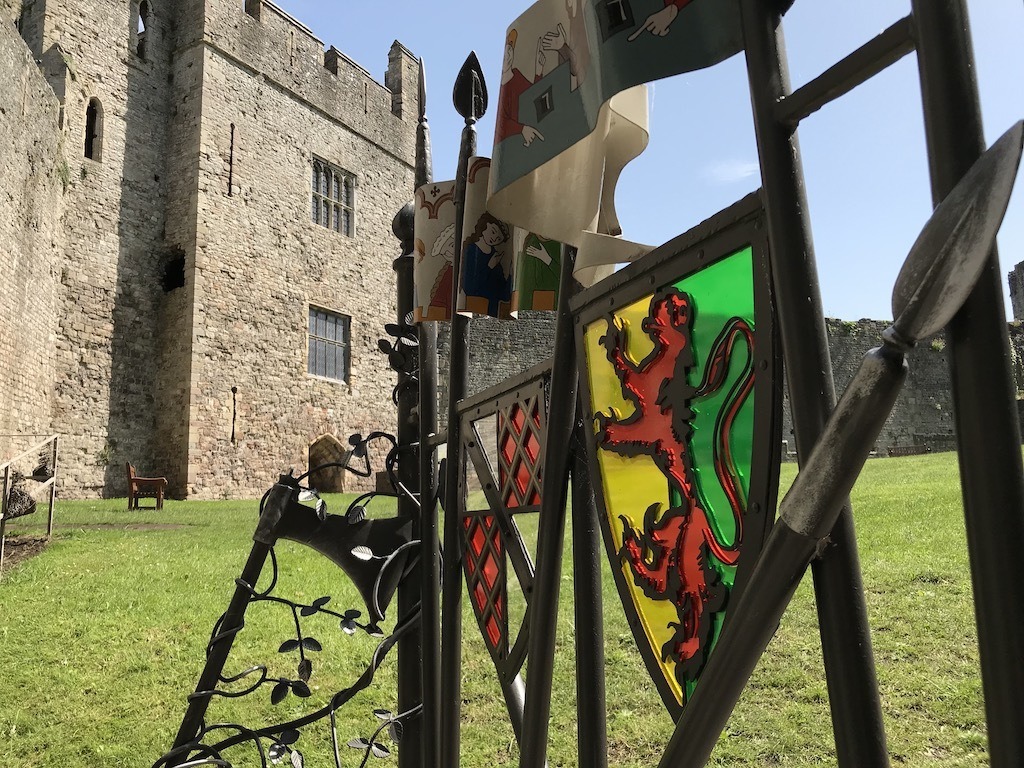 For those traveling with really wee ones, outside of the main paths, the castle are not super stroller-friendly so you might find a travel baby carrier helpful.
We used the https://cadw.gov.wales website to help with our planning. Not only does this site list the most family-friendly castles in Wales, it also has a fun app for kids that can help you plan your castle visits around any special events (jousting, concerts and more).
2. Brecon Beacons National Park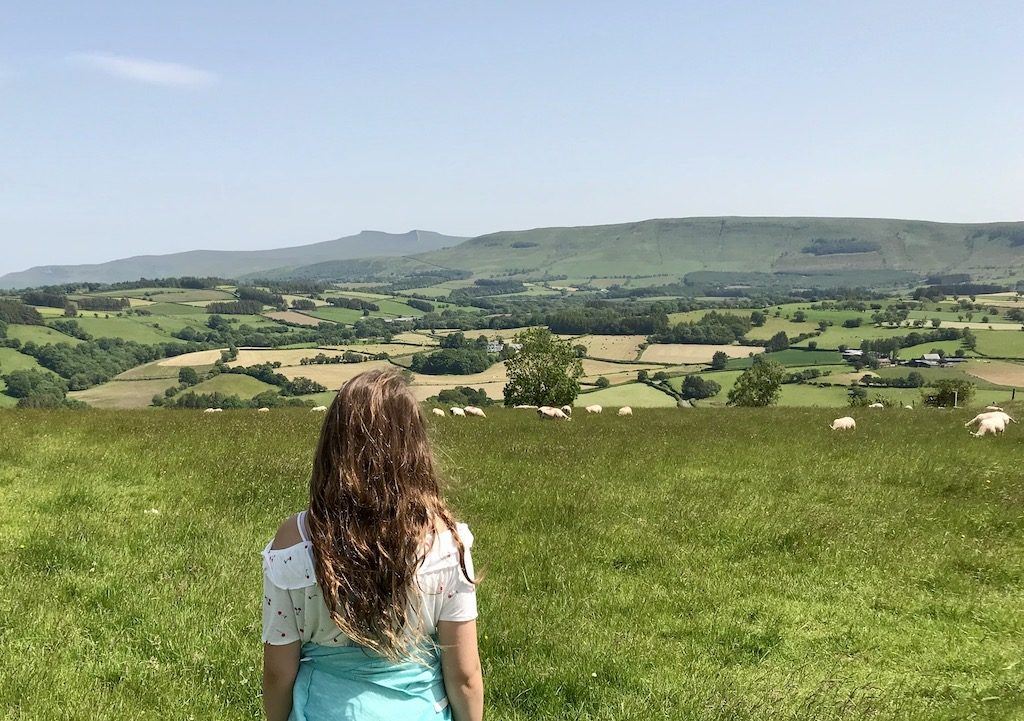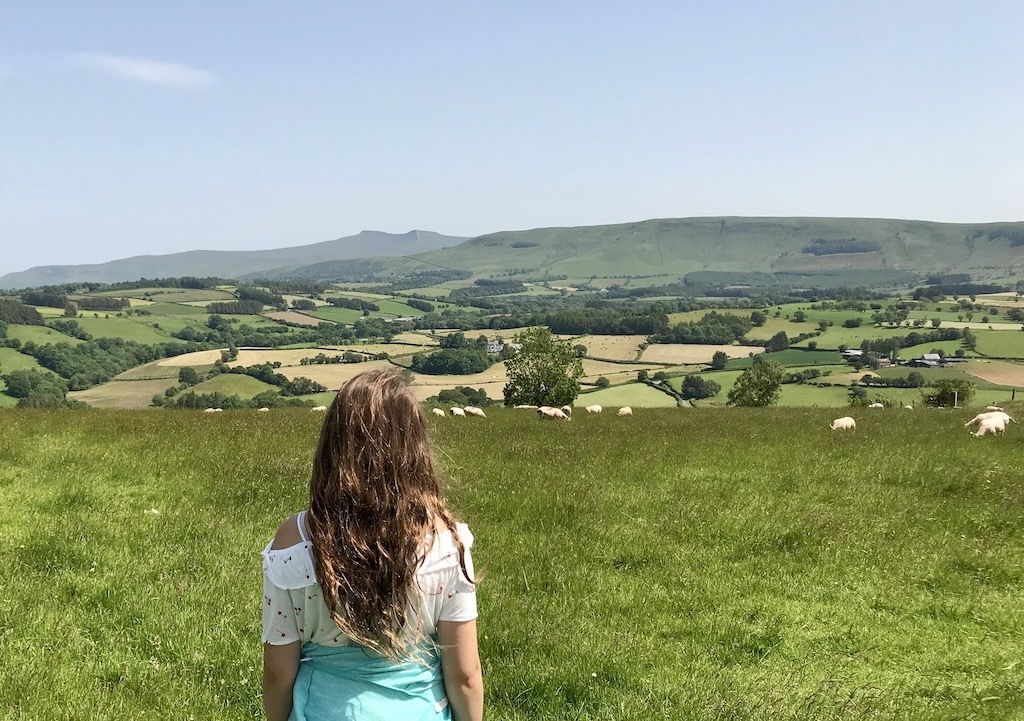 Until visiting, I really had a hard time getting my head around how large Brecon Beacons National Park actually is. It encompasses over 1300 square kilometres (500+ sq mi) of mountains and meadows, towns and castles.
Its stunning landscape allows for a wide array of outdoor pursuits including hiking, horseback riding, caving, canoeing, fishing and more! It is also a wonderful place to experience a star-filled night sky free of light pollution.
Even just going for a drive around Brecon Beacons is a worthy pursuit, making strategic stops for a good meal. There is a wonderfully stylish little restaurant in a former schoolhouse in the town of Defynnog. The International Welsh Rarebit Centre specializes in…you guessed it "rarebit".
Confession: I had to Google "rarebit" because I was worried that I was going to be presented with an undercooked animal. Turns out, it is actually a delicious open-faced sandwich not that different from a grilled cheese. See Tripadvisor
reviews for this lovely cafe and restaurant.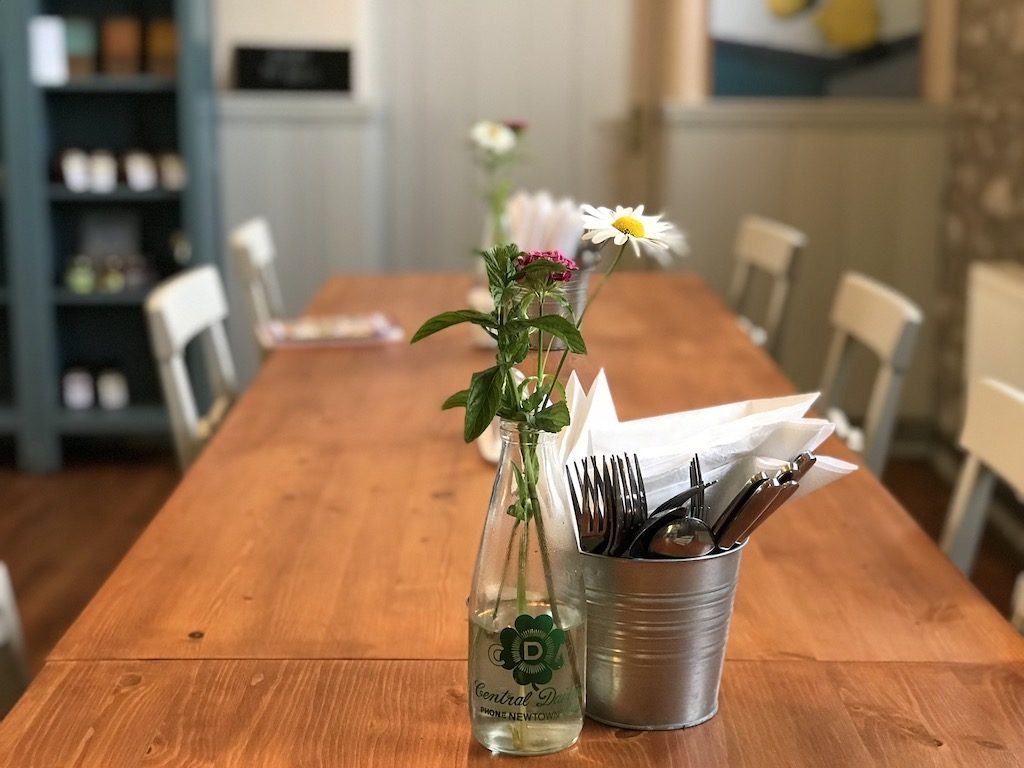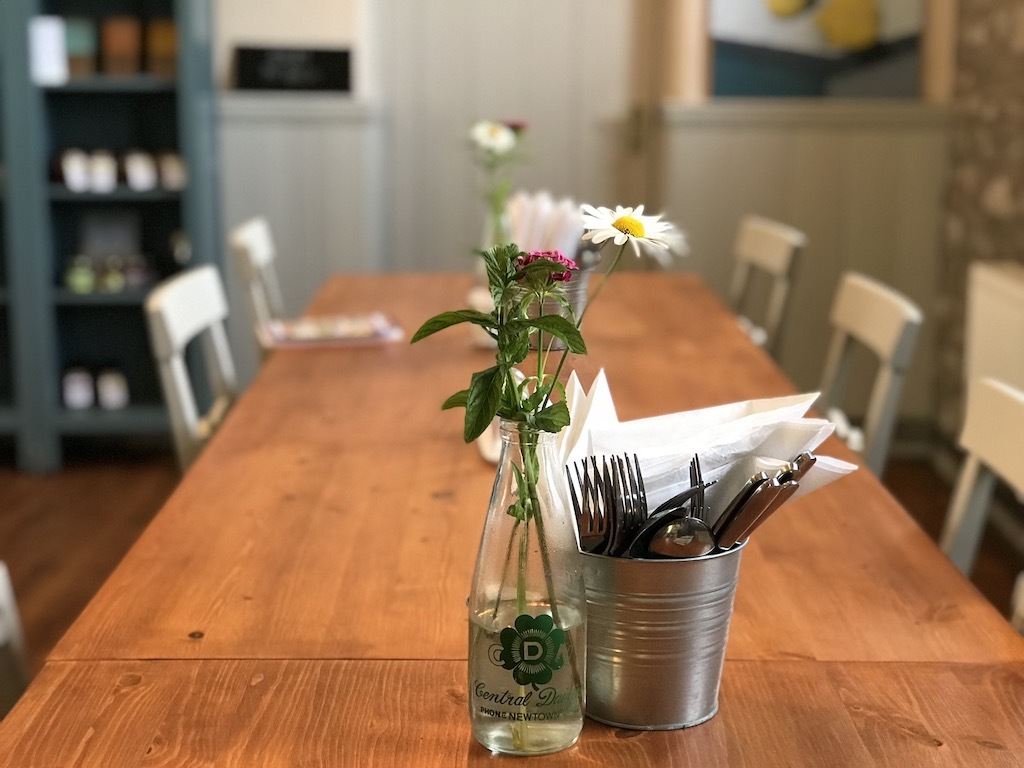 3. Good Day Out U.K. Donkey Walk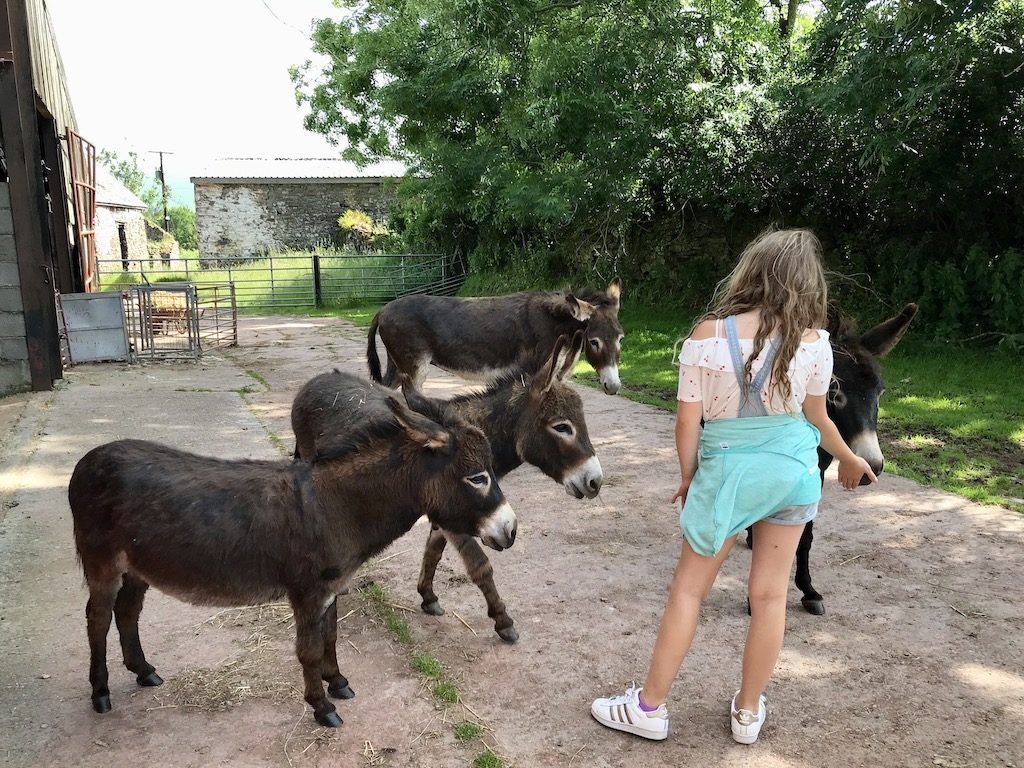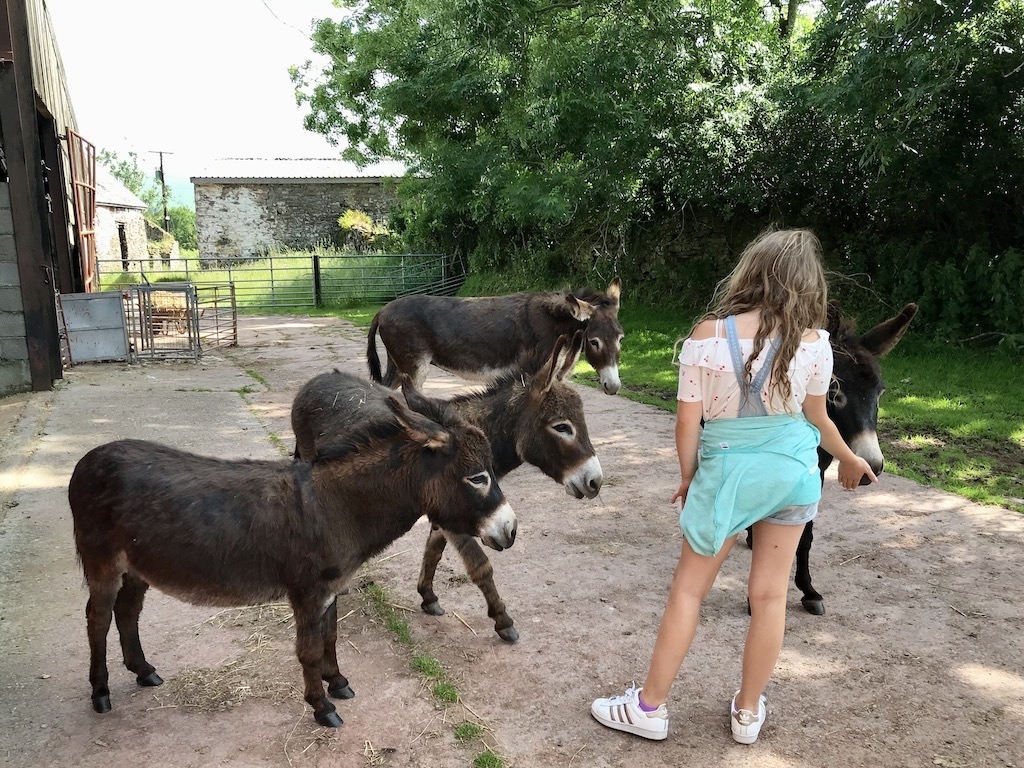 While helping to plan our family trip to Wales, my husband stumbled across Good Day Out U.K. Owner Julia Blazer offers wonderful pastoral excursions and experiences for animal lovers. While enjoying the incredible scenery of Brecon Beacons you can go on a walk with piggies, enjoy a hillside picnic with donkeys, sheep trekking and more!
We chose the Donkey Walk that involved grooming the miniature donkeys in their paddock, taking them for a scenic walk and enjoying a hilltop picnic overlooking Brecon Beacons.
Learn more about Good Day Out or read Tripadvisor reviews.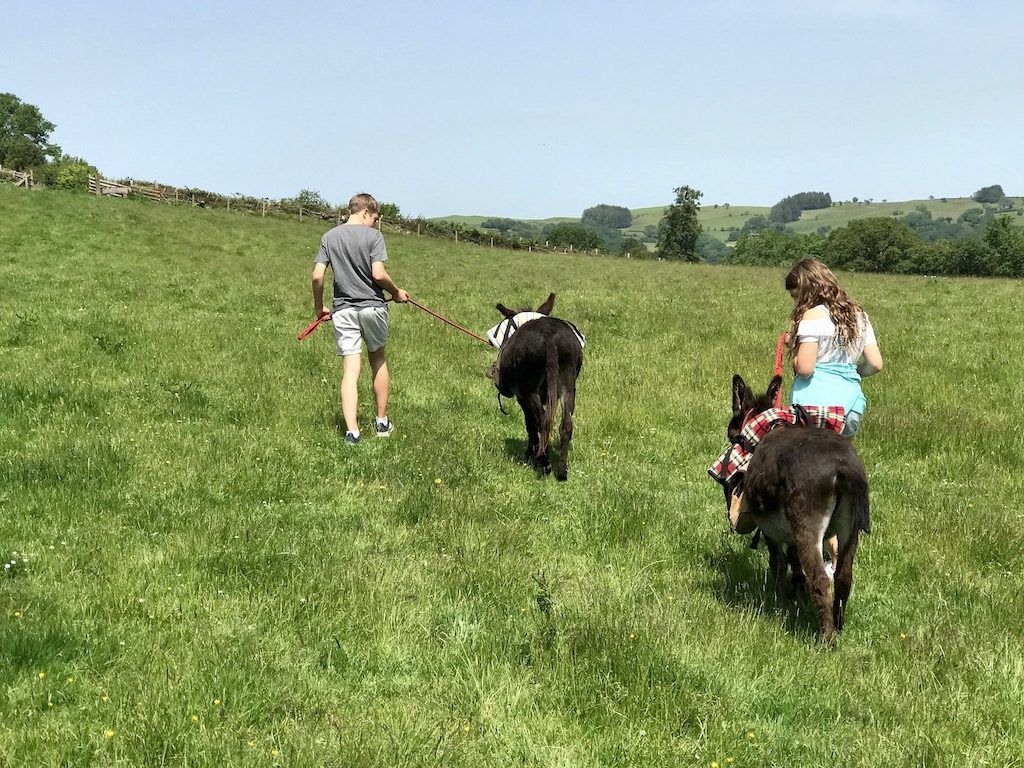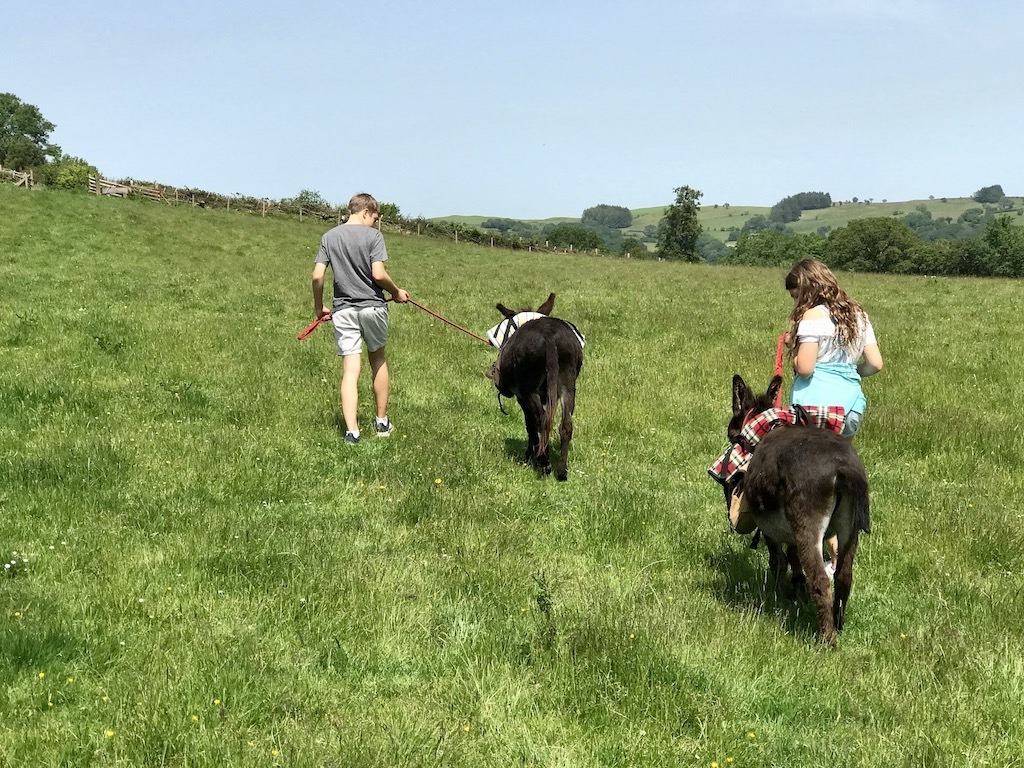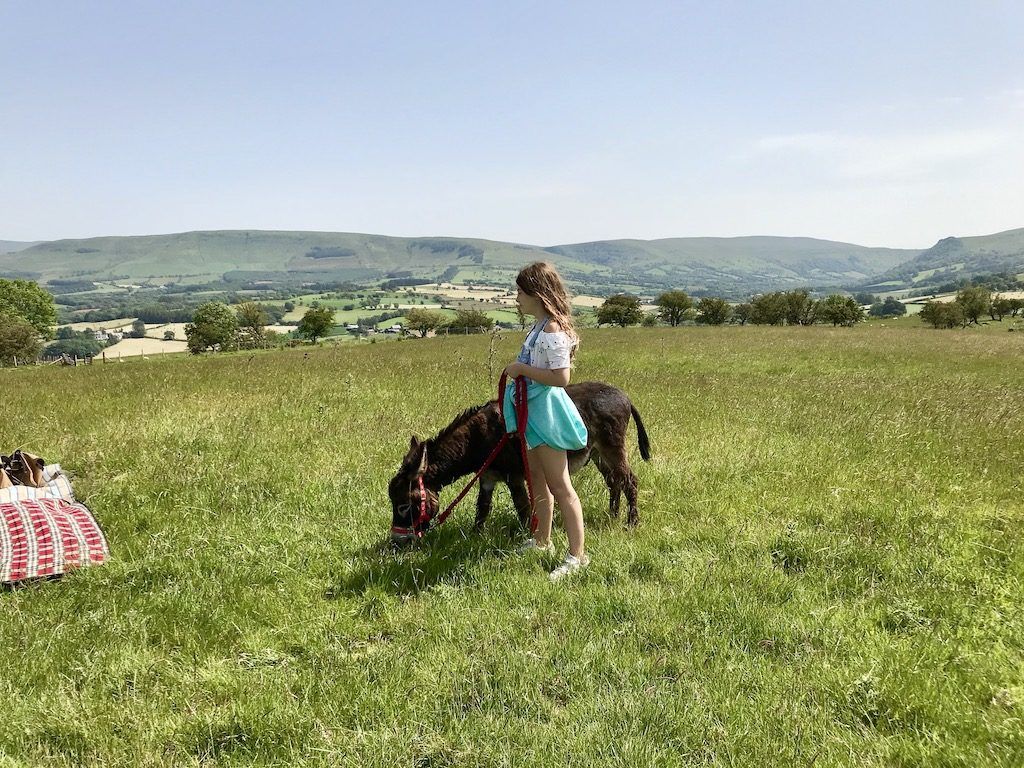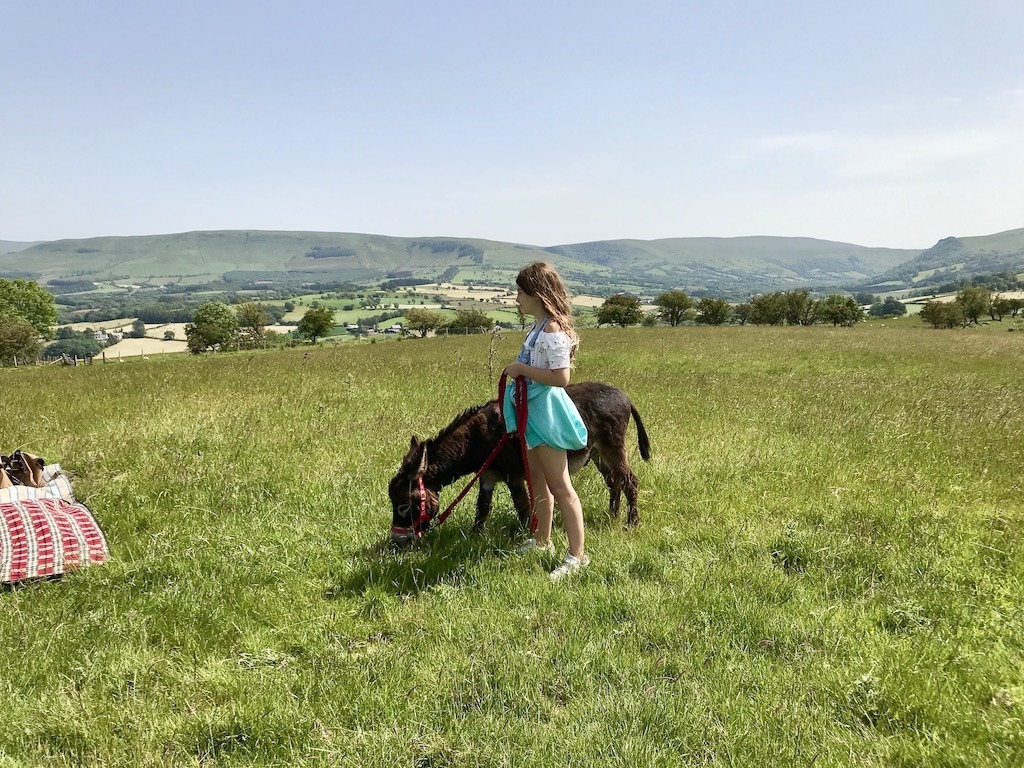 4. Visit Tenby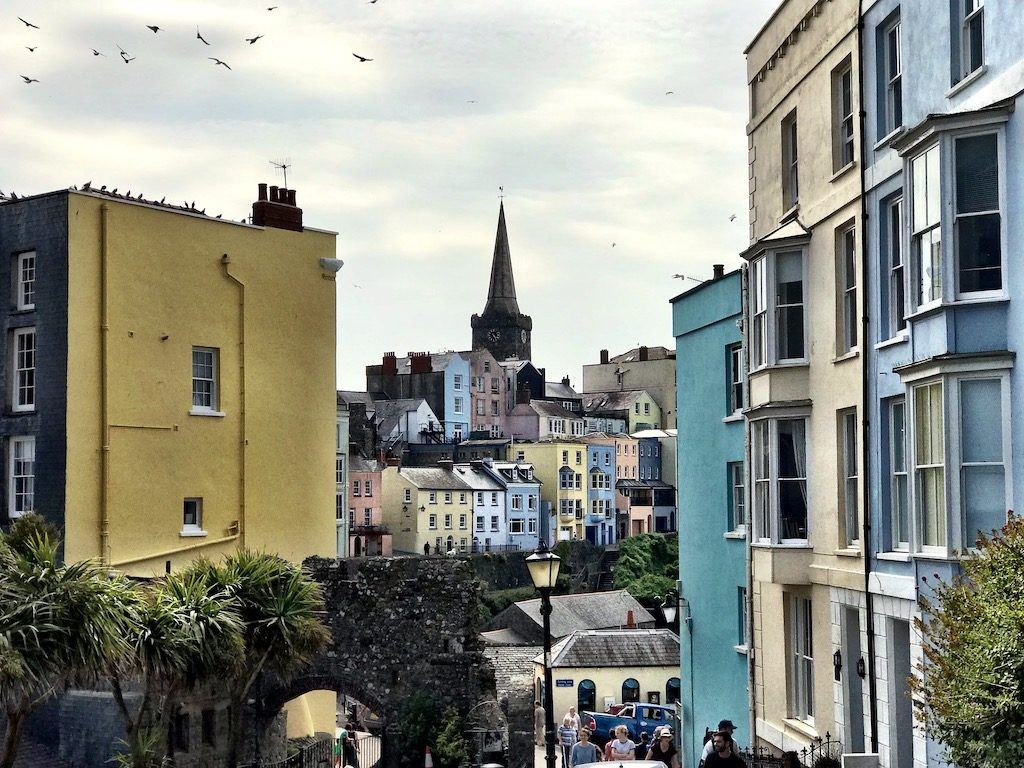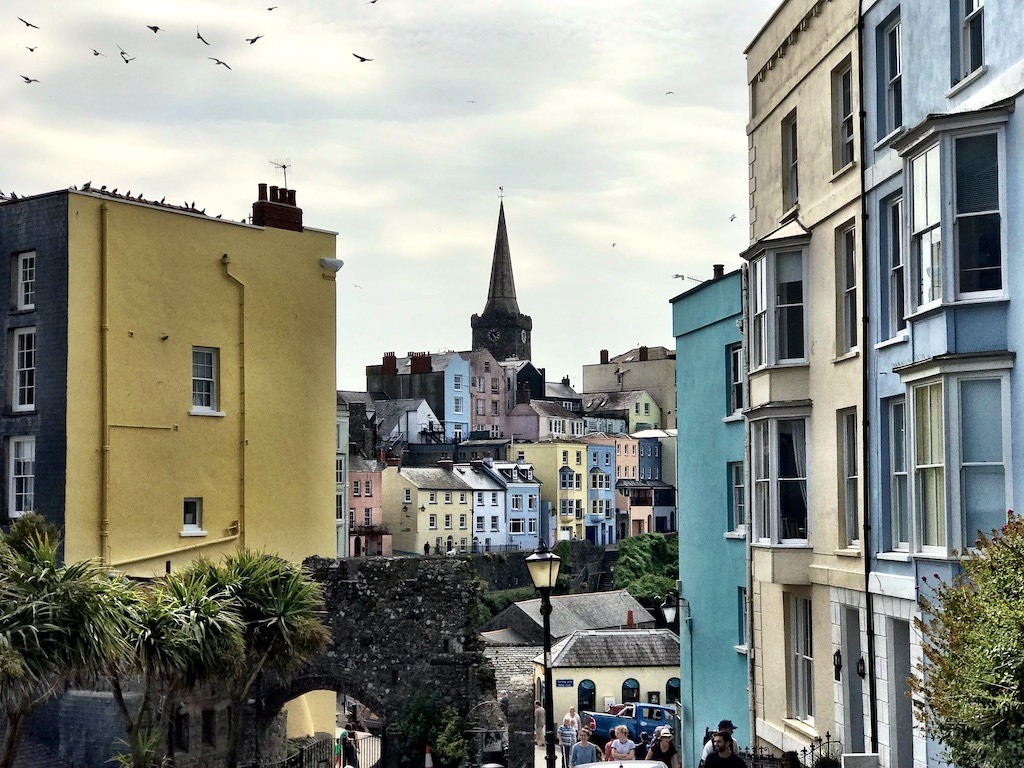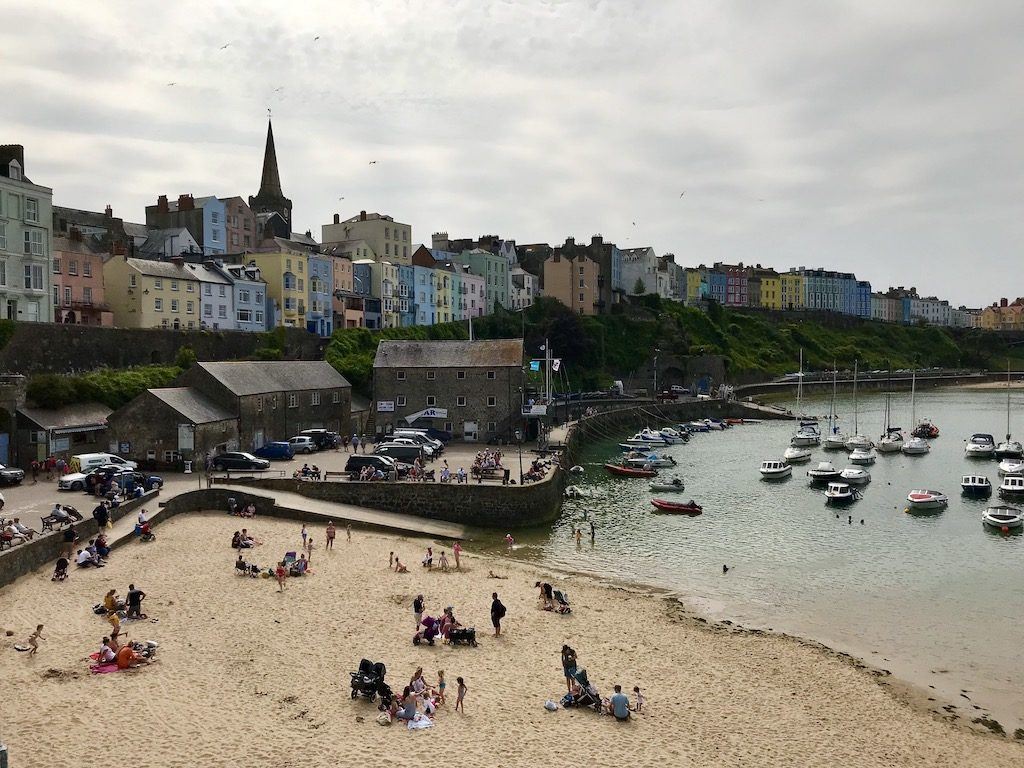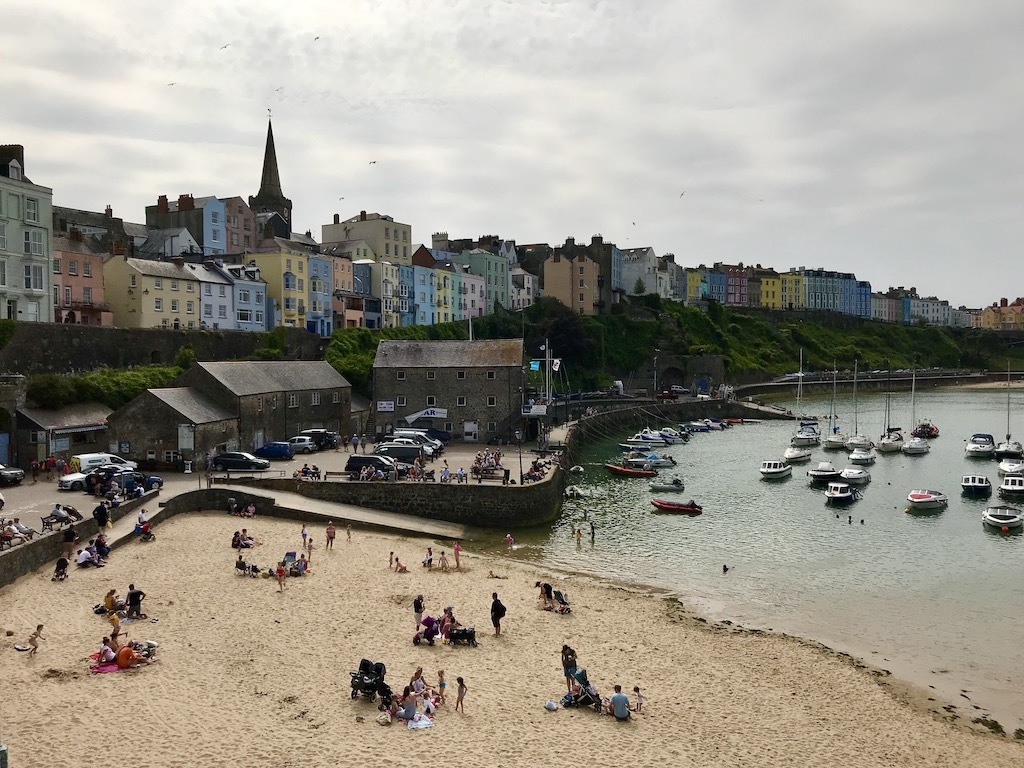 Although the seaside town of Tenby is a little touristy, it is still very charming and well worth a visit. Grab a spot of lunch, take a stroll with some gelato, or spend an afternoon on the beach.
Other lovely towns in South Wales include Chepstow, Abergavenny and Hay-on-Wye. See also this list of charming coastal towns in Wales.
5. Best Kids South Wales Beaches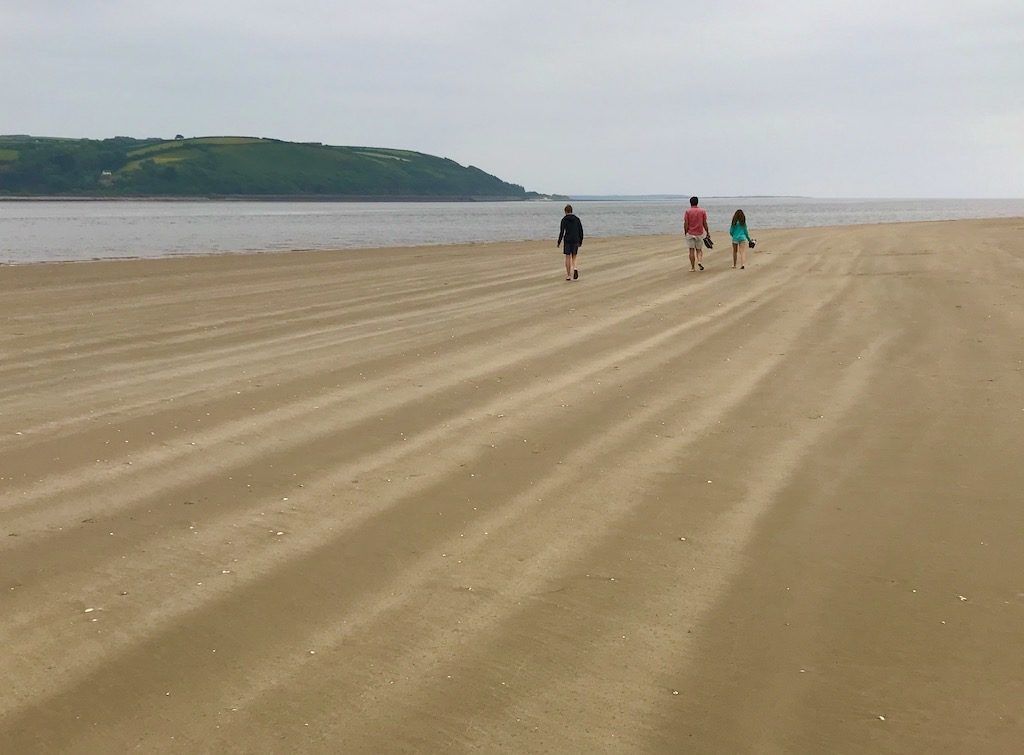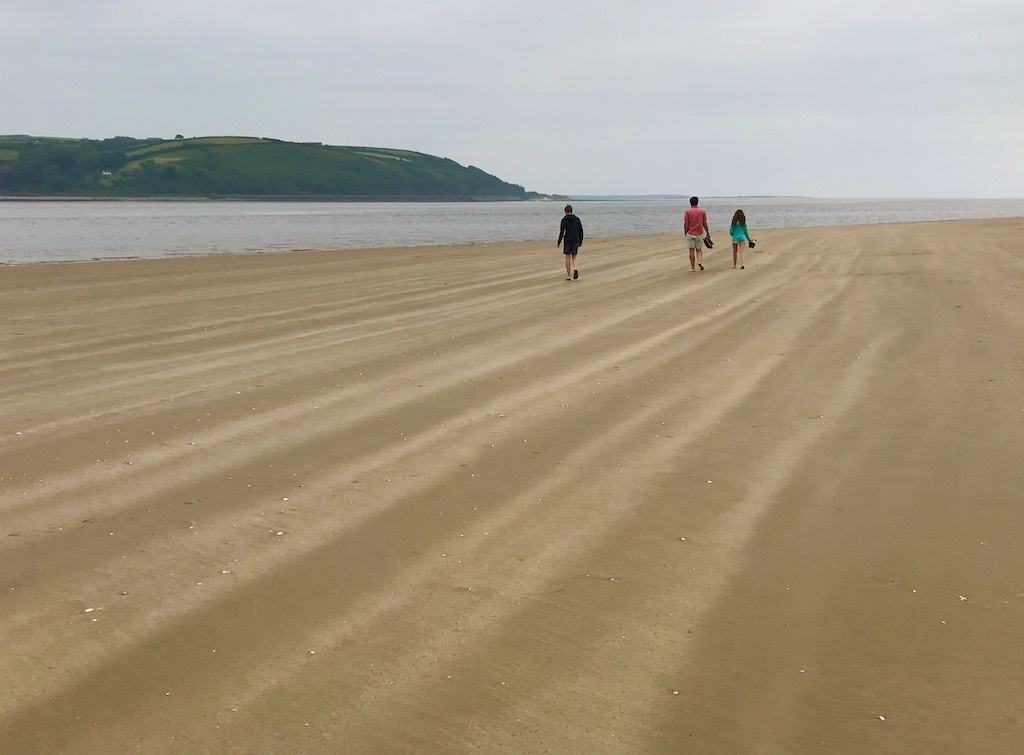 You don't have to go very far to find a beautiful beach in Wales. Each morning as we would head off in our car, we would make sure to throw in our suits and a couple of towels in case we happened upon a worthy stop.
We loved the expansive sands backed with swaying dune grasses at Cefn Sidan (shown above). With over 8 miles of beach to explore, even in the peak of summer, it did not feel crowded.
In the town of Tenby, you have your choice of three little beaches with the added convenience of dozens of restaurants just steps away.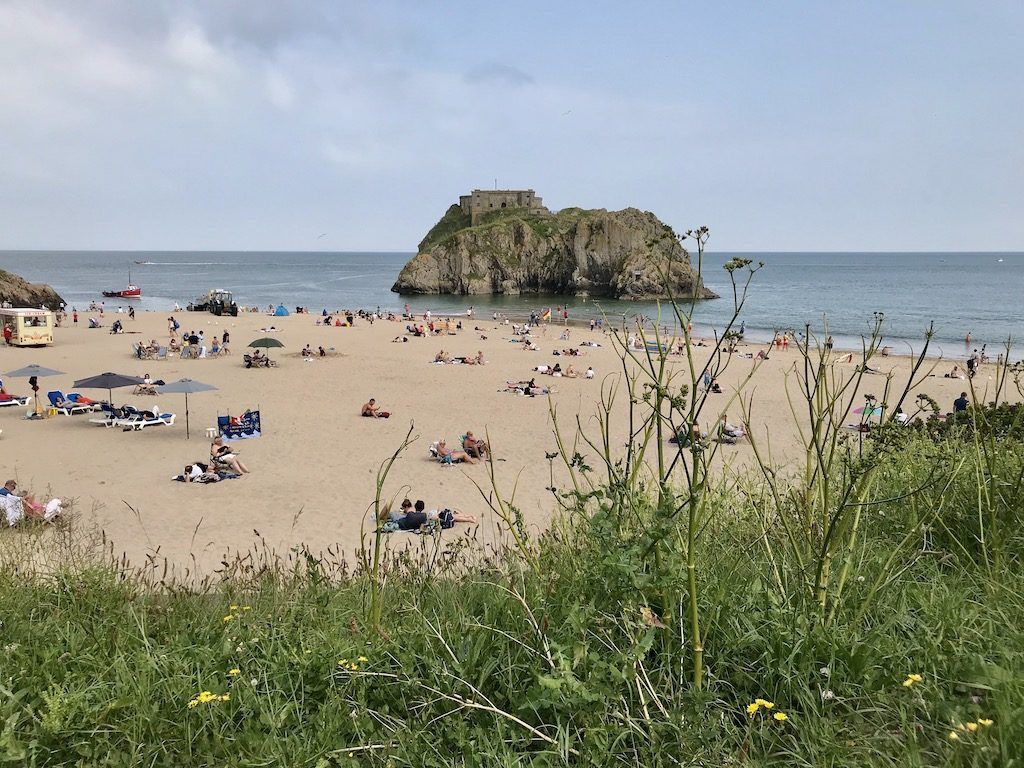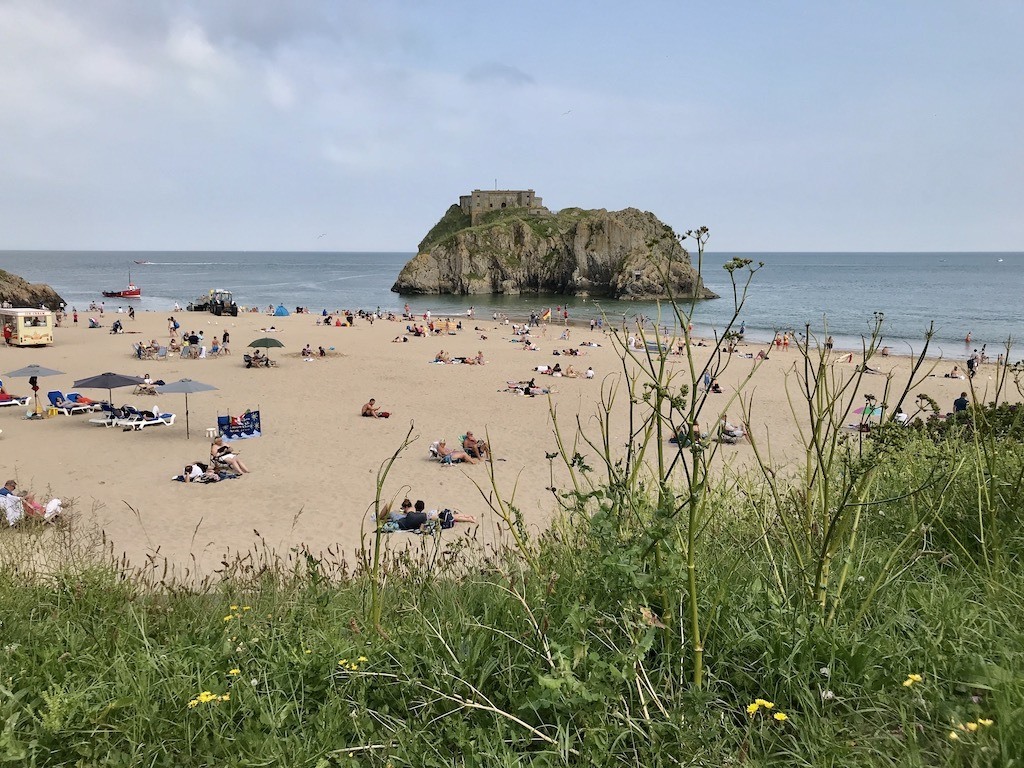 Our favourite beach, however, was the gorgeous and protected Barafundle Bay. After driving down a rather crazy narrow road with many blinds, we reached the park and picnic area (with bathrooms).
Getting to the bay requires a 15 minute cliffside walk (very wide path – not harrowing). To then reach the beach, you then need to descend a steep set of stairs. This extra effort, does not seem to deter families with younger children, however. They simply leave their strollers at the top of the staircase.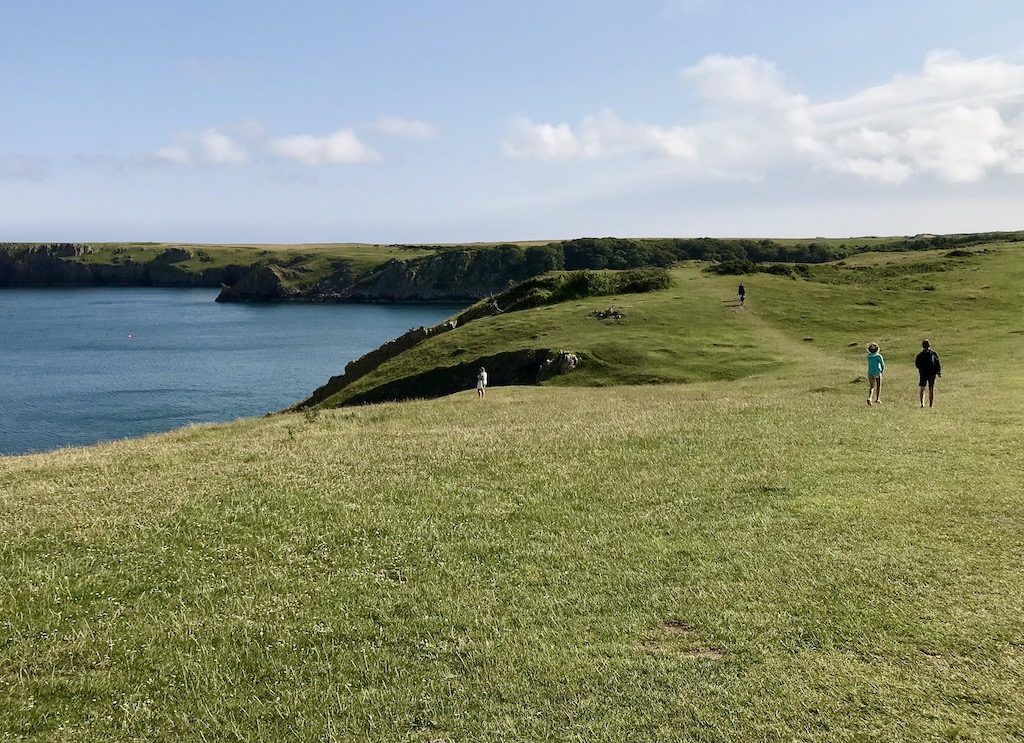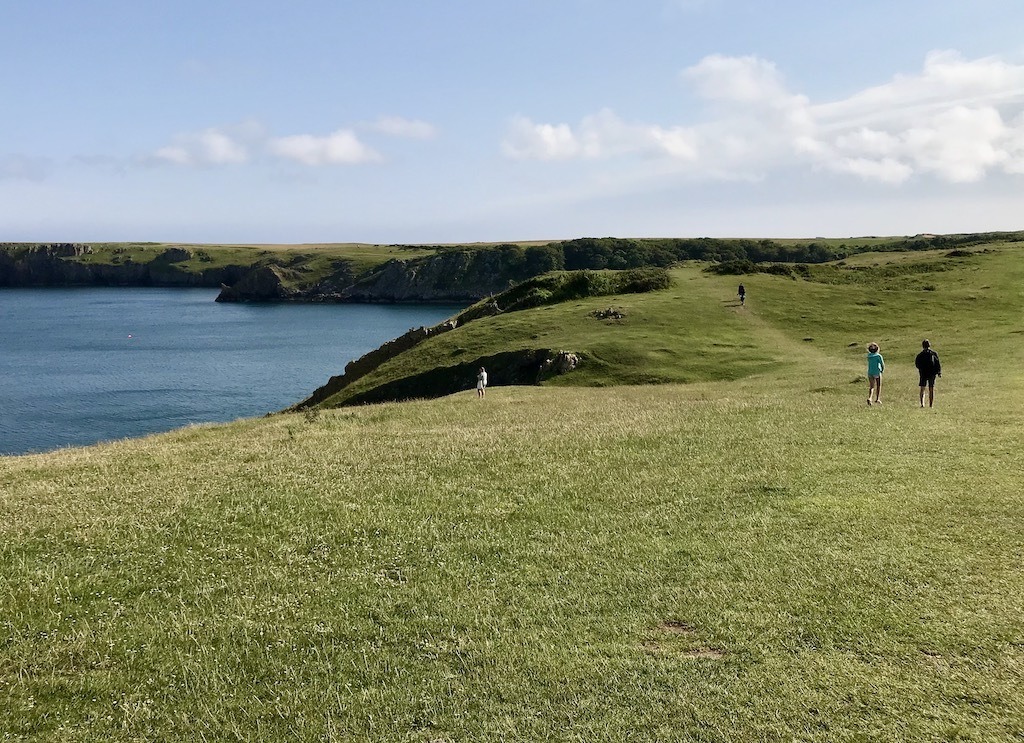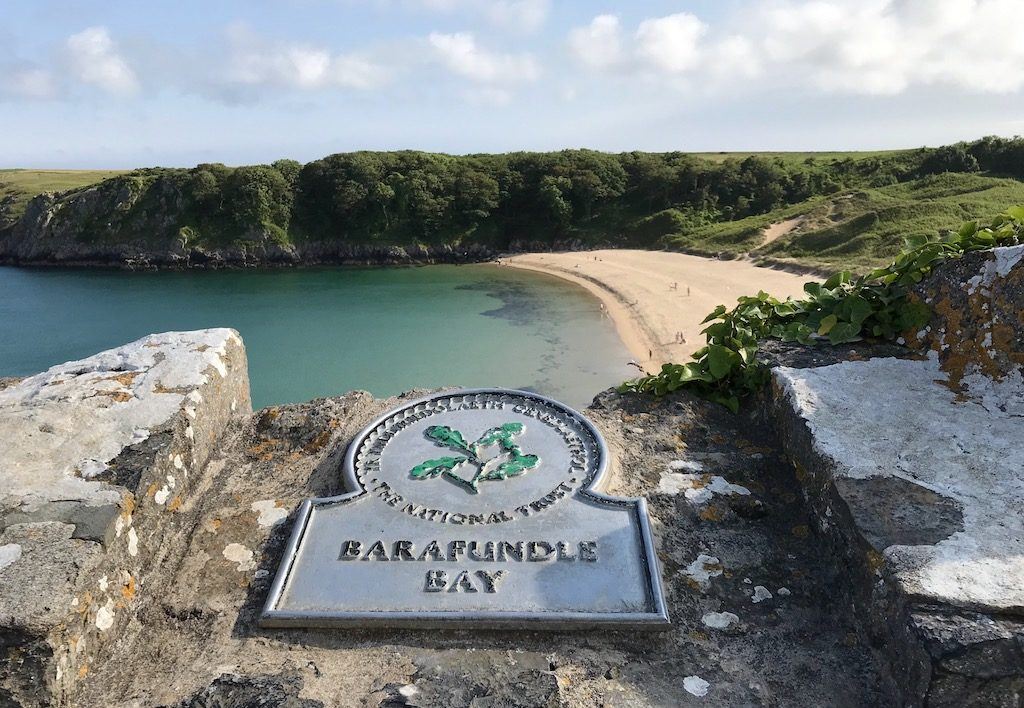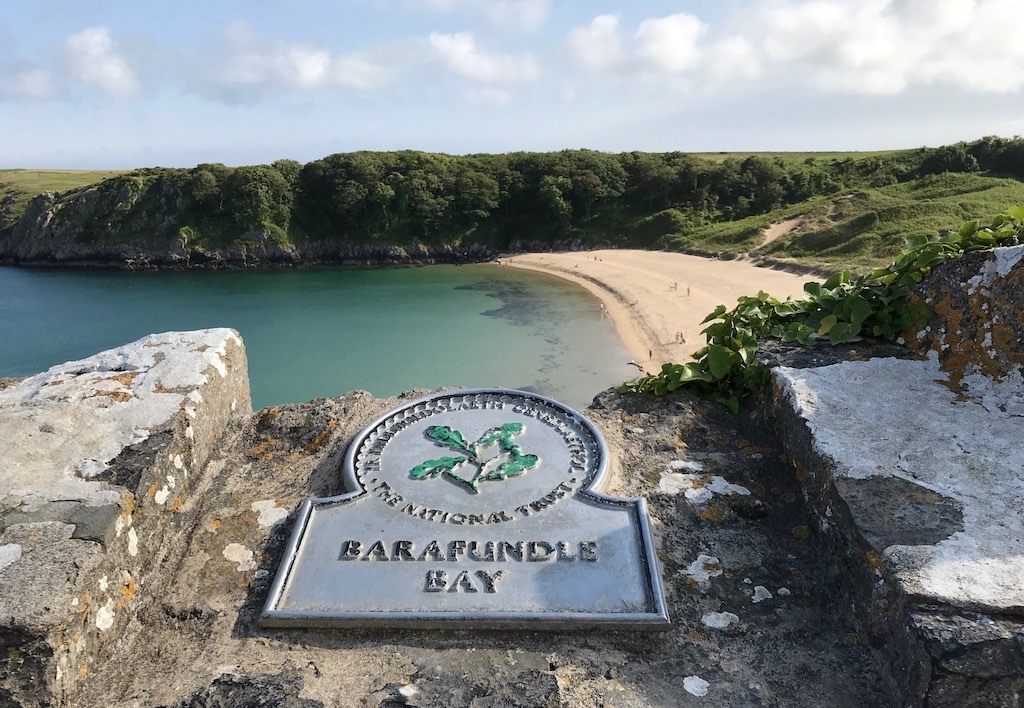 Note: The waters off the coast of Wales can look deceptively inviting, but most people find them rather chilly for a swim. I never went in further than my ankles. The rest of my family (no strangers to the Polar Dip – we live in Canada), found their quick dips invigorating.
Not all beaches in Wales are safe for swimming. You may be interested in also checking out some of these top 10 beaches in Wales with lifeguards.
6. Big Pit National Coal Museum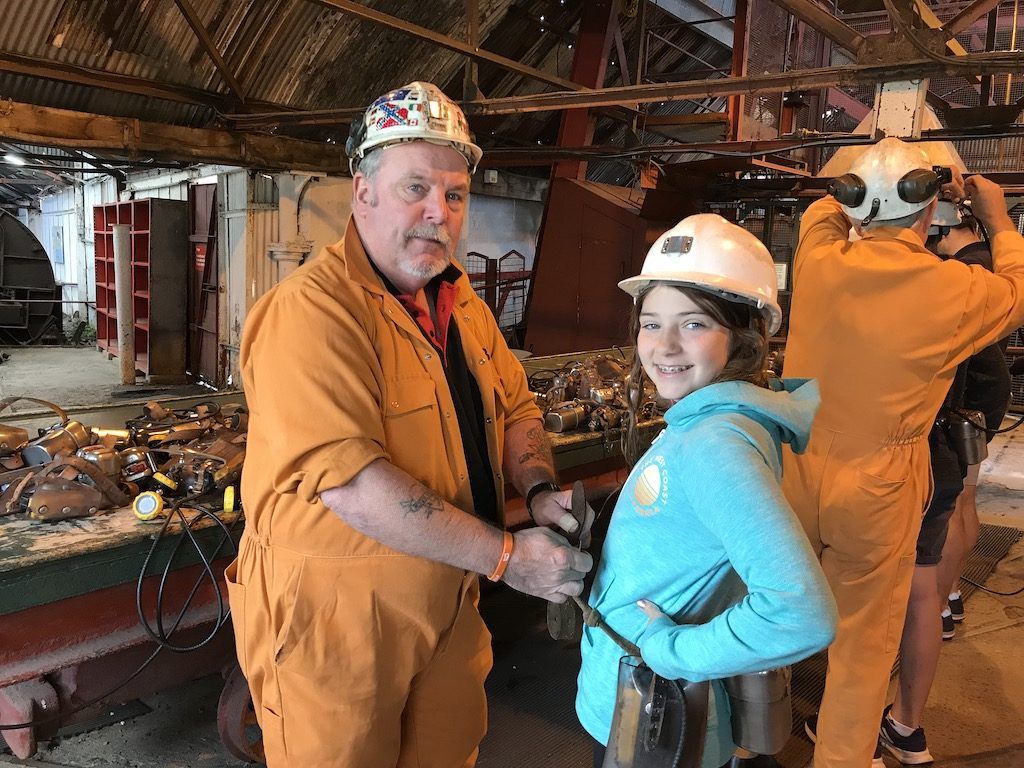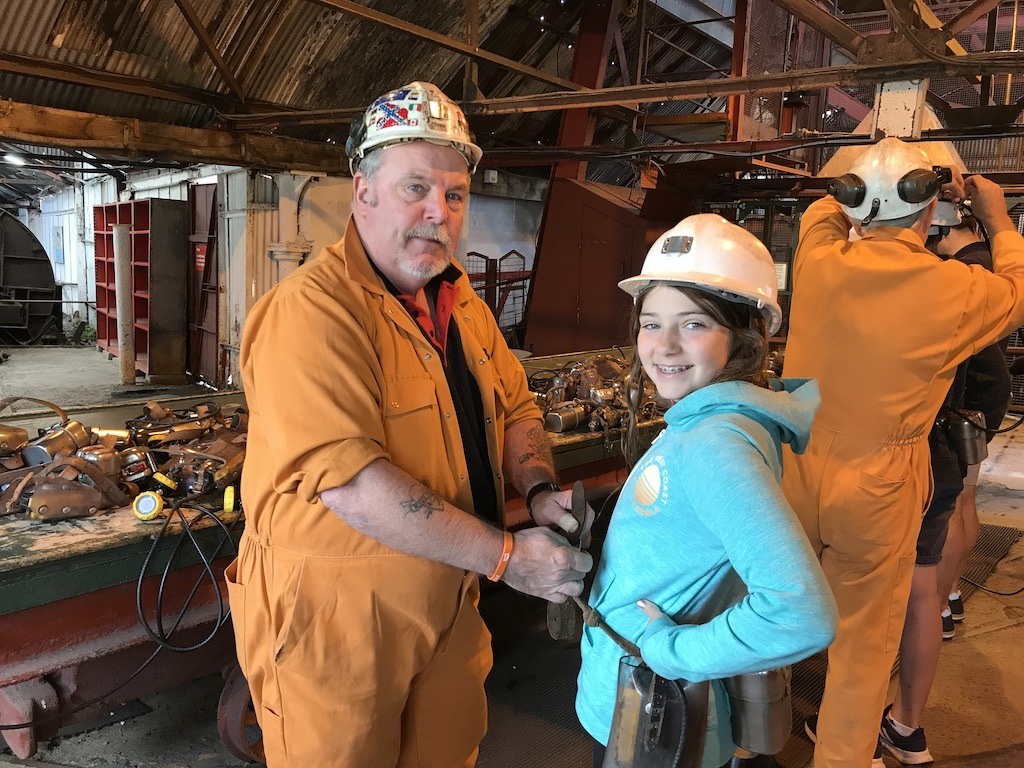 When my husband suggested that our kids might enjoy a tour of a decommissioned coal mine, I'll admit that I did not react with a lot of enthusiasm (I prefer life above ground). When I read on their website, however, that it was more than a mine tour, but more like a history of the people and economy of Wales, I was more intrigued.
Well, I must say, my initial skepticism was totally unwarranted as the tour was excellent and taught us a lot about the working class history of Wales. Our entertaining guide Peter was a third generation coal miner (until the mine closed in 1979) and was the first in his family to become a miner by choice (his father and grandfather started a 14 and 10 years respectively). If nothing else, it should serve to let you child or children know just how good they've got it!
Learn more about the Big Pit Museum website or read Tripadvisor reviews.
7. Kids South Wales Hikes
One of the most popular hikes in Wales is to climb to the peak of Pan y Fan – the highest point in southern Britain. There are several routes to do this hike with the shortest being a 4 mile loop (6.4km) which can be quite manageable for school-aged children.
If you plan on doing this hike, choose your timing carefully (avoiding busy bank holiday weekends if possible). As we were driving in the area, I was surprised to see the clearly visible line of hikers ascending the mountain from a distance.
If this is not you bag (personally I will only line up for chocolate or wine), the Llyn y Fan Fach (Lake of the Small Hill) hike is another option. Although it does not offer the same panoramic views as Pan y Fan, the scenery is still really spectacular.
There are 2 lakes on this hike, although we chose to only walk to the first as we were running short of daylight (no more than 4 miles round trip). The full loop which includes Llyn y Fan Fawr (Lake of the Great Hill) is a 9.4 mile (15 km) loop.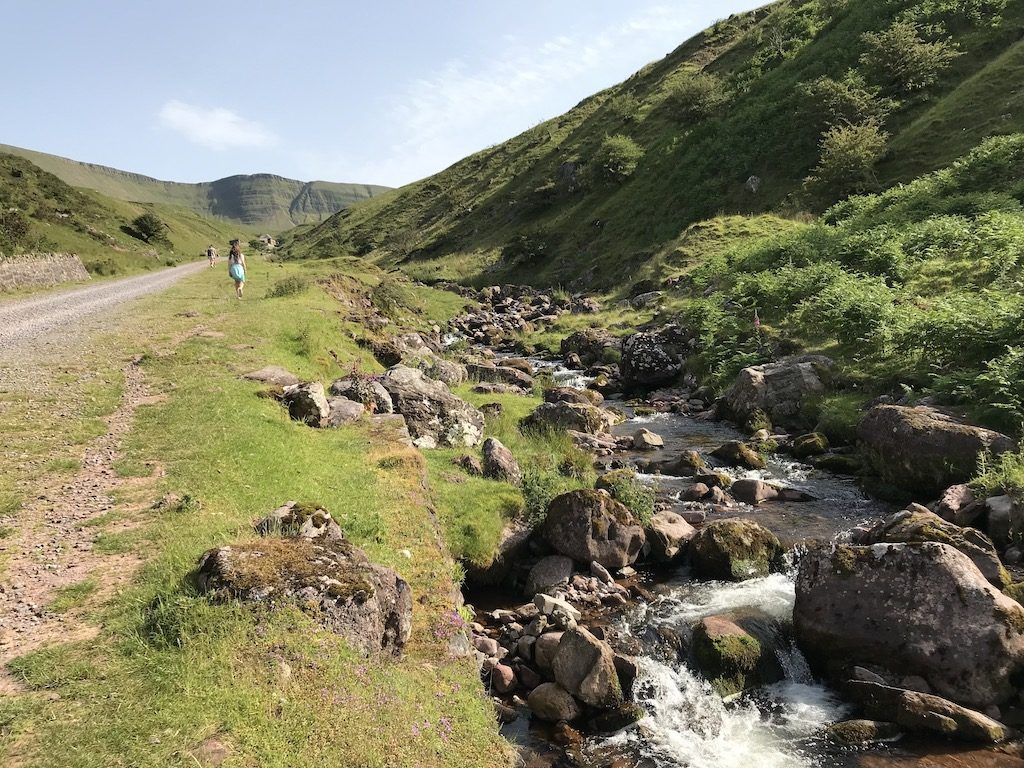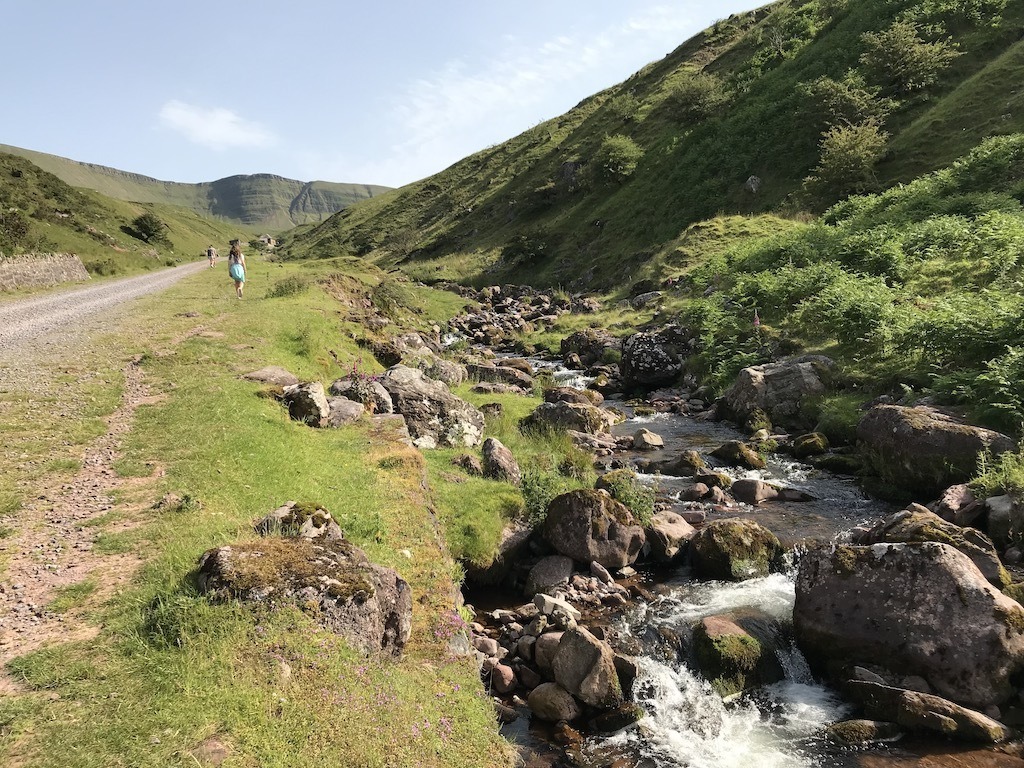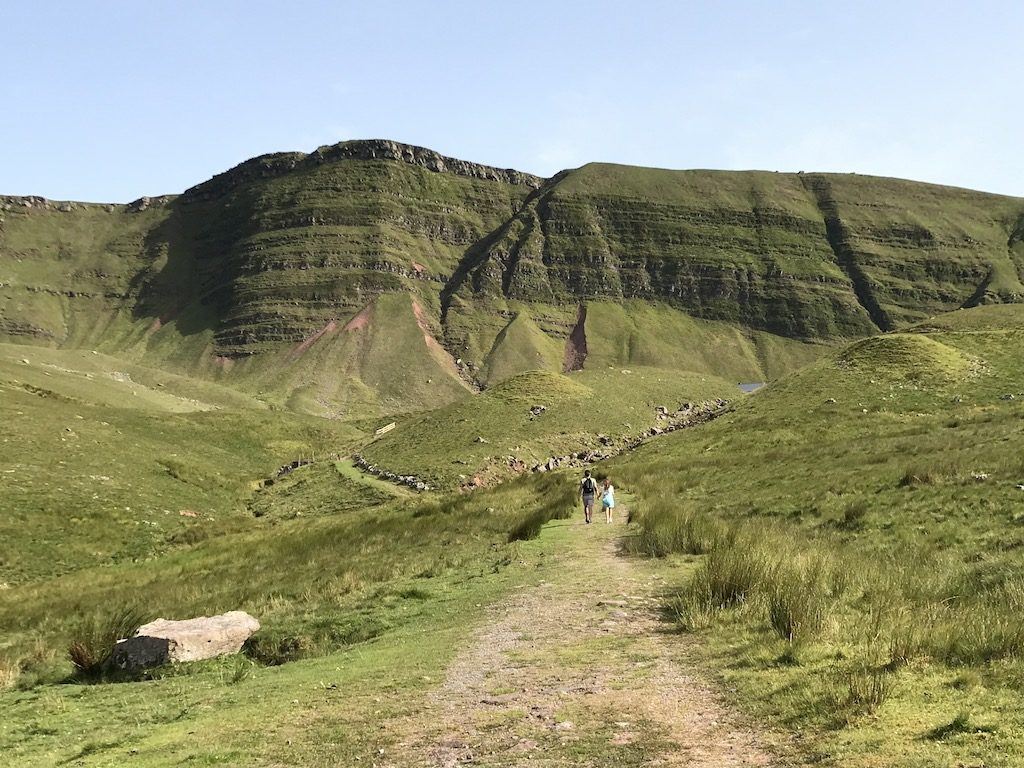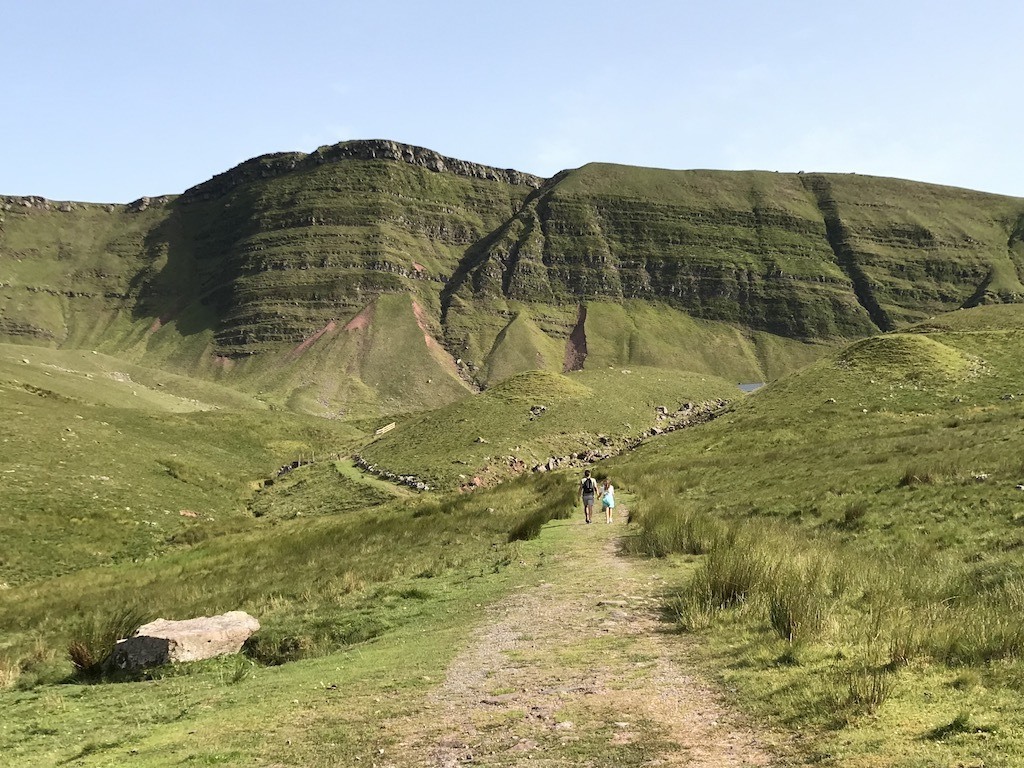 Now, long walks or hikes are not for everyone. My son practically ran up this hill – loving every minute of the experience. My daughter complained most of the way. What would have made it more interesting for her? A good story or legend (which I only found while writing this post).
To make your hike more interesting, I share with you here the legend of The Lady of Llyn y Fan Fach.
See more information on the Llyn y Fan Fach hike. See also these 3 mountain hikes suitable for kids in Wales on VisitWales.com.
Note: There is a Red Kite feeding station just down the road from this hike so you could potentially do these two Brecon Beacons activities together (see next section).
8. Caves and Other Kids South Wales Attractions
When we arrived at the National Showcaves Centre for Wales I was relieved to discover that it was minutes from closing (and it was too late to buy tickets). Why would I say such a thing? Because despite the fact that as a family we enjoy cave tours, we had missed the mark on this attraction by a few years.
The National Showcaves Centre for Wales clearly targets families with young children (10 and under) and to be perfectly fair, I know that my kids at 5 and 8 would have loved the experience. For that set, I think this place, with its 200+ life-sized dinosaurs, caves, playgrounds, and farm animals could be excellent (and many such families spend the large part of the day there).
Learn more about The National Showcaves Centre for Wales or read Tripadvisor
reviews.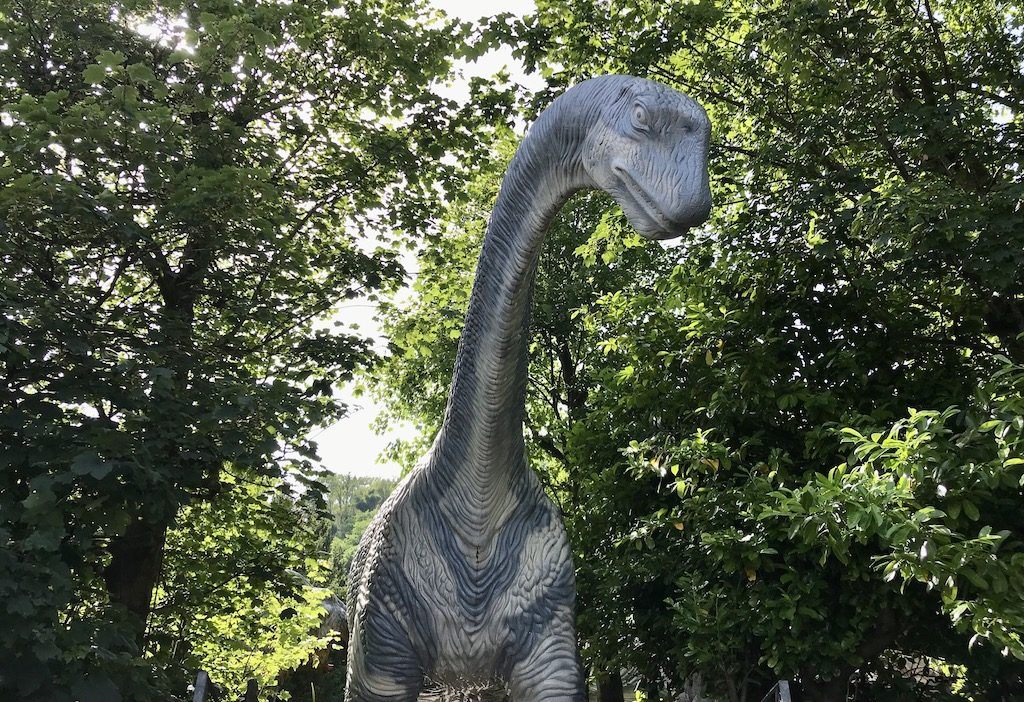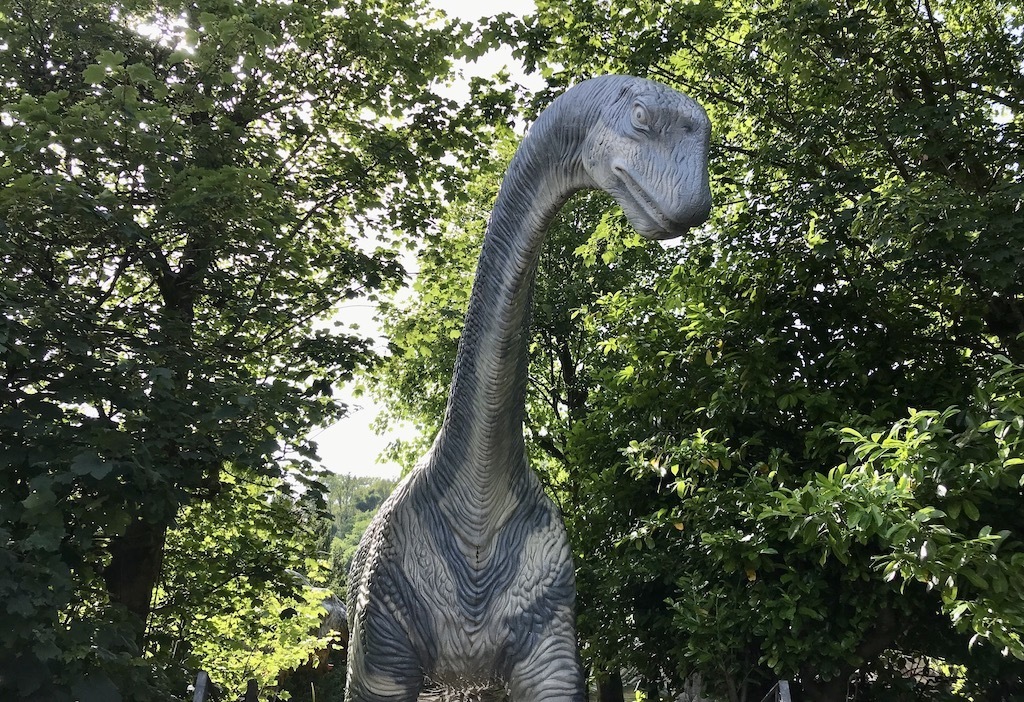 Families visiting Wales with children of all ages may be interested in visiting the Red Kite Feeding Station in Brecon Beacons (daily afternoon feedings, cash only). This mid-sized bird of prey was driven nearly to extinction in the mid-80s but with protection measure, the population has been recovering quite nicely. See Tripadvisor
reviews.
Note: If you can't get to this one, there are several more Red Kite feeding station throughout Wales.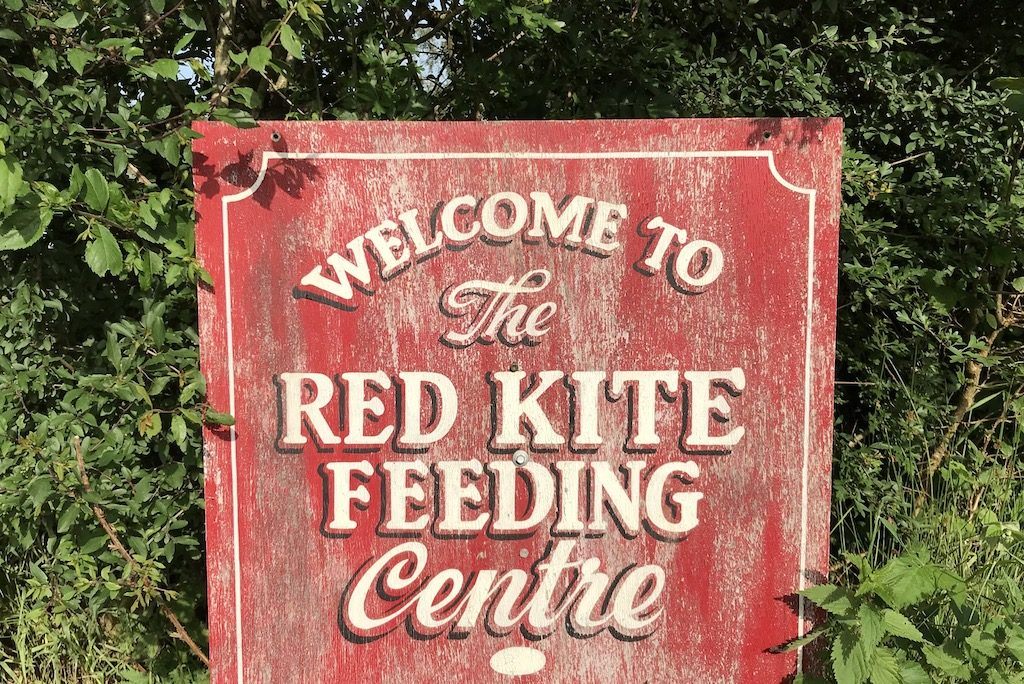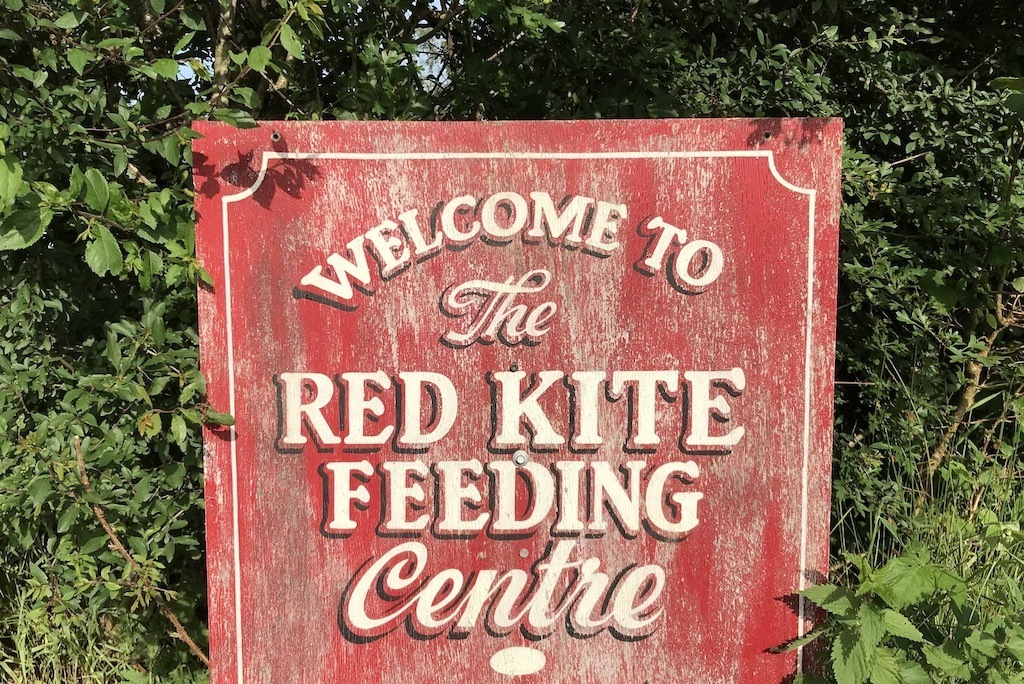 Where We Stayed in Wales
On this particular trip, we chose to stay in a Wales vacation rental.
When we are away for extended periods of time, we prefer a little more space for our family of four. We also find it can be a much more economical alternative to hotels, especially with extended stays.
Note: For shorter stays of 1-3 days, we sometimes find vacation rentals aren't worth it when you add in vacation rental administration fees and cleaning fees.
In the case of Wales, we wanted to be centrally located for day trips and close to Brecon Beacons National Park. We found this place on a farm just outside of Llandovery. For us it was perfect and I wanted to share it here because we like it so much. See the VRBO listing for The Owl Barn
.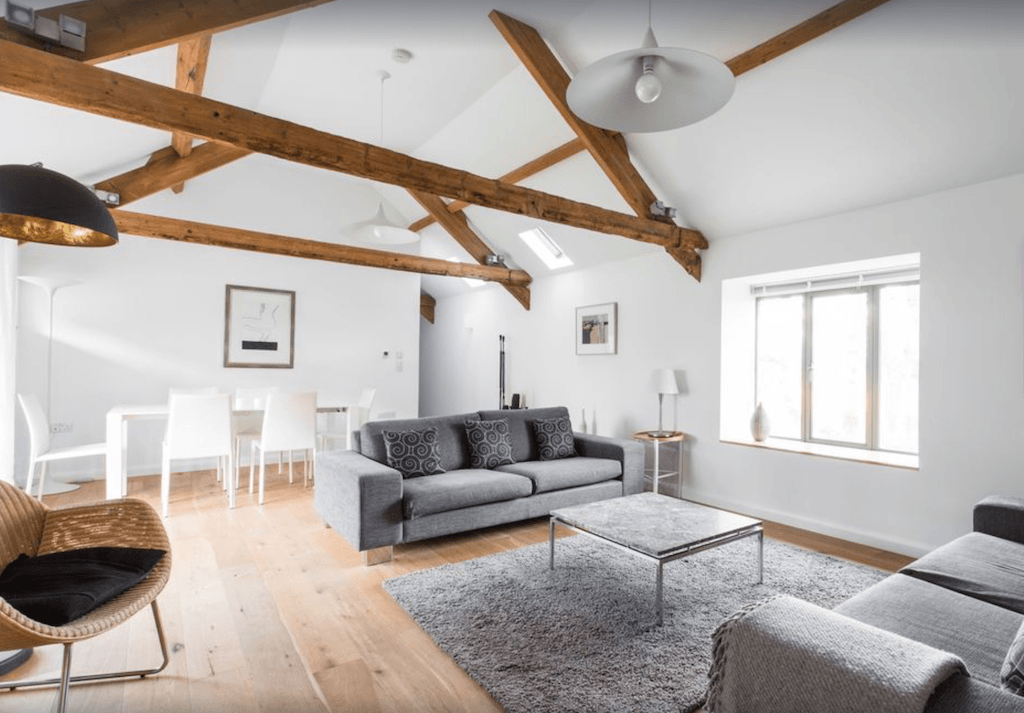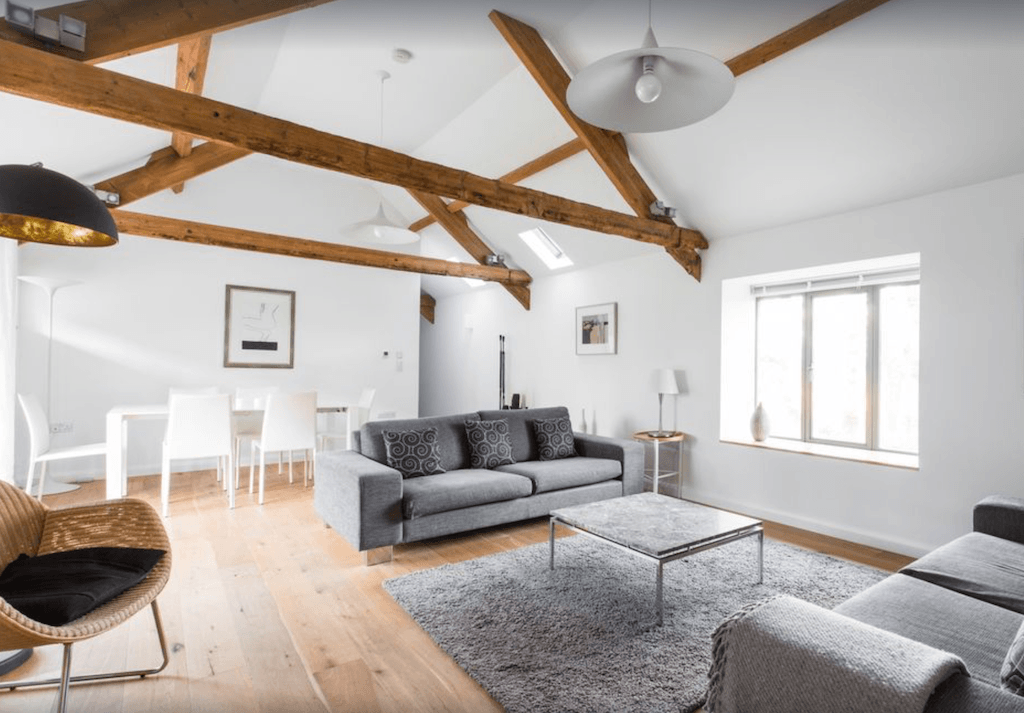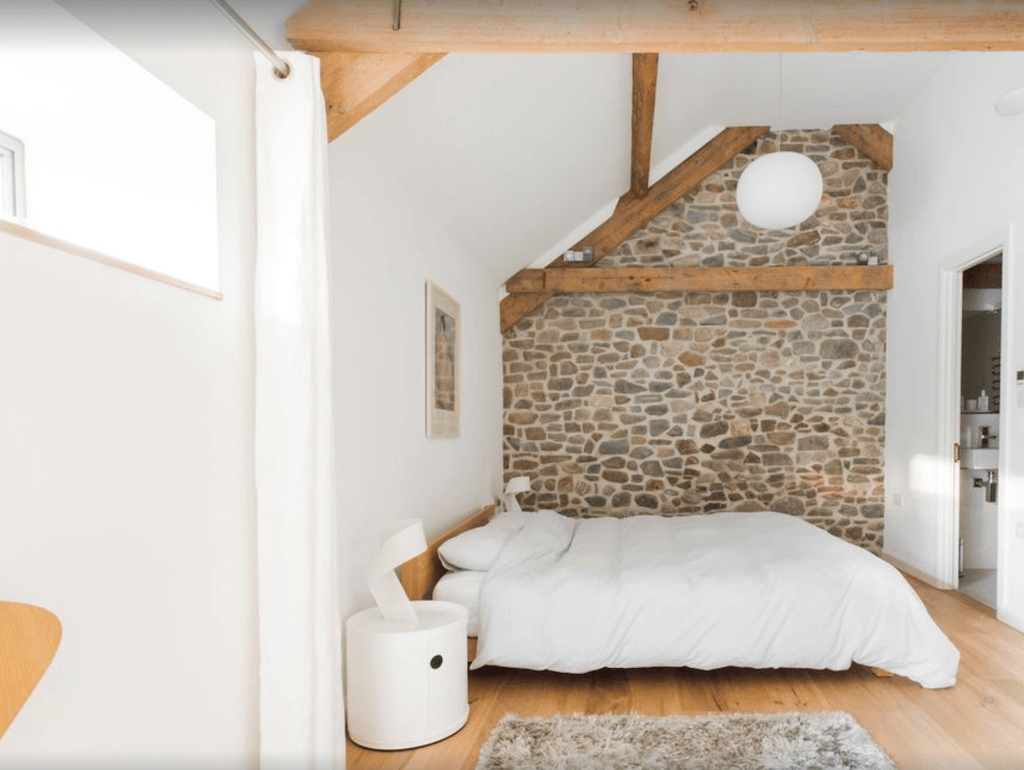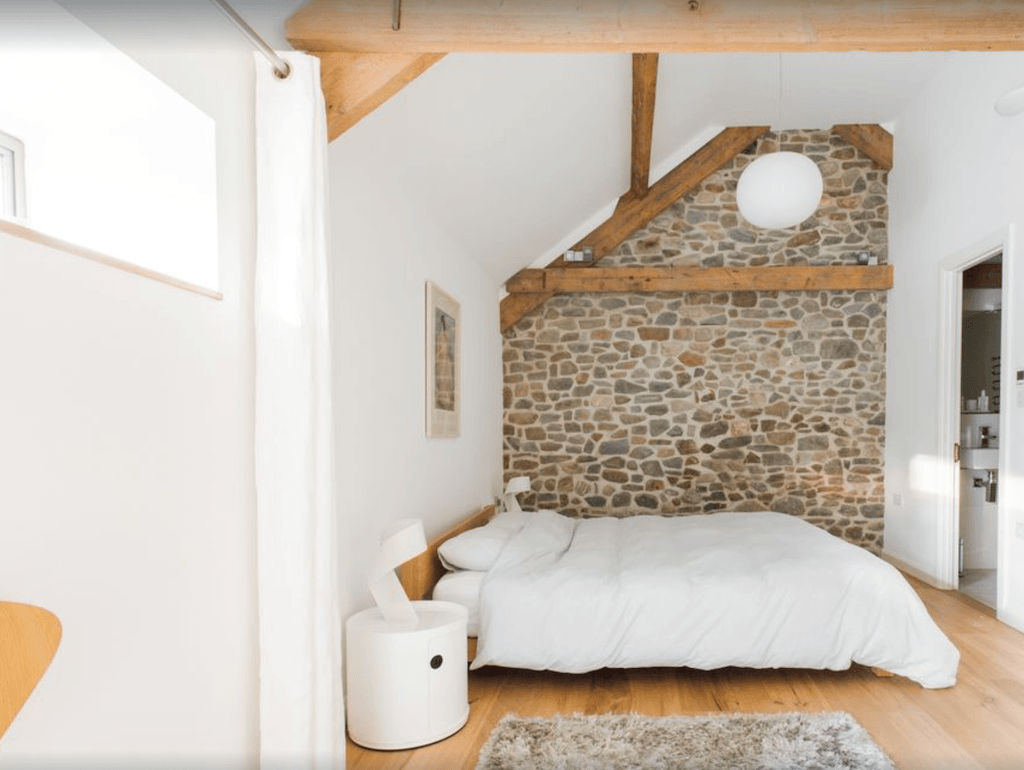 More Family Travel Guides