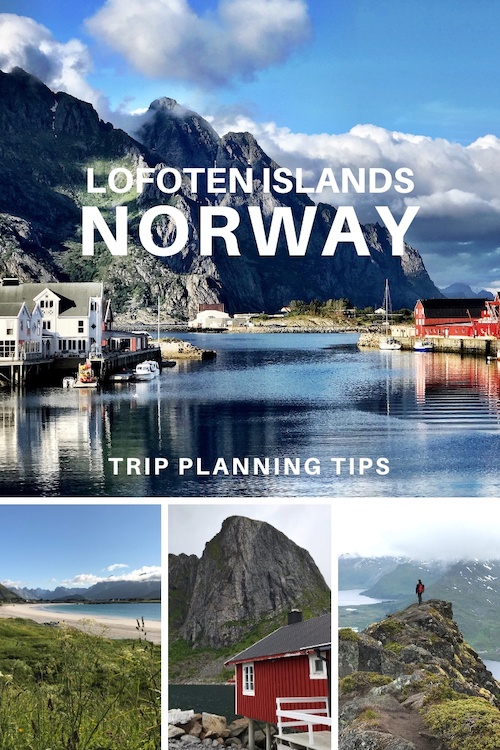 Affiliate Disclosure: This Lofoten Islands, Norway post contains affiliate links. If you click on a link and make a purchase, I may receive a small commission at no cost to you. All opinions are entirely my own.
Lofoten Islands, Norway – Introduction
I wrote this guide to visiting the Lofoten Islands, Norway because I had so many questions while planning my own trip.
My husband and kids had visited the Lofoten Archipelago a few years earlier (while I was at a conference) and had simply raved about it. In fact, they declared Lofoten, Norway as their favorite place…on earth.
This was not without some context either. Prior to this, we had spent weeks traveling throughout Norway as a family. We had visited Oslo, Bergen, Alesund, hiked to Pulpit Rock, driven the Trolls Highway and much more!
Several years later when we had the opportunity to take another family trip to Norway, there was no question that the Lofoten Islands would be on the itinerary.
While I am no stranger to trip planning, I found the Lofoten Islands part of our Norway trip uniquely challenging. It was the logistics of it all – like how to get to the Lofoten Islands, how to get around, where to stay and for how long, that took up most of my time.
With that in mind, in this post I try to answer those questions and many more to make your trip planning easier. I will also share with you all the must-see places on this unique archipelago above the Arctic Circle.
Please use the following menu to find what you need quickly.
Lofoten Islands Video
Want a quick peek at some on the best places to see and the top things to do? Please start with our 2 minute Lofoten Island video.
Where are the Lofoten Islands Located?
The Lofoten Islands are located in northern Norway, north of the Arctic Circle, spanning the 68th and 69th parallels.
Is Lofoten Worth Visiting?
If you love natural beauty including mountains that seem to slice right into the ocean, majestic hikes, charming traditional fishing villages and cold water dips (including surfing) – then the Lofoten Islands are for you.
What is Lofoten Known For?
The Lofoten Islands are famous for their rugged beauty, picturesque landscapes and beautiful beaches that attract visitors from all over the world.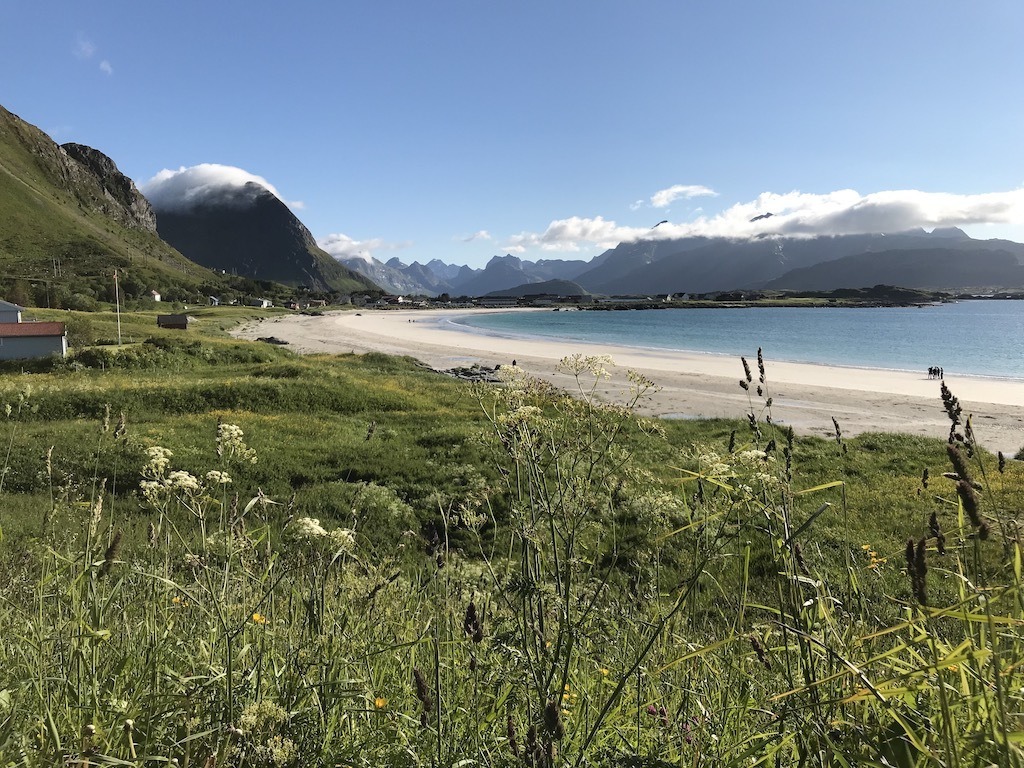 Long before the tourists started visiting the Lofotens, the region was known for their Arctic cod – with the dried fish being shipped all over the world. While the catches aren't what they once were, the industry is still a big part of life in the Lofotens (you can see the fish drying racks in small villages all over the islands). In fact, many Lofoten Islands hotels are located in refurbished rorbuers – or traditional Norwegian fishing cabins.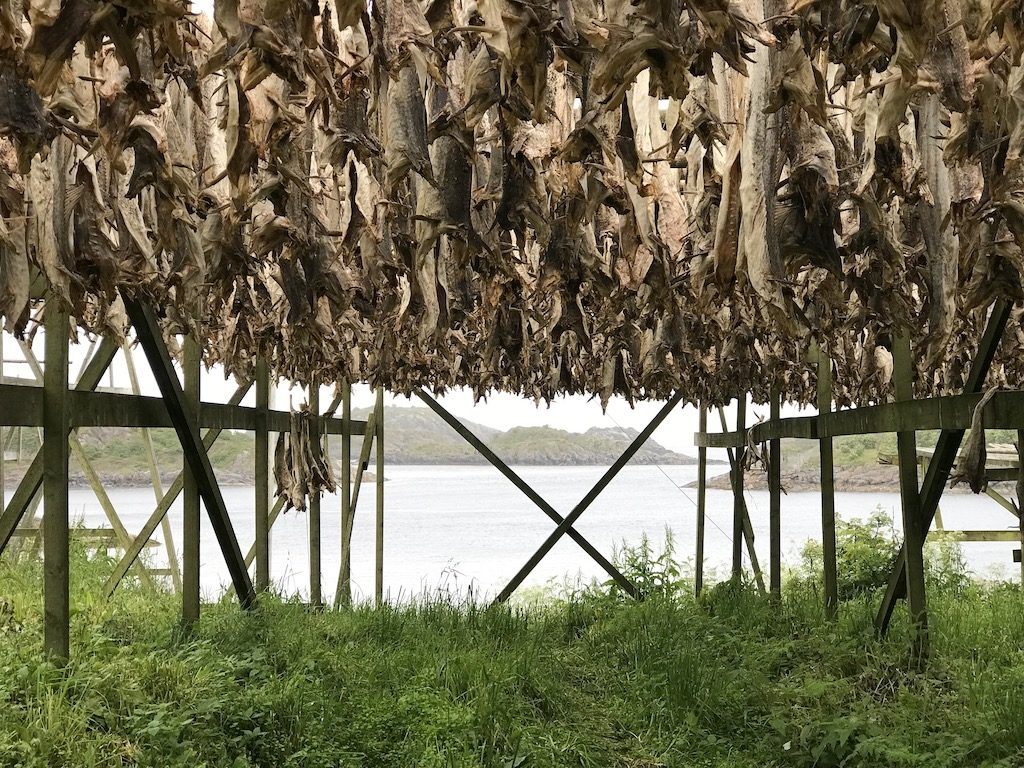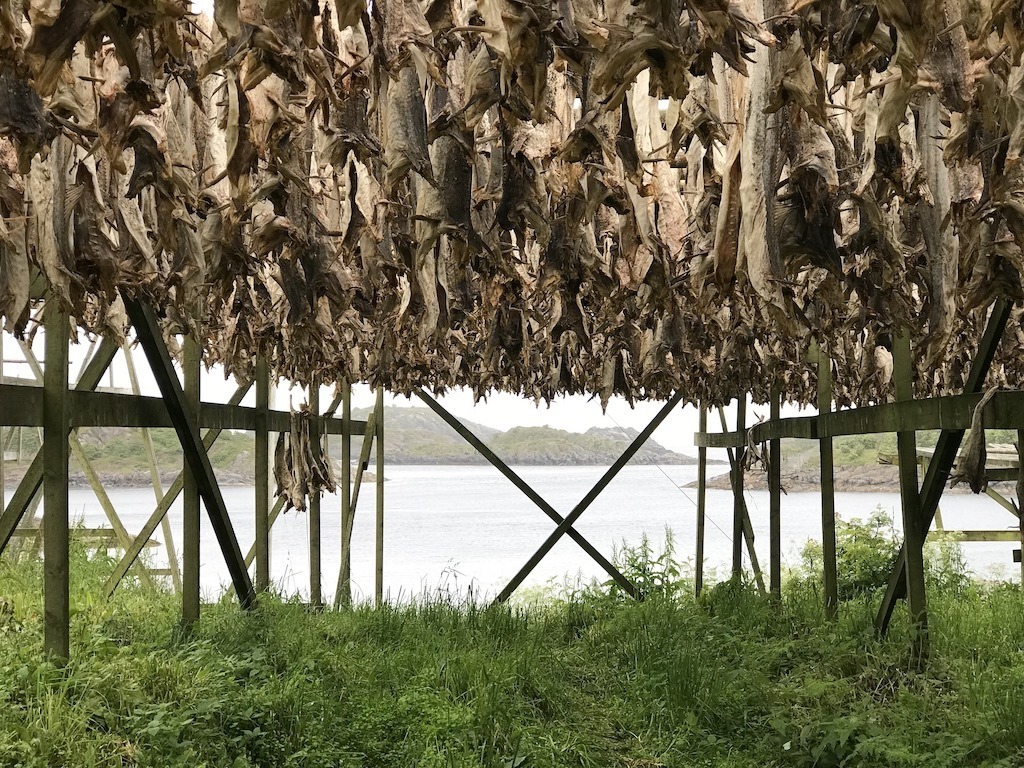 If Arctic swims are your thing, the Lofotens are a great place to take a dip. Lofoten is also home to the world's most northerly surf school (Unstad Arctic Surf).
What are the best things to do in the Lofoten Islands?
You could spend weeks enjoying the Lofoten Islands, but here are some of the best things to do.
1. The LOFTR Viking Museum
The LOFTR is a folk museum-style attraction complete with actors playing Viking-era roles. Visit the longest Viking House ever unearthed, join a team for a row on a replica Viking ship, sharpen your axe-throwing skills, visit the farm animals and more. Learn more at lofotr.no or read recent Tripadvisor reviews.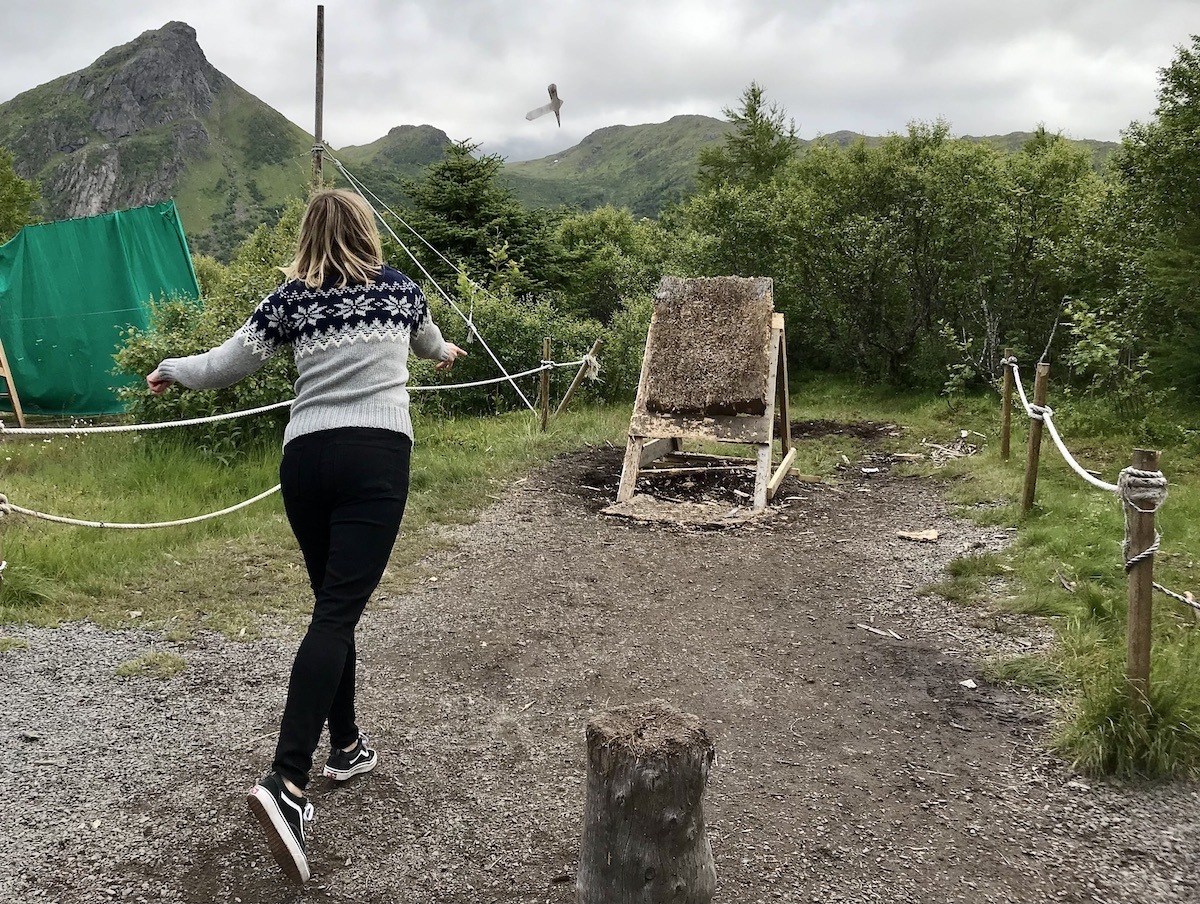 2. Haukland Beach
It is simply one of the most beautiful beaches on the planet, with crystal clear waters and dramatic scenery all around. If you are brave, take a dip. If you are not, just enjoy the stunning views. See Tripadvisor reviews for Haukland Beach.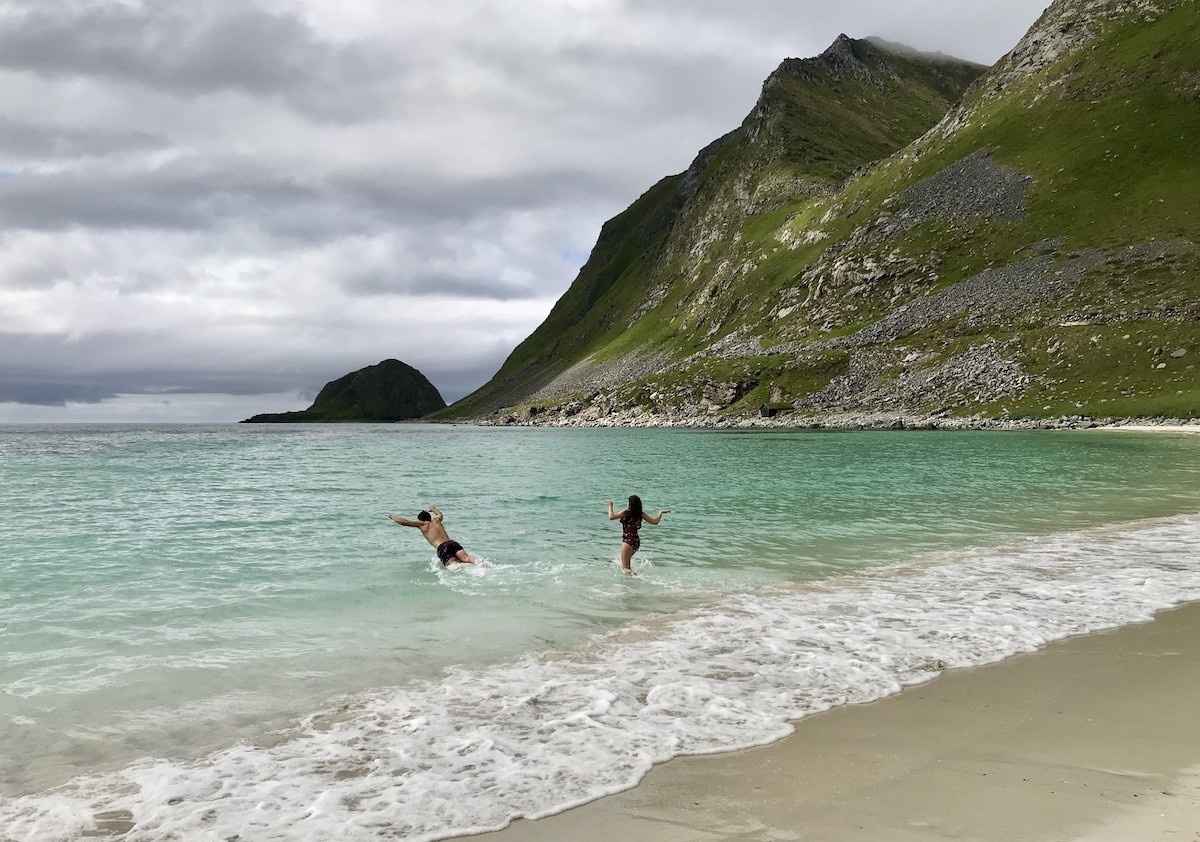 3. Take a Hike
During the summer months, hiking is one of the most popular activities in the Lofotens. It's no wonder, since those views are hard to beat. What is also nice is that even in high season, you will only bump into a few other people on the trails.
One of the most popular hikes in the islands is the hike to Fløya and Djevelporten. The Floya trail offers panoramic views over the town of Svolvær. Djevelporten is where you may have seen some of the most famous Lofoten shots of someone standing on a rock that is wedged between two others. It was windy on the day we did this hike…so we chose to take a pass.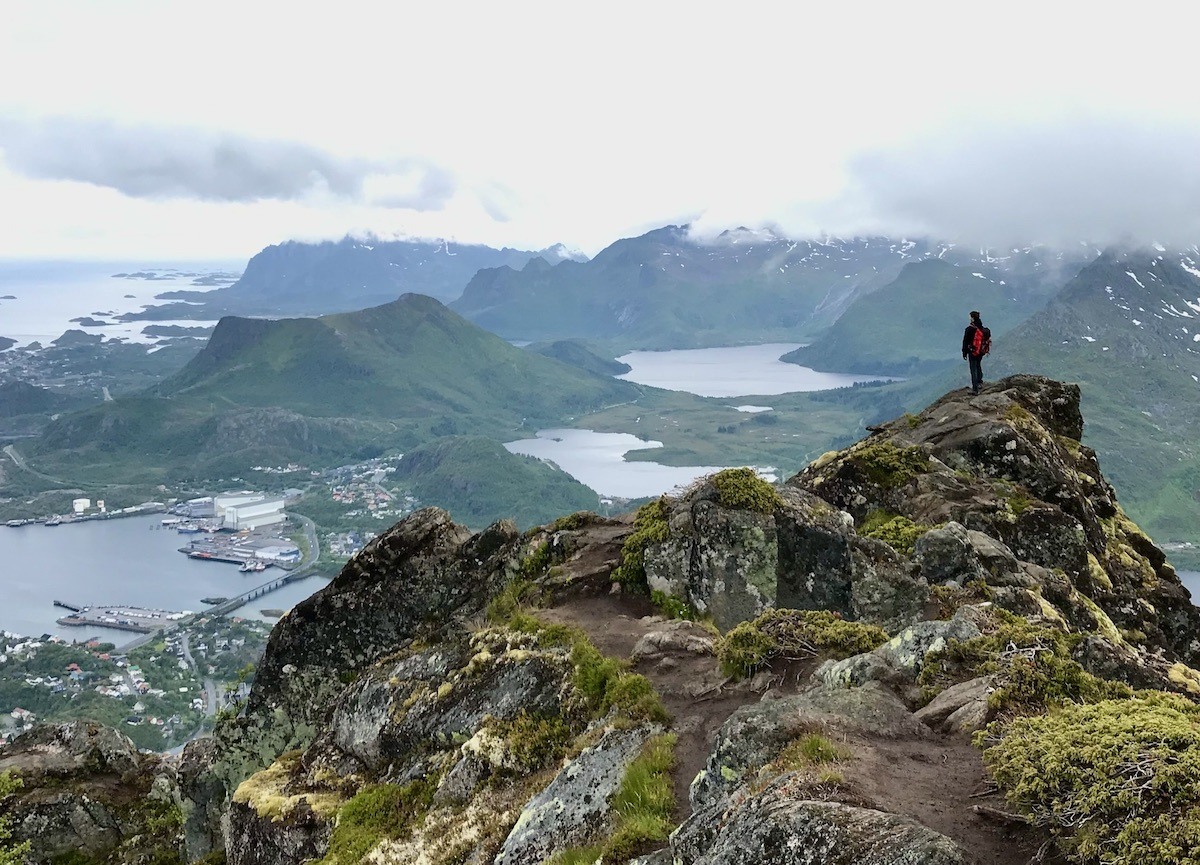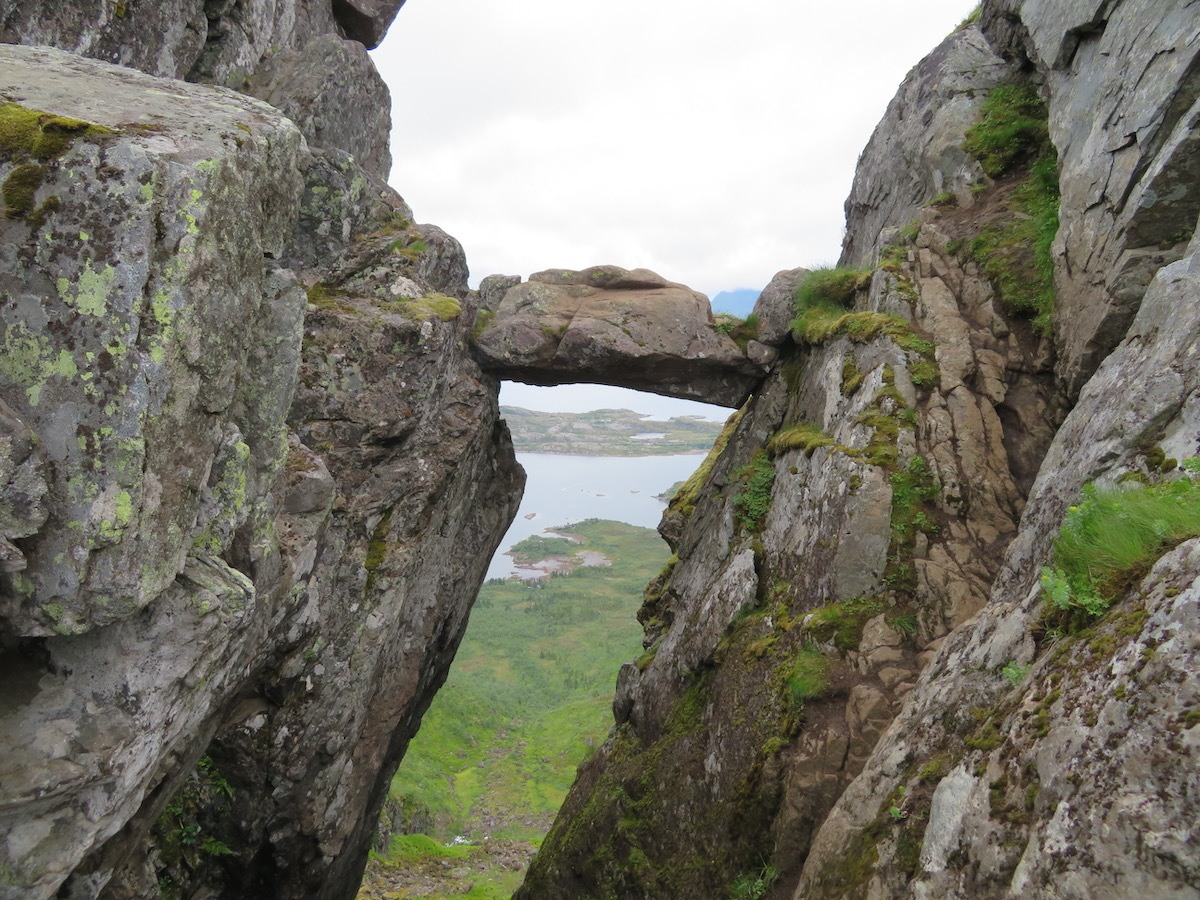 Other popular hikes include Reinebringen (a short, but steep hike to a peak above the town of Reine) and Festvågtind which has you looking down over the beautiful town of Henninsvær.
If you are looking for a very unique experience, you can hire a guide to scale Svolværgeita, or The Goat, as it is also known. Alpines Guides offers daily guided climbs throughout the summer season. (Kids 8 and above are welcome on this climb.)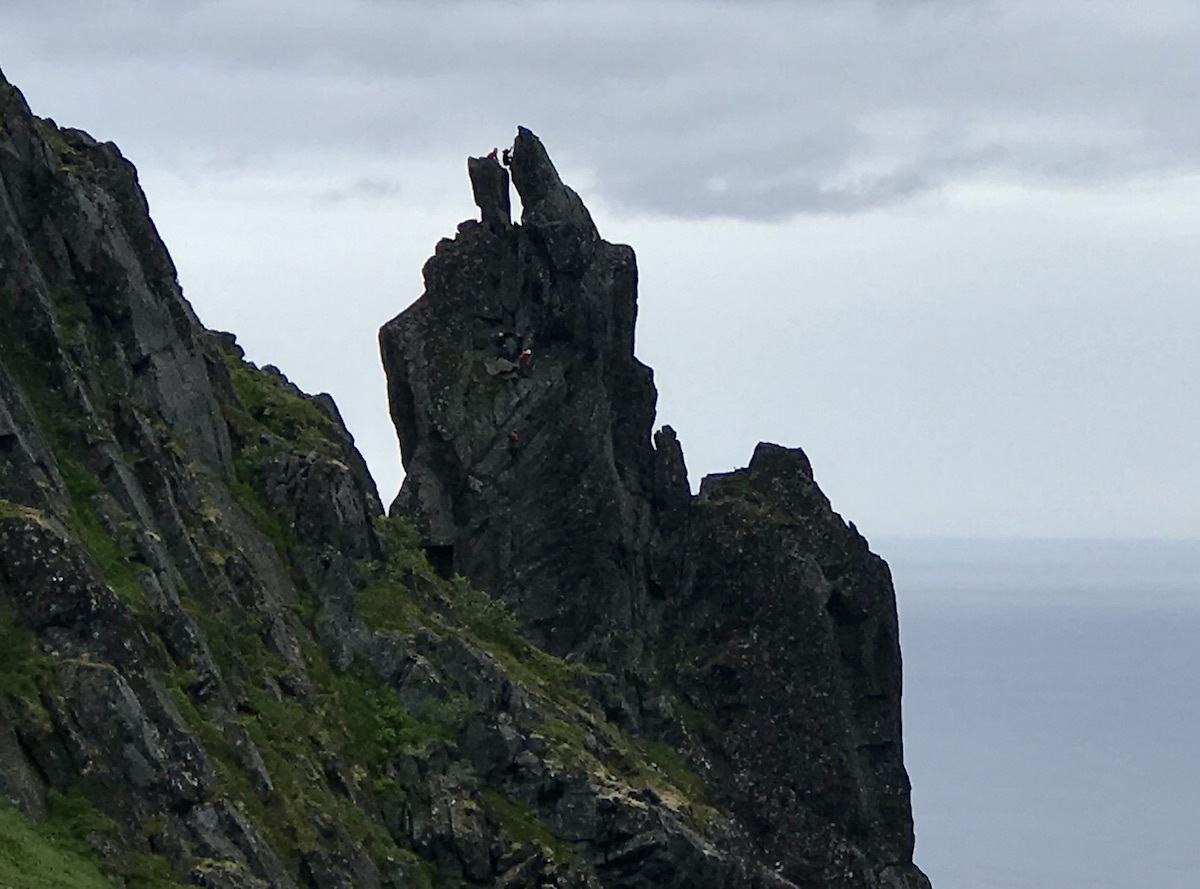 4. Take a Drive
As far as road tripping goes, the Lofotens are a fantastic place for a drive-about. Around every corner or through every tunnel (and there so are many) there is something beautiful to see. In fact, I often found myself pleading with my husband to pull over so I could take photos (he loves to stay ahead of schedule).
Note: Norwegian drivers are some of the politest we have encountered anywhere in the world. They rarely speed and will put their signal on to indicate that your can pass them. Throughout the Lofotens there are radar speed traps, but there is usually a road sign indicating that one is ahead.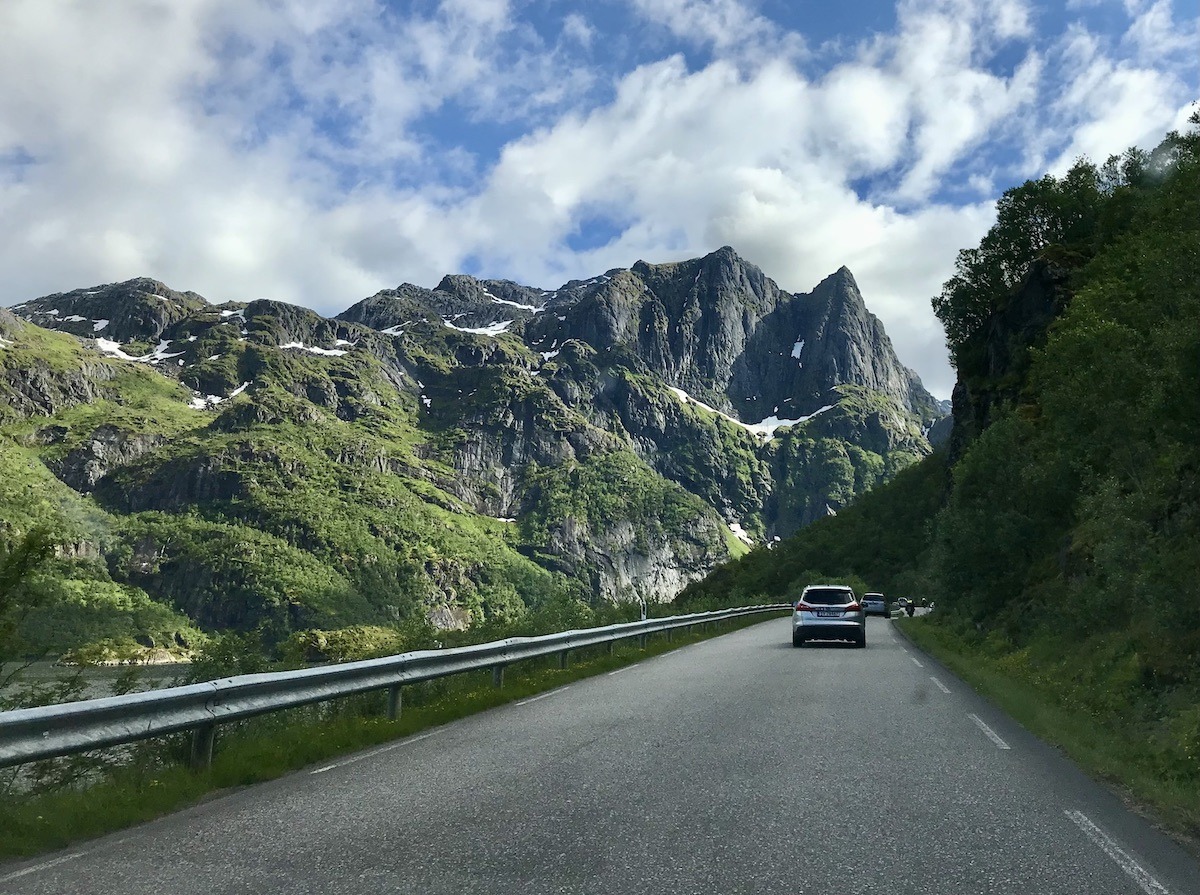 5. Go Town Hopping
There are many charming towns to explore in the Lofotens. The tiny village of Å (yes, just one letter), is a must, if only for their delicious baked goods.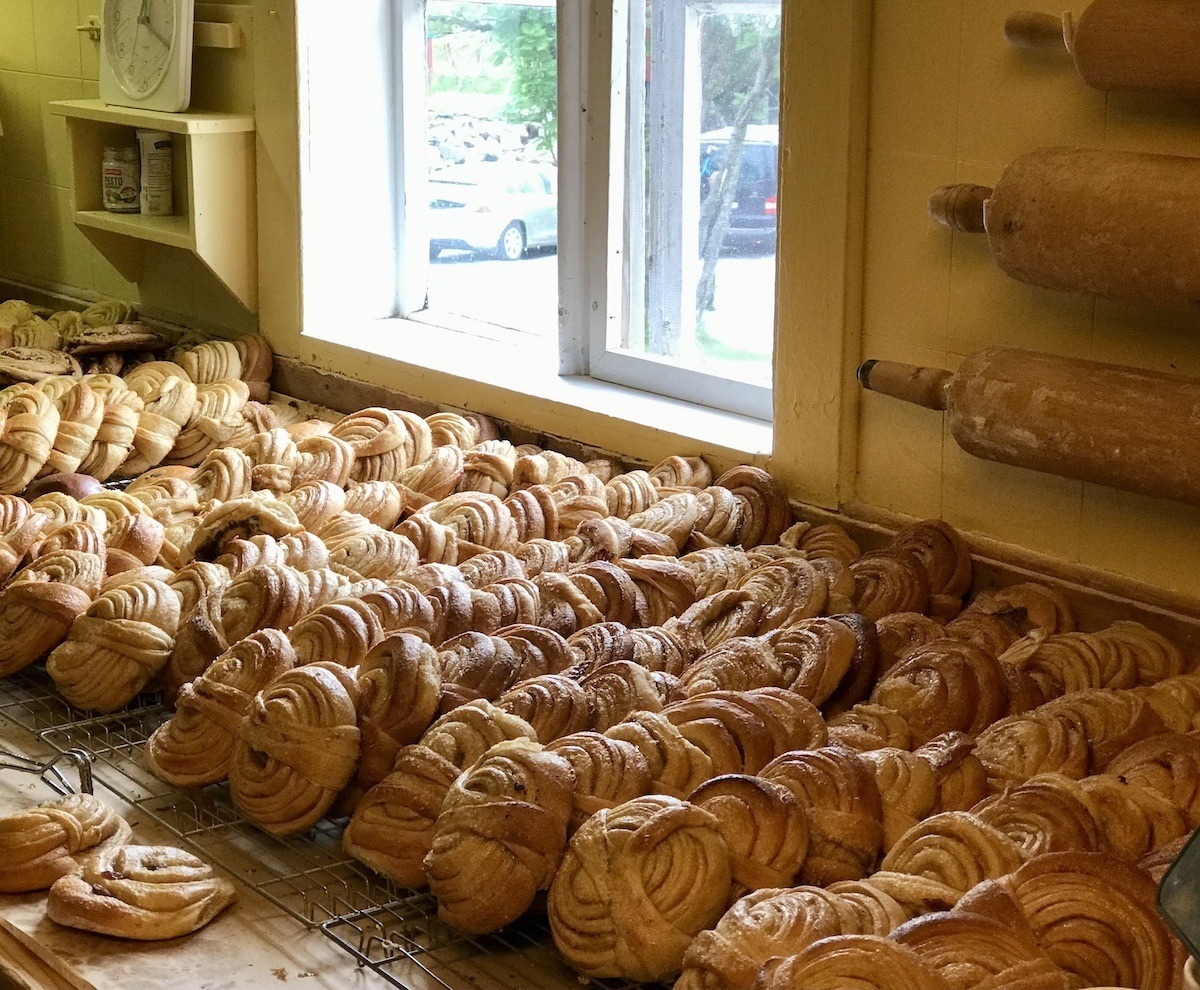 The town of Nusford is essentially a living museum (there is a fee to visit). While a little on the touristic side, it is still worth seeing. Enjoy a little walkabout, and grab a slice of cake or a beer at the local cafe. The town also has a really cute old fashioned mercantile store which is fun for souvenirs.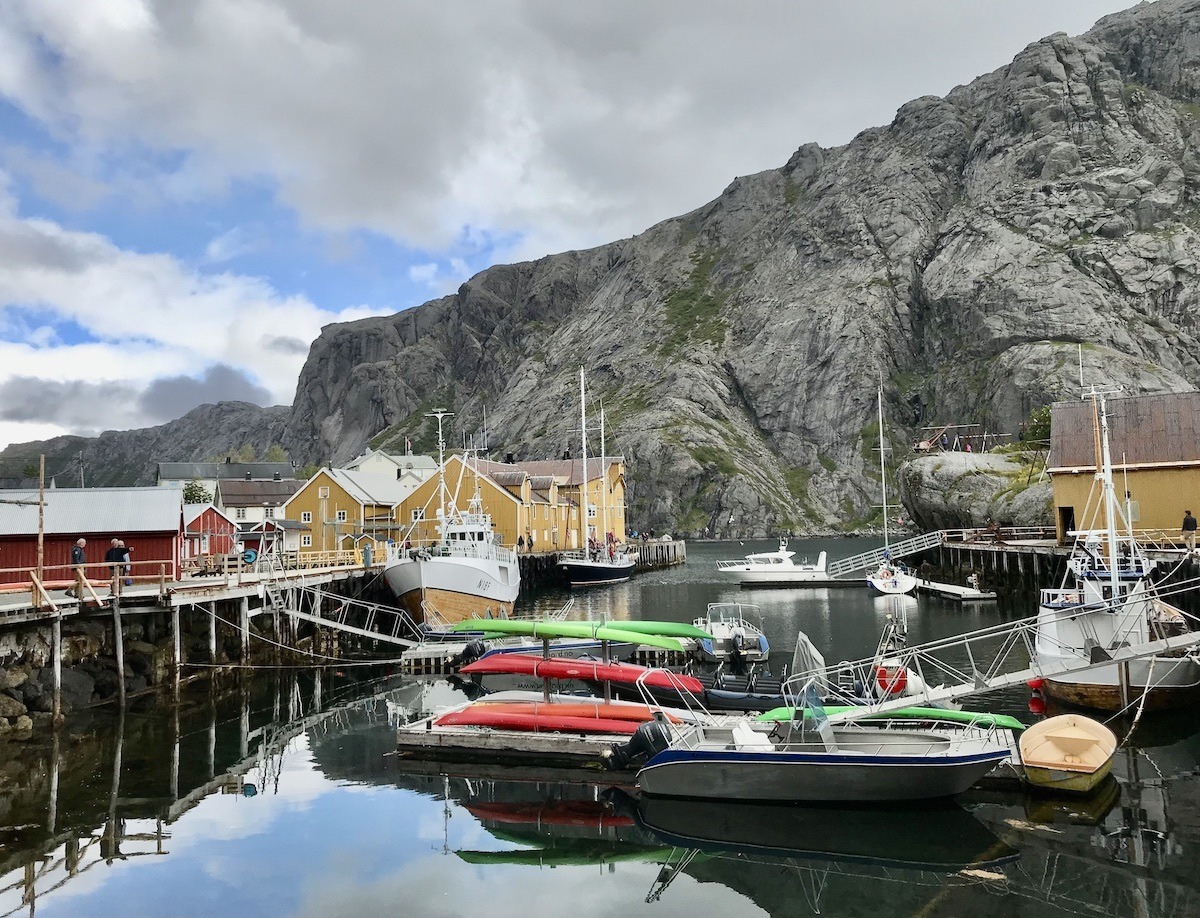 Our favourite town was Henningsvær, where we also stayed for two nights. For us, it had the perfect mix of traditional elements (bakery, fish drying racks etc.), while also having some contemporary art galleries and beautiful restaurants.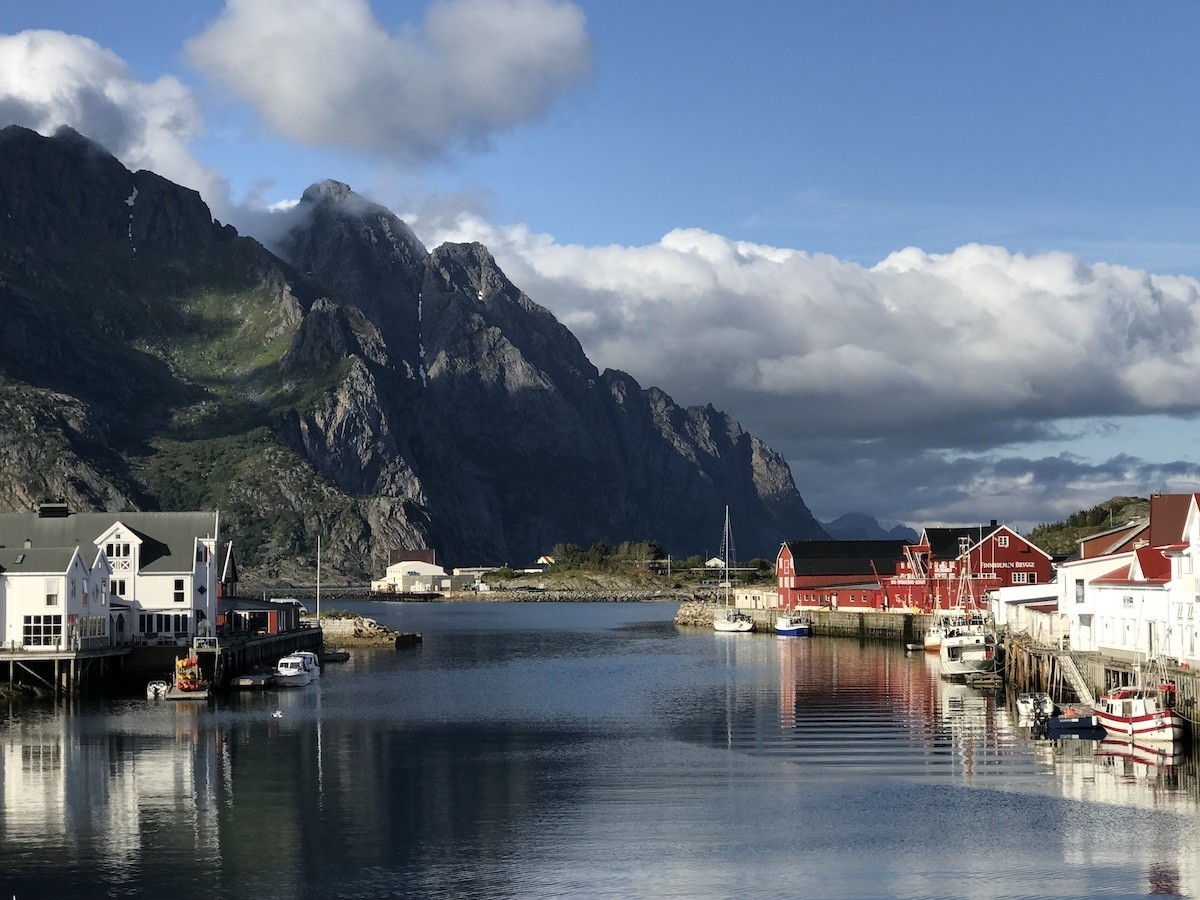 Note: If you have ever seen that very cool photo of the soccer pitch built into a rock in the Lofotens, that is in Henningsvær.
6. Kvalvika Beach
This special place is well-worthy of the hike over a mountainside that you must take to get there. Arguably, we didn't get the best weather for our summer beach picnic, but the adventure was still a lot of fun.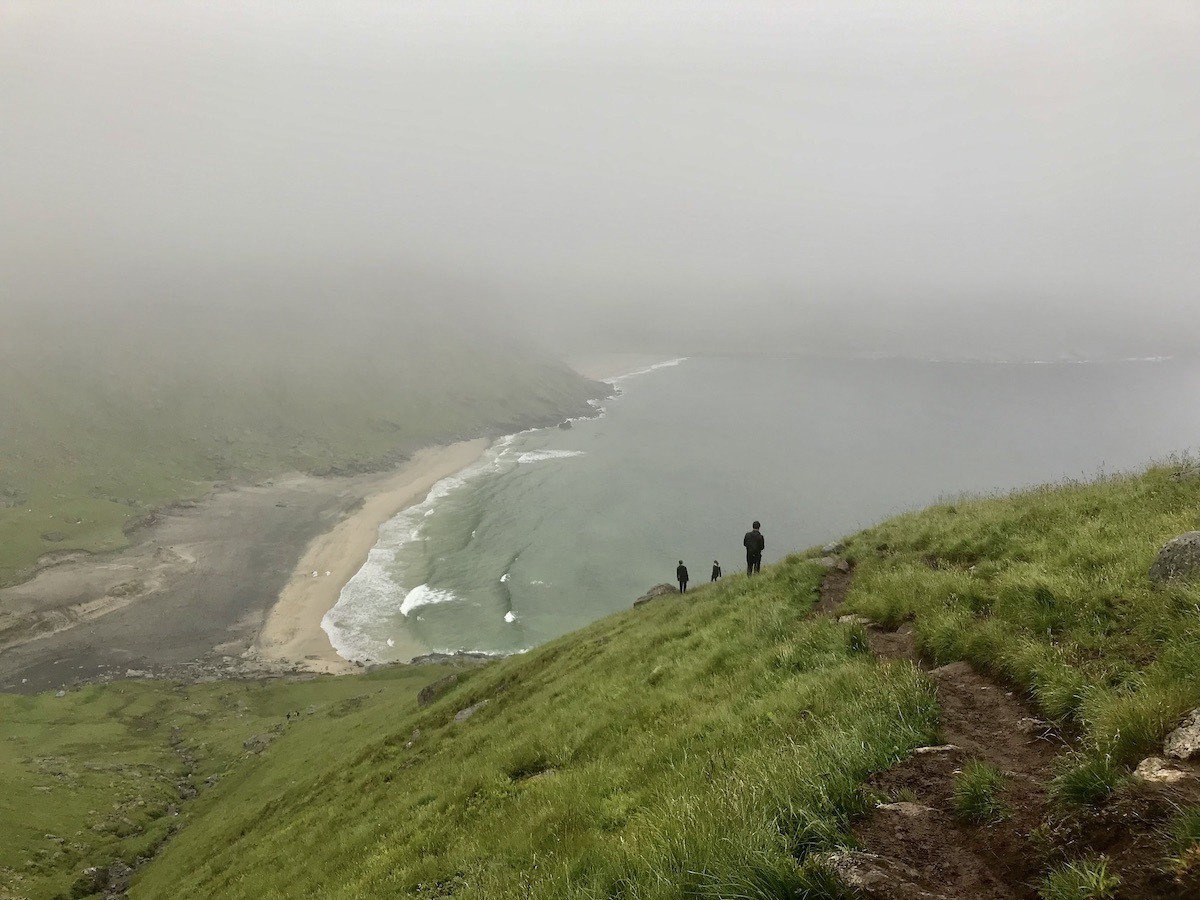 Note: We first became aware of Kvalvika Beach from the documentary North of the Sun (see trailer). This critically acclaimed movie follows two locals as they over-winter on the beach, building a shelter from debris that washes ashore, and going surfing every day.
7. Go Surfing
Don a wetsuit and go ride those waves. The Lofotens are home to the world's most northerly surf school – Unstad Arctic Surf. Unstad offers various surf packages (3-7 days) including accommodation.
See also this top Lofotens Islands attractions list from Tripadvisor.
When is the best time to visit the Lofoten Islands?
When should you go to the Lofoten Islands? The best time to visit Lofoten depends on what you like to do. Most tourists visit the Lofoten Islands in the summer months to enjoy long, sunny days of hiking, kayaking and general sightseeing.
This timing lines up well to experience the Midnight Sun. Due to it's northern location above the Arctic Circle, the sun does not set at all in the Lofotens from the end of May to mid-July. This following photo, for example, was taken at 1am on July 8th.
In the winter months, the Lofotens are a popular ski touring destination. Rather than by helicopter, guest typically visit several locations in the islands by boat.
How many days do you need in Lofoten?
For most people 3-7 nights in the Lofotens is about right. It's a long way to go to visit for a shorter period of time (and it's not inexpensive to get there).
If you are just there to enjoy the scenery and see the major sights, 3-4 nights is enough. If you are there to hike, surf, or ski (winter) as well as to see the major Lofoten sites, then you will want more time.
How do you get to the Lofoten Islands?
Wondering how to get to the Lofoten Islands? There are two main Lofoten airport options: Leknes Airport (LEK) and Svolvær Airport (SVJ). During the summer months, you can find direct flights from Oslo to Lofoten (both airports). These flights run several times a week with Wilderoe Airlines.
Another options is to fly to Bodø (BOO) on the mainland and carry on to the Lofotens with a connecting flight. Bodo Airport is serviced by numerous airlines (daily flights from Oslo).
There is a 3.5 hour passenger/car ferry that runs from Bodø to Moskenes (at the base of the Lofoten Archipelago) and an express passenger-only ferry that runs from Bodø to Svolvær (mid Lofoten location).
Please note that the ferries can get quite busy, especially in the summer months. It is recommended that you make a booking in advance. The summer Lofoten Islands ferry schedule comes out in April. See also Getting to Lofoten Islands at: lofoten.info.
Another option is to fly into the northern Tromsø Airport or Narvik Airport, rent a car, and do a road trip down into all of the small towns of the main islands of the Lofotens. In this case, no ferry is needed, you simply take the one main road (the e10) – over lots of bridges and through many tunnels. 
Do you need a car in the Lofoten Islands?
Yes. The best way to see the Lofotens, especially if is your first time visiting, is by car. This is because some of the most beautiful places in the Lofoten Islands are quite remote (special hikes, stunning white sandy beaches, etc.) While there is some public transportation, it's not really an efficient way to see the islands.
We have done some very nice road trips in Norway, including driving from Oslo to Bergen, driving the Trolls Road and the Atlantic Ocean Highway. The Lofotens by car is at least as good, if not better. Renting a car is your best options if you want to get off the beaten path and make the most of your Lofoten holidays.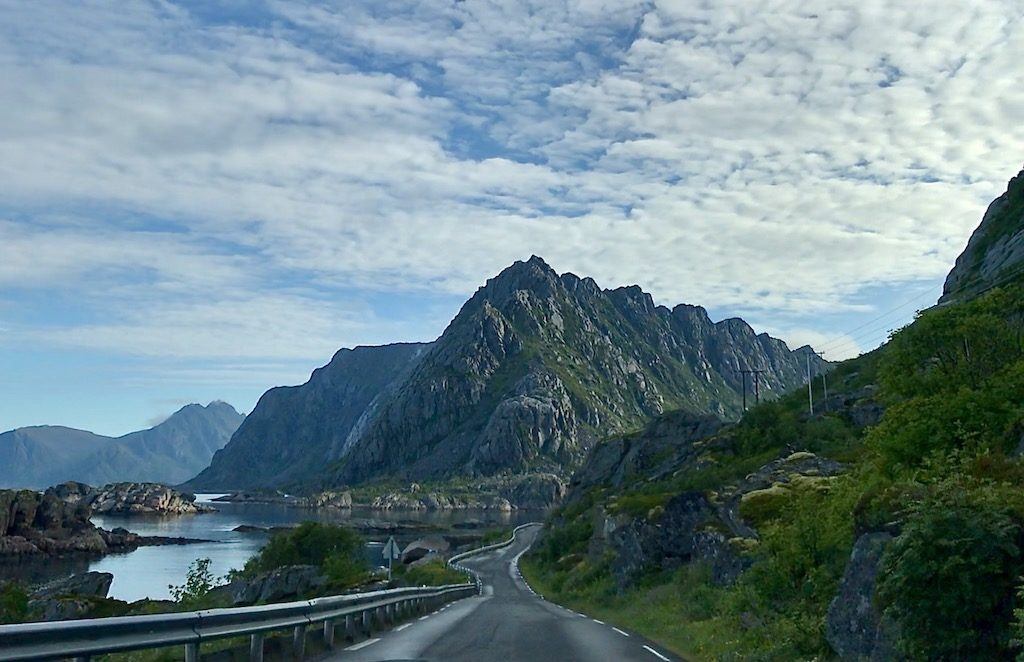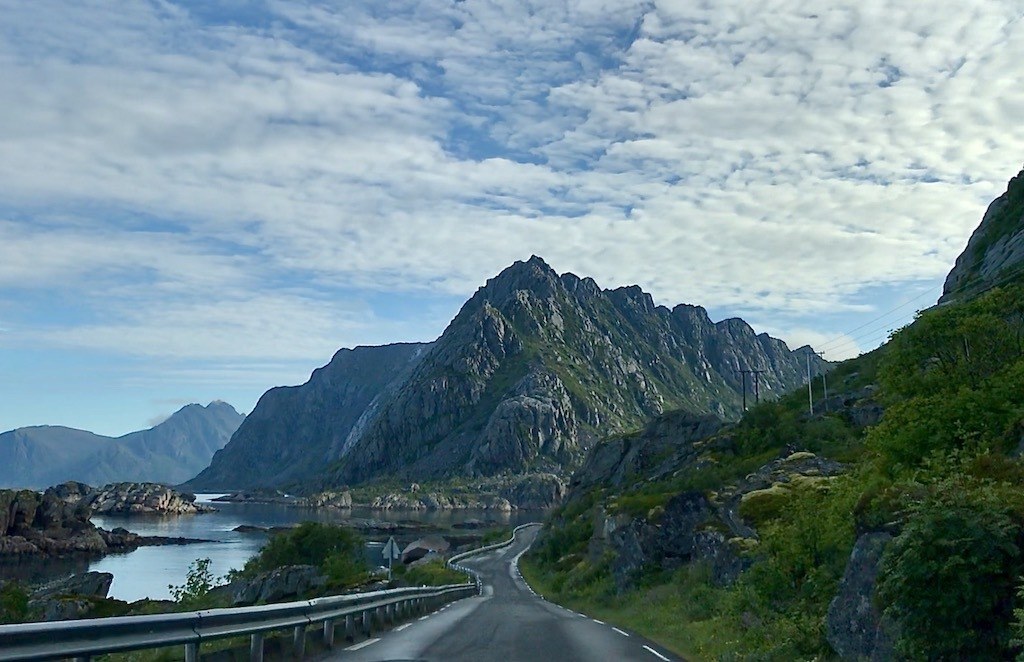 You can either rent a car once you arrive in the Lofotens, or rent a car from one of the mainland airports (Bodø, Tromsø or Narvik) and drive in.
If you come from Bodø you will want to take on of the car ferries to the Lofotens. If you fly into Narvik or Tromsø, you can drive down into the Lofotens without a ferry (just lots of tunnels and bridges).
Note: Car rentals in Norway are quite expensive. While I prefer to use major car rental brands, you can sometimes rent cars from local businesses and garages in the Lofoten Islands for lower prices.
Auto Europe guarantees the best Car Rental rates or they will match it.
Lofoten Islands Map
I have included this Lofoten Islands, Norway map so that you can see where flights and ferries come in to (marked with pins). If you zoom out, you can also get a good idea of how far north you will actually be!
Can you see the Northern Lights in Lofoten?
Yes, you can. September to March is the best time to see the Northern Lights in Lofoten, with peak viewing in October and March.
I would caution you, however, against booking a whole winter trip to the Lofotens with seeing the Northern Lights as the main event. From my experience, they can be rather elusive. I have done a winter trip to Iceland with this very goal – and nothing.
For Aurora Borealis to appear, you need to be at a northern latitude, it needs to be dark, it need to be relatively clear out and…this is the big one…there needs to be solar activity. I think any viewing should be seen as a gift!
When in Norway, you can check out this website which gives you an update on the likelihood of seeing the Northern Lights on any particular night. (https://www.norway-lights.com). They make it very simple, basically telling you whether you should even bother trying.
What is Lofoten weather like?
Changeable is the best way I can describe Lofoten Islands weather. Both of our family trips have been in mid-July. Some days, shorts and t-shirts were appropriate. Other days, especially on some of our hikes, we could have done with toques and mittens! Looking back, the temperatures from our time there ranged from 6-25°C (43-77°F).
While much cooler in the winter, the weather in Lofotens Islands during these month is not severe (with temperatures hovering around zero from November to March).

What should you pack for the Lofotens?
As they say in Scandinavia "There is no such thing as bad weather, only bad clothes." Having packed poorly for our first trip to Norway, I 100% agree. The most important thing, in my opinion, is to pack lots of layers.
Packing for Summer
Light layers including t-shirts, a mid-layer (like a fleece) and a waterproof lightweight outer layer is most appropriate. I would even go so far as to add lightweight waterproof pants if you plan on going hiking (you are often scrambling over damp rocks). Also highly advisable for hiking are waterproof hiking boots or shoes.
I took the following photo on one of our hikes to remind myself (and others) what appropriate Lofoten hiking attire looks like. Note the hiking shoes, hiking pants, gloves and toque…on July 6th.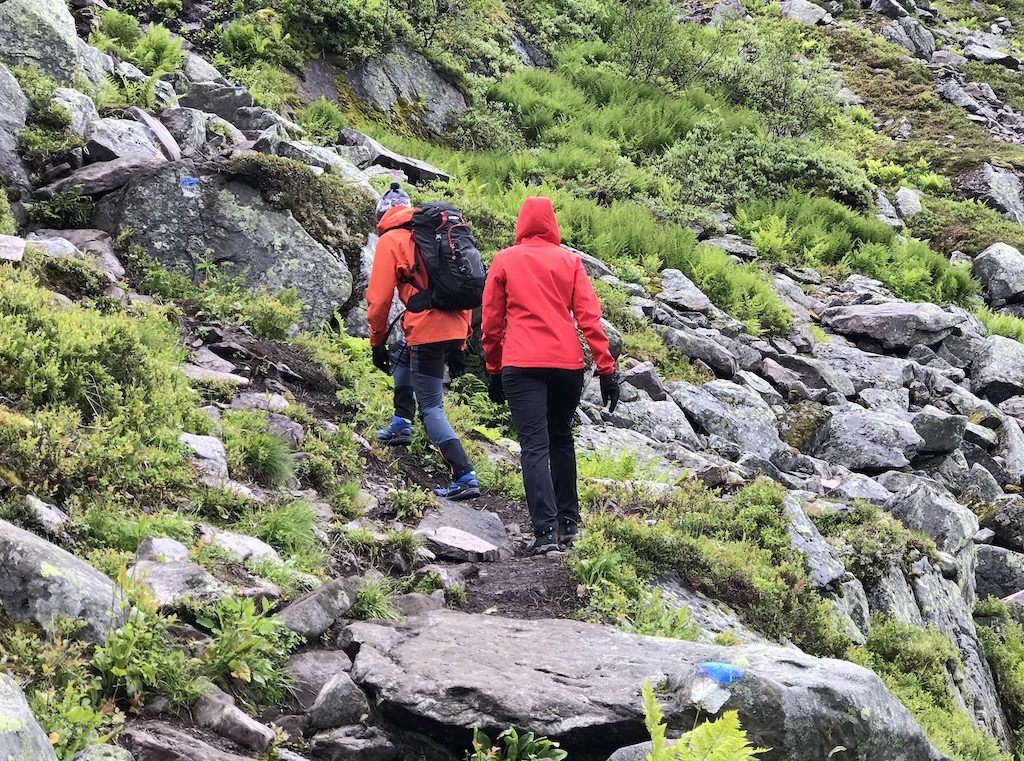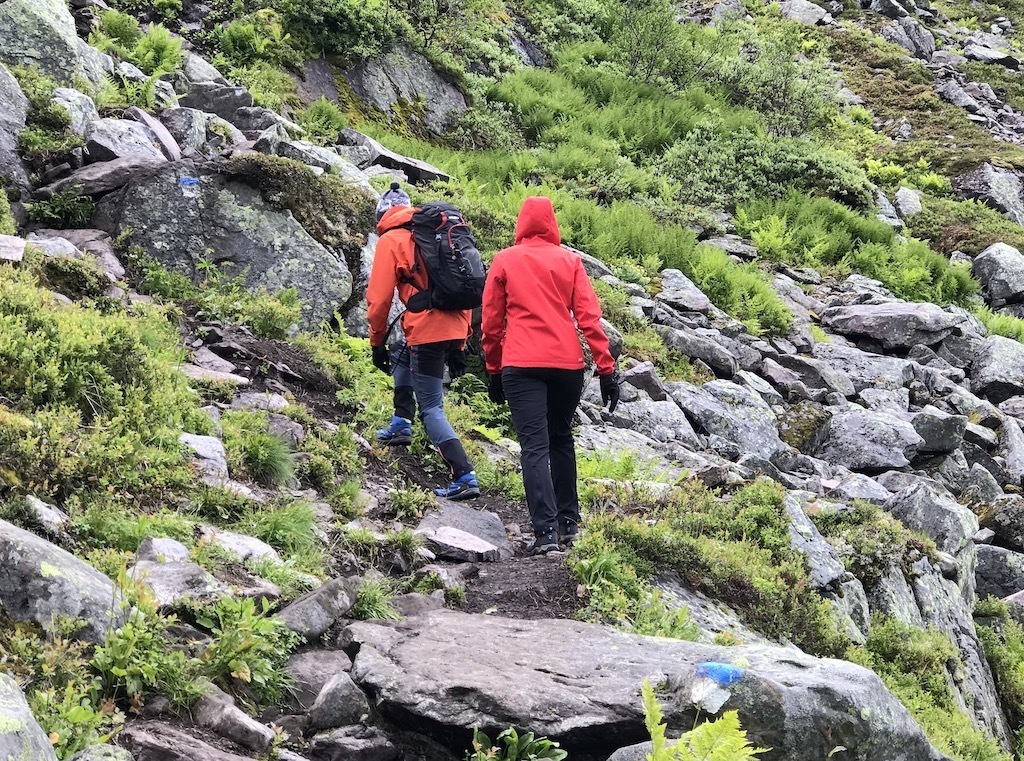 Later on that same day, we had a beer in the sunshine on a rooftop patio in Henningsvær, but as you can see, it still wasn't quite t-shirt and shorts weather.
Packing for Winter
Although Lofoten Islands weather in winter is not extreme, you will want to include some warmer layers, wool socks, gloves and a hat.
To be perfectly honest, I could have used gloves and a hat on some of our hikes in mid-July. On one hike, for example, we started out at 14°C/57°F and at the top it was 6°C/43°F. The wind was blowing and I thought my ears might fall off.
Important: One of the challenges we faced in the Lofotens was drying our clothes out if they got wet. If the sun was out, it was easy – we could just hang them outside. If not, we had to seek out a dryer. Here's the thing though. Most dryers in Europe take hours to dry your clothes – counting on evaporation rather than a heating element as the drying method.
This is where waterproof clothing that protects your base layers can be important. I also don't recommend doing a load of laundry just because you see a washing machine (unless you are going to be at the same place for a few days).
Where should you stay in Lofoten?
I spent a lot of time trying to find exactly the right location for us to stay in the Lofotens. Quite honestly though, there are lots of great spots and lots of great options for Lofoten hotels.
If you are staying for more than 3 nights, you may want to split your trip and stay in 2 places. This allows you to explore the surrounding areas near each without losing too much travel time to see the sights.
On our last trip, for example, we stayed in both Hamnøy (south) and Henningsvær (middle). Reine, in the southern regions, is also one of the more popular places for an overnight stay.
Best place to stay in the Lofoten Islands
To have a quintessential Lofotens stay, I highly recommend spending at least one night at a rorbuer. These refurbished Norwegian fishing cottages are cozy, are typically right on the water, and offer the experience of staying in an authentic fishing village.
Our family has twice stayed at Eliassen Rorbuer in Hamnøy (once without me). Their cozy cabins, most with incredible views – are exactly what we hoped to find in the Lofotens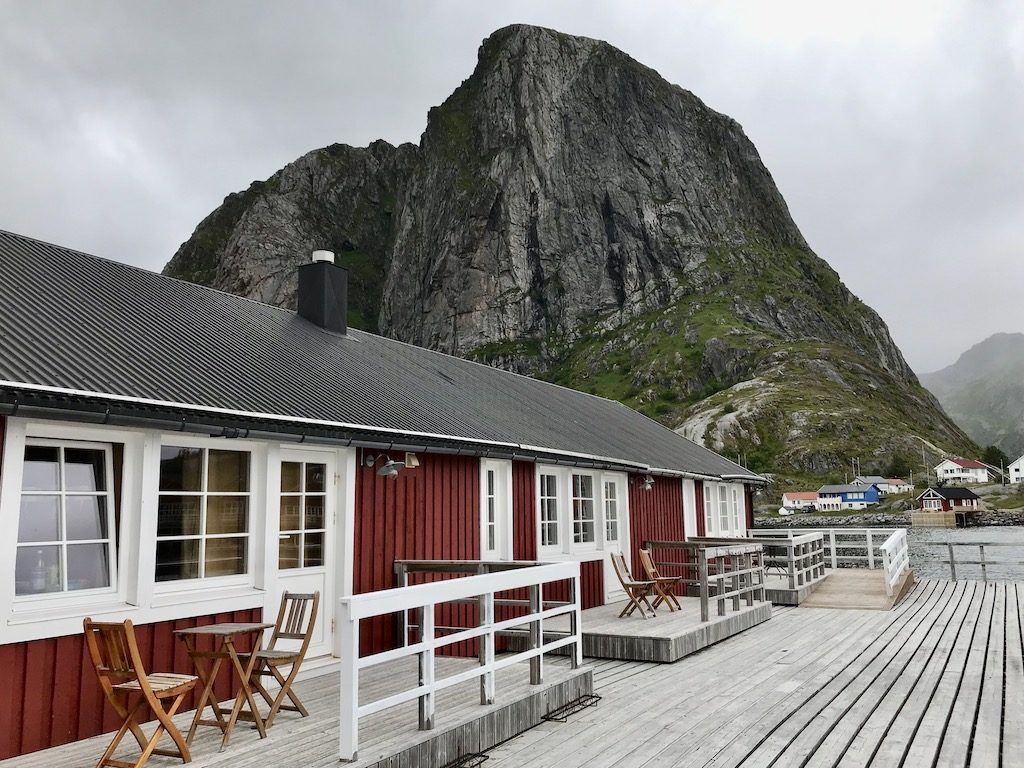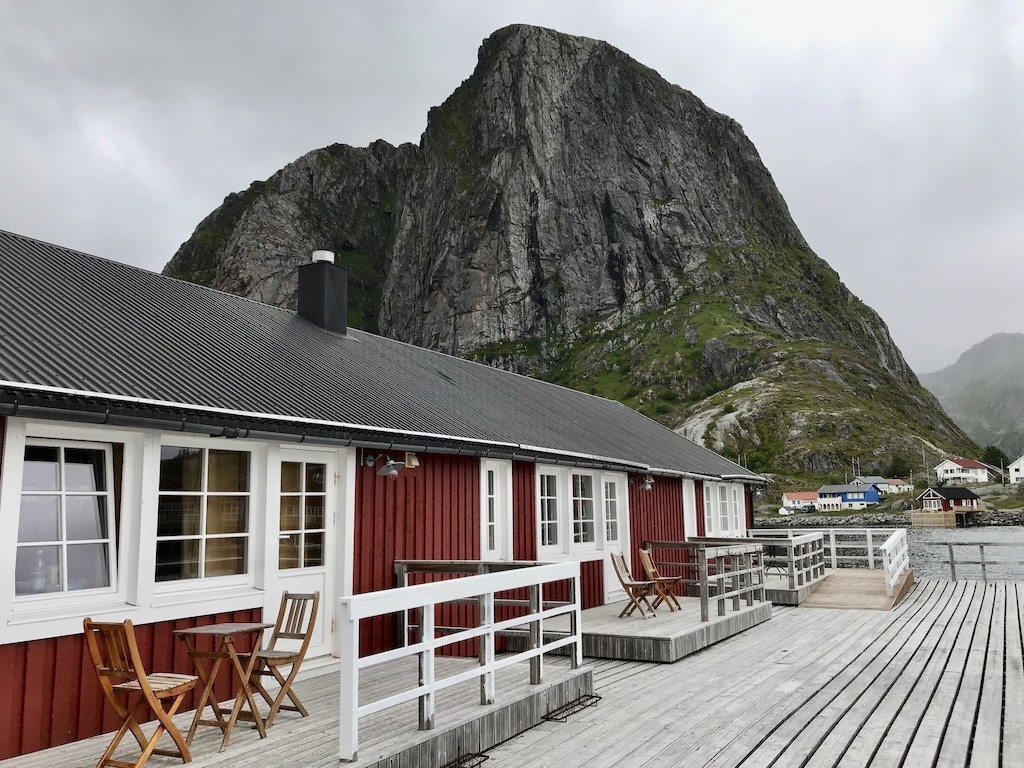 We also stayed in Henningsvaer which is just south of Svolvær at Tobiasbrygga. Henningsvær was my favourite town in the Lofotens because it had the picture-perfect views while also having some good restaurants, shops and even some galleries.
We used Booking.com to reserve all of our hotels in Norway. I find their cancellation terms to be very flexible – easily allowing for changes when needed.
Be sure to reserve early for the summer months in the Lofotens. The good places book up way ahead of time.
5 Best Rorbuer Hotels in the Lofotens
If you prefer more of a full service hotel, you can find most of those in Svolvær (the largest town in the Lofotens), including the highly rated Thon Hotel Svolvær.
I want to mention one more place. While technically not part of the Lofotens (it's just east on the mainland), it is so special that we rejigged our whole Lofotens trip to visit it. It's called Manshausen and it can be reached via foot passenger ferry from either Bodø or Svolvær. Curious? Learn more about Manshausen Island Resort.
Further Reading