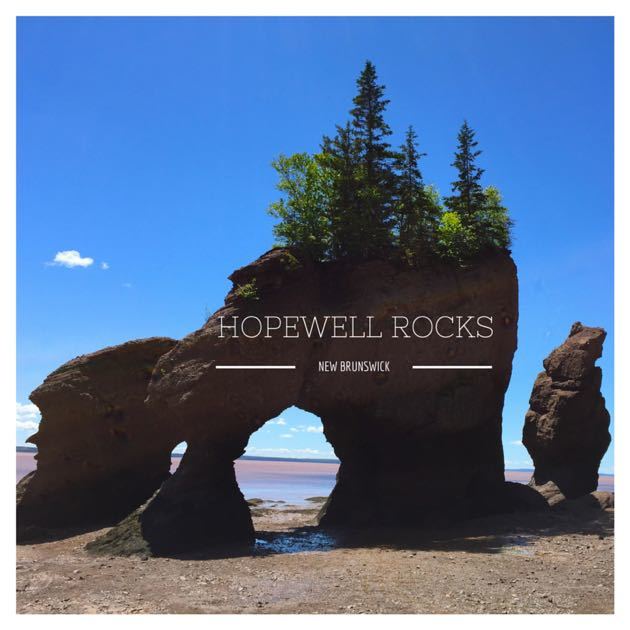 Hopewell Rocks was one of the places that I was most excited about visiting in New Brunswick. My kids and I had watched many a time-lapse video of the incredible Bay of Fundy tides that twice daily reveal and cover the distinctive Flowerpot Rocks. The bay is unique in that it has one of the largest tidal ranges in the world (up to 15m/45ft). Lucky for us, upon our arrival, we were joined by fantastic guide and interpreter Kevin Snair, who showed us that this area wasn't just about one particular group of rocks, but rather about the more than 2km of shoreline to be explored. Take a peek at our quick youtube video or read on.
During our visit, we walked the ocean floor, scaled boulders and navigated our way through caves – all the while learning about the ecology and geography of the area. We appreciated the laid-back, walk-about tour style of our guide who encouraged my kids to both touch things and try hands-on experiments (such as seeing how big of a splatter they could make by tossing a rock into the mud).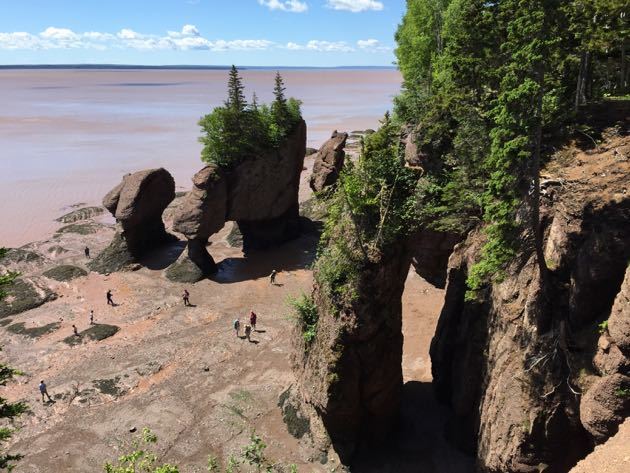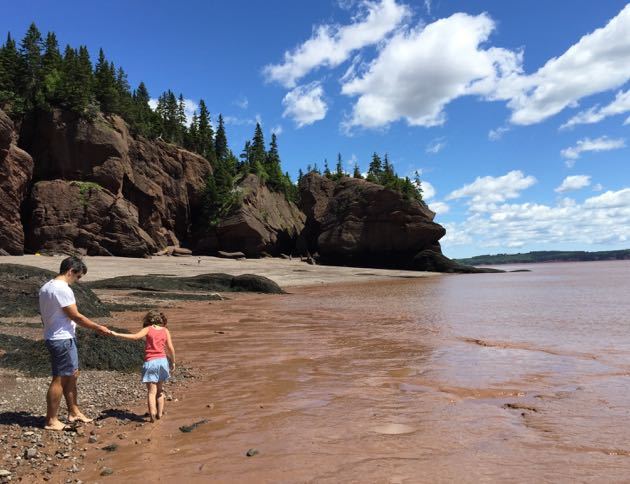 Hopewell Rocks is a one hour drive outside of Moncton, New Brunswick. Be sure to time your visit with the tides, depending on whether you would like to walk on the ocean floor at low tide or kayak through the rocks at high tide. In addition to the rocks and beach, kids will also enjoy the on-site playground and interpretive centre. Bring a picnic lunch and stay a while (there is also a cafe on site).
Important note: We made the worst possible choice in footwear for our visit – flip flops. Choose something different that will not flick mud up the back of your legs with every step (but be sure to take them off if you choose to brave the deep mud). Thankfully there are showers where you can wash your feet off.
More information about Hopewell Rocks with Kids:
For park hours: see Hopewell Rocks website
For best time to visit: see tide tables
For reviews: 96% of visitors recommend on tripadvisor
Just for fun: See video below showing the tides – by Kevin Snair.
You may also be interested in the following:
Saint John, New Brunswick – with kids
St. Andrews by-the-Sea, New Brunswick – with kids
10 Epic Canadian Adventures with Kids
Victoria, British Columbia with Kids
5 Family Friendly Dude Ranches in British Columbia
Tofino, British Columbia with Kids