Our family has always had a bit of a weakness for unique hotels. We have driven 1000 kilometers to stay at an Oregon treehouse resort and taken 36 hours worth of planes, taxis and boats to stay in a jungle lodge in Panama. Imagine our delight when we discovered that there was a lighthouse hotel almost directly on our route while road tripping along Prince Edward Island's North Cape Coastal Drive!
Take a look at our one minute video or read on to learn about Prince Edward Island's West Point Lighthouse Museum and Inn.
About the West Point Lighthouse
Located on Prince Edward Island's western shore, this impressive 69 foot lighthouse faces the Northumberland Straight. It was a manned lighthouse from 1876 until the light was automated in 1963. Since 1987, the West Point has been welcoming overnight guests who can enjoy a unique stay on a beautiful beach within Cedar Dunes Provincial Park.
West Point Lighthouse – The Rooms
The coveted rooms at the West Point Inn are the Tower Room and the Keeper's Quarters which are right in the lighthouse itself. For our family, we chose a double queen contemporary room in the adjacent building because it was more suitable for four people (the tower rooms book out months in advance and each sleep 2).
The contemporary rooms are basic in decor but have great water views from their balconies. Your stay includes daily continental breakfast and complimentary entrance to the lighthouse museum.
The Best Part
We absolutely loved the beachfront locale with its stunning scenery. Our kids beach-combed for hours while we sipped some wine at sunset. We also enjoyed a fantastic fresh seafood meal at The Catch restaurant just down the road.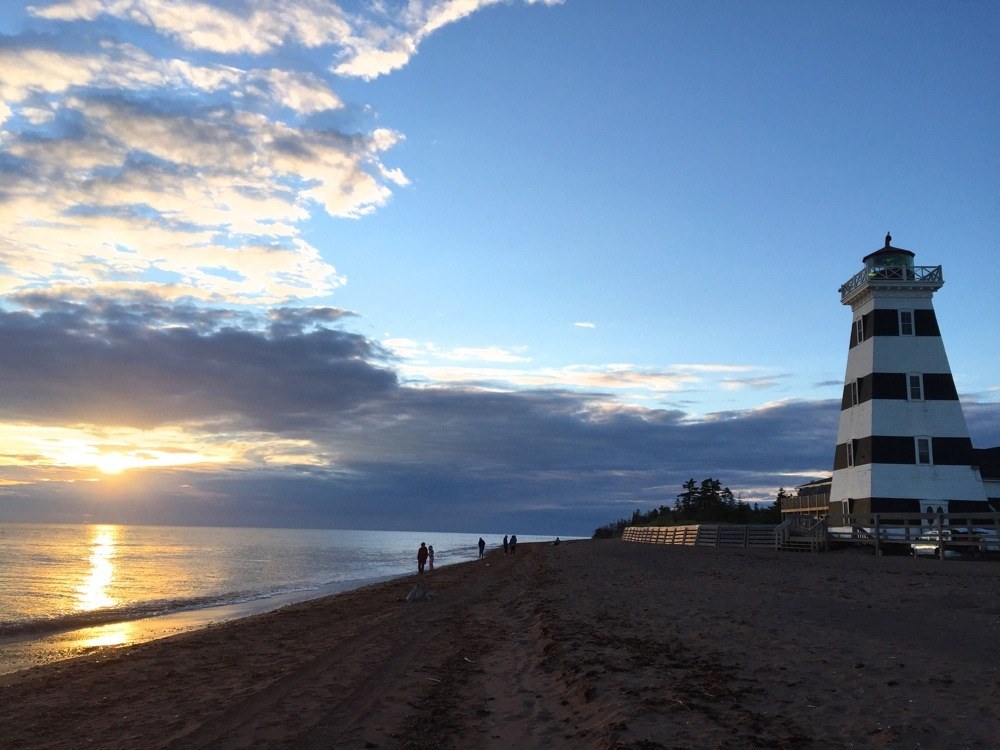 Need to Know Facts
The West Point Lighthouse is about a 20 minute drive from the closest town, which is important information to know if you decide to take the kids for ice cream (or if you forgot to buy that bottle of wine that you intend to sip on at sunset).
While in the Area
If the lighthouse hotel within Cedar Dunes National Park isn't unique enough, there are a couple of quirky attractions nearby, namely the Bottle Houses and the Potato Museum. The North and West Capes are also populated with wind turbines (P.E.I. is a leader in wind energy ) which make for a striking contrast against the pastoral scenery. To learn more about them, pop in to the North Cape Wind Energy Interpretive Centre near Tignish.
More about the West Point Lighthouse Museum and Inn:


Hotel Class: 3 star
Reviews: 99% of reviewers on TripAdvisor rate as very good or excellent.
For availability: See website
Note: The Lighthouse Inn accepts reservations between June and September
Discover more of what Prince Edward Island has to offer for families through the Tourism PEI website.
Disclosure: While visiting Prince Edward Island, we were guests of Tourism PEI with partial expenses being covered by this entity. All opinions about our experiences are entirely my own. As always on my website, I encourage you to also read current reviews by other family travelers on hotels, attractions and restaurants (Tripadvisor, Google, Yelp etc.) before booking or making any final travel decisions.
Related Posts