Last update: April 30th, 2021 at 12:59 pm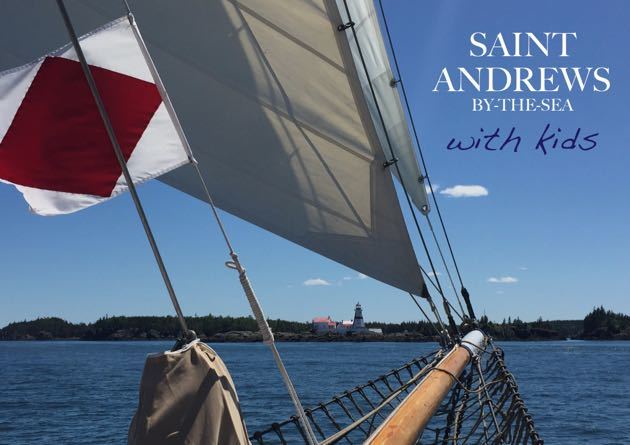 Affiliate Disclosure: This post on St. Andrews with kids may contain affiliate links. For more information, please see our Terms of Use and Privacy Policy
Saint Andrews by-the-Sea…..doesn't that have such a nice ring to it? This seaside town was one of the first stops on a road trip loop that took our family around New Brunswick, Prince Edward Island and Nova Scotia.
Tide low when we arrived, my kids leapt out of the car and immediately began exploring the miles of beach (while my husband and I explored a menu of lobster rolls and white wine at a lovely restaurant along the shoreline).
Read on, or check out this quick video to see what our family enjoyed during our short stay.
Disclosure: On this Maritimes trip, I worked in conjunction with Tourism New Brunswick, Tourism P.E.I. and Tourism Nova Scotia to share our experiences in their regions. Partial expenses were covered by these entities and their tourism partners.
Things to do in St. Andrews with Kids
1. Kingsbrae Garden
Despite coming from a long lineage of gardeners, most things I try to grow in my yard do not make it through a season. Perhaps that is why visiting a garden is not normally at the top of my list. Kingsbrae Garden however, I loved – and so did my kids.
Our visit was timed perfectly for the daily release of ladybugs into the rose garden, which we followed with a stroll (truth "run" – my kids don't actually ever stroll) along the pathway towards the the edible garden, the Children's Fantasy Garden (with its many playhouses), the koi pond, and the maze. We finished with some fresh lemonade and a game of croquet on the lawn outside the Garden Cafe.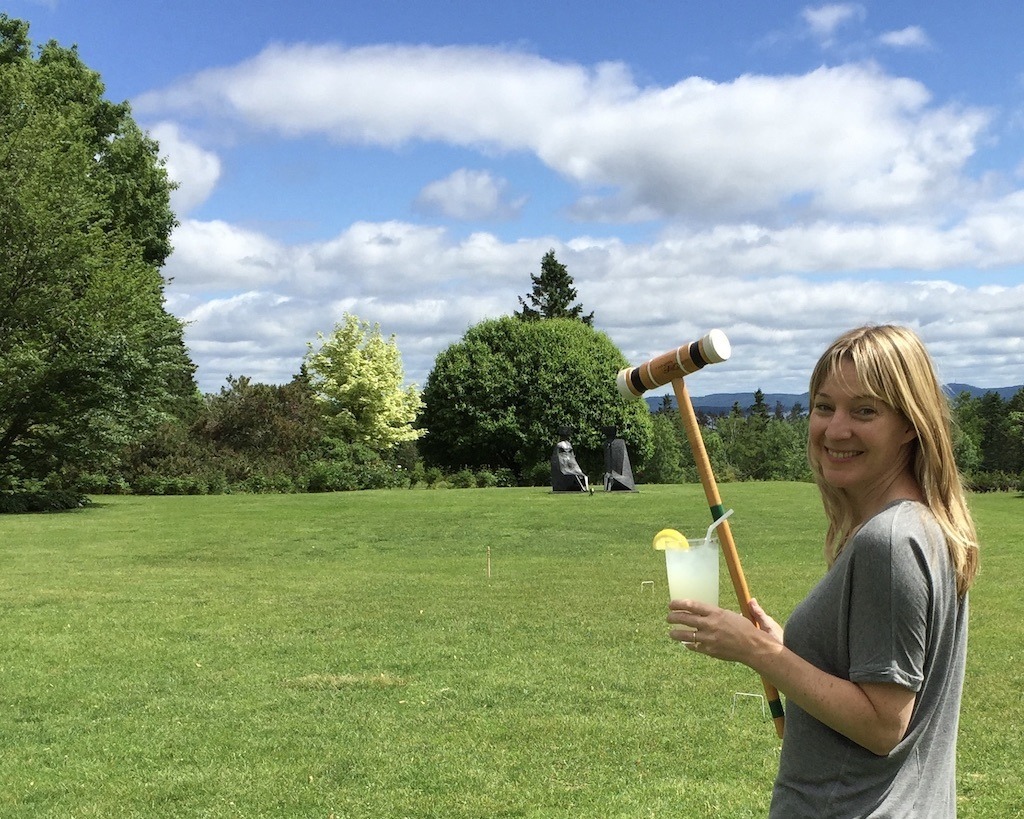 Although we were not there long enough to enjoy it, apparently the midday alpaca parade (as they come to graze on the fresh grass) is extremely popular. Summer children's programming includes crafting in the Fantasy Garden and for adults there are many other music, art and food inspired events. (See website.)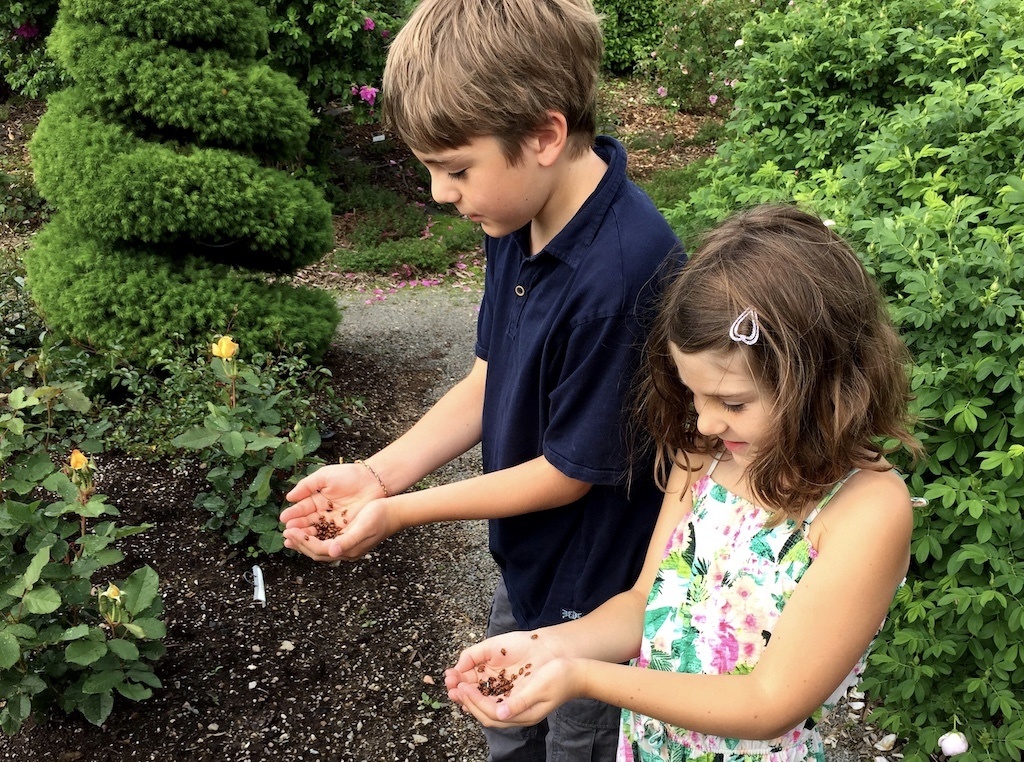 2. The Jolly Breeze Tall Ship
If you are planning on doing some whale watching while visiting St. Andrews, the beautiful Jolly Breeze Tall Ship is a perfect choice for kids.The owner (who also happens to be a biologist) has put together an informative trip that also has a number of hands-on activities to keep kids busy (hoisting the sails, steering the boat, face painting and even an educational touch pool right on the ship).
Oh yes….and the whales. Sadly, we didn't see any on our trip (we were a bit early in the season – August is supposed to be the best month), but we did spy a number of porpoises, seals and eagles. (See website.)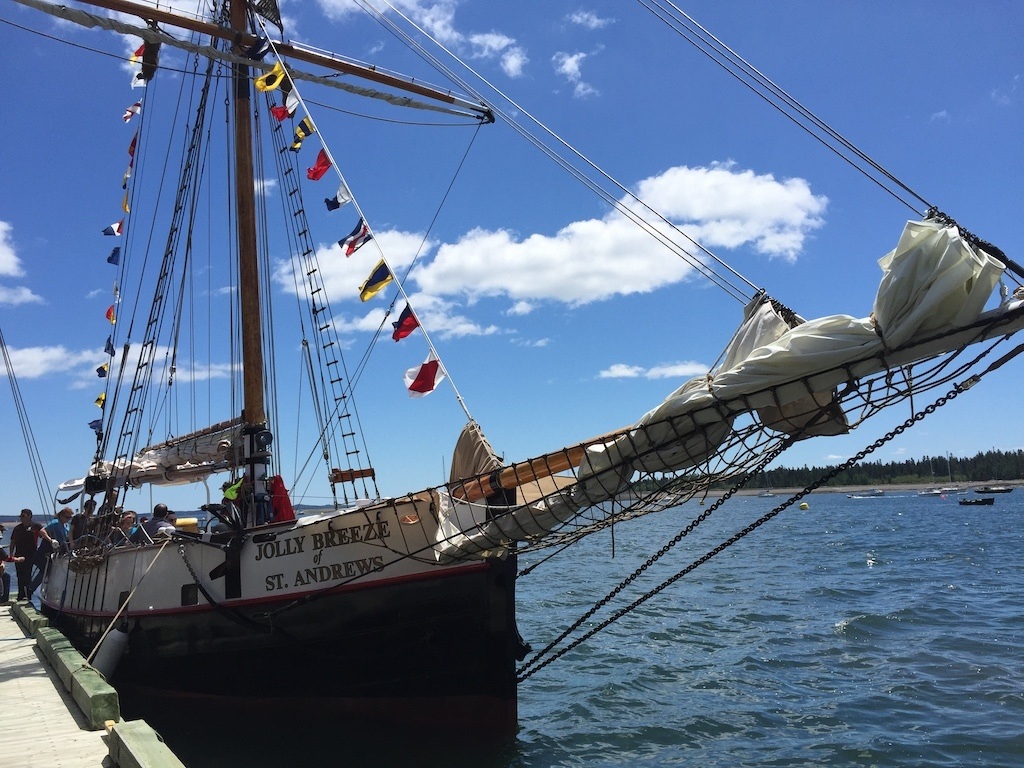 3.The Huntsman Fundy Discovery Aquarium
The Huntsman Fundy Discovery Aquarium is a great place to learn about the marine life in the nearby Bay of Fundy. My kids especially enjoyed the fabulous touch pools where they were able to pick up various creatures including the playful skates, and the spitting scallops.
Daily programming including seal, seahorse and salmon feeding times, so be sure to check their schedule before visiting. (See website.)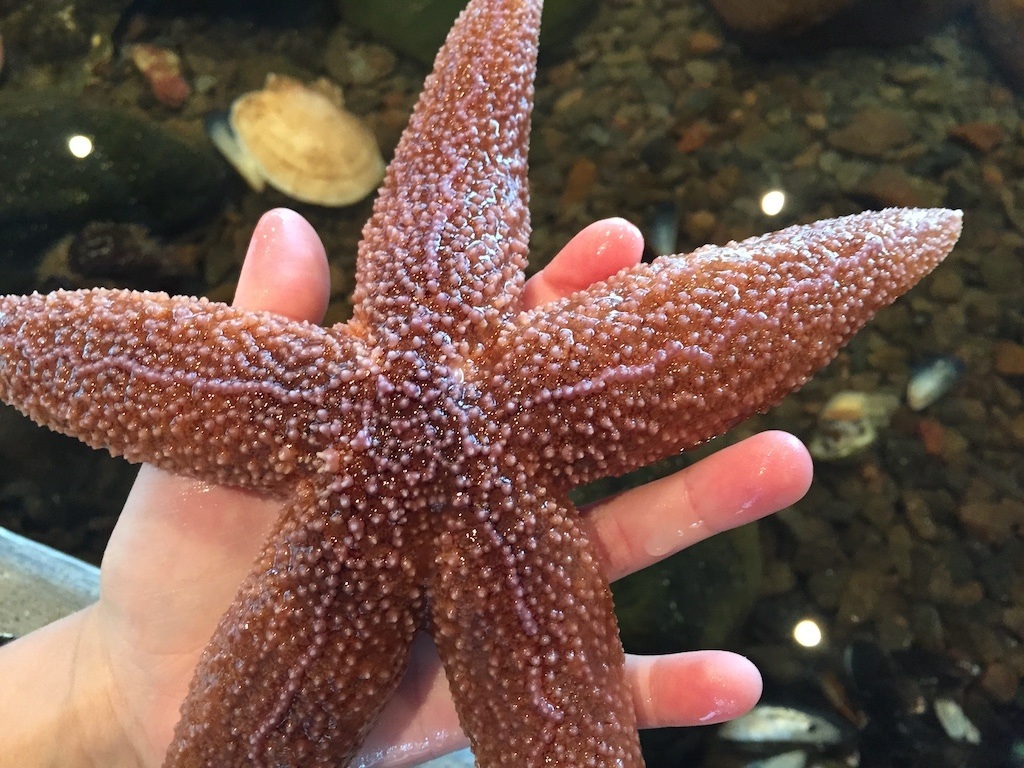 4. The St. Andrews Creative Playground
I feel like I have spent enough time in playgrounds to say that this one is truly excellent and caters as well to toddlers as it does to older children. It was designed by renowned New York architect Robert S. Leathers after he spent a week in St. Andrews consulting with local children.
The playground was constructed by volunteers during a five day community work party. My only criticism of this wonderful place was that on a hot day, it was a little challenging to find some shade (unless one were to climb into a turret ).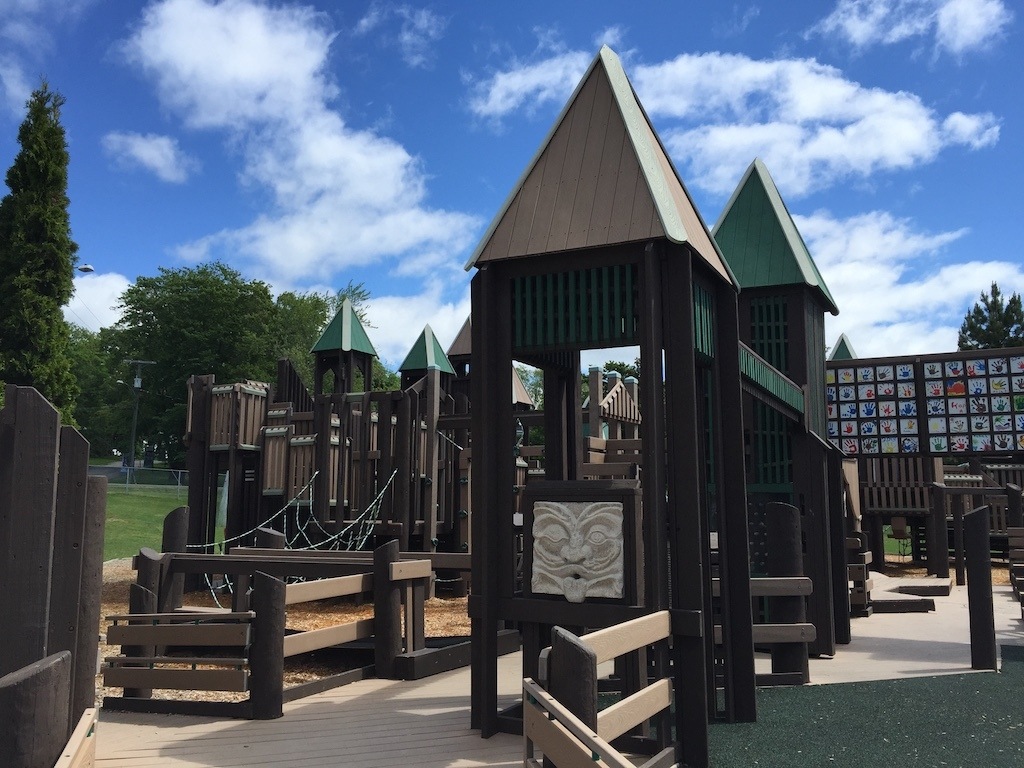 5. Ministers Island
I am sad to report that Ministers Island is the coolest place that we didn't have time to visit. This 500 acre island is just off the shore near St. Andrews and you get to it by driving (or biking) across the seafloor at low tide.

Ministers Island was the summer estate of Sir William Van Horne, the second president of the Canadian Pacific Railway. Once on the island, you can tour his house, enormous barn and bathhouse hideaway. Just be sure you don't stay too long, or you will be waiting for the next low tide to get back. (See website.)
Family Hotels in Saint Andrews by-the-Sea
I could write a whole post on how much I loved the historic Algonquin Resort (built in 1889). I have been eyeing up this property for years and couldn't wait for our stay.
Although I loved our spacious room with sitting area and mini kitchen, I could not hold my kids back from heading straight to the indoor pool with the 3 story waterslide (there is also a gorgeous outdoor pool).
The lobby lounge is a perfect place to spend happy hour with a cozy fireplace and a fantastic selection of board games (those really nice ones you find in Restoration Hardware). We enjoyed playing an old fashioned game of bingo in front of the grand fireplace whilst enjoying some fine wine (Shirley Temples for the kids).
The hotel thoughtfully offers the use of bikes for both adults and children.
To read reviews or check rates, see Booking.com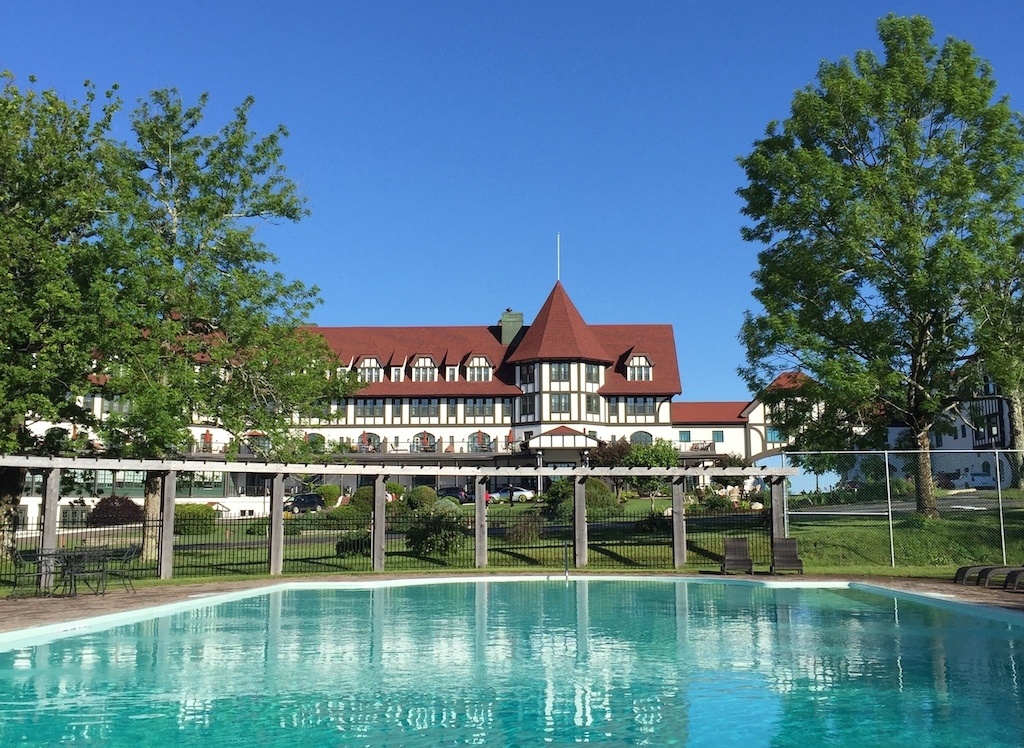 Family Restaurants in St. Andrews
We did not have enough time in Saint Andrews to fully explore all of the excellent dining options. With more time, however, I would have ordered a picnic lunch from Kingsbrae Garden Cafe to enjoy on their lawn. The lunch comes from the same kitchen as the award winning restaurant Savour in the Garden (the latter being a must-do for foodies with a babysitter).
We also enjoyed one of the best meals we had in all of the Maritimes at the Niger Reef Tea House. While it does not have a kids menu per sé, my kids found plenty to enjoy (they also have a high chair for wee ones).
The best part for us though, was the fact that the restaurant is located right beside the historic St. Andrews Blockhouse on the beach, so while we waited for our food, our kids ran around safely outside. Actually no,….that was not the best part. The carrot cake with the bourbon cream cheese icing is simply the best I have enjoyed in my life.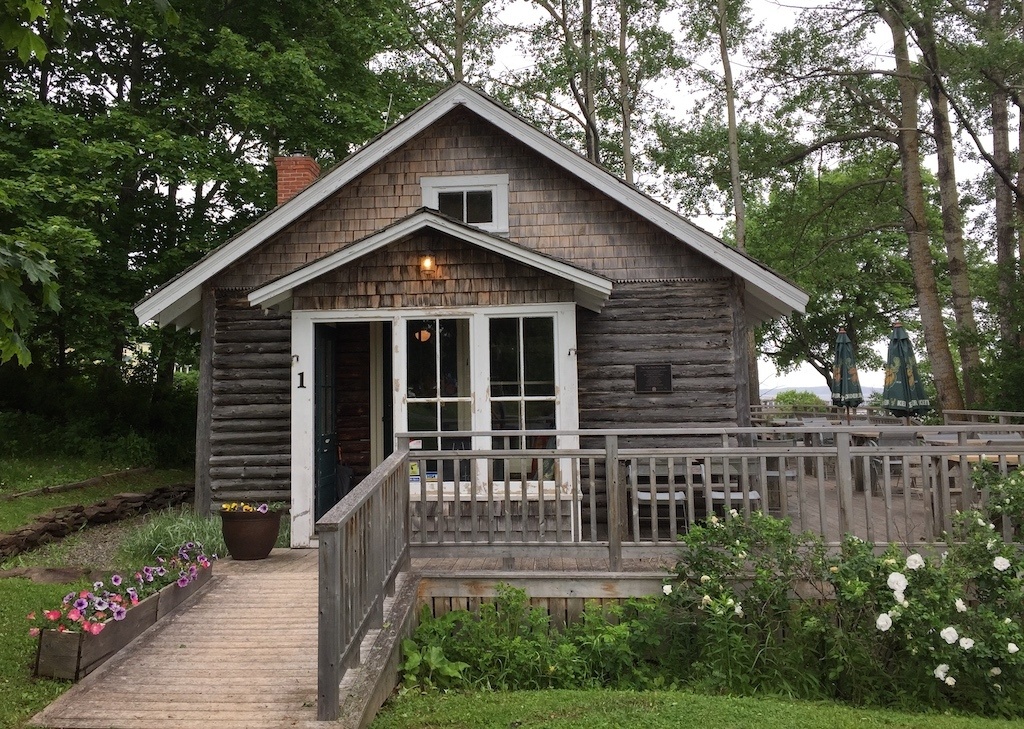 Related Posts
We did a 16-day Canadian Maritimes road trip with our kids starting and finishing in Halifax. The trip included New Brunswick, P.E.I. and Nova Scotia. Please see all the posts from our trip below.
Please also feel free to reach out to me (Tara Cannon) directly in the comments, or message me on Instagram or Facebook. I love hearing from you.